Holton High School Class of 1960
Click here to send a comment to Bob
Photos from the 50th Reunion
The Holton High School Class of 1960 held their 50th Reunion at the Holton Community Center on Saturday, June 26, 2010. There were 22 classmates who graduated in May 1960, plus two other classmates who were unable to graduate at that time. Of the 24, 20 are still living, and 17 were able to make it to the reunion. I am posting two different pictures here, a group shot and a composite of the classmates.
Here's the group picture.
Front row from left, Katherine Moreland Weismiller, Leta Palmer, Carolyn Cumberworth Cunningham, Virginia Gayer Waddle, Beverly Fugitt Laswell, Betty Roth Gunter, and Kitty Jones Busteed. Back row from left, Merlin Laswell, Jim McNeelan, Donald Nealis, Gaytha Grigsby, Mearl Laswell, Bobbi Becker Konieczny, Margle Patterson Dorsey, Gene Franklin, Robert Hopkins, and Anna Horn Perkinson. Click on the picture to see a high resolution copy.
Sharla Beach Hensley, Edwin Sizemore, and Ronald Barricklow were unable to make it to the Reunion. Ron is in the composite picture -- I stopped at his home in Tennessee on the way to the Reunion and took his picture so it could be included.
Here's the composite picture. Click on the picture to see a high resolution copy.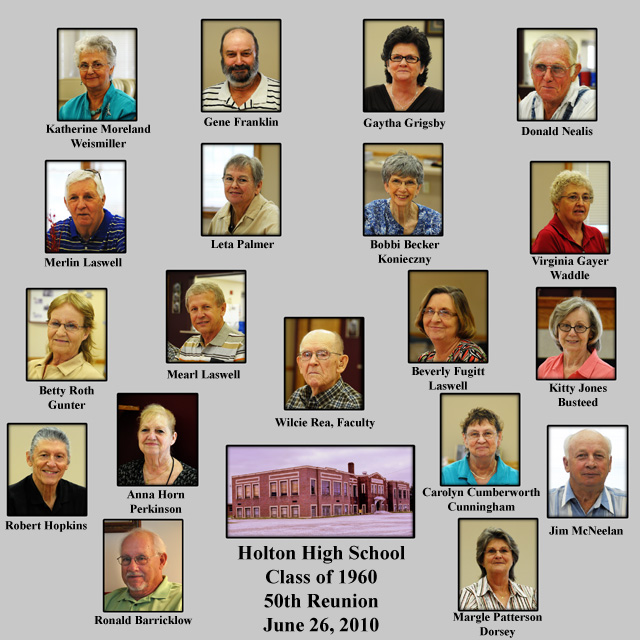 If you find anything wrong with either picture, please let me know. I plan to print another page for our book using these two pictures, and mail the page out to everybody in a couple of weeks.
Earlier Pictures of the Class of 1960.
Click on thumbprints for larger images.