Travelogue -- Dr Bob's Route 66 Motorcycle Ride
Back to the individual days menu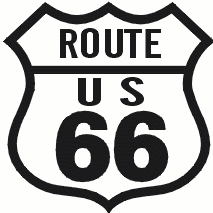 Join me in my adventure discovering Route 66. About 80% of the old road still exists, you just have to find it.
Each day of my journey is a separate page. You can start at the beginning by selecting the first day, or at the end by selecting the last day.
I spent time getting ready for the ride, and endurance testing my bike (and myself). I passed the test, my bike didn't. You can learn why if you check out the page "Prep".
The Route 66 portion of my trip was May 10th through May 23rd.
The days May 6th through May 9th were my journey from North Palm Beach to Chicago. Read about more bike problems and time with my family along the way.
The days May 24th through June 9th were my journey from Santa Monica back to North Palm Beach. I met with friends and my daughter in the LA area, rode through Death Valley, Monument Valley, Zion, North Rim of the Grand Canyon, Canyon de Chelly, and visited more state capitols. Plus more bike problems. Hey, what's going on with this bike?
---
28 Jan 08
In November 2007 I saw an advertisement in "American Motorcyclist", the magazine of the AMA (American Motorcyclist Association), for a ride that really turned me on, a ride on old Route 66 from Chicago to Los Angeles. I thought about doing the ride, discussed it with Hanna, and decided to go for it. But, I learned that the ride was already full. I was put on the wait list. On January 28, 2008 I learned that there had been a cancellation, and I could be on the ride if I still wanted to do it.
Duh!
---
29 Jan 08
The ride is scheduled from May 10 to May 23. It will be about 2,300 miles.
My plan is to leave North Palm Beach on Tuesday, May 6 for Chicago. I plan to arrive in Chicago on Friday, May 9. This means four days to cover about 1,300 miles. I could do it faster, but I will be doing so much riding over the next four weeks that I won't want to push too hard starting out.
While in California, I will do some visiting, especially with my daughter Cindy who lives in Ridgecrest, then head back east. I want to ride back through Monument Valley because that is one of my favorite places. Once I leave Los Angeles, I will ride another 2,800 miles, which I expect will take about a week. I expect to be back home by the end of May.
---
01 Feb 08
The red line on the map below shows the Route 66 ride. The black marks across the red path show the overnight stops -- Willowbrook IL, Springfield IL, Rolla MO, Joplin MO, Yukon OK, Amarillo TX, Santa Fe NM (2 nights), Winslow AZ, Grand Canyon (2 nights), Kingman AZ, Barstow CA, and Santa Monica CA.
---
09 Apr 08
I have been preparing for the ride. Today I rode 346 miles in my first endurance test. I had lunch with my best friend from my Purdue University days, my fraternity brother Dale Sappenfield, and his wife Joan. I rode to Poinciana, Florida for lunch then back home. This picture shows the front of their house, and me on the bike, after lunch, showing no signs of fatigue. After I got home, I was ready to ride some more, so I guess I passed the first test with flying colors!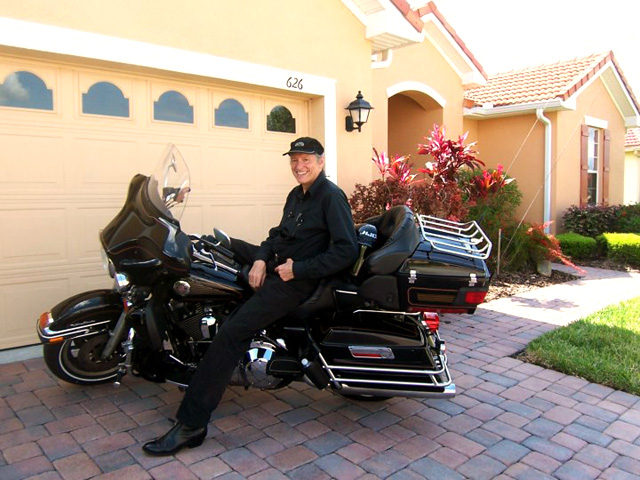 Another thing I did before today was a major service on the bike, including two new tires and a new battery. I survived today's endurance ride better the bike -- within five miles of getting back home, suddenly the lights weren't working right. Also, I noticed when I left home this morning that the radio had lots of static. I'll work on those things tomorrow.
---
22 Apr 08
Another ride today, 335 miles. I rode to Lakeland, FL to have lunch with Gisi Snearly. Gisi is a life long friend of my wife, Hanna. They first knew each other when they were preschoolers. This picture was taken by Gisi in her driveway.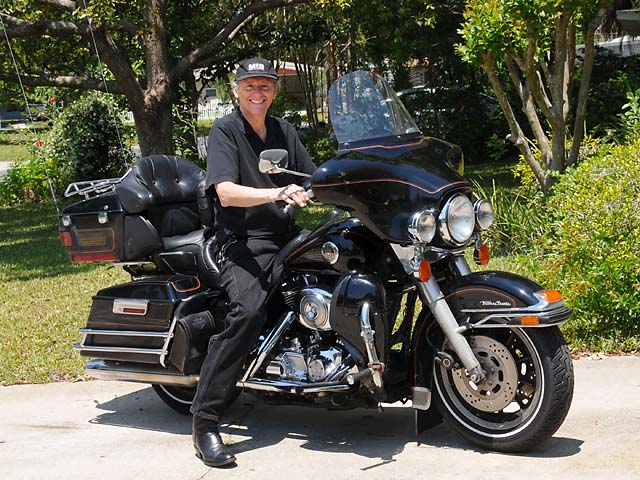 No problems with the bike today. Nor for me. The electrical problem two weeks ago came about because several wires in a bundle were frayed, and broken.
I have spent some time mapping out my expected overall route using Google Maps. The picture below shows the route I will be following. From Florida to Chicago, then Route 66 to Los Angeles. From Los Angeles I will go north to Ridgecrest, where my daughter Cindy lives, then through Death Valley, to Las Vegas, then through Zion National Park, along the beautiful Zion-Mt Carmel Highway, then past Lake Powell, then to Monument Valley, then to El Paso to check out some Lucchese boots, then I will head home.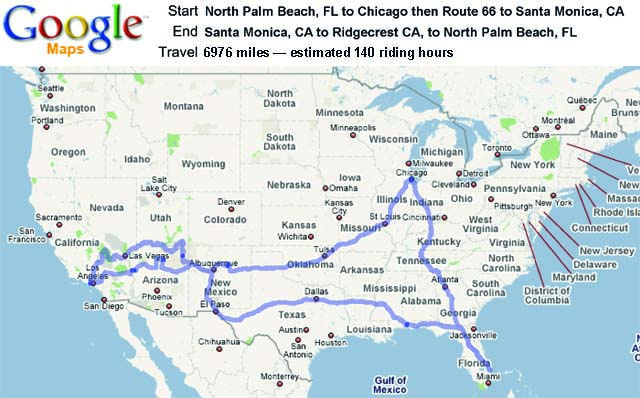 ---
23 Apr 08
Still another long ride today, 440 miles. I rode to Clearwater, FL to have lunch with Doris and Bentley Lipscomb. Doris is the daughter of my wife, Hanna. I rode over the Sunshine Skyway Bridge that crosses Tampa Bay.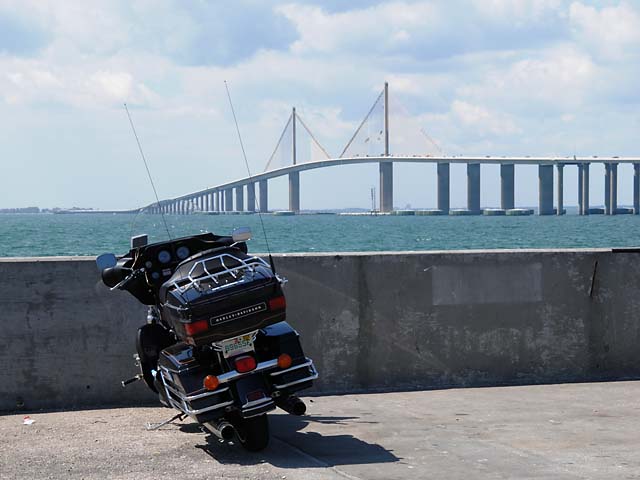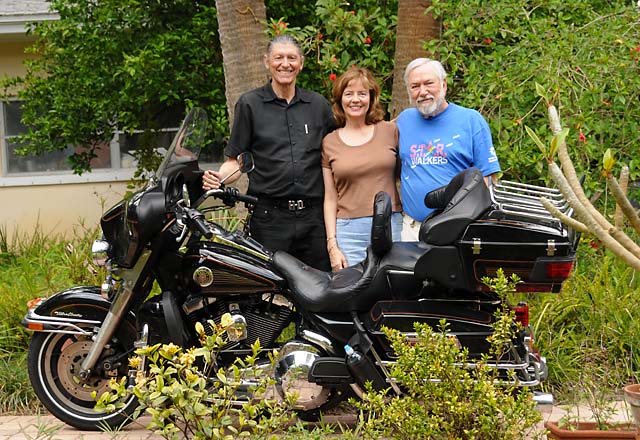 No bike problems. No problems for me.
Today I completed the endurance tests. I rode 498.6 miles. That's 1,275 miles in three days. Again no problems with the bike. And, no problems with me. I rode to Key West, had lunch, then rode back home. While in Key West, I rode up and down Duval Street, and did the touristy thing of asking somebody to take my picture at the "Southernmost Point" in the Continental USA.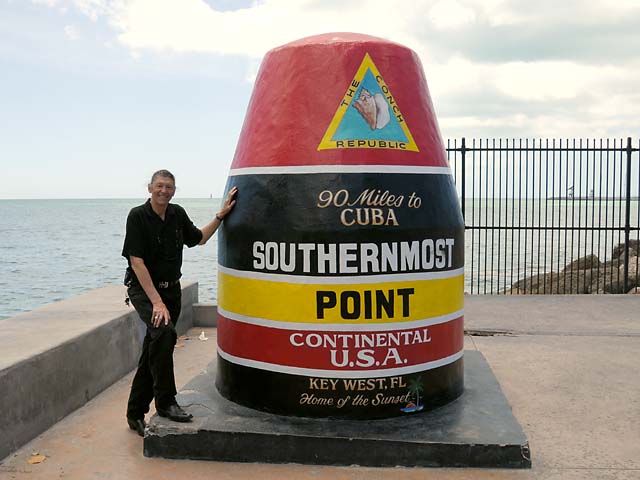 ---
06 May 08
My trip began today. I'm off to Chicago. Hanna wished me a good trip.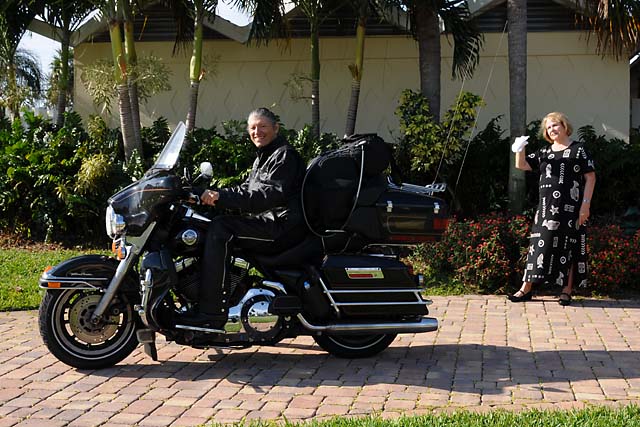 About half an hour later, I was back home! I had not gotten 10 miles when I decided I was too uncomfortable and could not go 7,000 miles that way -- the bag in the back seat was too fat and it was pushing the driver's backrest forward. I removed the backrest, then using the bag as a backrest, I rode around the block to check it out, decided it was now OK, and waved goodbye to Hanna again.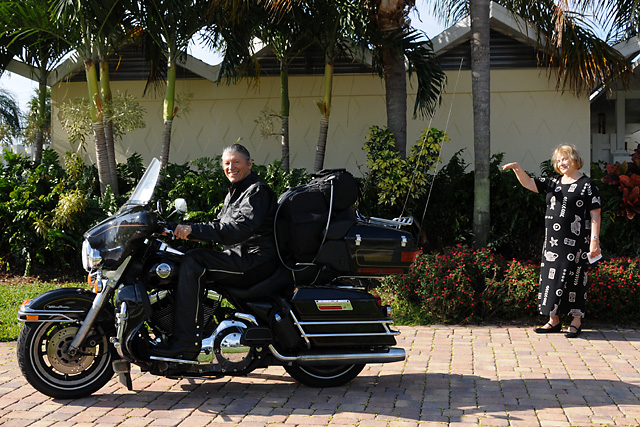 I saw a bald eagle fly across the road over my head, maybe 50 feet high. Beautiful. White head. White tail. This was somewhere between Yahoo Junction and Orlando.
I picked up a bunch of Love Bugs. I would show you a picture of my teeth just before I used my Swiss Army Knife toothpick, but you might find that too gross. Instead I will show you the front of my bike when I ended the day at Valdosta, GA.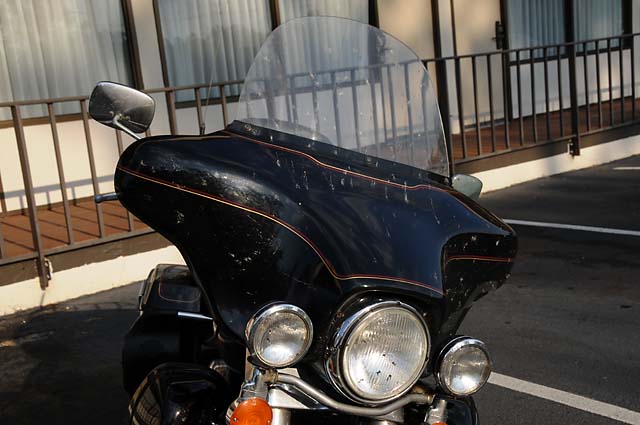 It was hot, especially from about 2 PM till 5 PM. I stopped often and drank lots of water. I had a somewhat late start because I went past the Harley dealer in Stuart to have a duplicate ignition key made, just in case I should need it. After arriving in Valdosta, I cleaned up the bike, had dinner, and updated this site.
---
07 May 08
Today I rode 403 miles and ended up at Monteagle, TN. That had been my plan. I am spending the night at Best Western Jim Oliver's Smoke House Restaurant, Lodge, & Cottages. I have been here before, but not with my bike. It is on the left, the room behind all the lounge chairs is mine. The sign on the right is for Jim Oliver's Smoke House Restaurant.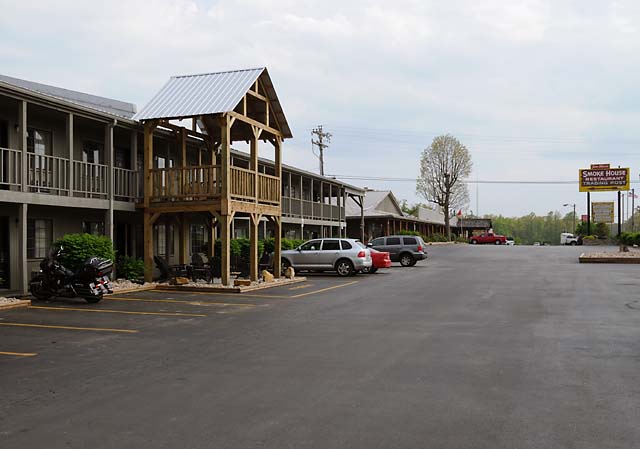 I rode through Atlanta, not around the city on the bypass. The capitol is almost hidden with all the big buildings behind it.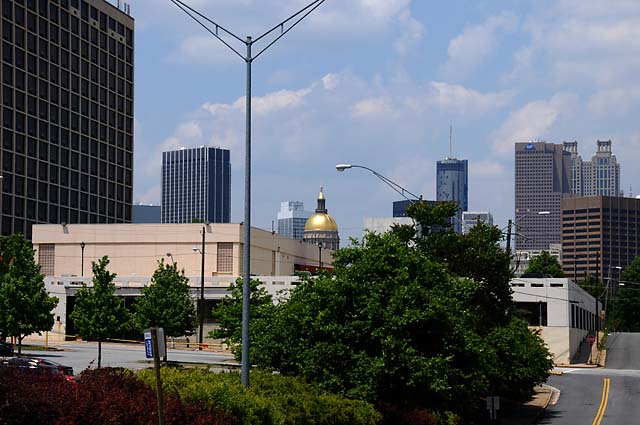 It is appropriate that I take pictures of state capitols on this ride. Part of the reason I am doing this Route 66 ride is because of the vacation my family took back in 1952 when I was just a kid. If my father was within 100 miles of a capitol, I think he could smell it, and soon enough he would be taking a picture of it. (You can see Dad's 1952 Route 66 vacation pictures here and here and here.) So, in keeping with my inherited tradition, here's a better picture of just the capitol.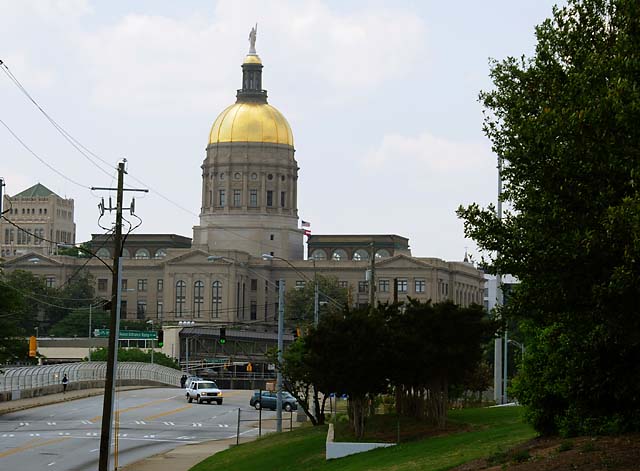 Today was not as hot as yesterday. As a result, the ride was more comfortable. So, now that I have finished updating the site, I can go to Jim Oliver's Smoke House Restaurant and have some dinner.
---
08 May 08, 3:30 PM, Louisville, KY
I have good news and bad news. First the good news. I was in rain most of the day, heavy at times. Makes you wonder what the bad news is, doesn't it! The bad news is that the bike just quit running. I was 9 miles into Indiana, exiting to get a Dairy Queen chocolate milk shake, and to get out of the rain for a while. It died on the off ramp. I rolled to a stop and locked it up when I found that it would not start (the starter wouldn't even turn it over). Some things were working, like lights, horn, radio. I was about 50 feet from a Cracker Barrel, so I took refuge from the rain and sat on one of their chairs on the porch while I called the Indianapolis Southside Harley (where I am supposed to get an oil change tomorrow morning). They gave me the phone number of the closest Harley dealer, Louisville. I called them and they sent a truck to get me and the bike. They have diagnosed the problem, and it is another wiring problem. This one is also under the upper fairing (between the headlamp and the radio). They are predicting I will get the bike in an hour. Then two more hours to Indianapolis and dinner. I will write more later.
08 May 08, 4:00 PM, Louisville, KY
They have completed the job and are road testing the bike.
08 May 08, 4:45 PM, Louisville, KY
On the road again.
08 May 08, 6:20 PM, Louisville, KY
Uh-oh! Dead again! This time it quit at the top of the bridge crossing the Ohio River between Kentucky and Indiana. I coasted down the Indiana side with my flashers warning people of Harley trouble ahead -- in the fast lane. Soon as I coasted off the bridge, I went onto the four foot wide shoulder next to the concrete barrier that separates north bound traffic from south bound traffic, cars and trucks whizzing by just inches away, or so it seemed. So now I am trapped there, in the middle of I-65, no way to get out. I called Louisville Harley, and they sent the tow-truck out to get me again. Now they are trying to find what other wire is a problem. They may have found it while I was unloading my luggage -- wiggling a bundle of wires that goes from the gas tank area and then underneath the upper fairing makes it start again. So, they are taking apart that bundle and hopefully they will find the culprit! Stay tuned.
08 May 08, 7:00 PM, Louisville, KY
Road testing again. Hopefully it is OK and I will be on my way. I will update later tonight when I get to Indianapolis.
Ah, he just got back from the road test and said he had no problems. Well, I'm off again. As I just said, I will update later tonight.
08 May 08, 11:50 PM, Indianapolis, IN
I made it! Kudos to the folks in the service department at Louisville Harley. They found other broken wires. Hopefully all have now been found and I can go another 6,000 miles with no problems.
Once I made it to Indianapolis, I went to my brother Larry's home. He is on the left in this picture. Then my brother Johnny, then my sister Carolyn, then Johnny's wife Bonita, then Larry's wife Pat, then Johnny and Bonita's daughter Jessica, then me. This was before our late dinner.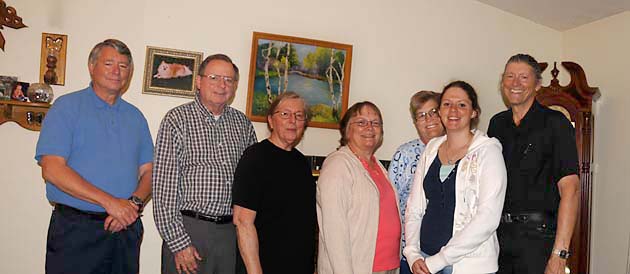 This was a long tiring day, the ride from Louisville to Indianapolis ended in the dark, with rain, and cold. Glad it's over.
---
09 May 08, 7:40 PM EDT, Chicago, IL
I am in Chicago. This is where the Route 66 Tour begins. I will meet the other riders tomorrow afternoon. I have ridden 1,417 miles to get here. No bike problems today. It was cold this morning when I took the bike to Indianapolis Southside Harley for a scheduled oil and filter change. The service folks here have been very helpful. When my bike broke down yesterday, this is who I called first. Larry at Southside referred me to Louisville Harley and gave me the phone number. Not only that, he called me back a few hours later to make sure I had been taken care of.
Then Larry, Pat, Johnny, Bonita, Carolyn, Karen (daughter of Johnny and Bonita), Olivia (Karen's one year old daughter) and I had a Bob Evans breakfast. After breakfast, I picked up the bike and headed back to Larry and Pat's to pack the bike, then headed north. A big thanks to Larry and Pat for the very comfortable bed to rest my weary body.
I continued up I-65 to Lafayette, then took a detour to ride all around Purdue. I went past my fraternity house, past the Electrical Engineering building, past the new Neil Armstrong Engineering Building, and a bunch of other places, then headed north again on the scenic River Road and then I-65.
I detoured again at Rensselaer to meet up with Amanda (daughter of Larry and Pat) and her husband Justin for a Dairy Queen break. That's the three of us in the picture below.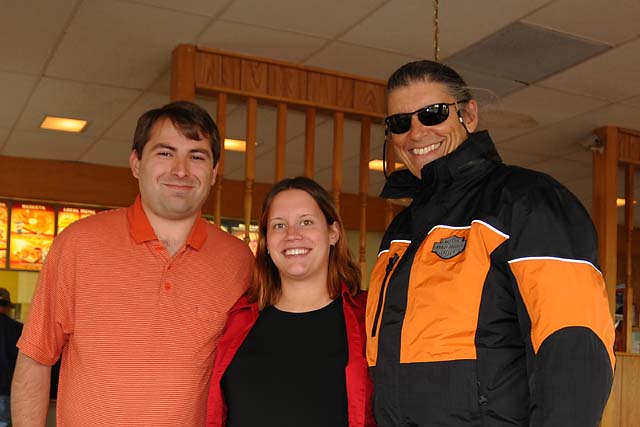 The ride on to Chicago was cold, and wet with some rain showers. Now it is time for dinner and then some rest.
---
10 May 08, 3:30 PM EDT, Chicago, IL
I have ridden the first 18 miles of old Route 66. It starts at the intersection of Adams Street and Michigan Avenue, across Michigan Avenue from the Art Institute. I am standing on the steps of the Art Institute looking across Michigan Avenue at the beginning of Route 66.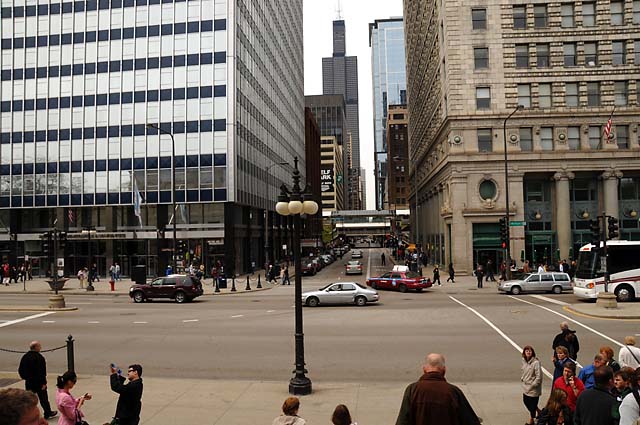 If you look very, very carefully, you might be able to see this sign on the right side of Adams Street.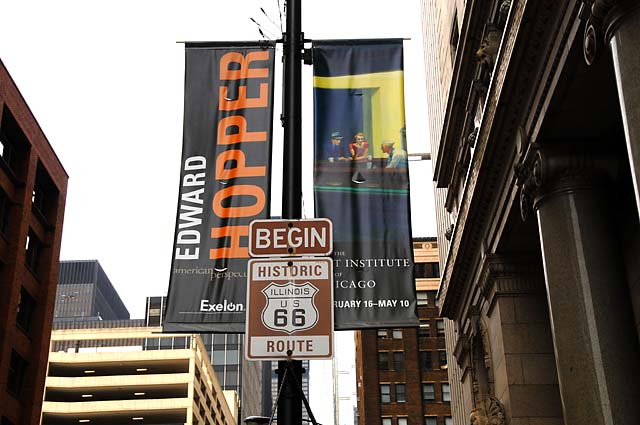 Looking back from the Route 66 sign, you see the Art Instutute.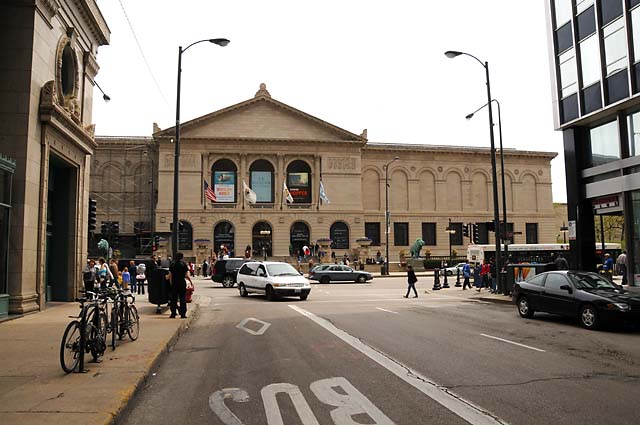 After a few miles of riding, I needed a chocolate milk shake, and I found one, on Route 66 of course. That's my bike on the right.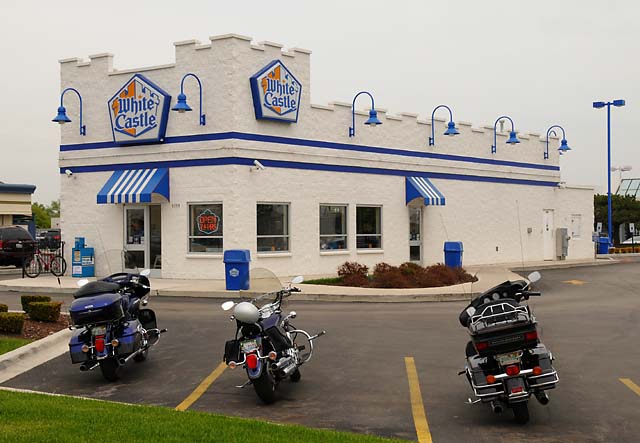 I have not met the other Route 66 riders yet, that happens at a reception at 5:30. I will add more after dinner.
10 May 08, 11:00 PM EDT, Chicago, IL
Not much to add. No more pictures. I met everybody, there are 17 of us, 16 bikes. We had dinner at a Route 66 diner -- a fried chicken place, neon lights. Looks like rain and temperature in the low 50s tomorrow. I must bundle up.
---
11 May 08, 9:00 AM EDT, Chicago, IL
It is raining. It is cold. The temperature is 50°F. Sure is different here compared with South Florida! I just did a wind chill calculation. If I am riding 50 MPH and it is 50°F, the wind chill makes it equivalent to 40°F. But, the temperature is dropping. It was 55°F a couple hours ago. The low today is supposed to be 42°F. At 42°F and 50 MPH, the wind chill makes it 28.5°F. That's below freezing! Good thing I bought some long johns before leaving home.
11 May 08, 6:00 PM CDT, Springfield, IL
Left Chicago just after 11:00 AM CDT, waited for the rain to subside. I was not cold -- I am sure that was due to the long johns. They are called "Under Armour", they are super light weight. The wind was terrible, though. The bike was leaning into the wind most of the time, it was like the wind was slapping me in the head as hard as possible. My helmet is made for wind from the front, not from the side! I took lots of pictures, and will put some here later tonight.
11 May 08, 9:30 PM CDT, Springfield, IL
Dinner is over, and I have had time to look over my pictures from today. First some Route 66 icons -- Gemini Giant (and little old me having a chocolate shake), Bunyon's Statue, and an old Standard Oil gas station.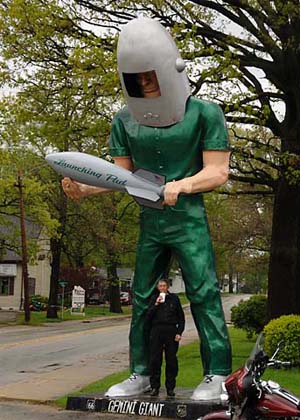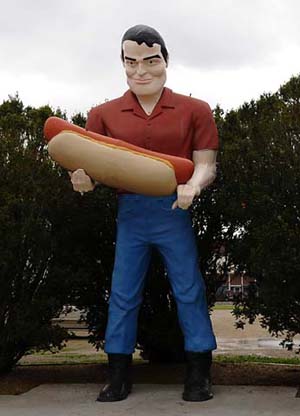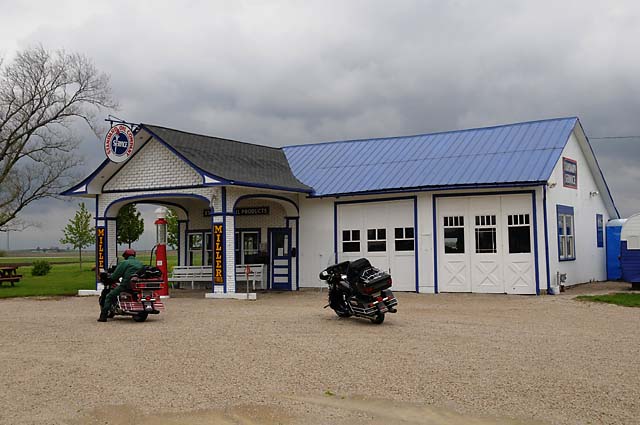 Next, a couple images of what Route 66 looks like today. In the first picture, notice the abandoned lanes on the left. At one point this part of Route 66 would have been four lanes, but after Interstate I55 opened, traffic dropped, and eventually only two lanes were needed. So, one pair of lanes was allowed to deteriorate.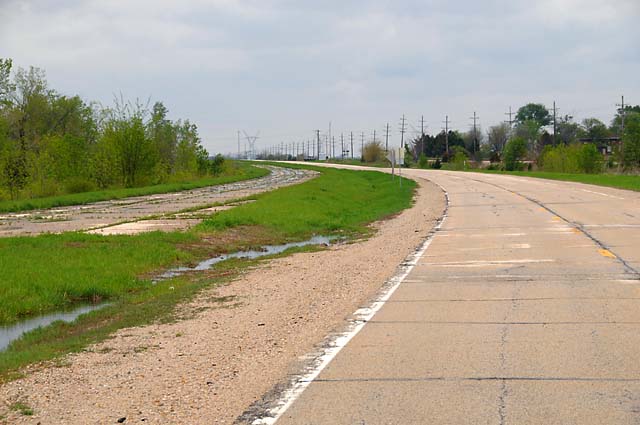 In the second, notice the railroad tracks (on the left), no doubt they were there first, then Route 66 (in the middle) was built beside the railroad tracks, then I55 (on the right) was built beside Route 66. Different generations of American travel.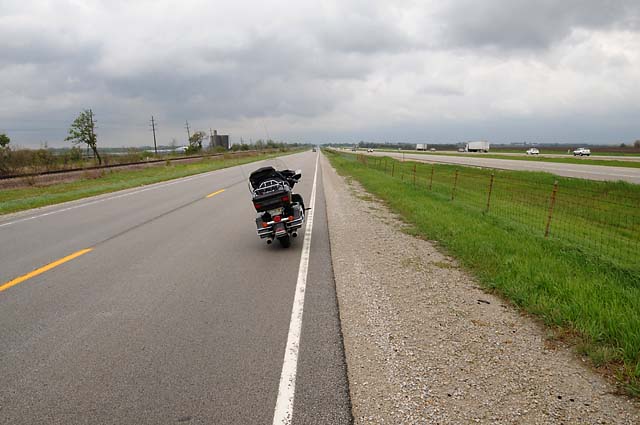 I took a short side trip through Pontiac, IL. Pontiac is the county seat of Livingston County. The first picture is the court house. The second is the historic jail that burned just last night!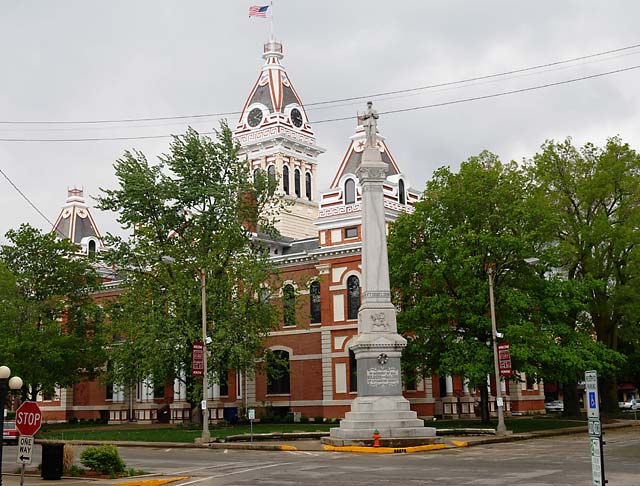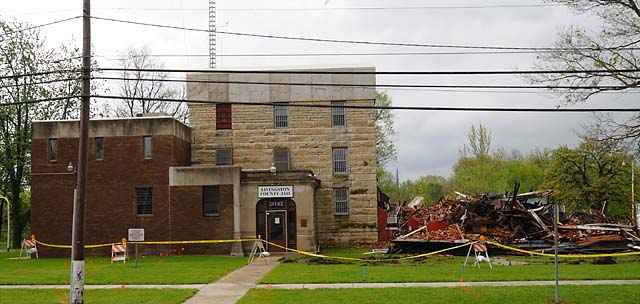 Finally, a couple pictures of the Illinois Capitol Building, the current Capitol, and the Capitol from 1839 to 1876.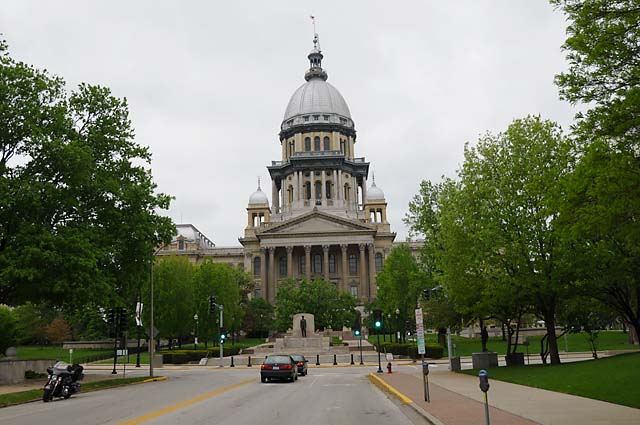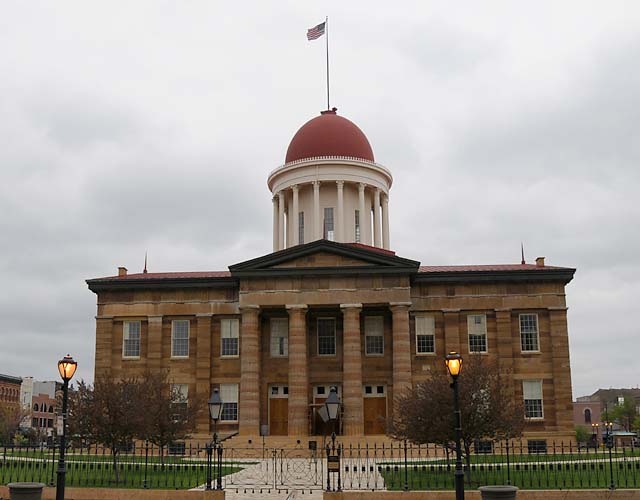 That's it for today. Tomorrow we will leave Illinois, ride through St. Louis, and on into Missouri.
---
12 May 08, 9:45 PM CDT, Rolla, MO
Beautiful day today. Sunshine. No rain. No clouds. No bad winds. No cold temperatures. Couldn't ask for a better day. The hotel has a problem with their high speed Internet -- it is out of order. I am using a dial-up connection to post this update, so I will include only one picture. I will put more pictures up for today when I have a high speed connection, so check back on my May 12 posting after tomorrow night. This one picture symbolizes one of my stops today, in St. Louis at the waterfront. The Mississippi is very high -- see the wetness in front of my bike -- that's river water! Route 66 is about 15 miles away, but I wanted to go to the Arch anyway. That's it for tonight.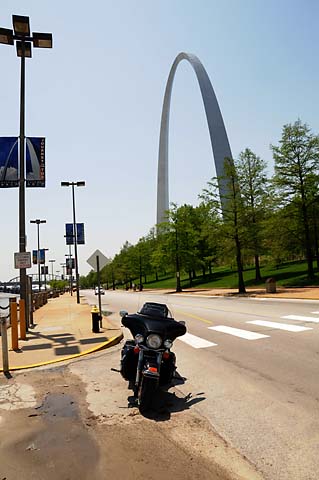 12 May 08 (Posted 13 May 08 at 10:00 PM CDT)
Court House in Carlinville, Missouri.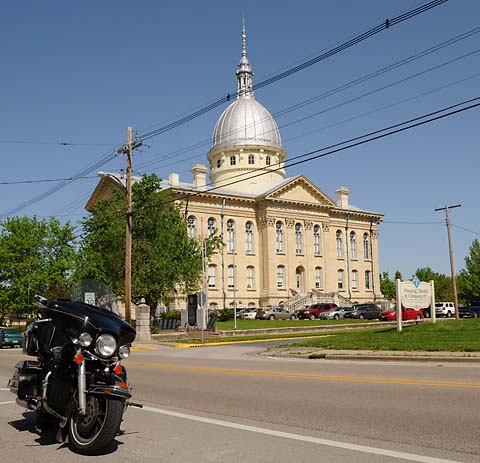 The Chain of Rocks Bridge crosses the Mississippi River. It was built in 1929 and used until 1967.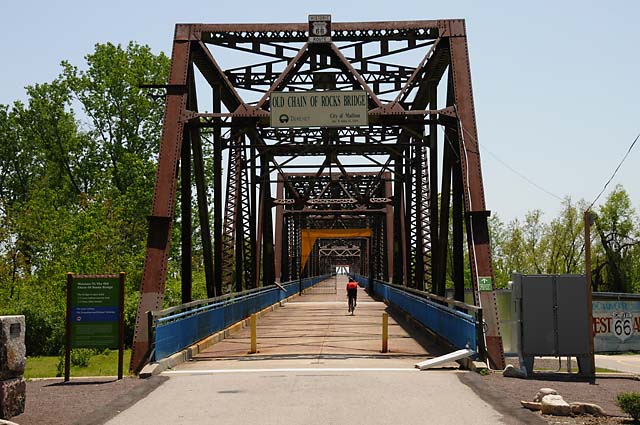 The bridge was a bottleneck because of its narrow width, and because of the 22° bend at the middle of the bridge. In the picture below, you can see the far end of the bridge going to the left, and looking straight down the bridge, it appears to go nowhere.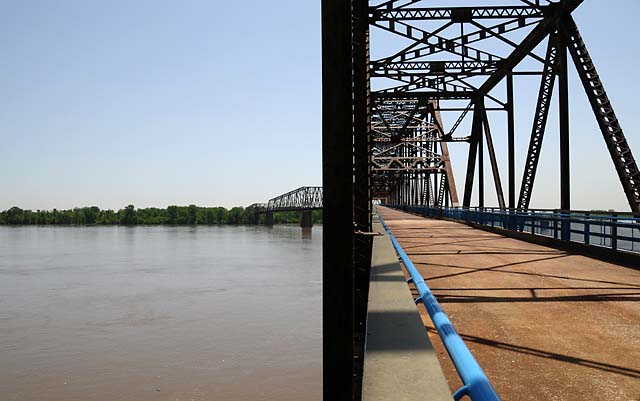 Downtown St. Louis, with its Arch, seen from the Chain of Rocks Bridge.

Downtown St. Louis waterfront. The Mississippi River level is very high at the moment.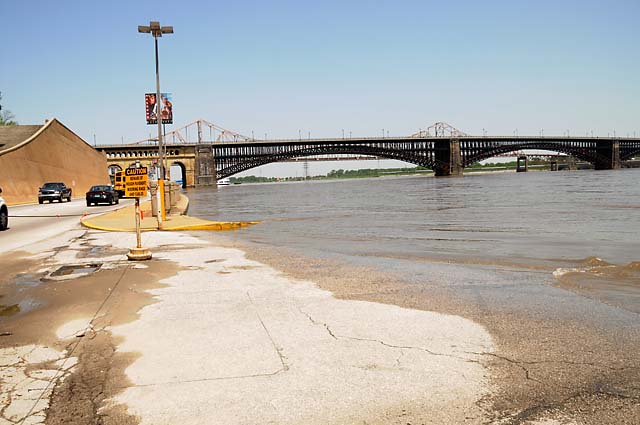 Billed as the world's largest rocker. I cannot attest to that, but I can say that it is larger than my Harley.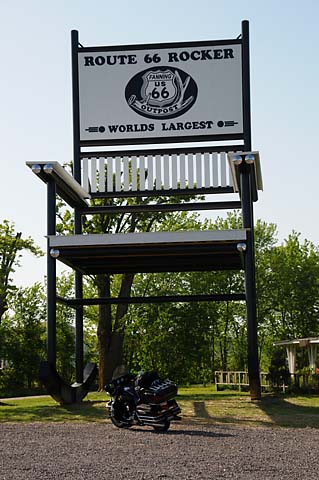 ---
13 May 08, 6:00 PM CDT, Joplin, MO
I have arrived in Joplin, in the southwest corner of Missouri. There is the possibility of severe weather tonight. The National Weather Service is saying there could be tornados and hail the size of baseballs. Wow!
I will be putting some pictures on the site for both today and for yesterday. I may not get it done before dinner, though. Stay tuned.
Thanks to everybody who has sent me a message, I am certainly reading them, although I might not have replied to them yet.
I want to express my personal thanks to Jansen. Just before noon, I wanted to stop at a Harley dealer to have my handlebars adjusted up a bit. Sometime recently they were lowered, I am not sure when or why, and they bump my knees which I consider a hazard. I wanted them moved up to clear my knees. Anyway, I could see the Harley shop across I-44, but the bridge was closed and I was unable to figure out how to get across. It appeared quite complicated. I asked somebody in a van (Jansen) how to get across. He thought a moment, then said follow him. I followed him around twenty or thirty corners, or so it seemed, and suddenly we were at the Harley shop. So, Jansen, thanks! Also, thanks to Bob at Ozark Harley-Davidson for getting me back on the road in a very timely fashion.
13 May 08, 10:00 PM EDT, Joplin, MO
The pictures immediately below were taken today. Don't forget to check out the pictures from yesterday that were posted tonight.
This is an old section of Route 66. The road is concrete sections. The curb is very gentle, supposedly to guide a drowsy driver back onto the road.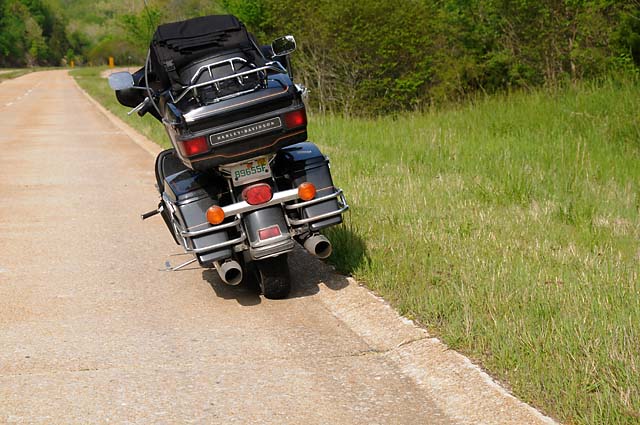 This old section of Route 66 is four-lane and is still in use.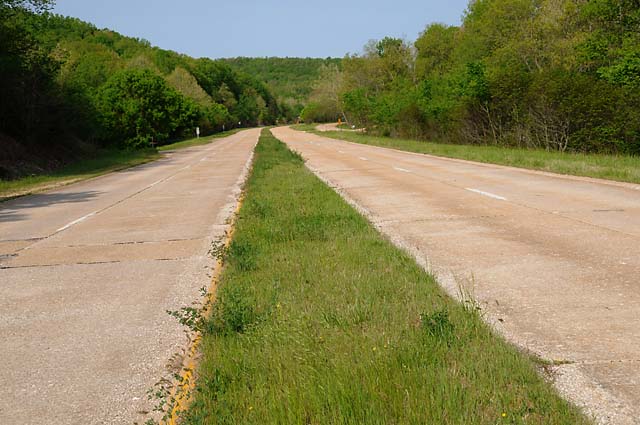 This cut into the rock was said to have been the deepest cut in existence when it was done.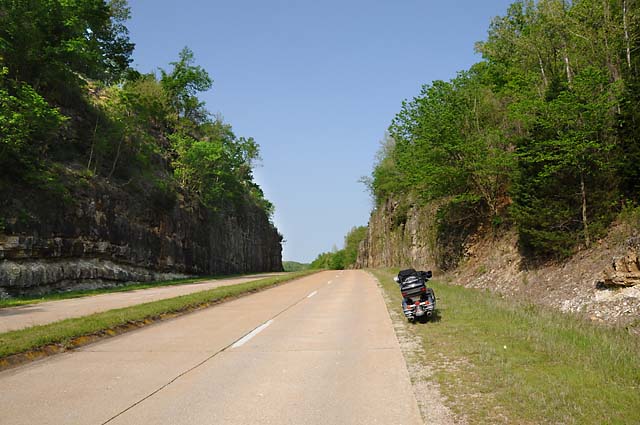 An old bridge on old Route 66.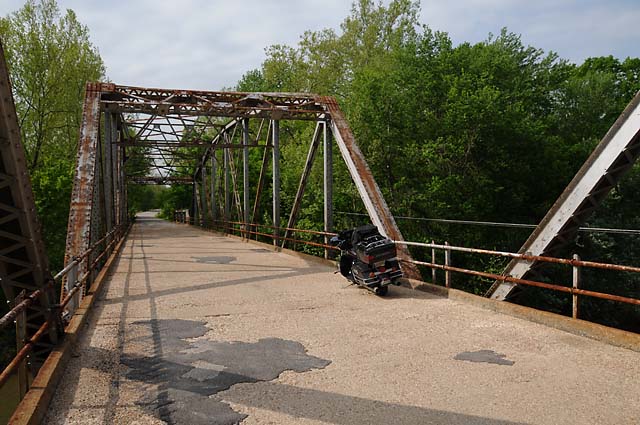 Sometimes it is hard to find the old road. These riders just discovered that they are no longer on Route 66 and are studying maps to figure out where it is.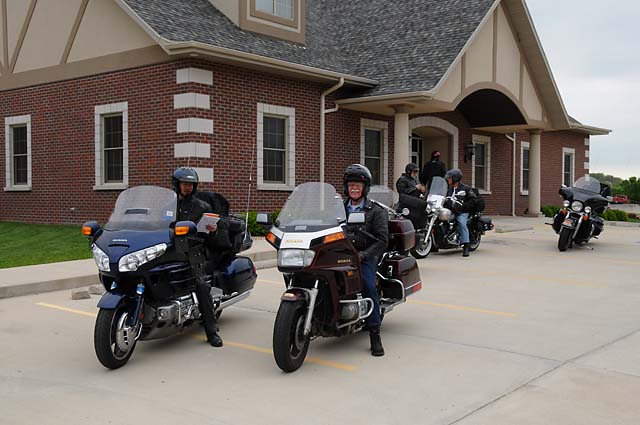 Court House in Carthage, Missouri.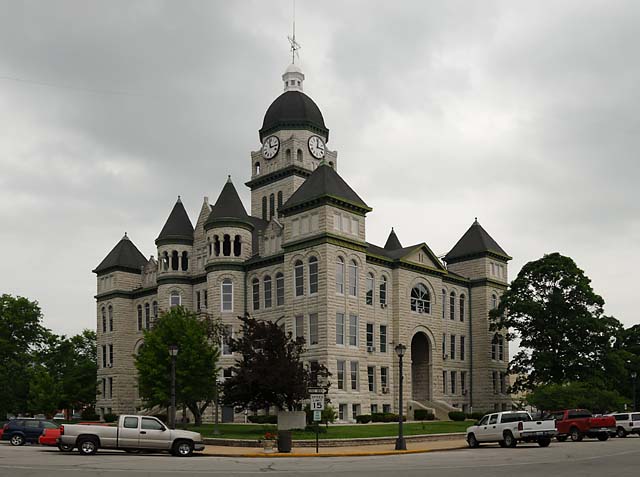 Just like their brothers in flesh, motorcycles sleep standing up.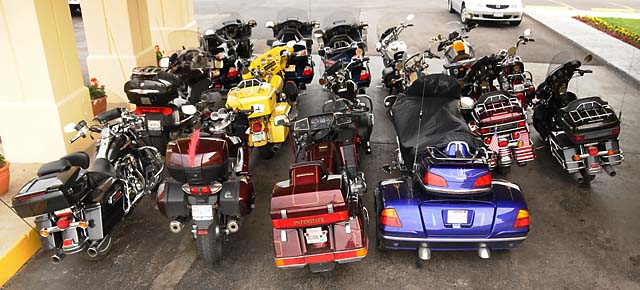 ---
14 May 08, 11:00 PM CDT, Yukon, OK
Today was the longest ride so far. We left southwestern Missouri, travelled about 13 miles through Kansas, and into the center of Oklahoma. I have put 2,506 miles on the bike since leaving home. It was cloudy most of the day, with a few sprinkles at the end of the ride. During dinner we had a thunderstorm.
This bridge is in Kansas, was built in 1923, and is called the Rainbow Curve Bridge.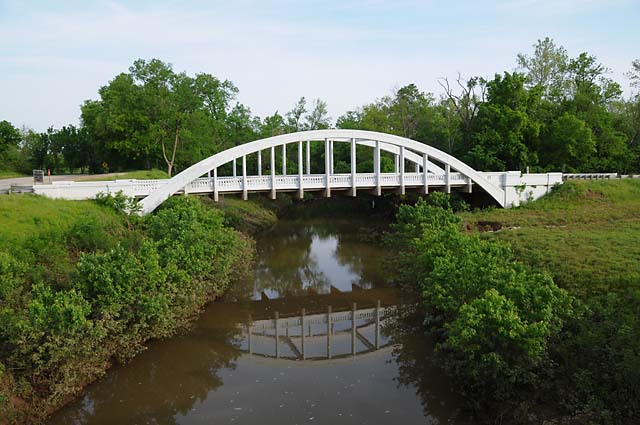 This section of Route 66 is one of the oldest. When it was built, there was enough money for half the concrete that was needed. Oklahoma had a choice -- build only half the length, or build only half the width. They picked the latter. It is one lane wide. Gravel was added to the sides sometime later to make it somewhat better for two-way traffic.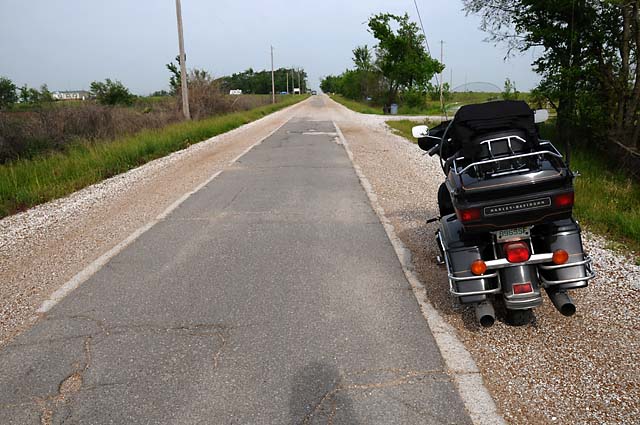 Another old bridge on one of the old parts of Route 66. This is the Pryor Creek Bridge, built in 1926.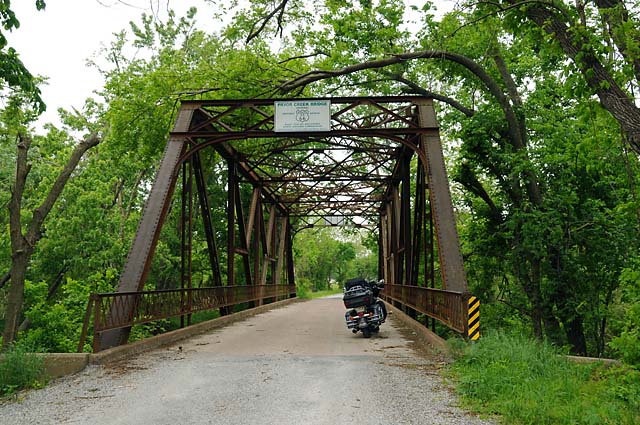 Some of our bikes parked at the front of the Will Rogers Museum. Once upon a time, there was a statue of Will Rogers here. You will see the statue in its new place in the following two pictures.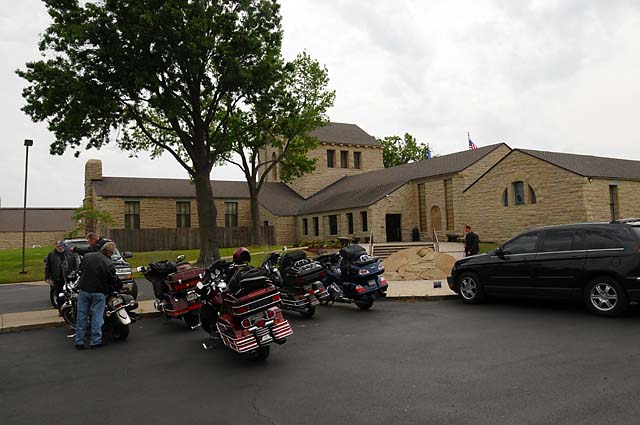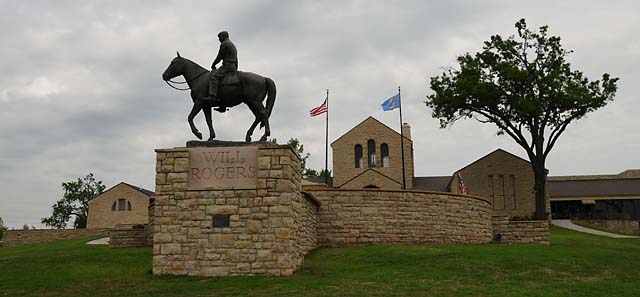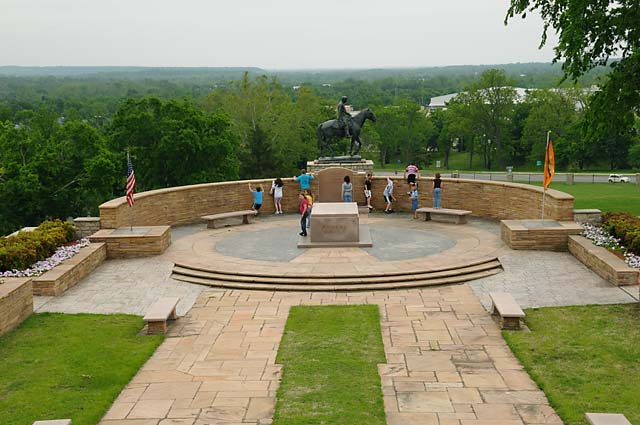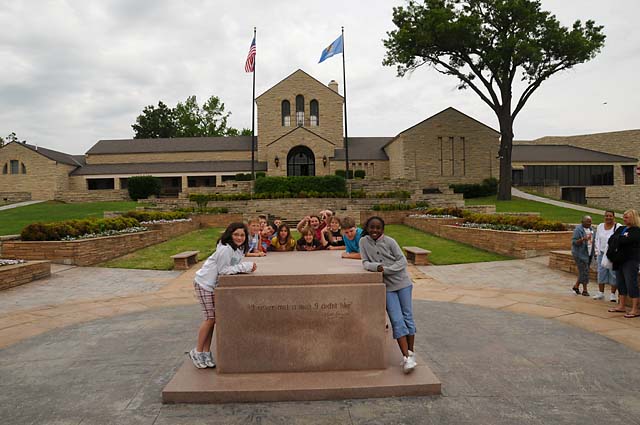 Fourth graders from Broken Arrow, Oklahoma visiting the Will Rogers Museum. They are about the age I was when I was here in 1952.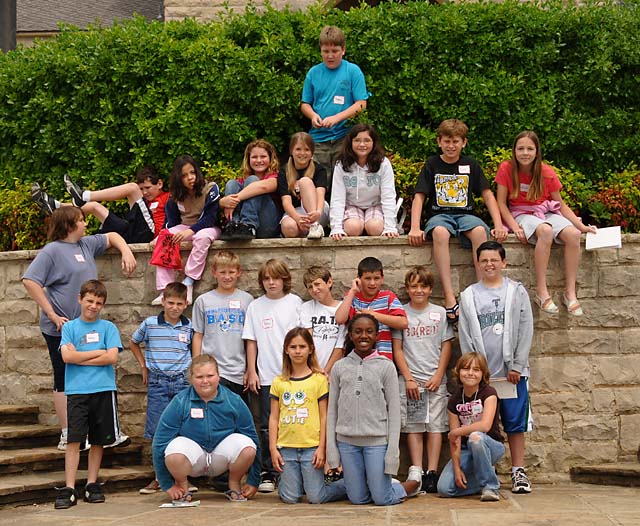 More bridges. These cross the Verdigris River.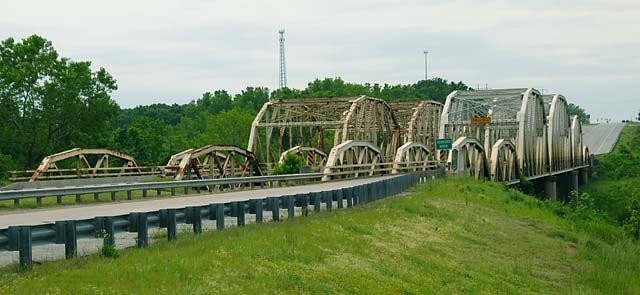 The Blue Whale.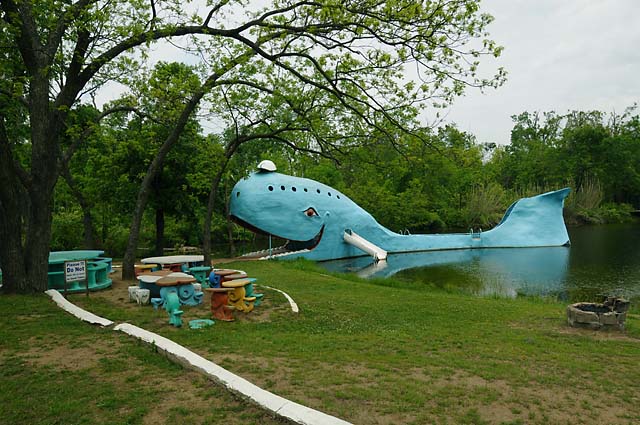 The Oklahoma Capitol Building as seen when arriving on Route 66 from the north. When I was here in 1952, it did not have a dome. Note the difference in the following picture which was a 35mm slide taken by my father in 1952 looking south on Route 66.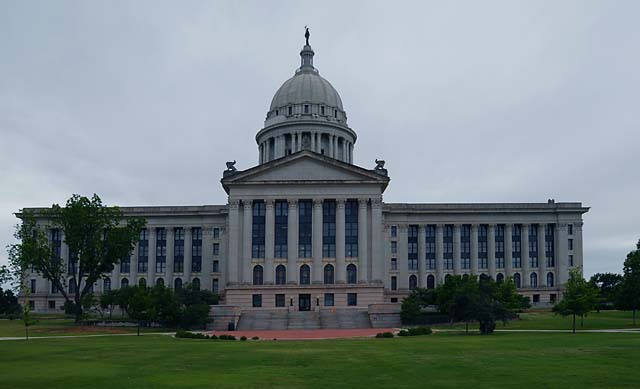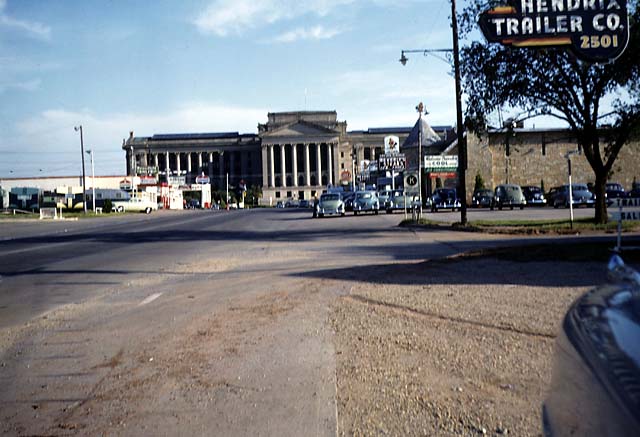 ---
15 May 08, 11:00 PM CDT, Amarillo, TX
A good day today, no rain, temperatures not too bad. We are in Texas now, just for one night. Tomorrow we pass the Route 66 half way point. The first photo opportunity this morning was another bridge in Oklahoma. This is the Pony Bridge crossing the South Canadian River. I measured the bridge, a Lucchese boot length at a time, and it was, more or less, 38 arches and 3,944.33 feet long. It was built in 1933. I would tell you why it is called the Pony Bridge if I knew why. I could look it up on the Internet, but I am sure that some enterprising reader will do it for me and send me an email.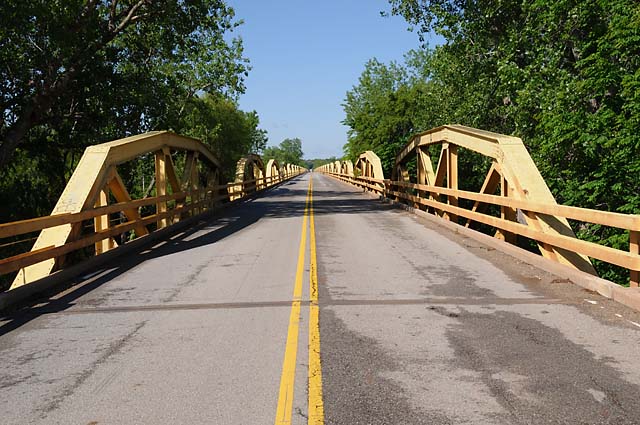 The next Kodak moment came at the old Lucille's. It is closed now.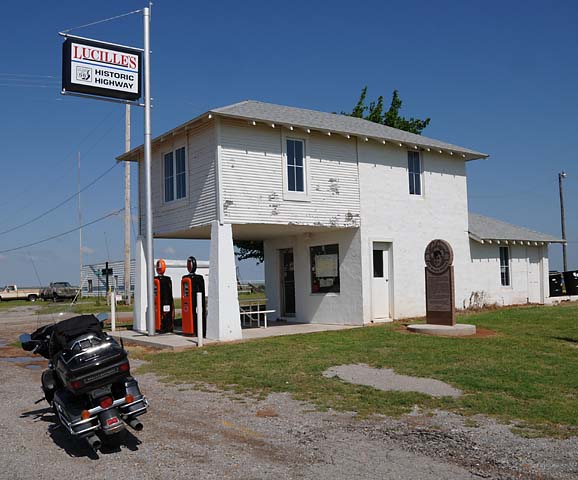 So are the motel rooms.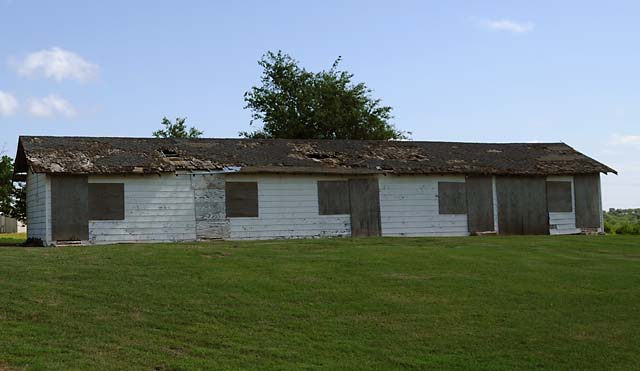 But I am happy to report that there is a new Lucille's and it is run by "Bill at the Grill" Lindsey. Bill showed us around the new place while I consumed a chocolate shake.

Welcome to Texas!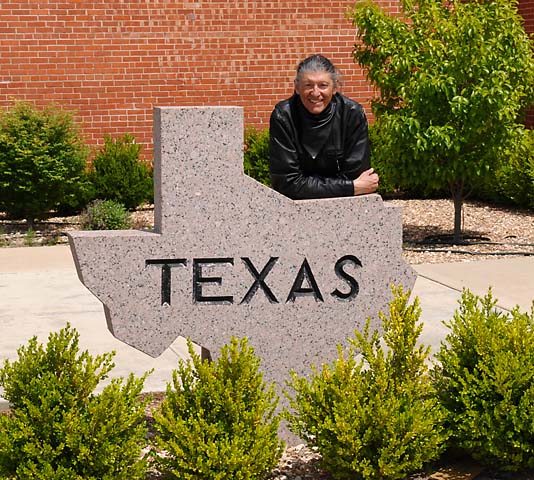 This is the "U Drop Inn" in Shamrock, Texas.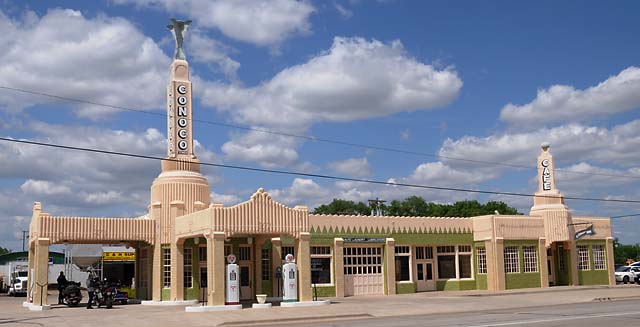 The Cross in Groom, Texas. That's Frank, our AMA Tour Leader, in miniature at the bottom of the Cross.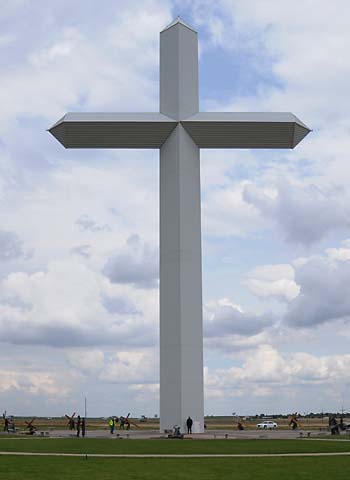 Arriving at our hotel in Amarillo, Texas.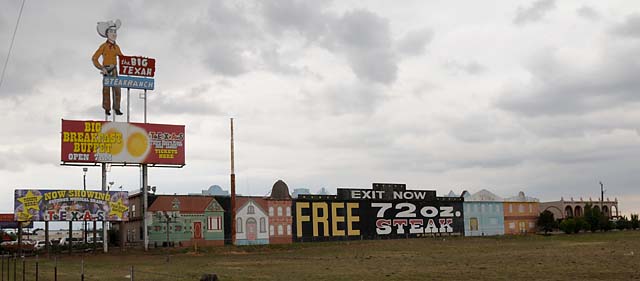 These are the rooms of the "Big Texan Steak Ranch and Motel". You can see our horses tied up out front. That's my trusty steed with the grey blanket.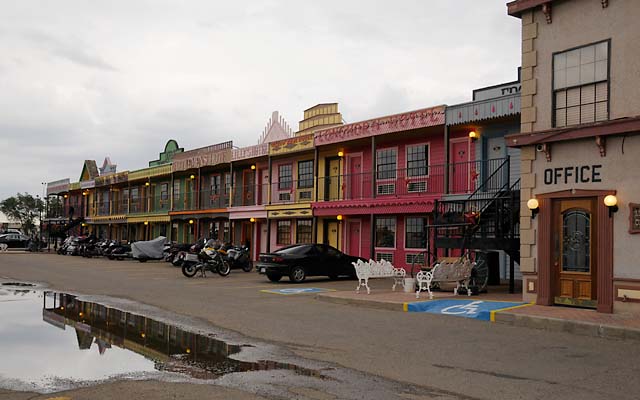 Here's the restaurant. If you can eat 72 ounces in an hour, it is free. I had an 11 ounce steak, and gave half of it away. Let's see now, I ate about 6 ounces, and if I did that 11 more times, that would be 72 ounces. Maybe I'll try it next time.

---
16 May 08, 11:00 PM MDT, Santa Fe, NM
We are in Santa Fe. I have ridden 3,097 miles since leaving home. That beats my previous trip record of 2,734 miles. The weather was good today, a little chilly at times, especially at the higher altitudes.
The Cadillac Ranch near Amarillo, Texas.

AMA Route 66 Tour members admiring their handiwork, and that of their predecessors.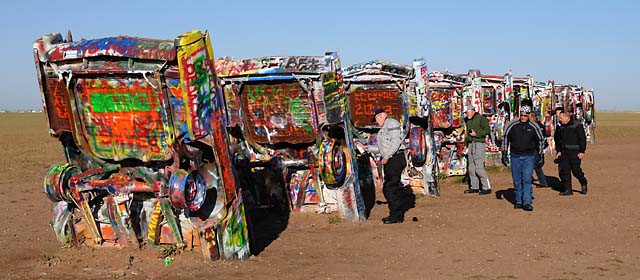 Needs a little more paint here.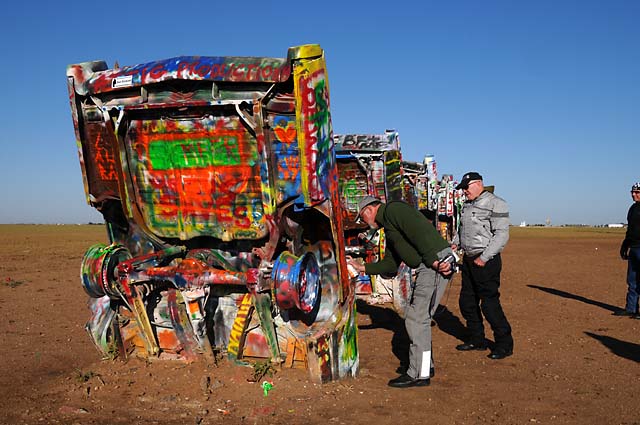 Jessica and Danny have added their names for posterity (or maybe just a few days).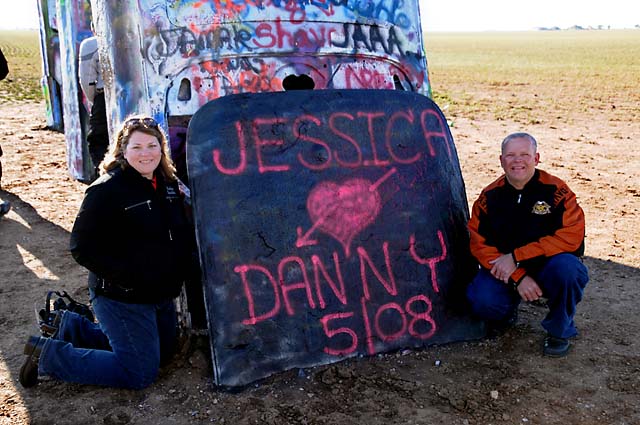 Mike having a coffee at the Route 66 MidPoint Cafe in Adrian, Texas.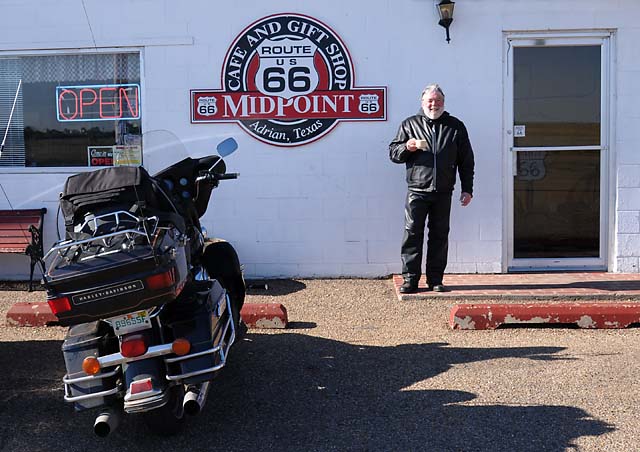 Bill and his bike at the Route 66 MidPoint sign. He is 1,139 miles from Chicago with another 1,139 miles left to Los Angeles.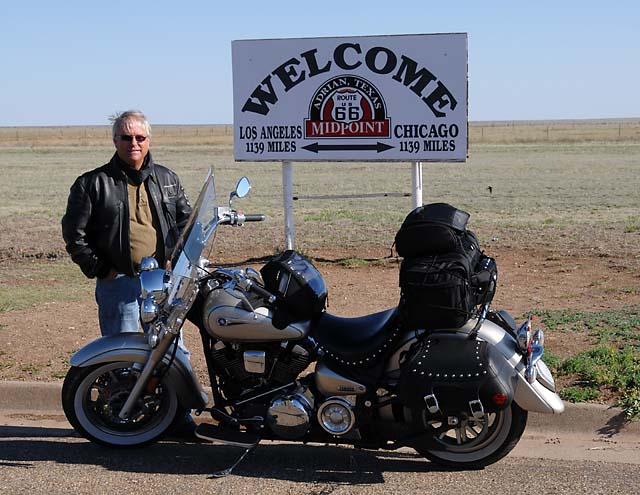 Coffee time at the Route 66 MidPoint Cafe. Clockwise from the bottom left is JJ, Mick, Mike G, Mike H, Danny, Jessica, and Dick.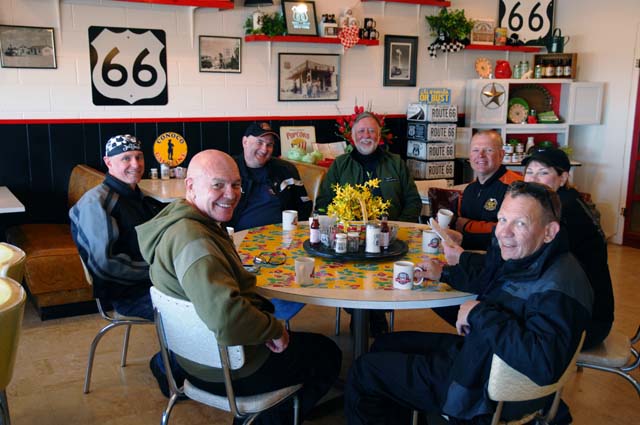 The Glenrio, Texas ghost town at the Texas / New Mexico border. Even the sign is suffering. It used to say "First Motel in Texas" on this side and, on the other side, but completely missing now, "Last Motel in Texas".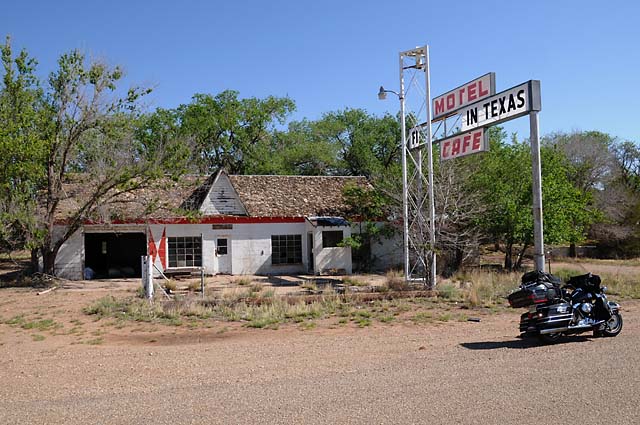 TePee Curios in Tucumcari, New Mexico.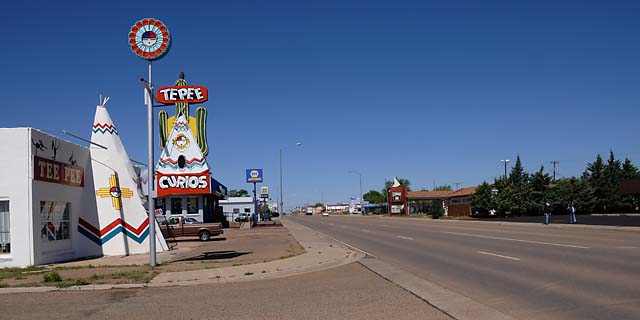 Kurt on his bike at the Blue Swallow Motel in Tucumcari.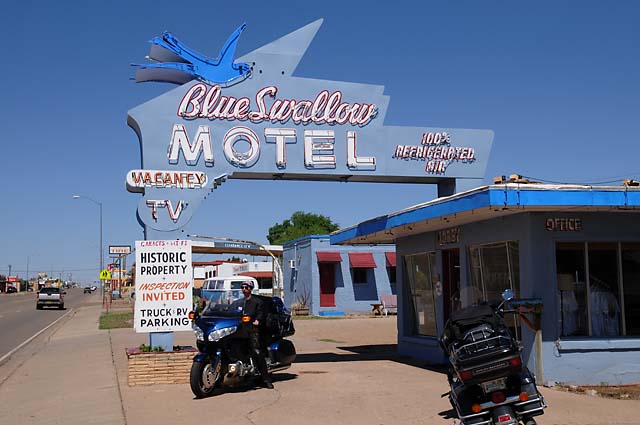 Dr Bob trying to look as modern as this Route 66 memorial in Tucumcari.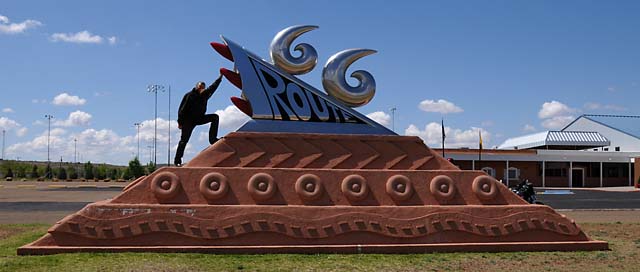 US84 just north of I-40. The road looks long with mountains ahead, and with snow on the mountains on the left.

Snow capped mountains close to Santa Fe. This picture was taken about 7,000 feet above sea level, about the same as Santa Fe which is 7,040 feet above sea level.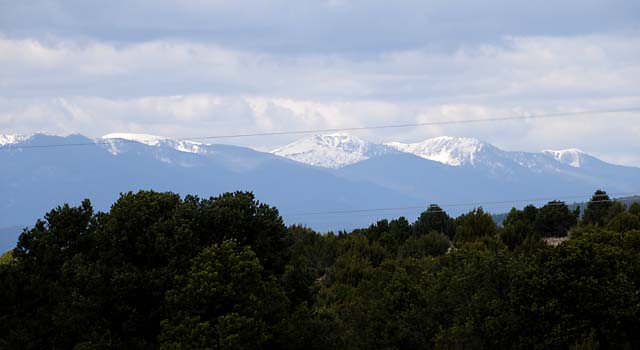 The New Mexico Capitol Building in Santa Fe.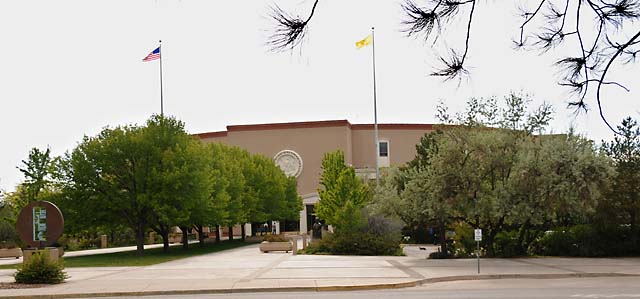 The Capitol up close.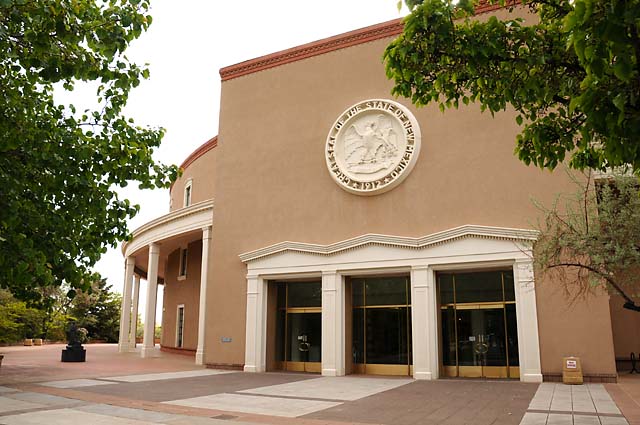 The Hotel St. Francis, our home for two nights. We are in the heart of Santa Fe.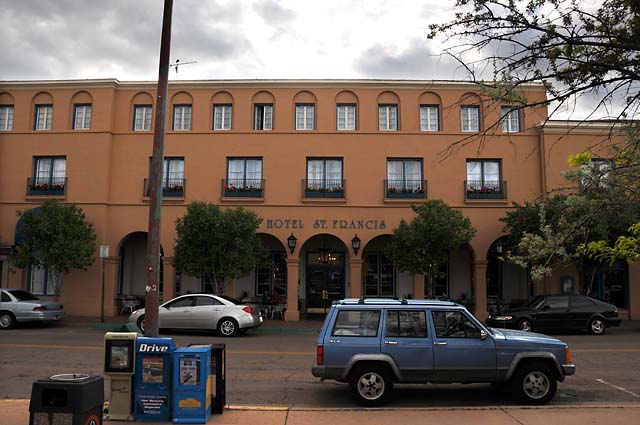 Across the street from the Hotel St. Francis.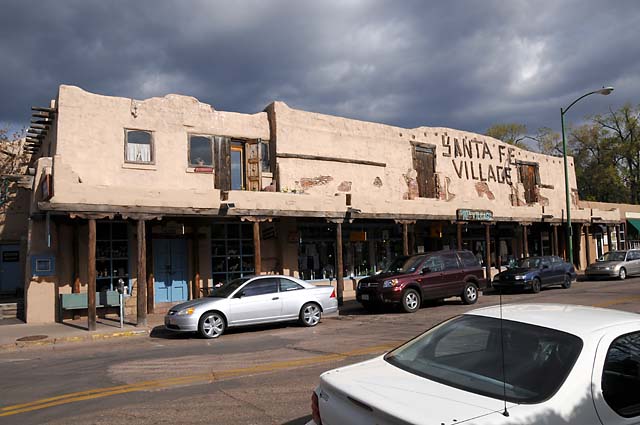 San Miguel Church. This is the oldest church structure in the USA. The original adobe walls and alter were built by Tlaxcalan Indians from Mexico around 1610.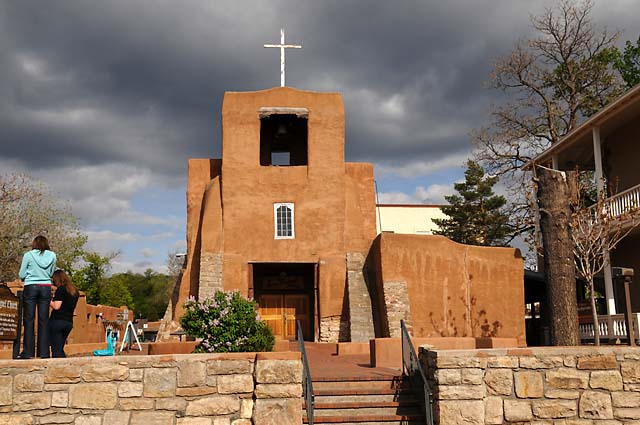 ---
17 May 08, 9:30 PM MDT, Santa Fe, NM
Today was a "day off". We could stay in bed all day. I did not. I awoke at 4:00 AM when the alarm went off. Very loudly. I did not set it! I felt like throwing the clock across the room, but my calm demeanor prevailed and I simply unplugged it for the rest of my stay. I did manage to go back to sleep, then awoke at 6:00 AM and decided to get up. After breakfast I did laundry and washed the bike. I have been on some dirt roads and gravel roads, so the bike (not my laundry) was quite dusty.
I visited the local Harley dealer to get a part that fell off the bike somewhere along the way. It is the rubber bumper that cushions the kickstand when you retract it. When the part is missing and you raise the kickstand, you hear metal clanging against metal. They didn't have that part where I got my handlebars raised, but they did here in Santa Fe. The Harley guy and I went out to the bike to look at something else, and I looked over the missing part and discovered it looked different from what I expected, and it fit differently, and then I noticed that the part was not missing on my bike at all, it had simply rotated out of position and out of sight!
Then I headed out to find some gloves. I bought some beautiful gloves somewhere on the road between Santa Fe and Taos ten years ago. The gloves have worn a bit over the ten years, and there is a hole in one of the fingers. I wanted to find a replacement pair, or maybe find out where the gloves came from and get another pair. So I retraced steps from ten years ago. Unfortunately I could not find the store. Eventually my search led me to Taos, so I decided to head to Taos Pueblo and have some fry bread. While there, I took the following pictures.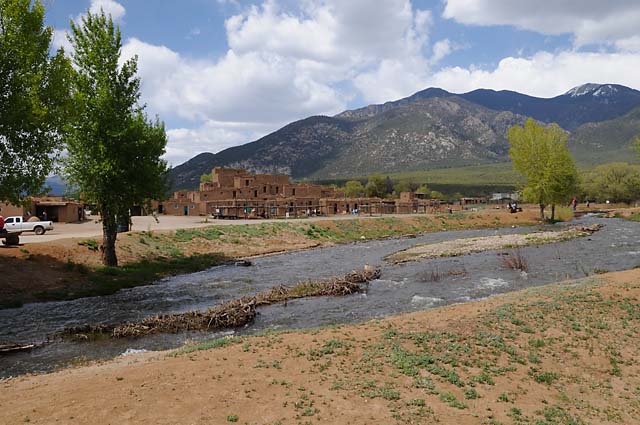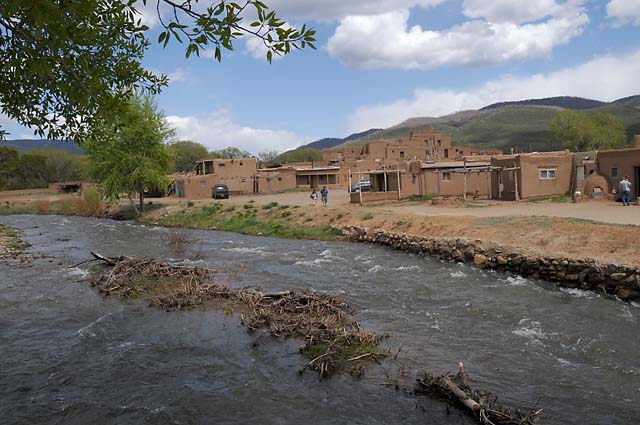 These multi-storied adobe buildings have been continuously inhabited for over 1000 years!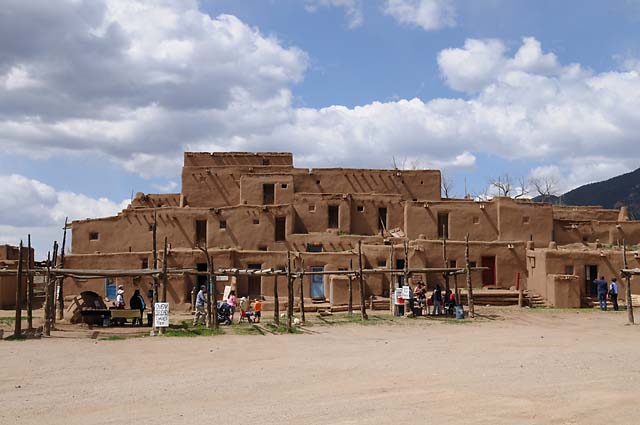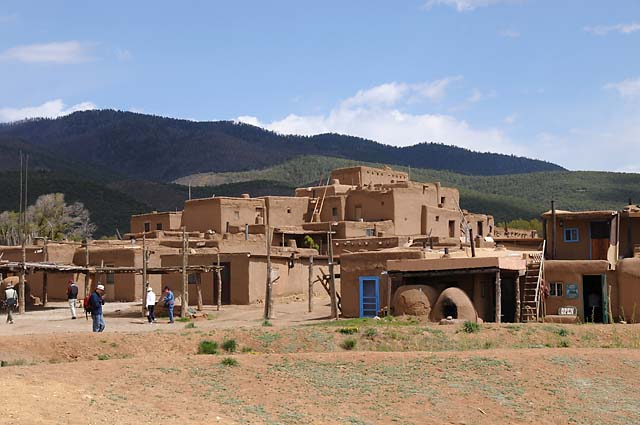 Then I headed out to see a bridge near Taos that Hanna and I have visited before. Here it is, unremarkable though it may appear.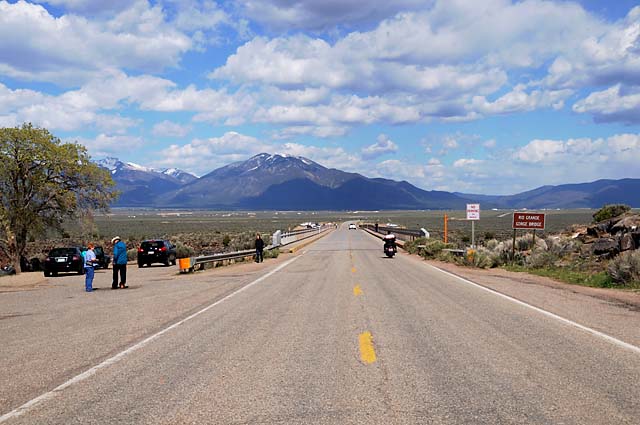 Unremarkable, that is, until you look over the sides!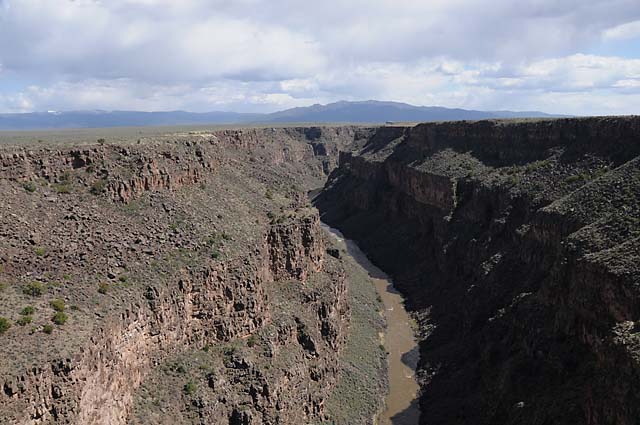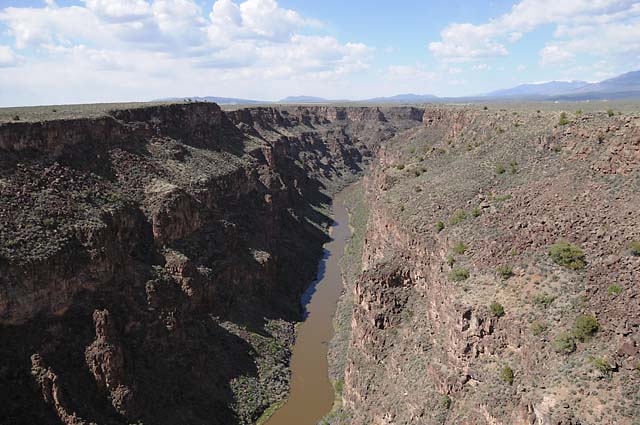 Here's a shot of the side of the bridge.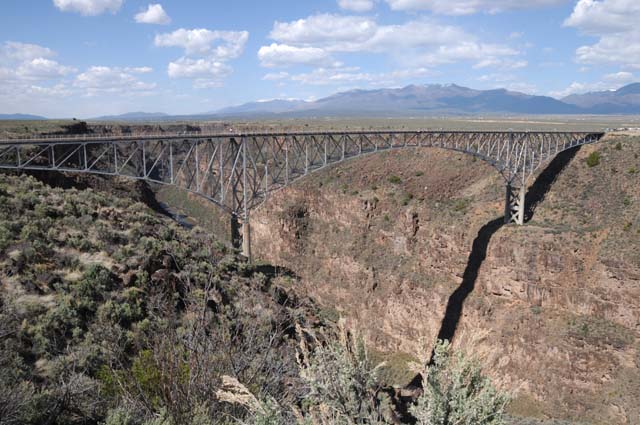 This is the bridge that crosses the Rio Grande Gorge. The bridge is only 1,280 feet long. The Rio Grande is 650 feet below.
Somewhere along the road back to Santa Fe, I took this picture looking back at the Gorge.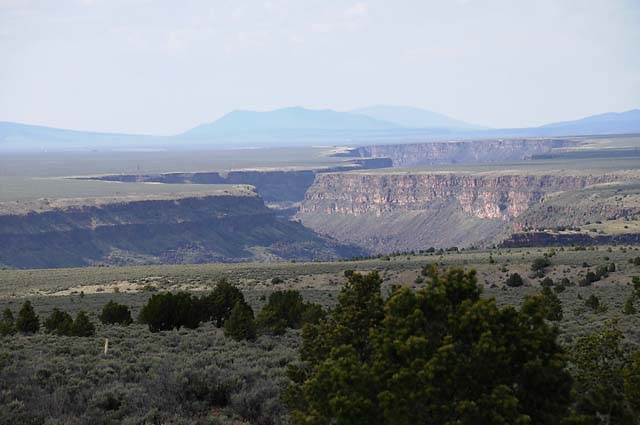 And still later, I took this picture after the road had descended into the Gorge.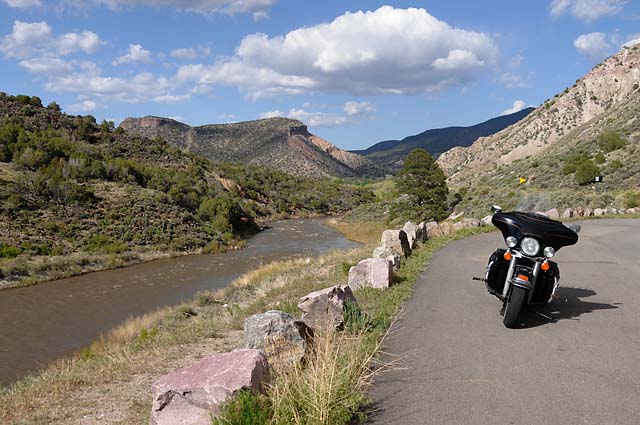 ---
18 May 08, 11:30 PM PDT, Winslow, AZ
This was a busy day. I put 392 miles on the bike. That's the most so far on the Route 66 Tour. It was the warmest day so far. My bike thermometer was showing something in the 90's during the afternoon. That made me want a chocolate shake. I followed Route 66 until I came to the Petrified Forest National Park. I went through the park, then rejoined Route 66 up the road. I shot a lot of pictures today, here are some of them.
I forgot to mention it, but I saw a road runner on Friday (the 16th). He was running to hide, and I had no chance whatsoever to get a picture of him. I am hoping to get one, but I already know that it is very difficult.
Pre-1937 Route 66 crossing the Rio Grande in Albuquerque.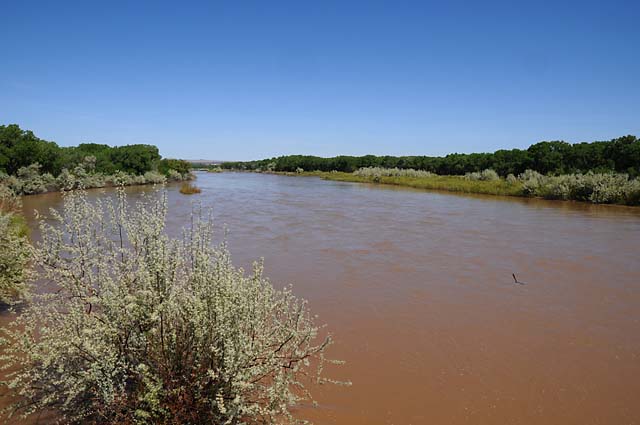 The Rio Puerco bridge west of Albuquerque.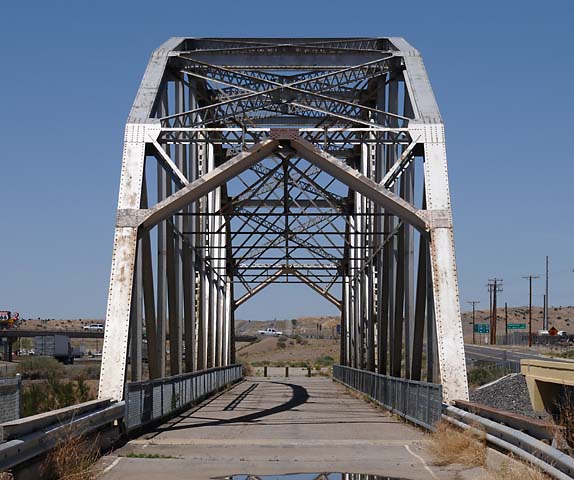 Between Albuquerque and Gallup. I knew I had arrived in the Southwest when I saw the red rocks.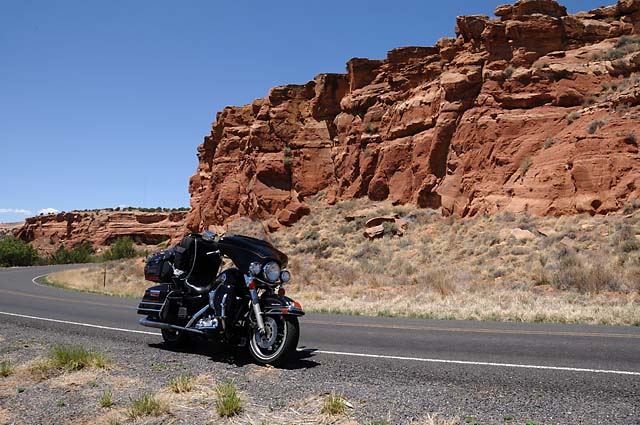 If you don't see a train, you probably left Route 66!

A cattle guard. I guess cattle are welcome on Route 66, but not on I-40.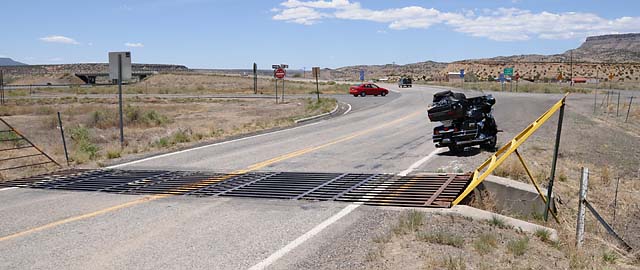 The Continental Divide. A raindrop falling on the east side of the Continental Divide will find its way to the Atlantic, a raindrop falling on the west side will find its way to the Pacific. Don't ask me how long it takes, though.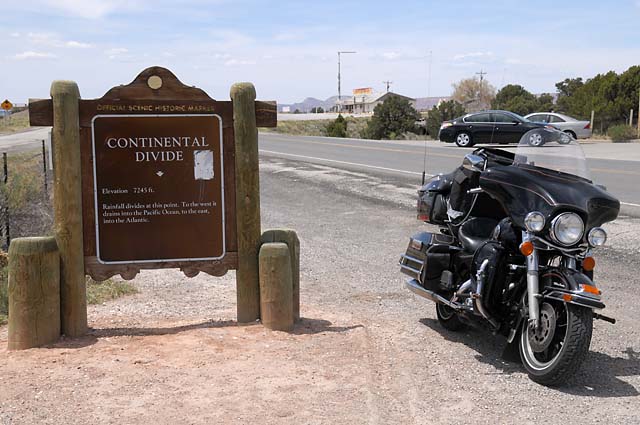 The scenery looking north at the Continental Divide.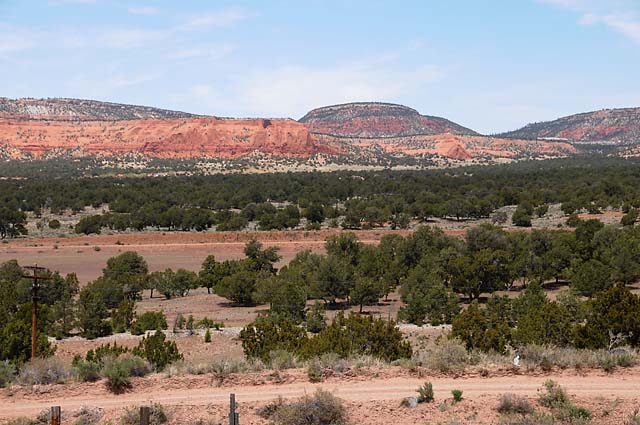 Tee Pee Trading Post in western New Mexico. See the bird? I think he is following me.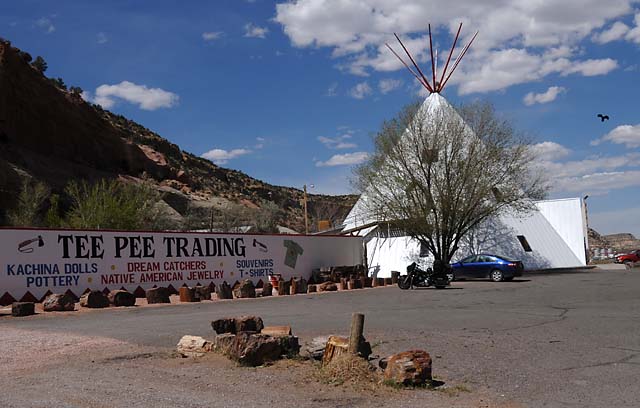 The Painted Desert inside the Petrified Forest National Park. Minerals were deposited over 200 million years ago, then exposed by the Little Colorado River. The next several pictures are all from the Painted Desert.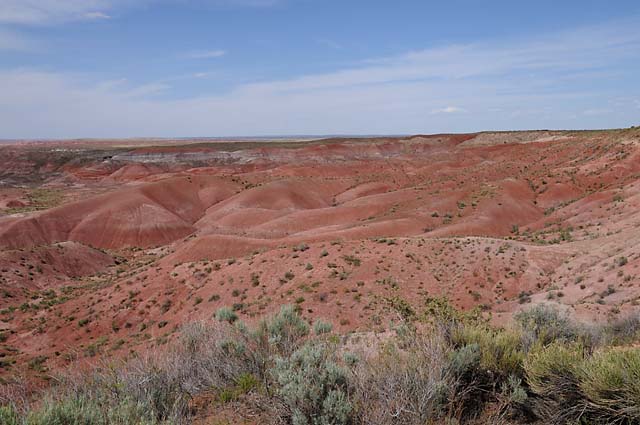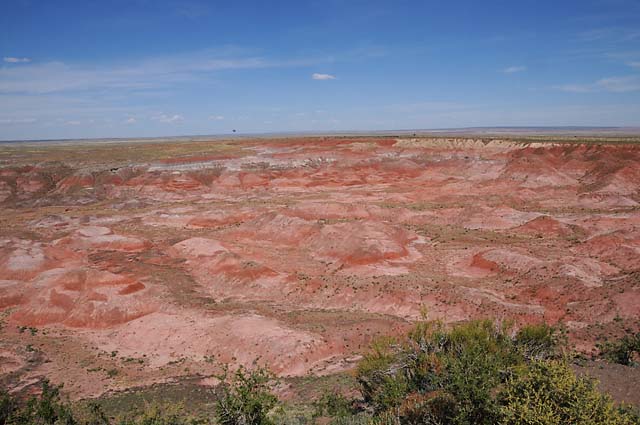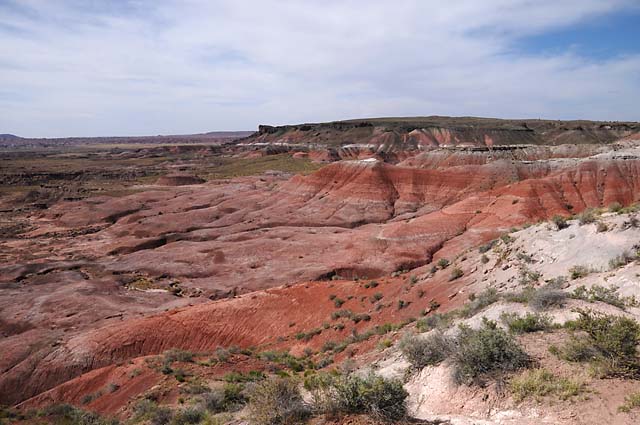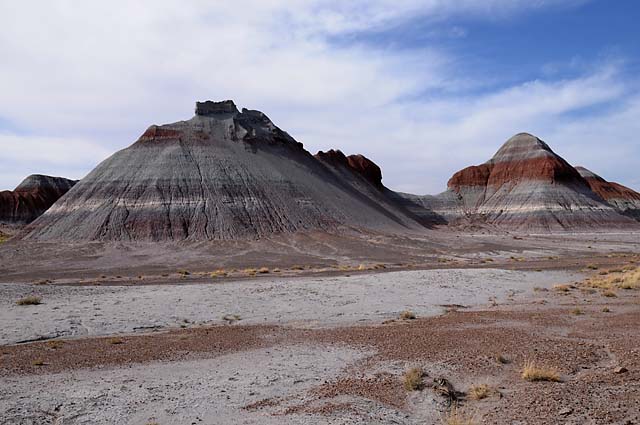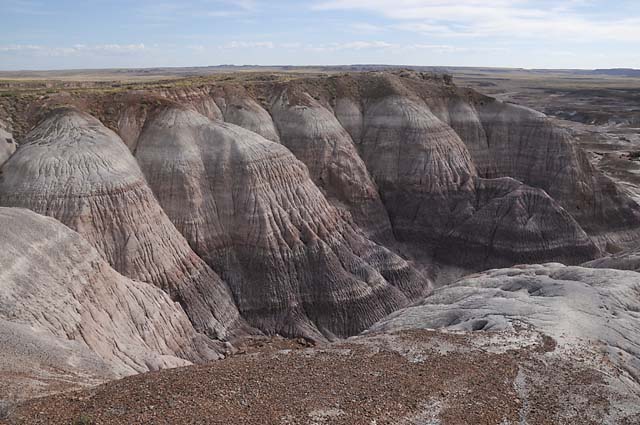 This petrified log bridge was breaking, so a concrete support was made in 1917.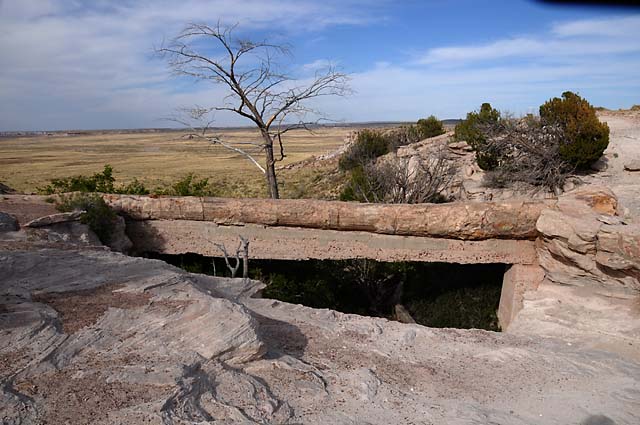 The next few pictures are petrified wood from different locations in the Park.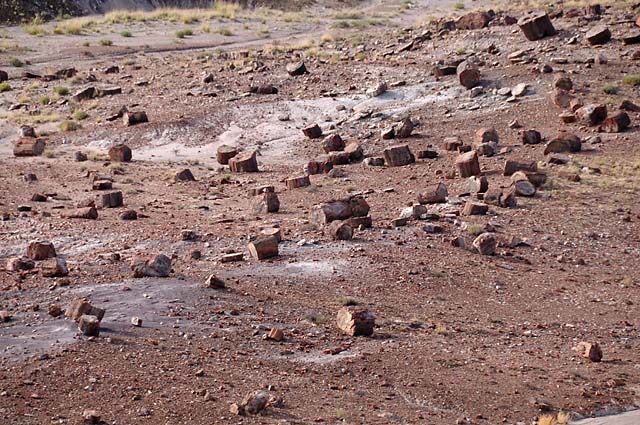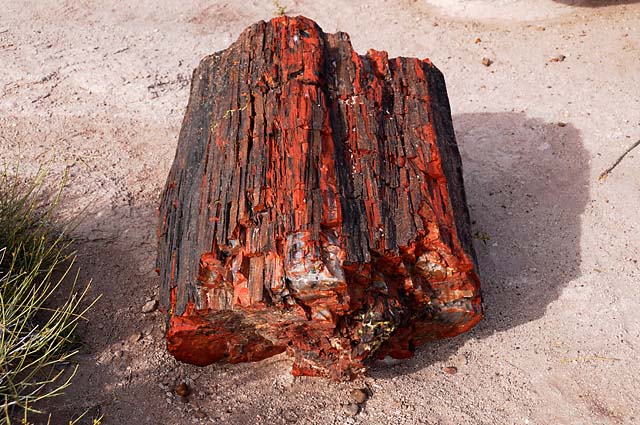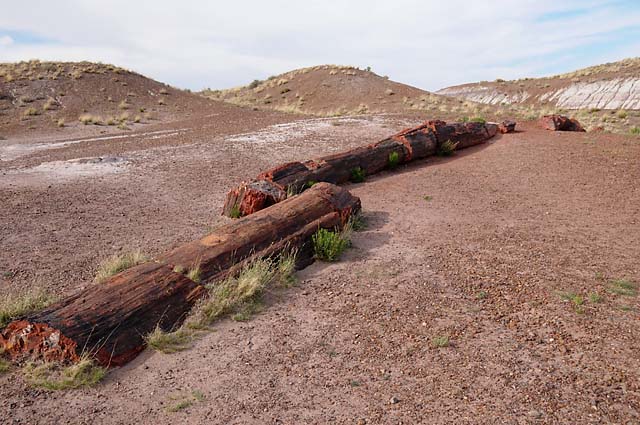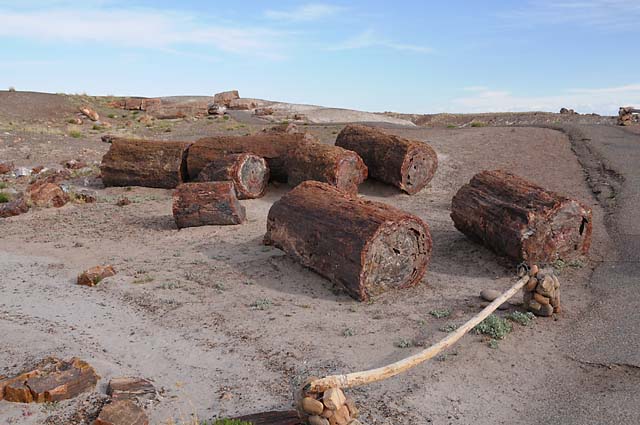 I think this bird is following me.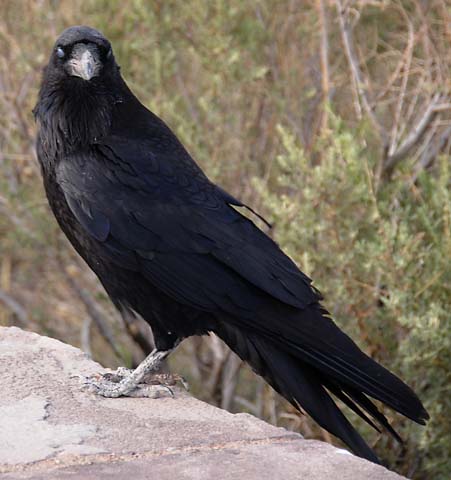 ---
19 May 08, 11:00 PM PDT, Grand Canyon Village, AZ
It is too late tonight to give a full report of the day. I will give you three pictures, and then do a further update tomorrow on today's ride. Today was the hottest day, the thermometer on my bike said it was 100°F when I left Cameron and headed west to the Grand Canyon. I started the day by going backwards. There was more to do yesterday than I could accomplish, so I finished it up this morning. But, I will only touch on that tonight, it is too late, and I want to check my email and get to sleep. I have to go to another building to get an Internet connection. If it were not for that fact, I just might have done a full update tonight. So, here's what I will do tonight. The first picture shows where we are now, the Grand Canyon.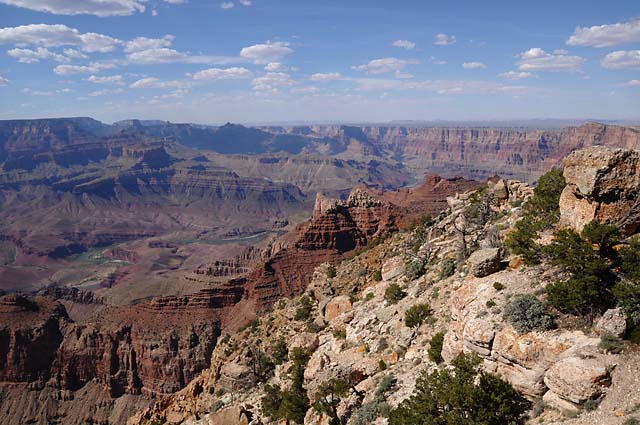 The second picture shows how I started the day.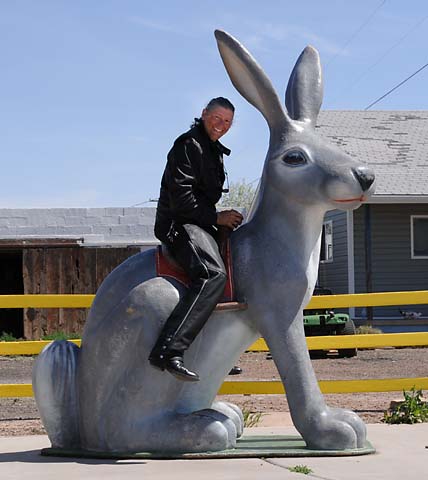 That is the jackrabbit, a famous icon on Route 66.
Finally, for tonight, the third picture proves that bird is still following me! Why won't he leave me alone?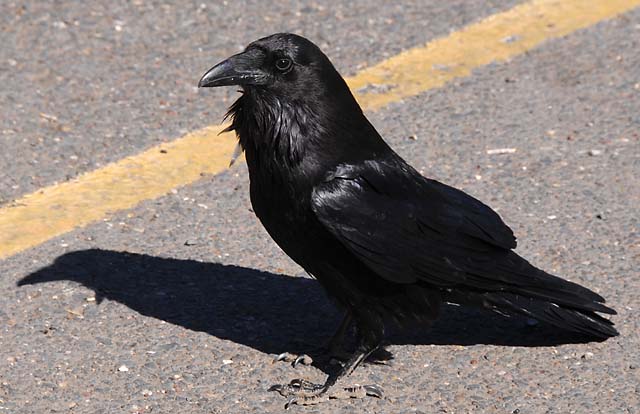 Good night, one and all.
19 May 08 (Posted on 20 May 08 at 7:00 PM PDT)
Before leaving the hotel, I took a few pictures. It is a wonderful old Route 66 hotel called the La Posada.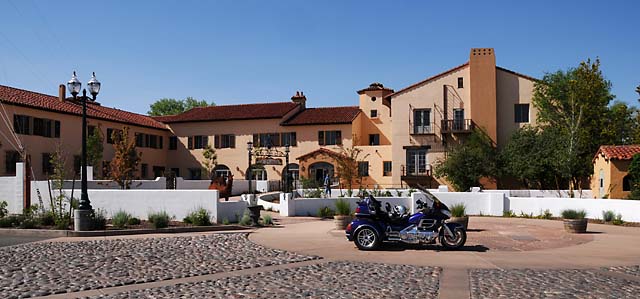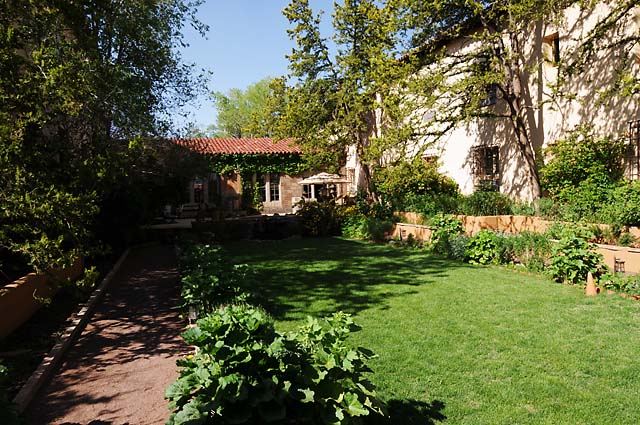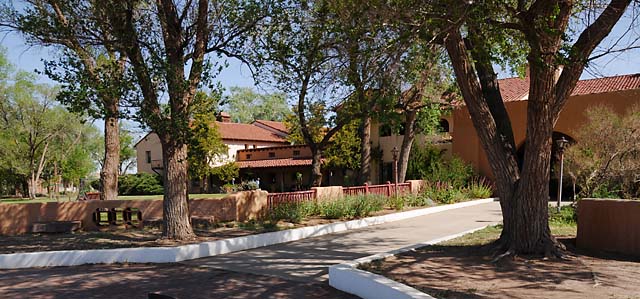 There are several railroad tracks behind the hotel. You can see the San Francisco Peaks in the background. They are just north of Flagstaff.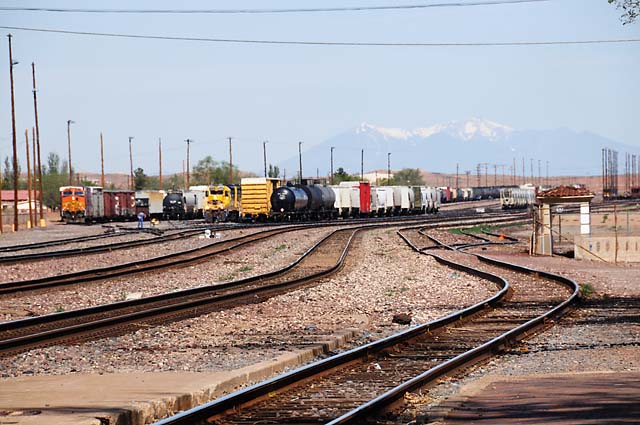 As I said last night, I then began backtracking. I saw another Route 66 icon, the Wigwam Motel, which still operates, and had no vacancies last night. Notice the old cars, one of which is a Studebaker. When my family took their Route 66 vacation in 1952, it was in a Studebaker.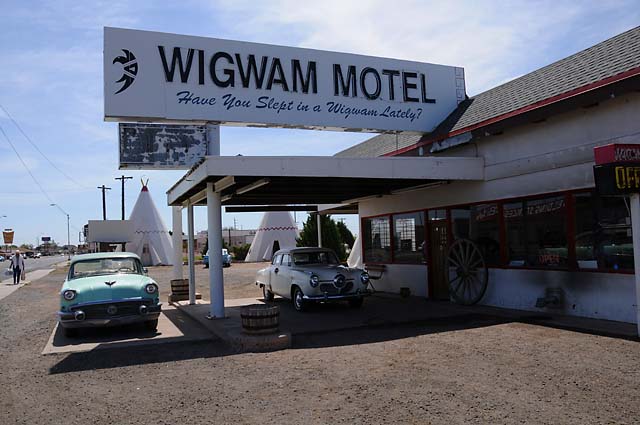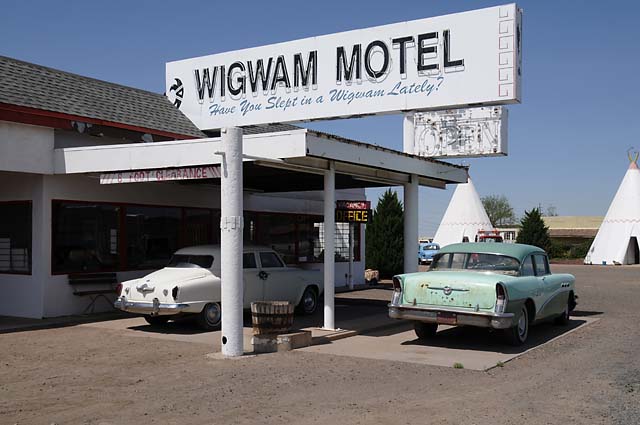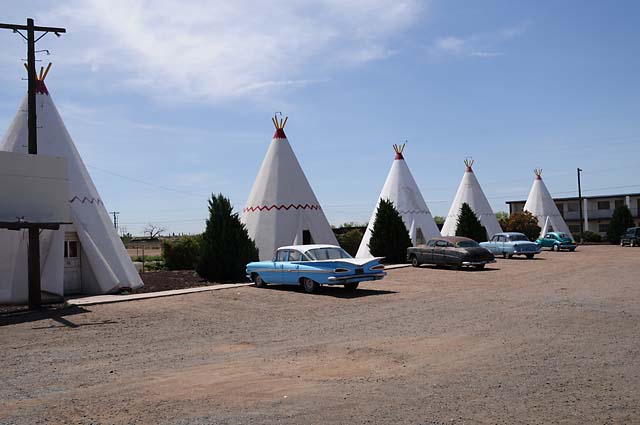 Another old bridge. The San Francisco Peaks are in the background.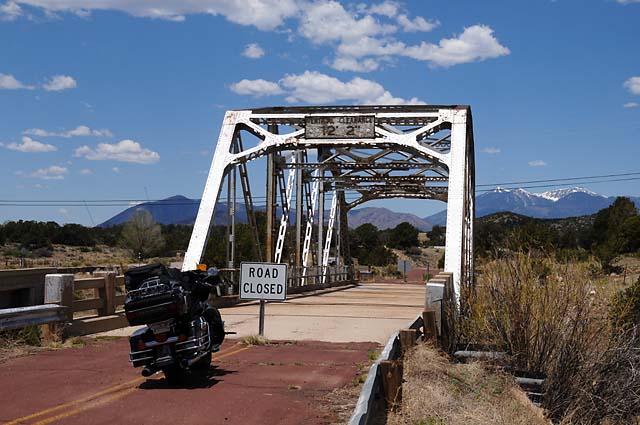 Then I rode past Sunset Crater. It erupted in 1064.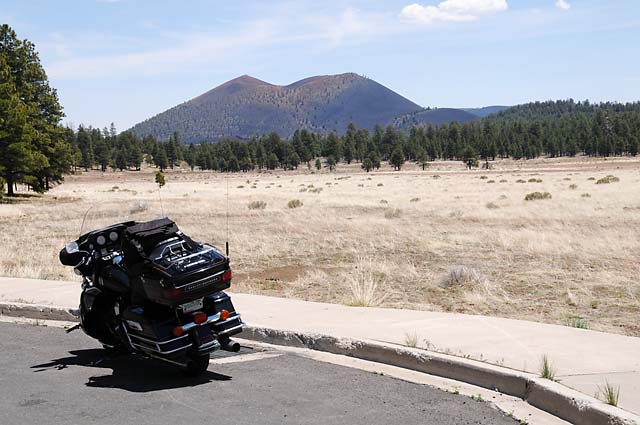 This is a lava field from the volcano.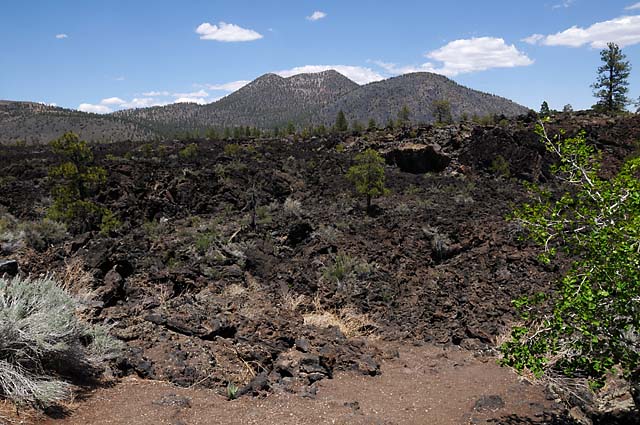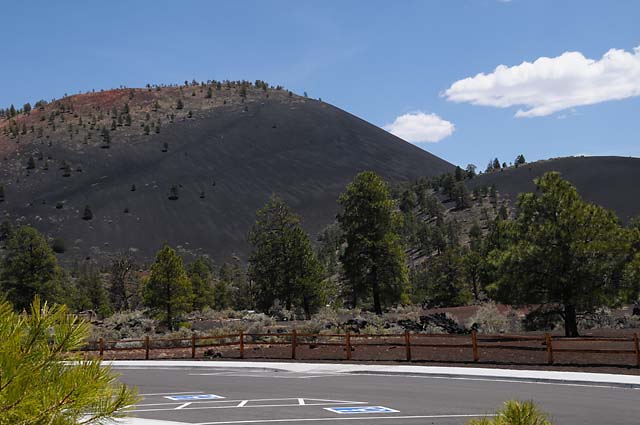 Past old Pueblo ruins.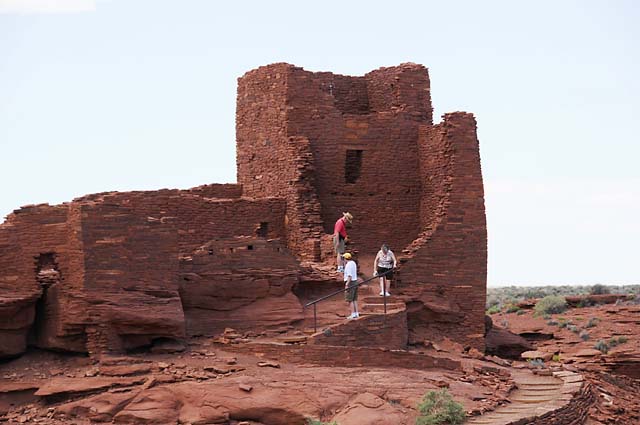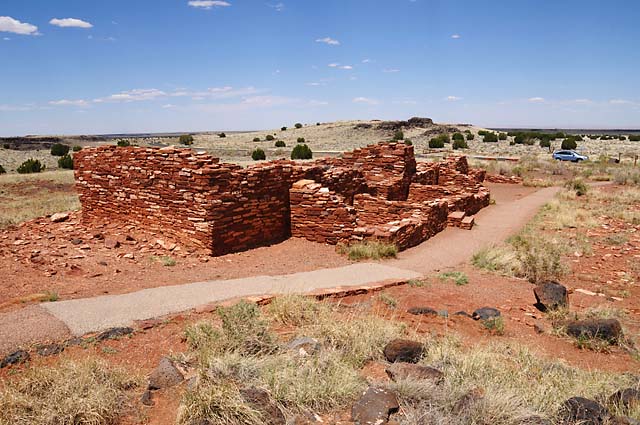 And on to the Grand Canyon.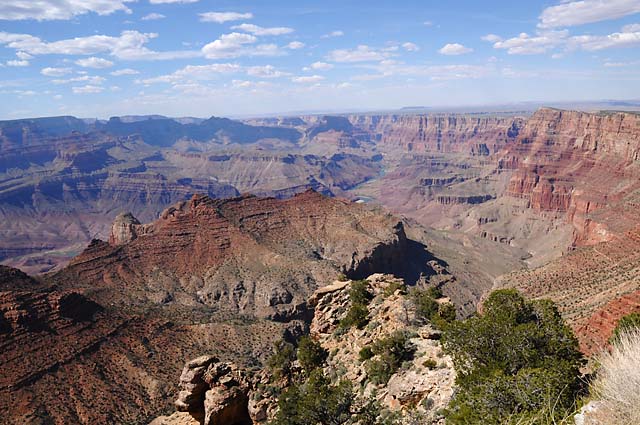 ---
20 May 08, 7:00 PM PDT, Grand Canyon Village, AZ
Easy day today. We started the day with a group photo. Then Bob McD and I rode along the rim, taking lots of pictues. You will see some below.
Don't forget to check out the pictures from yesterday that were posted tonight.
But first, here's the group picture. Click on the picture to see the full resolution uncropped version. Or, right click, and then click "Save Target As..." to download the full resolution image. From the left, Dr Bob, JJ, Frank, Danny, Mick, Bob M, Susan, Roger, Karen, Mike W, Mike H, Kurt, Dick, Bill, Jim, and Mike G.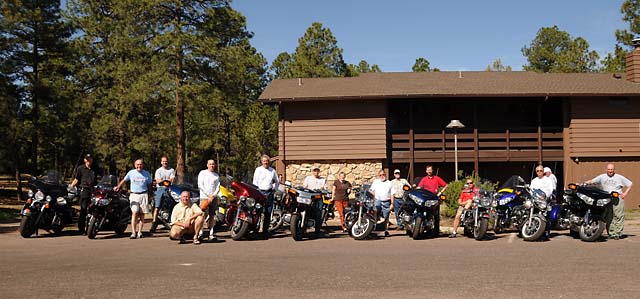 Here are several Grand Canyon pictures.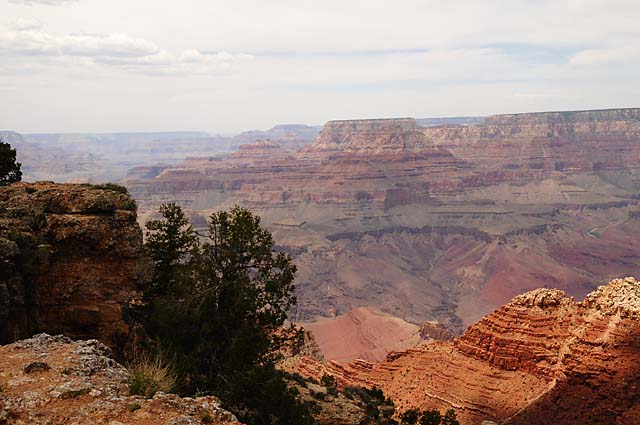 Rapids in the Colorado River.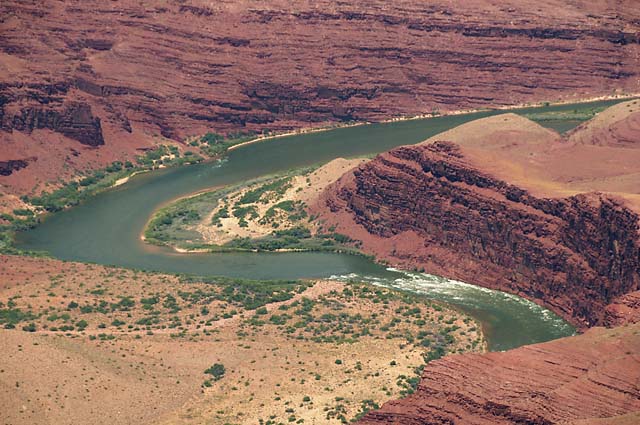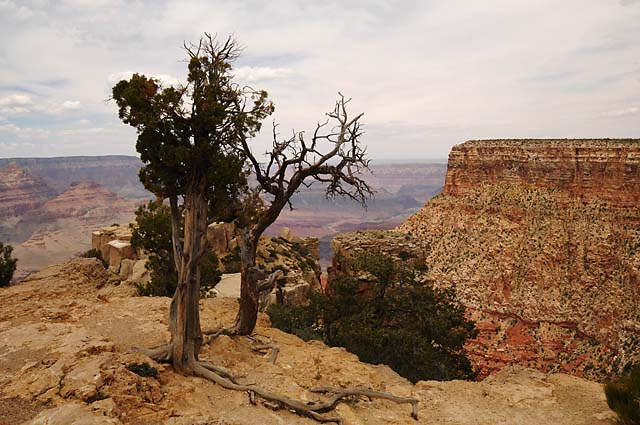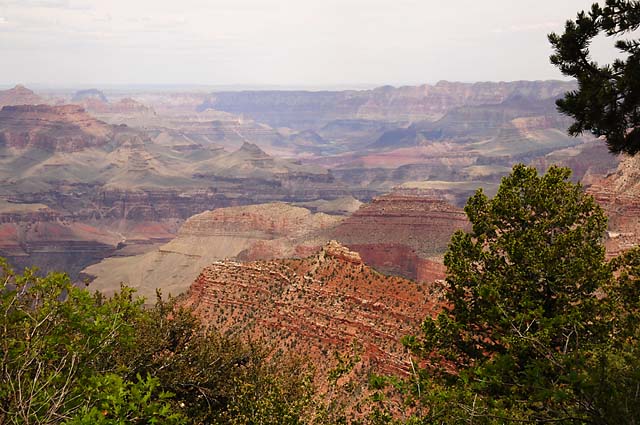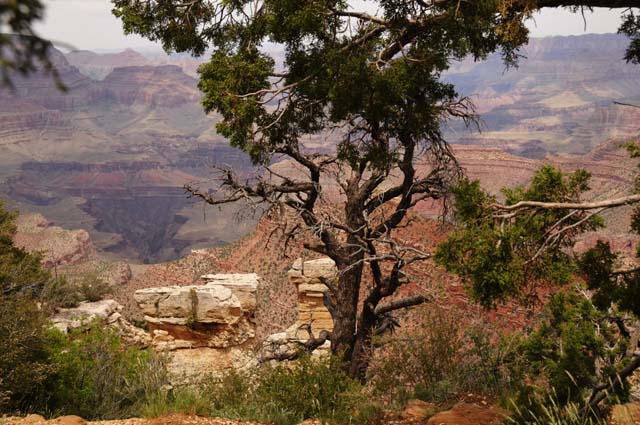 Phantom Ranch at the bottom of the Canyon.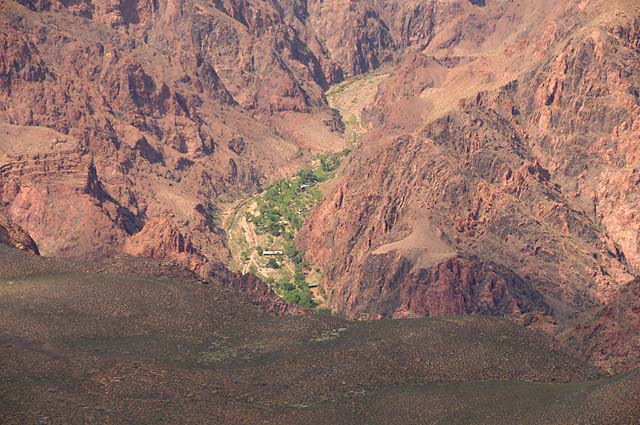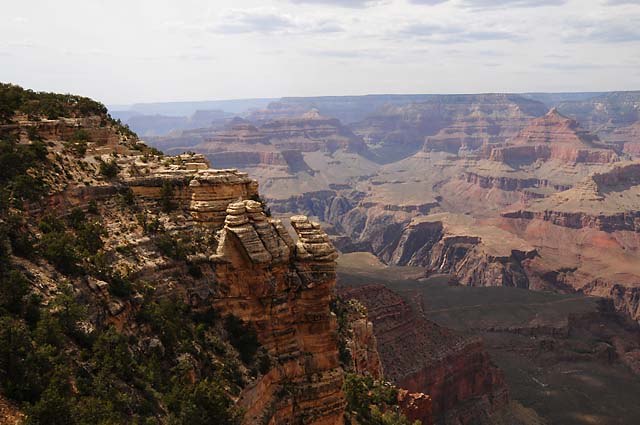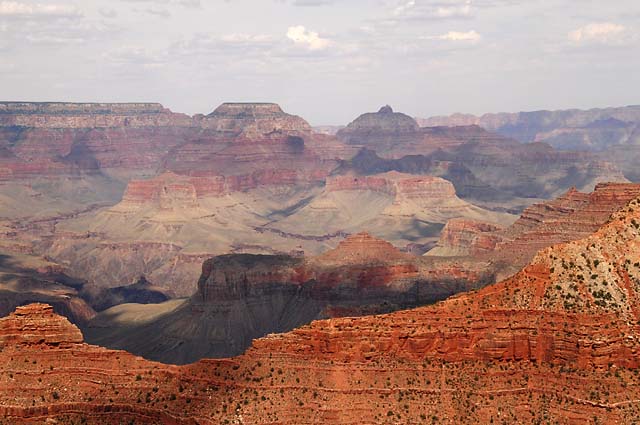 Bob McD living dangerously.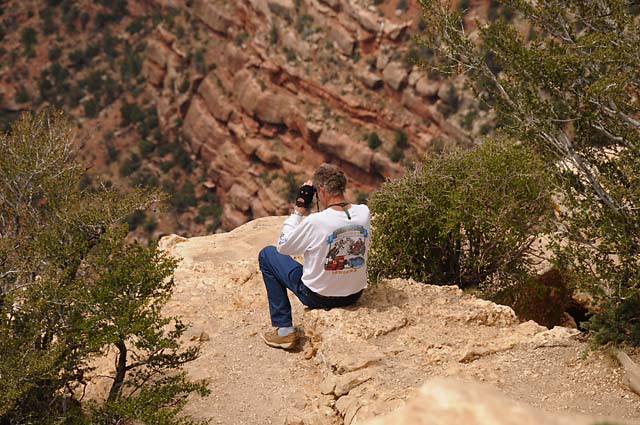 Lisa and Corina.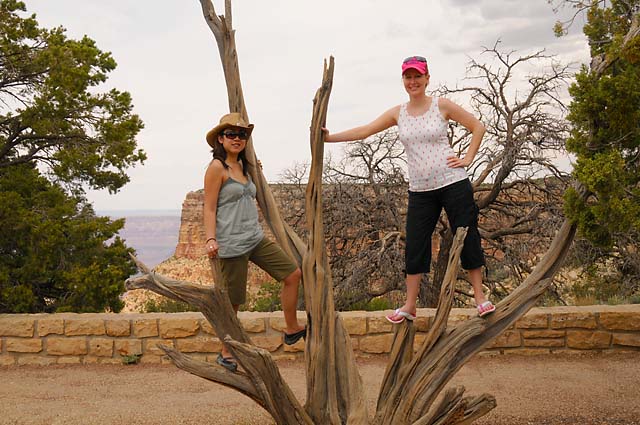 There's that bird again!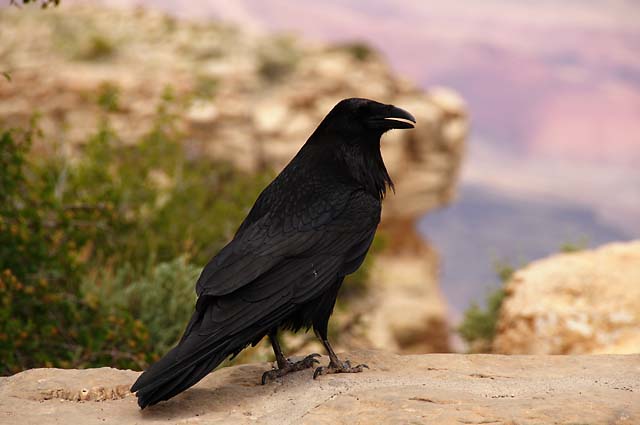 Dr Bob and a chocolate shake.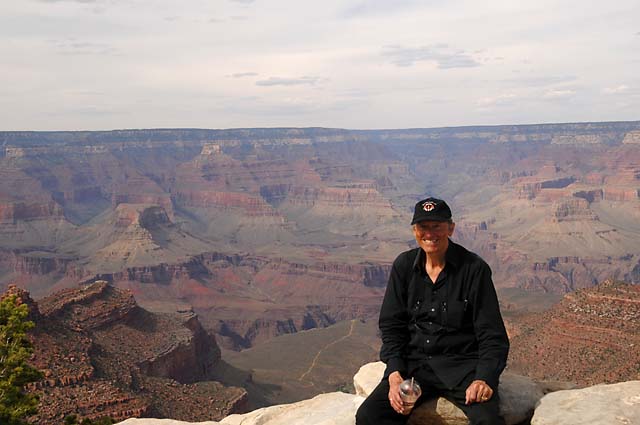 Old Pueblo ruins inside the Grand Canyon National Park.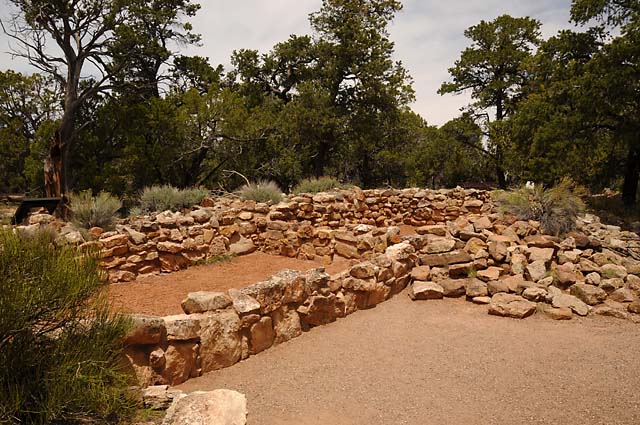 ---
21 May 08, 12:00 Midnight PDT, Kingman, AZ
The day was a little cool, but that's great when you are in a place where it is usually hot! It was very windy, and I got blown around quite a bit. We may have hit our highest altitude today going from Grand Canyon to Flagstaff on the scenic route. In case you cannot read the sign, it says "Elevation 8046".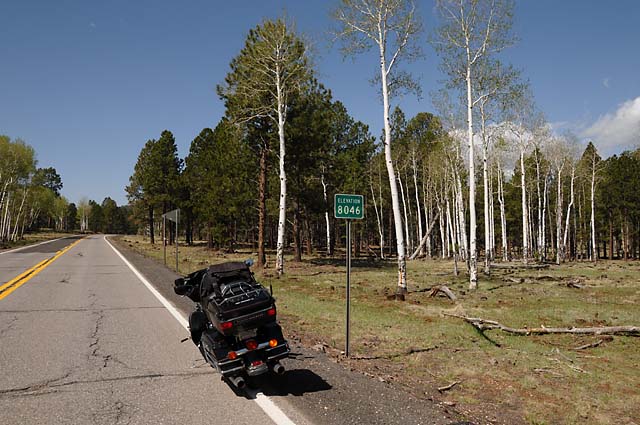 This is in Williams. I suppose the establishment could be called a B&B, except it is Bed and Bakery. I understand it used to be a Brothel. So, I guess we can still call it a B&B. Kurt is looking up, I don't know if he is looking at the sign or at the lady hanging out the window.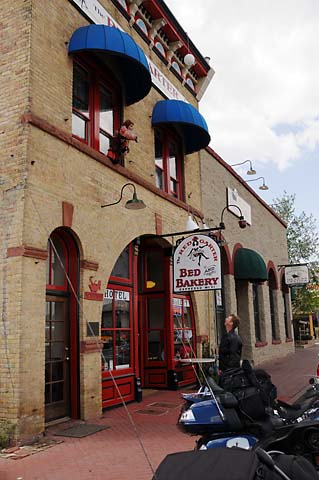 My bike almost has 50,000 miles.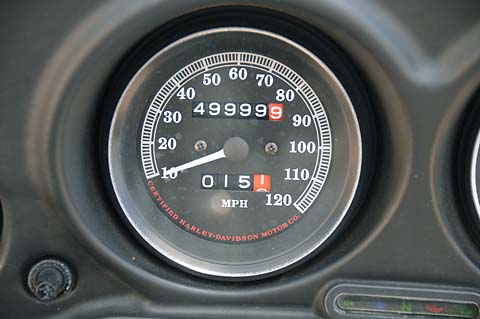 Oops, now it does.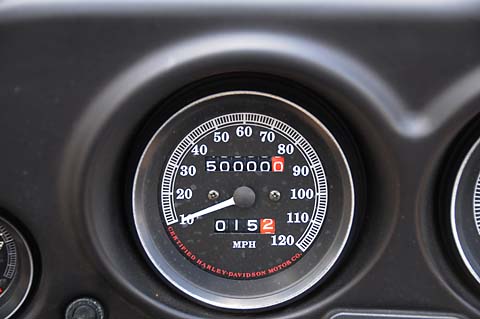 This happened at the Monte Carlo exit off the Interstate. The only thing at the exit was the Monte Carlo Truck Service and a big gravel area where I could run a couple circles and get a picture at exactly the right moment!
I saw this dirt devil, but by the time I could get the bike off the road, it had almost gone away. It had been much more visible than this picture shows. Actually, this is not that good a picture, and normally I wouldn't include it, except there are some railroad tracks and I just had to get in the point that there are always railroad tracks beside Route 66.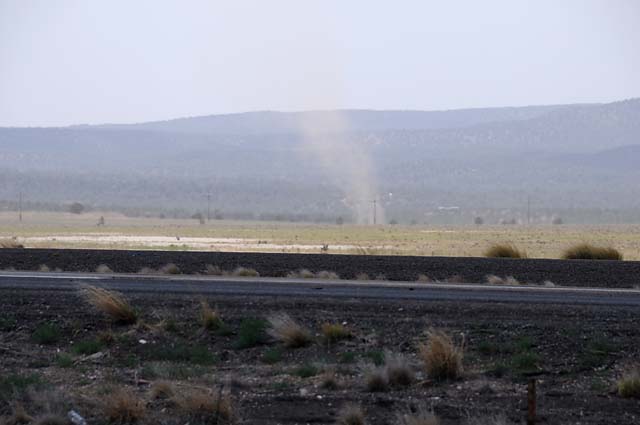 This is for you old-timers.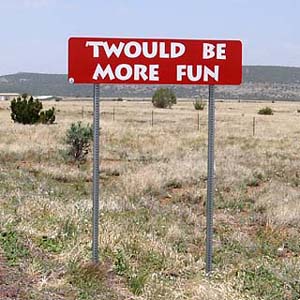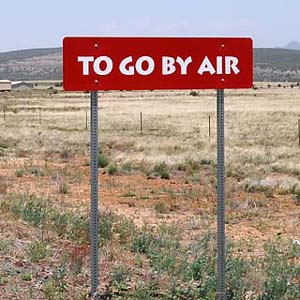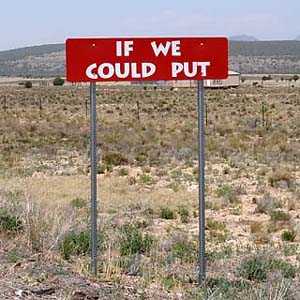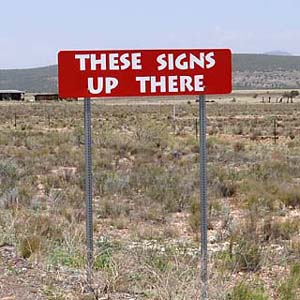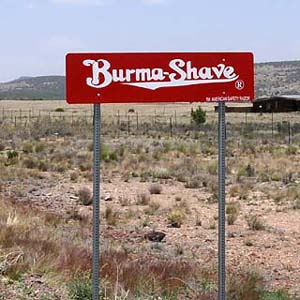 This is the Roadkill Cafe in Seligman. Hanna and I have eaten here a few times, and stayed in the Route 66 Motel next door. I just had to call Hanna while eating lunch.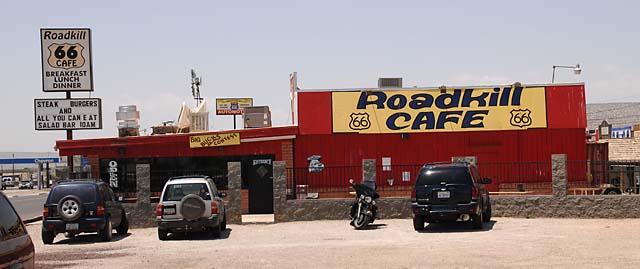 This is Bob McD in front of the Aztec Motel in Seligman.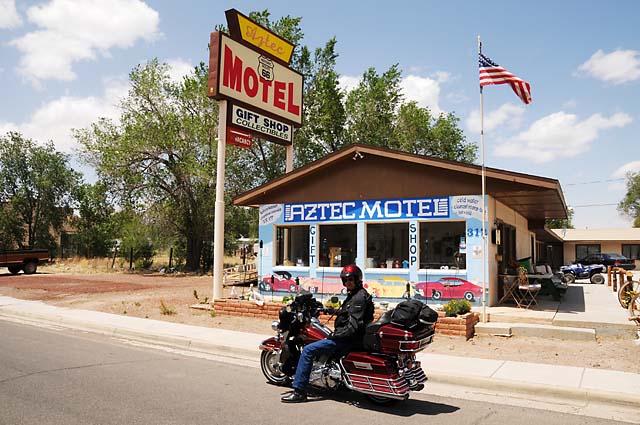 This is a tumbling tumbleweed, tumbling because of the high winds. They were tumbling across the road, and along the road like this one. You can see this one is up in the air because of the shadow under it.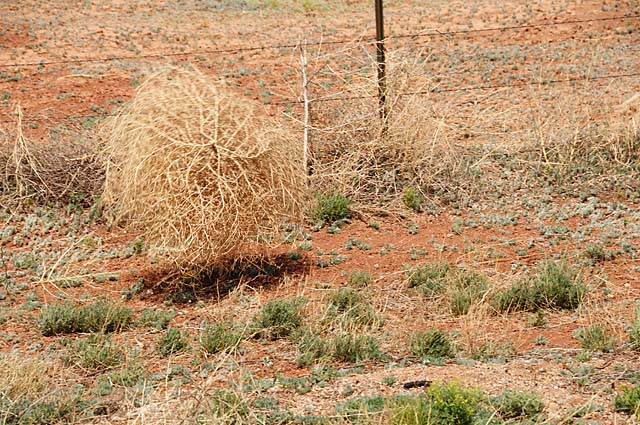 The long straight road back to Seligman.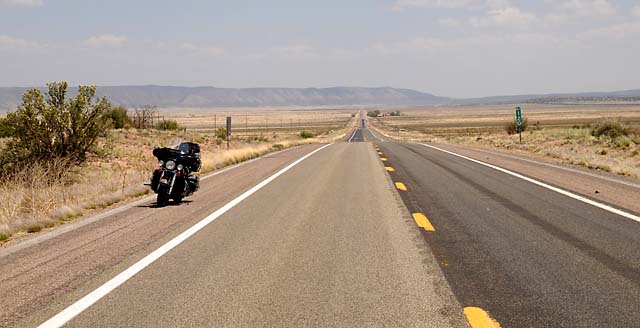 I stopped to take a picture of the scenery which seemed more impressive to me than this picture does. But, I have to include it because it is the lead-in for the next picture.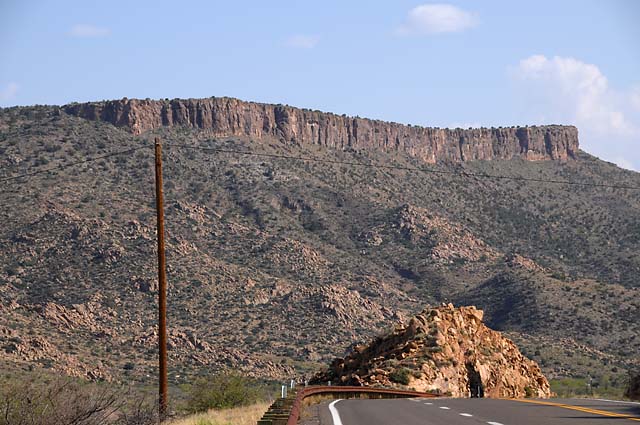 As I was climbing back on my bike, I heard this noise getting louder, and louder. I wondered what it was as I was getting ready to lift the bike off its stand and get going. Then it suddenly hit me. It is a train! And it is very, very close. I walked to the edge of the road and there it was, down below the road. I didn't even know the tracks were there.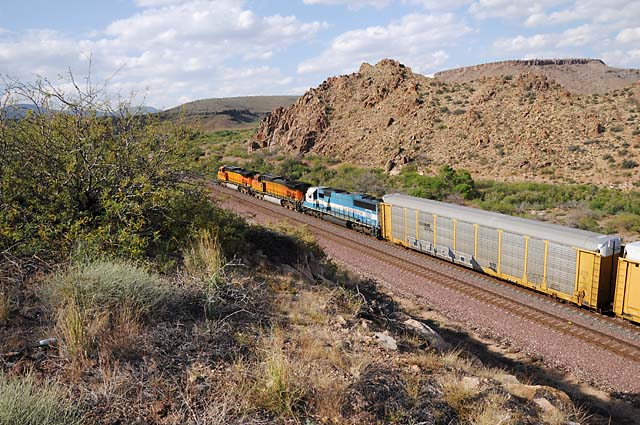 The bird left me alone today. Actually, I kind of miss him.
---
22 May 08, 11:30 PM PDT, Barstow, CA
We are getting close to the end of Route 66. Today we entered California. We rode through Oatman, Arizona, across the Colorado River, and to Barstow. Normally it would have been hot, in the 90s at least. A cold front has come through, and the temperature may not have reached 80. That made it an easy day.
The ride to Oatman requires going up a winding mountain road, with many switchbacks. Some of the switchbacks are a very tight curve, requiring careful riding. In the early days of Route 66, some people were afraid of the road and would hire somebody to drive their car up the mountain. Sometimes the car had to be driven backwards because the steepness would cause gasoline to stay in the tank and the engine would stall, unless the gas tank was higher than the engine, as is the case driving up the hill backwards. The first two pictures show the view from the Sitgreaves Pass, the first looking back towards Kingman, the second looking toward Oatman.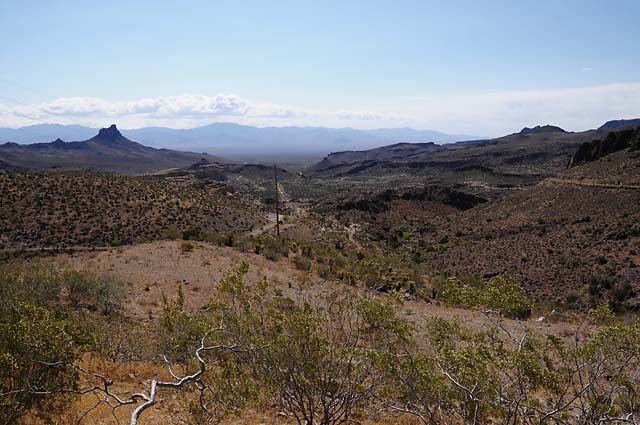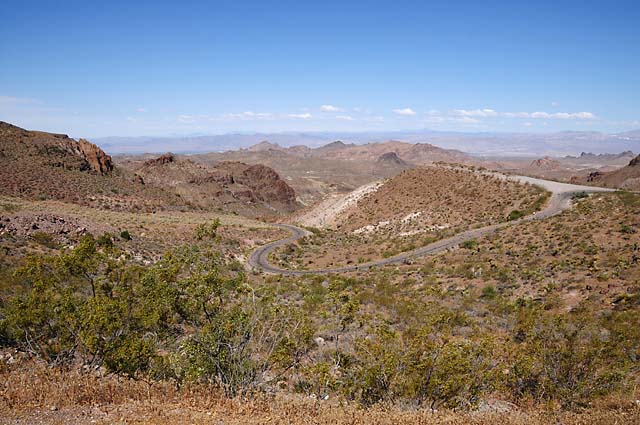 This shows what was growing on the hill in the Pass.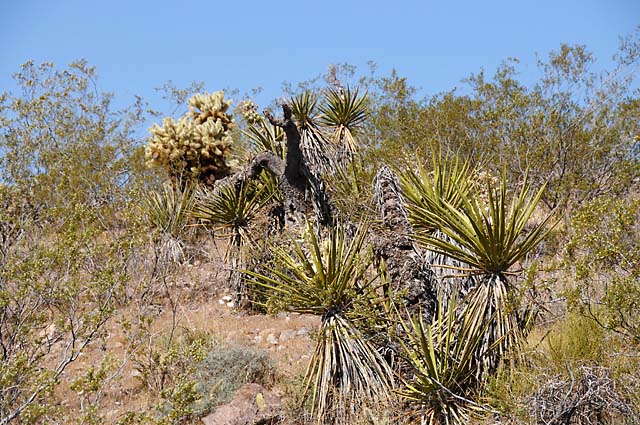 Descending into Oatman, I saw what looked like a red car on the mountain side. I was right, here's what I saw when I got closer. Apparently the car went over the edge where you see the rocks above the car. I have no idea how long the car has been there.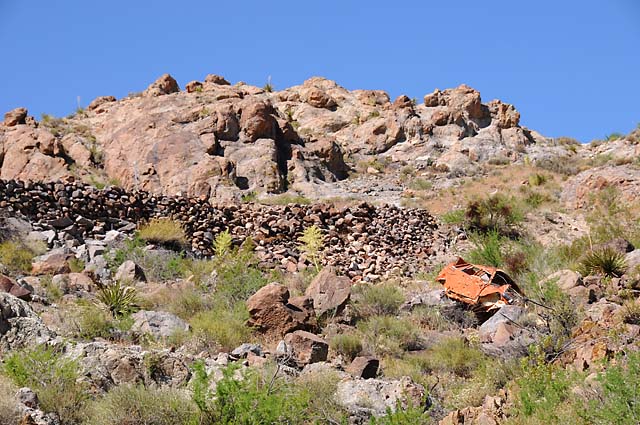 There are two things that Oatman is really known for -- the burros roaming the streets, and the 1939 honeymoon of Clark Gable and Carole Lombard. But first, some burros. These guys are descendants of burros that prospectors left behind.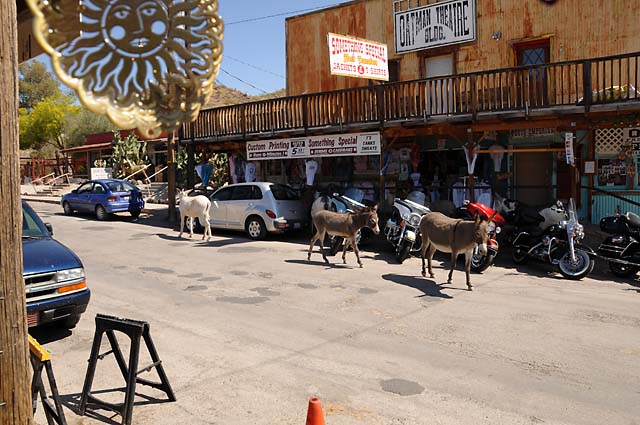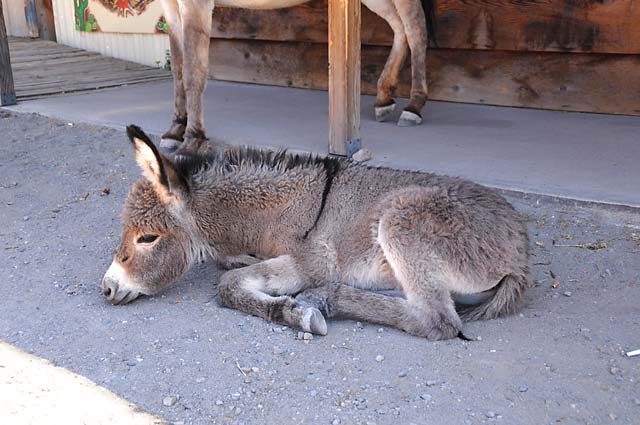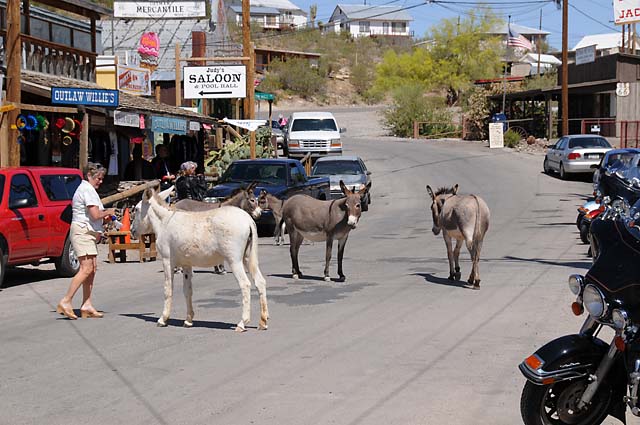 And now the honeymoon suite.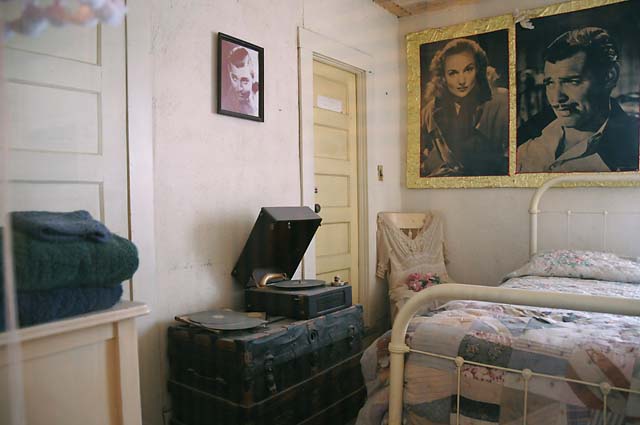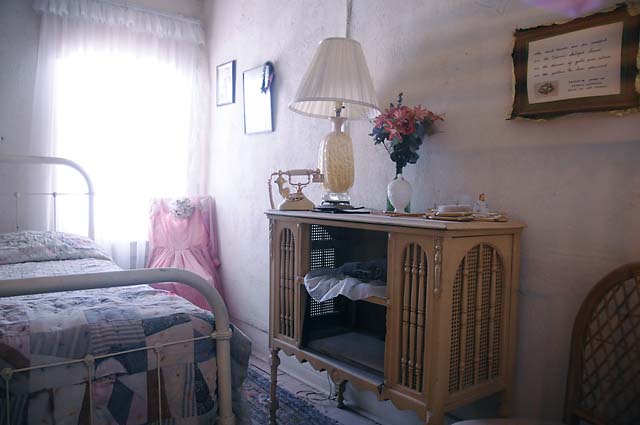 Time for another train shot. Five locomotives!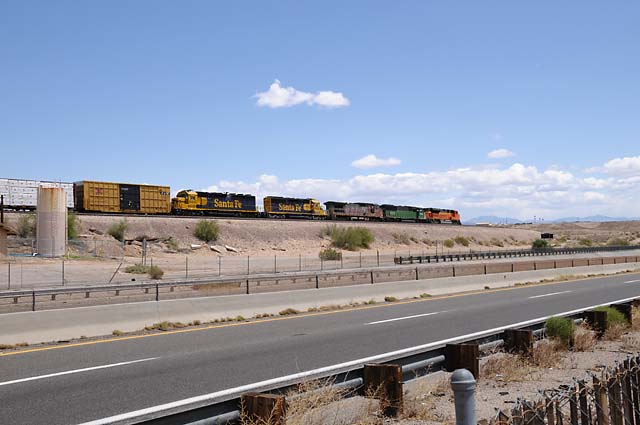 And another bridge. This is the old Route 66 bridge crossing the Colorado River. You may have seen it in "Grapes of Wrath" or "Easy Rider".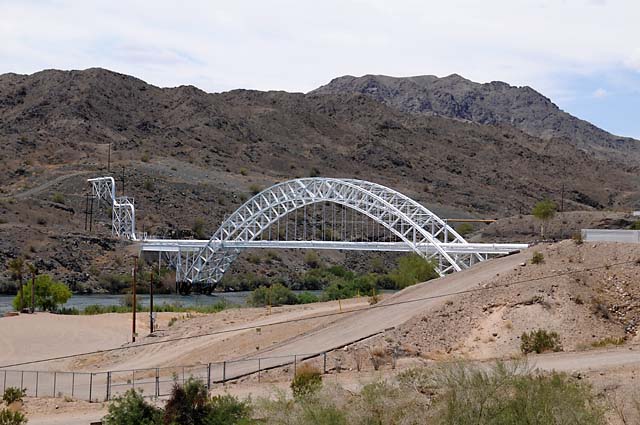 Looking across the Colorado River back towards Oatman which is behind the peak in the center.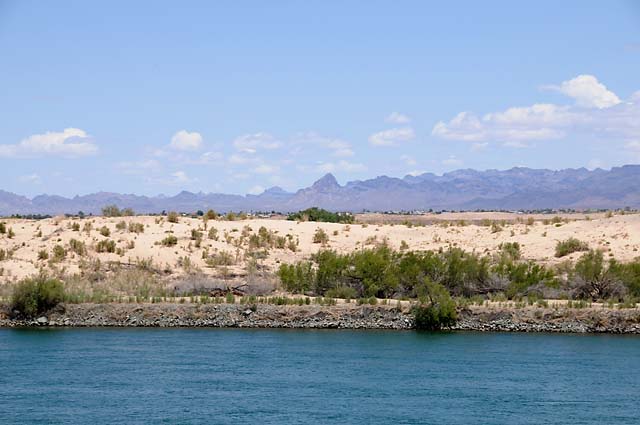 Roy's Motel and Gas Station, another Route 66 icon.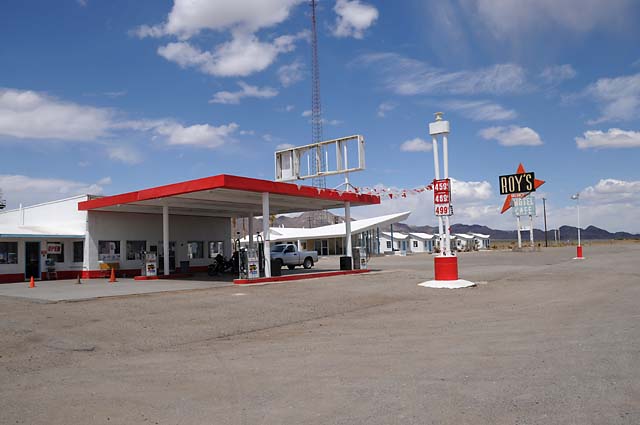 Storms were brewing today, you can see two here. I was in sprinkles, but not real rain.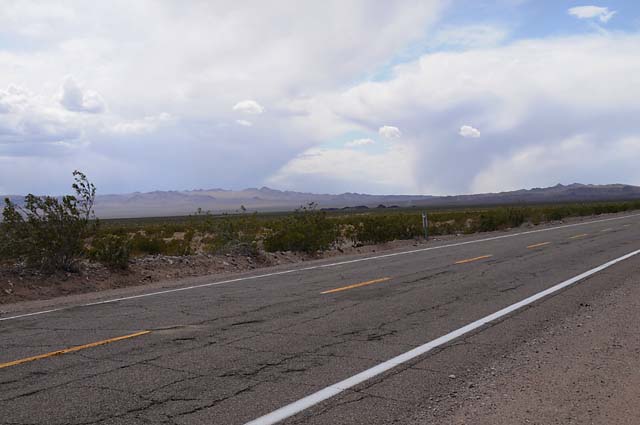 My feathered friend showed up today. I think I missed him yesterday because I kept looking on the ground. He was probably above me the entire time!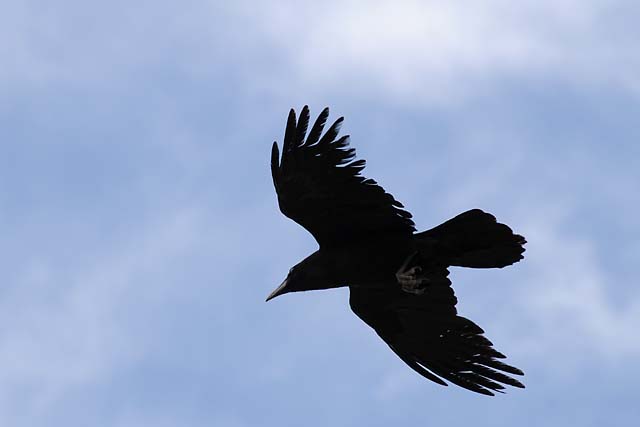 ---
23 May 23 08, 9:00 PM PDT, Santa Monica, CA
What a difficult riding day, especially since it was the last day of the Route 66 portion of my journey! I had all kinds of good thoughts in mind leaving Barstow. I just love the way the I-15 goes down through the Cajon Pass. I was going to go down through the pass, get off and go back up, then ride the Angeles Crest Highway through Wrightwood until I reach the point where Angeles Crest is closed, then go back and down into the Antelope Valley to catch the Pearblossum Highway, then up Angeles Forest Highway to the Upper Big Tujunga, then to the Angeles Crest Highway, then to the point where Angeles Crest is closed. Just for fun, I wanted to know how many miles it was to "get to the other side" of the closure. Then I was going to stop at Newcombs Ranch on the way back, and finally ride into Santa Monica.
Well, when I was approaching the Cajon Pass it was raining so hard I got off the I-15 and headed back north. No way was I going to go down that road with the heavy rain I was in. I headed to the Pearblossum Highway thinking I would head west and maybe the rain would go away. About one mile into Pearblossum, I say "NO WAY". It was as dark ahead as it was in the Cajon Pass.
So, I headed north on US395. I decided I would go where the rain was not. I went to CA58, the road that goes from Barstow to Bakersfield, and headed west to Mojave. About 30 miles before Mojave, I could see a big storm ahead. I hoped it was west of Mojave. Well, anybody want to guess what happened? Right, in the rain again. But I preferred being here in the rain to being in the Cajon Pass in the rain.
I didn't have to endure the rain too long, and I already knew that would be the case because I could see the size of the storm as I approached Mojave, and I knew it was clear to the south. I continued on through Rosamond, Lancaster, and Palmdale and followed CA14 through the mountains to the I-5. I had some rain, but not too bad.
Along the I-5 through the connection to the I-405 the rain got heavier, but manageable. Finally I got into the Sepulveda Pass where traffic came to a standstill. I should have gotten on Sepulveda Boulevard, but I just stayed on the slow I-405. Finally I got off at Wilshire, jumped across to Santa Monica Boulevard (which is Route 66) and rode the rest of the way to the Pacific feeling like Peter Fonda and Dennis Hopper in the parade before they were thrown in jail in "Easy Rider". The first thing I had to do upon arrival was get a picture of the Pacific Ocean and the Santa Monica pier.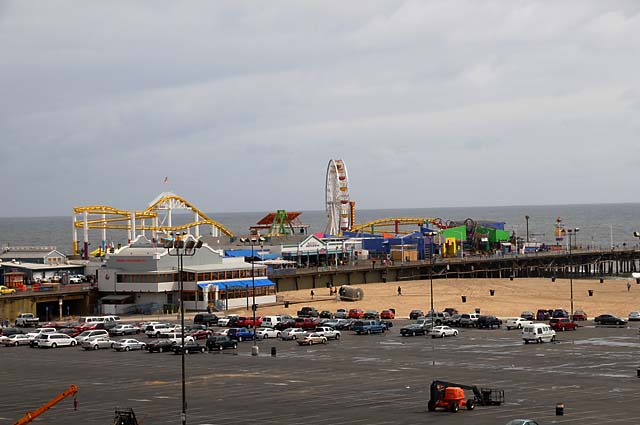 And a picture of the memorial dedicating Route 66 to Will Rogers.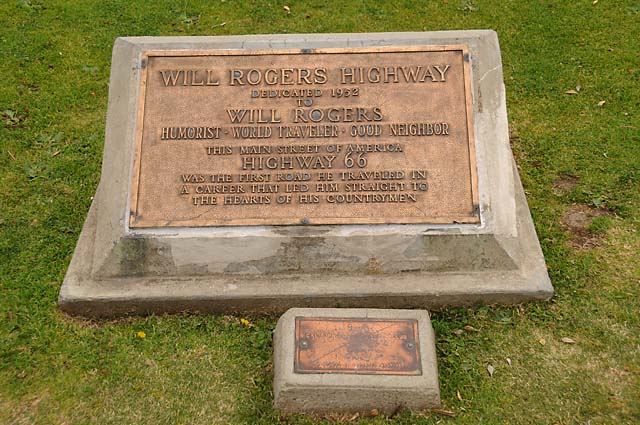 Because of the rain, I have very few pictures today. Here's a bridge on Route 66 that is still used. This picture serves two purposes, because there is a train running next to it. Not only that, there are two trains, one going each direction. If you look carefully, you can see a yellow locomotive between the two red cars directly above the 15'0" sign.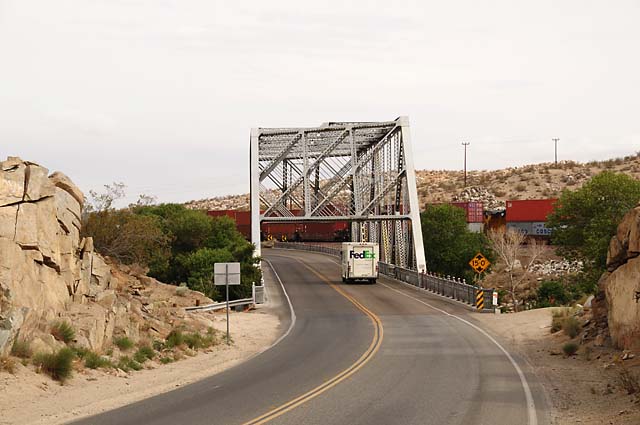 This bridge was kind of neat because it was not square. You can see that it comes closer to the camera on the right side than it does on the left side. This bridge was just at the Victorville city limits.
This shot with a Route 66 sign going across the highway is from downtown Victorville.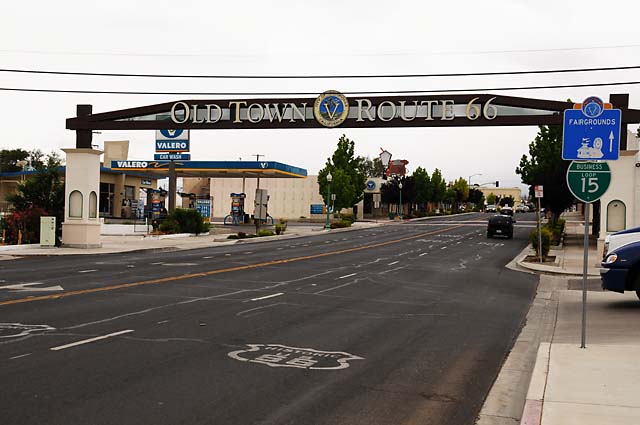 Notice the Route 66 shield painted on the road surface. That has been done in many places and it helps confirm you are on Route 66. I wish they would do that in more places.
The ladies on the Route 66 Tour.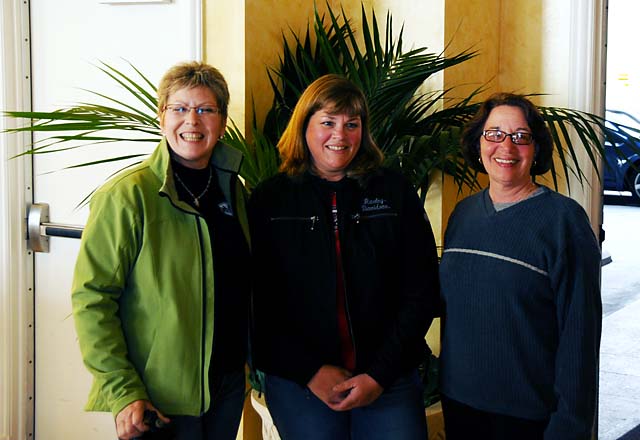 We did a group picture at the memorial dedicating Route 66 to Will Rogers. Dick was not there physically, he had a flat tire on I-10 and was unable to join us. As he is known as the invisible guy, we imagined he was there with us. Here's the entire group. Click on the picture to see the full resolution version. Or, right click, and then click "Save Target As..." to download the full resolution image. Standing from the left are Mick, Mike H, Mike G, JJ, Bob M, Dr Bob, Jim, Frank, Bill, Jessica, Kurt, and Roger. Kneeling from the left are Mike W, Susan, Karen, and Danny. And, of course, Dick on his bike.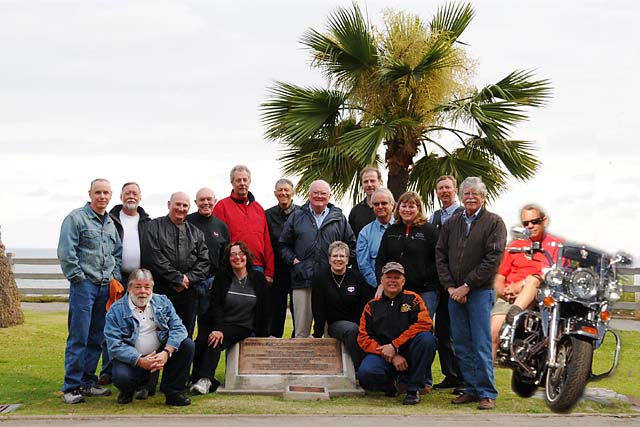 Danny and Jessica with AMA Route 66 Tour leaders Karen and Frank.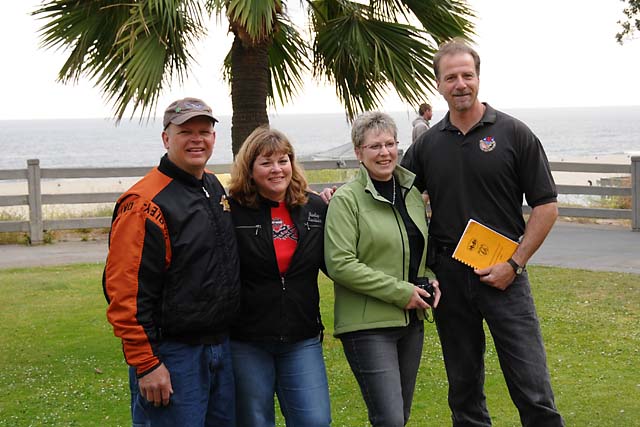 Mick, Mike, JJ, and Mike.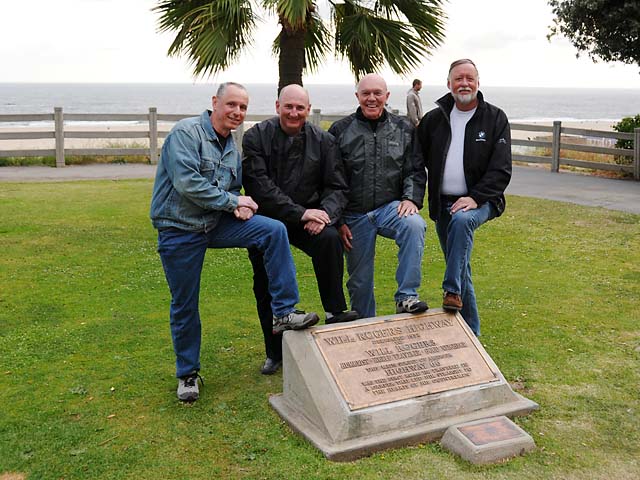 I rode 3,370 miles on the Route 66 portion of my trip, I have ridden 4,787 miles since leaving North Palm Beach.
While this is the end of the Route 66 portion of my journey, you may wish to continue to follow me on my journey back home to Florida. I promise more beautiful pictures from Death Valley, Monument Valley, and other gorgeous places.
---
24 May 08, 10:00 PM PDT, Glendale, CA
Today was a day to take it easy. I had breakfast at the hotel in Santa Monica, said goodbye to some more of the Route 66 Tour riders, then headed out in the misty air to Glendale to my home for the next few days. I rode the surface streets, not the freeways, to reacquaint myself with the area. I lived here just five years ago, but my aging mind needs little reminders to put things back into place. After checking into the Glendale hotel, I headed out to Encino, where I used to live, to meet some friends for lunch and music. I stopped at a shoe repair place I patronized while I lived here to get new heels on my boots. My left heel had worn down very quickly. I guess it is the 6,000 miles I have ridden in the past four weeks that is due the credit. Left foot always goes down first. I do have some pictures for today. First, my LA harem.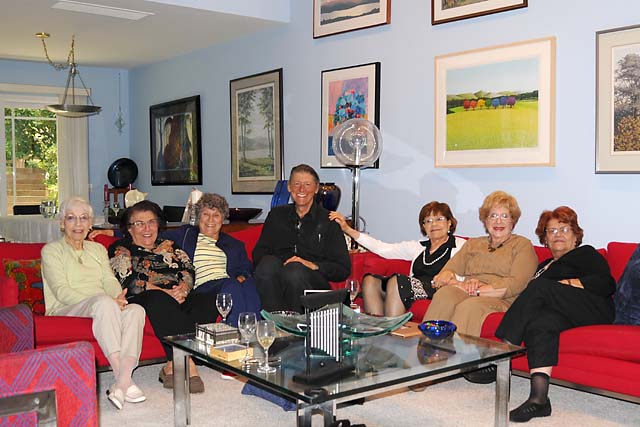 Following a delightful lunch and piano music with the ladies, I rode Mulholland Drive from Encino to the Cahuenga Pass. Here's a shot of Encino from Mulholland. My home was on the other side of the hill you see in the middle of the picture. You can see the Van Nuys Airport in the mid to upper left, the runway is pointing away from the camera. Above and to the right of the runway, in almost an S shaped curve, you can see the aqueduct that delivers water to LA through the Newhall Pass.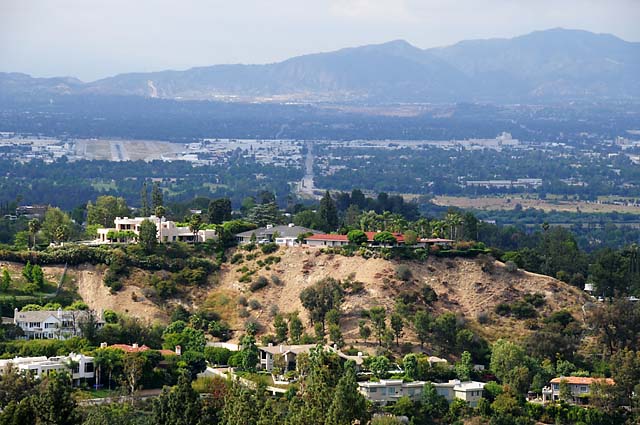 At the Cahuenga Pass end of Mulholland, you get a good view of the Hollywood sign. Being a tourist now, rather than a resident, it is mandatory that I take a picture of the sign. It doesn't matter if I already have a picture of the sign (which, of course, I do), the rules of touristism require a new picture. From the same location, you get a good view of downtown LA.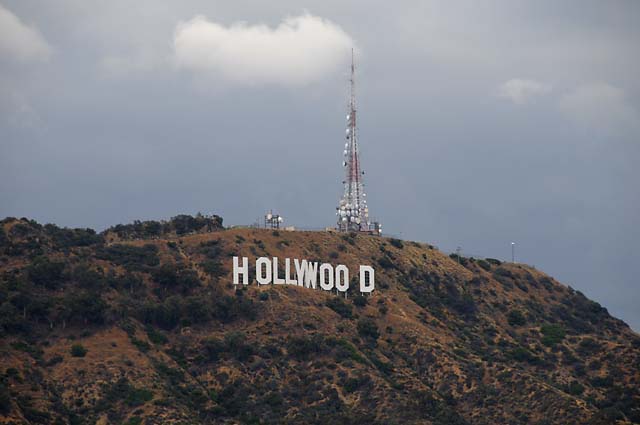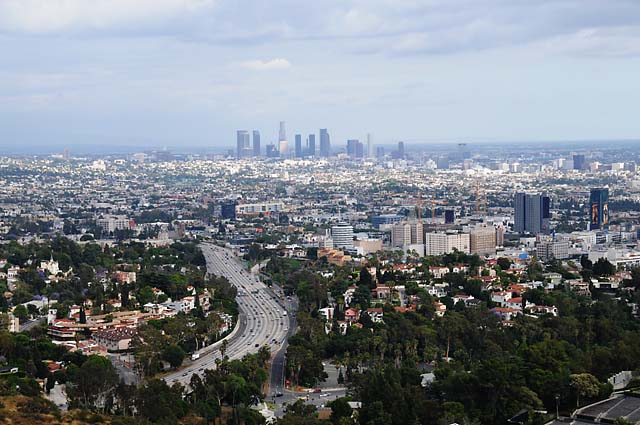 Then I found the following sight. It looked so familiar. I had to stare at it for a few minutes, then it suddenly hit me. That's where I used to work! I went through that gate daily. Unless, of course, I was on my motorcycle. No motorcycles allowed in this lot! Even in my reserved space. There's my poor little bike on the right, wanting so much to enter the gate, but knowing that such action is strictly forbidden.
Then, by habit I guess, I wandered upon the following sight. What is this? It looks so familiar, but different. Oh my goodness, this is the house I used to own! It is a very private home, it is impossible to see it from the street. It has a gated entrance now. You must go away a distance and use a telephoto lens to capture it.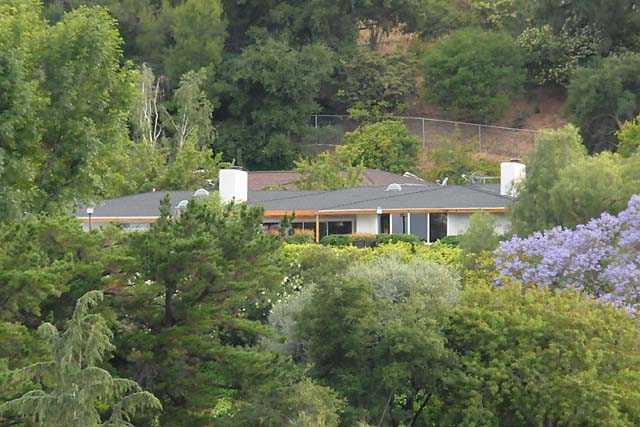 Ah, the familiarity, and yet the strangeness.
---
25 May 08, 11:00 PM, PDT, Glendale, CA
Some statistics for you. I have ridden more than 5,000 miles since leaving North Palm Beach. I have taken more than 600 pictures. Wow! That's an average of more than 1 picture every 10 miles! I didn't think I was stopping that often.
Today I repeated some of the rides I loved so much when I lived here. I rode the Angeles Crest Highway. I rode Mulholland Highway (different from Mulholland Drive). I rode the Pacific Coast Highway.
Let's start at the beginning. As I have found in about 80-90% of the hotels I have stayed in, this one had Internet access problems. Everything was fine till 8:30 this morning when their wireless suddenly quit working. I spoke to the lady at the desk. Then after breakfast I spoke with the manager. He said he would call AT&T. I knew AT&T was not the fault. Sometime later I spoke with the manager again, and he said that AT&T said everything was OK. I told him I knew that, the problem was within his hotel. We tried rebooting the router and the wireless, but that did not fix the problem. So, to get Internet access now, I have to go the hotel office and plug in an Ethernet cable. It could be worse.
When I headed out, about 9:00 AM, the sky over the San Gabriel Mountains looked forbidding. I decided to see how far I could go without turning around. I made it all the way to the top of Mt. Wilson. That's where the TV antennas are located in Los Angeles. That's also where the historic Mt. Wilson observatory is located. When I first arrived at the top, I could see downtown LA. Just a few minutes later, downtown LA disappeared. I went to the observatory and came back to the bike to find that the bike was starting to disappear in the clouds. I hustled down Mt. Wilson and proceeded along Angeles Crest to Newcombs Ranch and had lunch. Let me stop here and give you some pictures.
I have just started up the mountain. You can see the tall buildings of downtown LA in the middle. In the second picture you can see the clouds just touching the mountain tops, but that's not the highest mountain!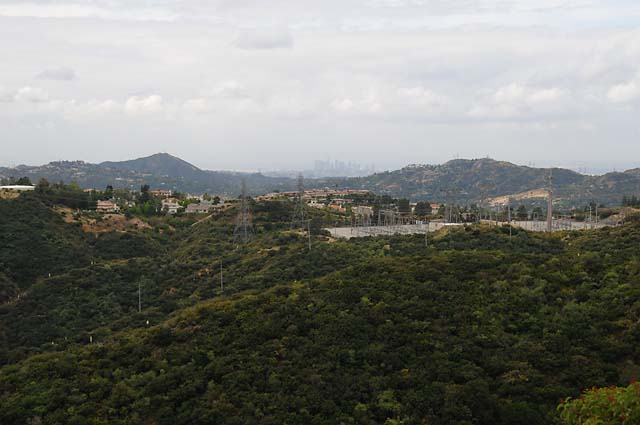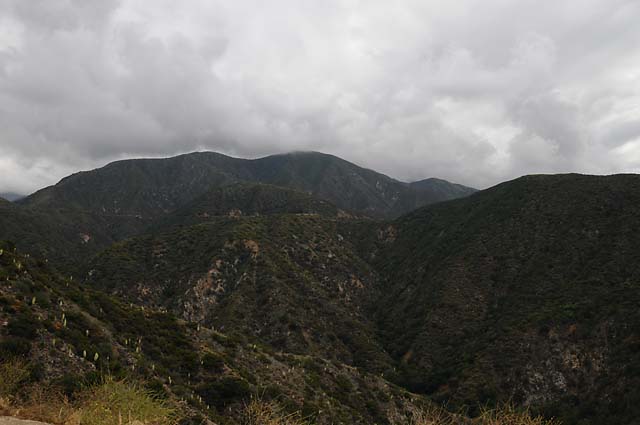 I kept going. This shot of downtown LA is from about 3,000 feet. You can see the road running up the side of the mountain.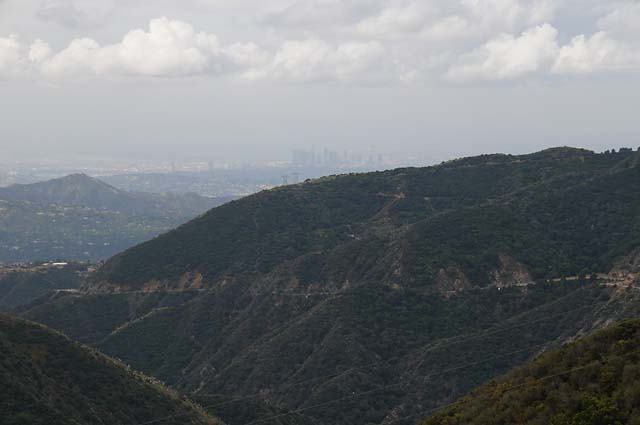 These plants were all over the sides of the mountains. This one is about 12 feet tall.
I like this picture, with all the pretty flowers.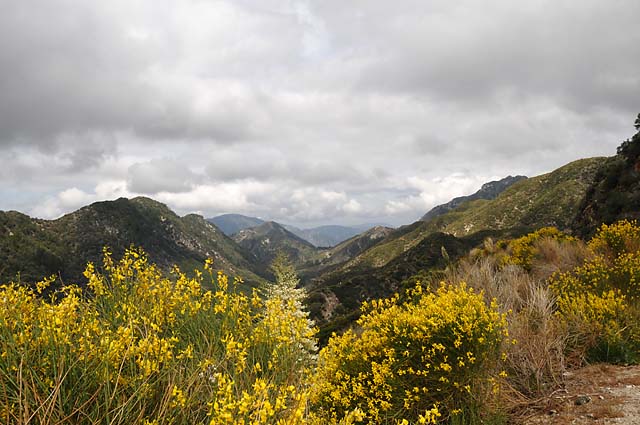 Ths picture is looking up at Mt. Wilson. See the antennas? And the road going up the side of the mountain? You will see a similar picture later, and the antennas will have disappeared in the clouds.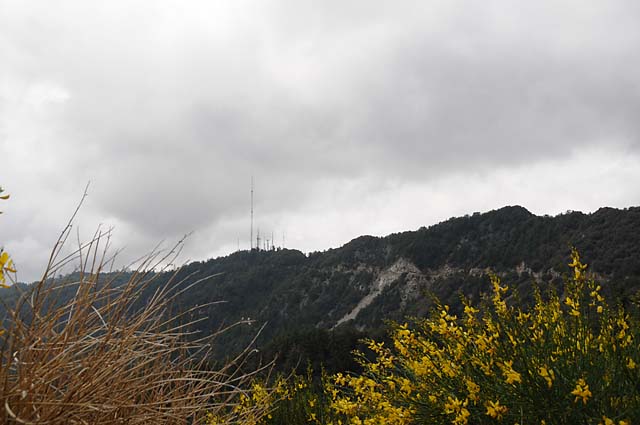 This is from the top of Mt. Wilson, almost 6,000 feet high. I could see downtown LA with the naked eye, but it really doesn't show in this picture (slightly to the right of the center under the cloud).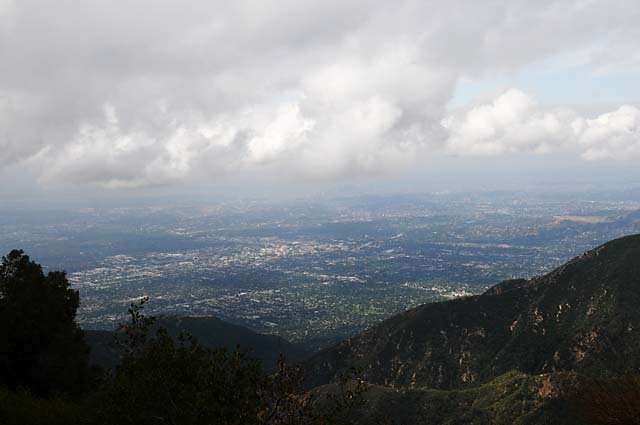 Look at all those antennas!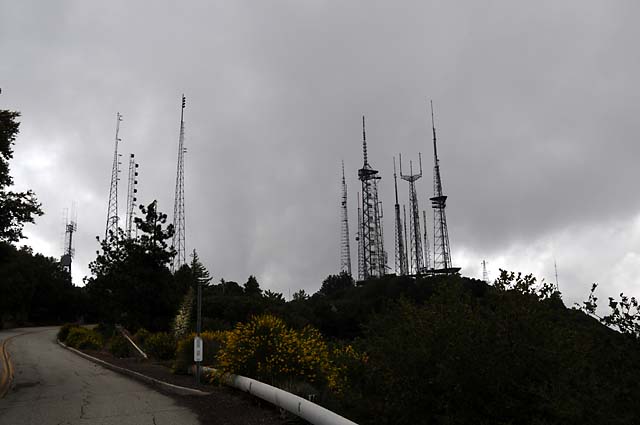 Here's the sleeping 100" telescope. The mirror is at the bottom, and is 100" across.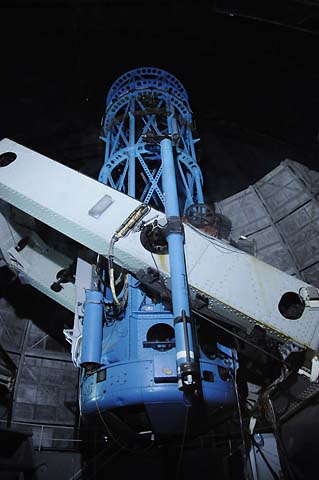 Dr Bob outside the 100" telescope observatory.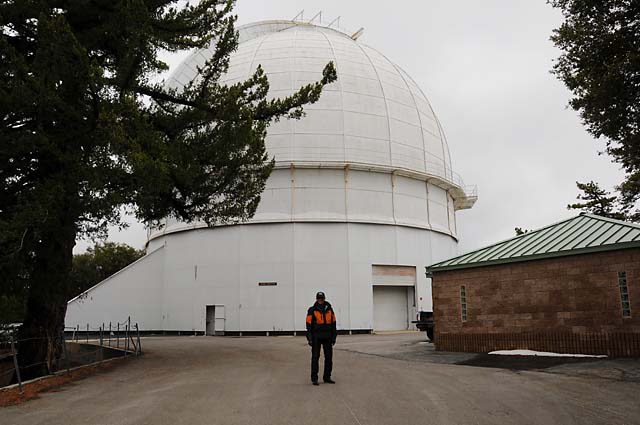 Here's how Mt. Wilson looked when I got back down to Angeles Crest Highway. Compare this with the picture five frames back. The top of Mt. Wilson and the antennas have disappeared.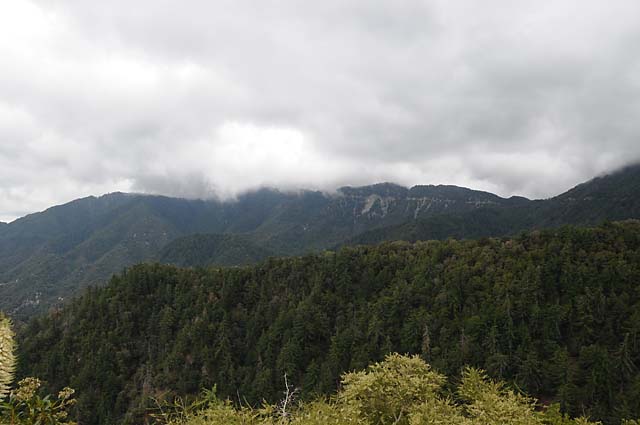 This is Newcombs Ranch, a biker spot.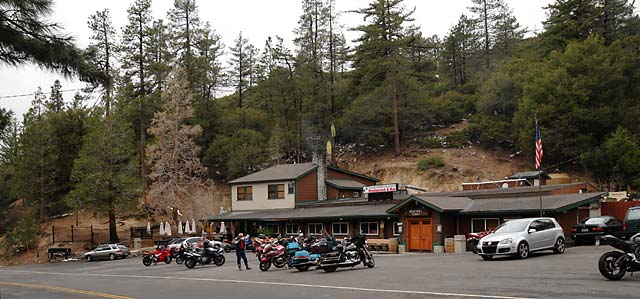 And this was my lunch. Hanna and I believe Newcmbs have the best onion rings we have ever tasted. They are not on the menu, you have to ask for them.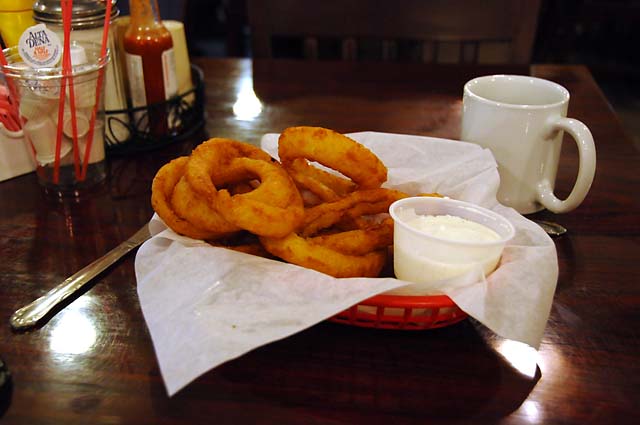 After lunch, I hustled to get back down the mountains before I got hit with rain or snow. It was cold up there, below 40°F.
Quite a contrast now, I am on Mulholland Highway, closer to the ocean, and the threatning clouds are elsewhere. Mulholland Highway runs west from Topanga Canyon to the Pacific.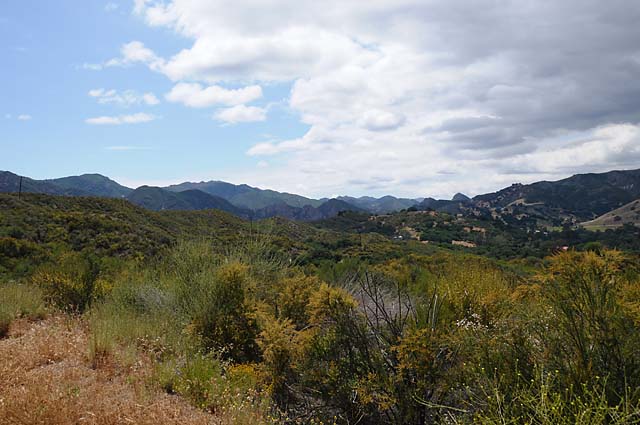 I love this spot. If I had a horse ranch, here's exactly where I would want it to be.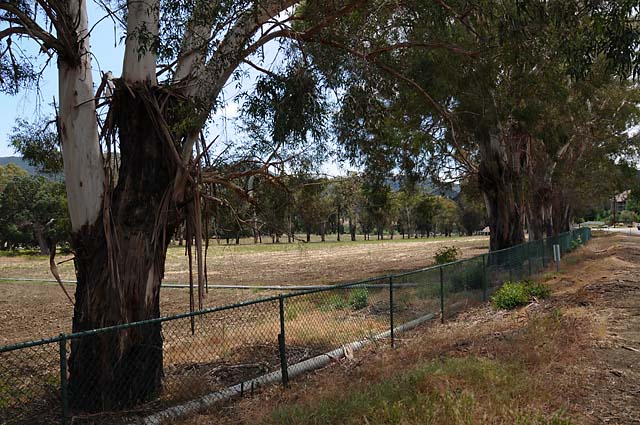 I stopped at the Rock Store, another biker spot.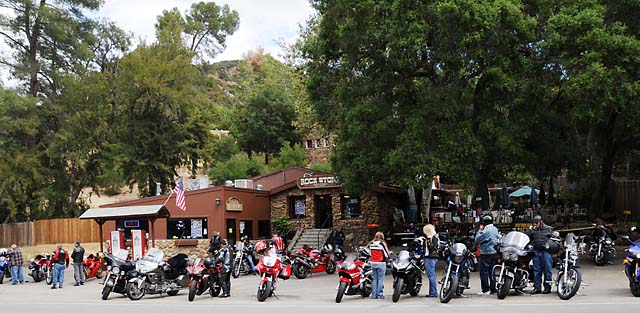 As you ride along Mulholland Highway, you get occasional peeks of the Pacific. Here, I am descending, and get a really great view of the ocean.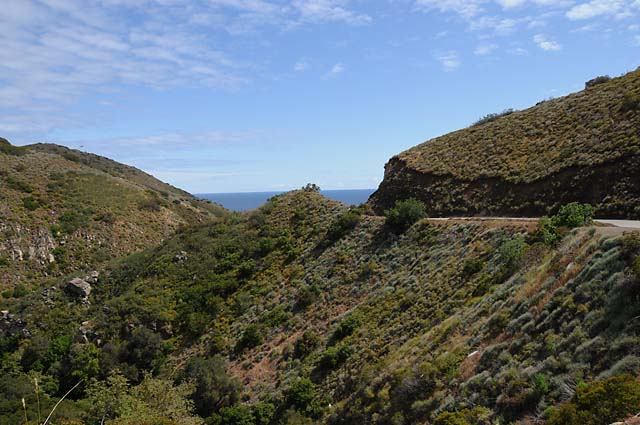 The Pacific.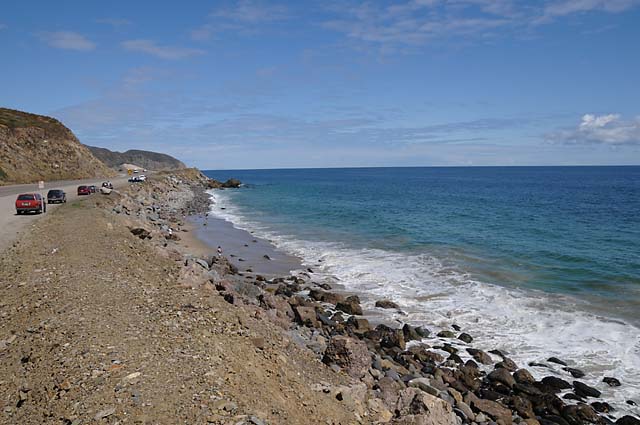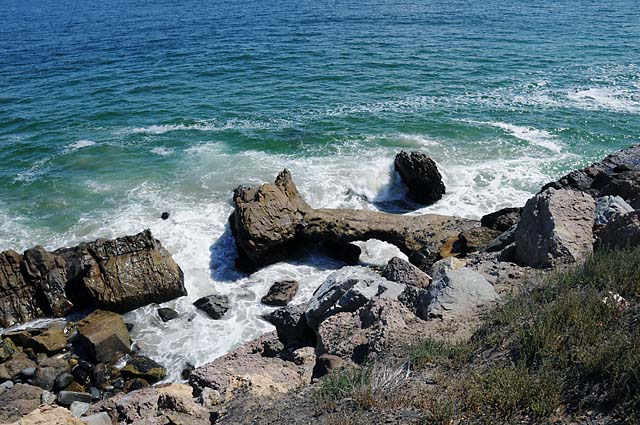 I'll bet you have seen this before, in TV commercials.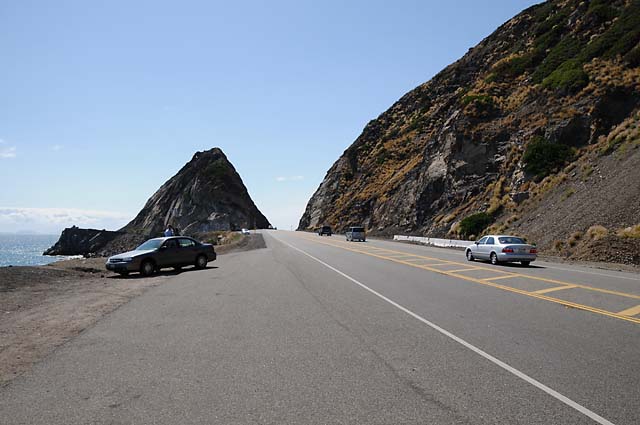 Neptune's Net, another biker spot.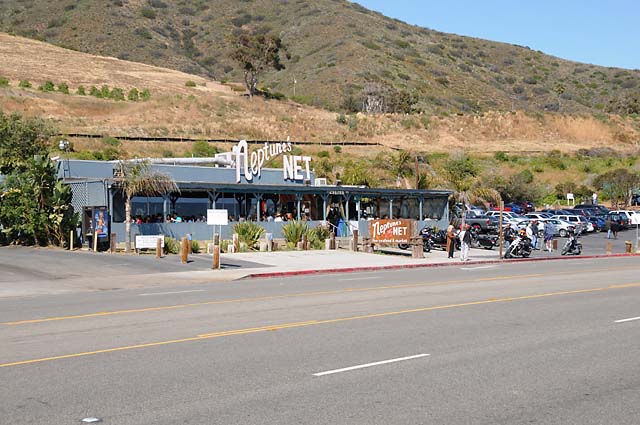 ---
26 May 08, 11:45 PM PDT, Glendale, Ca
Today was a day to visit with friends from my days in Los Angeles. First I went to Eisuke's home, spent time with him, his wife, and two daughters, and had lunch at a restaurant, then dessert at home. Here's a shot of Eisuke.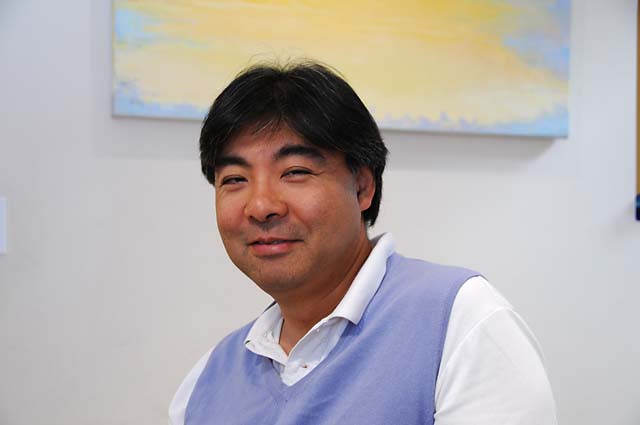 Eisuke and I have seen each other several times since I left LA, we have gotten together two times for Formula 1 races in Indianapolis, and two times at my home for the Sebring 12 Hour Endurance Race.
Then I went to visit with Garrett and Kelly. I had not seen them since leaving LA. We talked about old times, what's been happening, looked at some pictures, and some glassware. Garrett does glassware now, which surprised me. In this picture of Garrett and Kelly, Garrett made the three glass pieces you see.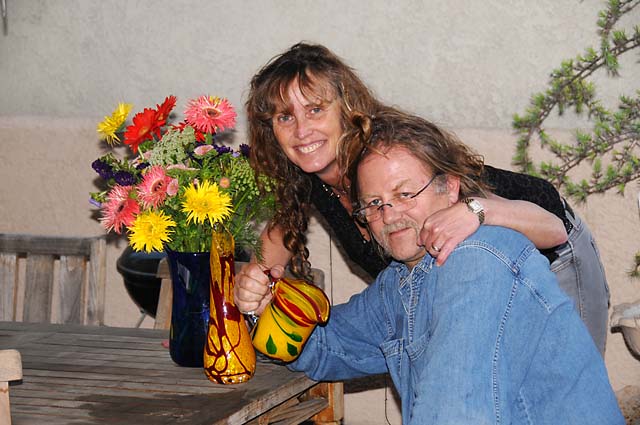 We went out for dinner -- today's a holiday so most places were closed. Finally I had to leave to get ready for tomorrow.
I leave LA tomorrow. I will get the bike serviced at Glendale Harley, where I bought it ten years ago, then I will be off to Ridgecrest to see my daughter Cindy.
---
27 May 08, 11:59 PM PDT, Ridgecrest, CA
I left the Glendale Best Western this morning to get the bike serviced. Turns out more things needed to be done that I had anticipated. We decided the rear tire would need to be replaced before I got back to Florida, so I wanted to do it now. I had replaced both the front and rear tires before leaving. I typically get 10,000 miles on a rear tire, this one may have fallen a thousand or two short of that. The upper fairing had been shaking a lot at certain RPMs, so I wanted that checked -- turns out that four brackets were broken inside the fairing. The left front fork was leaking. The kickstand rubber bumper was not bumping. I decided to replace the gas gage because it gets fogged up all the time and annoys me. Plus the 5,000 mile service I had scheduled. The bike also needed a bath very badly. It was 3:30 PM before I was able to ride out. Thanks to Tom and the team at Glendale Harley for getting me out as fast as possible given the load of work to do. While they were enjoying all this work, I was enjoying a chocolate shake.
I rode up I-5 till it hit CA 14 and on through Mojave, the way I had come into LA in the rain. I continued up CA 14 to Red Rock State Park. Here's a shot of the rocks.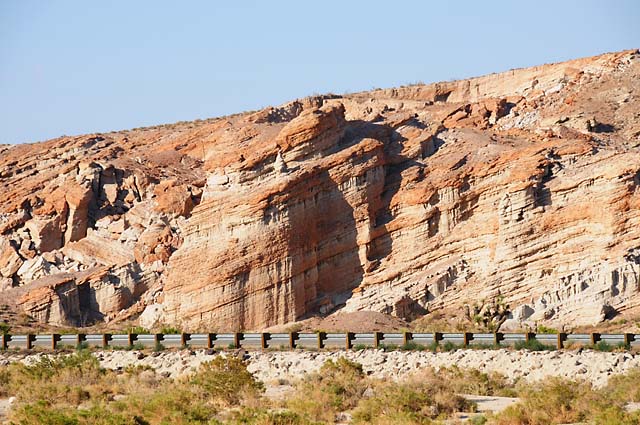 This is called the tilting rock by my daughter Cindy.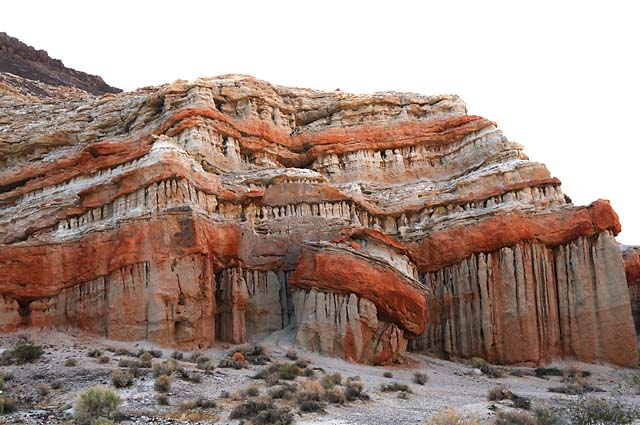 It is interesting to look at this up close. The white rock is eroding more rapidly than the red rock.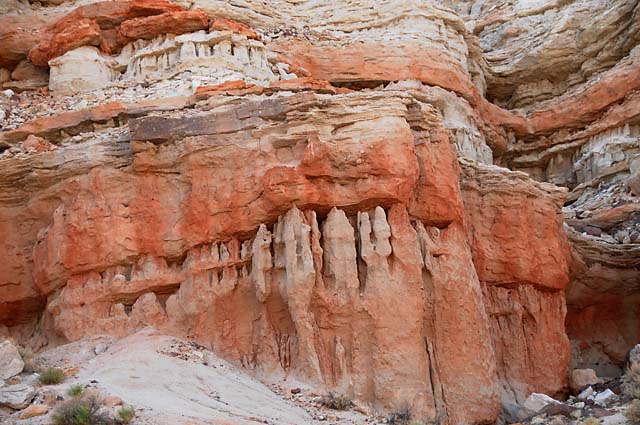 I suspect this is all sandstone, but with different degrees of hardness. I am sure somebody will let me know if that is incorrect.
Then I rode into Ridgecrest where Cindy and her husband Dave were awaiting my arrival.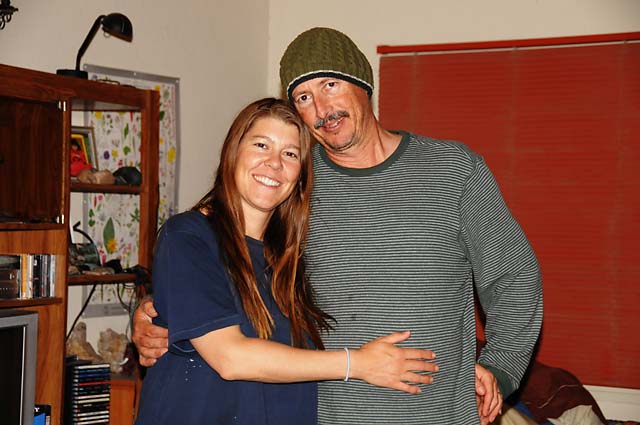 For those of you who have no idea where Ridgecrest is, it is one mountain range removed from Death Valley. Telescope Peak is the highest mountain in the Panamint Mountains, you see it from Ridgecrest, and from Death Valley. Maybe I will get a picture of Telescope Peak tomorrow, and then again when I am in Death Valley. Sounds like a plan.
---
28 May 08, 11:00 PM PDT, Ridgecrest, CA
No bike riding today, not one single mile. It sat in the sun all day, resting up for a big day in Death Valley tomorrow.
Cindy showed me around their 3 acre yard, a desert botanical garden if I ever saw one. First stop on the tour was to see Buffy again. Here she is.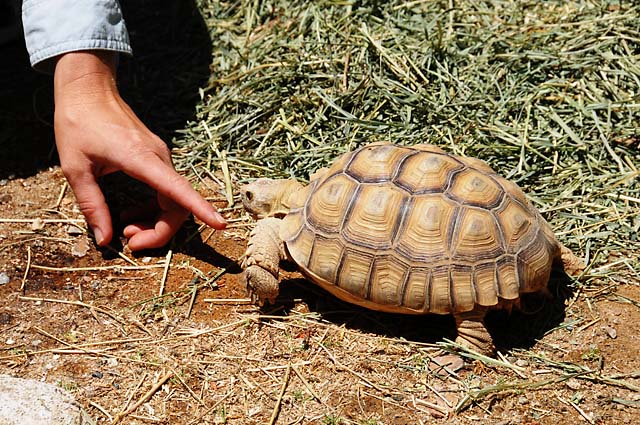 Take a look at Buffy the last time I saw her, almost five years ago, in September 2003, in Hanna's hands. She was still a baby, less than one year old. She could live to be 100. Cindy and Dave are working on a trust fund for her.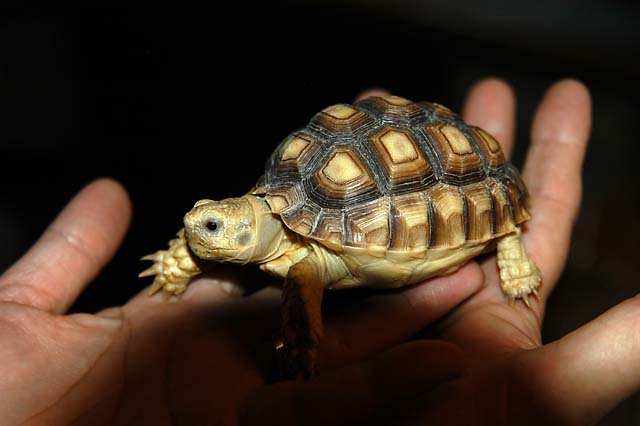 And here he is, the terror of the gardens, Reptilicus, a desert tortoise, in his own fenced area because he will attack any creature in sight, in this case Cindy. He will try to flip over his opponent, thinking of course that his opponent is another turtle, hoping his opponent will bake in the hot desert sun before being able to flip himself back on his feet.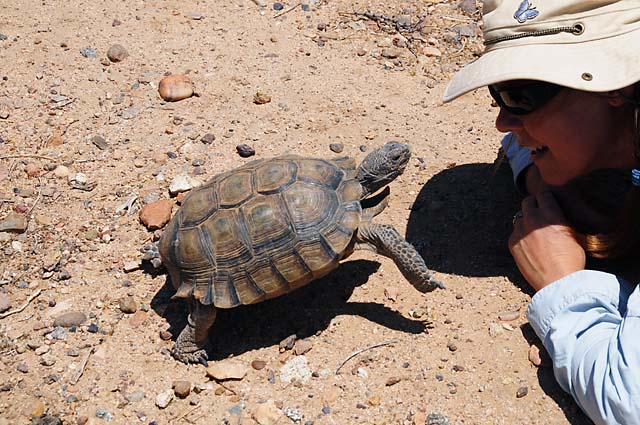 In this case, though, he underestimated the abilities of his opponent -- Cindy flipped him first!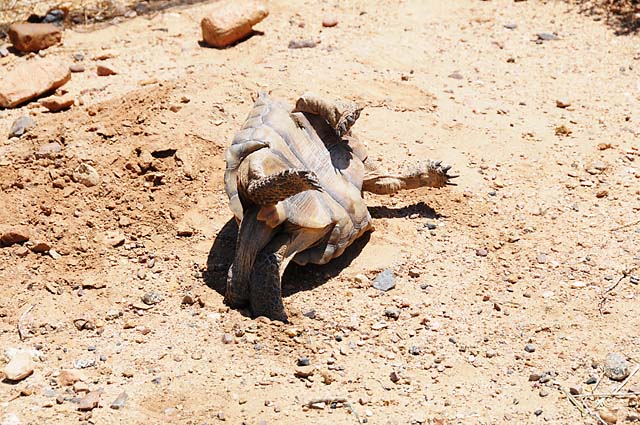 Not to worry, he is soon back on his feet and attacking a cow skull, which doesn't seem to mind.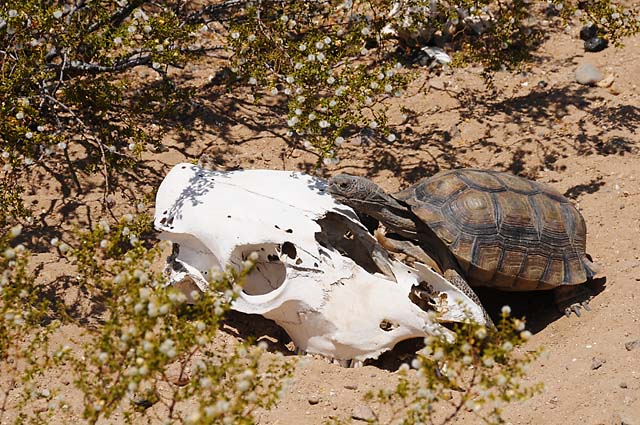 Next on the tour is Stumpy Joe, a desert iguana. He is a stray who has decided he would like to live here. Dr Bob has just fed him a mealy worm, which he enjoys immensely (Stumpy Joe, that is, not Dr Bob).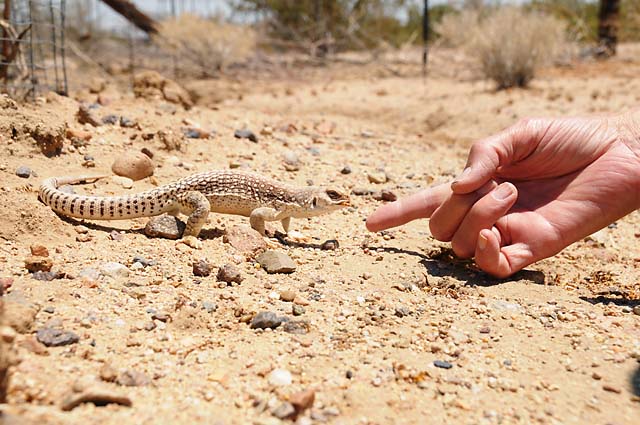 On to the desert botantical garden. This is a flowering beavertail cactus.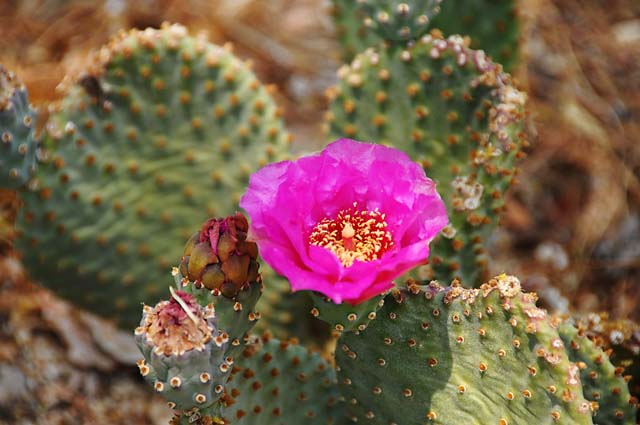 A cholla cactus.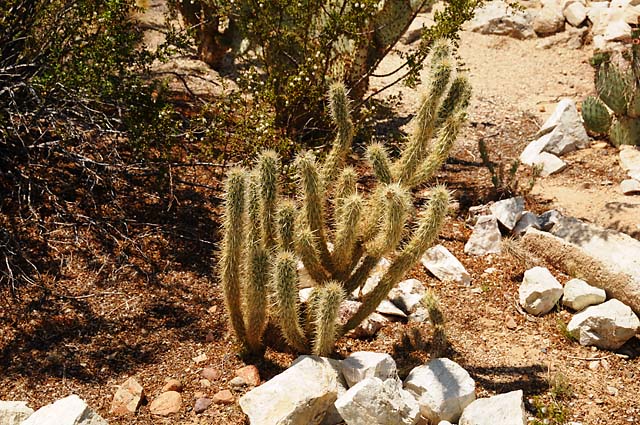 A rock formation with beavertail, cholla, and prickley pear cactus, plus a creosote bush.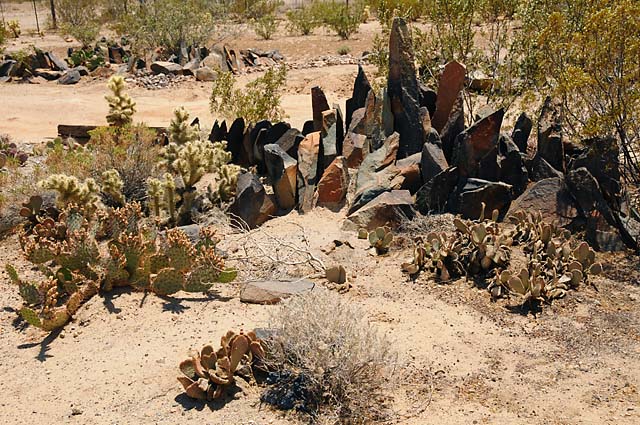 A flowering prickley pear cactus.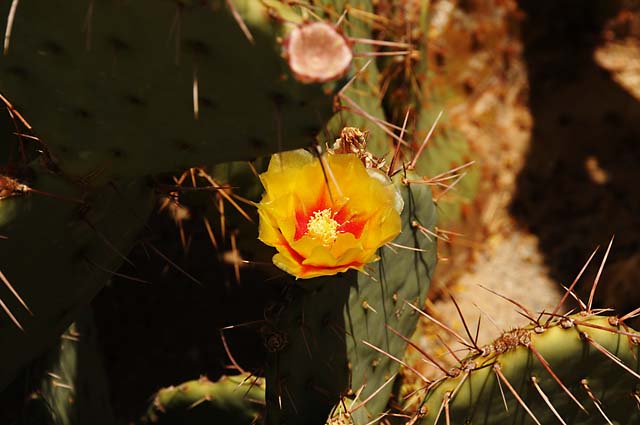 Barrel, prickley pear, and beavertail cactus.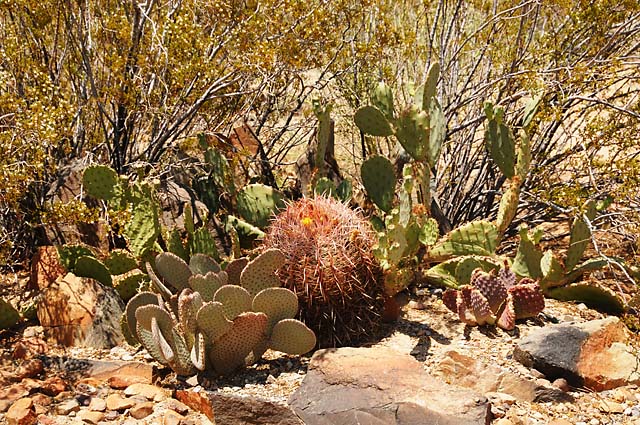 A bunch of cholla cactus. Stay away from them. It is said that arms from this extremely prickly cactus can actually jump several inches to get you.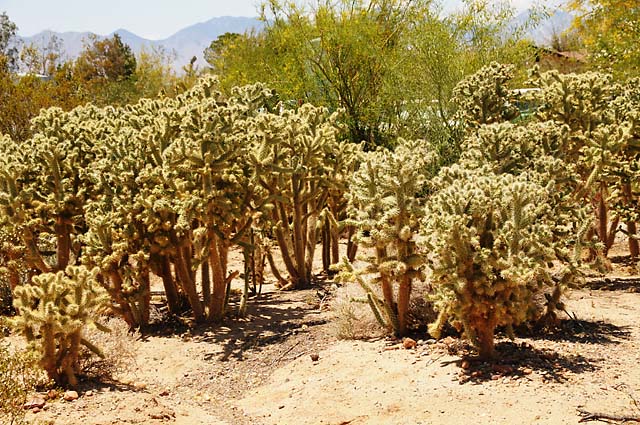 Part of the purple cactus patch, a prickley pear.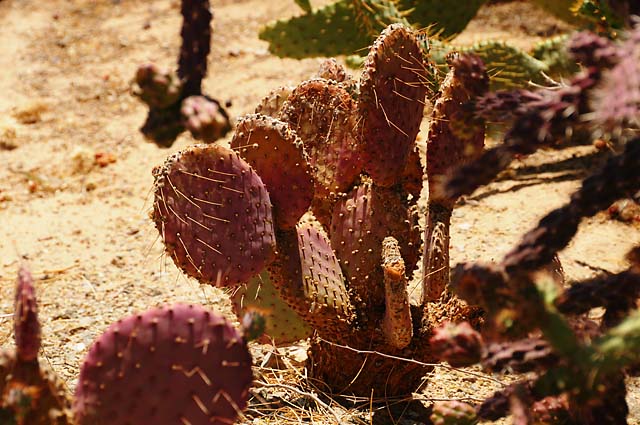 A flowering cow's tongue cactus.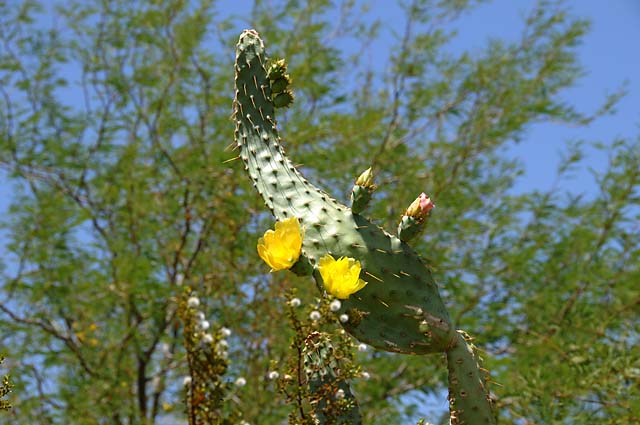 Then my friend dropped in (you notice he avoided Los Angeles) and invited us to follow him up into the Sierras.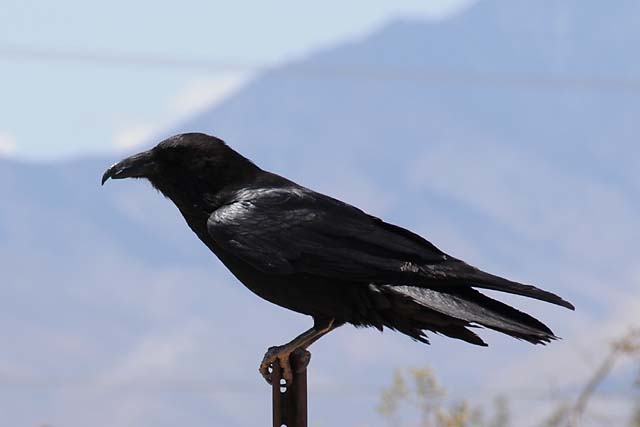 Here, about half way up to the 9,000 foot level we eventually reached, is Cindy standing in a clump of Joshua Trees.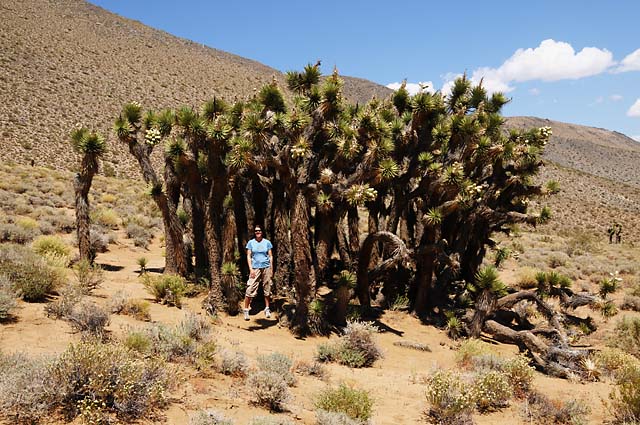 A forest of Joshua Trees.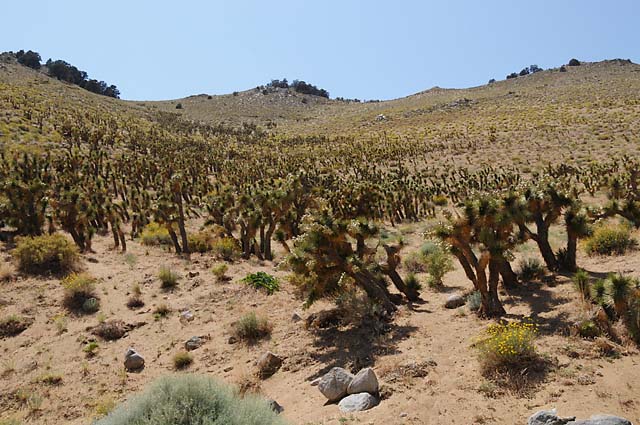 We spotted this coyote near Kennedy Meadows, at about 8,000 feet.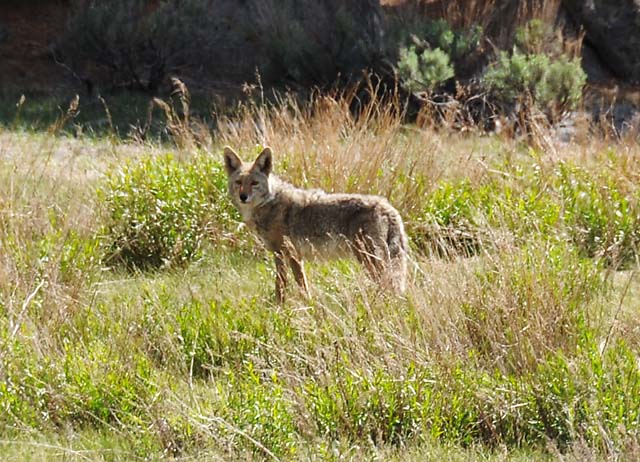 A snow covered peak in the Sierras. Here we are at 9,000 feet.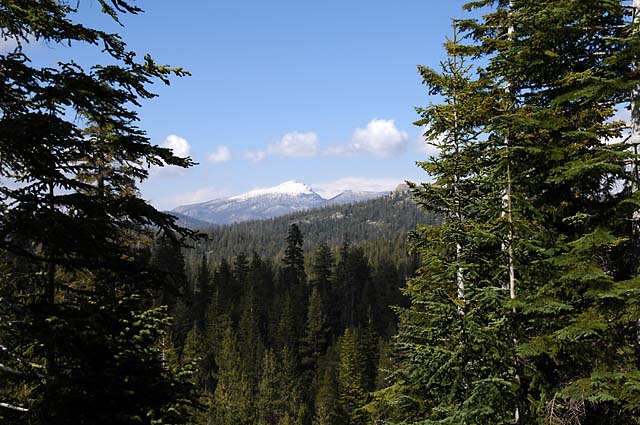 Here's the promised picture of Telescope Peak from Ridgecrest. It is the hazy looking mountain in the distance, right in the center of the picture. If you look very carefully, you will see my feathered friend, just up and to the left of Telescope Peak, getting ready to lead the way for me tomorrow. That is the direction I will be heading.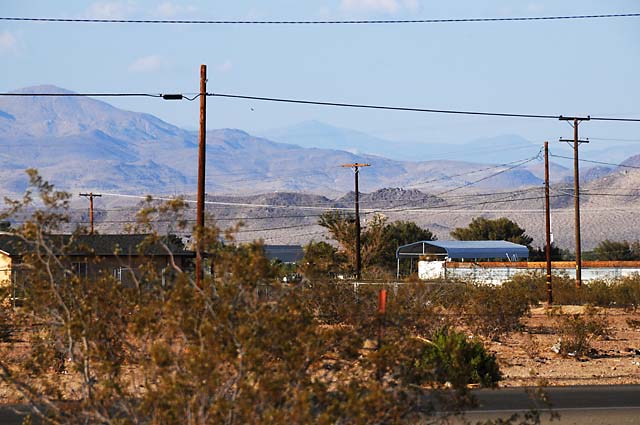 ---
29 May 08, 11:45 PM PDT, Las Vegas, NV
I can't believe it. I rode 485 miles today! Maybe that's why I am tired. Maybe that's why it was my longest day yet, from 8 AM to 8 PM. Maybe that's why I got gas more times than any other day, five times.
I left Cindy and Dave's early, just after 8. I took this shot of their house. It is in there somewhere. You can see some roof.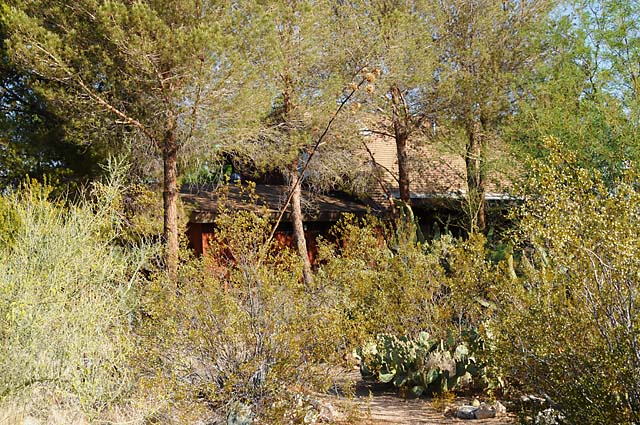 I went through a town called Trona in the Panamint Valley. I liked the scene below -- north of Trona, I rode up into a pass, then through the pass and saw this scene. That's Telescope Peak on the right.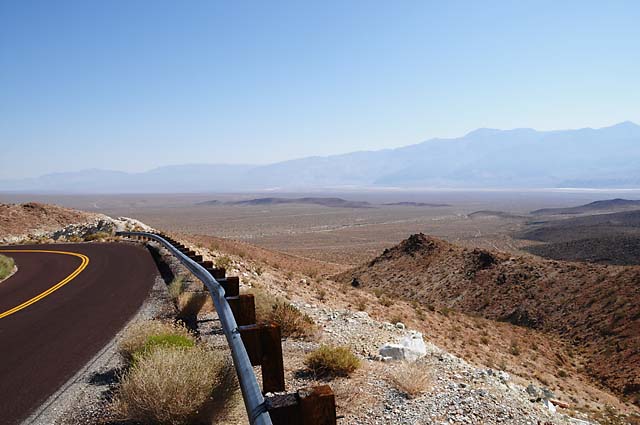 I did several side trips today, maybe that's why the day was long and the miles were many. The first was to get a view of the Sierras. When I hit the road that goes from Lone Pine to Death Valley, I went the wrong way so I could see the Sierras once again. I had to go 25 miles to see this view (and of course 25 miles to get back).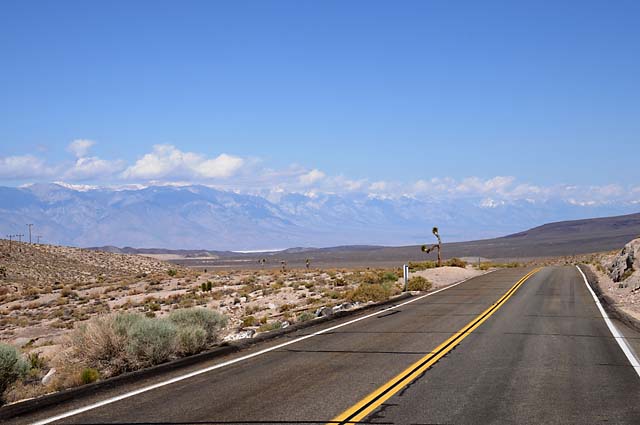 I love the ride into Death Valley from the Panamint Valley. You start at about 5,000 feet, then go down and down and down, not twisting, but straight. It seems you will never get to the valley, which you see the entire time. It is simply a lovely view as you descend. I love it.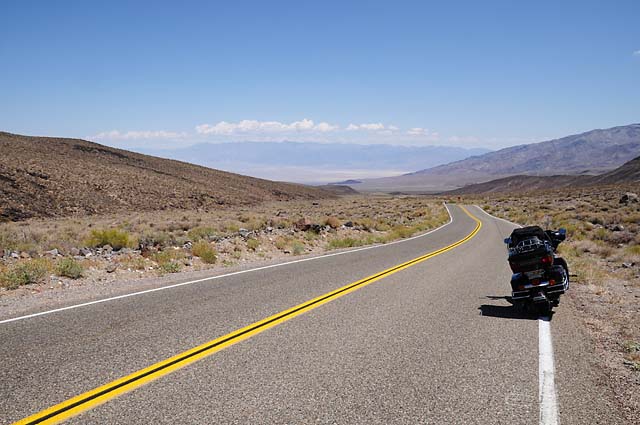 These are the Death Valley Sand Dunes. I was struck by how abstract this picture is. I didn't know that until I downloaded it onto my computer.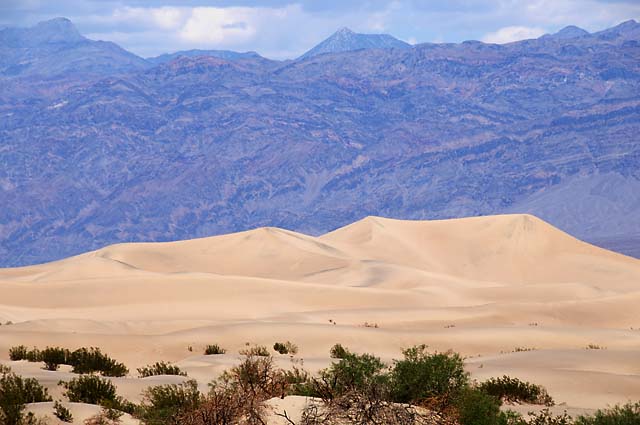 Here's the Furnace Creek oasis.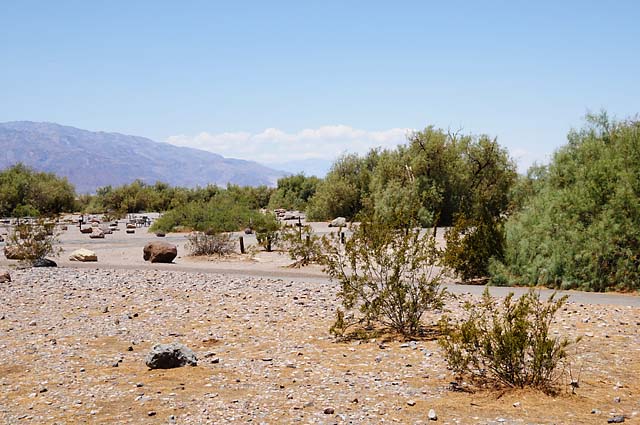 Another side trip, 30 miles each way, was to visit the ghost town of Rhyolite, in Nevada. It was a mining town. Here's the train station.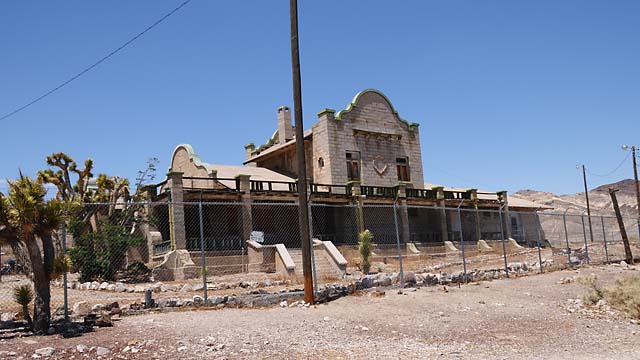 And the Rhyolite Mercantile.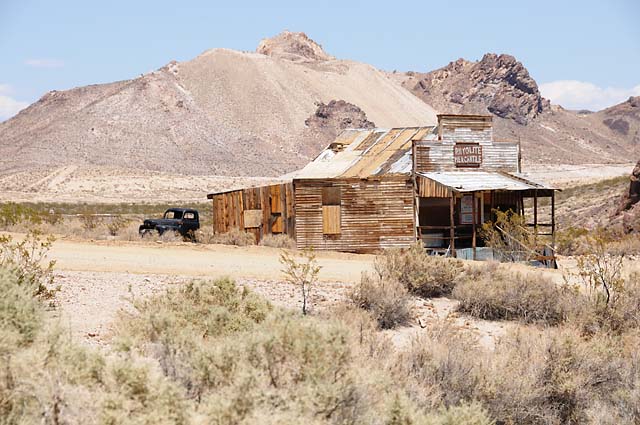 And a bank.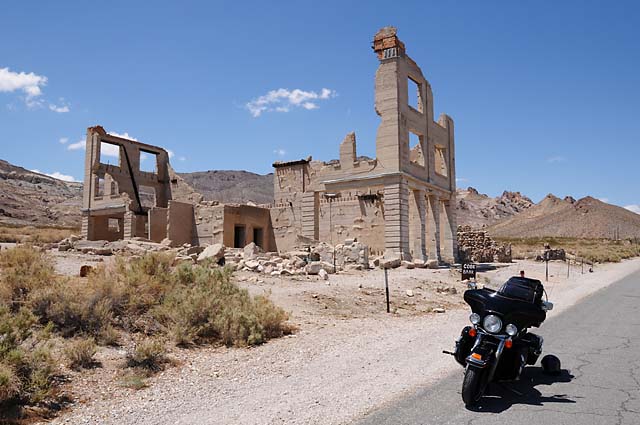 Returning to Death Valley, you pass through Hells Gate. This is 2,262 feet above sea level, and people going into Death Valley thought they were entering Hell, thus the name. I was very disappointed to find that the sign is missing. Here I am heading from Hells Gate toward Badwater.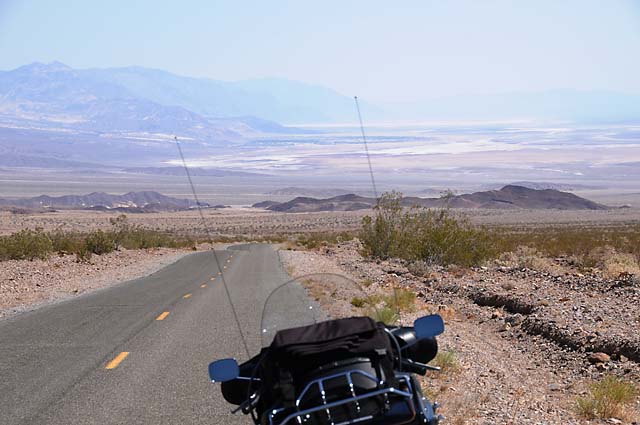 A shot in Death Valley where the 20 mule teams worked.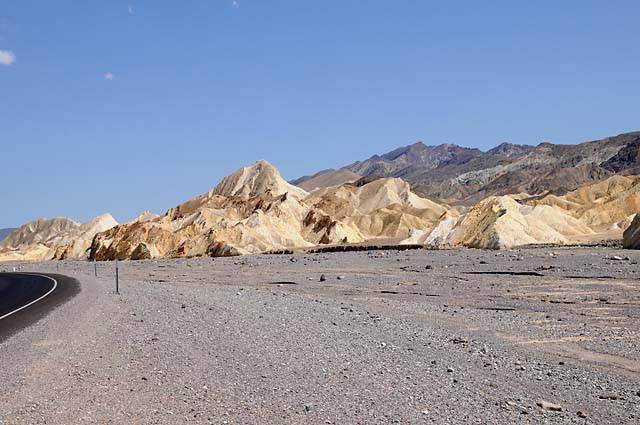 Looking down 5,000 feet at Badwater from Dantes View. You can see Telescope Peak across the valley. Dantes View was a 25 miles each way side trip.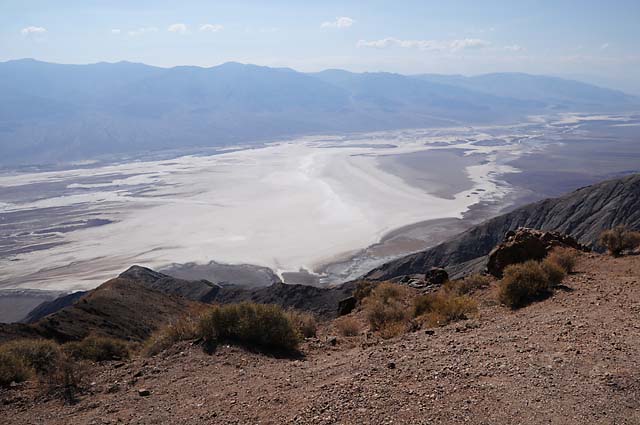 Looking south from Dantes View. You can see the salt bottom of Death Valley.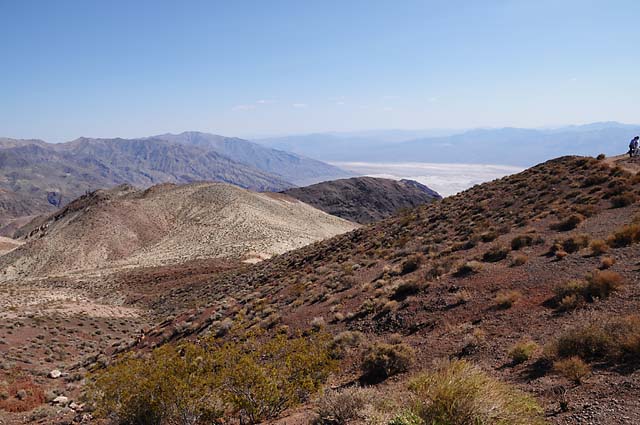 Badwater, 282 feet below sea level.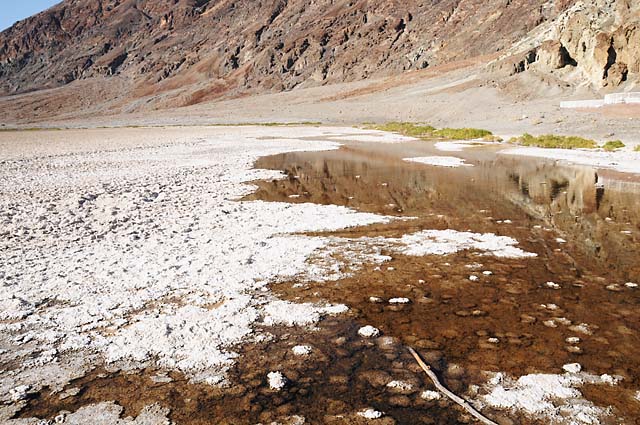 Mountains at the town of Shoshone.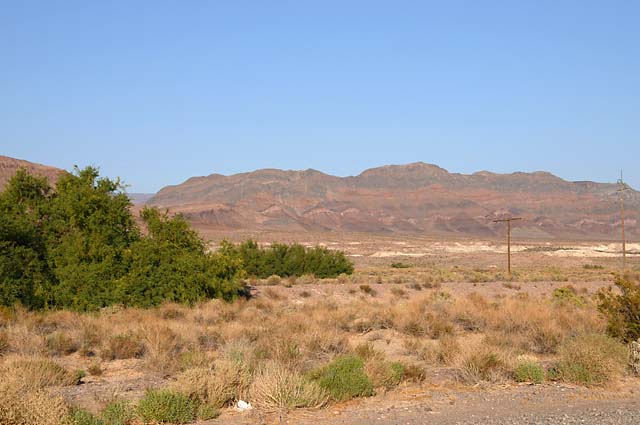 Looking at Mount Charleston from Pahrump. You can see Mount Charleston from Las Vegas.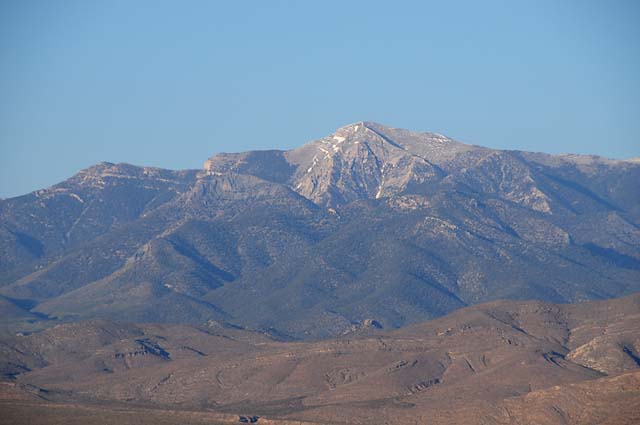 ---
30 May 08, 11:00 PM PDT, Kanab, UT
What a spectacular day. I love the landscape in southern Utah and northern Arizona. From Las Vegas I rode the I-15 to Saint George, UT-9 to Zion and Mt. Carmel, then US-89 to Kanab. The spectacular sights were the Virgin River Gorge and Zion National Park, and much of the area between them. After the photos, I will add some comments on other topics from the past few days.
This shot is looking back (down) at I-15 running through the Virgin River Gorge. It was so impressive entering the Gorge. The road was running straight toward an enormous rock wall -- the mountain. But all of a sudden the road curved and went into the rock. The walls towered on both sides, but the road just wiggled up through those high walls. Very impressive -- and this is an Interstate!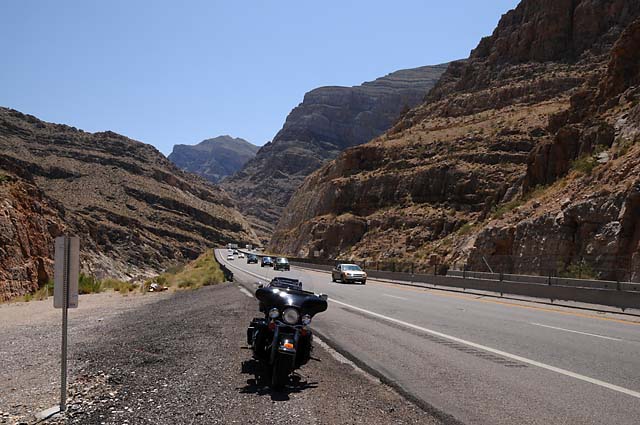 This shot is looking forward. I would have taken more pictures inside the Gorge, but there were no places to pull off the road.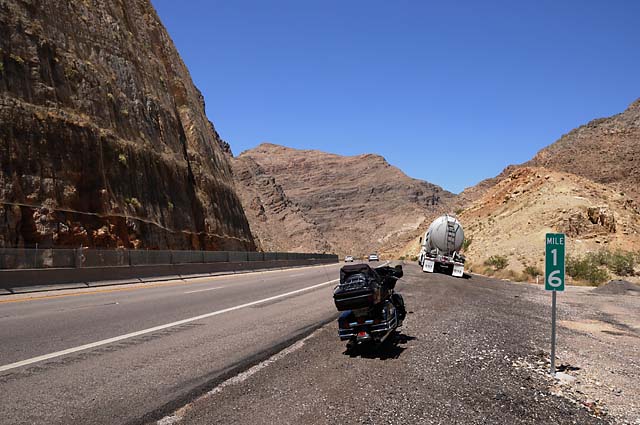 Some of the spectacular scenery between the Virgin River Gorge and Zion.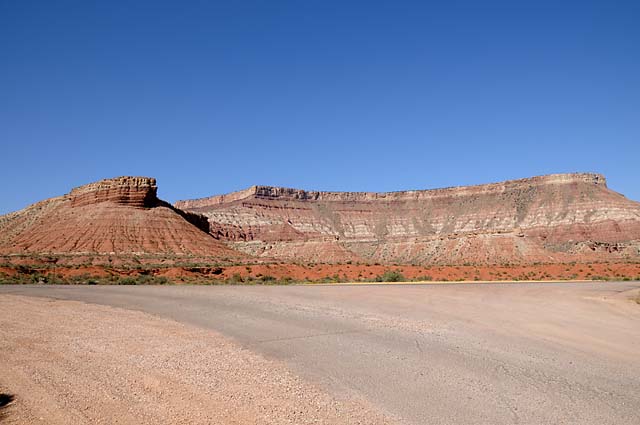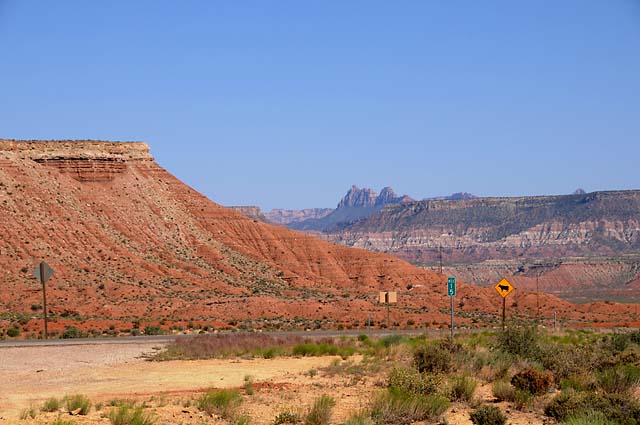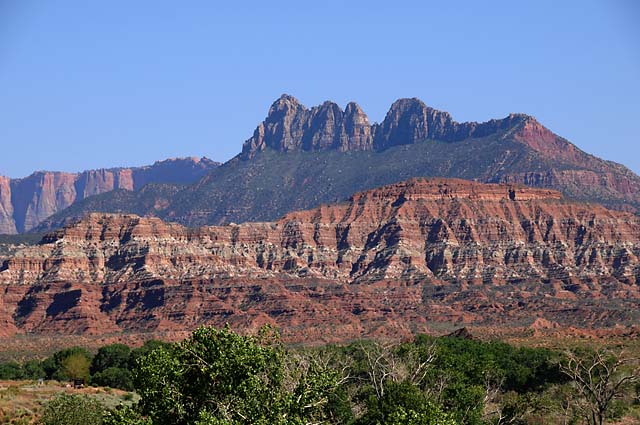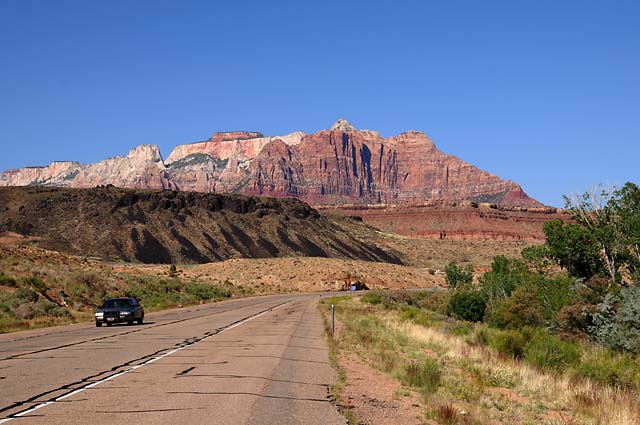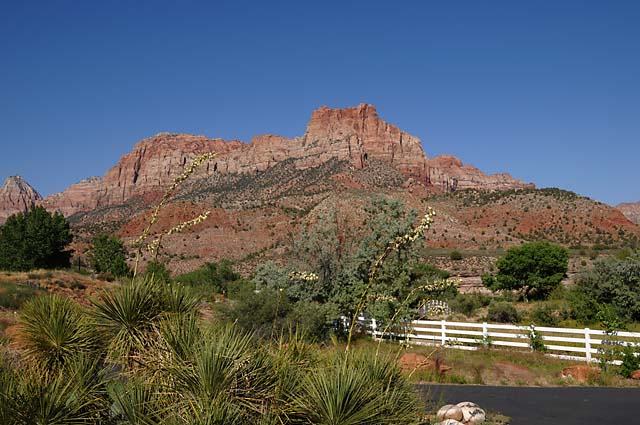 Some of the jaw-dropping, awe-inspiring, drop-dead gorgeous scenery along UT-9 (also called the Zion - Mt. Carmel Highway) in Zion National Park.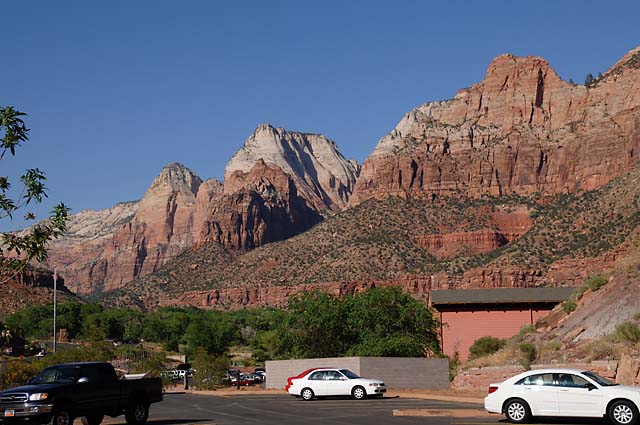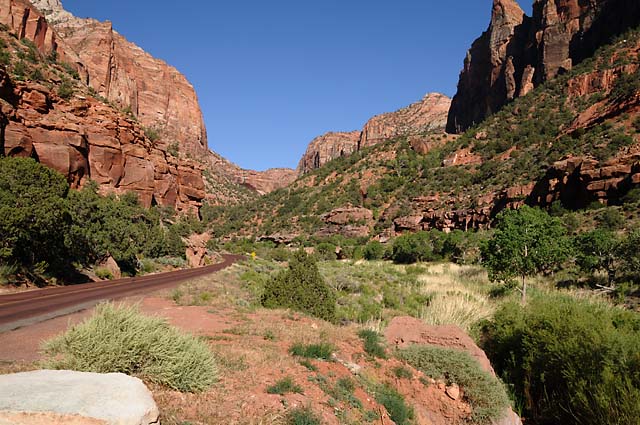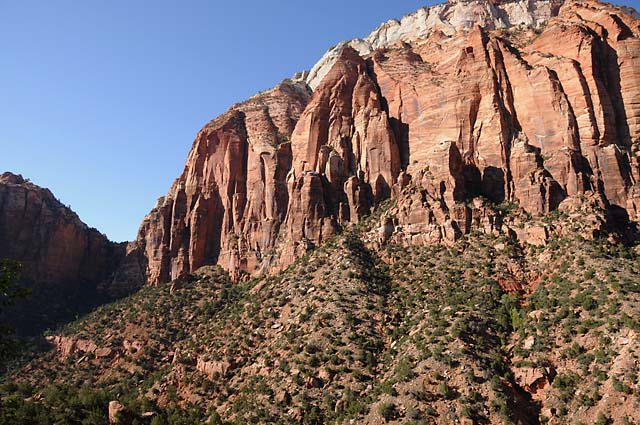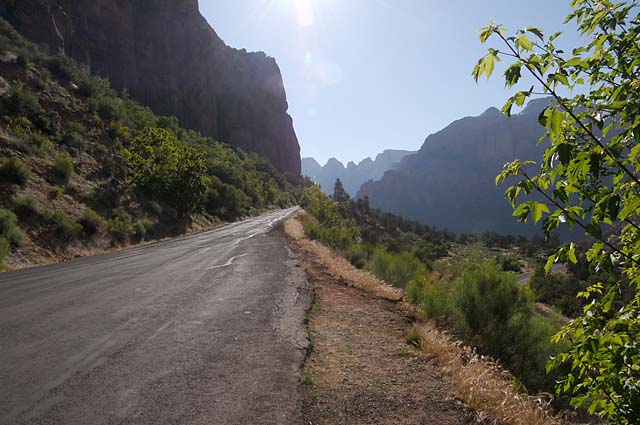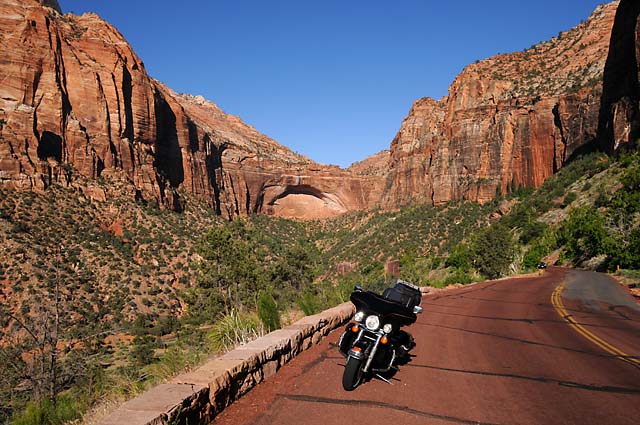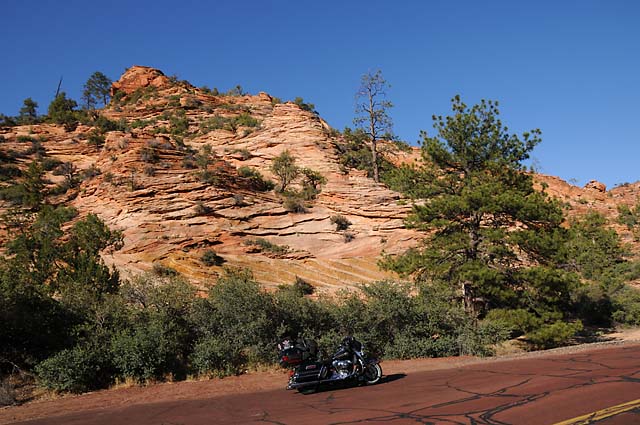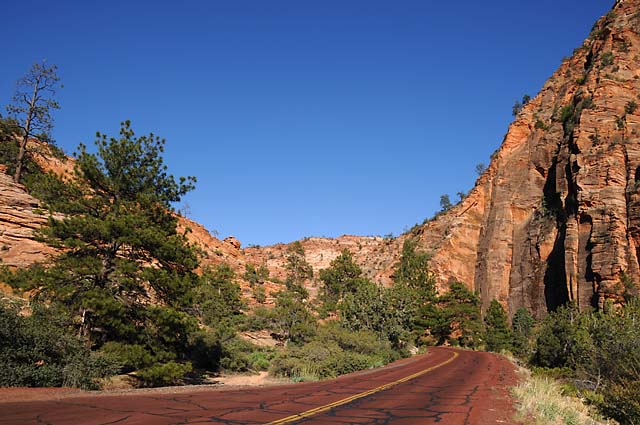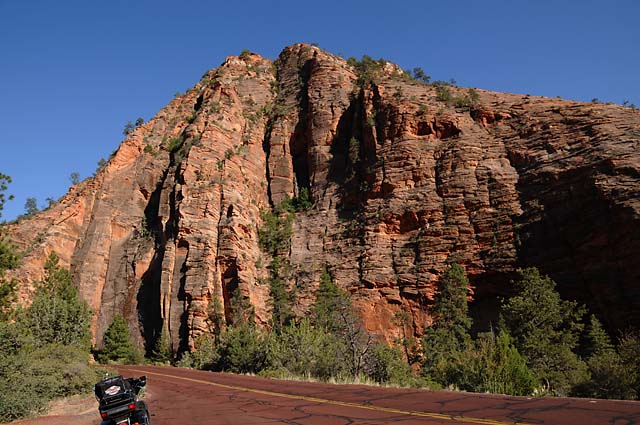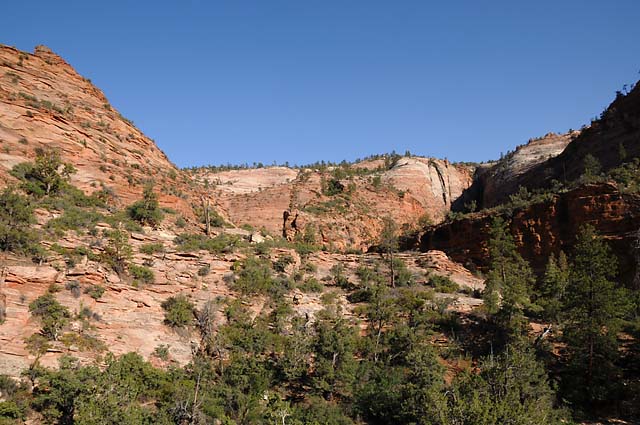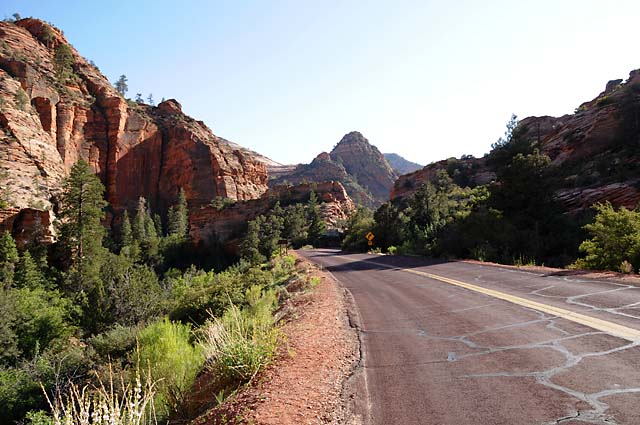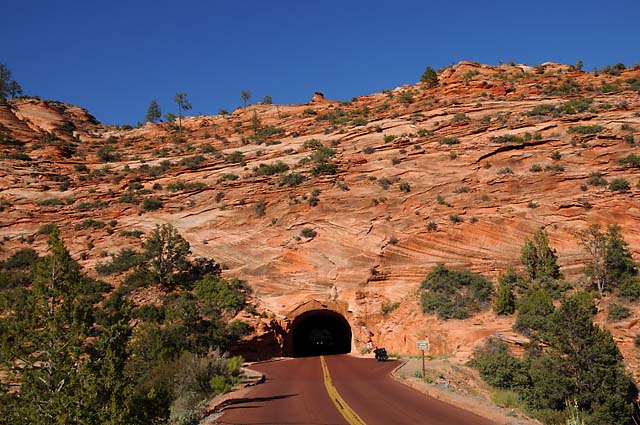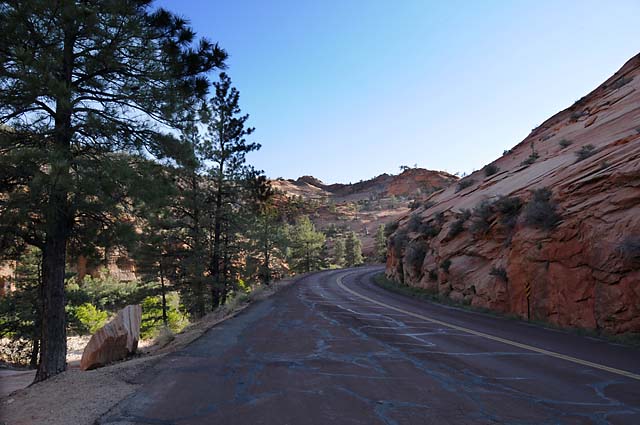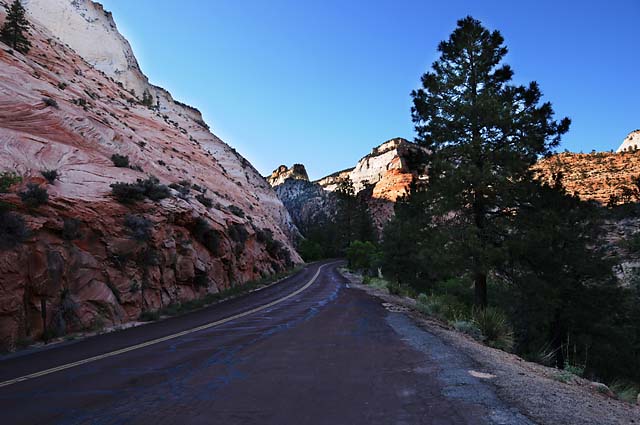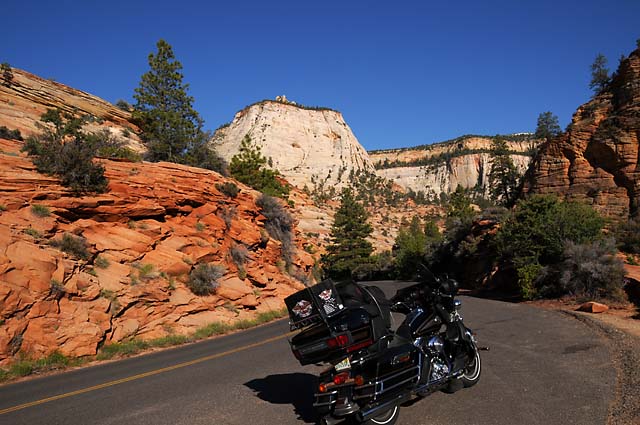 The Checkerboard Mesa in Zion.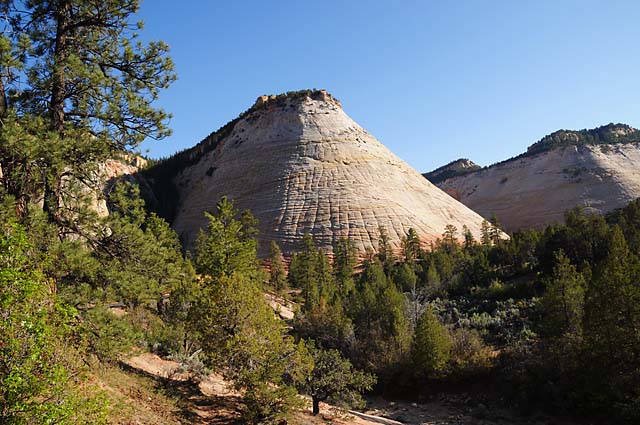 And now for the comments.
Today I passed the 6,000 mile mark since leaving home.
Thanks to Cindy and Dave for helping me find a way to protect my rear seat speakers from the rear seat suitcase/bag. The corners of the bag were punching holes in the speaker grill cloth; fortunately the speakers were not damaged. When I get home, I will replace the speaker grill cloth. I had already purchased chrome accents for the rear speakers, anticipating that I would use them somehow to protect the speakers. Dave had some spare sheets of tin. Cindy and I cut and filed the tin to fit just inside the chrome ring. That provided a protective cover for the speakers.
Soon after I replaced the heels on my boots in Los Angeles, I noticed that the protective rubber sole (3 mm glued to the leather sole) was wearing through on my right boot. When a hole starts, it spreads very quickly. My leather sole would have been terribly damaged by the time I got home. Cindy and I tried to find a place in Ridgecrest to replace the protective rubber sole, but we failed. I decided to get it done in Las Vegas, but I figured it had to be done on Friday, it was not safe to leave this to Saturday. That's why I did so many miles yesterday to make sure I ended up in Las Vegas. The desk at the Best Western in Las Vegas helped my by picking a boot repair shop relatively close to the hotel. I went there first thing Friday morning. They could do the job while I waited, but they had run out of the protective rubber soles and wouldn't have new ones till next week. They told me that if I found a shop that had the material but couldn't do the job while I wait, I could buy the material from that shop and bring it back to them for installation while I wait. They sent me to another shop which couldn't get the boots back to me till Tuesday. They sent me to another of their shops which did the job in two hours. It took one hour to find the right place, then two hours to get the job done. So, my boots are back up to snuff, but it was Noon before I could begin Leaving Las Vegas.
I have been getting more disgusted with my helmet. I have a 3/4 face helmet (for those of you who don't know what this means, the 3/4 helmet covers your ears but not your chin). The face shield has been snapping up in gusts of wind; at first, this scared the heck out of me, but I got used to it; but I still didn't like it. Also, turbulent wind gets inside the helmet and bothers my eyes, especially at Interstate speeds. The helmet is not the most aerodynamic, so my head gets some buffeting at Interstate speeds or with crosswinds. Anyway, I have been looking at full face helmets at every Harley dealer I have visited on this trip. I have never liked the full face helmet. It seemed so restrictive. But, I have never tried one. Today on the I-15, my face shield must have snapped up ten times. Finally, I said to myself that I had had enough. Whenever I see another Harley dealer, I said, I will buy a new helmet. It wasn't 60 seconds later that I saw a Harley emblem sticking up in the air. I stopped. I tried on a full face helmet. I bought a full face helmet plus new headphones and microphone to fit the helmet (rather than remove the headphones and microphone from my old helmet). You can lift the chin bar making it easier to get it on and off, and easier to wear sunglasses on a string, the way I do; that's so I can take them off easily and just drop them, rather than have to hold them till I can put them in a pocket. I am very impressed with the new helmet. It is much, much better than what I had. The buffeting is gone. The turbulent winds inside the helmet are gone. Visibility is not restricted. Fresh air in the helmet is very good. I should have done this long ago. Plus, it is a more protective helmet. Thanks to Keena and Tony at Zion Harley for helping me pick the helmet and get the headphones and microphone set up.
---
31 May 08, 11:30 PM PDT, Page, AZ
Another full day. I went to the North Rim of the Grand Canyon. I had not planned to do this before I left home, but when I thought about it, and was less than 100 miles away, I decided I had to do it. After the North Rim, I went to Lake Powell.
On the way to the North Rim, in a meadow on the high mesa, there was a face-off. The bull vs the iron stallion. While the bull was actually larger, he was intimidated sufficiently by the iron stallion to shrink in apparent size. And thus, the encounter ended.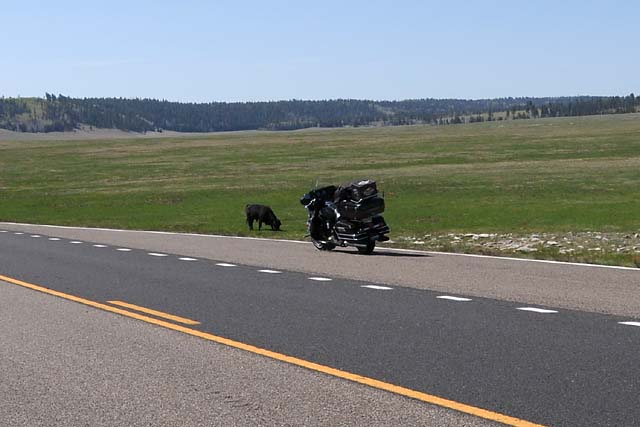 Just up the road, in another meadow, four deers.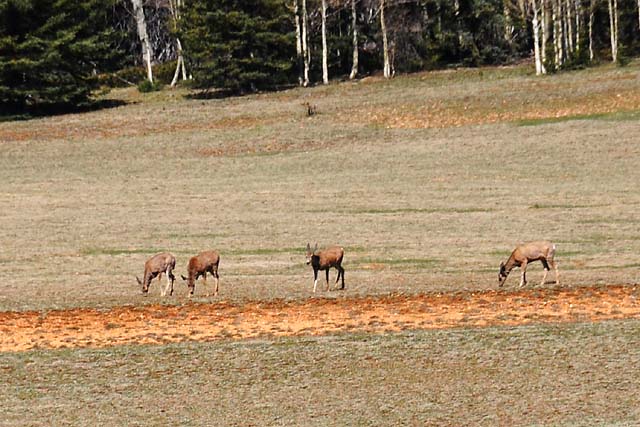 The view from the Grand Canyon Lodge, which sits right on the North Rim.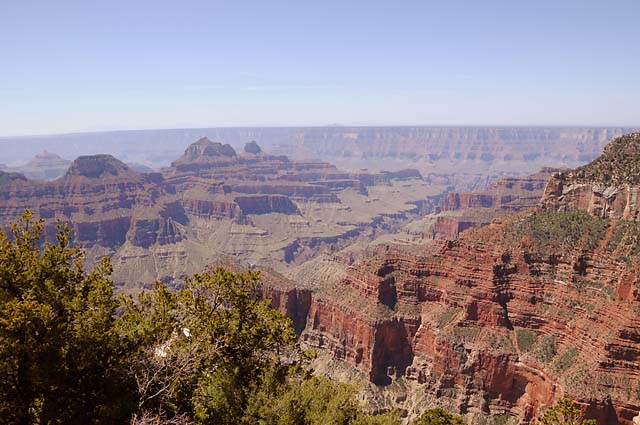 Between viewing locations on the North Rim, I saw this area where a forest fire had obviously burned the pines some time ago, and aspen are now growing by the thousands. That's what makes the light green color on the slope.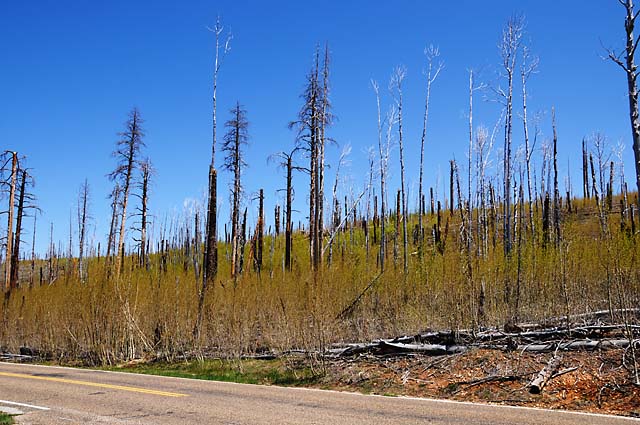 View from Point Imperial on the North Rim. The elevation is 8,803 feet. Near Flagstaff I had been at 8,046 thinking that would be my highest elevation. So far, the highest has been 8,827 which is also the highest on the North Rim, and is located at the Ranger Post entering the North Rim.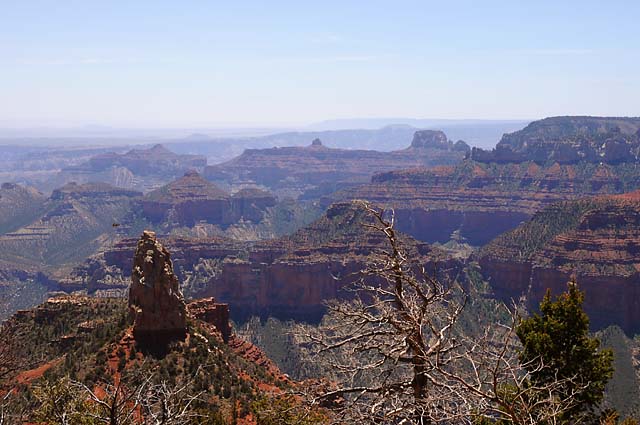 The remaining views of the Grand Canyon are from Cape Royal. This view captures the San Francisco Peaks, 70 miles away.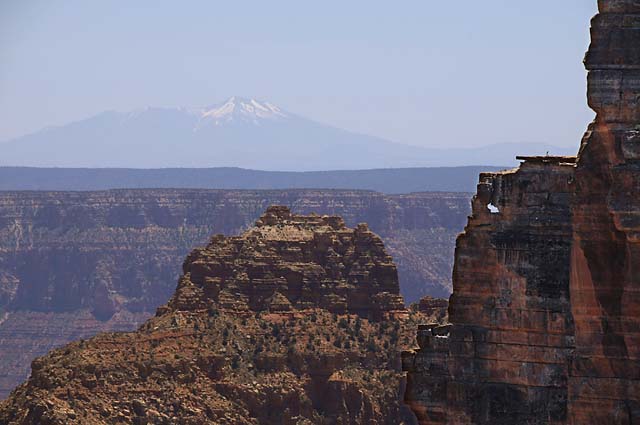 Angels Window.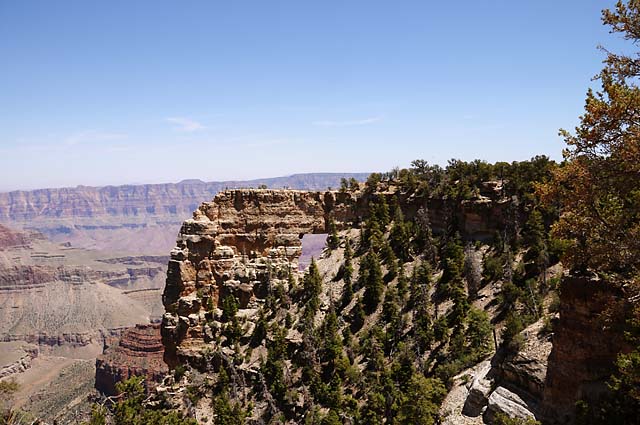 The Colorado River looking through Angels Window.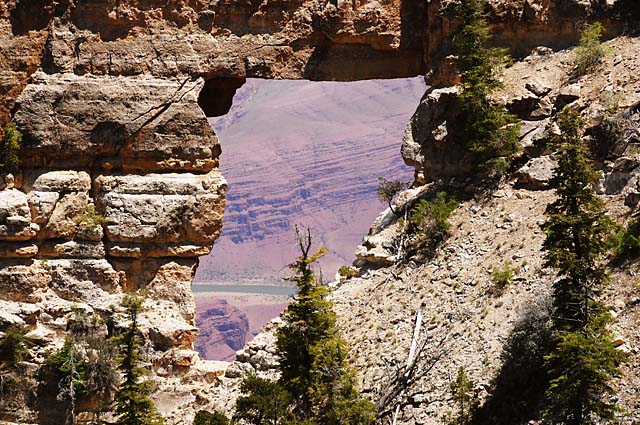 More views from Cape Royal.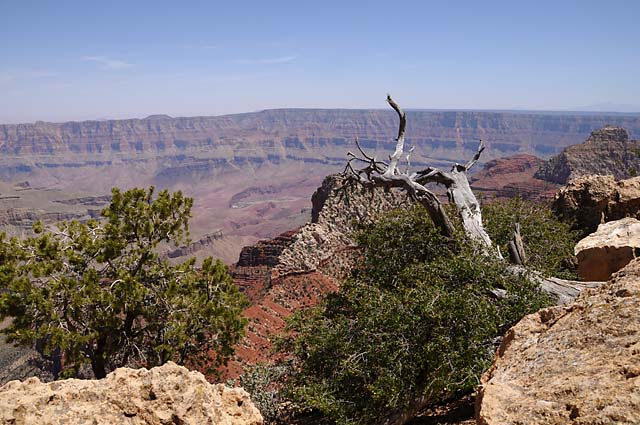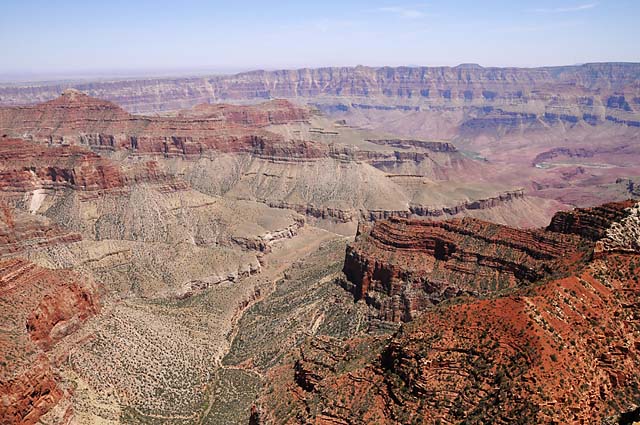 Vishnu Temple, which shows in one of my pictures from the South Rim.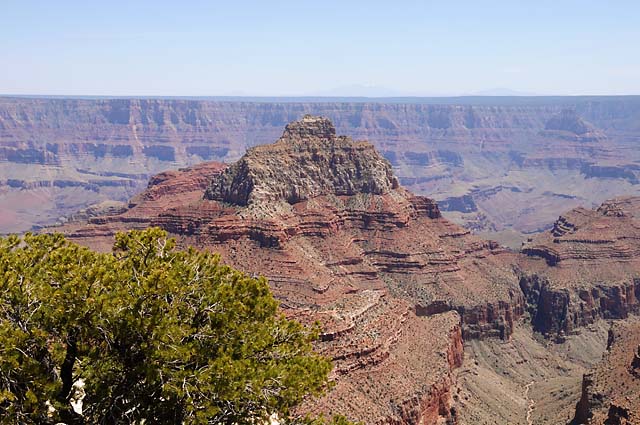 Descending from the heights of the North Rim. In about five minutes, I will be on the road seen below, running from the left just below center to the right just above center. That is US-89A.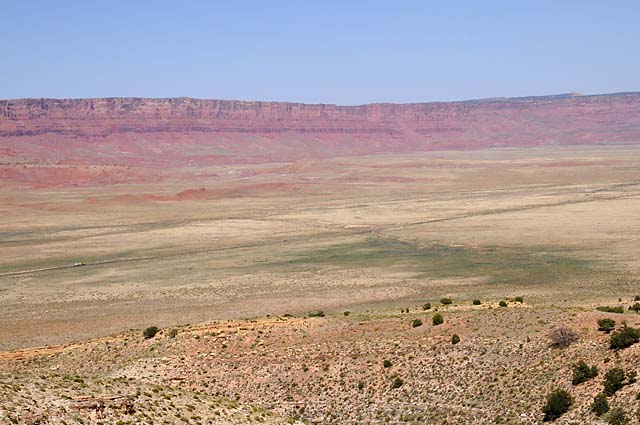 Another encounter, this time with giant boulders. This is in the town of Cliff Dwellers.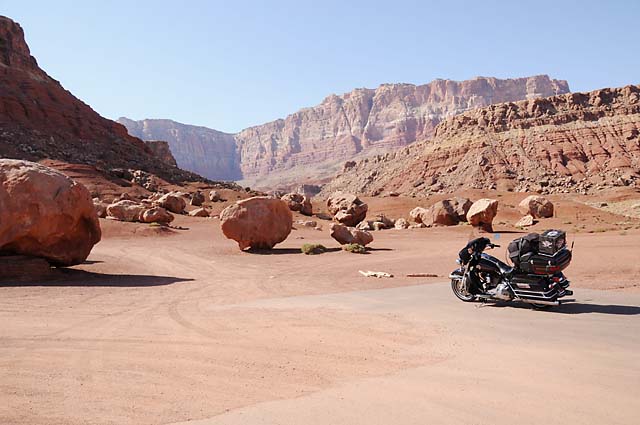 The town of Marble Canyon. I once again crossed the Colorado River here.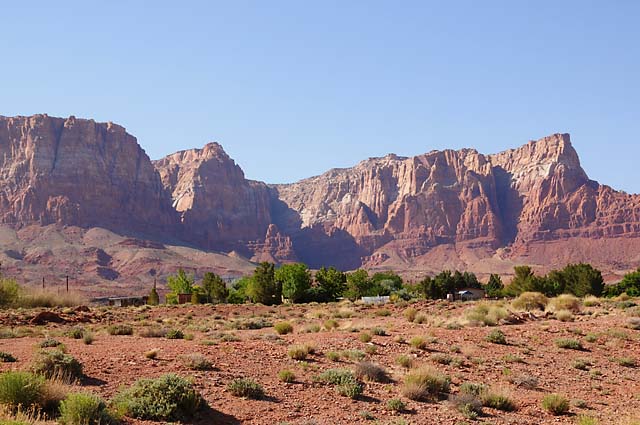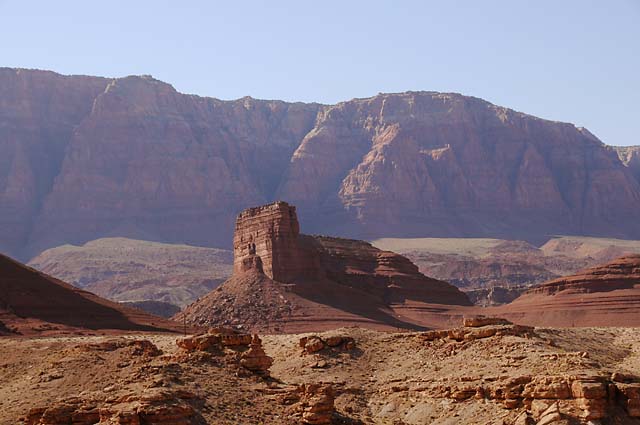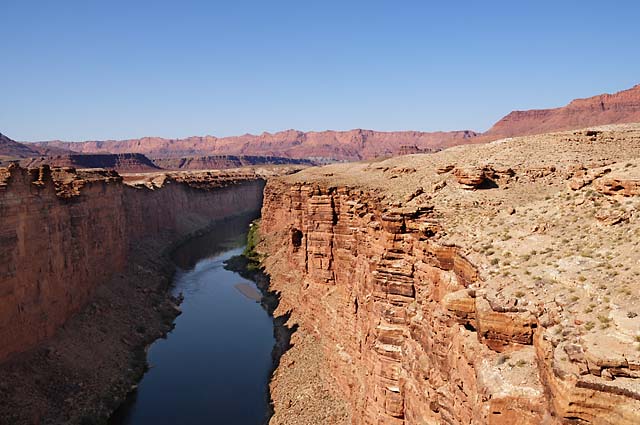 The road is going straight into the red wall. From here, I cannot see where it goes. Into a canyon? Up the side? Through a tunnel?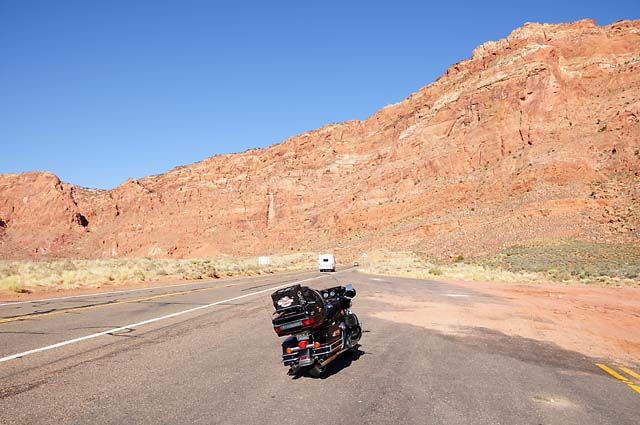 The answer was up the side. Here I am about half way up, looking back to where I started, and in the next picture looking up.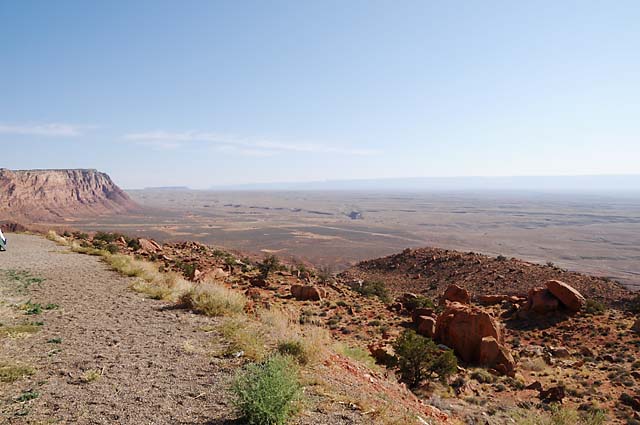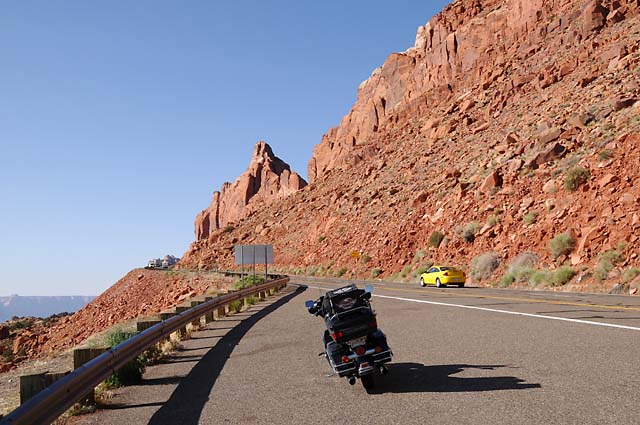 And here's what it looked like on top. I am on top of a mesa.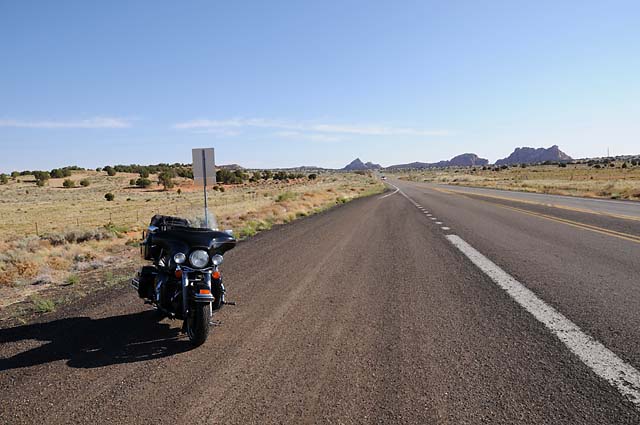 This is Lake Powell, made by a dam across the Colorado River, backing it into Glen Canyon. Getting to this scenic lookout was almost a big mistake. The road, maybe half a mile long, was gravel. That's not too bad, I have been on gravel roads. But, this gravel was soft. The tires would just sink into it, and go wherever they wanted to go, not where I wanted to go. Not only that, there were sections of washboard that were bad enough to almost throw me off the bike!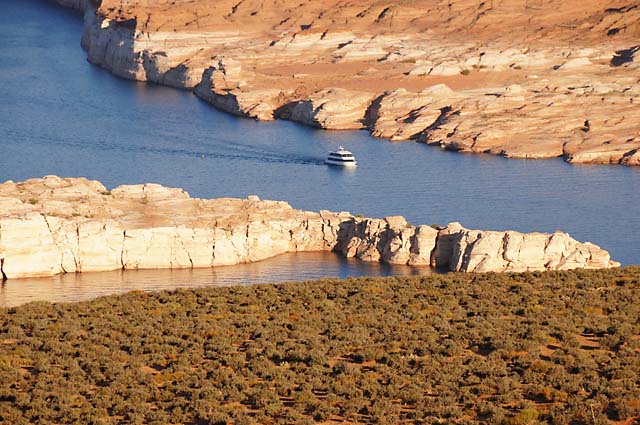 ---
1 Jun 08, 8:30 AM PDT, Page, AZ
The day has started on a bad note. I went to the parking lot to start getting my bike ready for the day, and there was a pool of liquid under it. Oh no, I thought, an oil leak. Not so. A gasoline leak. I have made a few calls, and have decided to ride the bike about 120 miles to Flagstaff to a Harley dealer. There is one about 20-30 miles closer, where I got my new helmet, but I think I would be better off in the larger town. I had not intended to go to Flagstaff, I was going to go to Monument Valley today, but that's life. I will post an update later today.
1 Jun 08, 10:00 AM PDT, Page, AZ
I have decided to have the bike towed to Flagstaff, 151 miles, the fuel leak is too much.
1 Jun 08, 5:00 PM PDT, Flagstaff, AZ
I am in Flagstaff (actually Bellemont, 10 miles west of Flagstaff). My bike is at Grand Canyon Harley--Davidson. The bike rested on the back while Jimmy drove the truck from Page to Flagstaff, and I just sat. We had a sandwich lunch on the way. Thanks for the ride, Jimmy. The bike got here too late to finish the work today. The service shop is open on Sunday. It should be wrapped up tomorrow morning. The problem is the quick connect fuel return for the fuel injection. This is attached to the bottom of the tank with a rubber line running to the injection pump. I asked that both the fuel supply and the fuel return be replaced. If the rubber O-ring went in one, how long with it be till the other goes? I am spending the night in a motel within walking distance of the Harley dealer.
When I first arrived at Grand Canyon Harley, I walked around to see if they had any new black Ultra Classics. They didn't. If they did??????????
This morning I did a test ride and decided the leak was too bad to ride 150 miles through a hot desert with gasoline spraying on the hot exhaust pipe. I tried some duct tape, hoping to contain the leak, but the duct tape sticky stuff just melted from the gasoline, even when I dried off the metal first.
I did take some pictures of the Lake Powell Dam this morning when I did my bike test, and one looking at the lake.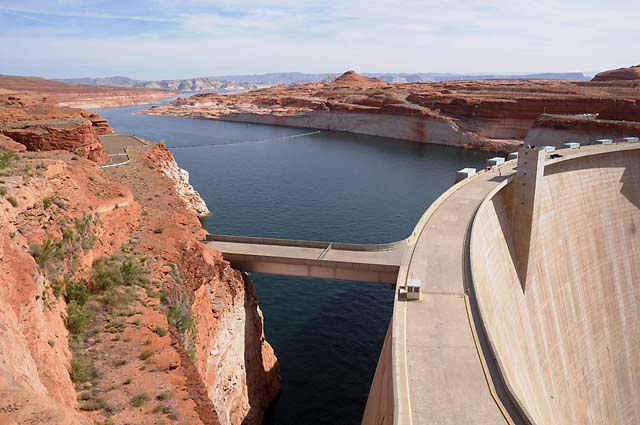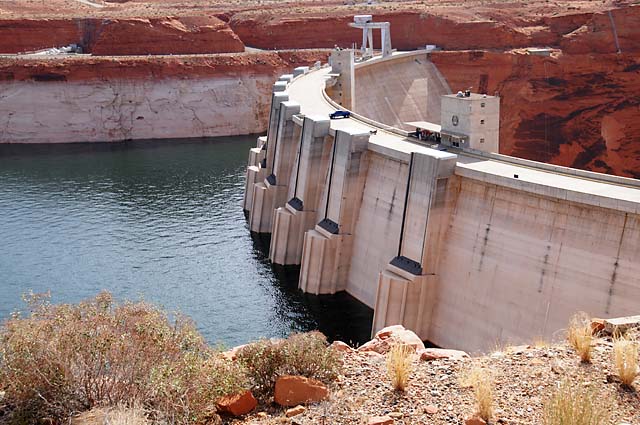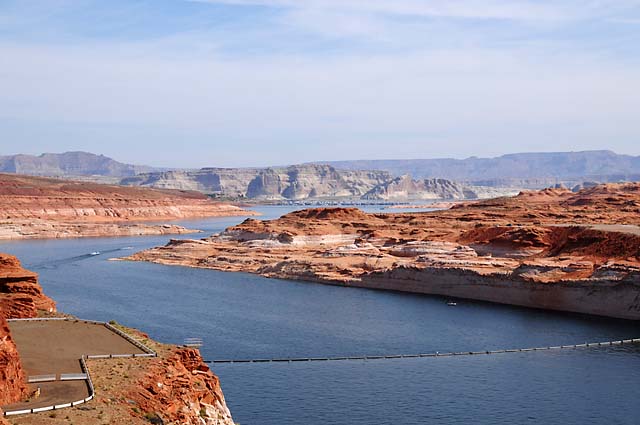 ---
02 Jun 08, 10:30 PM PDT, Flagstaff, AZ
Well folks, I am back on Route 66, was yesterday, am today, and will be tomorrow. My bike was in the shop all day. I got it back at closing time, only leaving enough daylight time to get to my motel for the night, on Route 66. As was the motel last night. As is Grand Canyon Harley-Davidson. Before I tell you about my bike, though, let me give you two Route 66 pictures. Do you recognize this one?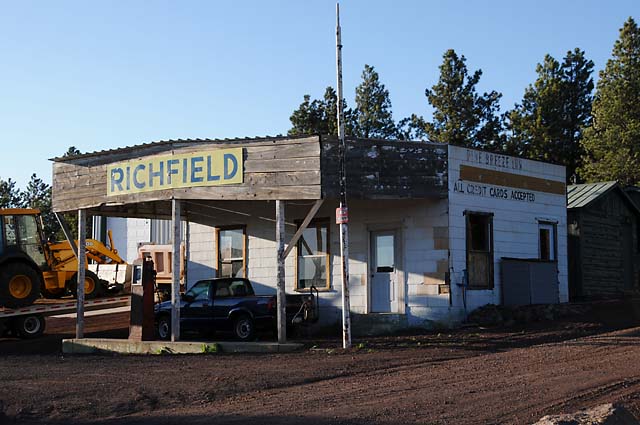 Or this one?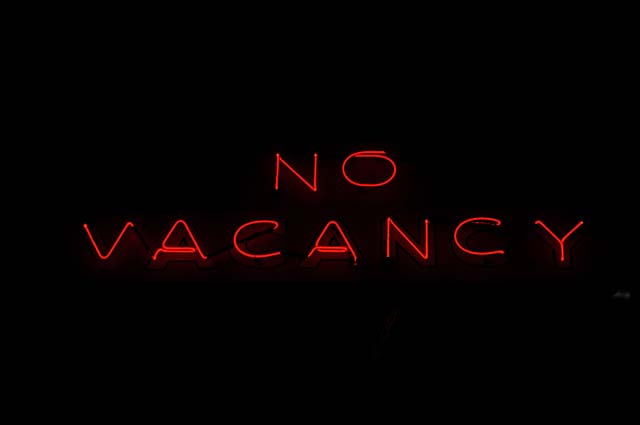 Well, think back to 1969 and "Easy Rider". The bikers needed a room for the night and saw a motel with a "Vacancy" sign. The guy in the door said there were no rooms, and suddenly the "No" above "Vacancy" flashed on. Well, these pictures are the motel and the "No Vacancy" sign from that "Easy Rider" scene. This is the "Pine Breeze Inn" in Bellemont, Arizona. The "No Vacancy" sign currently resides in the Route 66 Roadhouse Bar & Grill, next door to Grand Canyon Harley-Davidson.
Now back to the bike. Kyle, the owner of Grand Canyon Harley-Davidson, suggested I might want to have his people check the "cam chain guides" after they installed the two new fuel lines. It takes about an hour to do the inspection because you have to remove lots of stuff including an exhaust pipe. It is not a recommended procedure for any of the scheduled services, but Kyle recommends it be checked every 20,000 miles because of the damage he has seen, especially on the earlier Twin Cam motors, and especially with high mileage like I have now. Mine was manufactured during the first two or three months after introduction of that motor back in late 1998. I had always heard that you worried about checking this if you heard noises. Kyle says that is too late, the damage is already done. Want to guess how the inspection turned out on my bike? Right. I already had damage. They were surprised that mine wasn't making noises yet. Here's a picture of the two guides that came from my bike.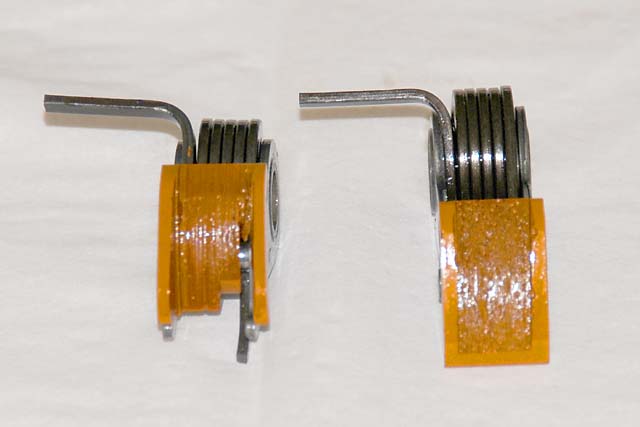 The one on the right is OK, but the one on the left is more than shot. The whole bottom portion of the orange-looking "shoe" is gone and metal is showing through. The chain was running against the metal, and that means big problems real soon. My cams were scored also. The oil pump had to be replaced because of all the metal filings. So, that's why the bike was in the shop all day. I plan to run about 100 miles staying in the Flagstaff area tomorrow before heading out into the desert to Monument Valley, just to make sure I am happy with the bike.
---
3 Jun 08, 11:30 PM, Navajo Time, Chinle, AZ
I did a lot of riding today, partly to make up for lost time. I did 431 miles, second highest on this journey, second only to my journey from Ridgecrest to Las Vegas via Death Valley. I did have to return to Grand Canyon Harley-Davidson, but for a simple little reason. Last night, riding to the motel, I discovered that one turn signal was not flashing. It was the rear that was the problem. I was terribly worried that my wiring problems were coming back to haunt me. I swapped bulbs and the problem went with the bulb, thank goodness. But, that meant I had to go to a Harley dealer to get a replacement. I did that today after my 100 mile test ride.
When I was in Flagstaff a couple of weeks ago, I wanted to go to Oak Creek Canyon, but did not have the time. This is one of the places my family went on our Route 66 vacation in 1952. Because I found myself back in Flagstaff, and because I wanted to run 100 miles in the Flagstaff area to make sure I was happy with the bike before heading back out into the desert, I decided this was how I would test the bike. This picture shows US-89A descending into Oak Creek Canyon on its way to Sedona.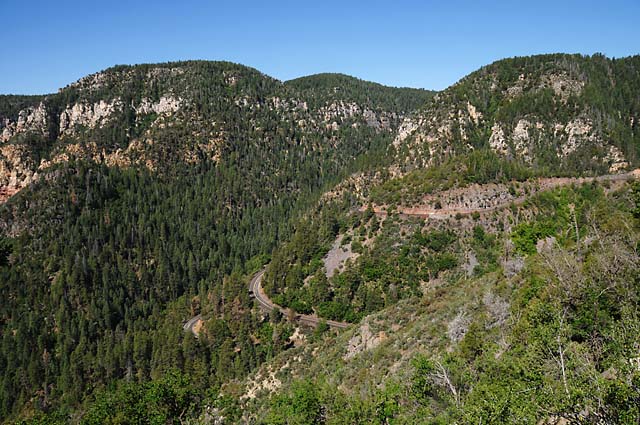 At the top of Oak Creek Canyon looking down the canyon toward Sedona.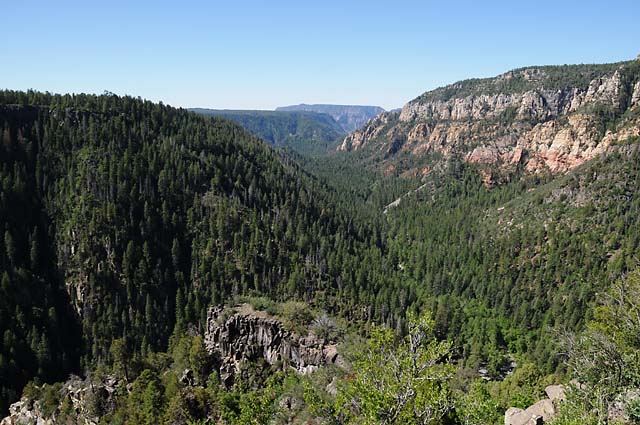 A view in the canyon, halfway to Sedona.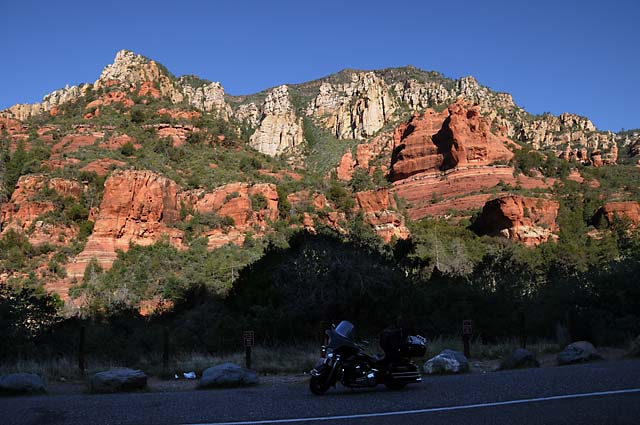 Getting close to Sedona.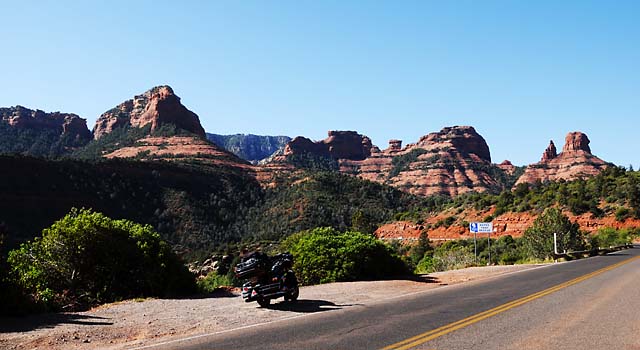 When the bike was being towed from Page to Flagstaff, I noticed this bridge and decided I would stop here on my way back up north to Monument Valley. The bridge was built in 1916. It crosses the Little Colorado River. This is just north of Cameron.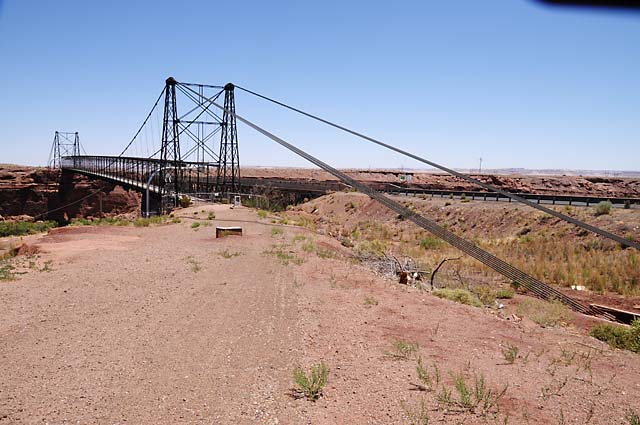 Looking through the bridge.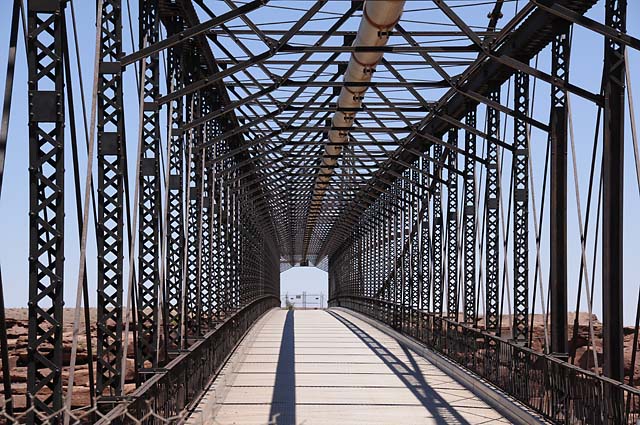 My feathered friend waited here for me, rather than following me all the way to Flagstaff and then having to fly back. I think he is asking why it took me so long.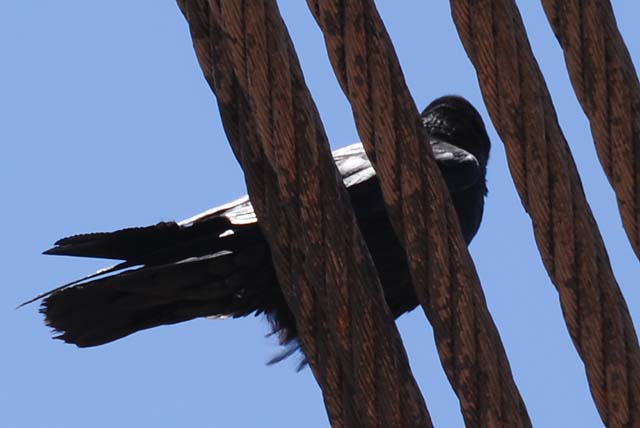 Further north, I saw these two columns. See my bird landing on the left one?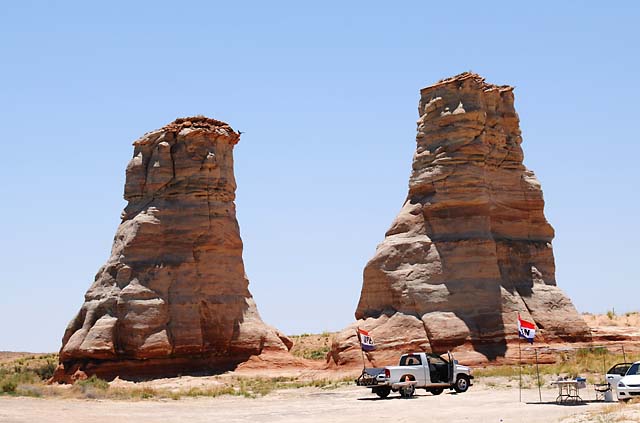 Here's a closer look at him singing during his break.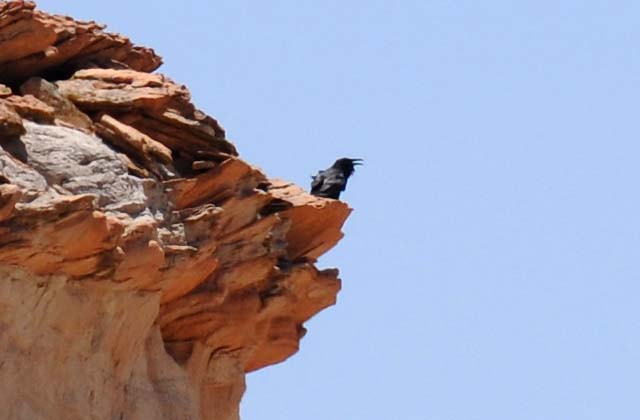 I stopped at the Navajo National Monument. I did something unusual for me, I hiked one mile to get these pictures, then one mile back. It was downhill going, but uphill coming back. Too bad it can't be downhill both ways. The second picture is looking inside the right "cave" of this picture.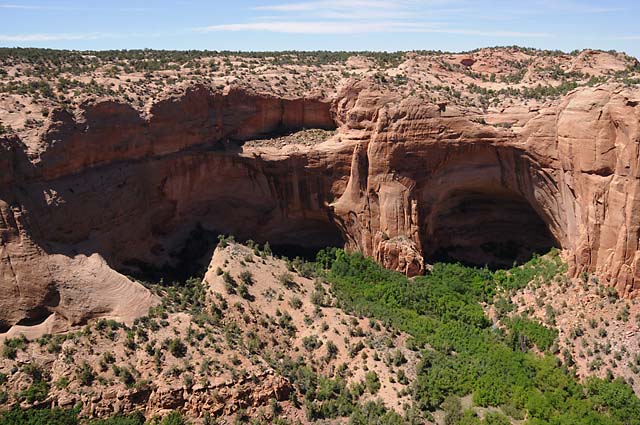 These are pueblo homes of the Anasazi (term used by the Navajo, meaning "ancient ones") until about 700 years ago.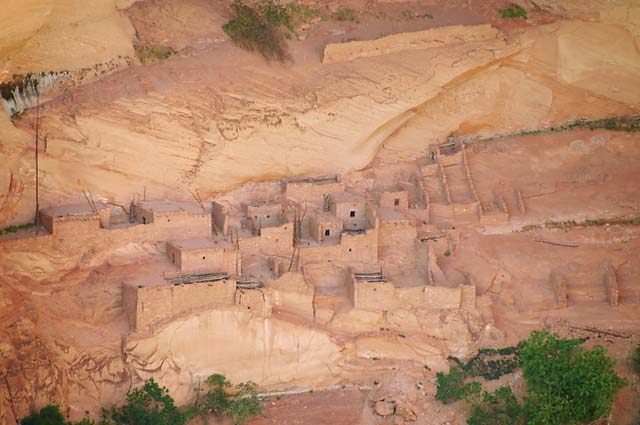 Monument Valley, approaching from the south with the sun in the west.

The mittens.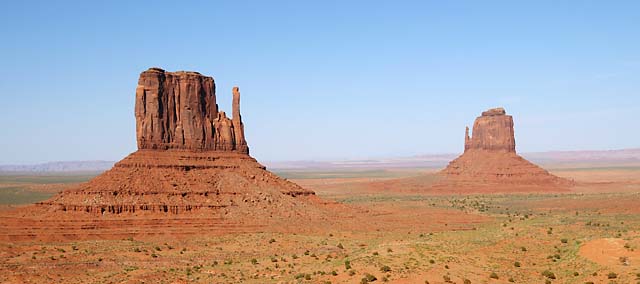 This is a view I have seen used by Harley-Davidson.

At this point along my travels today, I passed by the Valley of the Gods. It is a beautiful place, but I did not stop for three reasons. First, I really didn't have the time to do it today; second, I have been here before; and third, you really need a four-wheel drive, and I was short by three.
The San Juan River flowing through the town of Mexican Hat, Utah.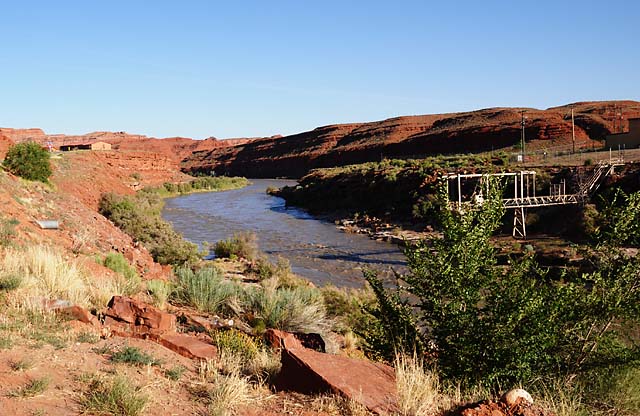 Ever wonder how the town of Mexican Hat got its name? This is Mexican Hat Rock, just north of the town.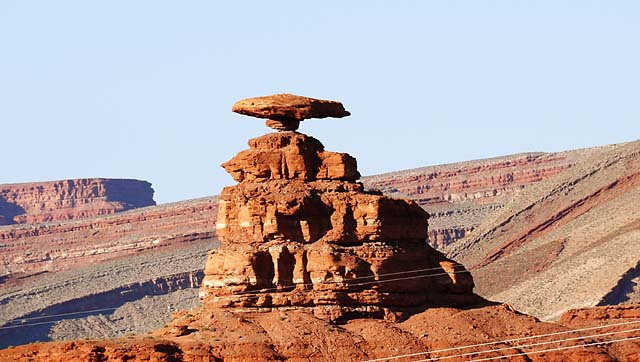 The San Juan River northeast of Mexican Hat. I was impressed at how green this area was. This is in the middle of a desert!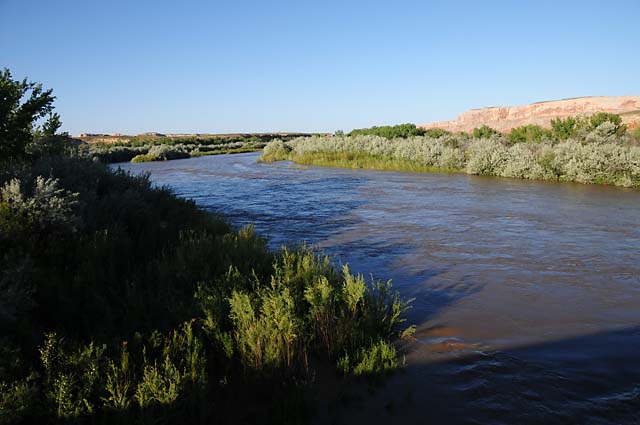 ---
4 Jun 08, 10:00 PM MDT, Grants, NM
Today was a transition day. I began the day as a tourist, as I have been since the Route 66 Tour began on May 10. I ended the day as a traveler, as I was before May 10 making my way to Chicago. Over the next few days, I will be making my way back to Florida. I will continue my daily update, no doubt with a smaller number of pictures. Be aware that my plan is to hit four more state capitols on the way home.
While this afternoon was a travel day, I didn't get in as many miles as I had hoped, only 243; I had hoped to have at least 400. By the way, today I passed the 7,000 mile mark since leaving home, and I have shot 1,169 pictures. Anyway, the winds were extremely strong today, usually from the side, and that makes for very tiring riding. I simply quit about three hours earlier than I had planned. I was tired of fighting the wind, and I wasn't going to take it any more.
Enough about the travel part. I want to talk about the tourist part. I began the day in Chinle, Arizona which is the gateway to Canyon de Chelly. I have never been there before, although I wanted to visit it many times but never made it. Canyon de Chelly offers two sights -- it is a beautiful canyon, different from most I have seen, and it has several ruins from the Anasazi. After my visit to Canyon de Chelly, I really headed home, but with a planned stop in the town of Window Rock. If you have read any of the Tony Hillerman novels (the primary characters in his novels are officers with the Navajo Tribal Police), you will know about Window Rock. I had not been to the town of Window Rock before, and I wanted to get a picture of the Window Rock.
Here are some shots showing the beauty of the canyon. It has vertical walls on the side, and a flat bottom! The bottom serves as farmland. It did for the Anasazi in old times, and it does for the Navajo today.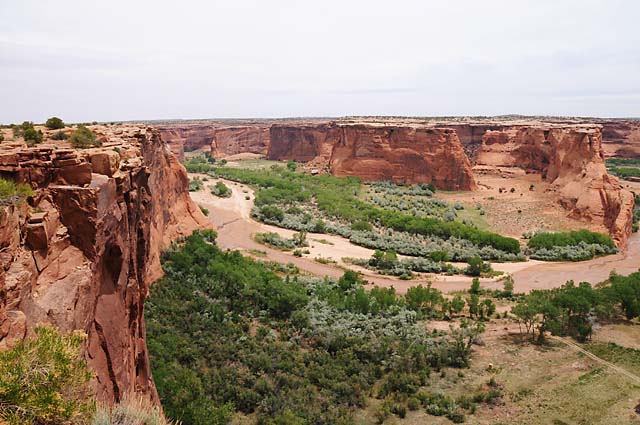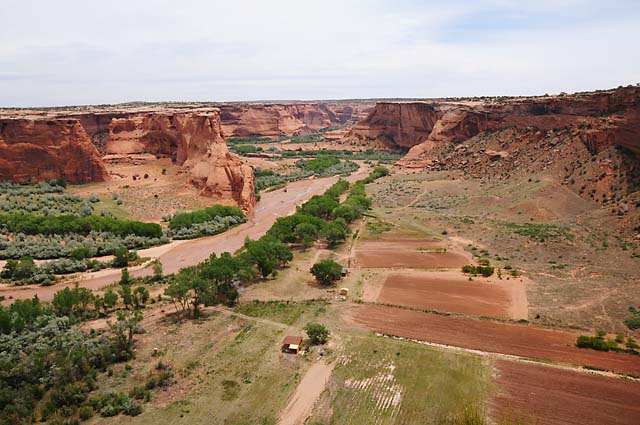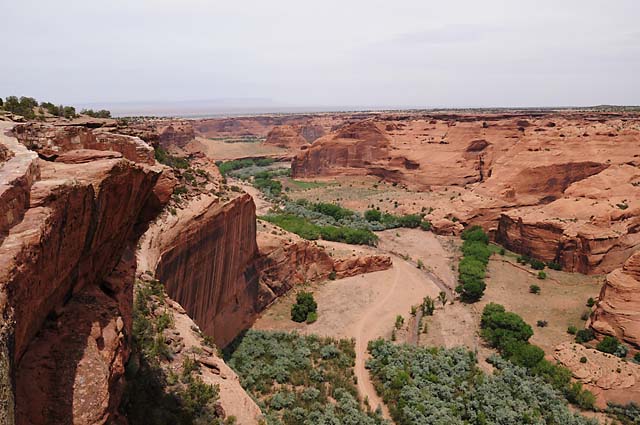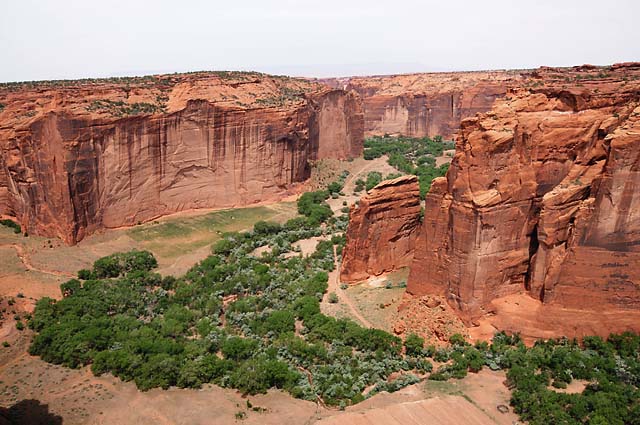 And now some of the Anasazi ruins.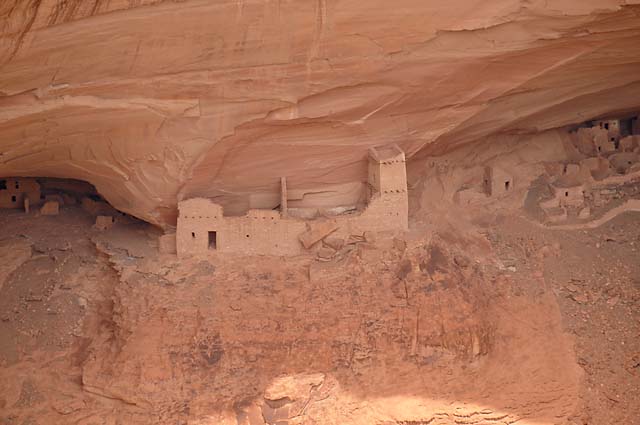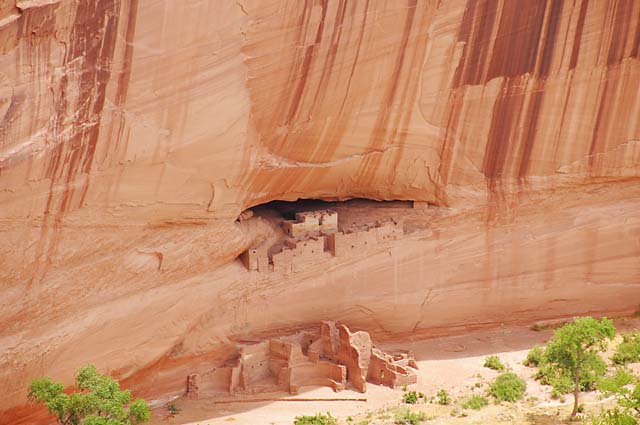 Look how high up the wall these dwellings were -- in the caves.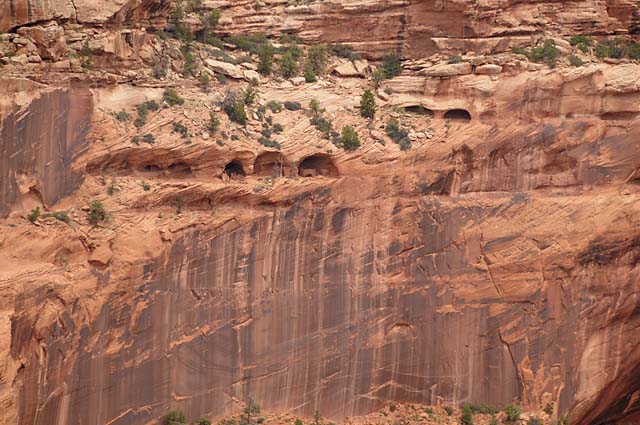 Here's a blowup of the cave area.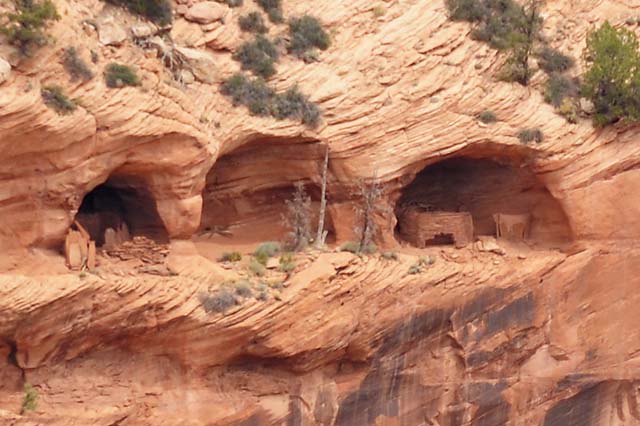 And if you did not guess correctly, this is Window Rock.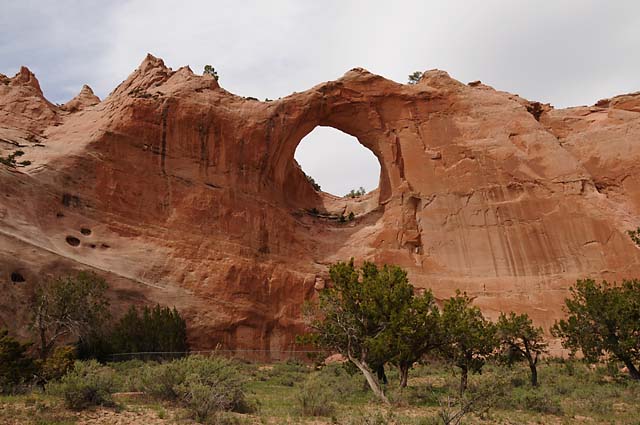 This is a memorial to the Code Talkers. If you do not know about the Code Talkers, you should learn about them right now. You can start with the Navajo web site.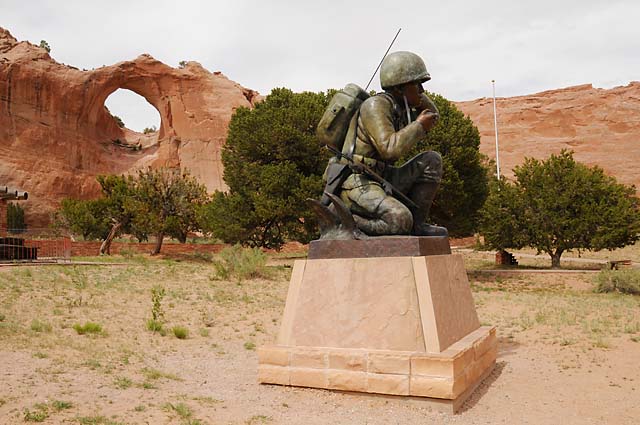 This is the Navajo Nation office. The flags are at half-staff because one of the Code Talkers died yesterday.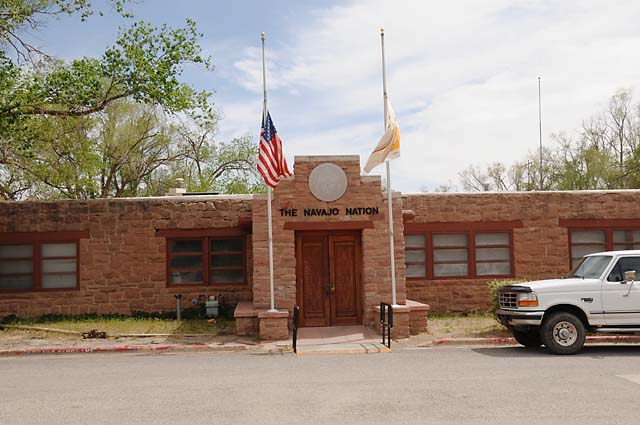 Some pretty cactus along one of the trails.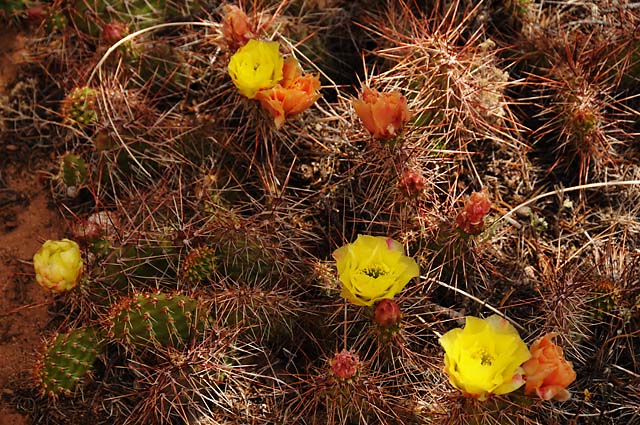 And a very interesting looking tree.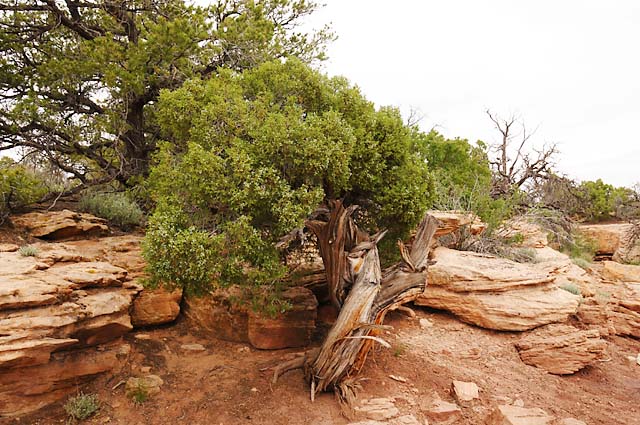 ---
5 Jun 08, 11:00 PM CDT, Elk City, OK
I was on the move today, 524 miles. There had been rain overnight in Grants, NM and dark clouds still around. The temperature was 49°F. So I started with warm layers and rain gear. I had no rain, and over three hours shed all the extra layers. I was running I-40 the entire way. This is essentially back tracking my Route 66 ride, except on the freeway rather than on Route 66. I stopped at Amarillo Harley to get a "Push to Talk" push button that somewhere went missing. I got into rain at Elk City, OK so I called it a day. I unpacked everything to make sure everything stayed dry, and everything that was packed in plastic bags was dry, but some things not in plastic bags were not dry. So, I spent some time this evening drying them out.
Oh, one other thing. While I was in Amarillo, I went to the Cadillac Ranch. I wanted to know if Danny and Jessica's artwork had survived three weeks. You can check back on 5/16 to see their artwork. At that time, I said "Jessica and Danny have added their names for posterity (or maybe just a few days)." Well, it sure wasn't three weeks. Here's what it looks like today. Somebody seems to have painted all the cars yellow, then "custom artwork" went on again. I think it was the roof of the third car from the right that Danny and Jessica painted. If you click on the picture, you will get a hi-rez version that you can examine.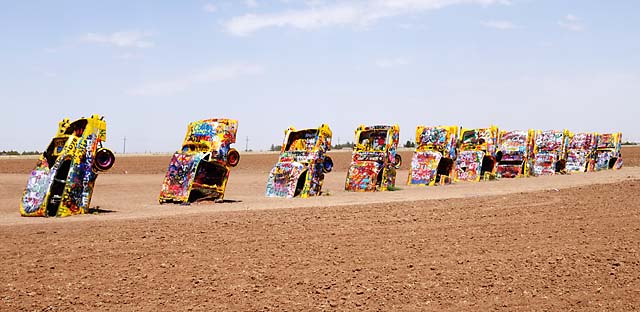 ---
6 Jun 08, 10:30 PM CDT, Pine Bluff, AR
I am in Arkansas. The day before yesterday I was in Monument Valley. Incredible. I rode 524 miles today, 1,047 yesterday plus today. Today I went through 8,000 miles since leaving home. It will be over 9,000 miles before I get home. I expect to get home Sunday evening, or more likely Monday. That will be within 24 hours of five weeks since I left. I can't believe I have done this!
I have two pictures today, a bird (not that one) and a capitol. I will come back to this.
As you can see, today was a travel day. The temperature was 57°F this morning. Cool enough for a little warmth. Normally I wear my leather chaps and my summer leather jacket. The jacket has about a zillion little holes in it, so if the temperature is 70°F I might feel cold at riding speed. Somewhere between 75°F and 80°F is where it becomes comfortable for me. Blame it on my Florida blood. So I started with my regular riding gear plus a windbreaker -- which is my rain jacket. I took off the rain jacket about 90 minutes later. In the afternoon, rain looked likely, I had run through sprinkles a couple times, but now it really looked like it would rain. I put on the rain jacket and the rain pants. About half an hour later, there was no rain, and I was cooking. I took off the rain jacket. Sometime later, when I was getting my chocolate shake, I took off the rain pants. Neither went back on. While I was walking around the capitol in Little Rock, I took off the chaps and zillion hole leather jacket. When I left Little Rock, I did not put the chaps back on, I was just too warm. I did wear the zillion hole jacket, though. If I do another trip like this (even many fewer miles), I will probably get a different riding suit, one that is all-purpose, and has proper ventilation. If my chaps had a zillion or so holes, they would be much more comfortable when it is warm. I had 100°F plus temperatures in the desert, but it was a dry heat. Today it was about 95°F with high humidity, and that was far more uncomfortable than the heat in the desert.
Now for the pictures. About 2PM or so today, I entered western Arkansas on I-40 from Oklahoma. As Hanna can tell you, I like to stop at the Welcome Center and get a map. That's what I did. Then I went to a park bench and called Hanna. While we were talking I saw a most interesting bird. I have no idea what it is. I have never seen one before. If I were home, I would look it up in the Sibley's that Cindy gave me, but I am not home. I could look it up on the Internet, but I don't feel like doing it. Maybe one of you will send me an email telling me what it is. If not, I will look it up in my Sibley's when I get home. If some kind soul does send me an email telling me what it is, I would like to know if it is a native bird to western Arkansas, or if maybe it is some exotic bird that was a "pet" but escaped! Here's today's bird. It has a grey head and chest, brown wings, and a very long tail that splits. When it flew, it looked like it was going after flying insects. So, what is it?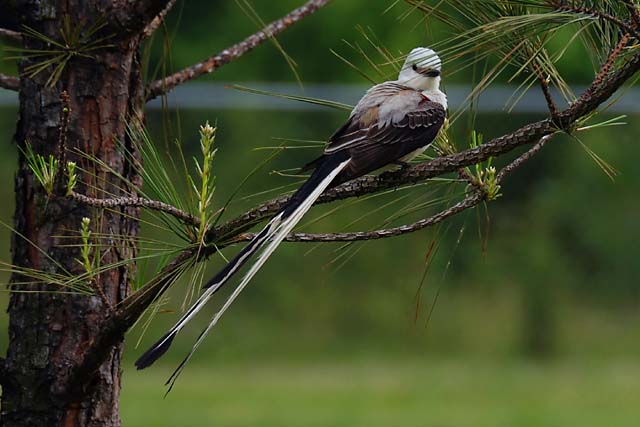 And for my second picture, the Arkansas Capitol in Little Rock. My brothers and sister will recognize this as a "copy" of a picture my father took 56 years ago, except my camera is wider angle, and now a tree is blocking the front of the capitol. Click here if you want to see my father's picture. I have had other "copies" of my father's pictures on this trip, and I am sure my brothers and sister have spotted them.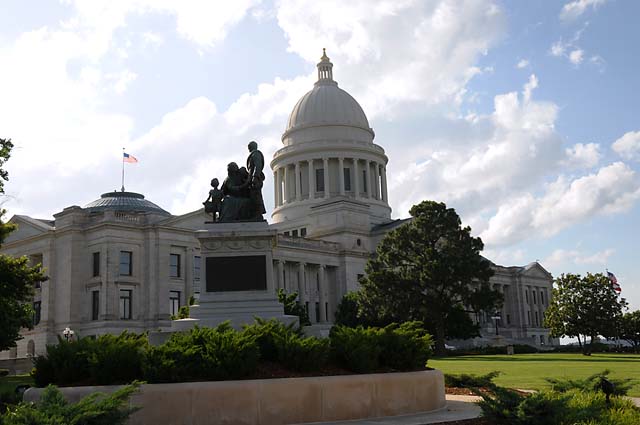 ---
7 Jun 08, 10:30 PM CDT, Selma, AL
First, thanks to Dana of Broken Arrow, Oklahoma (mom of one of the fourth graders at Will Rogers museum -- see my log for 5/14) and to my sister Carolyn (see my log for 5/8) for identifying the bird from yesterday, it is a Scissor-tailed Flycatcher and is the state bird of Oklahoma. For more info click here. So tell me now, did it get lost in Arkansas? Or is it following me too?
I was negligent for not thanking some others many, many days ago for answering the question on why the Pony Bridge was called the Pony Bridge (see my log for 5/15). Thanks to Bentley and Ronald and Dave. The truss used in the bridge is called a Pony Truss (no connection overhead between the two sides). As this bridge has 38 Pony Trusses, the name Pony Bridge just seems to make sense. It does to me, anyway.
Now for today's report.
1. Only 430 miles today. I won't get home till sometime Monday.
2. Hot. Humid. Yuck! High 90s. For both it seems. Give me that desert heat.
3. Another bike problem -- cruise control quit and right headset speaker quit. As for the cruise control, I was reminded of a problem I had on my 3,000 mile southwest tour in 2003 when the cruise control quit; at that time, I noticed that the charging rate of the battery was reduced; and, I discovered at a gas station, after dark, that my brake lights were always on; thus the cruise control would not work and the charging rate was lowered. So, I stopped at the Welcome Center in Alabama to get a map and to check the brake lights -- ALWAYS ON! I called Meridian Harley that I had passed about 15 minutes before, and asked for service. The kind gentleman told me how to fix the problem if it was the rear brake -- unplug the switch, and he told me where to find the switch. If it was the front brake, I was out of luck. LUCK was with me -- maybe my bird was overhead and I just didn't see him. Unplugging the rear switch turned off the brake lights and now cruise control works again. While the rear brake will not turn on the brake light, this is not an issue because I always use both brakes, so I will still have a brake light.
Two pictures today. First, looking back from Mississippi to Louisiana after crossing the Mississippi River. You get two bridges as a bonus.
The second is the Mississippi Capitol in Jackson.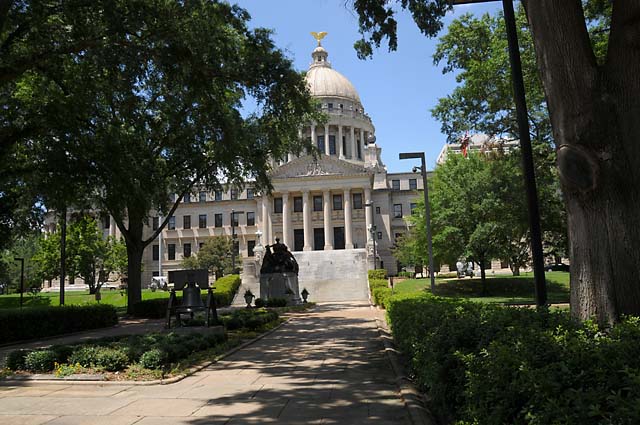 ---
8 Jun 08, 10:00 PM EDT, Ocala, FL
Another brutal afternoon as far as temperature and humidity. It was in the high 90s, maybe above 100°F. With high humidity. I rode more than I thought I would, almost 500 miles, from Selma, Alabama to Ocala, Florida. While I am in Florida, I am not home yet. That should happen tomorrow.
I visited two state capitols today. First was Montgomery, Alabama. This was early morning, and the sun was in the wrong place, about as wrong as it can be for a photo. I insisted on getting the front of the Capitol, not the back. You will have to pardon the bright sun in the picture. It does show what I can do with my camera, though.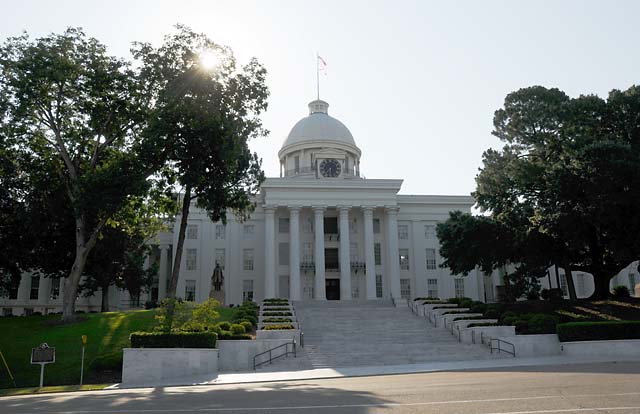 The other state capitol today was Tallahassee, Florida. This is the old Capitol, the one I remember us visiting in 1953, the year after our Route 66 vacation. The new Capitol is a high-rise office building. I won't even show it to you.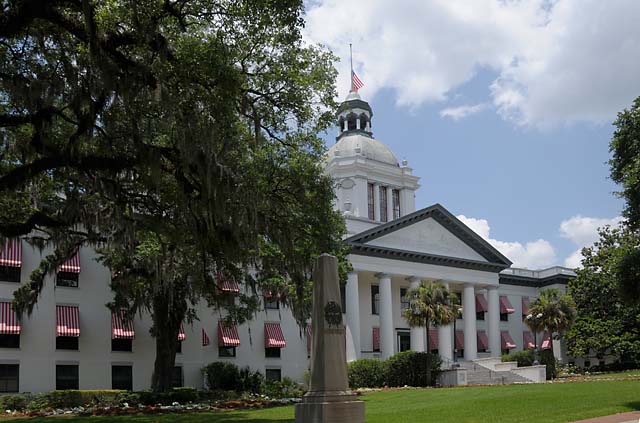 ---
9 Jun 08, 3:45 PM EDT, North Palm Beach, FL
My incredible journey has come to an end. I am back home with my loving wife and adoring dog. I rode 9,266 miles, took 1,268 pictures, required 11 barrels of crude oil, was towed three times (now that I find totally incredible), consumed 28 chocolate milk shakes, rode through 19 states (FL GA TN KY IN IL MO KS OK TX NM AZ CA NV UT AR LA MS AL), and was away from home five weeks.
Today was a shorter ride, I started out only 231 miles from home. It took me four hours. I left before sunrise, and was able to watch the sun slowly rise as a giant orange ball. Riding temperature was perfect for about 45 minutes, then it started getting warm. By the time I was home, it was getting uncomfortable. I rode through a couple of rain showers. I did not put on rain gear. I closed the two upper fairing vents and the two lower fairing vents and just hunkered down behind the windshield. I only got a little bit wet. It dried very quickly.
This truly has been an unbelievable and unforgettable journey. I enjoyed it more than my words can say. I never once had the TV turned on in my hotel room. When riding, I feel at one with the bike -- I have often thought how the bike and I become one, I am not riding it, we are one. It is like I am walking extremely fast, not running, because running makes me tired. I have crossed the country and returned. I was outside the entire time, not shielded in a car. If it was hot, I was hot. If it was cold, I was cold, unless I had on enough layers. If it was raining, I got wet, unless I had on rain gear. It would be no different walking. This country is so beautiful. I never once got tired of looking at the scenery. Flat plains. Rolling hills. Mountains. Red rocks. Pine forests. And the desert. I love the desert and the red rocks. That's still my favorite.
I would like to express my thanks to the American Motorcyclist Association (AMA) for organizing the Route 66 ride. I doubt very much I would have done this had it not been for the AMA.
My joining the AMA ride was most likely prompted because of my scanning my father's slides. I have almost 9,000 slides he took from 1952 till sometime in the 1990s. I have scanned about half of them, slides from 1952 through 1971. The very first slides were our 1952 Route 66 vacation. Many times during the past five weeks, I have tried to see again, and photograph for myself, what I saw as a 9 year old child in 1952. (If you are interested, you can see my father's scanned slides on the Internet.)
I really want to thank you, my dear Readers. You made this trip much more enjoyable for me. You made me more observant, you made me get the picture, you made me remember the journey by writing notes every evening. Isn't it great how I can share this with you on the Internet! It's like you were along on the ride.
Thanks to my lovely Hanna, who encouraged me to make this journey. We stayed in touch the entire time, phoning at least once every day. The thought of putting my Travelogue on the Internet initially was for Hanna, then it broadened to family, and friends, and even strangers.
I have only one picture for you today, my arrival in North Palm Beach.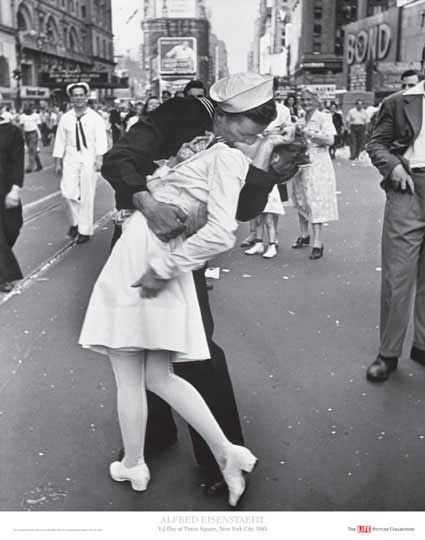 Shortly after I arrived, Hanna pointed to the sky and said, "Why is that black bird circling our home?"
"It's the Raven," I said. "I think he was following me." I guess the Raven wanted to see me safely home.
And thus ended Dr Bob's Route 66 Motorcycle Ride
---