---
5 June 2010, 5:45 PM, Falls Church, VA
Sam and I are ready to roll to the US Capitol for another Kodak moment.
Here's the Capitol. Not sure where Sam is, I guess he took a wrong turn somewhere along the way. I am sure he will be home when I get back.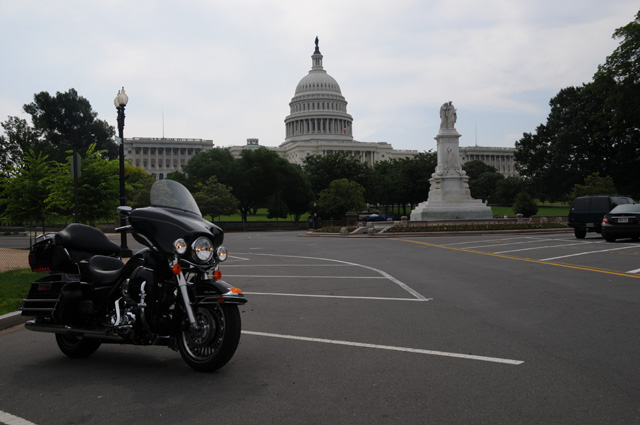 Getting to the Capitol was not easy. I crossed the Theodore Roosevelt Bridge expecting to ride along Constitution, but it was blocked. I headed up town on 23rd past the Department of State, and then turned east on F Street. I couldn't get to Constitution on 18th. I continued and had to go north on 17th when I reached the White House. I turned east on H Street. I couldn't get to Constitution on 14th. Finally on 9th I could get down to Constitution, but one block later I had to go north because Constitution was blocked again. Then just a couple of blocks west of the Capitol, I could get back on Constitution. I took 1st Street NW in front of the Capitol, parked the bike, and got my picture.
Then I headed up North Capitol Street, past the US Soldiers and Airmens Home where my Aunt Nettie lived, into Maryland, and on up to the Beltway. Then I headed back to Falls Church on the Beltway. I picked up 46 miles today, and I have 1,908 total on this ride.
---