---
28 April 2018, 4:45 PM, North Palm Beach, FL
Less than one week until my departure. I got the new tires. I had a full service, fluids, plugs, etc. The Treasure Coast Harley service folks tell me the bike is ready to go 8,000 miles. I should get new oil and filter after 5,000 miles they told me. The other fluids will be OK.
I decided I needed to stretch our legs (the bike and me) to make sure we were up to the ride. I went to Daytona and back today. I expected that to be about 400 miles and 8 hours. It was 392 miles and 7 1/2 hours. I wanted to ride the circuit, but that was not possible. There were a million Jeeps there. Turns out there is something called Jeep Beach. There will be a concert at the Speedway at 5:00 PM today. All I can say is that the parking lot looked to be full of Jeeps at Noon when I was there.
I did manage to get a picture of my bike and the western end of the grandstand. The eastern end must be a mile away, maybe just half a mile.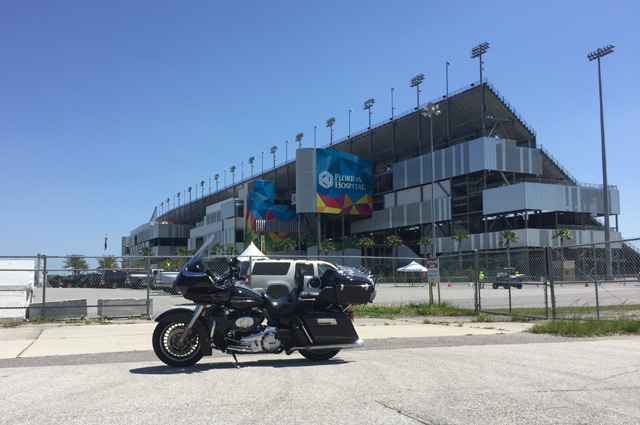 It was another beautiful ride, I continue to be pleased with my vision. But I need a new visor on my helmet. Not sure I would have noticed that before.
The vents on the lower fairings are still a problem. I made them much tighter. That did not do the trick. Bungee cords did. I did that at a Rest Area on I-95. Only problem with that is I will have to get off the bike to close them (for rain or cold weather). So be it.
Probably nothing more until Friday, May 4, my day of departure. See you then.
---