---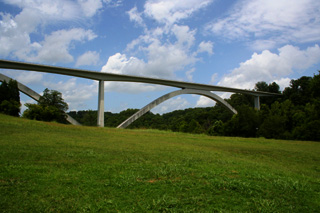 January 2011
I am planning a ride during April 2011, leaving home about April 15. This ride will be different from my other rides -- I will have company. Hanna and Doris and Bentley, along with Maggie and Ripple, will accompany me in a cage. (From the motorcycle dictionary - Cage - A car, truck, or van. The sworn enemy of motorcyclists, more commonly known as automobiles. The name stems from being all cooped up inside a closed shell, with no contact with the outside air.) For those of you who don't know, Hanna is my wife, Doris is Hanna's daughter, and Bentley is Doris' husband. Oh, Maggie is our Scottish Terrier and Ripple is Doris and Bentley's greyhound.
On New Years Day 2011 when I told Doris and Bentley and Hanna I was planning a ride on the Natchez Trace, they quickly said they wanted to go also. Doris said they would go in their van as chase. We looked over the calendar to find a suitable time, and plans fell into place rather quickly.
We have not worked out the details yet, but somehow Hanna and Maggie and I will get to Clearwater to join Doris and Bentley and Ripple. Or, maybe Doris and Bentley and Ripple will come to North Palm Beach to join us. We will make our way to Nashville, Tennessee to catch the northern end of the Trace in a little place called Pasquo, then work our way south to Natchez, Mississippi on the Trace, then back to Florida. We expect the ride to take about ten days and cover about 2,500 miles
Each day of my journey is a separate page shown on the menu at the left. You can start at the beginning by selecting the first day, or at the end by selecting the last day. Or, you can have the entire trip on a single page (a long page) by selecting "Single Page". I probably will not set up the single page until the trip is complete.
---
March 3, 2011
Doris and I have done some preliminary planning. We will plan to spend two nights on the road getting to the northern end of the Natchez Trace. We will probably spend three or four nights on the Natchez Trace. On the way home from Natchez we will spend a night near Mobile, Alabama, and then a night in Apalachicola, Florida where Doris will be able to see a friend. Normally I do not make overnight reservations on my motorcycle trips, but this time I will because we have to find places that will accept Maggie and Ripple.
The mileage breaks down this way. North Palm Beach to Clearwater is about 220 miles. Clearwater to Nashville is about 750 miles. The Natchez Trace Parkway is 444 miles. Natchez to Mobile is about 250 miles. Mobile to Apalachicola is about 250 miles. Apalachicola to Clearwater is about 290 miles. These numbers do not take into account any side trips, and I do expect several side trips along the Natchez Trace.
---
Here's a map of our intended route.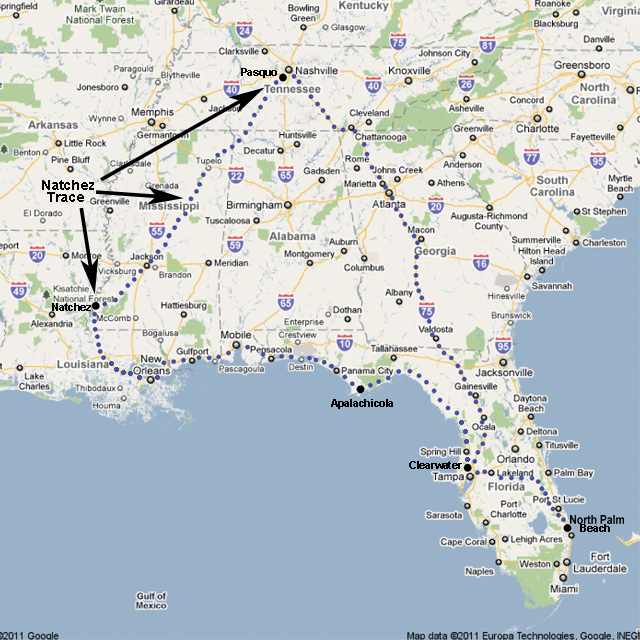 ---
April 8, 2011
Plans are pretty much in place. Hanna, Maggie and I will leave North Palm Beach on April 15. Hanna and Maggie will be in Hanna's SUV, I will be on the Harley. We will spend the night in Clearwater. Then on the 16th of April, Doris, Bentley, Ripple, Hanna and Maggie will ride in Doris and Bentley's van, and I will continue on the Harley. Nights will be in Ashburn GA, Monteagle TN, Lawrenceburg TN, Aberdeen MS, Vicksburg MS, Baton Rouge LA, Pensacola FL, Apalachicola FL, then back to Clearwater. We will visit Civil War battlegrounds at Shiloh and Vicksburg and the WWII battleship USS Alabama in Mobile. I will photograph the Tennessee capitol building in Nashville and the Louisiana capitol building in Baton Rouge.
---
15 April 2011, 7:00 PM, Clearwater, FL
We're off. We went to Clearwater, 224 miles. If you have followed my motorcycle travelogues in the past, you know that Hanna normally waves a goodbye as I depart. This time, though, Hanna is part of the crew. Here's a shot as we left this morning.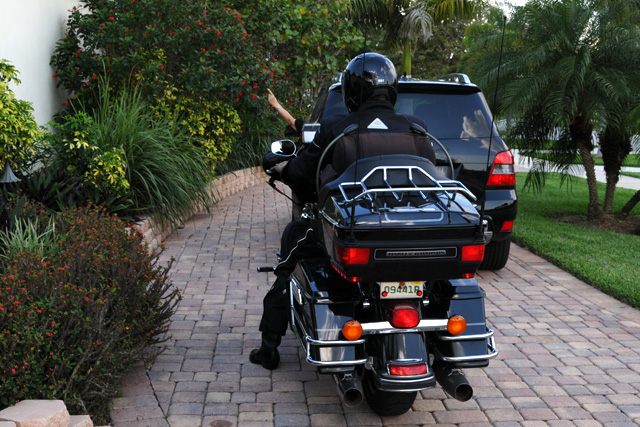 You can see that Hanna is giving me a motorcycle signal. If she is moving her hand in a circle she is telling me to start my engine. If her hand is stationary she is telling me to proceed behind her single file, as opposed to side-by-side. Wait a minute, maybe she is flipping me a bird. Maybe she is tired of me having her pose for pictures as I depart. I'm not sure.
We made a few pit stops on the way to Clearwater. This was taken in Lake Wales where I had my first of many (or so I hope) chocolate milk shakes.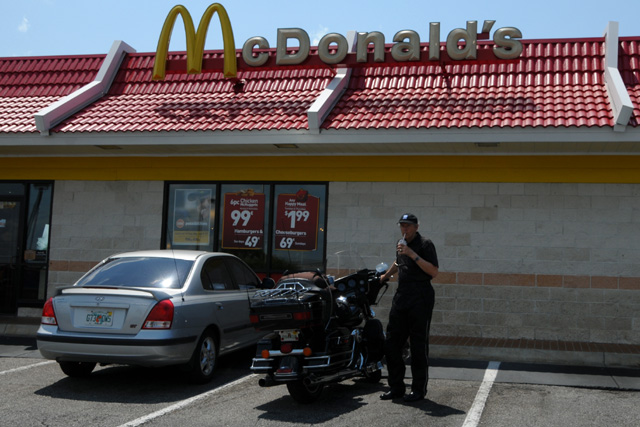 Another pit stop was in Lakeland where we saw Gisi for a few restful minutes.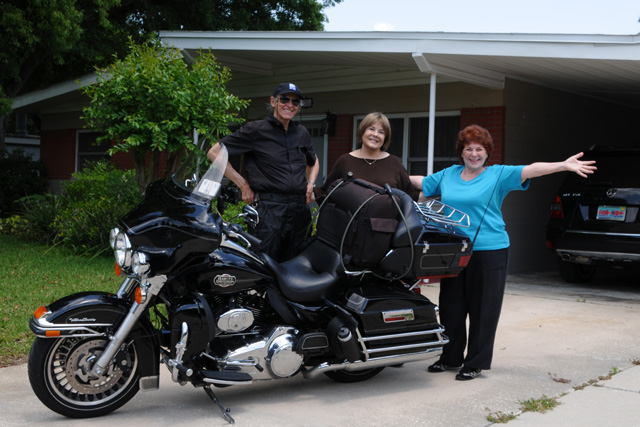 Finally we arrived in Clearwater to pick up the rest of our crew. That's Doris on the left, then Hanna, Bentley and me. Ripple is the big dog. Maggie is the little dog. George is the fish. This is George's first trip. He joined Bentley in 1994 when Bentley had a heart attack (minor) and couldn't go fishing as he had planned, so George sort of filled in. Keep your eye out for George. He will be in many pictures, and normally I won't mention it.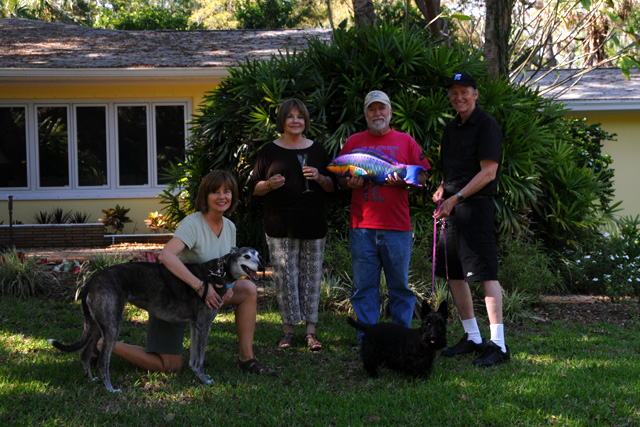 ---
16 April 2011, 8:00 PM, Ashburn, GA
No pictures today. It was a travel day. I did 321 miles. I had a chocolate shake for lunch. And that sort of summarizes it. There's not much more to say.
I can add that I had no rain today, and that is a little surprising because of all the bad storms sweeping across Oklahoma, Arkansas, Tennessee, Mississippi, Alabama, Georgia, and the Carolinas over the past three days. I stopped at a rest area in northern Florida. There were three bikes parked there, and one guy was drying off his seat. He said he had been waiting for three cells to clear out. I just missed them. I was really disappointed NOT. We had a late start this morning, intentionally. I knew that waiting was better to let the cold front get all the way through.
Yesterday I should have mentioned that I had rain. There was a light rain as I left home, it lasted only a short while. It was gone before I reached the FL Turnpike. Then somewhere about Stuart I went through a moderate shower. It was enough to make me slow down to about 45 or 50 miles per hour. That was the only shower. Looking at radar after I reached Clearwater was a surprise -- there were showers all along the Turnpike from West Palm Beach to Yeehaw Junction, the route I had taken. If it had been an afternoon ride rather than a morning ride, I would have been in rain most of the way.
---
17 April 2011, 11:00 PM CDT, Monteagle, TN
I rode 345 miles today, that's 890 total for the trip so far. Had a chocolate shake for lunch. No rain today, it was sunny all day long with not a cloud in sight. The day started cold, colder than I thought. It felt to me like it was in the 50s. Not so. It was 45. I took Maggie for a walk and she loved it. She wanted to run. I ran with her a little, but not much. I'm not into running these days. On the bike, my riding suit keeps me plenty warm enough. I have vents on the bike that I can open or close to make air go directly on me, or around me. I set them to block air flow onto me. They don't block air flow onto my hands, though. I always wear gloves, normally just plain leather with gauntlets. After my first stop I put them away and pulled out my winter riding gloves. My hands were freezing.
Hanna's day got off with a bang. She wanted cream in her coffee and noticed a large pitcher with some white stuff in it so she started pouring. The lady taking care of the breakfast bar immediately said, "Ma'am, ma'am, that's waffle batter." So Hanna started over with a new cup of coffee. It must have been decaf, though, because a few minutes later she bumped into the door of the car causing it to slam on Bentley's hand. Maybe she should have stayed in the room a little longer, then she wouldn't have had the hand incident, and maybe she would have remembered to grab her cell phone and charger before checking out of the room. Hours later when the missing phone was discovered to be missing, a call to the hotel with instructions to mail the phone home took care of that problem.
Last night I told Bentley I was going to stay on I-75 through Atlanta today, rather than take the beltway, so I could see downtown Atlanta again. And I did. Suddenly my lane came to a screeching halt. I had to slam on the brakes, didn't even have time to check adjacent lanes to do a quick lane change. Turns out my lane was blocked with Sunday morning construction. No warning whatsoever. Cars were stacked up in that lane trying to get back into traffic flow. This was where lanes split between I-75 and I-85. When I could get going, I jumped into a lane that was a continuation of I-75. Turns out that Bentley driving the van had decided to go through downtown Atlanta also, and he had a similar problem, but he went into a lane that became I-85. Not what he wanted. It turned out good, though, because they got onto some surface streets that ran past some gorgeous mansions, including the Gov's mansion. They enjoyed the diversion.
I was running separate from the others all day, just as we did yesterday. Up until 3 PM today, that is. We got together to tour the battlefield at Chickamauga in northern Georgia. Turns out that was the last major battle won by the Rebels in the Civil War. I have a few pictures below from the enormous battlefield.
From there we wanted to go to the mountain lookout over Chattanooga. I had set my GPS to get us there. It took us on a shortcut, through some streets that I really didn't like on my bike. Very steep, narrow, and lots of small stones. I had to make a hard left turn from a stop sign with stones on the road, with the road sloping left to right and extremely steep. Then, the road I was turning onto was steep and narrow with a slope from left to right. That's not for me. I did a right turn, went down the hill far enough to find a turning spot, then went back uphill. When I got to the place the GPS sent me to, there was no view. So I decided that was enough of that, and set the GPS to take me to my night's lodging. On the way down I did get a nice view of Chattanooga, but I couldn't stop to take a picture. Sorry I can't share the view with you.
We had dinner at Jim Oliver's Smoke House, the Best Western in Monteagle. I have been here before, one of those times was on my Route 66 Ride. Everybody enjoyed dinner. I knew I would, that's why I selected this place for tonight's lodging.
Here's today's pictures, all from the Chickamauga battlefield. The first picture is the northern entrance to the battlefield. It is impossible to capture how large this place is. It is 5,300 acres, more than 8 square miles.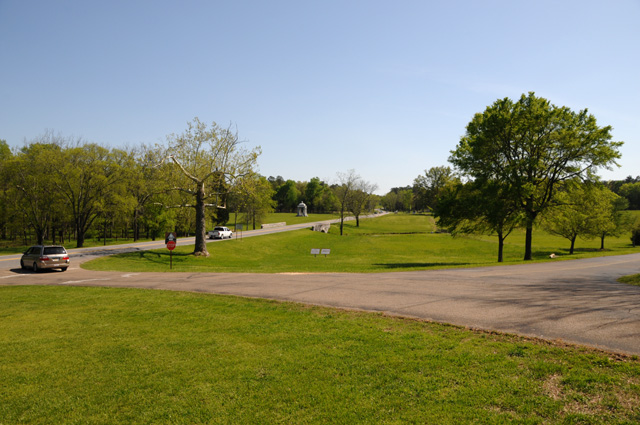 The memorials are too many to count. Here's a sampling of them.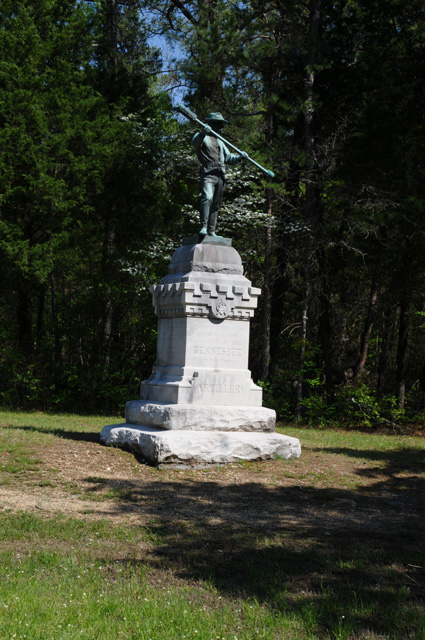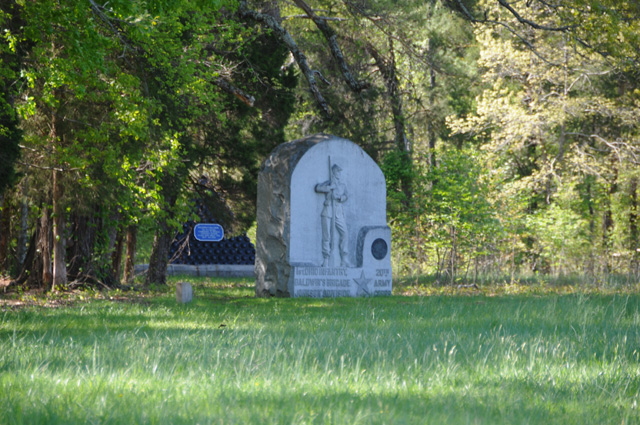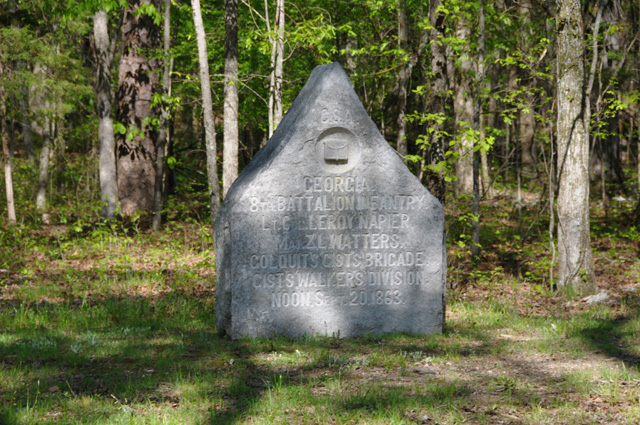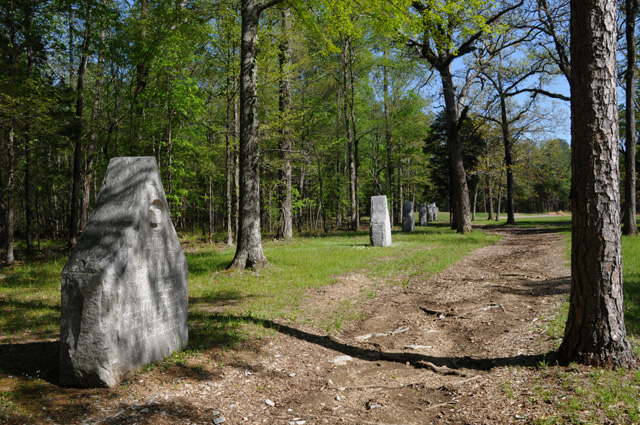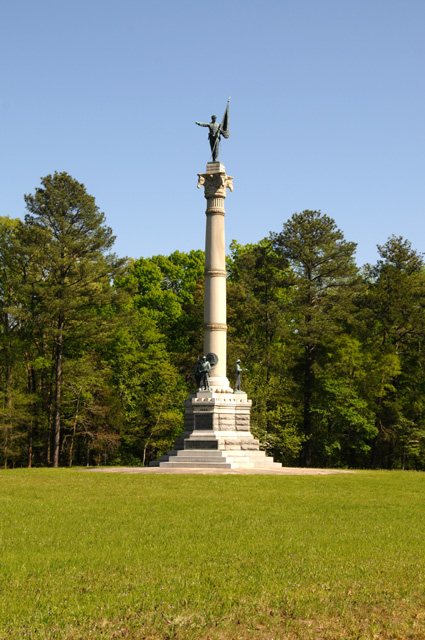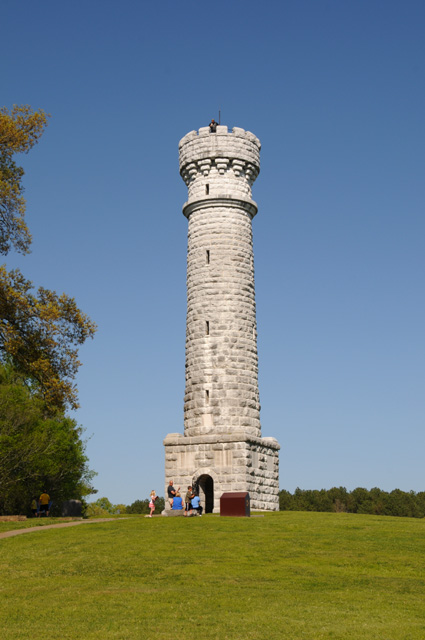 This is the Snodgrass House. Nine people lived in it. During the battle it was commandeered and used as a hospital.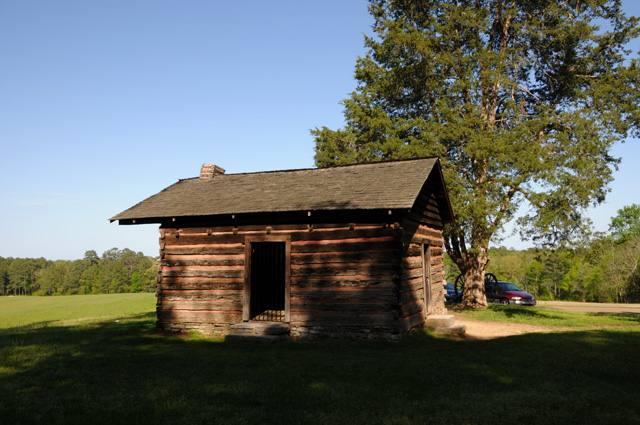 This is a shot looking away from the Snodgrass House.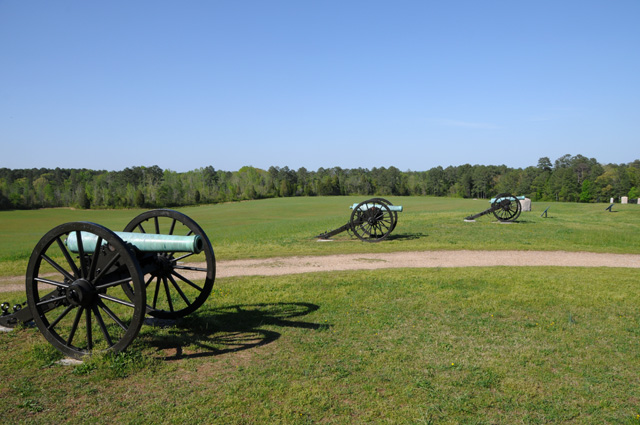 Bentley and Hanna and Maggie examining a monument in detail.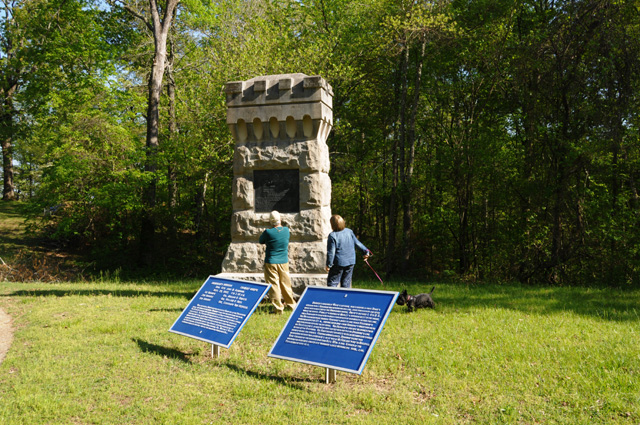 And another monument.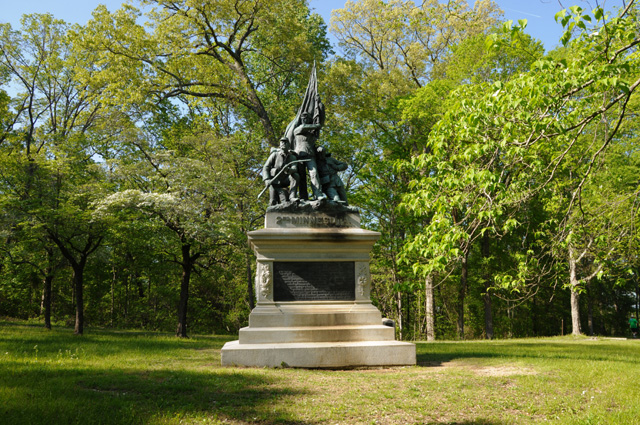 Maggie was a good girl, she took George for a walk.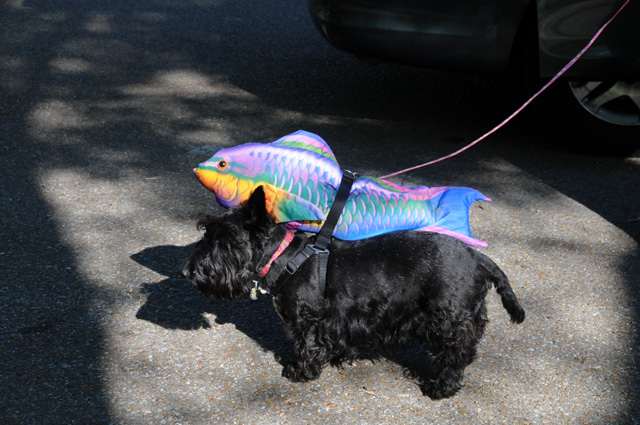 Doris and Ripple taking a stroll through the monuments.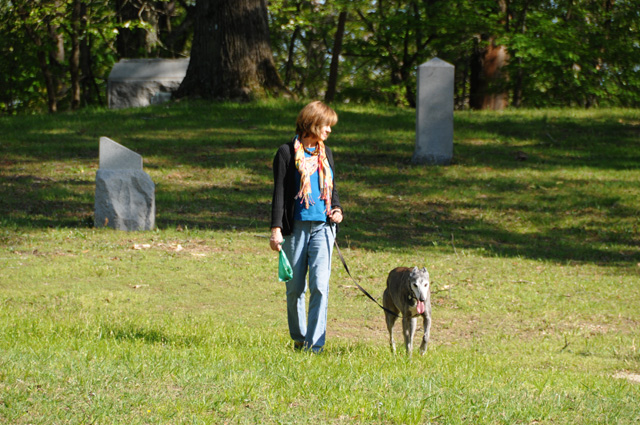 ---
18 April 2011, 11:59 PM CDT, Lawrenceburg, TN
Summary -- no rain, no chocolate shake, 222 miles. That's 1,112 miles total for this trip so far. The day started with Bentley taking George for a swim. More on that later. I went to the Tennessee capitol building in Nashville before heading to the Natchez Trace. I met Paul, a Tennessee State Trooper, who let me park my Harley in front of his car while I walked around the capitol to get pictures. You may recall that I take pictures of state capitols when I can. Then I headed south to catch the northern end of the Trace. I am about 72 miles into the 444 mile Trace now. Hanna and Doris with Maggie and Ripple walked to the Jackson Falls along the Trace. I didn't. I will use some of their pictures below. Enough talk. I'm going to the pictures.
First, here's Paul, the Tennessee State Trooper. Thanks Paul, for letting me park the bike without having to hike half a mile or so.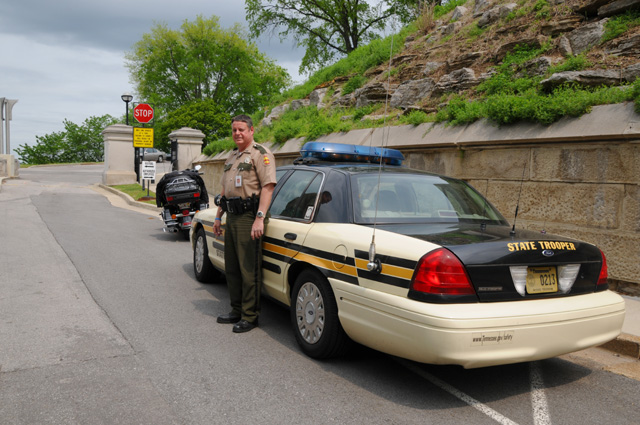 Back to Bentley taking George for a swim. Here they are heading to the pool. George can hardly wait.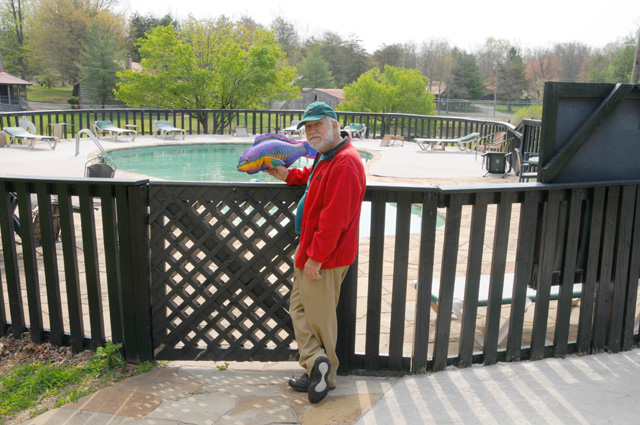 It was about this time that Bentley had the big reveal. That's not George! It's Hieronymus, or Harry for short. You may recall from my 4/15 posting that George was a substitute for a fishing trip that Bentley had planned. Actually, there were three fish, Frank, George, and Harry. As we were leaving Clearwater, Doris grabbed George, or so she thought, but it was really Hieronymus. Bentley discovered that as he was taking George/Hieronymus for a swim this morning.
Here's the old front for the Tennessee capitol.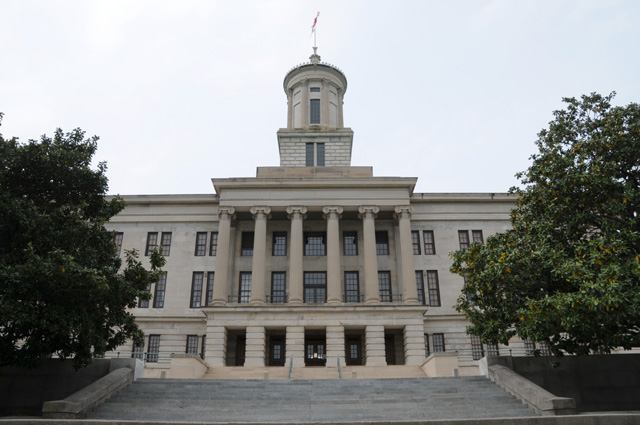 And here's what is considered the front today.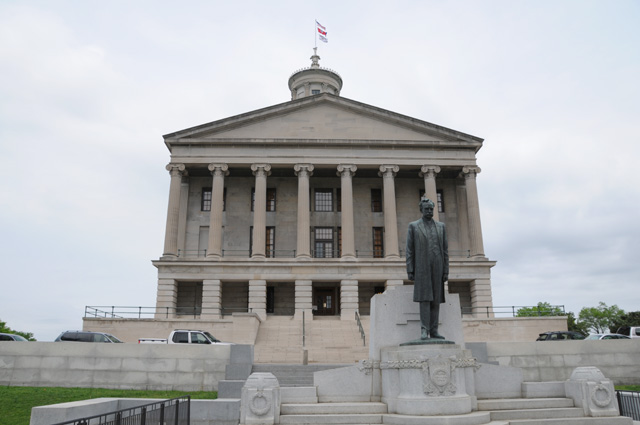 A few miles south you can find the entrance to the Natchez Trace.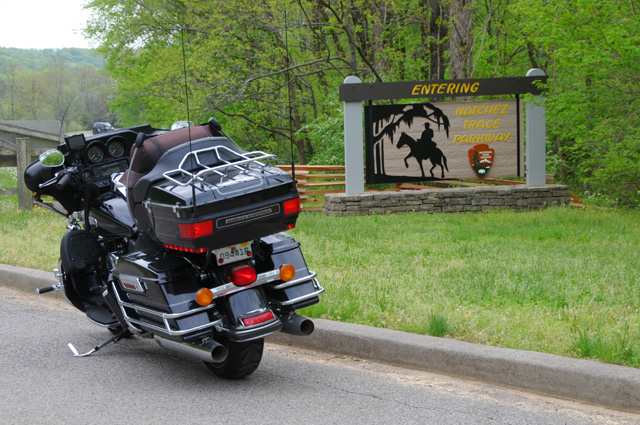 Then just a handful of miles further south you find the Double Arch Bridge. I wanted to match the picture I used as my icon for the ride. Here it is repeated, followed by my picture taken today.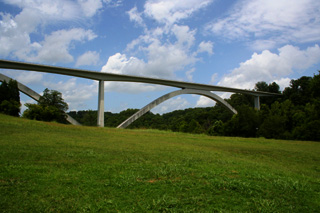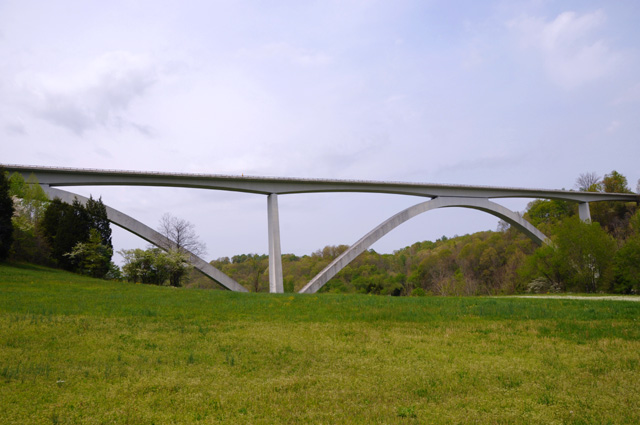 I didn't match the clouds in the sky. I think I did find the right spot to take the picture, though.
The bridge is massive. Here's a shot from the other direction with a pick-up truck passing under the bridge.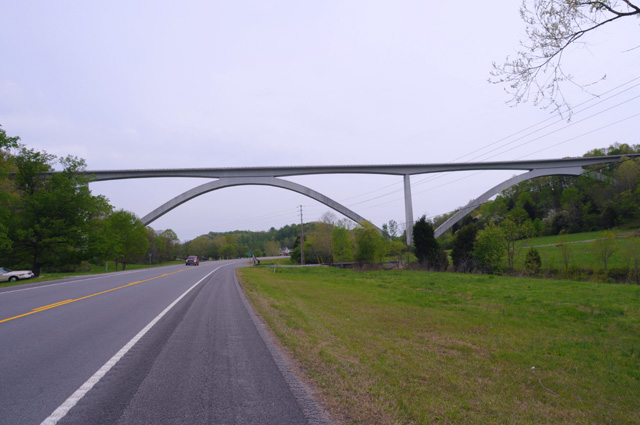 Here's a look at the bottom of the bridge.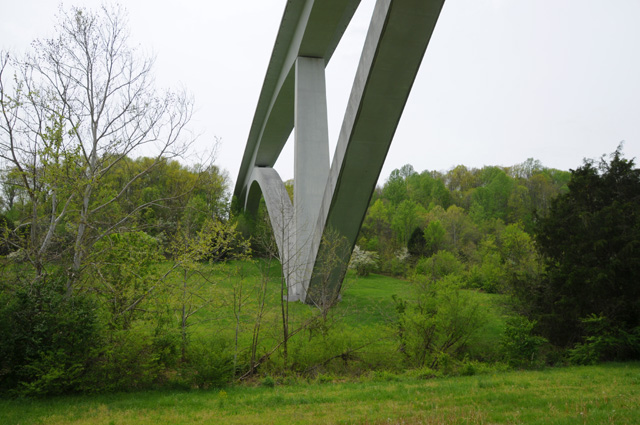 And a shot taken from the bridge (where you are not supposed to park).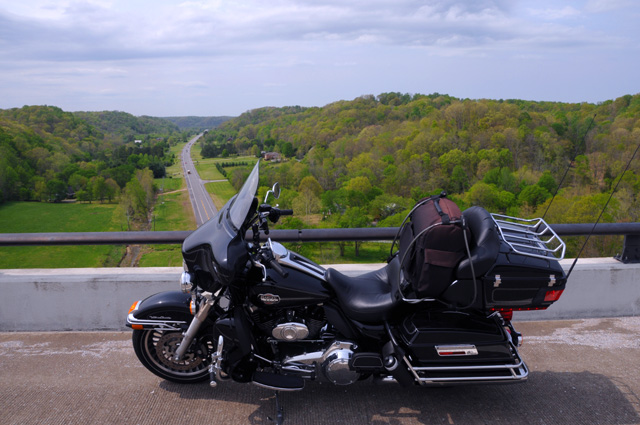 Finally, a picture taken by Bentley of Doris and the bridge.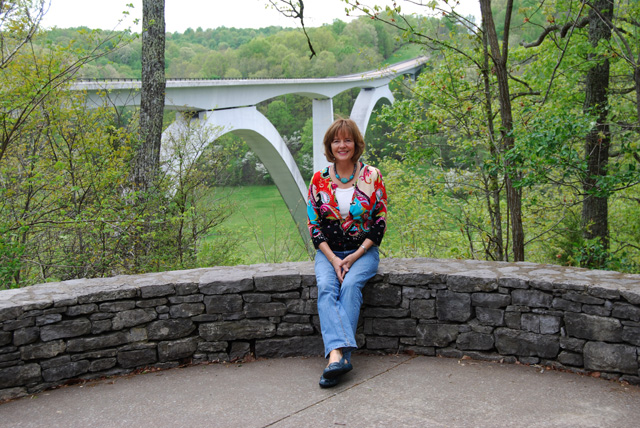 Doris and Bentley and Hanna were separate from me today. I left first to go to the capitol, and then head down the Trace. It seems that they passed by while I was spending an inordinate amount of time taking pictures of the bridge. Hanna and Doris hiked to the Jackson Falls. I came through that area later and decided to pass on by. Here are some of their pictures.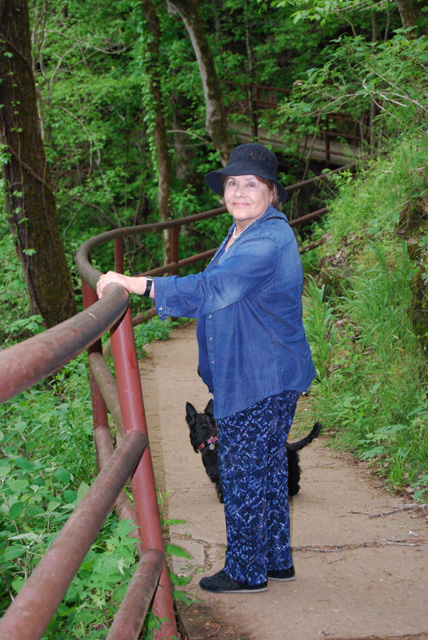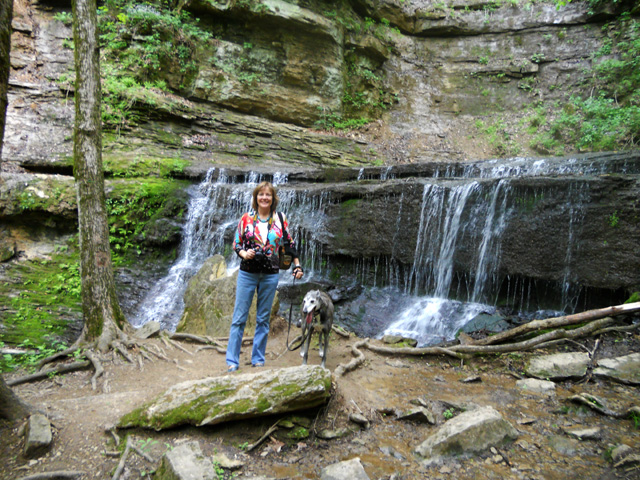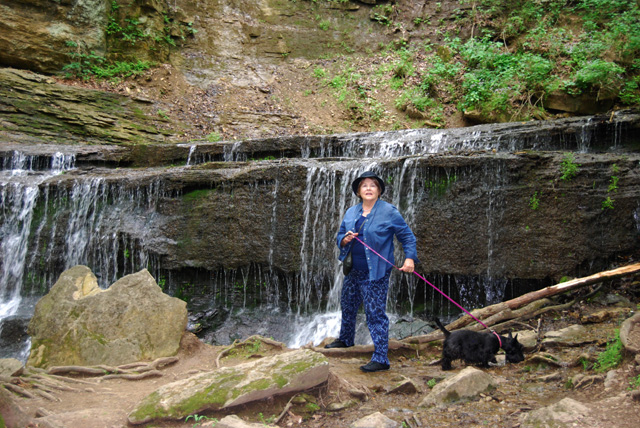 Here's a picture looking along the Trace. You can tell from this picture that it is early spring. Some trees just barely have leaves. The dogwood is blooming. I will try to get some dogwood tomorrow. It is tough because there is no shoulder, and I won't take my motorcycle off the pavement into the grass.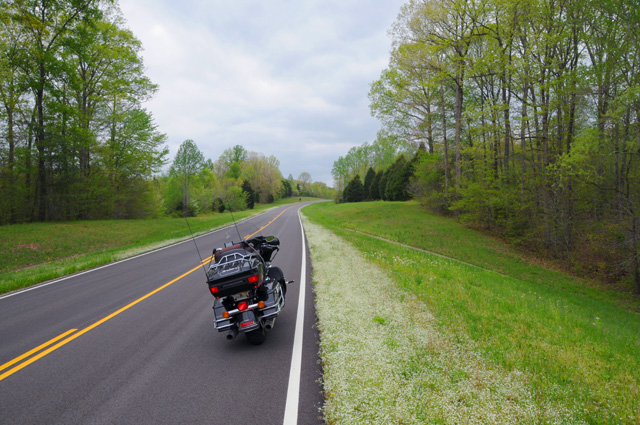 We saw many wild turkeys today. I tried to get a picture, but they run into the woods as soon as I stop. Here's the only one I could get. This picture is cropped from a telephoto shot.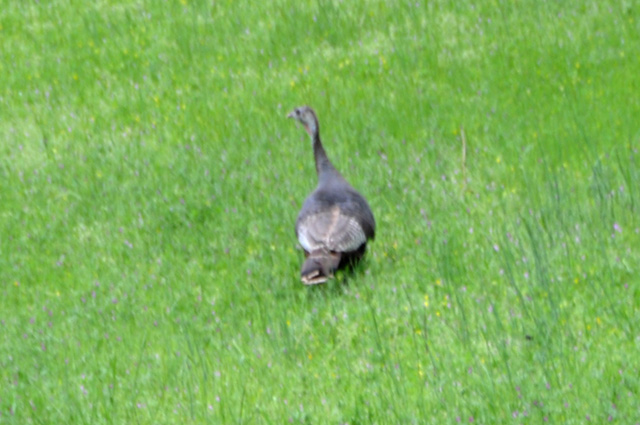 Doris got two pictures, both cropped below.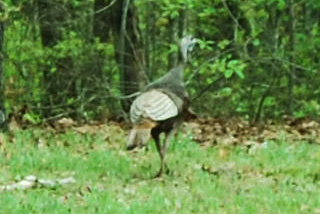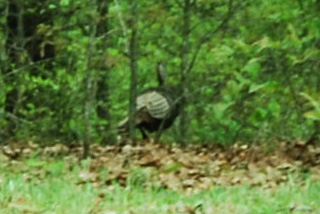 These guys are really tough to photograph!
Here's a house built along the trace in 1817-18 by John Gordon who operated a ferry across the Duck River. He died shortly after the house was completed, but Mrs. Gordon lived there until she died in 1859.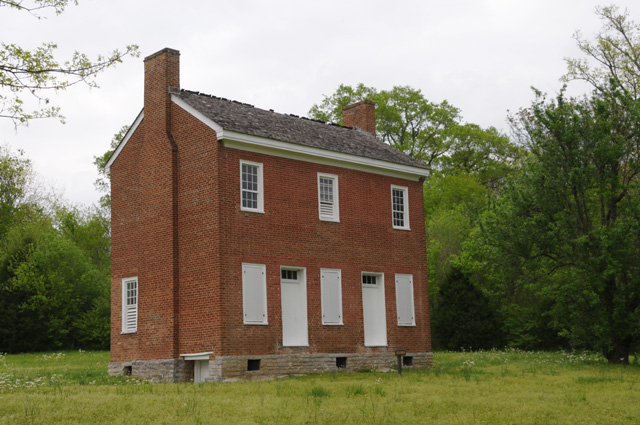 Here's a picture of the old Trace. It must have been a pleasant hike in the woods.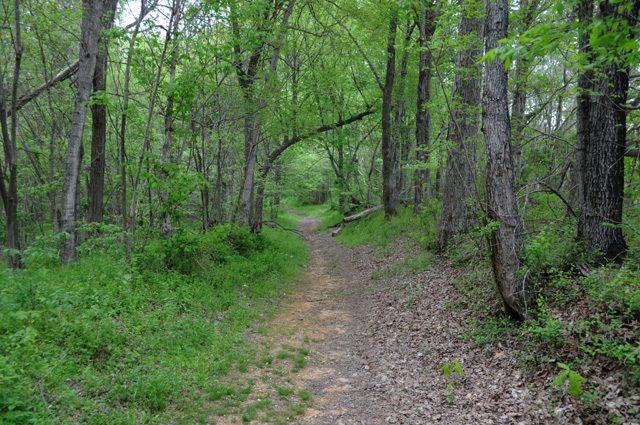 And here's another shot of the Trace Parkway just a few feet away.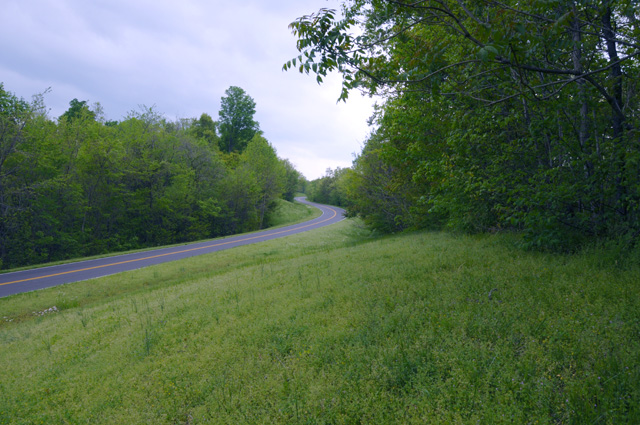 Here's a shot of the Meriwether Lewis monument taken by Doris. I see that Hieronymus managed to get himself in the picture. Meriwether Lewis died at an early age. The monument reflects that -- it was designed to look unfinished to represent the unfinished life of Meriwether Lewis.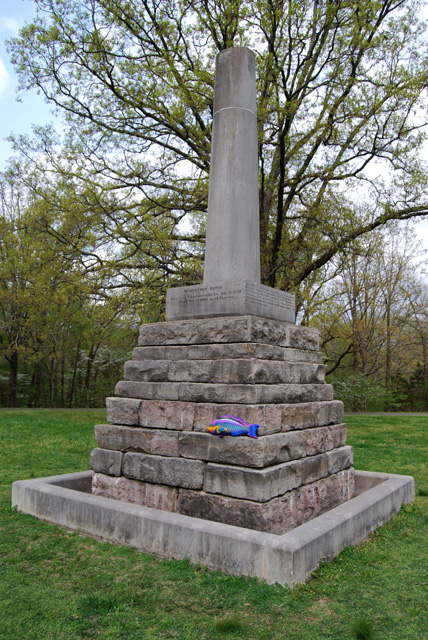 Meriwether Lewis died in this house on October 11, 1809. He died of a gunshot wound, it is not known whether it was murder or self-inflicted.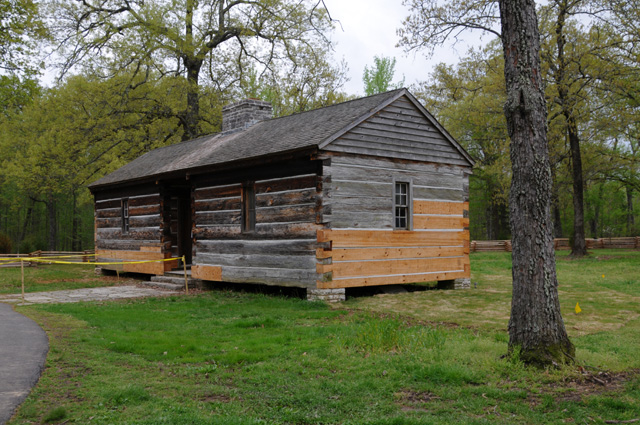 This is the Buffalo river.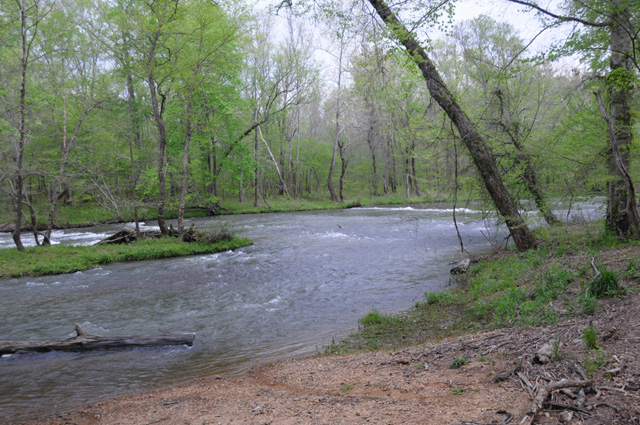 ---
19 April 2011, 11:59 PM CDT, Aberdeen, MS
Today was a long day for me. I did a lot, maybe too much. I put another 356 miles on the bike, only 140 of those were on the Trace. The other 216 were side trips, one to the Shiloh Battlefield and the other to the Brice's Crossroads Battlefield. Hanna and Doris and Bentley stayed closer to the Trace, only getting off to spend time in Tupelo, Mississippi. That's the birthplace of Elvis. Today was the second day in a row that I did not get a chocolate shake. I'm afraid my reputation will be tarnished.
I'll go straight to the pictures. First is some dogwood.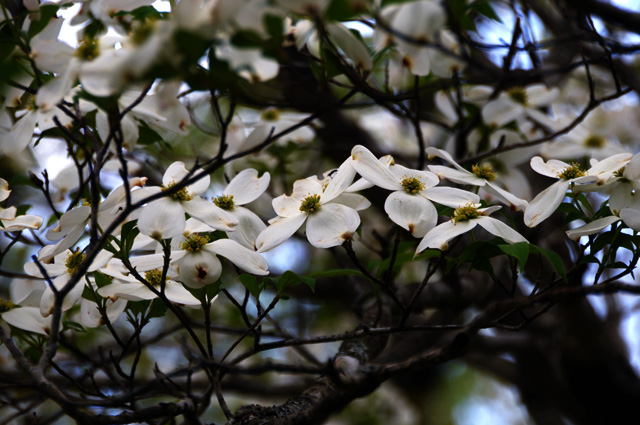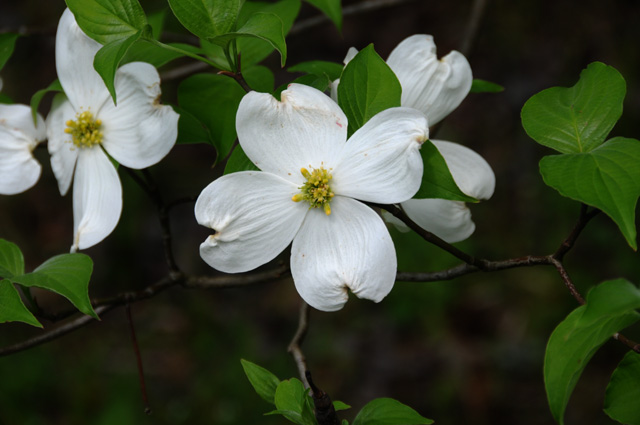 I started in Tennessee, then went into Alabama. Here's the state line.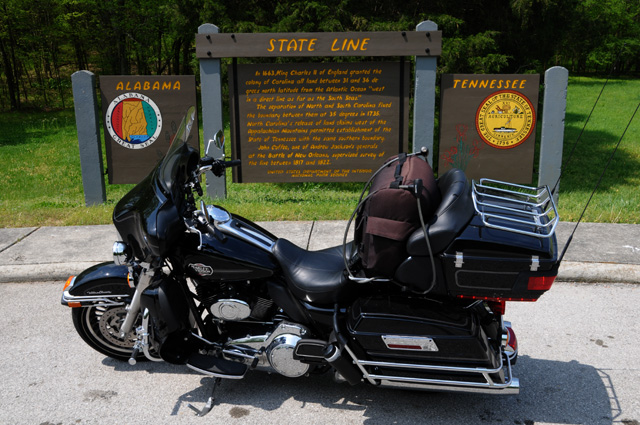 Then I got off the Trace and went back into Tennessee to Shiloh. This monument is for Iowa.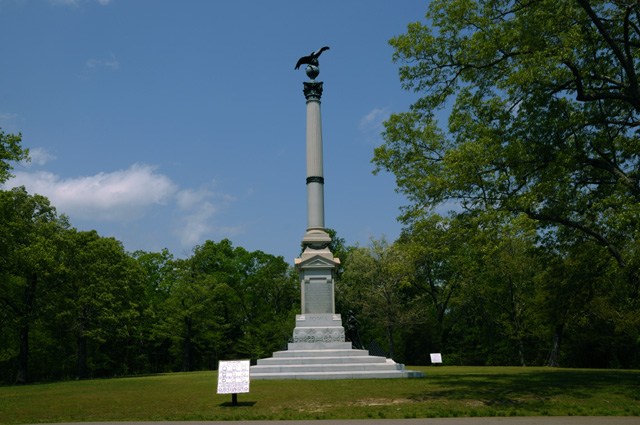 And these three are Indiana.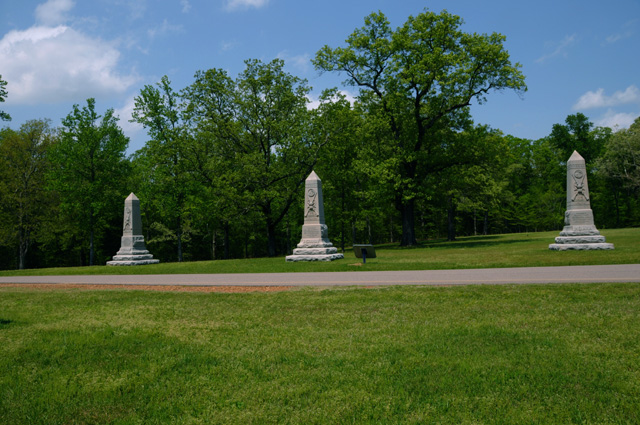 Here's a quiet road running through the Battlefield.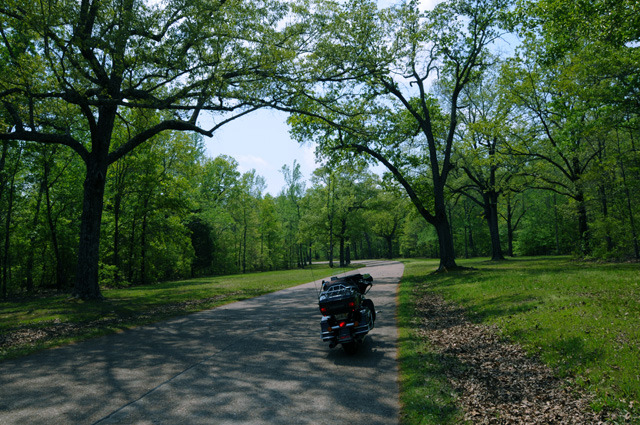 During the battle there were 62 cannons lined up here.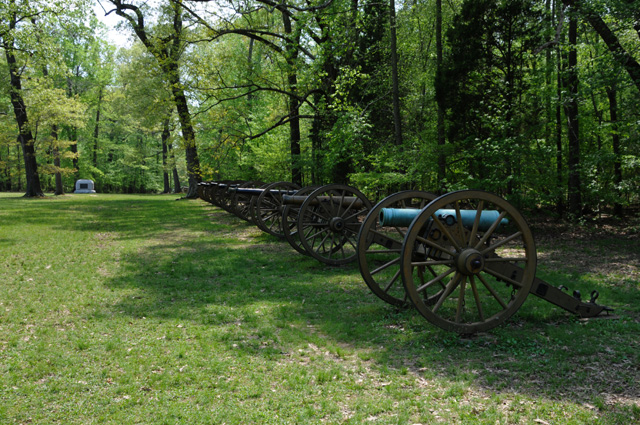 Here's the Shiloh Church. The battle was named after this church.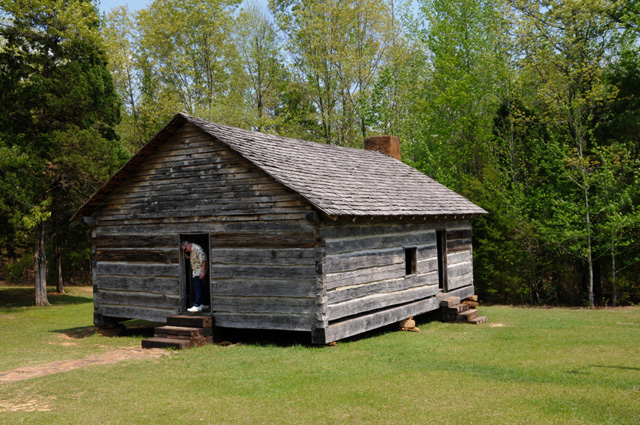 And here's a look inside the church.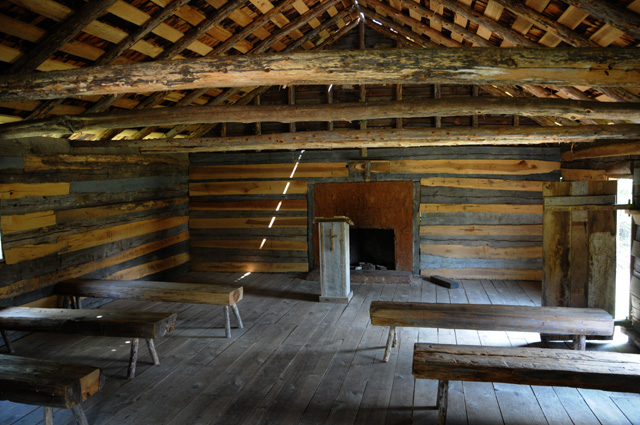 This bridge carries the Trace Parkway across the Tennessee River. The picture was taken on the south side looking north from the point where George Colbert had a ferry. They say he charged Andrew Jackson $75,000 to carry his Tennessee Army across the river.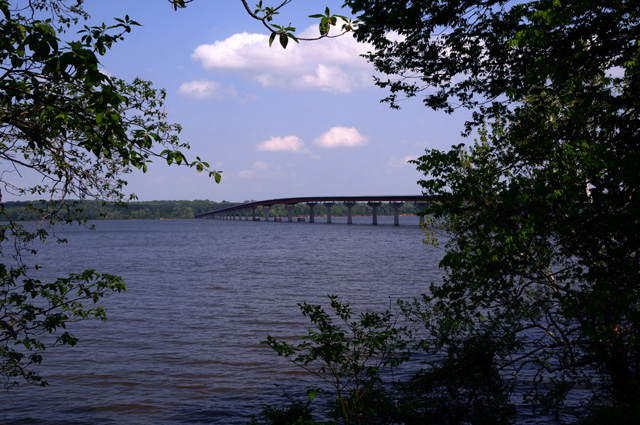 I am looking down the Trace Parkway into Mississippi from Alabama The sign says I am entering Mississippi.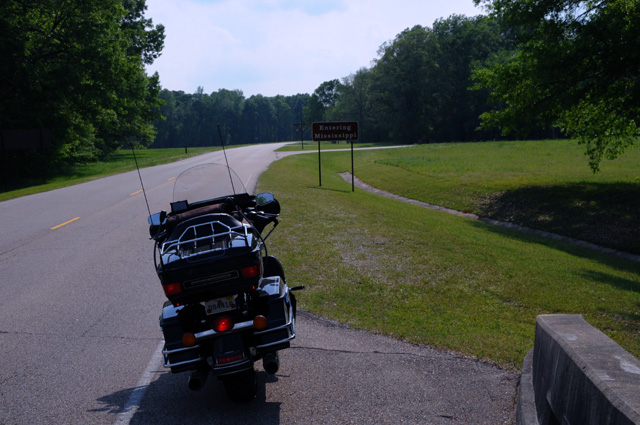 I don't have any worthwhile pictures from Brice's Crossroads. That battlefield is considered endangered. Much building has been done on the property. I saw a few plaques along the road, but that was it.
While I was running around all over the place, Doris was taking Ripple for a walk in the wildflowers. You can see three Pharr Mounds in the background. They were built and used about 1-200 A.D. by a tribe of nomadic Indian hunters and gatherers who returned to this site at times to bury the dead with their possessions.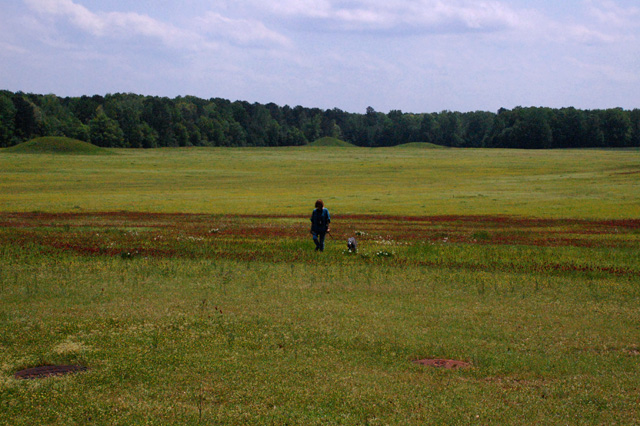 Here's some more wildflowers photographed by Doris.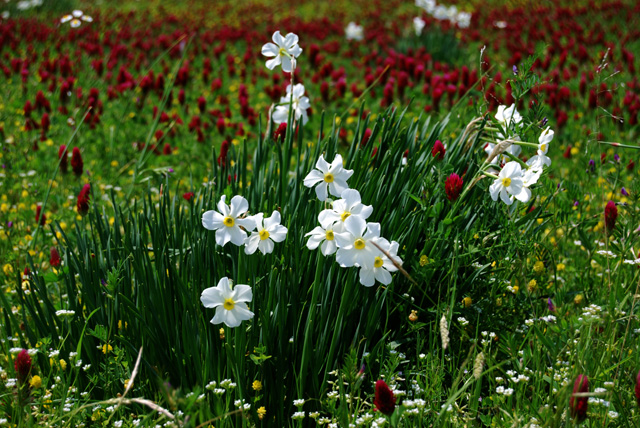 Ripple is taken by the beauty of the wildflowers.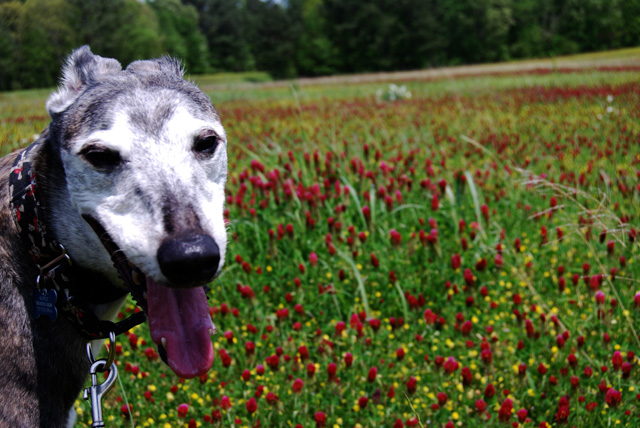 I'm still running here and there while the others are touring Elvis' birthplace. Here's Hanna with his family's car.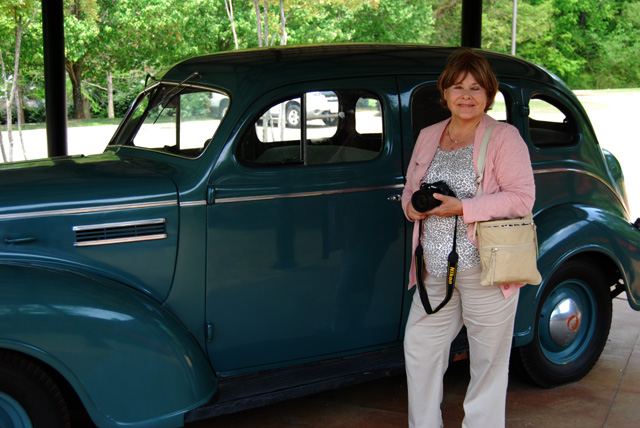 Elvis was 13 when he got his first guitar.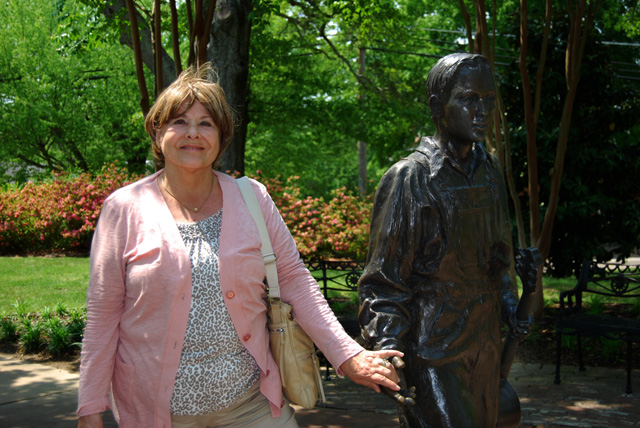 Here's his birthplace home.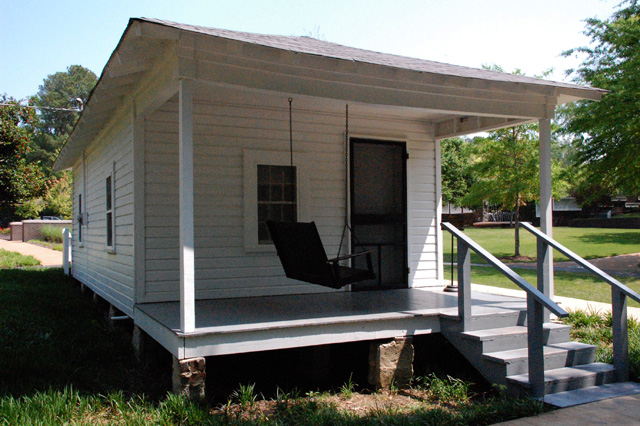 ---
20 April 2011, 10:30 PM CDT, Vicksburg, MS
Today seemed a quiet day for me. I did a lot less, maybe that's why. The day started slowly because the weather was bad. A real loud thunderstorm came through about 5 AM. Maggie is a bit afraid of all the noise. She was lying on the bed at the top with her head and chest on my shoulder. The weather was severe across Mississippi and other areas. I wanted to delay leaving as long as possible for the weather to clear out. I did have some showers but not too bad. I did no side trips today, just riding along the Trace. I either led the van or the van led me most of the day. We had lunch together, no chocolate shakes. I did few stops along the way. I was tired from yesterday's long day -- did I tell you I got in after dark last night? After arriving in Vicksburg, Doris and Bentley and I went out for about an hour in the van to see the city of Vicksburg. Then the four of us went to dinner.
I don't have a lot of pictures today. The first one is the Old Trace. Notice how the path is a few feet below grade. That's from all the people walking over it.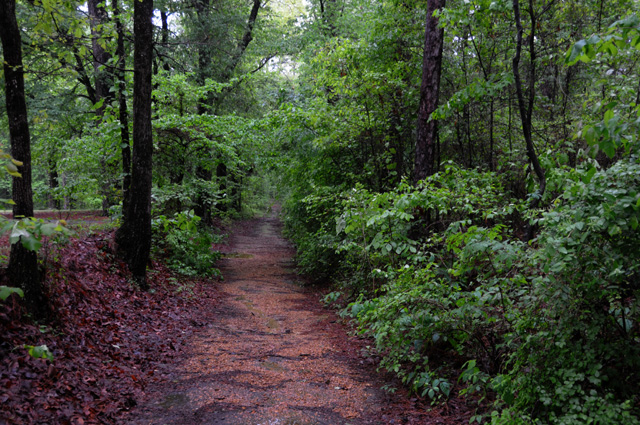 Lunch was at "the Cafe on the Square" in Kosciusko, Mississippi. Doris is pointing out the highlight of today's menu. It may be hard to see in this picture, so the follow up.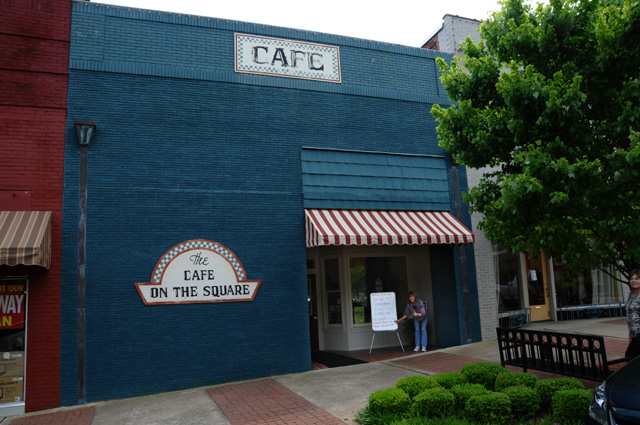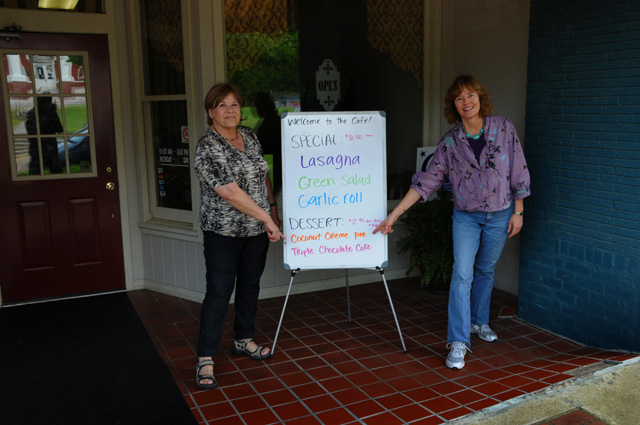 Just in case you can't read it, it says "Coconut Creme Pie".
Here's the Attala County Courthouse which is in Kosciusko.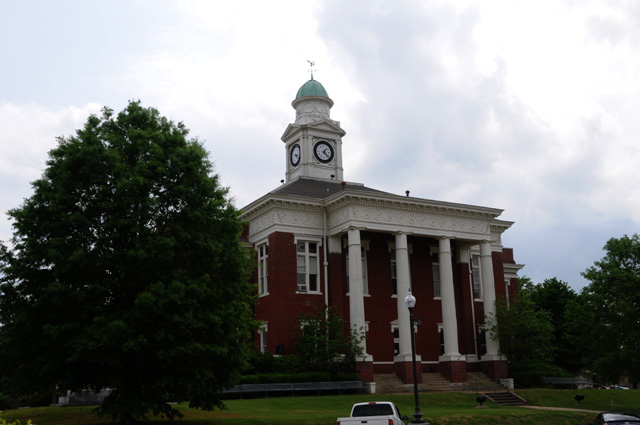 After lunch, and back on the Trace Parkway, we stopped to see the Cypress Swamp.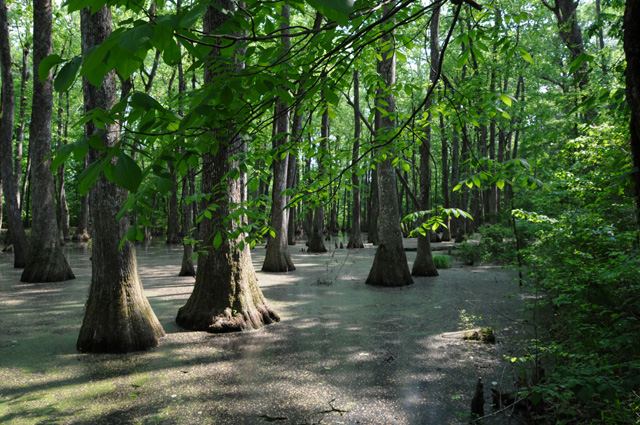 Hanna also captured this flower on a tree. Anybody know what it is?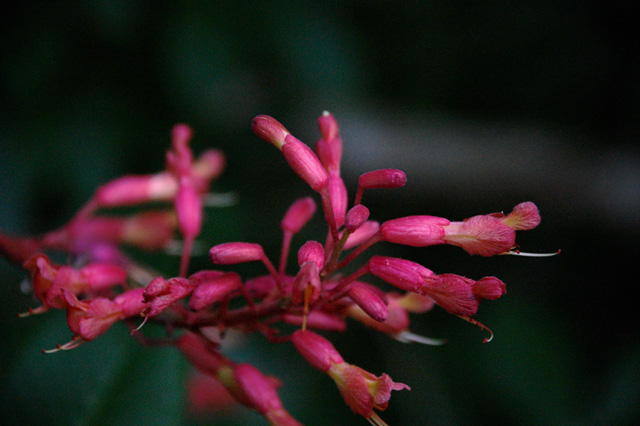 I have some shots of the Mississippi River.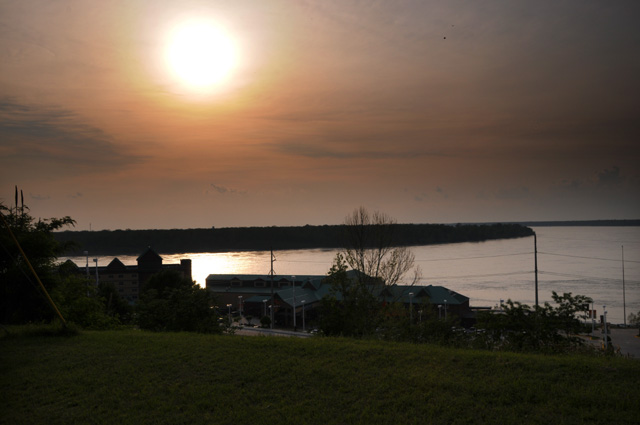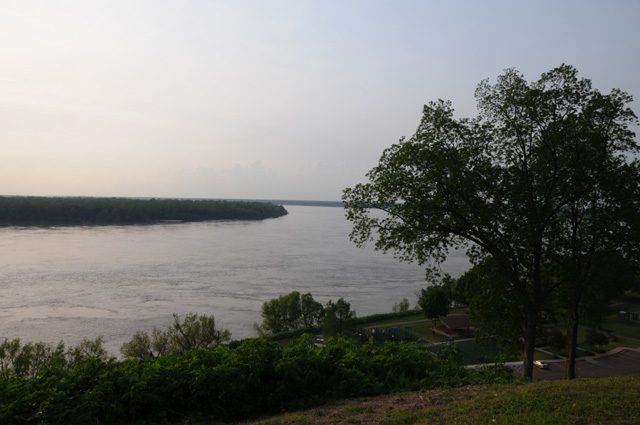 And finally this picture which almost duplicates a picture I took towards the end of my Route 66 Ride.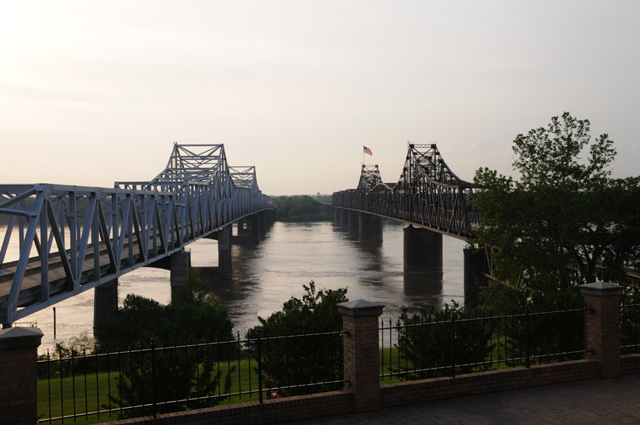 Here's the Route 66 version. It is better -- the lighting conditions were much better.
---
21 April 2011, 11:00 PM CDT, Baton Rouge, LA
What a day. Got off to an earlier start than usual knowing that weather could be a problem. It was. I did 218 miles today. (Forgot to say it, but I did exactly 218 yesterday also.) I now have 1,904 miles since leaving home. Before I forget it, I did have my chocolate shake today.
I started a self guided "automobile" tour of the Vicksburg National Military Park this morning. Almost immediately a little yellow light came on saying I was low on gas. I forgot that I needed to fill up first thing. I could see that the tour meandered here and there, and maybe I better get fuel. So I left the park, got fuel, then resumed the tour.
When I was looking at the U.S.S. Cairo (pictures later), I saw that the sky to the northwest was a dark shade of blue, or maybe just plain black! I decided that it was time to go. It turns out that Bentley and Doris and Hanna were a bit behind me, and they did not get going before the storm hit. I rode for 30 miles in moderate rain. I was surprised that it lasted that long. In the past, when I have been in rain it lasts a few miles then I am through it. Not today. It just went on and on. I was soaking wet. Even though I was wearing a "rain suit"! The rain eventually penetrated the suit and I was WET. When it stopped, I stopped, got off the bike, and puddles of water formed around me. I continued a minute or two later, and then it started raining again. This time, fortunately, there was an exhibit on the side of the road that had a roof. I stopped. I don't know how long I was there, but I waited until the thunder wasn't directly overhead and the rain had stopped. I sat on ledge and I think I fell asleep for a while.
After it looked like the rain was finished, I took off again, but I was freezing cold because I was so wet. I had to wring out my gloves. The padding in my helmet was dripping. Fortunately I had a rain jacket along with me, so I put it on over the rain suit. This jacket is pure plastic, and the wind couldn't get to me. I put on my winter gloves. That worked fine for a while.
After a while, it got warmer and I was HOT. I had to stop and take off the rain jacket, take off the winter gloves, and resume my riding.
Bentley and Doris and Hanna in the van were not far behind, but far enough that their rain started before they left Vicksburg. They ran about 100 miles in the rain, sometimes so heavy that Bentley had to slow to about 20 miles per hour. I never got that slow, maybe 35. My biggest problem was that my face shield kept fogging up. I had to wipe both the inside and outside about every five seconds to be able to see.
Enough about the rain, terrible as it was. I believe that was my worst encounter with rain. It was not the heaviest I have ever had, but the way it just kept raining was the worst. But, like I said, enough about the rain.
Let's talk pictures. I will start with some pictures form the Vicksburg National Military Park, including the U.S.S. Cairo.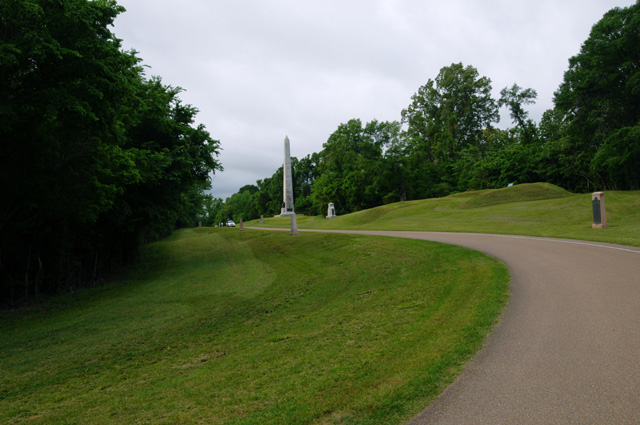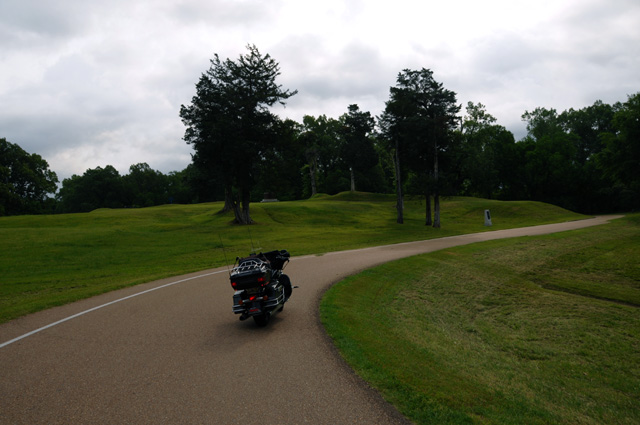 This is Grant.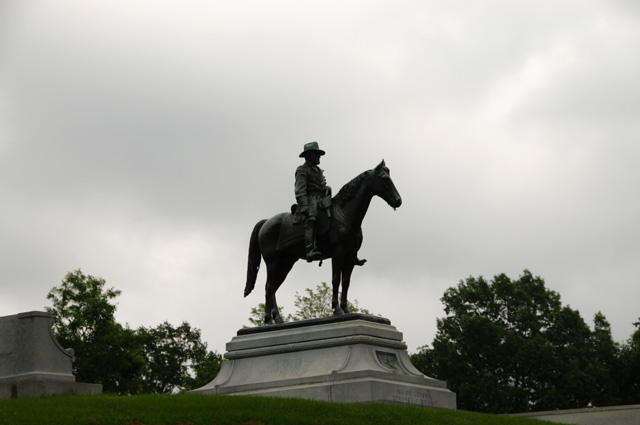 The U.S.S Cairo.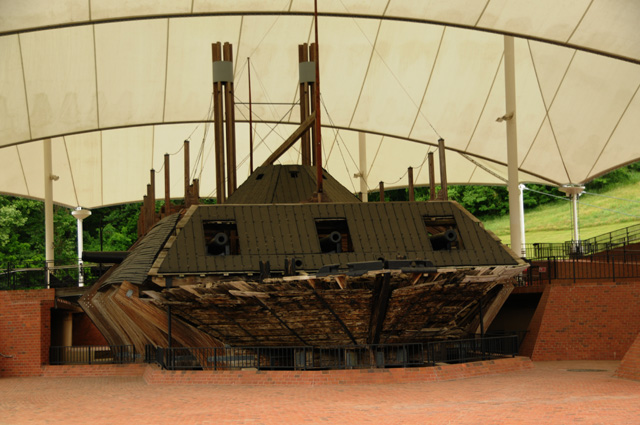 Here's where the Confederate torpedo hit the U.S.S. Cairo.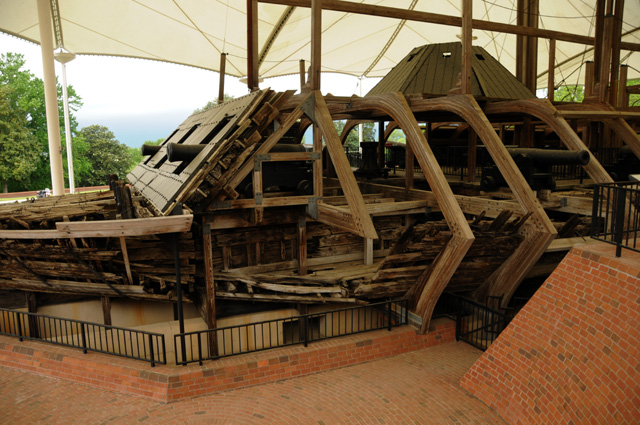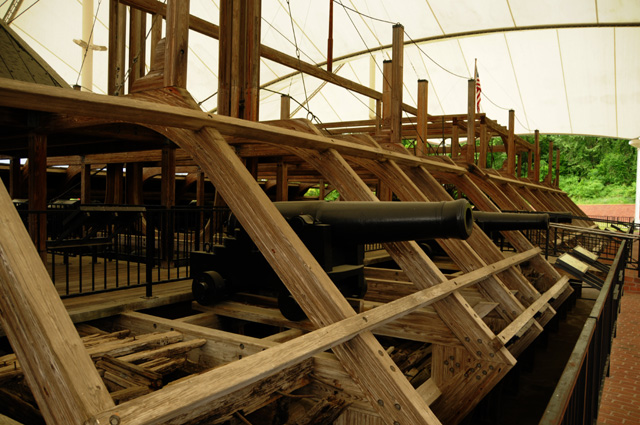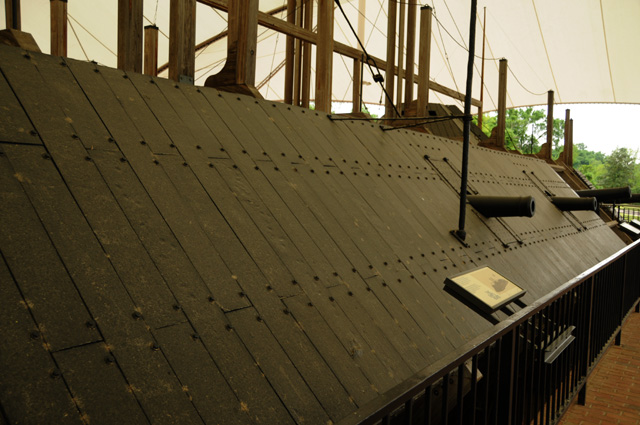 This is the sunken Old Trace. It must be more than ten feet below grade.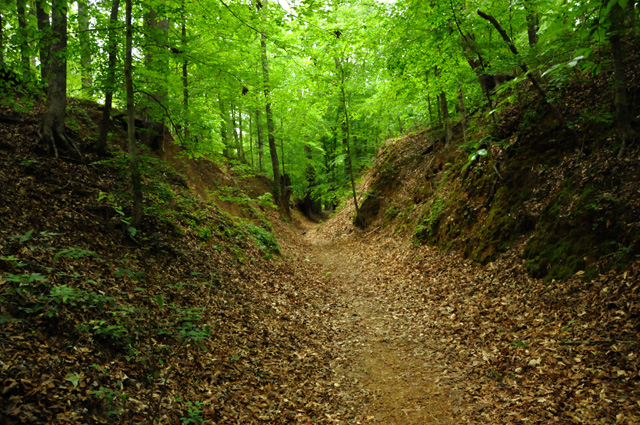 This is when the rain started for me. It was not raining when I parked the bike, but it was raining when I returned.
Here's the Mississippi River looking north from Natchez. Shortly after this I was enjoying my first chocolate shake in several days.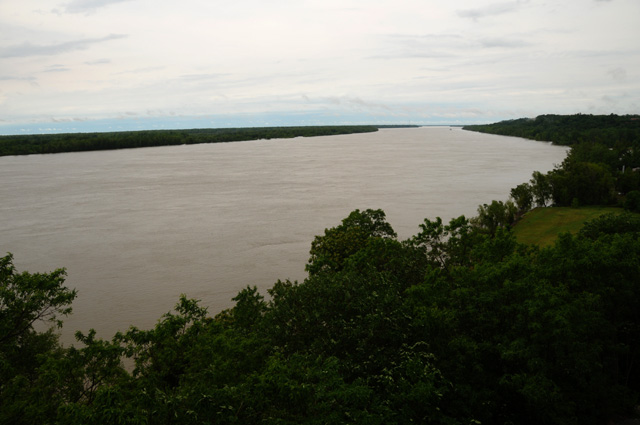 Doris and Bentley and Hanna finished the Trace after I did. Here's their picture of the southern end of the Natchez Trace.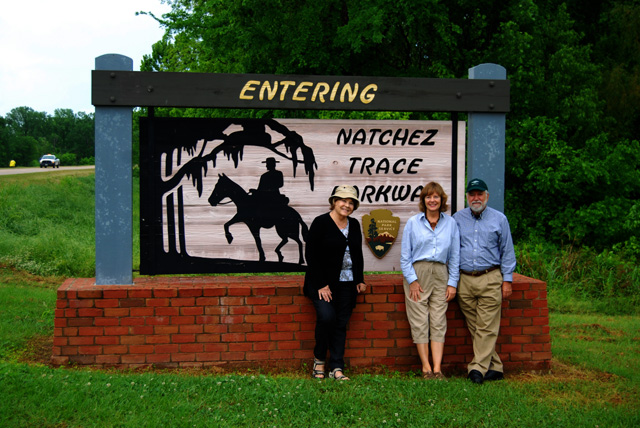 This ride was centered on the Natchez Trace. We finished it today, but the ride is not yet complete. The Trace is 444 miles long. The maximum speed limit is 50. I enjoyed the ride very much. It was simply a pleasant ride in the forest.
Bentley wearing his Bentley cap. The cap was a gift to Bentley from my friend Eisuke. I first met Eisuke at Sony Pictures. He now works for Panasonic. He and I have gone to a number of races together, the U.S. Formula One race a couple of times and Sebring even more times. We plan to catch the U.S. Formula One race in Austin, Texas next year.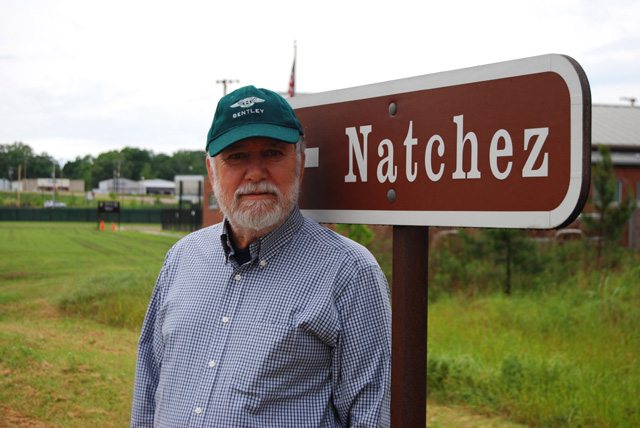 About the time I was enjoying my chocolate shake, the others were pigging out at the Pig Out Inn.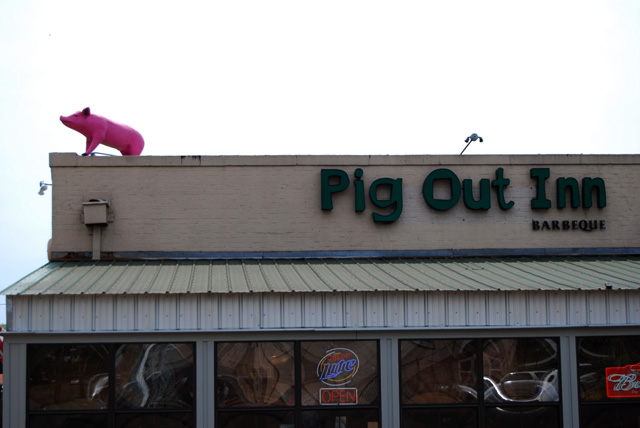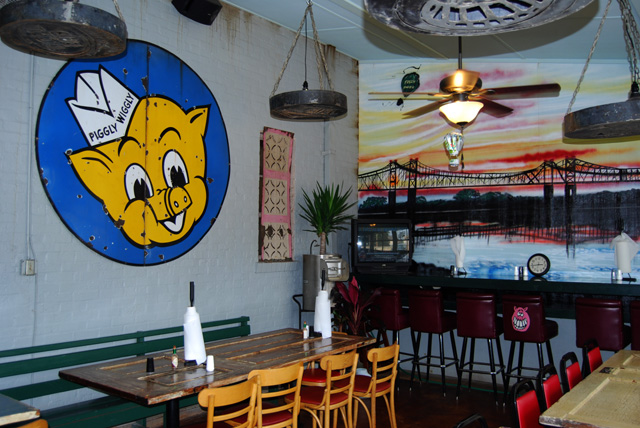 And now, here's the capitol of Louisiana. Somehow, it just doesn't look like a capitol to me.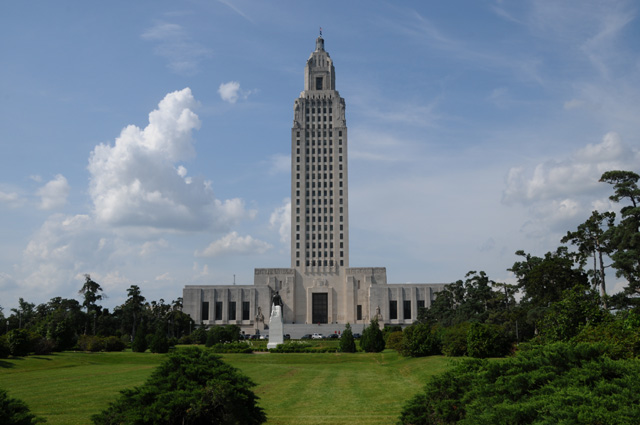 Here's a statue near the capitol.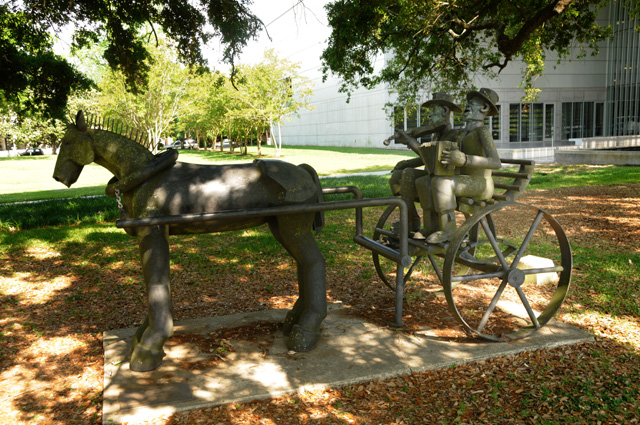 And finally here's the Mississippi River looking south at Baton Rouge.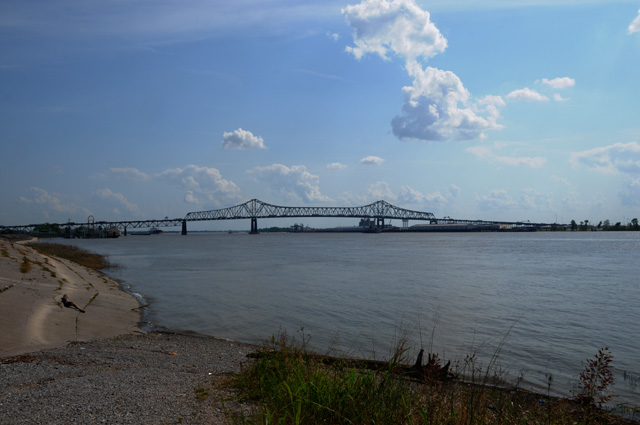 ---
22 April 2011, 11:45 PM CDT, Pensacola, FL
Today I rode 293 miles, that's 2,197 total. We had lunch in New Orleans at Mother's Restaurant. I did not have a chocolate shake. I had a po' boy sandwich, shrimp not roast beef. New Orleans was not exactly on the way, but it only cost us 50 miles to have lunch there. Why not. Keep in mind that on a motorcycle trip, the ride is the trip. It's not where you go, or what you do, it's the getting there. After lunch we headed to Jackson Square, but parking was impossible, so we just rode (or drove for those in the van) back and forth through the French Quarter and then headed to Mobile. I took the slow scenic route along the Gulf coast. The van took the fast and boring route on I-10. In motorcycle language, that's called slabbing it, just riding on a big concrete slab. Once in Mobile we all went to Battleship Park to see the U.S.S. Alabama. Then on to Pensacola to meet up with Ken and Ellen for dinner. Ken and Ellen are friends of Doris and Bentley from their Tallahassee days.
This is Mother's Restaurant. If you look carefully you will see Doris and Hanna waving at me while waiting in line to get into the restaurant. The second picture is inside Mother's.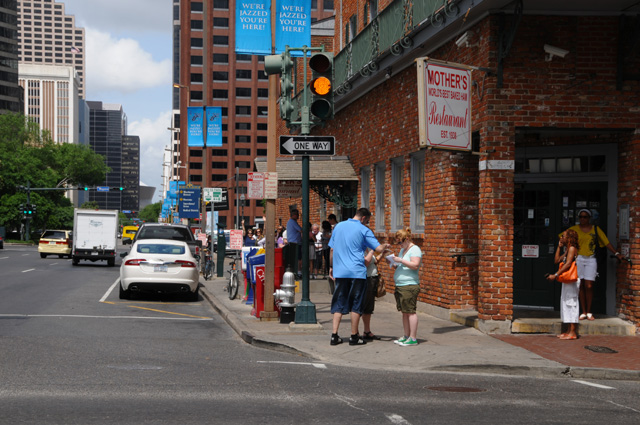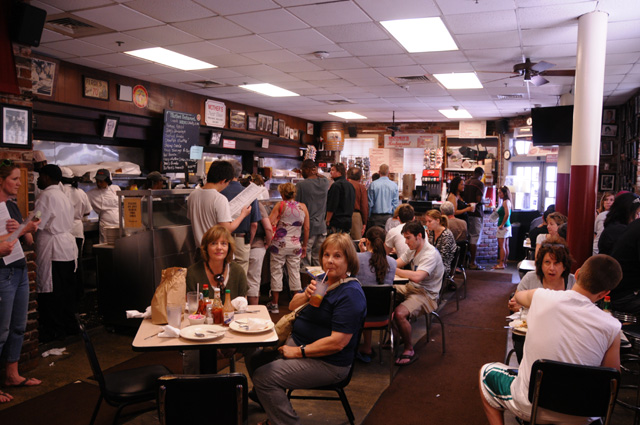 Along the Gulf coast. Is the sand really that white?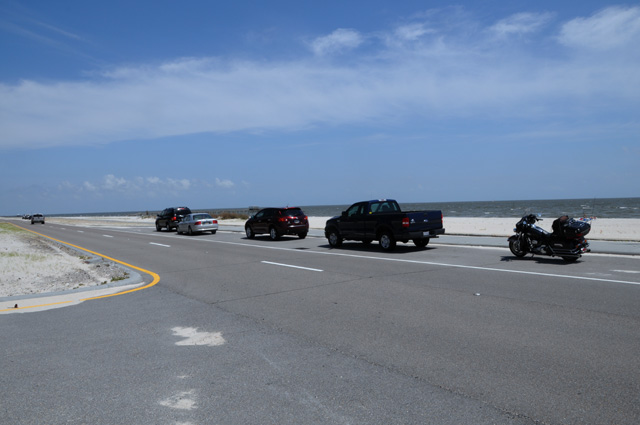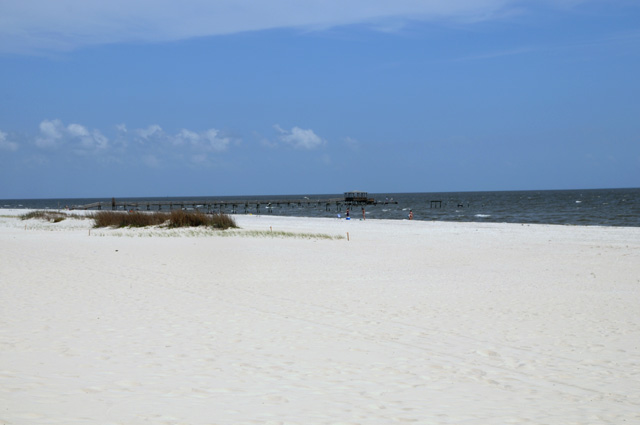 The U.S.S. Alabama from the side. (Or part of it, anyway.)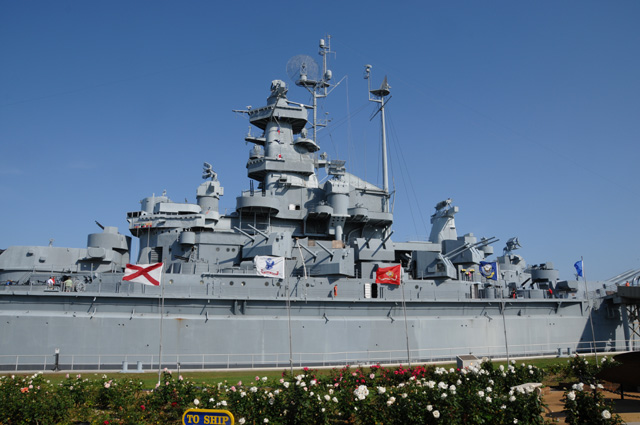 The U.S.S. Alabama from the stern looking forward.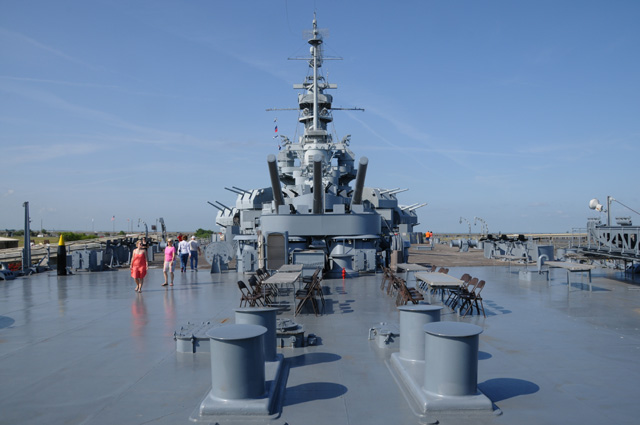 And from the bow looking back.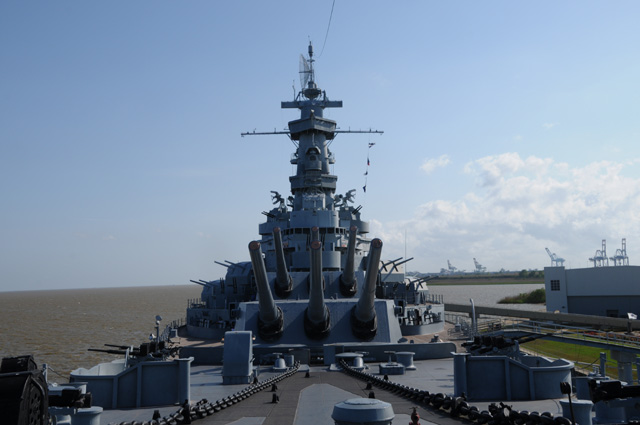 Bentley is getting ready to fire the 40 mm anit-aircraft cannon.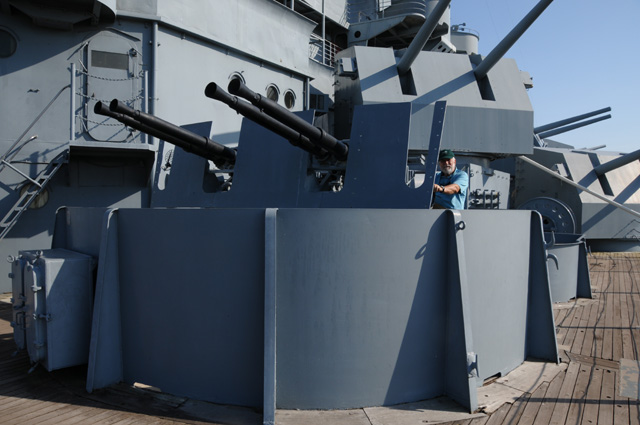 Maggie and Ripple walking Hanna and Doris in Battlefield Park.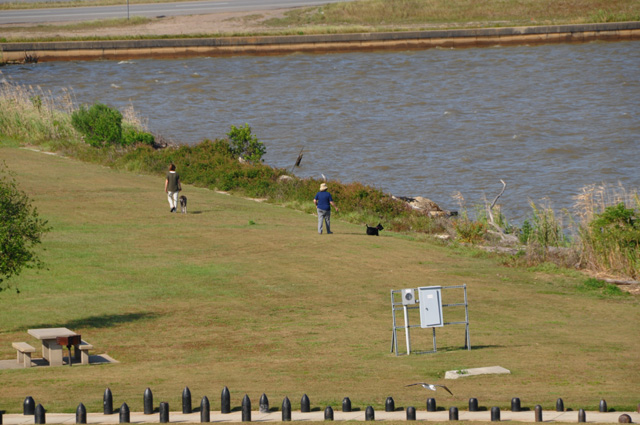 That's Bentley in the center.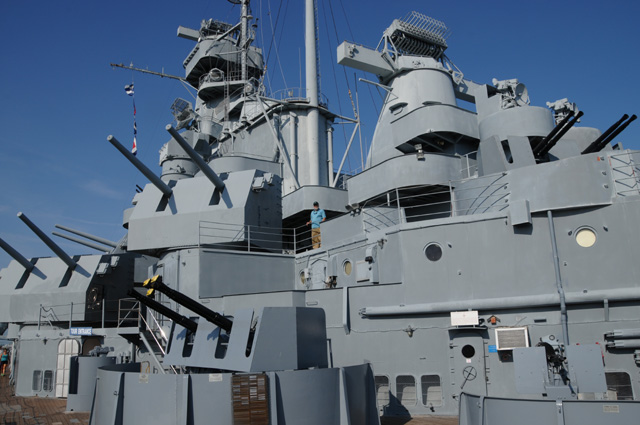 The SR-71 Blackbird. That thing goes faster than Mach 3.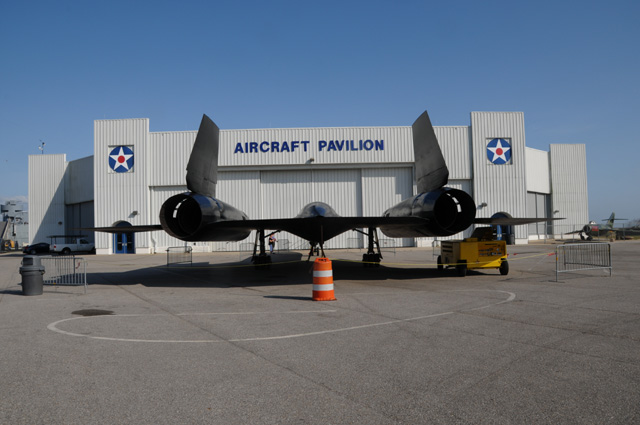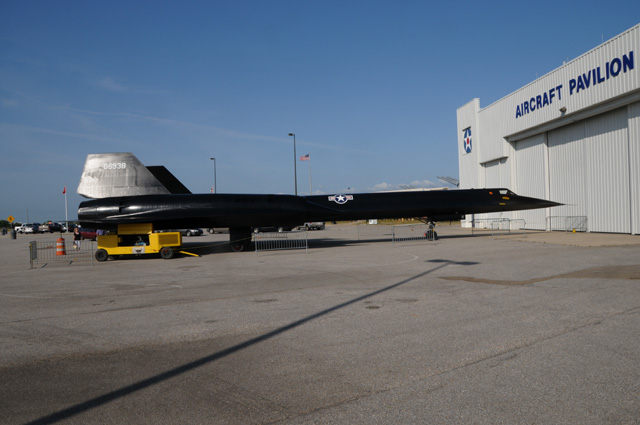 And a B-24. I am reading Laura Hillenbrand's "Unbroken", so I felt I had to have this picture. You'll never guess whose motorcycle that is just behind the B-24.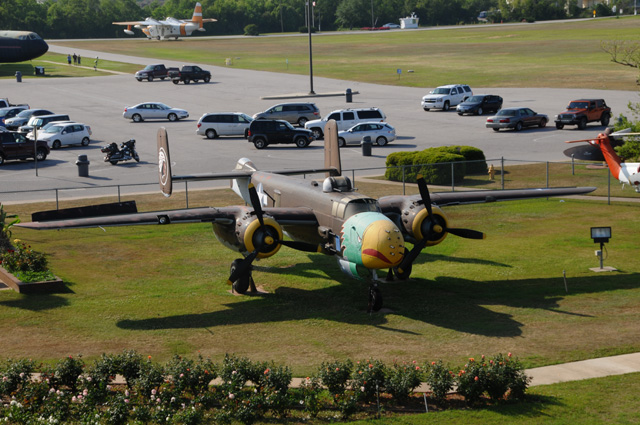 ---
23 April 2011, 9:30 PM, EDT, Apalachicola, FL
I am tired. I did 189 miles today. I have no pictures. I did have a chocolate shake for lunch. Check back tomorrow night and I will have more.
---
24 April 2011, 8:30 AM, EDT, Apalachicola, FL
Took Maggie for a walk this morning. We are now sitting on the porch of the Coombs Inn, a Bed and Breakfast where we spent the night. I will get some pictures here in Apalachicola before I leave and post them sometime later today, maybe this morning, or maybe this evening.
My pictures of the SR-71 Blackbird on 4/22 prompted an email from my sister, Carolyn, reminding me that our cousin Major Ronnie C. Rice was qualified as an SR-71 Reconnaissance Operator. He flew many classified sorties with Colonel Tom Pugh as his pilot. One of those missions was to create a double sonic boom over the "Hanoi Hilton" as a signal to key prisoners in the PoW camp. Thanks for the input, Carolyn.
---
24 April 2011, 7:00 PM EDT, Clearwater, FL
We are back at Doris and Bentley's. I rode 304 miles today, 2,690 total so far. I had a chocolate shake today in Perry, Florida, so today was a good day.
I took some pictures this morning in Apalachicola. Here's some of them. First is the John Gorrie Museum. John Gorrie? Who's he? Who cares? Well, you all should. He is considered the father of refrigeration and air conditioning. He moved to Apalachicola when he was a young man. If you want to know more, you can check him out here.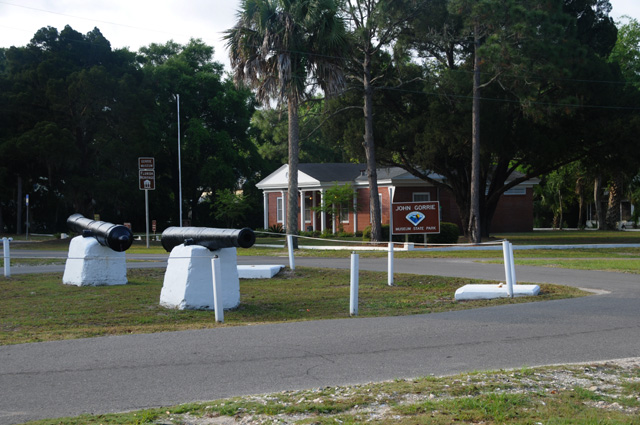 This is the Coombs Inn Bed and Breakfast where we spent the night.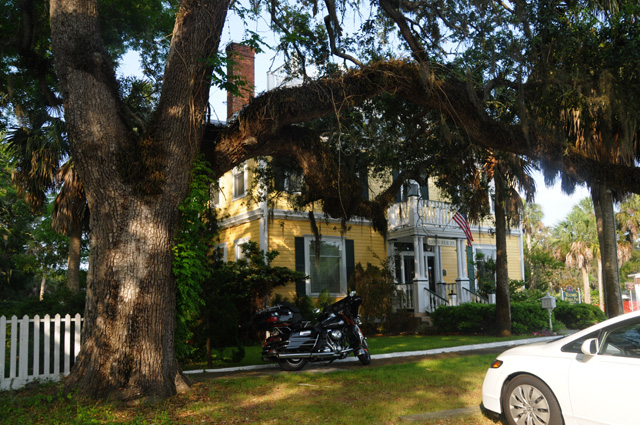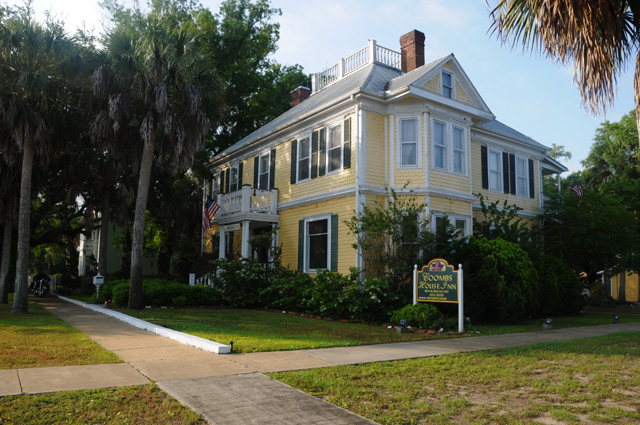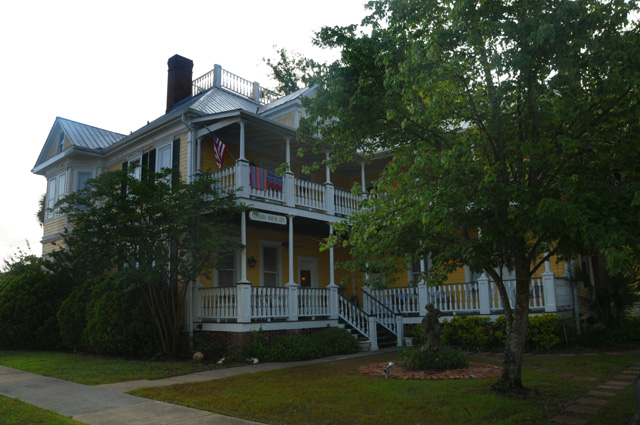 This is a small marina approximately where the Apalachicola River flows into the Apalachicola Bay.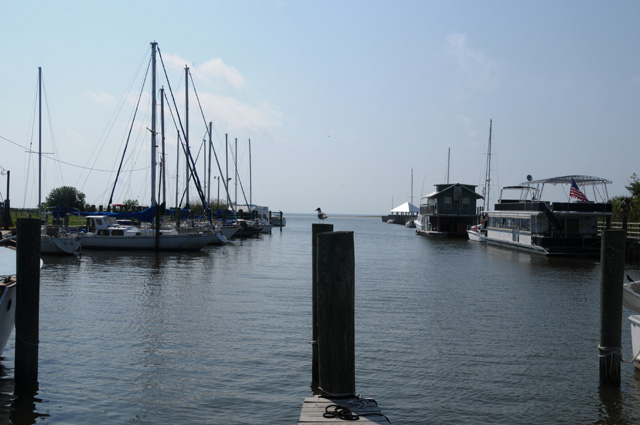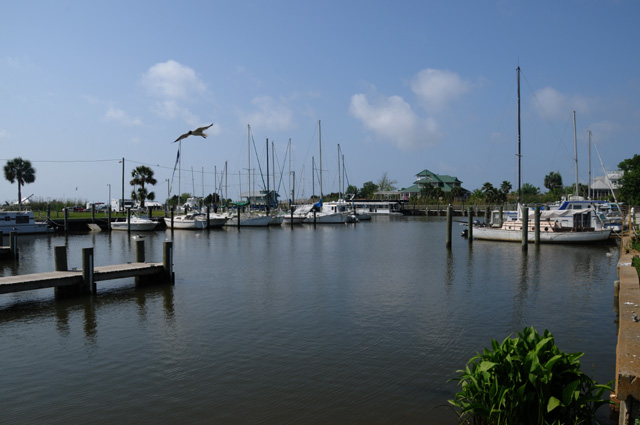 And this is where we had dinner last night. It is especially fitting as Hanna collects small owl figures.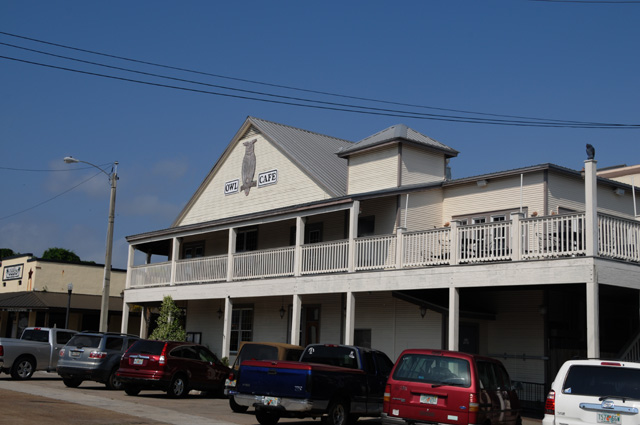 Shortly before arriving back in Clearwater, I saw an old Studebaker parked along the road, US-19 (in case you didn't know it, our family owned three Studebakers, 1950, 1951, and 1955. Plus, my brother Larry now owns a 1960 something Studebaker). I thought about stopping to get a picture, but said, "Naah, I don't want to take the time." Then I said, "Larry would enjoy seeing this picture, maybe I should go back." By this time I was already a mile or two down the road, so I said, "Naah. He'll never know." But then I said to myself, "Self, you have all the time in the world, go back." Then I said, "Naah, it's not worth the trouble." Well, here it is. I believe it is a 1954, but Larry will set me straight if I am wrong. He knows these cars better than I know the back of my hand.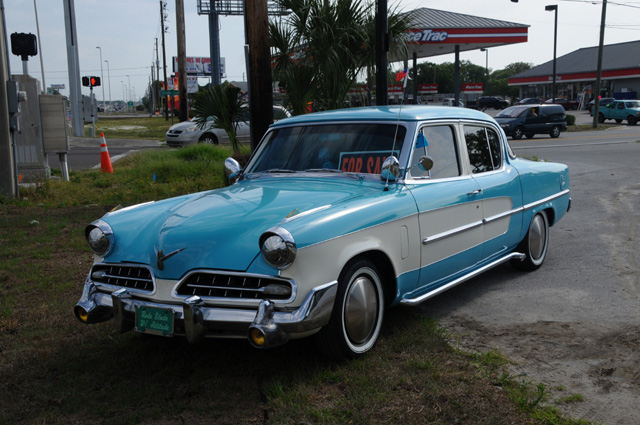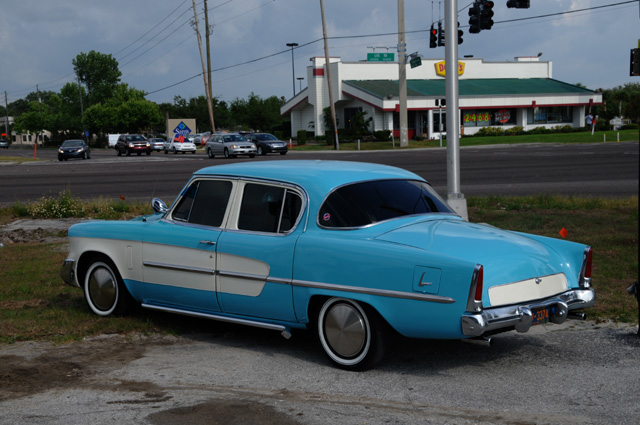 ---
24 April 2011, 9:30 PM EDT, Clearwater, FL
Went to dinner at our favorite sushi restaurant, the Kai Ko in Clearwater, voted #1 in the Tampa Bay area many years. We always call it Charlie's after the owner. Here's Charlie, and his restaurant.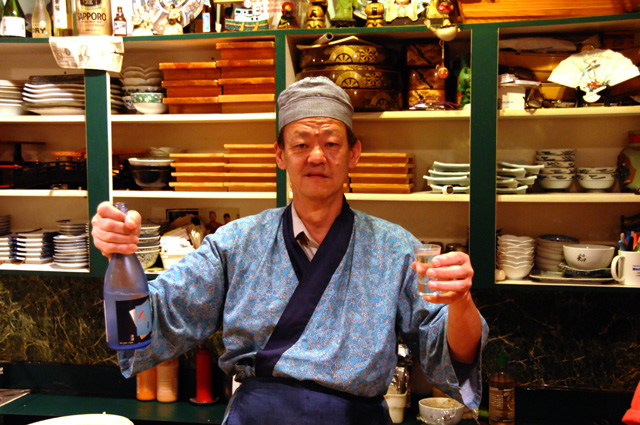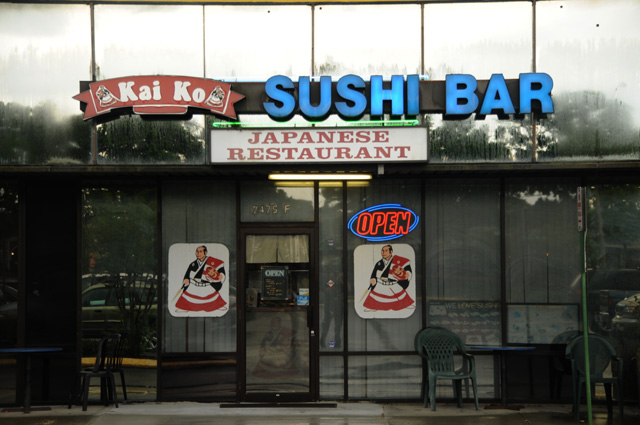 Charlie is opening in a new location, just a few store fronts away. Here's his new location, and Charlie inside.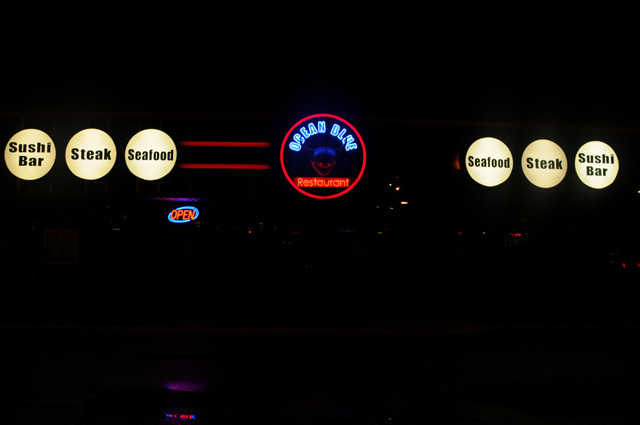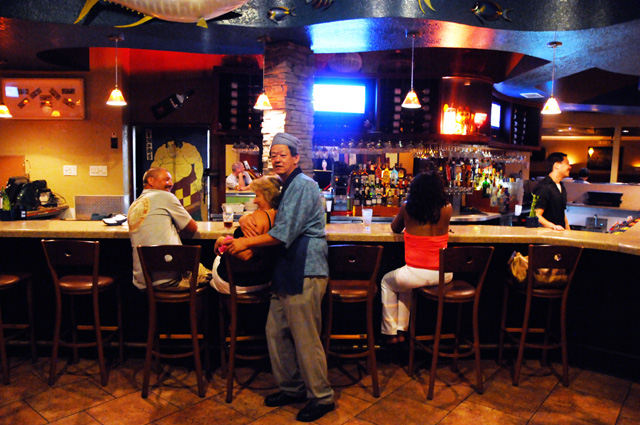 Just before leaving to go to the restaurant, I got a picture of Ripple. She is not a fan of riding in the van. She was in this chair to stay!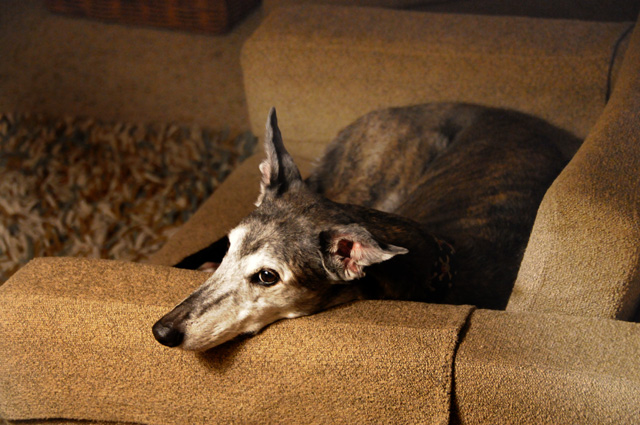 Finally, a correction from 4/22. Bentley tells me that the airplane I called a B-24 is really a B-25. They look much the same, but the B-25 is smaller. One big difference, that I certainly should have caught -- the B-24 has four engines, the B-25 has two engines. Duh!
---
25 April 2011, 7:00 PM EDT, North Palm Beach, FL
We're home. Got back this afternoon and have been taking care of mail, washing love bugs off the car and bike, taking Bentley to the airport, and other such things. Hanna decided this morning that she really wasn't up to the drive from Clearwater to North Palm Beach. Both Doris and Bentley had offered to drive her car then fly back to Tampa. Bentley figured that Doris had more pressing work than he did, so he became the designated driver. Hanna has been suffering from something like a cold the past few days, with a tiring cough, and didn't sleep well last night.
I heard from my brother Larry regarding the Studebaker in my pictures from yesterday. He said, "This is a 1954 as you can see by the teeth in the slots above the bumper. Note that the car appears to have a back door, but doesn't." I didn't realize that even when I was looking at the car. I thought it was a four door, but you can clearly see that there is no rear door handle! Thanks for the input Larry.
I rode 220 miles today. I rode a total of 2,910 on the trip. I burned 70.0 gallons of fuel, or 3.6 barrels of oil, averaging 41.6 miles per gallon. I was on the road 11 days, an average of 265 miles per day. I rode through 6 states, FL, GA, TN, AL, MS, and LA.
I had a chocolate shake for a late lunch. That's only 7 for this entire trip. That's not good. I'll bet I lost some weight. On the other hand, my Blue Ridge Ride was 17 days and I had 7 chocolate shakes. So, I had a better average this time!
I have two pictures today. First my arrival at home.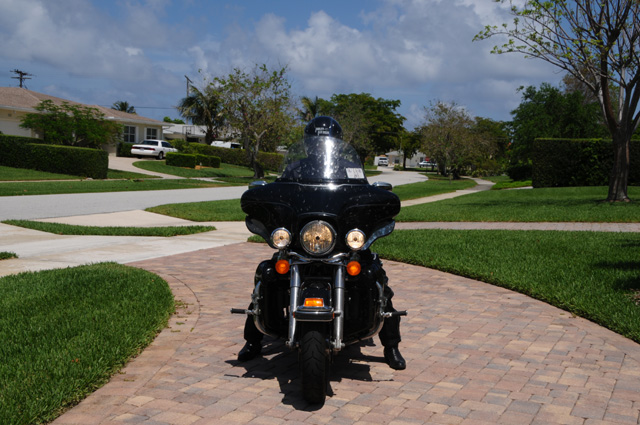 Can you see the smashed love bugs on the fairing? See those white spots. In this picture you might be able to see them on the windscreen more than the fairing. Look between my teeth, you may see some there.
And here's Bentley and Hanna's arrival. Look at all their love bugs. In real life, they are black and all over the front of the car. They look more white in the picture. Bentley had to stop three times to clean up the windshield. They took a more southerly route than I did. For some reason the love bugs were worse on their route than they were on my route.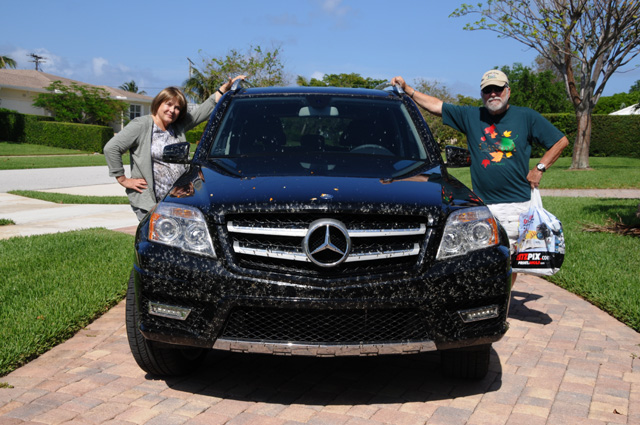 I expected rain today based on the weather forecast, but escaped the punishment. My windscreen did get misted about three times. I had my riding suit vents closed up expecting rain. Lucky me.
The ride this year was much easier on me than the ride last year. I think it was the medication I was on. Last year I was taking a beta-blocker. It made my heart rate lower and blood pressure lower, too low as far as my regular Doctor was concerned. This year I have something different and I don't have the low heart rate and low blood pressure.
Wonder what I will do for my next trip? Guess I'll have to think about that.
Never saw my raven on this trip. Didn't last year either. My brother Johnny has suggested that my black bird from my Route 66 Ride has grown up and is now the SR-71 Blackbird. Maybe he is right. Maybe I really did see my bird. Maybe so.
---