Travelogue -- Dr Bob's US50 Motorcycle Ride
---
Join me on my ride along US50. This idea has been in my mind for more than 10 years; originally I had in mind only riding US50 across Nevada, billed as "the lonliest highway in America." Now the idea has grown to be an Altantic to Pacific ride. US50 runs from Ocean City, Maryland to San Francisco. (Permit me to refer to "Historic US50" when I include the portion from Sacramento to San Francisco. Today the marked US50 ends in Sacramento, but the road still runs to San Francisco under new numbers since 1972 when Interstates were paved over US50 causing the US50 name to be dropped.)
US50 has a lifetime meaning to me -- my grade school and high school were on US50 in Indiana. (Once again I have exagerated a little, not really lifetime, my parents moved from the mountains of southeastern Kentucky to southeastern Indiana when I was three and a half years old.) In addition, I probably have been on US50 once a year since finishing high school -- in San Francisco in 1964 when I had a job interview at Lawrence Radiation Laboratories in Livermore; when I would visit my parents; when I lived in the Washington DC suburbs and crossed US50 every day going to work, when I visit my son Darryl who lives two or three blocks off US50 in Falls Church, Virginia; in 2002 when I toured a salt mine 600 feet below US50 in Kansas for Sony Pictures.
See also this website about US50.
My present plan is to take about a month. I will ride from North Palm Beach to Ocean City, then across US50. It is 1,030 miles from North Palm Beach to Ocean City. It is 3,200 miles from Ocean City to San Francisco.
On the way back to North Palm Beach, I may take a northern route. Some of the spots I am thinking of visiting are Mt. Rainier, Glacier National Park, the Little Bighorn Battlefield, Devils Tower, the Crazy Horse Memorial, Mt. Rushmore, and the Badlands. I have been in every state except North Dakota, South Dakota, Nebraska, and Iowa. Since the spots I mentioned do not pick up North Dakota or Nebraska or Iowa, I must ride through those states just so I can say I have been in all 50 states. If I take this route, it will be more than 5,000 miles to get back home. That means more than 9,200 miles total.
Or, if I decide I cannot take that much time, I may take a southern Interstate route back home. This would most likely be I-5 to Los Angeles, then I-10 to Florida. That would make it 3,040 miles from San Francisco to North Palm Beach. That would mean more than 7,200 miles total.
Nothing is definite yet, including a date. I am thinking of May 2012. I don't want to be too early in the year because there are high mountian passes on US50 in Colorado (Monarch Pass at 12,030 feet) and California (Echo Summit aka Johnson Pass at 7,382 feet), as well as high passes on a return farther north, and I don't want any snow on the road. I don't want to be too late because it starts getting too hot in June, especially on the ride back to Florida.
I would plan to ride about 500 miles a day if I am on Interstates, otherwise 200-300 miles a day.
I will do this ride like I have done others, by posting pictures and text every day of the ride. Once I start the ride, each day of my journey will be a separate page shown on the menu at the left. You can start at the beginning by selecting the first day, or at the end by selecting the last day. Or, you can have the entire trip on a single page (a long page) by selecting "Single Page". I probably won't put together the single page until the ride is complete.
---
31 March 2012
I have decided that I will not do the northern route for my return. Perhaps I will do another ride in the future, maybe next year, and concentrate on the northwest. The menu item Map on the left shows my planned ride, from North Palm Beach to Ocean City, to San Francisco via US50, to North Palm Beach.
I have picked May 2, 2012 as my departure date from North Palm Beach. My tentative plan is to get back to North Palm Beach before the end of May.
I have a tentative "schedule" for the US50 portion of the ride. It will take about two weeks. This map shows possible locations for each night. I normally do not ride to a schedule. That will continue to be the case for this ride. I do have two specific dates I will observe, however. I will spend the weekend of May 5-6 with my son in Falls Church, Virginia. And I will meet up with my sister and brothers for dinner on May 9 in Seymour, Indiana. The short ride that day will allow me to visit Holton, Indiana, the location of my grade school and high school, and the location of a devastating tornado on March 2, 2012. The school was damaged, and may not be standing when I arrive. Also, I plan to ride past the home I lived in during most of my childhood.
I will probably try to spend nights near an Interstate -- that's where the motels are. As for the rest of the "schedule", I will decide each day where I spend the night. I may run faster than the map shows, or I may run slower.
---
2 May 2012, 9:30 AM ET, North Palm Beach, FL
I'm off. Hope to do about 500 miles today, we'll see.
Hanna and Maggie saw me off. Hanna is giving me three little frogs to give to my three little grandchlidren. Actually, it is six frogs because a baby is playing leapfrog with the momma or poppa, whichever it is. I can't tell. Maybe a biologist could. But, these are toy frogs, so who knows.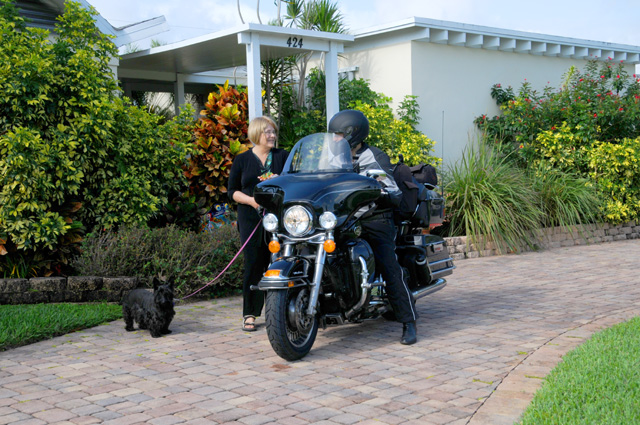 Check back later today for more.
---
2 May 2012, 10:30 PM ET, Santee, SC
I am at Santee, South Carolina. Rode 531 miles today.It took about 9 hours from the time I really left. What do I mean by "really left"? I had wanted to leave about 9 AM. The picture I took this morning was at 9:30, so I was already half an hour behind plan. Then after the picture, I discovered my camera had a problem. No way can I go on a trip like this without my camera! So, the first stop on my ride was at The Camera Shop in North Palm Beach. I waited about an hour for their repair man to arrive and fix the problem. By the time I got fuel and was on the road for real it was 11:15 AM.
A note to those who are not familiar with my Travelogue. This started on a motorcycle trip a few years ago when I went alone and Hanna, my wife, stayed home. Hanna has ridden many miles on the back seat, but sometimes she doesn't want the long boring hours of just sitting there. I guess the back seat is that way, but not the front. There is never a boring moment. Well, maybe on the rare ocassion. Anyway, I started doing a travelogue so Hanna could share with me some of the events. I did some pictures and a little bit of text. Then on my Route 66 Ride in 2008, I did it for real, lots of pictures, lots of text. Again, it was primarily for Hanna, but I let family and friends know about it. The number of readers grew, many I don't even know. So, this is written primarily for my lovely Hanna, but I write it in such a way that even strangers will feel like family.
I have only the one picture for today. I thought about taking a picture of the raceway at Daytona, but by the time I decided to do it, I had passed the exit, so I just kept going. Then I saw a really nice bridge in the distance and thought about taking a picture, but just kept going. Today was really a travel day and I wanted to get as many miles as possible. Same for tomorrow. Then I will arrive at the beginning of US50 and slow down to enjoy the ride.
Speaking of enjoying the ride, I really did enjoy it today. After a few miles, maybe 100, my mind had gotten rid of all those pesky annoying things that lurk there, and I was into the ride. Even on the Interstate it is enjoyable. I become one with the bike and the road. Other riders will know what I mean.
I have a new jacket which I really love, so far. I have a riding suit that is all purpose. In warm weather you zip open some vents. In cold weather you close the vents. If you are in rain you close the vents. The problem is that warm/hot weather can get too warm even with the vents open. So, I bought a new jacket that is mesh. It has all the "armor" on the shoulders, back, elbows, but the fabric has hundreds or thousands of holes everywhere. It was much cooler in the warm weather. The downside is that it will get cold quickly when the temperature drops, and you will get soaking wet if it rains. But I have a rain jacket I can put on over the mesh jacket. The compromise is having to stop and put on an over-jacket or internal liner for cold or wet weather. Most of the time, the heat is a bigger issue for me. For today, at least, it was a wonderful compromise. We'll see how it averages out over the coming days.
Bye, I will talk to you again tomorrow.
---
3 May 2012, 11:00 PM ET, Exmore, VA
Fewer miles today, 462. Total for two days is 993. The last 110 were not Interstate, that makes it slower. I went past Norfolk and crossed the Chesapeake Bay on the Bridge-Tunnel. I have wanted to do that for a long time, now I finally have. Traffic in the Norfolk area was terrible, worse than DC traffic. That slowed me down also.
I am proud to say that two days equals two chocolate shakes. I must keep my reputation intact.
The mesh jacket really was good today. From about 11 till 2, the temperature was somewhere between 90 and 100, really oppressive. I would have been broiling in my other jacket. The morning started foggy and cool, but I did not need extra warmth, the mesh jacket was OK. Late this evening crossing the bay, I was almost cold, but still did not need extra warmth. I closed the bike's air vents to keep air from blowing on me. That was enough. So, after two days it is still both thumbs up for the mesh jacket.
Today's pictures are the Chesapeake Bay Bridge-Tunnel. There are two tunnels. There are three stretches of bridge. The southernmost and middle stretches of the bridge are flat, the northernmost has a rise. The first picture is looking at the southernmost bridge back toward Norfolk.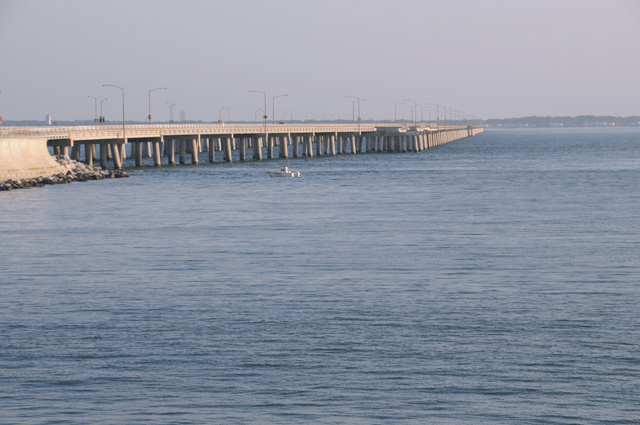 The second picture is looking from the northern end of the southernmost stretch to the middle stretch, with the south tunnel straight ahead (which you don't see, of course, because it is under the water).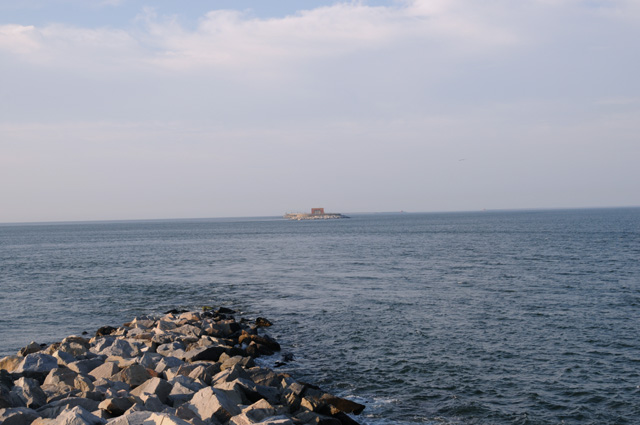 Here's a zoomed picture where the tunnel becomes a bridge again.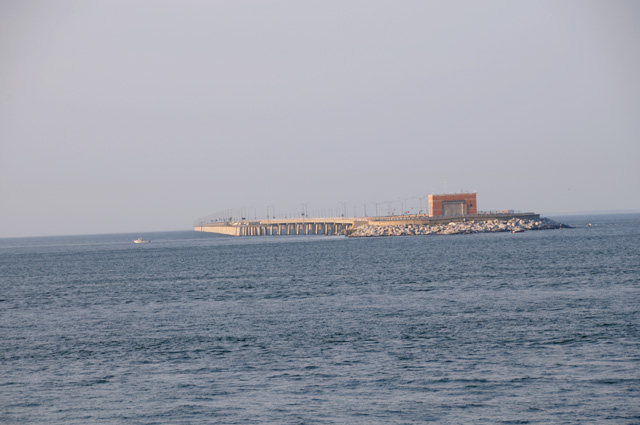 The third picture is the northernmost bridge. This picture was taken after I was off the bridge looking back.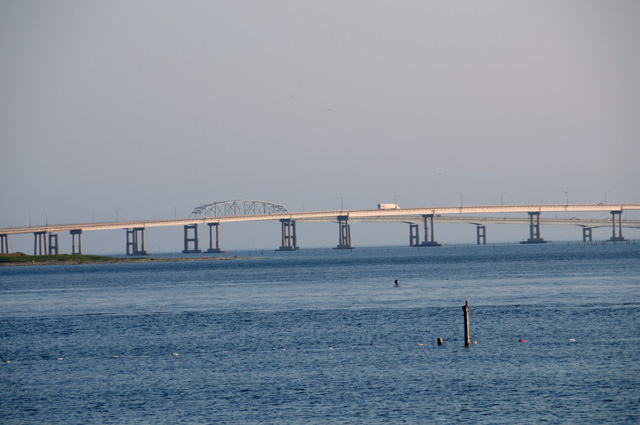 That's it for today. Tomorrow I reach US50. And, I will have my first picture of a state capitol.
---
4 May 2012, 1:30 PM ET, Ocean City, MD
My US50 Motorcycle Ride has officially begun. Here's a view of the eastern end of US50.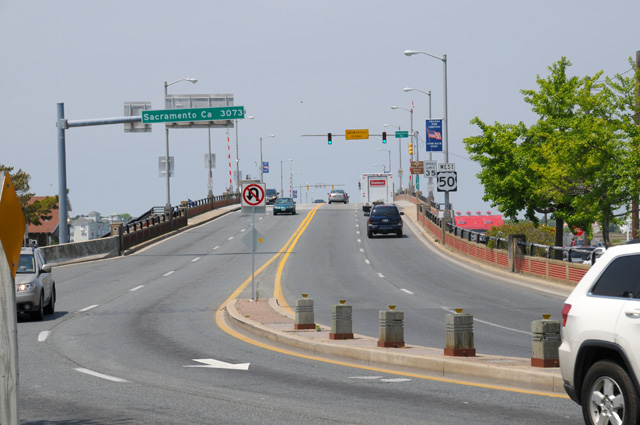 See the green sign over the lanes on the left that says Sacramento Ca 3073 miles? Well, disregard that. Historic US50 goes through Sacramento to San Francisco, an additional 128 miles. And that's what I am doing. I will follow the old road which was decomissioned when Interstates were opened from Sacramento to San Francisco. For me it is about 3200 miles.
The following picture of the beginning of US50 is a bit more scenic.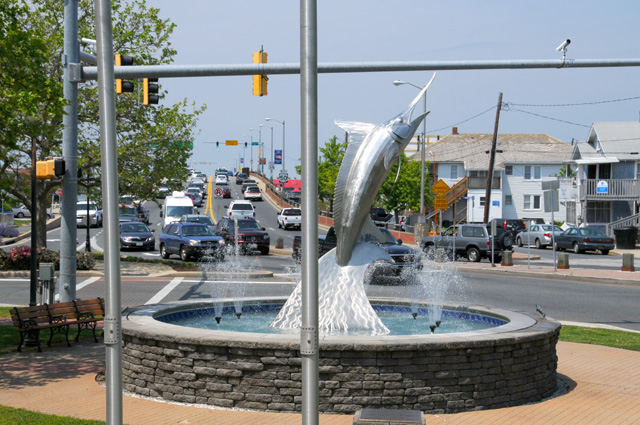 I had to ride the extra block to see the Atlantic.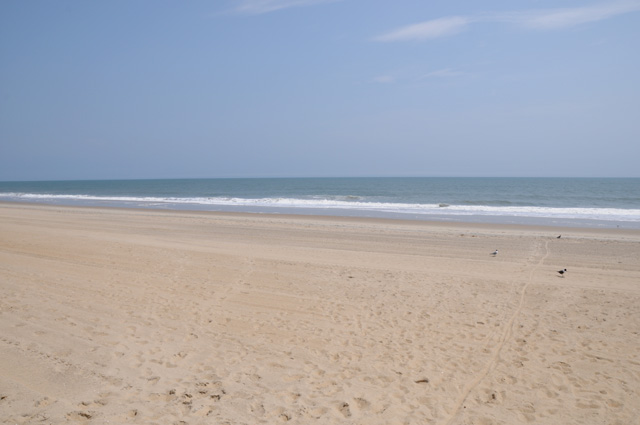 Check back later, I will post more tonight. The day is still young.
---
4 May 2012, 8:15 PM ET, Falls Church, VA
After leaving Ocean City, my first destination was Annapolis to take a picture of the Maryland State Capitol. It is not directly on US50, but US50 does run through Annapolis. It runs through four state capitols and our national capitol. I will have pictures of all of them. For those of you who have followed my motorcycle travels before, you already know that I take pictures of state capitols.
The picture below is the Maryland Capitol. It also served as the US Capitol from November 26, 1783 to August 13, 1784.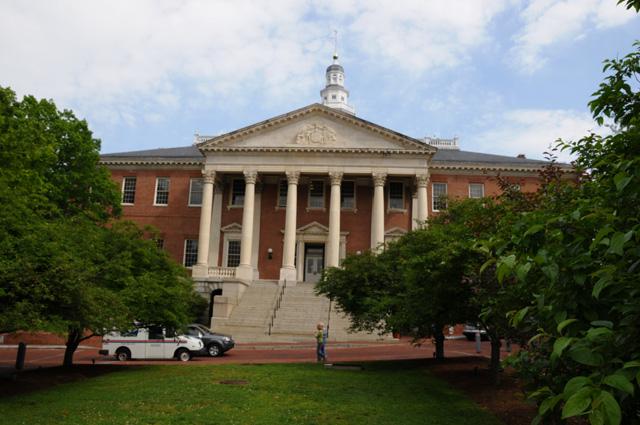 Made to my son's house about 6PM. I wanted to spend more time in Washington DC taking some pictures, but it was 5 PM, rush hour on a Friday, and there was a line of thunderstorms expected to pass through the area at any moment. So, I only took pictures of things right on US50. First is a picture for Hanna, The National Museum of Women in the Arts. Hanna is a charter member of the museum. We come here almost every time we visit my son and family. So Hanna, I was there. Not inside, but close enough. The Museum is on New York Avenue, which is US50.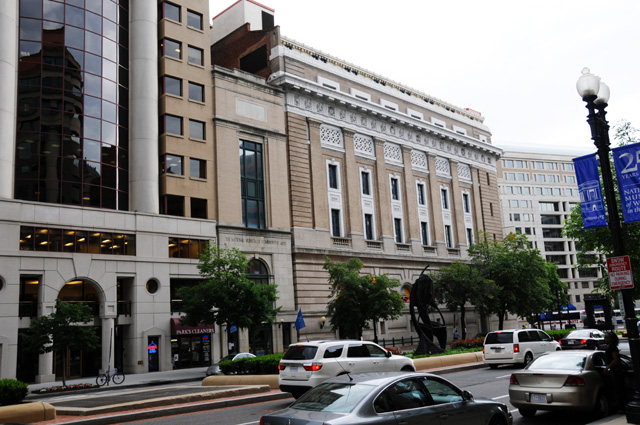 The next picture was also taken on US50, in Arlington, Virginia. It is the Iwo Jima or Marine Memorial. You can see the US Capitol and Washington Monument just to the left of the Memorial. The green traffic signs just under the Capitol are on US50.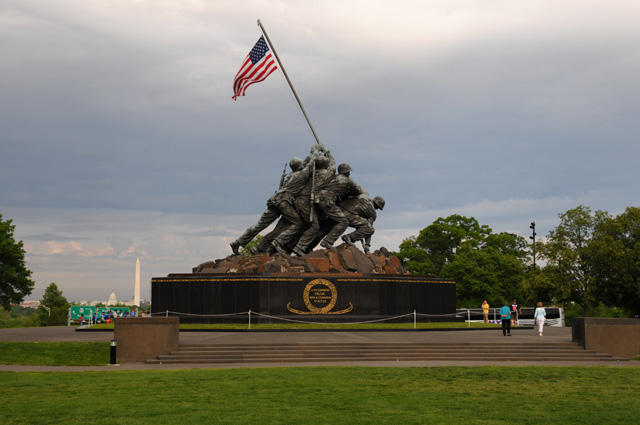 The final picture for today is for Bentley. (Bentley is one of Hanna's son-in-laws.) This is Bentley's Family Restaurant, on US50 in Falls Church, Virginia. The restaurant does not belong to our Bentley, but I always have in mind taking a picture of the restaurant for Bentley, and I always forget it, but this time is special because it is on US50. All that traffic you see is on US50.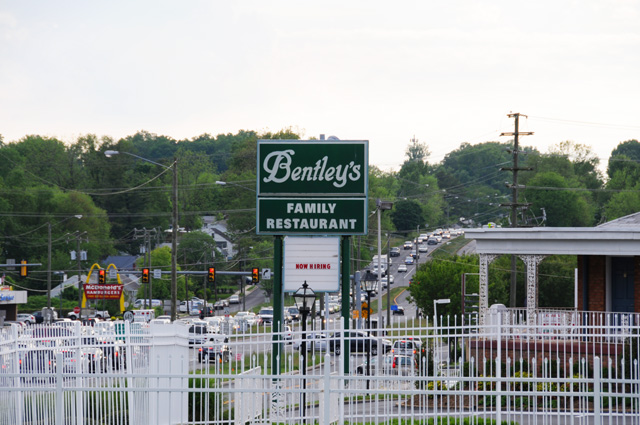 Join me again tomorrow, I will have more things from here. I am staying in Falls Church for the weekend.
---
5 May 2012, 3:00 PM ET, Falls Church, VA
OK, I'm back with you. Forgot to give you my miles yesterday. It was 281 miles. Less than the days before, but all on non-Interstate roads, and with stops for photos. I figure 300 miles is a lot on a day like yesterday. Today was much less, just running around town. Only 43 miles. I have now accumulated 1,316 miles since leaving home.
So, like I said, I didn't do much riding today, I was busy doing touristy things. But first I had to take the grandkids on a bike ride. Not Sam, though, he has his own ride. He has really developed that mean biker look. I'm really proud of him.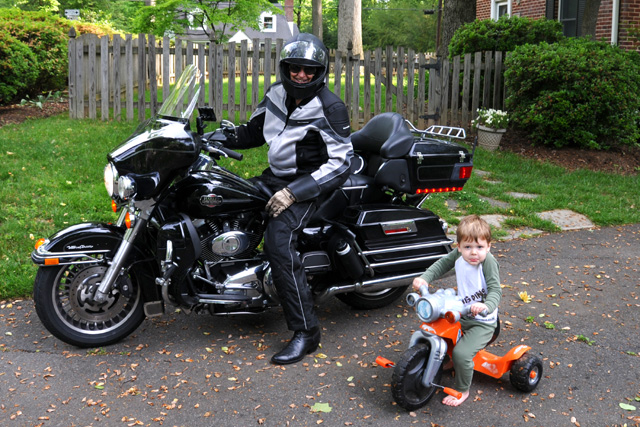 I instructed Sophie and Nick on how to get on the bike and how to hold on while we were riding. As we were going around the block, I realized that this was the first time I had a passenger on this bike. Here's Sophie.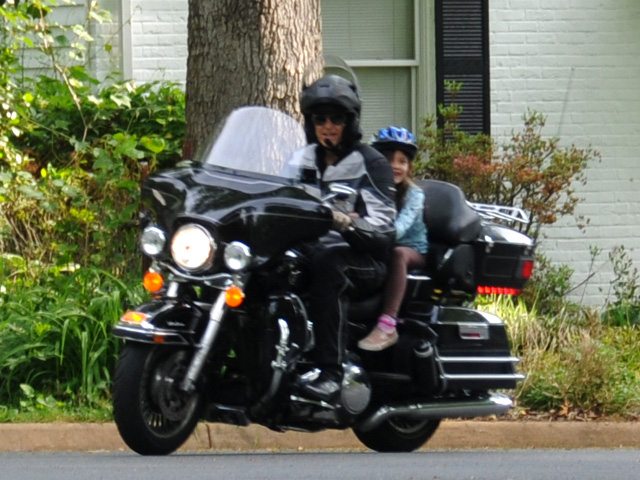 And Nick.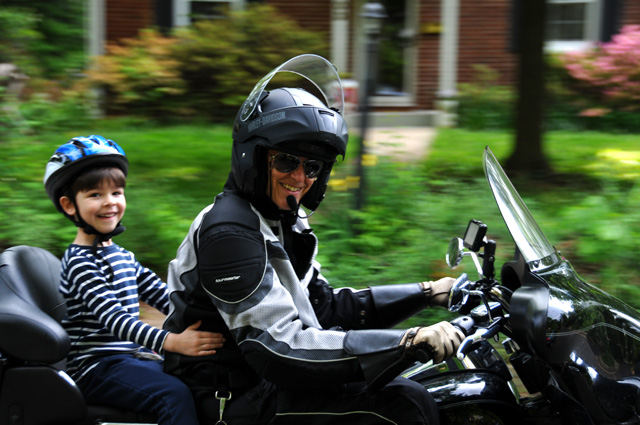 After the rides, I headed to downtown Washington DC. First stop, still in Virginia, was the entrance to Arlington Cemetery.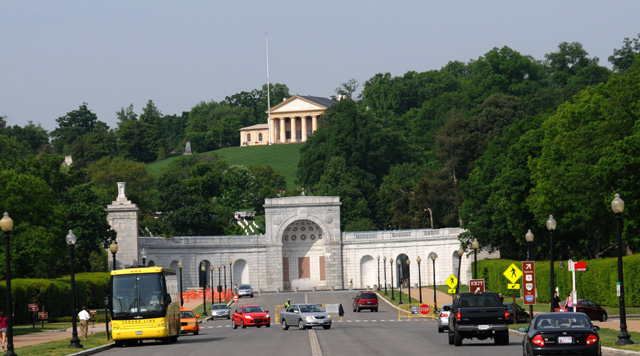 Then on to get a picturer of the old DC City Hall. It is used as a DC court house now. Darryl had convinced me that I should take this picture, because it is the closest thing to a state capitol that the District of Columbia has. So, here's Old City Hall. The statue out front is Lincoln.

And new City Hall. I prefer the old one.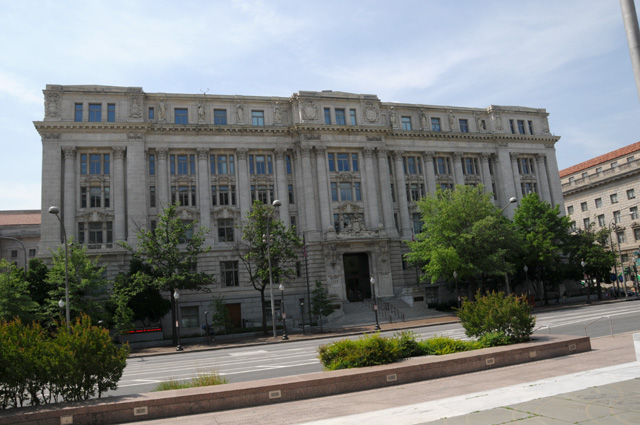 In my wandering around, I passed the National Museum of the American Indian. Hanna and I are charter members of the museum. It is new, built since we left the DC area.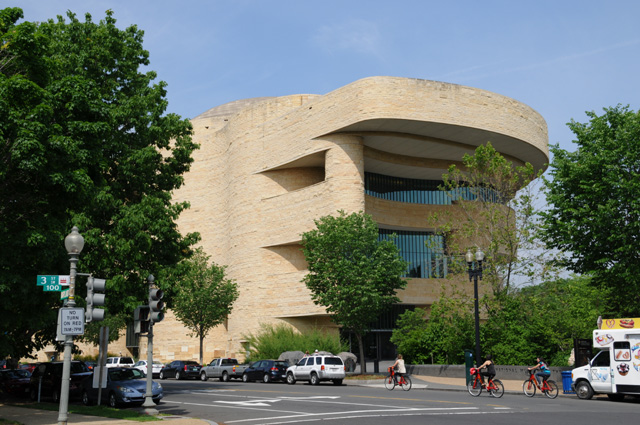 And our nation's Capitol. When I was here on the bike two years ago, I took a picture of the front side, I thought I would do the back side this time. I always take a tripod with me so I can take pictures like this one.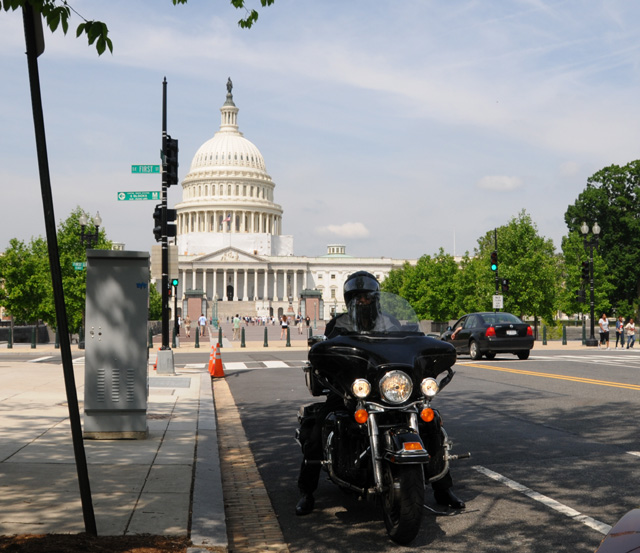 Did you ever wonder what the statue is atop the Capitol? Did you know it faces away from the Mall?
"The bronze Statue of Freedom by Thomas Crawford is the crowning feature of the dome of the United States Capitol. The statue is a classical female figure of Freedom wearing flowing draperies. Her right hand rests upon the hilt of a sheathed sword; her left holds a laurel wreath of victory and the shield of the United States with thirteen stripes. Her helmet is encircled by stars and features a crest composed of an eagle's head, feathers, and talons, a reference to the costume of Native Americans. A brooch inscribed "U.S." secures her fringed robes. She stands on a cast-iron globe encircled with the words E Pluribus Unum, the national motto at the time of her placement atop the dome." Taken from the web site of the Architect of the Capitol.
The statue was removed from the top with a helicopter in 1993, while Hanna and I lived here, restored, and replaced.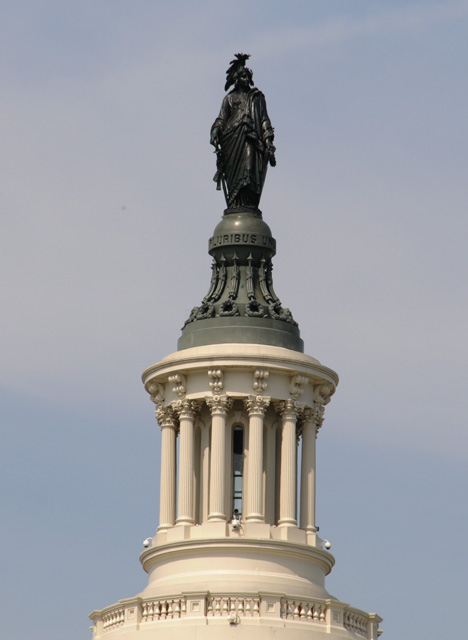 Just next door is the Supreme Court.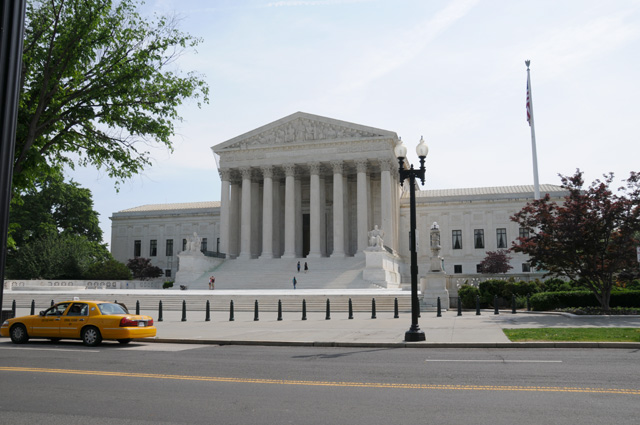 As long as I was in DC, I thought I would ride past my old offices. While I was in Washington DC, I was the Executive Director of the Advanced Television Systems Committee (ATSC). The ATSC offices were in the building of the National Association of Broadcasters (NAB) for a while. Here's the NAB Building.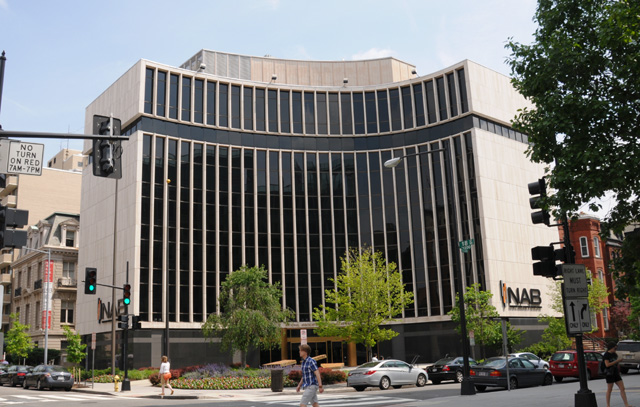 Then sometime later, we moved the offices to the building of Richard Wiley, Chairman of the FCC in the 1970s and chairman of the FCC's Advisory Committee on Advanced Television Service in the late 1980s and first half of the 1990s. Dick's office is in the corner, high up with a great view.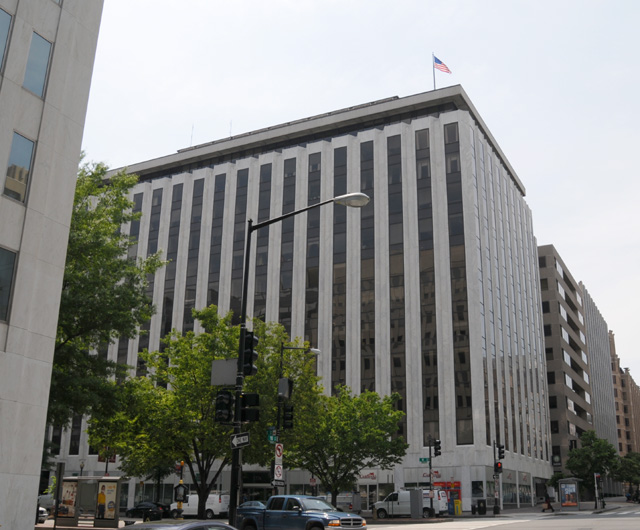 To wrap up today, I want to show you the three most important homes in the DC area.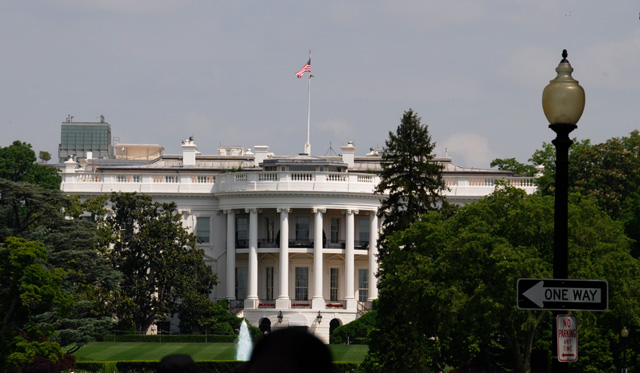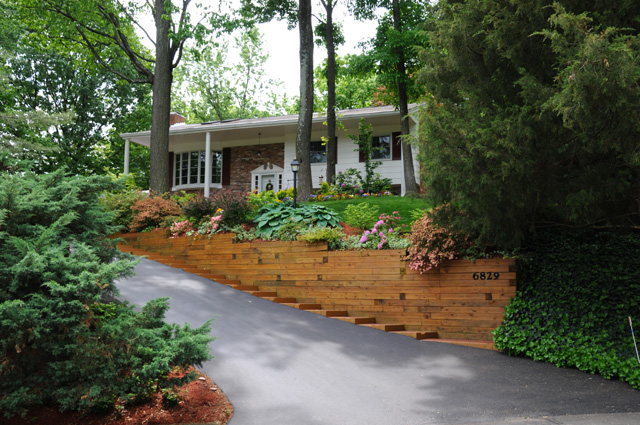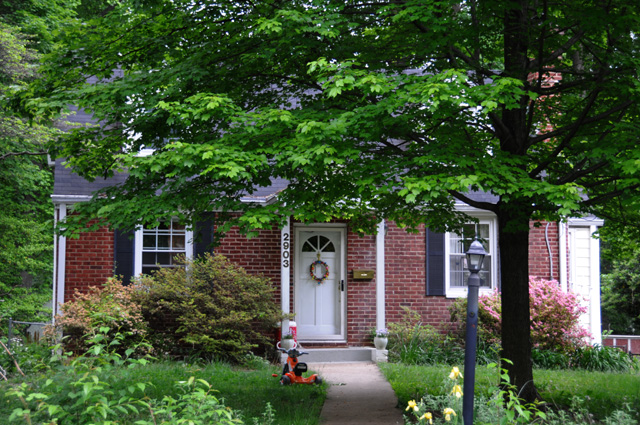 The homes are not necessarily shown in the most important order, the first being the home of the US President, the second being my former home, and the third being my son's home.
I was invited into my old home. Looks much the same. The landscaping is nice, and updated significantly by the current owner. I am staying at my son's home. As to the third home, I was not invited into it. In fact, I was told get back on my motorcycle and move on by a bicycle cop.
---
6 May 2012, 7:30 PM ET, Falls Church, VA
Today was Sunday, a family day, the motorcycle had a day of rest. All my pictures are family. First is Sam the Knight.
Followed by Nick the cat.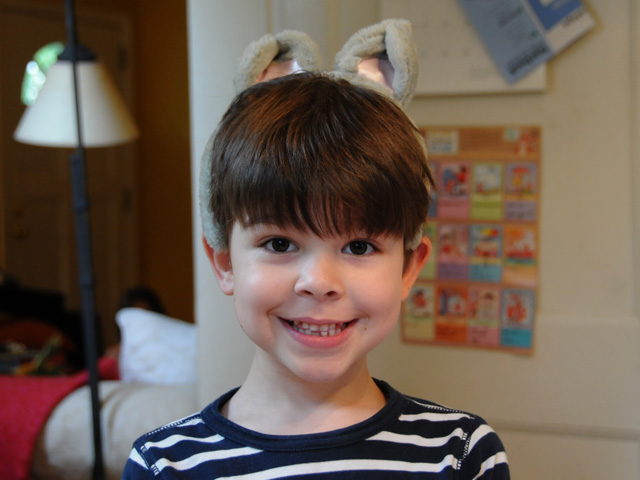 And Sophie making a bit of a face.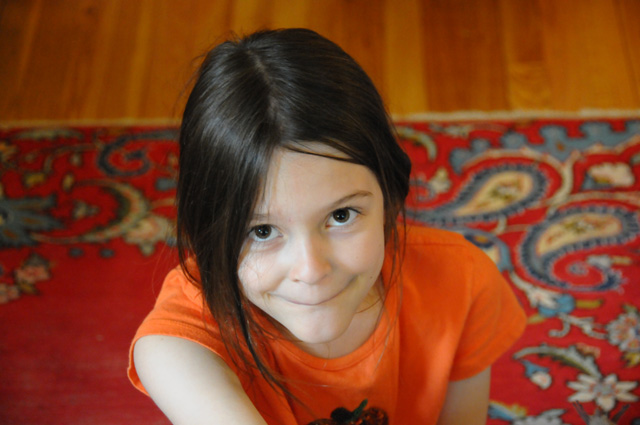 We had lunch at the Mad Fox.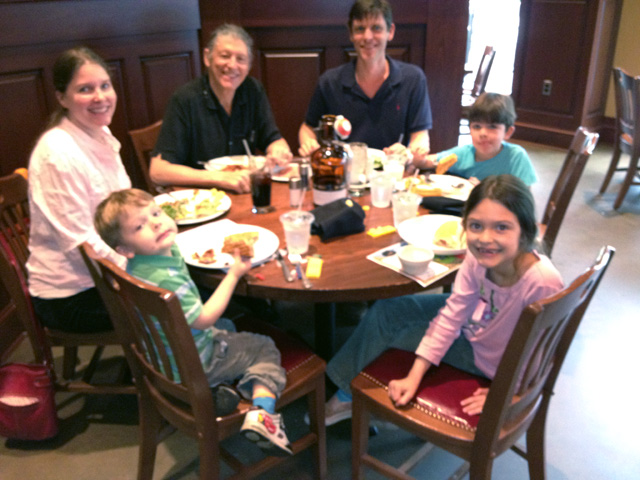 After lunch Nick had a Tae Kwon Do lesson.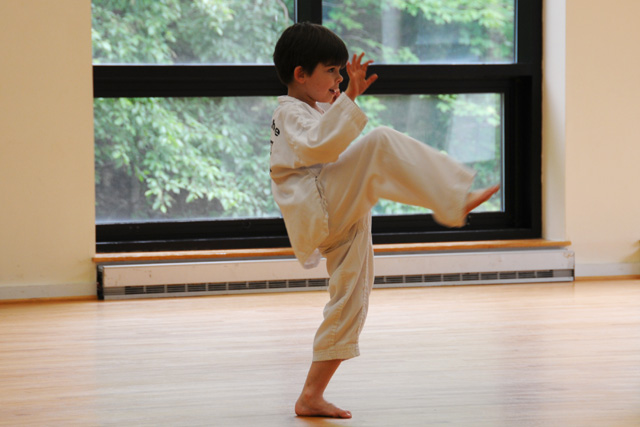 And back home, the grandkids were doing the Limbo.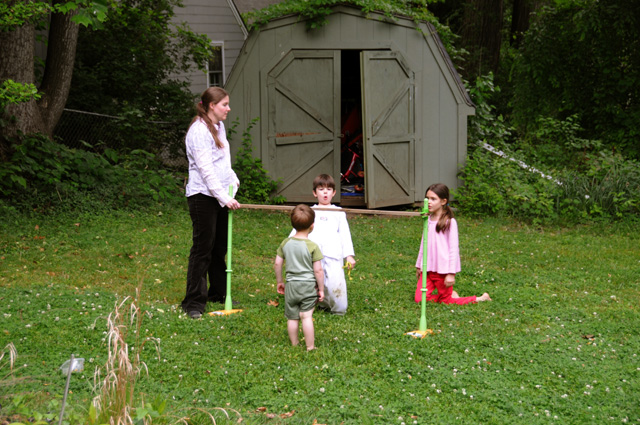 My cousin Danny lives in the DC area. We grew up together in southern Indiana, although I am a few years older, and he came by to visit a while and see the Harley.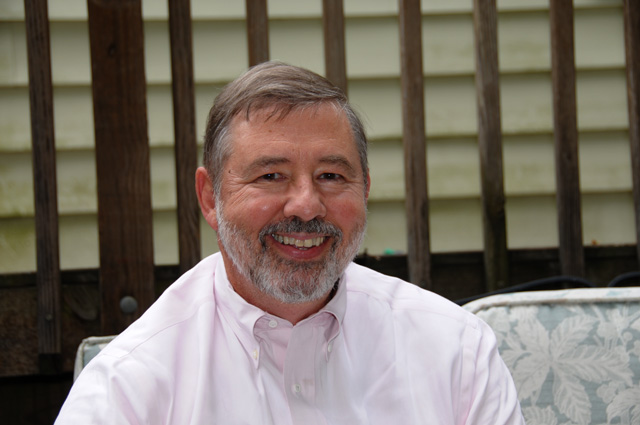 And last is my son. He was overseas in London this week and got home about an hour before I arrived on Friday.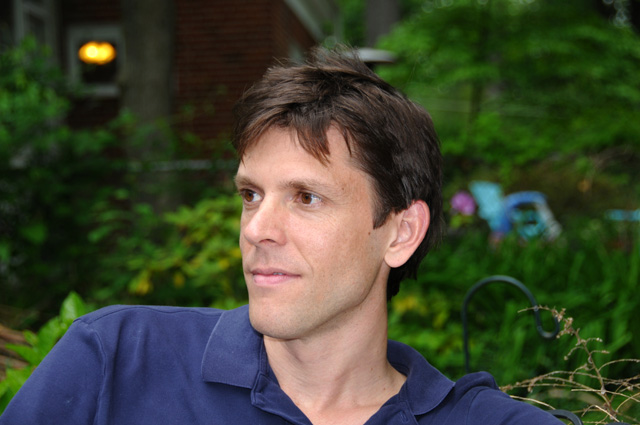 Tomorrow morning I start riding again, probably be in West Virginia tomorrow night.
---
7 May 2012, 10:30 PM ET, Athens, OH
I rode a lot more miles today than I anticipated. A total of 350 miles. That makes it 1,667 total for the trip so far. I left Falls Church about 9 this morning, went through Winchester, VA the home of Patsy Cline, then into West Virginia, across the entire state and into Ohio stopping about 7:30 PM.
I managed to down another chocolate shake. It's hard work, but I am dedicated.
Had some rain today, mostly just a drizzle. It was not enough for me to get wet, but the bike sure is dirty along the sides, the lower fairings, the side bags, and the rear fender.
It was cool this morning, but I started with just the new jacket. Later I put on the rain jacket (over the warm weather jacket) to get rid of the chill. Then later I took it off. Then I was in some rain without the rain jacket, but no problem as I did not get wet. Then later I put it back on again and the rain was a little stronger. Finally it came off for the day when the sun started peeking through the clouds.
When the rain is light, I just lean forward a little to keep my face behind the windshield. That way rain does not hit me or the face shield on my helmet. If the rain is too hard, that won't work. Also, for it to work, you have to keep moving. If you stop, you get wet.
I don't have many pictures today. Much of US50 was two-lane with no shoulder. I wanted to get a good picture of the West Virginia mountains, but never had the opportunity. There was one overlook which probably had a good view, but it was raining. It would not have made that good a picture, and the bike and I would have gotten wet. (Remember what I said about not stopping when it is raining.)
The first picture is for my brother Johnny. Does anybody else know who John Mosby is? I bet Bentley knows.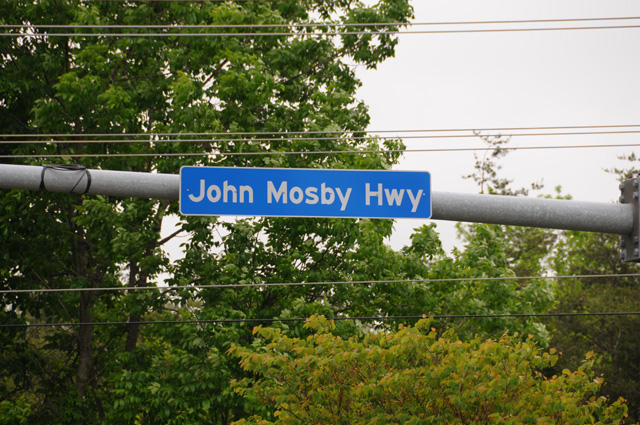 And this is Patsy Cline's home.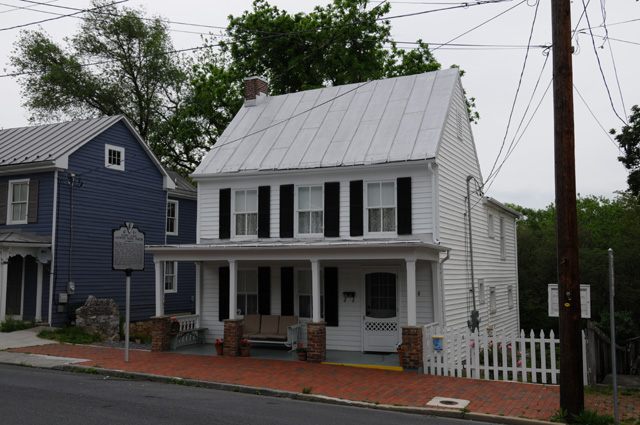 Here's what the sign says:
Patsy Cline: Country Music Singer. Patsy Cline (Virginia Patterson Hensley), world-famous singer, lived in this house. She was born in Winchester Memorial Hospital on 8 Sept. 1932. On 21 Jan. 1957 she won Arthur Godfrey's Talent Scouts national television show's competition singing "Walkin' After Midnight." In 1961 "I Fall to Pieces" became a hit. Her iconic "Crazy" was released a year later. Her haunting voice took her to the top of the charts, and her style and popularity have never waned. She died in an airplane crash on 5 Mar. 1963 in Camden, Tennessee. In 1973, she was inducted into the Country Music Hall of Fame. Cline is interred at nearby Shenandoah Memorial Park.
Cowboy Copas also died in the plane crash.
Patsy Cline is one of my favorites.
When I rode over the Cheat River, I just had to stop. Fortunately there was a turnoff spot just up the road, so I parked the bike and walked back. I took a couple of pictures, then as I was heading back to the bike this BMW came along. The rider decided I had a good idea so he stopped also to take a picture.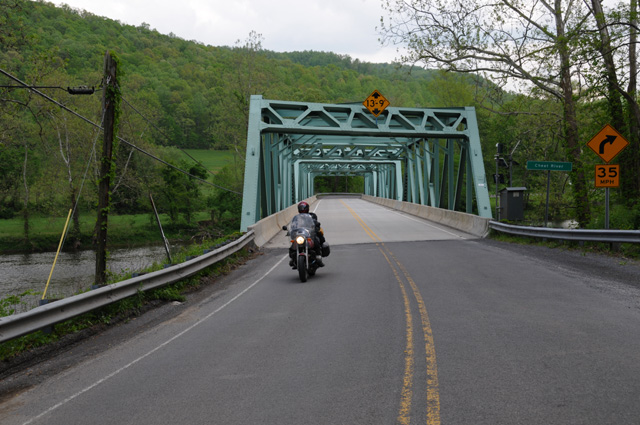 The next two pictures show the view each side from the bridge.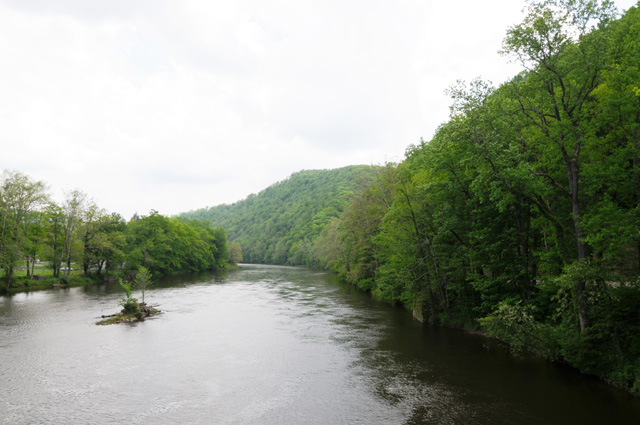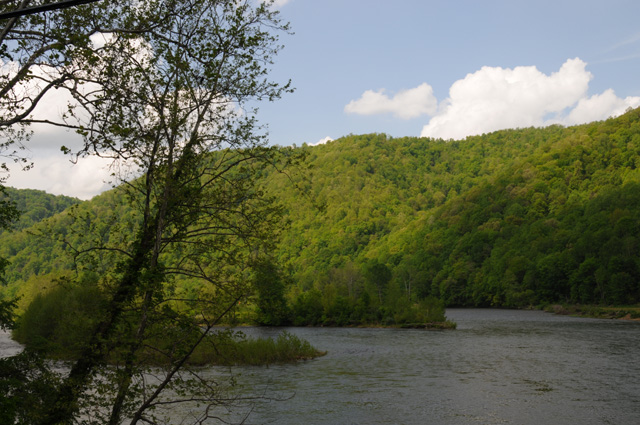 My last two pictures for today are the US50 bridge that crosses the Ohio River at Parkersburg, West Virginia.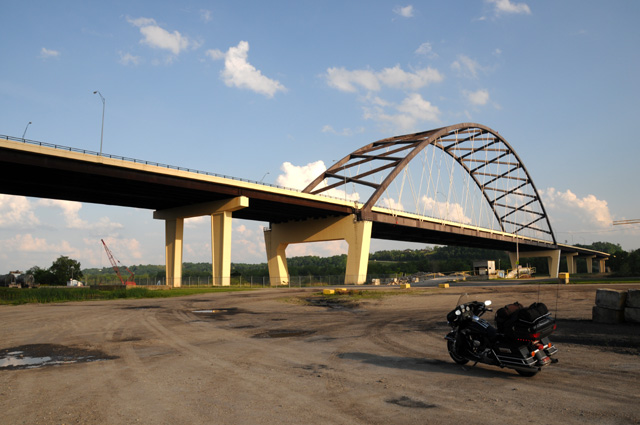 The second picture is not so nice because of those enormous metal things that look like oversize barrels. The Canada Geese are the saving grace.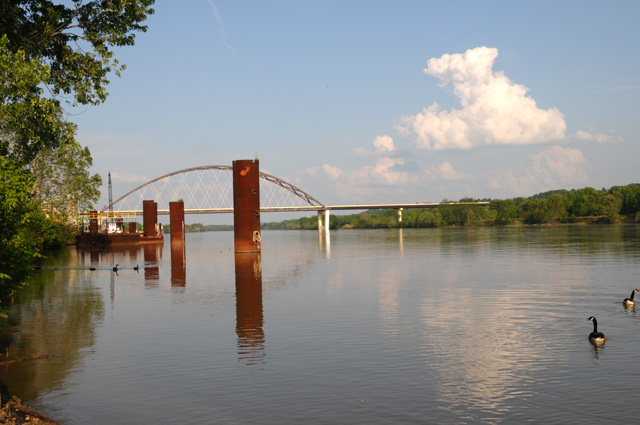 ---
8 May 2012, 8:30 AM, Athens, OH
The story of the morning.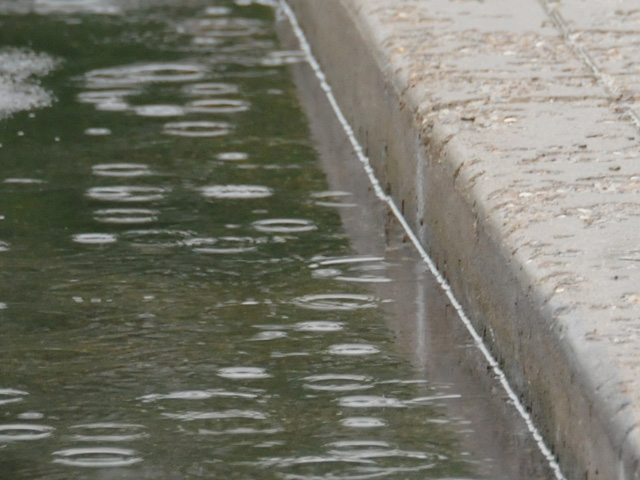 It's just a light rain, but I think I will stay here a while longer.
Check back later, I'll leave at some point, even if it is still raining.
---
8 May 2012, 11:00 PM, Greensburg, IN
Today was a slow day. I was slow to get going because of the rain. Then I missed a turn and lost time. That was the second time that has happened to me. I am accustomed to large exit signs like you find on an Interstate, and that was not what was there. Both times I was on a limited access four lane road (not an Interstate) and US50 exited the four lane. There were large signs showing the cities on the exit, but not the road. In each case there was a small sign showing that US50 exited. (I learned this when I went back and looked to see why I missed the turn.) I will have to watch that more carefully. Now I have somewhat trained myself to keep watching the side of the road to make sure there is the occassional US50 sign. To add to the slowness, most of the road was two-lane today. The speed limit drops in each town, and there were a number of them. Bottom line, I did a total of 309 miles today, including the wrong way miles, and it took longer than it took yesterday to do 350 miles.
I should have mentioned yesterday how pleasant it was to do US50 through much of West Virginia. In the mountains there were switchbacks that were posted at 15 mph for a safe speed. That's a real switchback. It was very curvy and not too much traffic. A very pleasant ride.
To add to today's woes, I was in rain again. This time it was heavier. I stayed dry, though. It was not hard enough to get me wet, and I did not have to stop during the rain.
Ohio was very pretty. There were hills, not mountains, and sweeping valleys. Very pretty. The ride through Cincinnati was very nice. US50 follows the river. You can see the skyline at times.
I thought I would show you my jackets. The first picture is my summer jacket, the one with many holes to keep me cool. The second picture is my rain jacket over my summer jacket. (I continue to wear the summer jacket because it has all the protection in case I fall. The rain jacket is super light weight, much like a windbreaker.) So, in pictures where you see me, if you see the orange jacket you know it was raining or it was cold. I still love the summer jacket. It is still a good compromise. I wore the rain jacket almost all day, much of the time for warmth, the rest of the time because of rain.
Self portrait with summer jacket.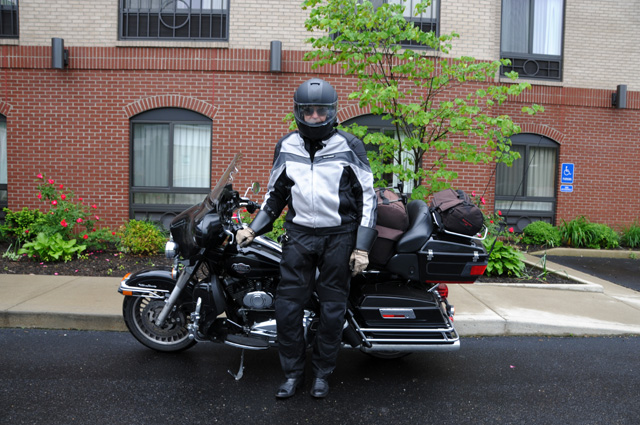 Self portrait with rain jacket.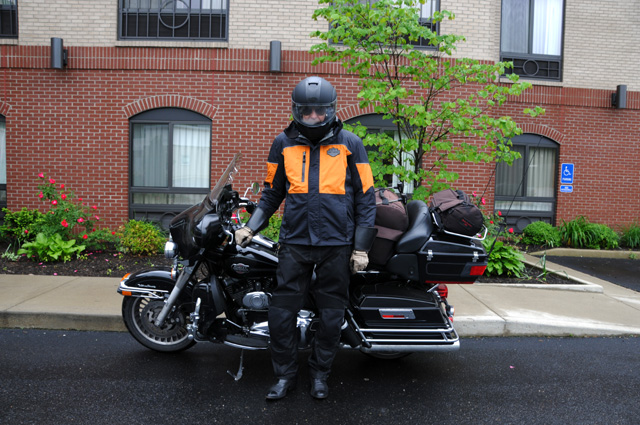 A photo to show you how dirty my bike is tonight from all the rain. It is supposed to be black!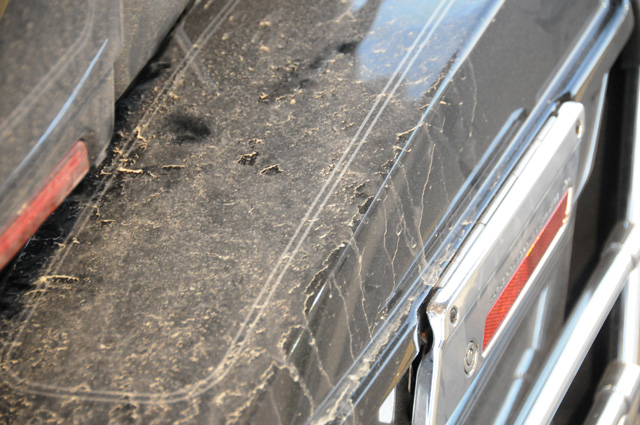 I was unable to stop to take a picture of the Cincinnati skyline. That is, until I had passed the city. Here the lanes were cut off for some kind of construction, and the traffic was crawling on the shoulder in single file. So, I pulled out of the single file, parked on the unused portion, took my picture, then got back into line.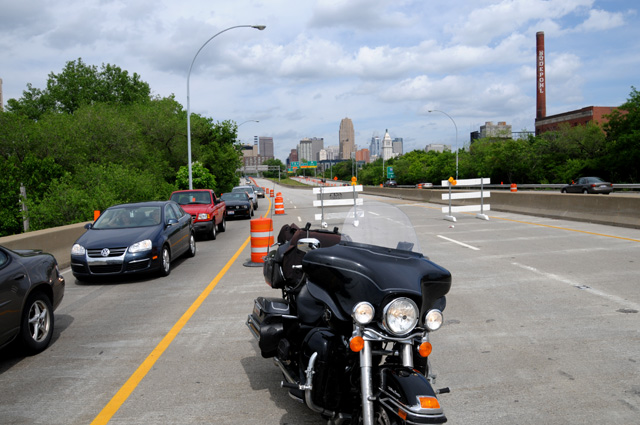 The next two pictures are for Charlotte. This house, in Aurora, Indiana, on US50, may be the home where Charlotte lived during some of her high school years. Nobody was home, Charlotte, so I got the pictures and took off.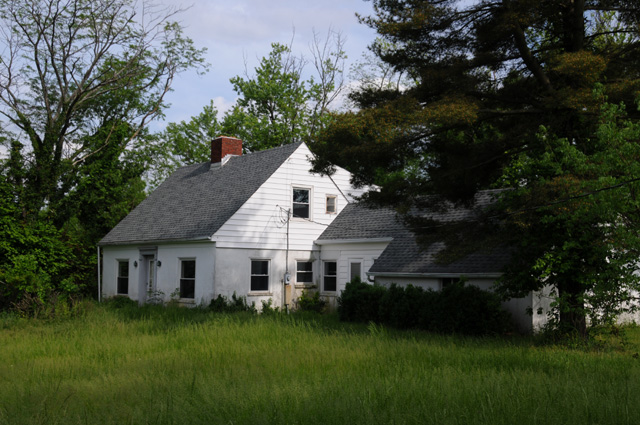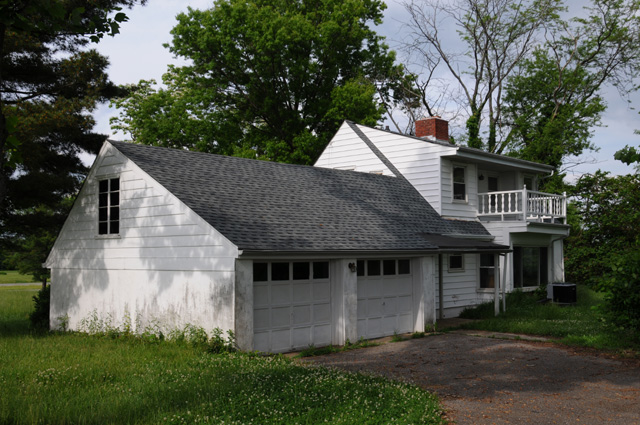 Just down the road is this round barn in Dillsboro, Indiana. I have a book that has pictures and text about all the round barns in Indiana.
A grade school and high school friend of mine, Edwin, actually my best friend during those years, lives on US50 in Versailles, Indiana. I stopped to say hello.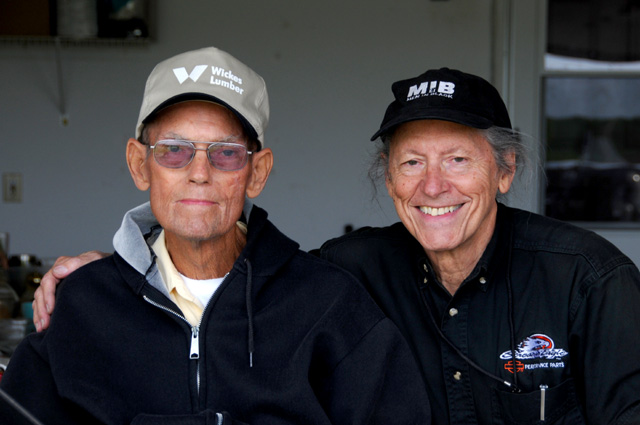 I am in Greensburg tonight. Greensburg is not on US50, it is about 20 miles north of US50. I am in the motel that Hanna and I would stay at when we visited my parents. I had to take a picture of the court house. I have many already, but I have said on previous rides that an old picture doesn't count, you have to take a new one. Anyway, that is a tree you see growing on the 115 foot high clock tower. The tree first appeared in 1870. It is a large tooth aspen.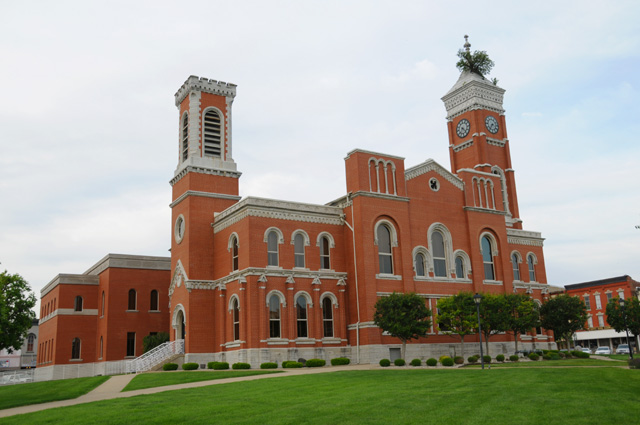 ---
9 May 2012, 11:00 PM ET, Seymour, IN
I have more than 2,000 miles so far, 2,092 in fact. Not a lot of miles today, only 117, that was the plan. Today was a day of reflection, thinking back 60 and more years. I spent the day today where I lived from 1946 until I went to Purdue University. My pictures are organized the way I spent the day. Leaving Greensburg I went to Milan, IN. Milan is not on US50, it is five or ten miles north. I am sure all of you have heard of Milan. You may not recognize the name. Have you ever seen the movie "Hoosiers"? That was the Milan story told the way Hollywood tells stories. Milan is the smallest school ever to win the Indiana state basketball championship. It happened in 1954. I remember that. Milan is in the same county I lived in, a neighboring rival school.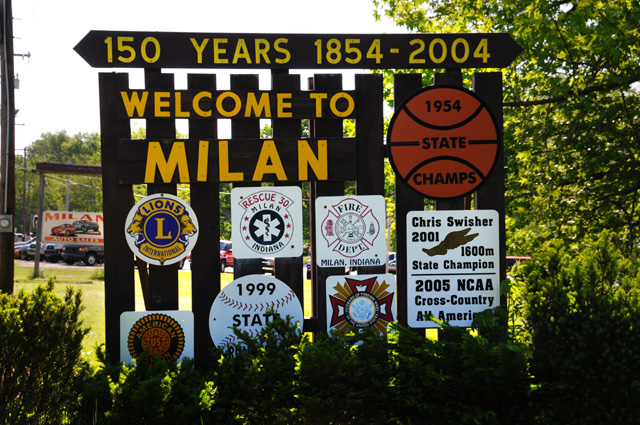 Then I rode to Holton. Holton was my school. It is on US50. Rather I should say it was on US50. On March 2, just two months ago, a tornado went through Holton killing two people, destroying houses, and it took the roof off my school. Since then the school has been reduced to a pile of rubble. I took one of the bricks. I will keep it as a reminder of where my scholastic work began.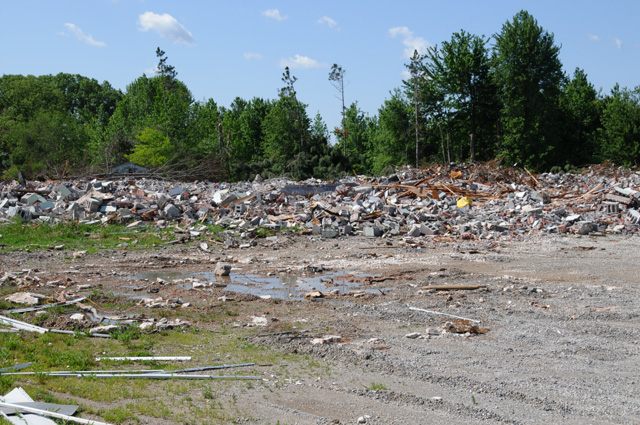 Here's what the school looked like once upon a time. That's US50 running across the front of the picture.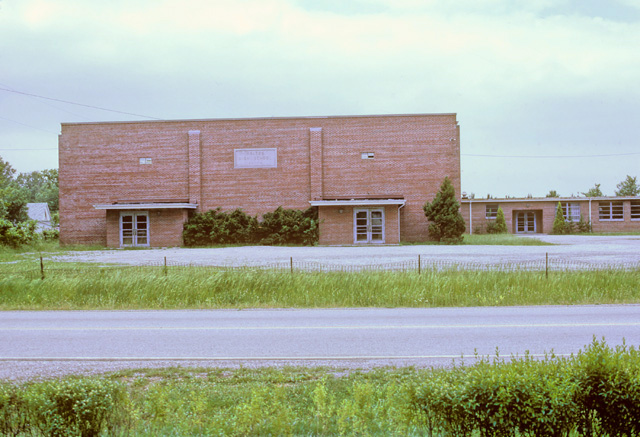 All that's left, and it's not in good shape, is an outside basketball court overgrown with weeds. I used to play here, Edwin and I would play one-on-one.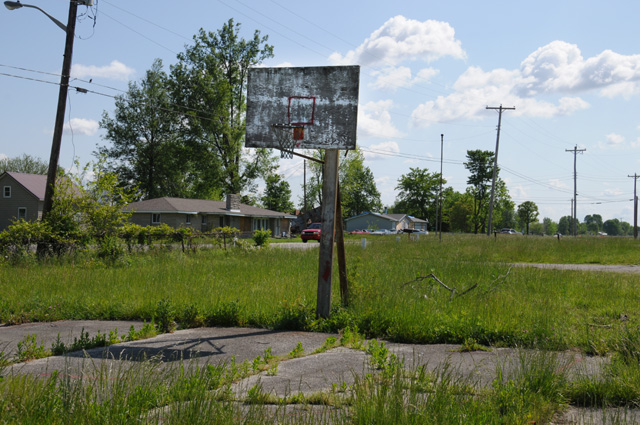 Then I headed out to the house where I lived. You had to go through a covered bridge until they bypassed the bridge a few years ago.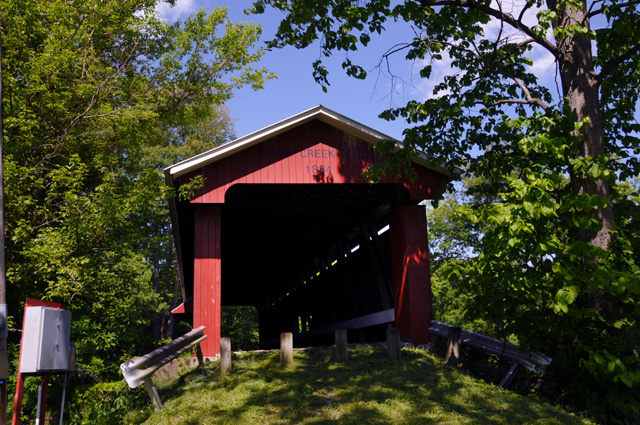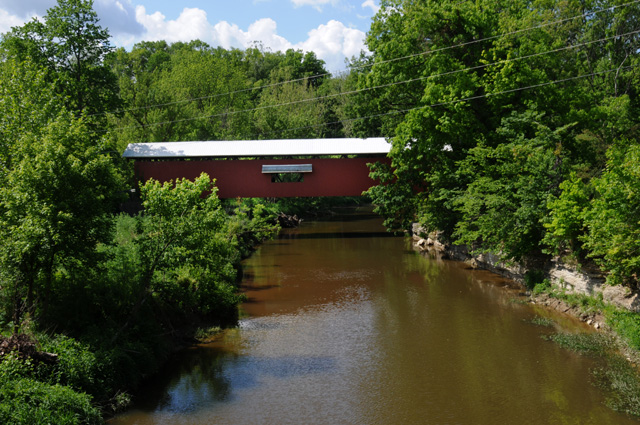 You pass the church where I was a member during my school years. I stopped to see the grave stone for my father and mother and to their side my sister who died when she was a youngster.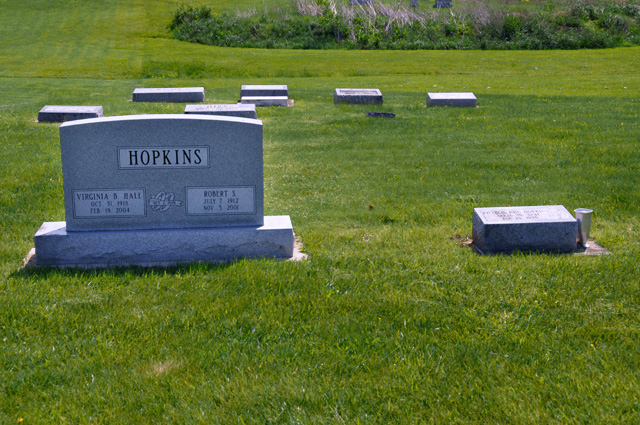 Then on to the house. It is in terrible shape, nobody has lived in it for more than ten years. It is on a gravel road.
After that I headed to North Vernon where my father worked in a factory from 1946 until he retired in 1977. The back of the factory is on US50. I worked in the factory during the summer when I was a student at Purdue.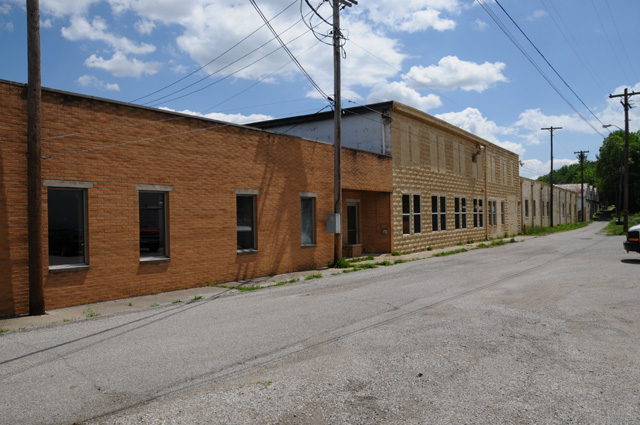 US50 is the main street of North Vernon.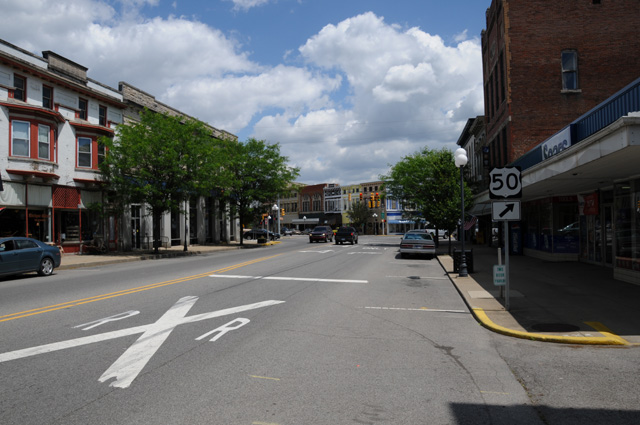 I also visited Vernon, not on US50. Here's the courthouse.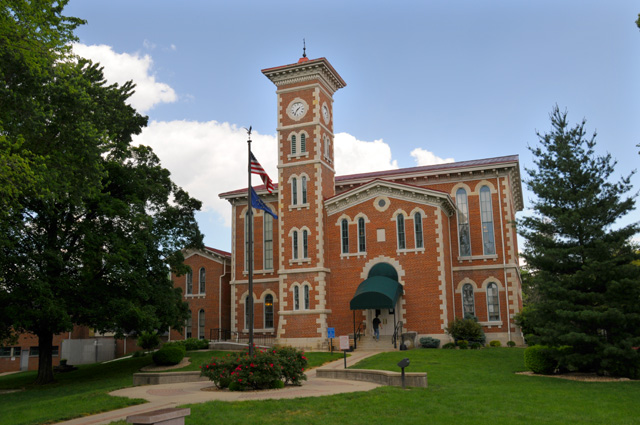 And a real neat tunnel under the railroad a block from the courthouse.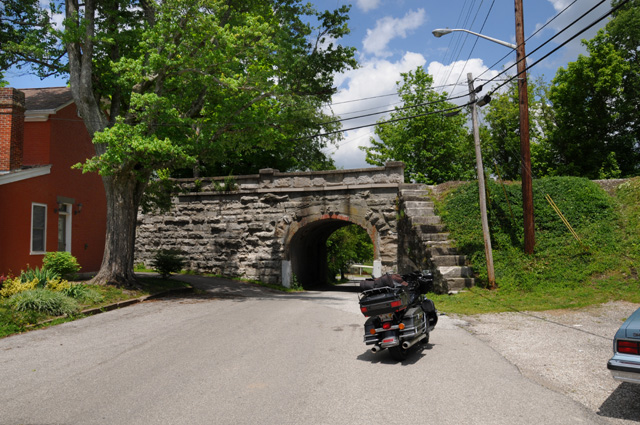 Met up with family for dinner. We went to the Pines Restaurant about a mile off US50 in Seymour, Indiana. A good close to a memory filled day.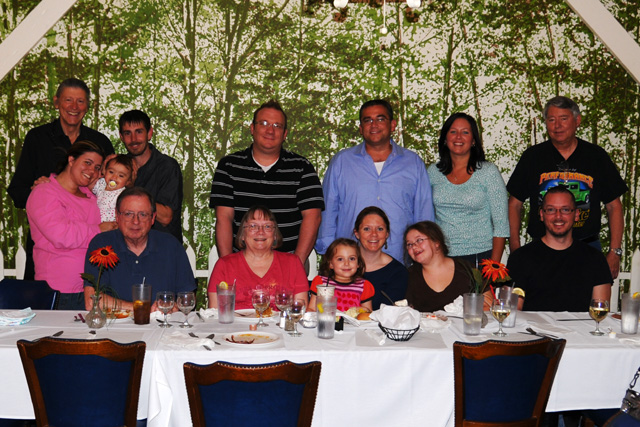 Sitting, left to right, brother Johnny, Bonita, Olivia, Jessica, Riley, and Ray. Standing, left to right, me behind Stephanie holding Lily with Rick, Gary, Kelly, Karen, and brother Larry.
---
10 May 2012, 10:00 PM CT, St. Louis, MO
I have made it to St. Louis. I did 295 miles today, 2,387 total so far. No chocolate shake today. I had a real lunch, with my sister Carolyn. I made the big sacrafice, we went to a real restaurant not a McDonalds for a chocolate shake. I thought I could make it up tonight, but all that was next door was a Cracker Barrel, and they don't have chocolate shakes. Guess I'll have to have two of them some other day.
Carolyn had planned to be at the dinner last night, but didn't make it. She had been in Denver with her daughter, and her car broke down about 10 miles from Denver, and it took two days to get it repaired, and thus she missed dinner. She spent last night in St. Louis, I was in Seymour, Indiana. So we met for lunch, with Carolyn heading east on US50 and me heading west on US50, and we met in Vincennes, Indiana. We could have passed right by each other in the blink of an eye, but with modern electronics and cell phones we were able to prevent that from happening. We had a very good long lunch.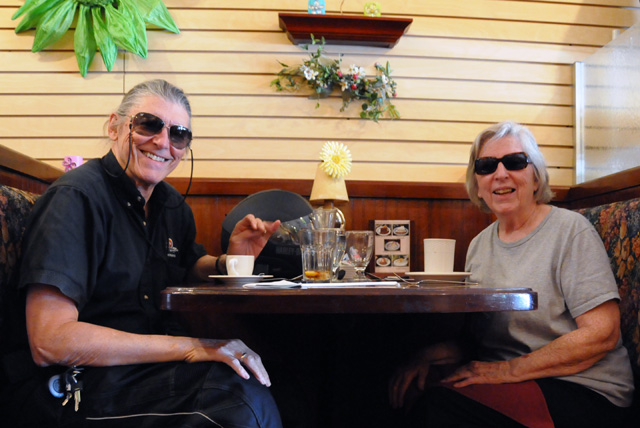 I got to Vincennes first, it was a much shorter distance for me, and I managed to get some pictures before Carolyn arrived. Here's the George Rogers Clark Memorial.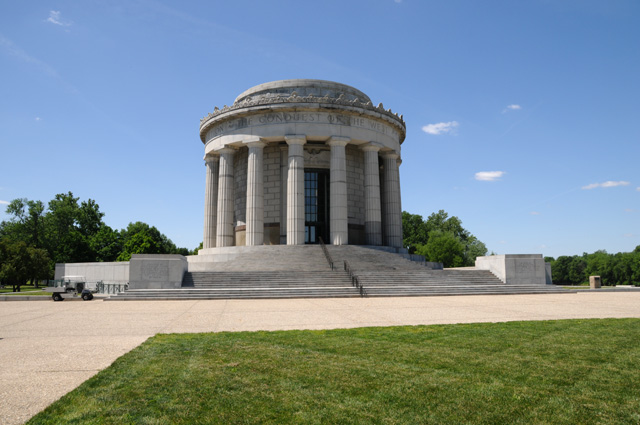 And, looking in the other direction, this is the Lincoln Memorial Bridge crossing the Wabash.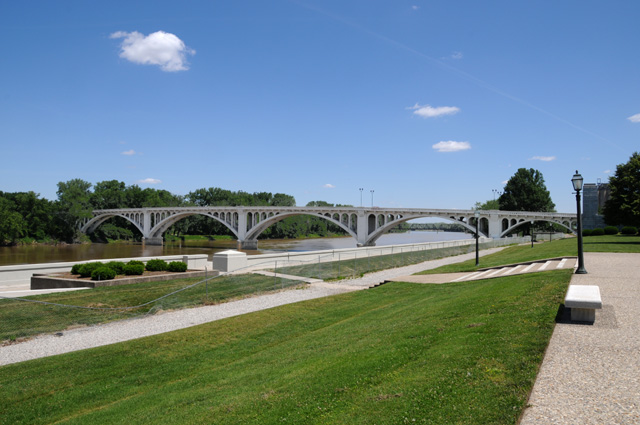 ---
11 May 2012, 9:30 PM CT, Kansas City, MO
Another 316 miles, 2,703 total. Another chocolate shake. Another chocolate shake. Made up for yesterday. I am all the way across Missouri now, about 1 mile from the Kansas border. I am almost half way across the country, should be by the end of the day tomorrow. Unless it rains, and it looks like that might happen. I might stay here. I will decide tomorrow morning.
I started the day by getting up earlier than I realized. I should have stayed in bed another hour. I went through a time change yesterday. I woke up and saw that it was 7:15 and decided I should get going. But it was 6:15. Had I known that at the time...
When I did get going, I backtracked in a sense. US50 goes around the south side of St. Louis. I wanted to get a picture of the skyline. Being morning, that means I wanted to be east of the city. So I went north into downtown, crossed back over the Mississippi, went to a waterfront area, and got the following picture.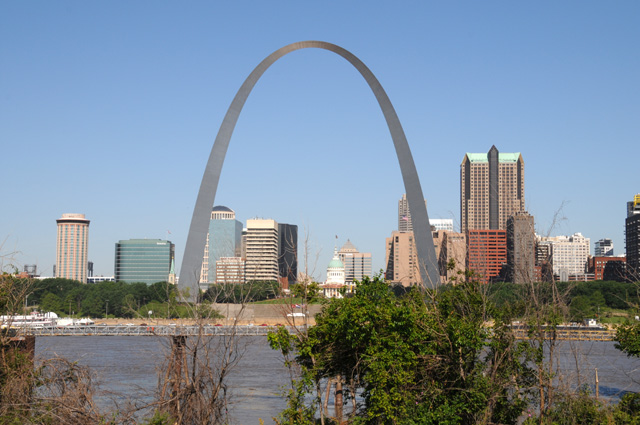 I crossed over old Route 66, and decided I wanted to mention that to you. Then I saw a sign about a Route 66 Museum. I passed by it, then decided to go back. At that point US50 is on an Interstate. So I got off at the next exit, and went back. There is an old bridge by the museum, it was a Route 66 bridge. So I had to get a picture of course, one on top.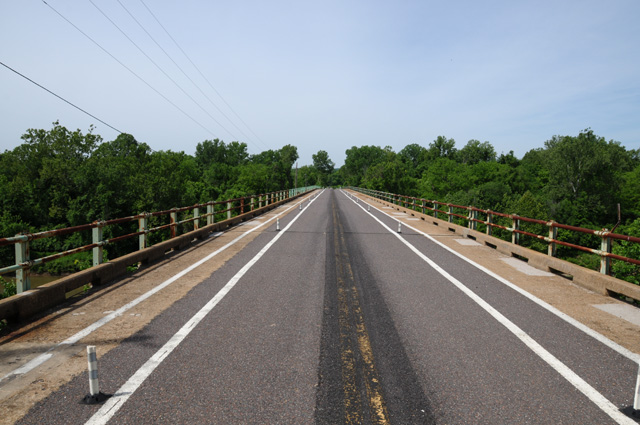 And one from the bottom.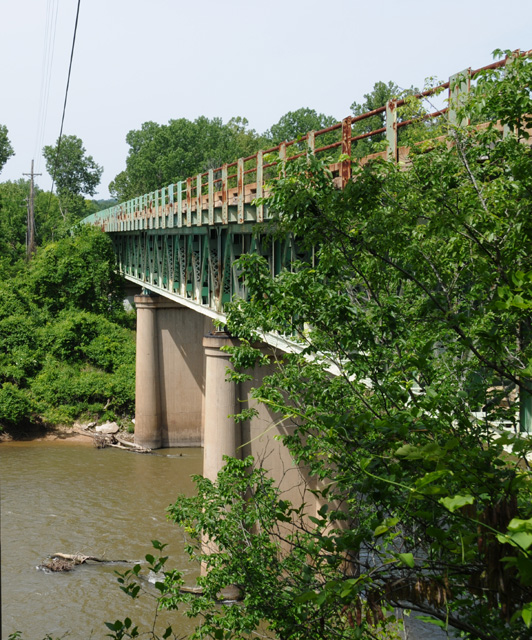 I also bought a red bandanna with lots of Route 66 logos on it, and another black cap with a Route 66 theme.
Next stop was Jefferson City, to see the capitol. Took two pictures, I will put them here so you can see them also. One is outside.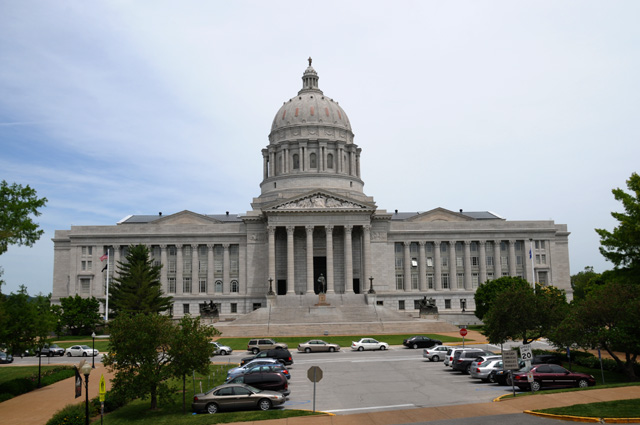 The other is looking up into the dome from inside.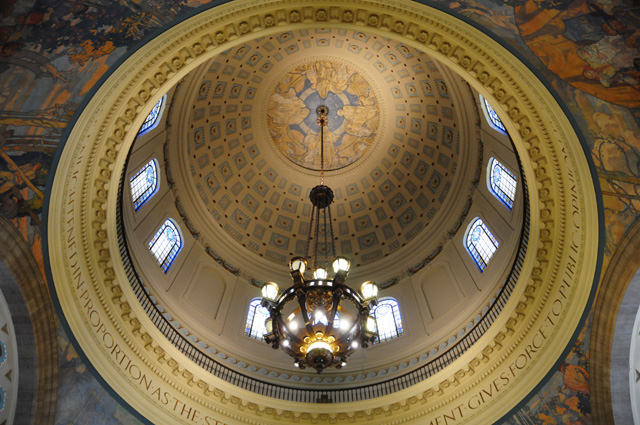 The last picture was also inside. A bust. Of a President. From Missouri.
---
12 May 2012, 11:30 PM CT, Dodge City, KS
Wow, was I surprised. Each night I record mileage from my odometer. I did 396 miles today. I had no idea I had gone that far. I had assumed about 300 for today because that's what I had noted a month or so ago when I made a table looking at possible night stops. But, I actually stopped last night a bit east of the point I had in the table. Then I went downtown in Kansas City this morning, then back to where I started so I would resume US50 from where I left it last night. Plus I did some riding around this evening in Dodge City. But for it to be 100 more miles than I was expecting? Wow!
I had my daily vitamins and minerals that you get from a chocolate shake. I have to watch that carefully to make sure I keep my body in proper shape.
I have more pictures today than I expected. So, let's get to them. First is the Kansas City skyline.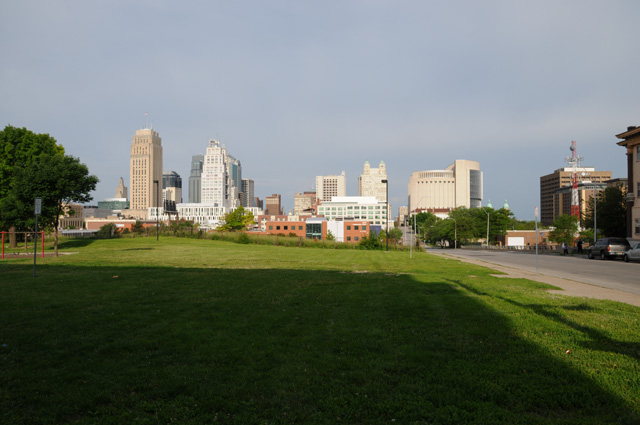 I stopped in Hutchinson, Kansas to retrieve some memories from ten years ago. Funny how memory can fade after such a short time. Ten years ago when I worked for Sony Pictures, I went to Hutchinson on a business trip with some other Sony Pictures people. We were looking at sites where Sony Pictures stores film assets. Believe it or not, one of the places is Hutchinson. Why would they store film there? There is a salt mine 650 feet deep, and the climate in the mine is extremely consistent and favorable for film storage. I remembered from ten years ago that the salt mine was under US50. That was noted by me at the time because of my early life history with US50. Anyway, I wanted to stop at the salt mine and figure out where I had been. I had some trouble figuring out just where the elevator was that took us down to the mine. It had to be pointed out to me. I stopped first at a salt mine museum, thinking it was there ten years ago, but it wasn't. It is only five years old. That's why I couldn't find the elevator, it was about a quarter mile away on the other side of a railroad track, but I rode a mile or two to get there. I could have walked more quickly. Here's a picture of the museum.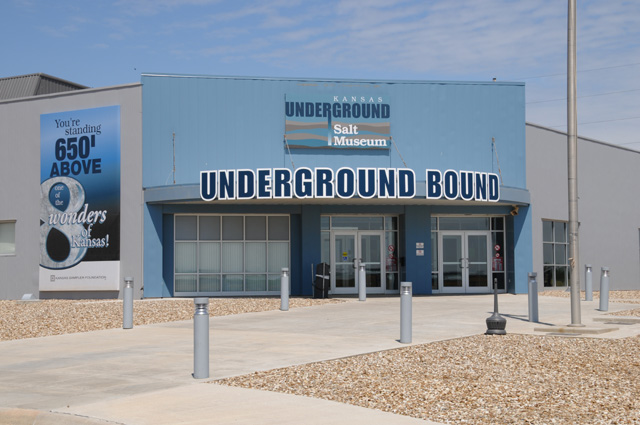 This old engine is at the museum, it was used in the mine from 1928 to 1963.
I had to wait for a train before I could cross the track. I quickly got my camera to take a picture of the train because I really like the way it was painted.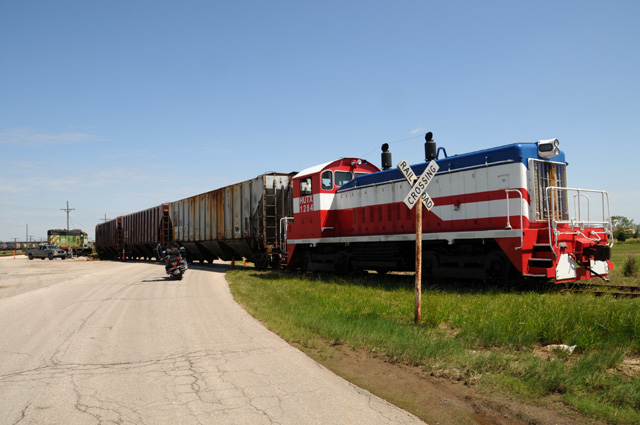 This is the complex where the elevator is located. The elevator is on the left. The big wheels at the top of the building on the left are immediately above the elevator. They are pulleys for the cables that hold the elevator. The cables come up over the pulleys, and down to the right. The motor is in the building on the right.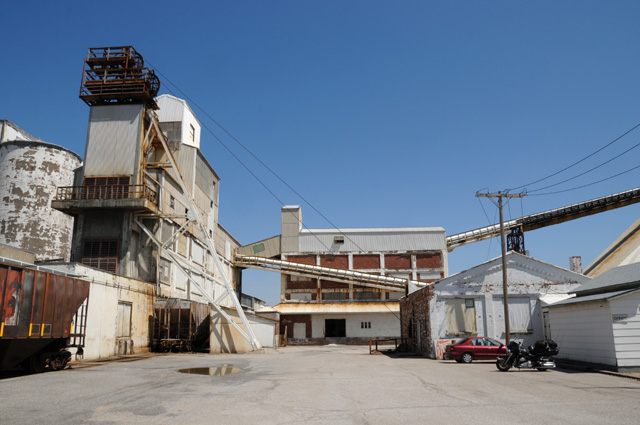 Here's the cable wound up on the motor end.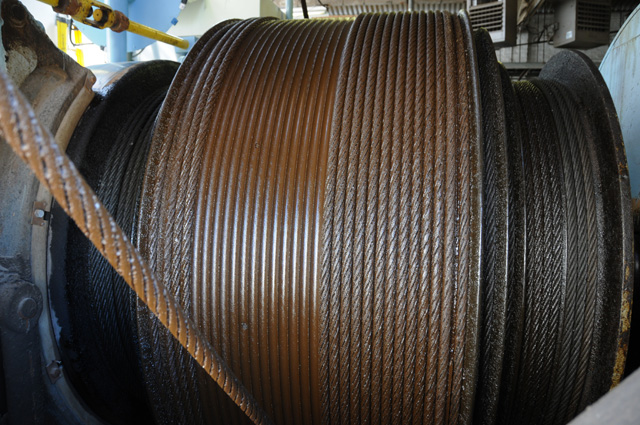 Here's a better look at the elevator shaft. The elevator is not large. I can remember that it was full with half a dozen people. There is no light in the elevator. It is dark, and I do mean dark, when you go down or up. I can remember going up those steps into that room, and then into the elevator.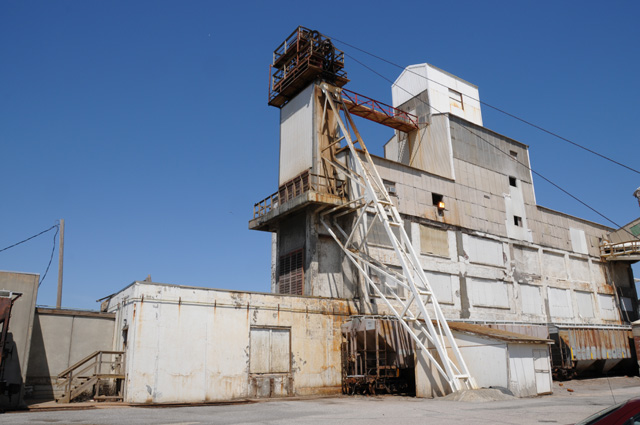 Here are the pulleys and cables at the top of the elevator.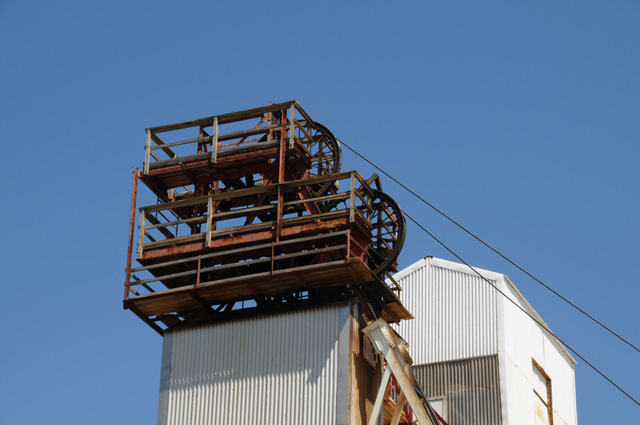 As I was leaving, crossing the railroad track, I noticed that the engineer was out of the engine and walking to his pickup truck. I stopped and walked back to talk to him. Turns out he and some co-workers painted the engine. Here's Douglas on his engine. [Douglas, if you would like to have a full resolution copy of this picture, you can click on it to get the high rez picture in your browser, then download the high rez picture by right clicking on the picture and selecting "Save picture as..."]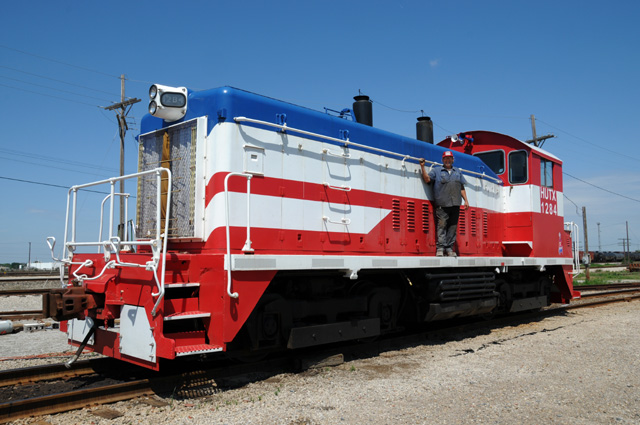 Somewhere further along on my ride, I crossed the Arkansas River. Bells went off inside my head. You will see this river again, the bells tolled. So I turned around, went back to the river, and got this picture. You will see it again, also. Or at least that is my plan. Anybody know where I will see it again?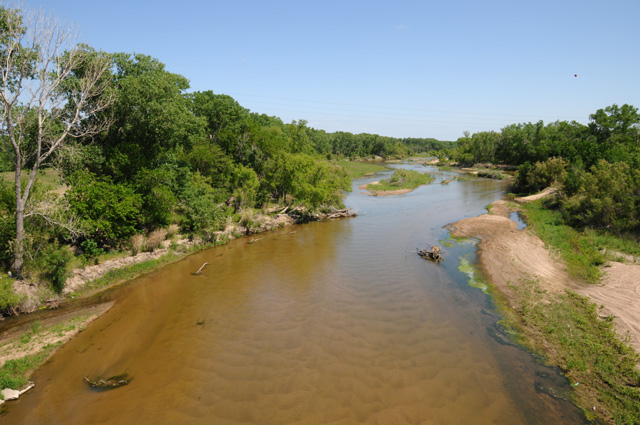 Then further down US50 I passed a wind farm. Had to stop, of course.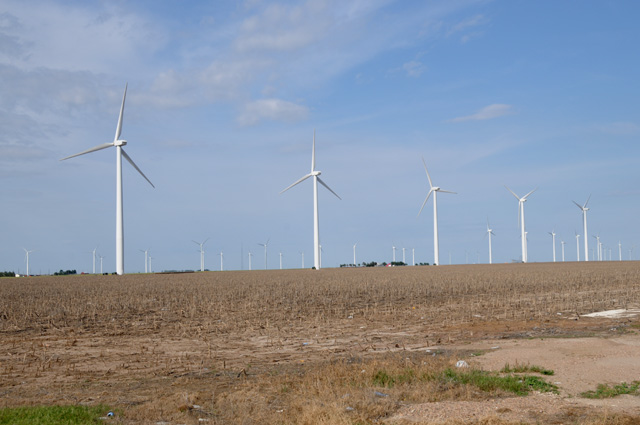 When I reached Dodge City I tried to find the Long Branch Saloon. I had my eye out for Marshall Dillon, Miss Kitty, Chester, or Doc. Nothing. But I did spot Wyatt. That's Wyatt Berry Stapp Earp. He was a Dodge City lawman from 1876 to 1979.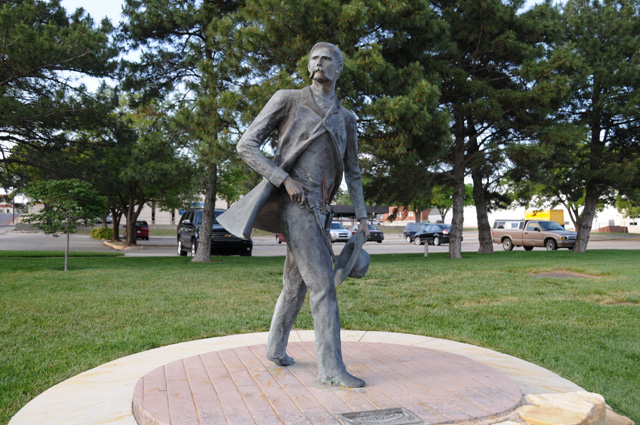 A block or two away was this Texas Longhorn.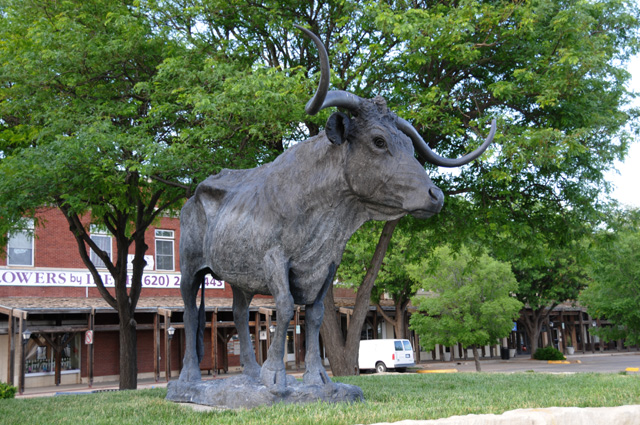 Here are some posters along the street. I stripped the text at the bottom of each and made them into a single picture.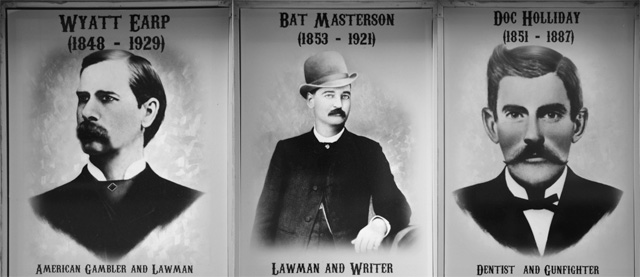 ---
13 May 2012, 9:15 PM MT, Pueblo, CO
I left Dodge City as soon as I could get going, I wanted to arrive at my next destination in the late afternoon because I was expecting a visitor. Normally I roll in just about sunset. I wore my rain jacket all day, not because of rain but to keep warm. Today is the first day I have had it on all day long. By the way, I had no rain yesterday, forgot to tell you that. I was expecting it, but it never happened. I picked up another 302 miles today, I have 3400 even since leaving North Palm Beach. My route all day long today was along the Santa Fe Trail. Back in the days of the wagon train, they could cover 18 miles a day. My first picture shows some of the western Kansas countryside, rather flat, but it also is right on the Santa Fe Trail. You can still see traces of the Trail.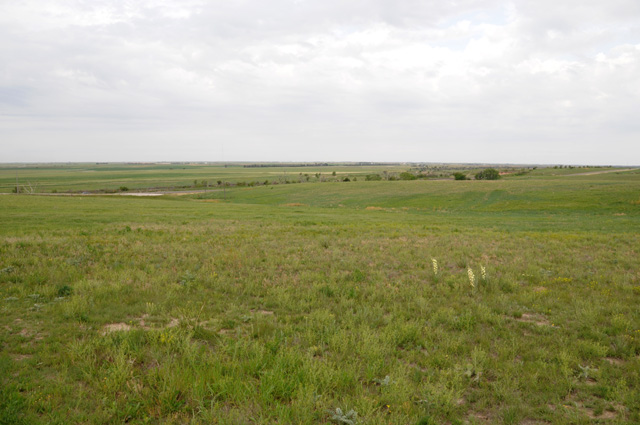 As I was going through Bent County, I spotted the courthouse. I liked its looks, so I took a picture.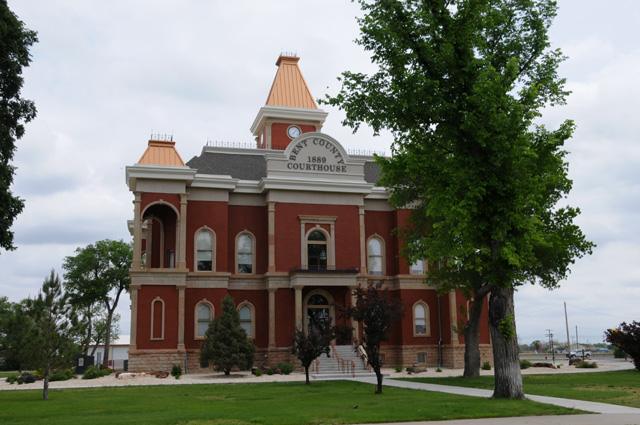 I visited Bent's Old Fort. When I entered Colorado, I stopped at the Welcome Center to look for things along US50 that might interest me. One possibility was Bent's Fort. This was not a military fort, but a trading post. It is not on US50. The lady who was describing it to me told me to get off US50 and take this state road to get to the Fort, and I could get back on US50 about 25 miles down the road. Well, I am sure you know that would not work for me. I am riding all of US50, not all but 25 miles of US50. There are no connecting roads between the two during that 25 mile stretch. I decided I could spare an hour, so I got off US50 to get to the fort, then went back to the same spot on US50. The Arkansas River separates the two roads. I have crossed that river at least half a dozen times now. Speaking of the Arkansas River, has anybody figured out why I have mentioned it? Tomorrow's the day if all goes according to plan.
This is not the original fort, it is a reconstruction to the same dimensions as the original. It is a national historic site, so it is run by the National Park Service. Here's a view of the fort as you approach on foot.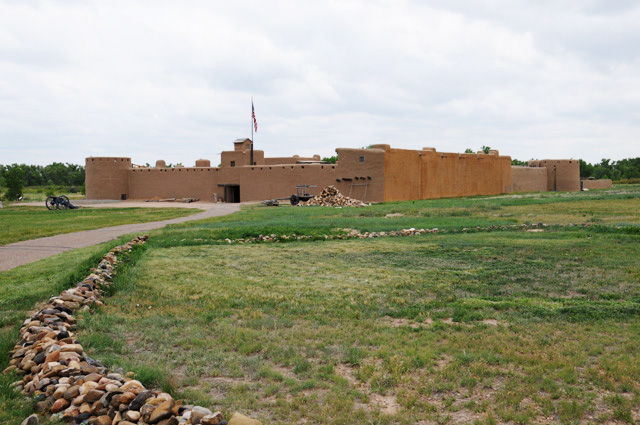 This is the "Trade Room".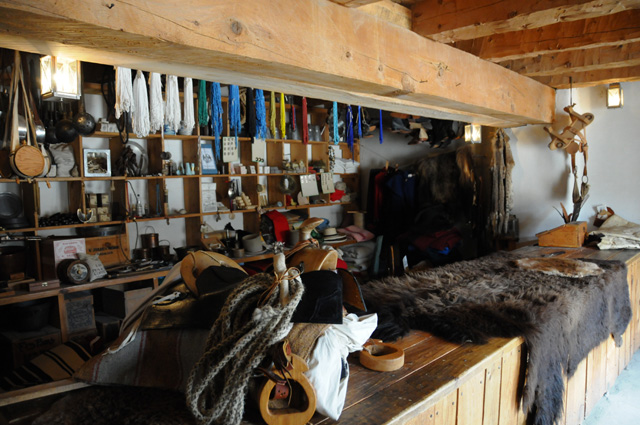 One of the living quarters.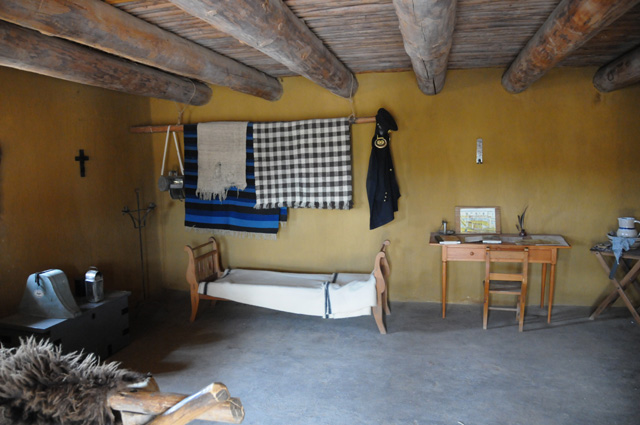 In this picture I am on the upper level of the fort looking into the fort.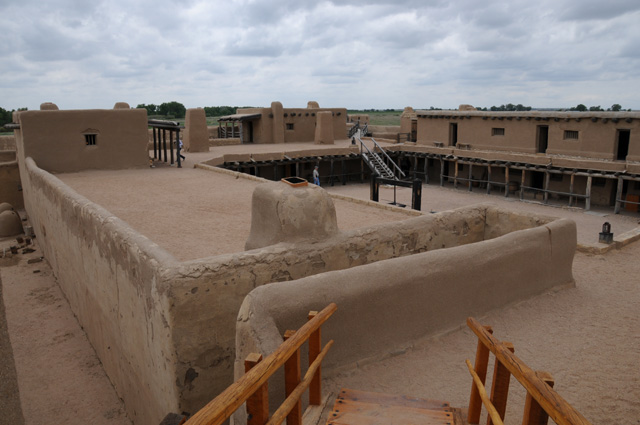 This is a view inside the fort looking back to the entrance.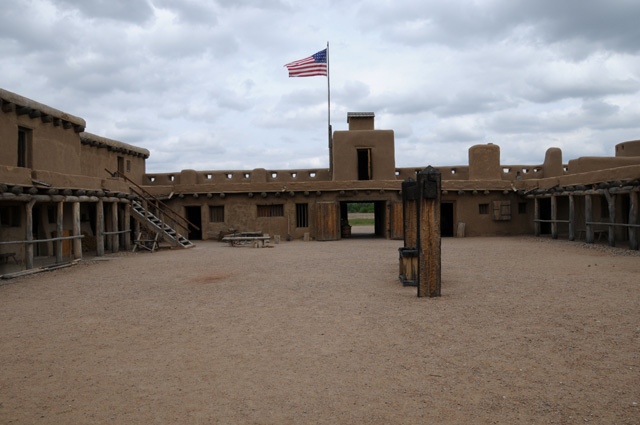 So, who was the visitor I was expecting? My niece Elizabeth came to Pueblo from Denver so we could have dinner together, and she brought her two lovely children with her. This is the first time the girls and I have met. In the picture from the left are Louisa, Elizabeth, yours truly, and Delia.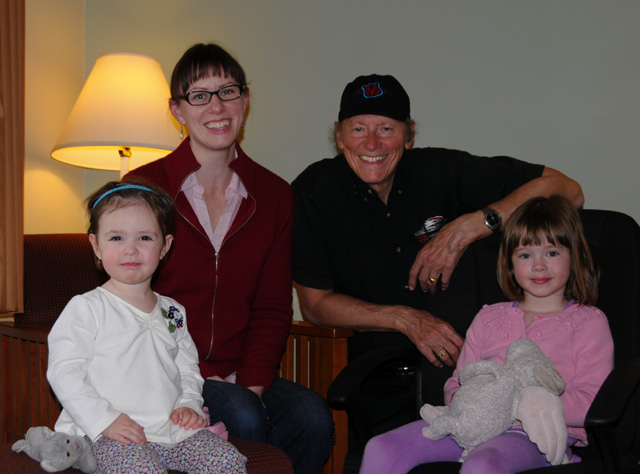 I realized when I prepared this picture for my travelogue that Louisa appears to be as large or larger than Delia, but that is not the case. Delia is older and taller. My lens was set for wide angle and Louisa was closer to the camera, thus she looks larger.
Remember John Mosby? For Johnny from 5/7?. I guessed right, Bentley did know. Bentley knows everything important about the Civil War, and a lot more. Here's the short story on John Mosby. He was a Confederate Raider. He was called the "Gray Ghost". He was never caught.
---
14 May 2012, 10:45 PM MT, Gunnison, CO
Hello again from Colorado. I didn't travel as far today as I had anticipated. I only advanced 160 miles on US50, but I rode 251 miles to do it. I did some stuff off US50 today. But not the chocolate shake, that was on US50. So far I have put 3,651 miles on the bike since leaving home. The day was beautiful, pilots call it severe clear. A front had moved through yesterday leaving beautiful weather behind.
I could see the Rockies from Pueblo. I could not see them yesterday when I arrived. The sky was dark in that direction. I got in before the rain by only a few minutes. I had wanted to arrive before Elizabeth, and I did, by about two seconds. I got off I-25 going north, she got off I-25 going south, and she followed me into the motel. That's how close it was.
Back to this morning. I didn't notice the white peaks immediately, but soon I did. I stopped to get this picture.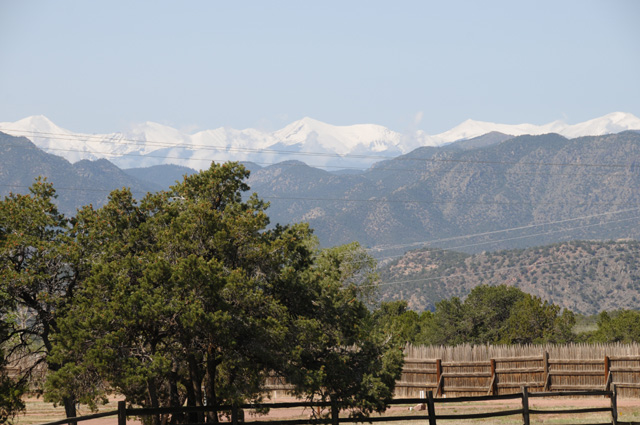 Only about half an hour up US50 I got to my first stop. It is something I have hinted at for a few days. Nobody got in touch with me about the Arkansas River. I guess nobody figured it out, or maybe nobody cared knowing I would take the picture anyway. So, what did I have in mind? The Royal Gorge. There is a suspension bridge over the Arkansas River, more than 1,000 feet above the river. Here's a picture of the bridge from the side.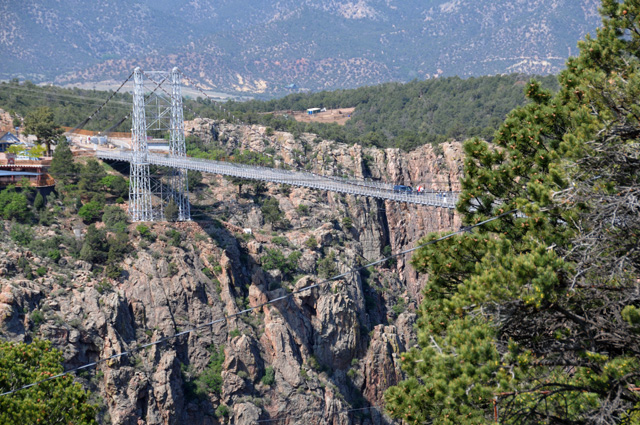 And here's me on my bike on the bridge high above the water.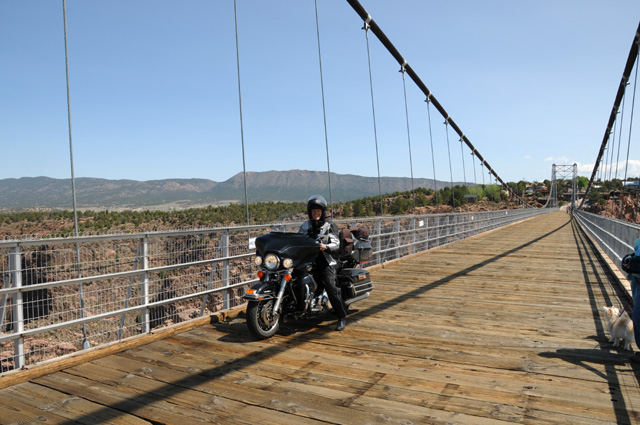 Here's a close up look at the cable that holds the bridge in the air.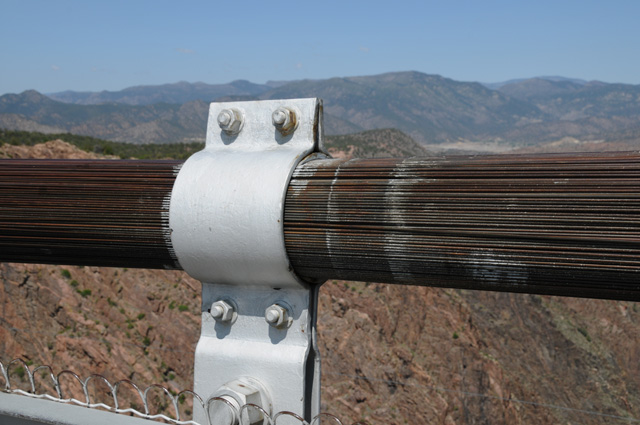 Looking down one side.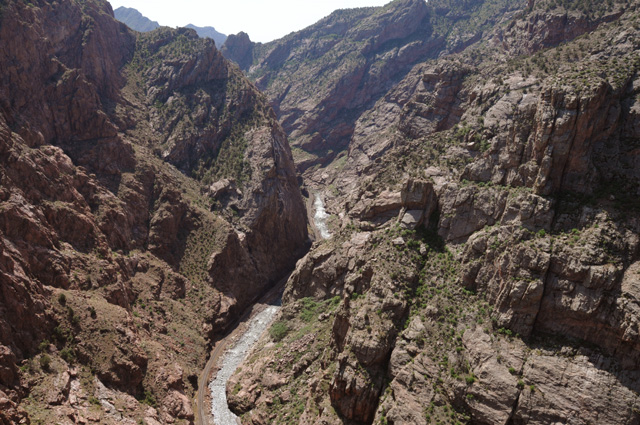 And looking down the other side. Note the railroad track beside the river.
This view is looking off into the distance from the bridge. You can see a part of the river down there.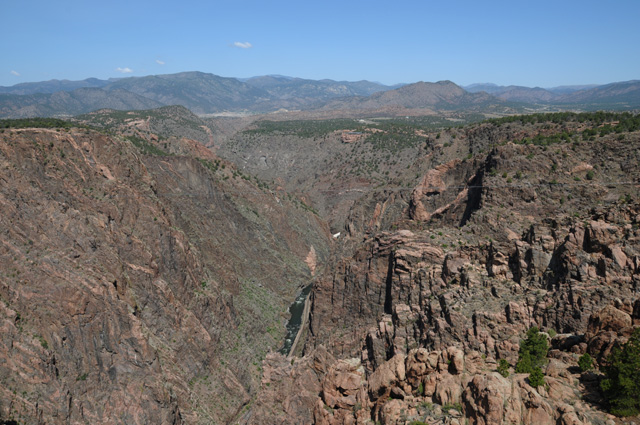 My second stop was at Monarch Pass, the highest I will be on this ride. The Continental Divide is at Monarch Pass. I was 11,312 feet above sea level. This picture is looking northeast, sort of the direction of Denver.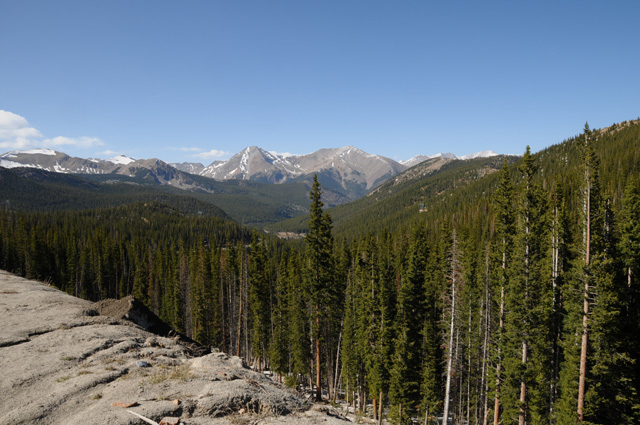 And this one is looking east, back in the direction of Pueblo.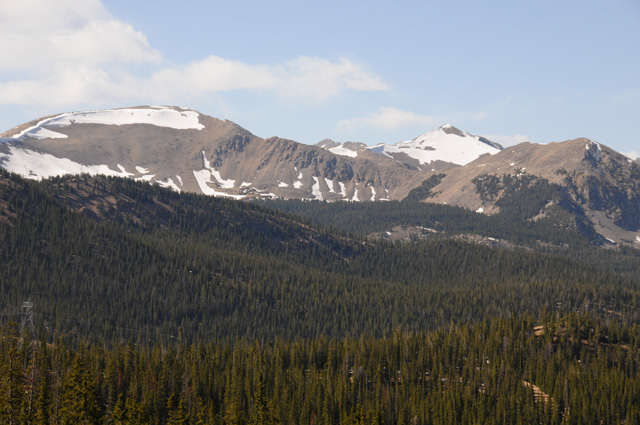 Here's a picture taken in the pass.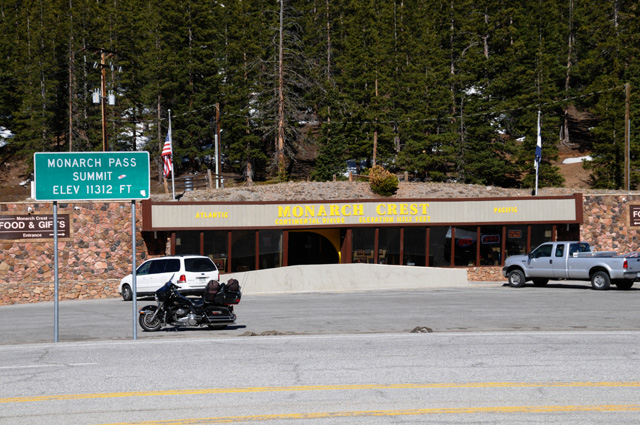 My next stop was in the Alpine village of Crested Butte. This village is almost 9,000 feet above sea level. Elizabeth told me about this town. She was married here. I was looking for wildflowers, which this town is known for, but I was too early in the season. That didn't stop me from taking pictures, though.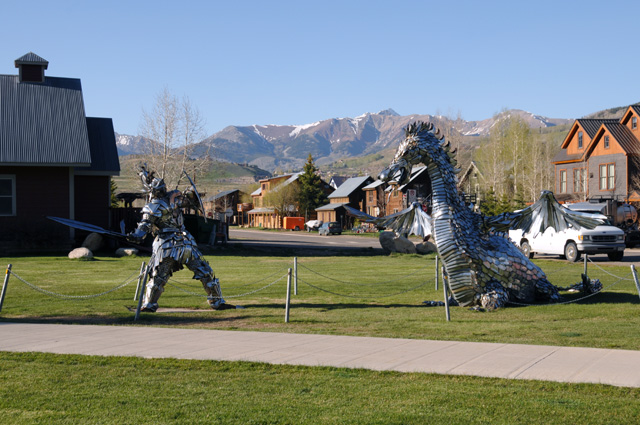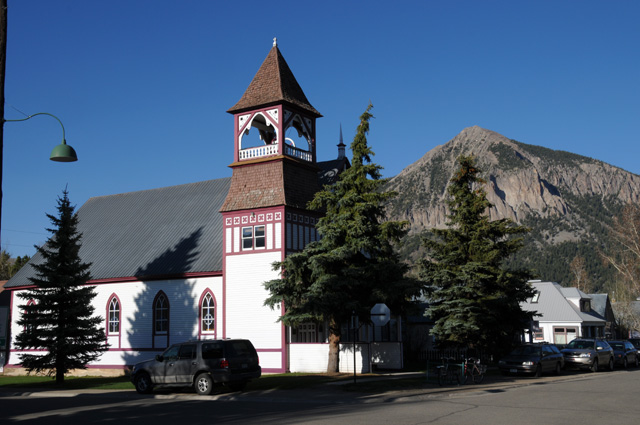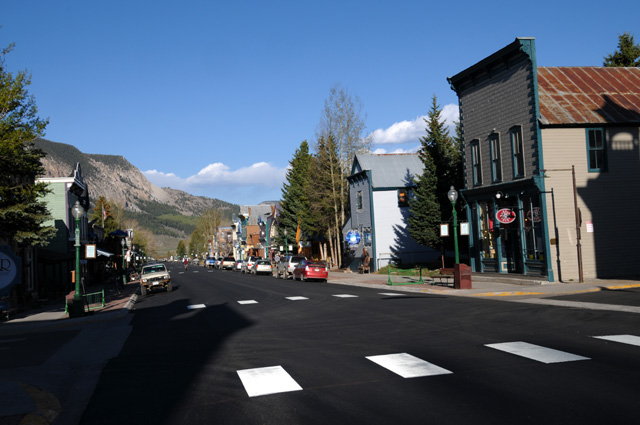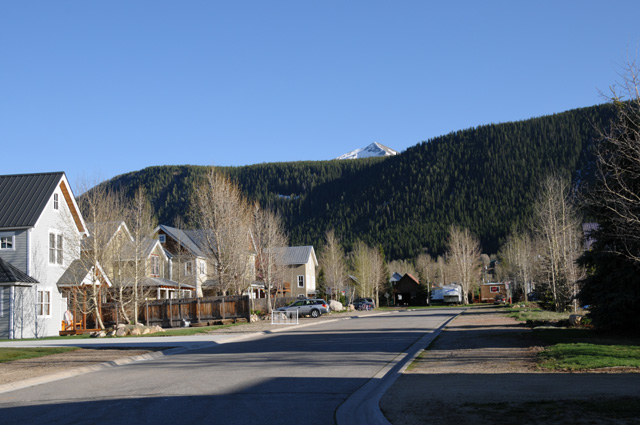 This picture was taken at the edge of the town looking at the mountains through a pasture.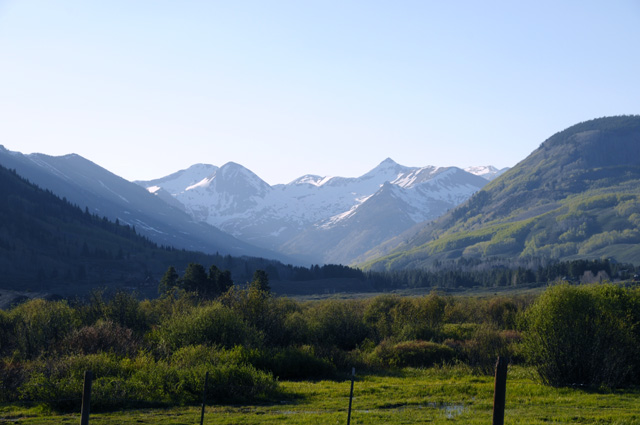 I took this picture on my way back to US50. I noticed it on the way to Crested Butte, but did not stop. Going back I did stop. I was taken by the contrast between the smooth face of the mountain and the very rocky face of the mountain immediately beside it.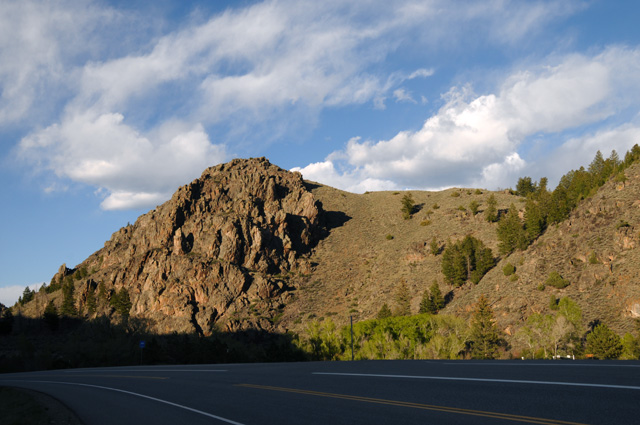 ---
15 May 2012, 11:59 PM MT, Salina, UT
Busy day today. Rode 389 miles. Got up before 7:00, had breakfast and was off. I wanted to see the Black Canyon, Colorado's own Grand Canyon. The canyon was formed by the Gunnison River. You can do the south rim or the north rim. The north rim takes longer, but I am told it is more impressive. I did the south rim. This is one of the first views I had after entering the National Park.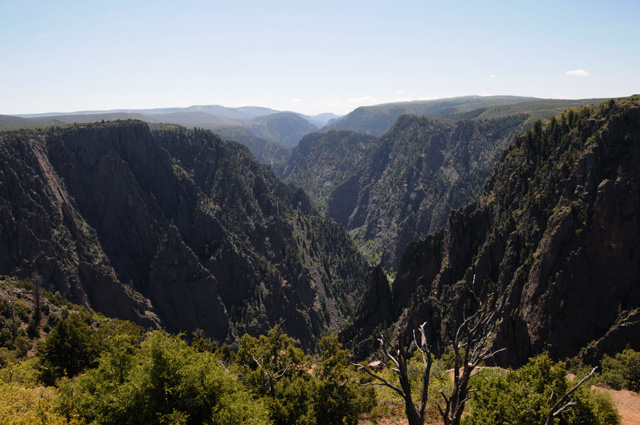 This is looking straight across the canyon. It is narrow, not like the Grand Canyon. It does not have mesas inside the canyon as does the Grand Canyon. Its depth runs from 1,750 feet to 2,700 feet.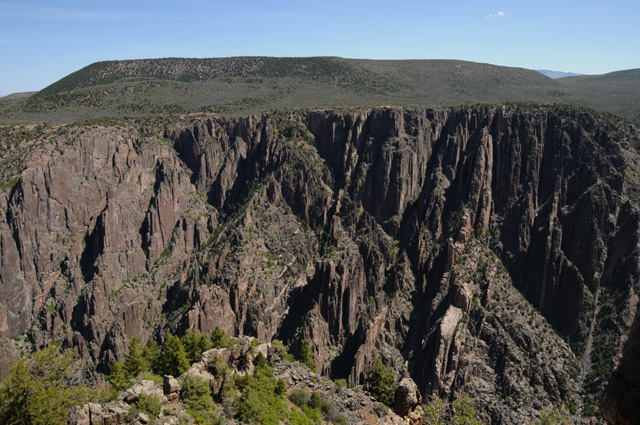 The north wall is on the left, the south wall on the right. The south wall has eroded more. This is because the sun does not hit the south wall as much as it hits the north wall, and as a result the south wall stays wetter, and as a result it erodes more.
Looking down into the canyon at the Gunnison River with a telephoto lens.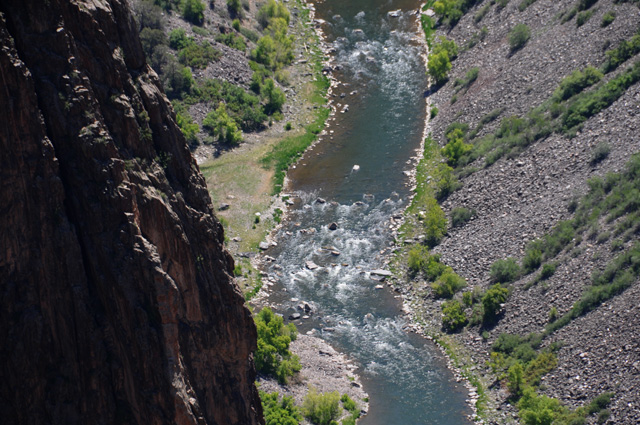 This is called the Painted Wall. It is 2,300 feet high.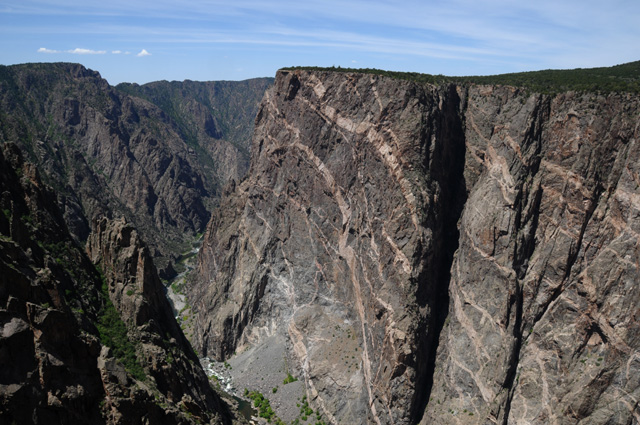 This is looking at the canyon as it is ending. You can see the river in the middle and the flatter land out the end of the canyon.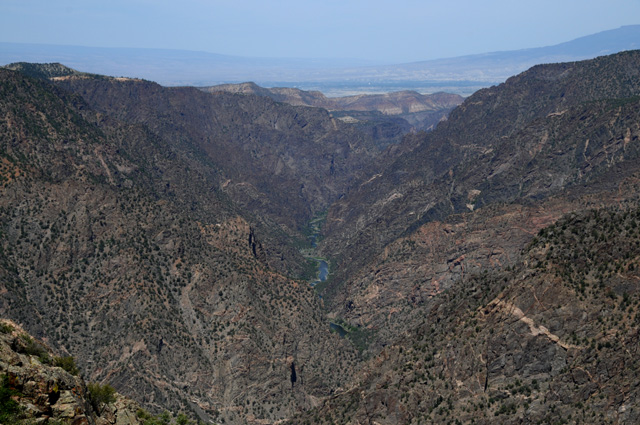 There were wildflowers on the south rim, several follow.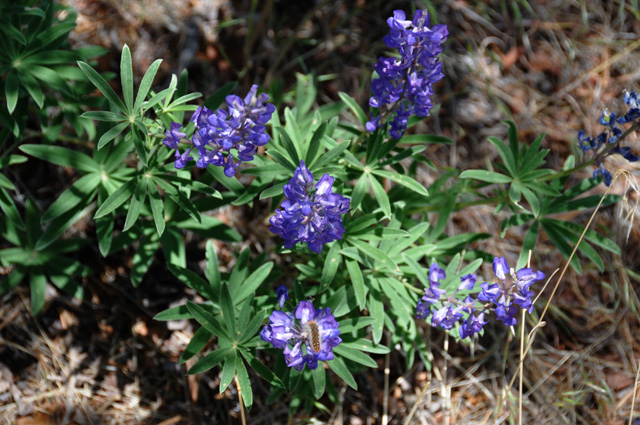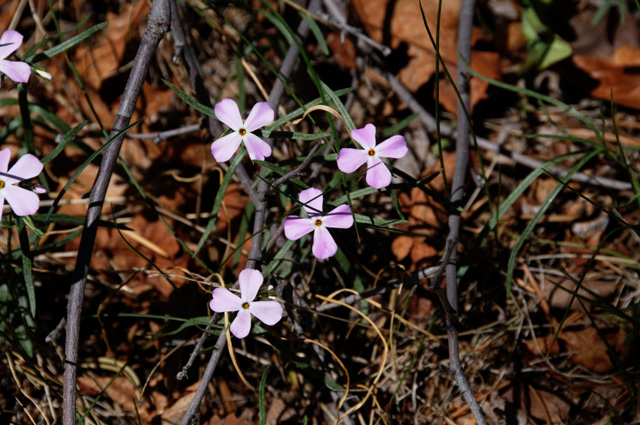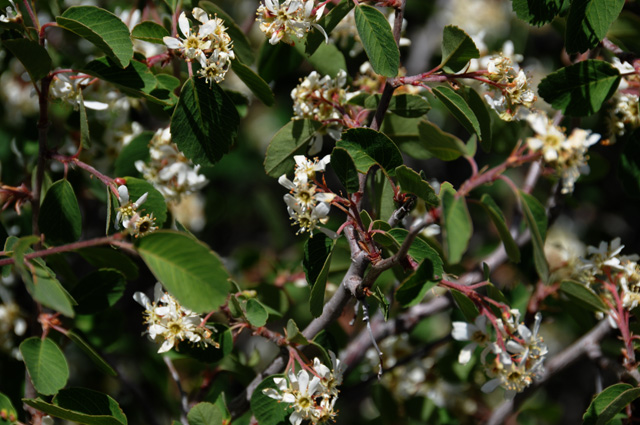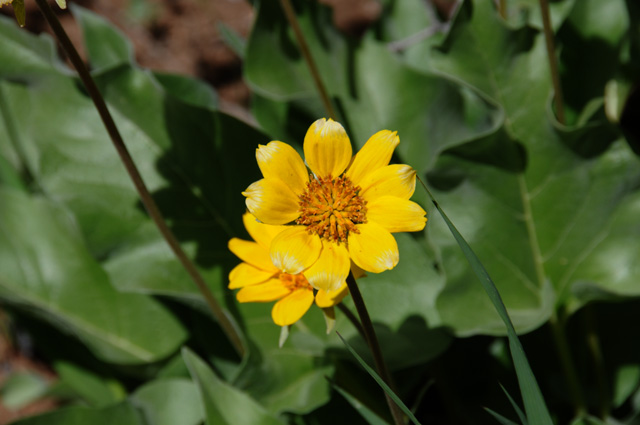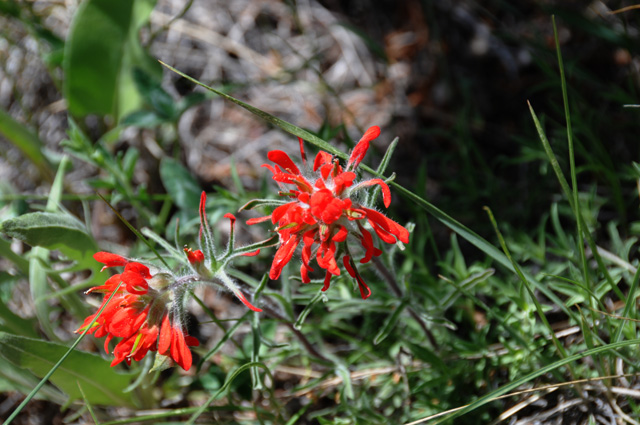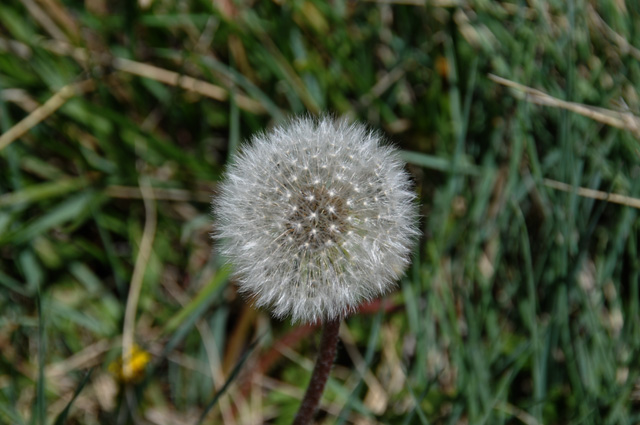 Plus some tree pictures.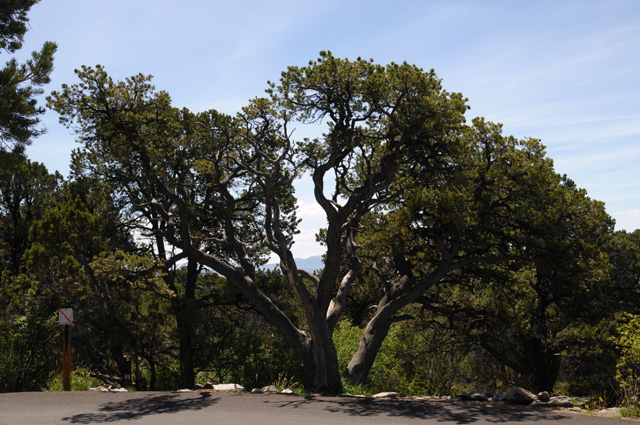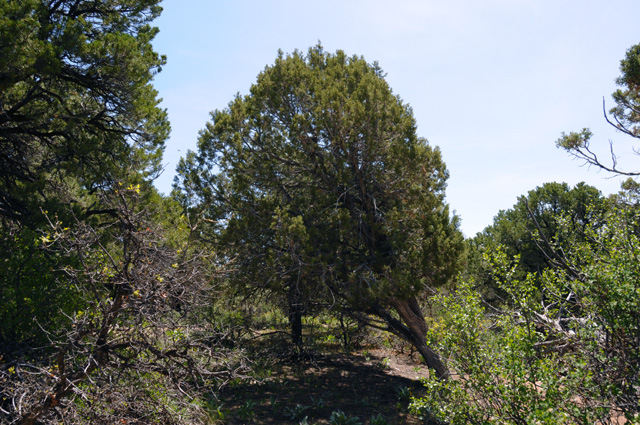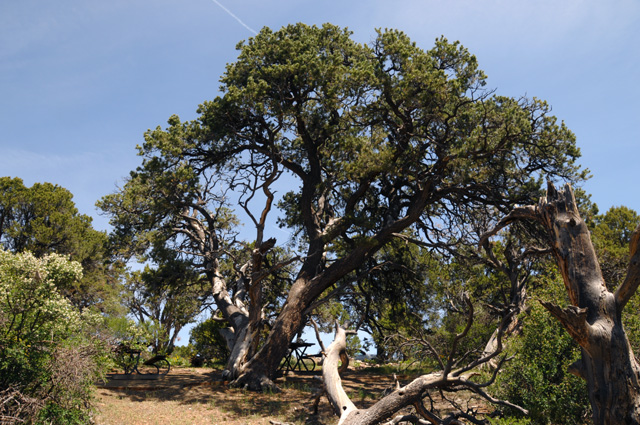 After that I had my normal lunch, in Montrose. Then off again through Grand Junction and on into Utah. I tried to stay on old US50 as long as I could, but was eventually forced off because the road is no longer maintained. The road had been OK, but suddenly got bad. I flagged down a truck that was coming from the bad part and asked the driver if the road continued to be paved or if it got worse, he said it was paved and was not much worse, and I asked how far to the next town, and he said five miles to the Interstate. I did not turn back, and continued the five miles. This photo shows the state of the road when I stopped the truck driver. It got worse. Pot holes, washboard, I was going about 15-20 miles an hour. Fortunately it was only five miles, then I got on I-70, the modern US50.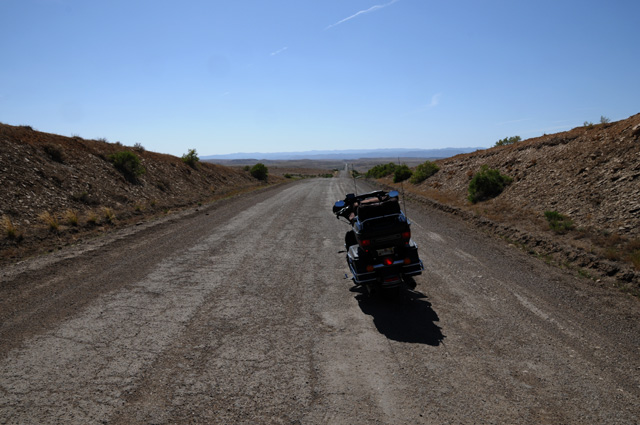 The terrain really changed about Grand Junction. It went from being high altitude with trees to a desert look. I saw this mesa fairly soon and had to stop on the Interstate (on the shoulder, of course) to get the picture.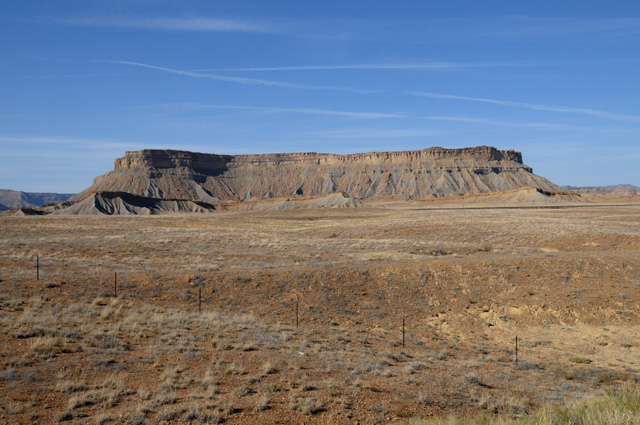 I stopped at a Utah Welcome Station and asked about places to spend the night. One was about 25 miles ahead, I would be there by 5:30, the other was another 110 miles with no services until that point. That's what I did. So, I am in Salida.
Utah has beautiful scenery. Lots of red rocks which I love. I went through an area called the San Rafael Reef where the earth's crust was pushed up exposing a different type of rock. This picture shows the color, but doesn't fully show the roughness.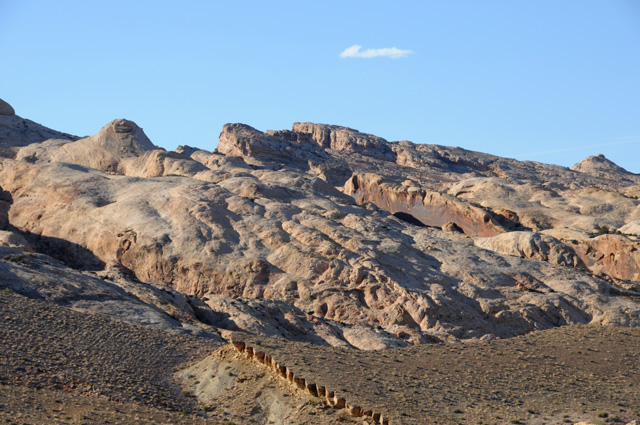 This picture shows the roughness, but doesn't show the color because the sun was on the wrong side. I saw this outline from a long distance. It looked like a city skyline, except it was at odd angles.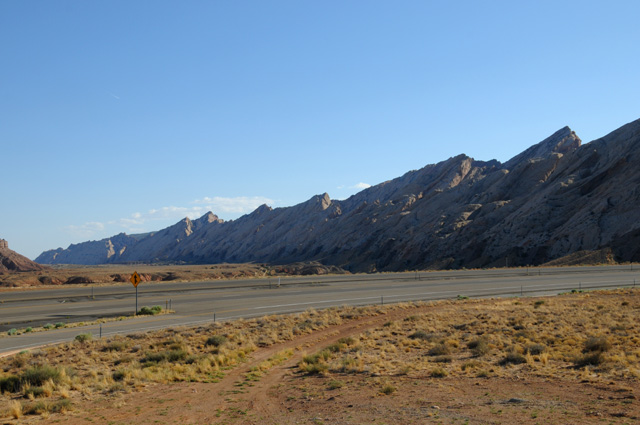 More red rocks.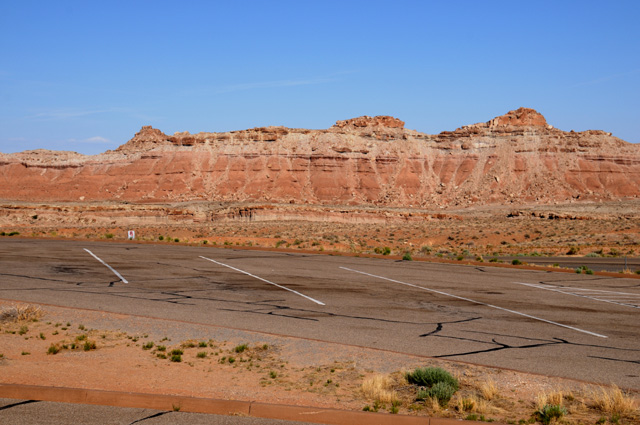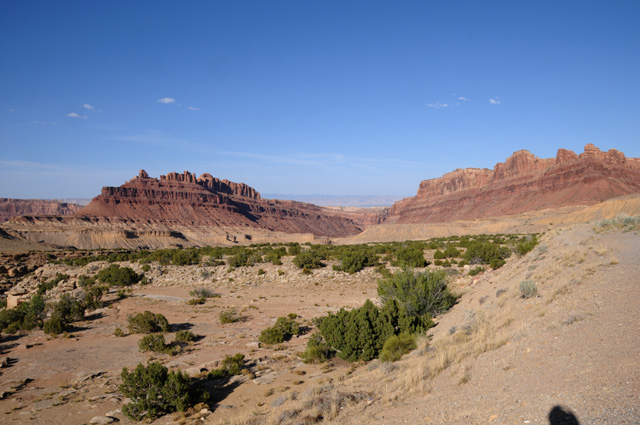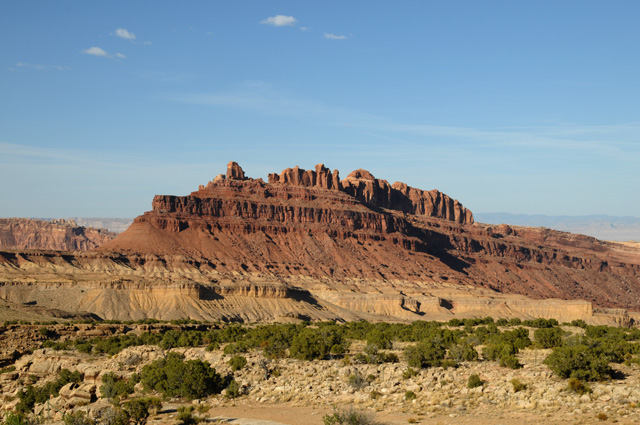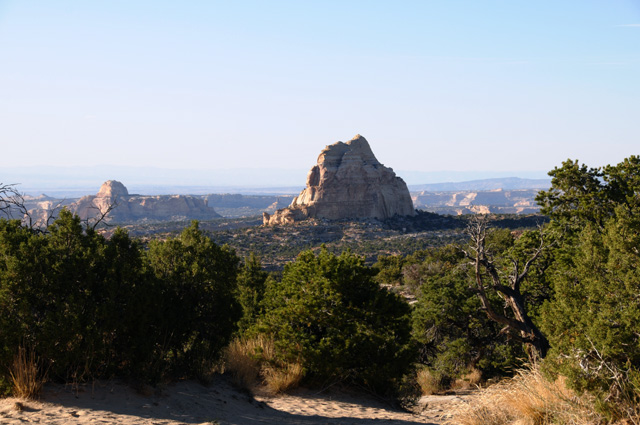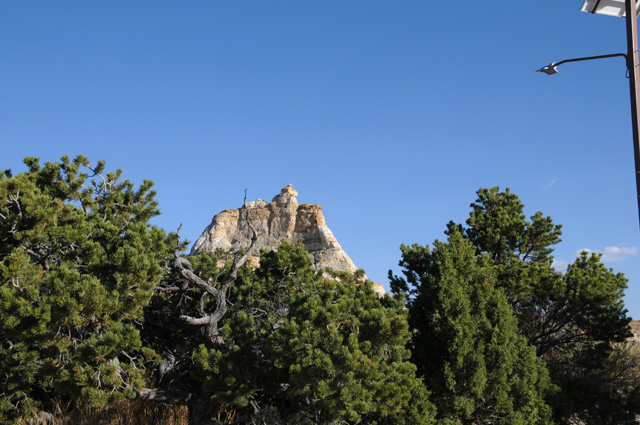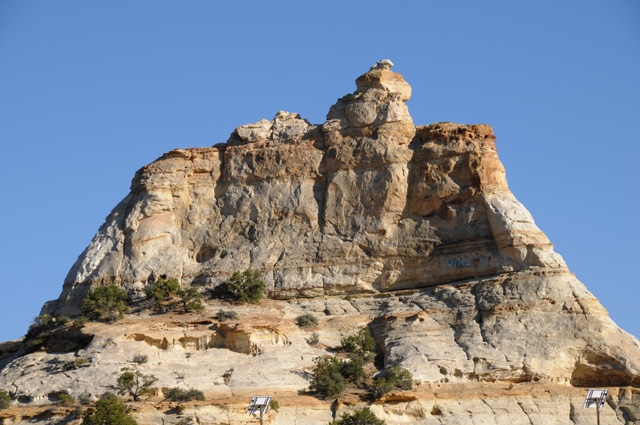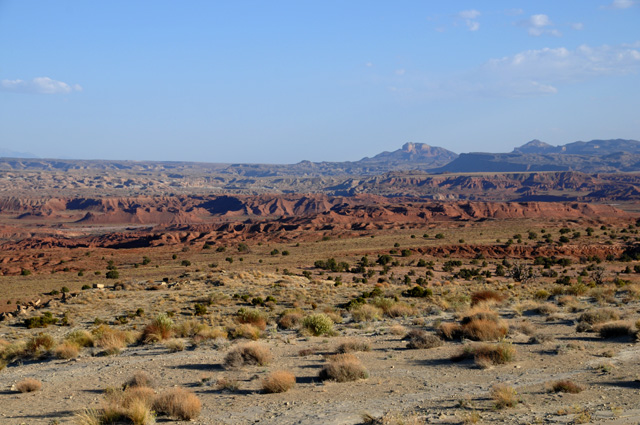 When I finally got to Salina, I had to do some laundry, then get dinner. As a result, it is late now, and will probably be after midnight before I get my web site updated. While my laundry was running, I was able to get a start on the daily web site update, though.
---
16 May 2012, 10:30 PM PT, Eureka, NV
I entered Nevada today.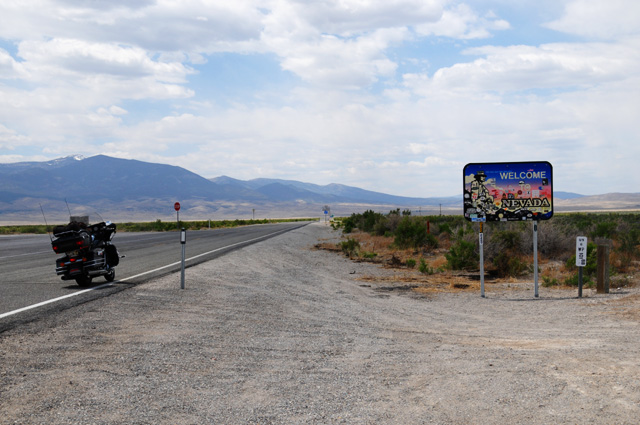 US50 in Nevada is why I am doing this ride. More than 10 years ago I had in mind riding US50 through Nevada. It was/is called "The Loneliest Road in America." Quoting Nevada's Commission on Tourism:
In July 1986 Life magazine described Nevada's Highway 50 from Ely to Fernley as the "Loneliest Road in America." Life said there were no attractions or points of interest along the 287-mile stretch of road and recommended that drivers have "survival skills" to travel the route.
Needless to say, Nevada has used that phrase to gain tourists. When I lived in California, I tried to find a time my riding buddies and I could do US50 in Nevada. It never worked out. Then I moved to Florida. Almost a year ago I decided I wanted to do US50 as a ride this year. I decided that it made sense for me to do all of US50, not just Nevada, since I was coming from Florida. So, here I am.
I had in mind a picture I wanted to get this morning. It took several attempts to get just what I wanted. I wanted to show the long road ahead, a view I have only found in the west.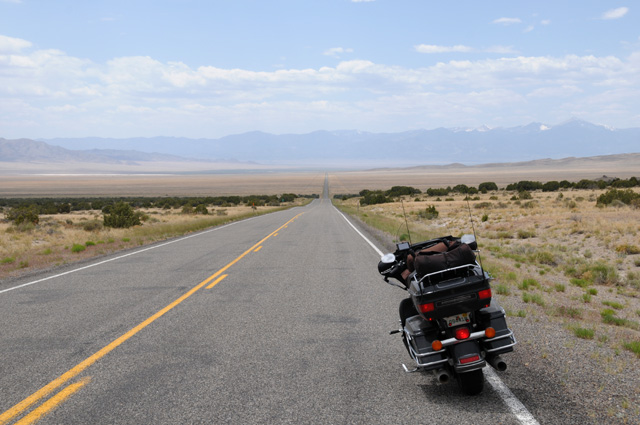 I really like that picture. It is worth a thousand words.
That is snow on the mountain tops.
Have you noticed how I park the bike on the road? There is no shoulder. The traffic is so light that it doesn't seem to be a problem. I must have done that a dozen times today, and only once did a car pass me going in my direction. There were a couple of cars that came past me from the opposite direction.
Speaking of being passed, a Mustang passed me in one of those long stretches, and I am confident he was going well over 100 miles an hour. I could tell from the sound that he had the pedal to the metal. His noise was far greater than my Harley. I could hear him as much as a quarter mile up the road.
I spotted this dry lake. I saw a sign saying "Silver Lake Bed". It was about 50 miles inside Utah before Nevada on US50. I just looked at it on Maps.Google in satellite view. It is huge. Looks like it is about 10 miles wide and 15-20 miles long.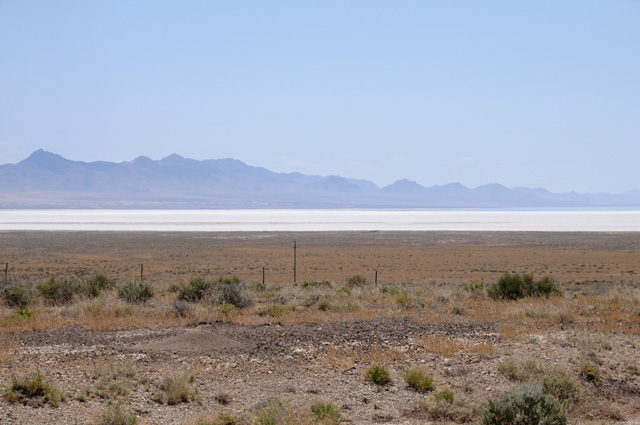 Shortly after entering Nevada, I did a small ride off US50 to the town of Baker. Here's a view of Baker from a few miles away.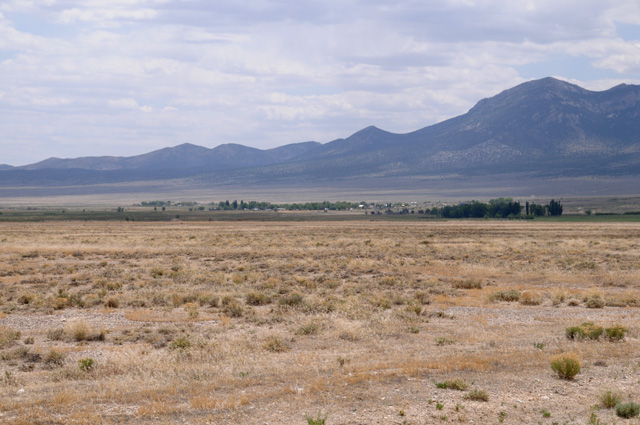 I had my lunch in Baker, at the Silver Jack Motel Restaurant. Yes, I had my normal lunch accompanied by half a ham and Swiss sandwich.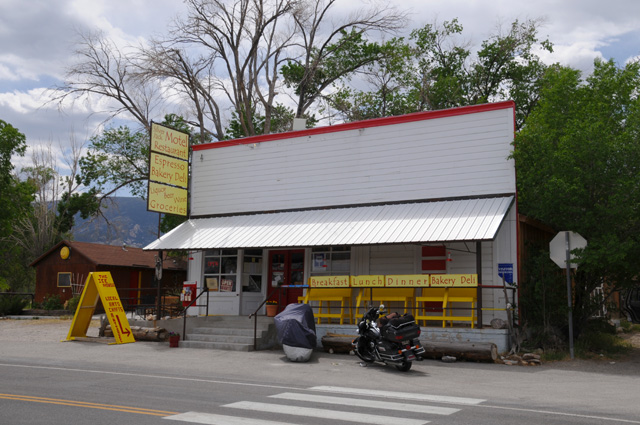 I have crossed quite a few cattle guards. In Utah and Nevada there are numerous areas where the road runs through open range. Cattle can be on the road. There are fences, fences between different ranches. The cattle guard keeps the cattle from going beyond their own borders. They will not cross this thing.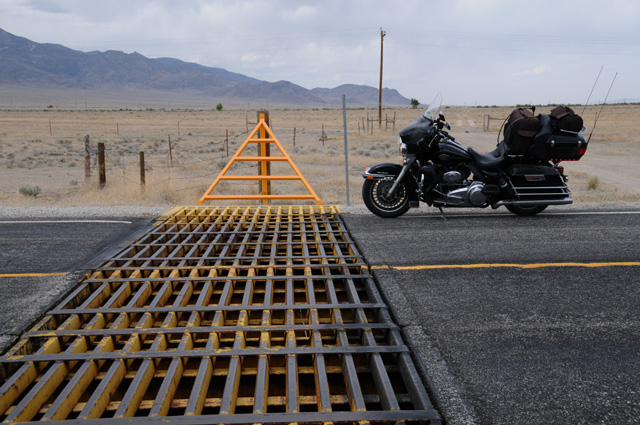 I encountered another windmill farm today. Not a single windmill was turning, though.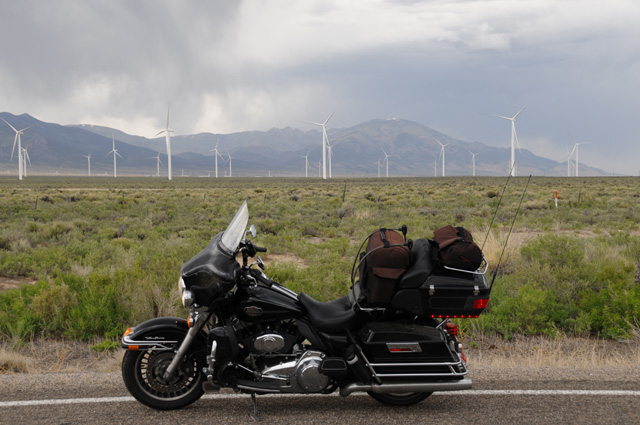 Much of my riding today was from one mountain range to another, crossing the mountains by climbing up a winding road to the summit, then descending a winding road, then across a valley with a long straight road, only to cross another range, etc. This pattern repeated about every 20 miles, and it went on and on, probably more than a dozen times today. I wanted to capture the scenery change in this routine. Here's the view from a summit looking back.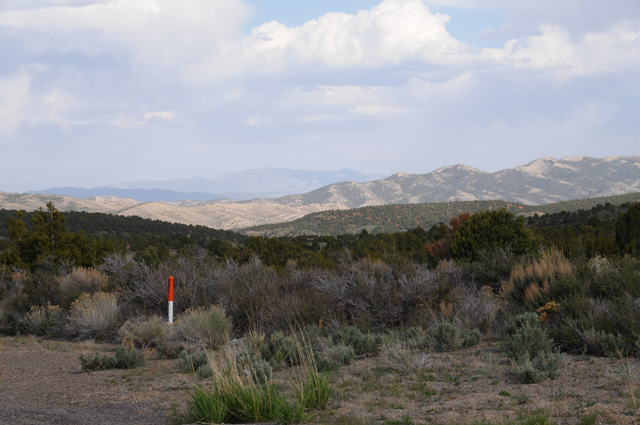 Here's the view to the side at the summit.
And here's the view in the next valley.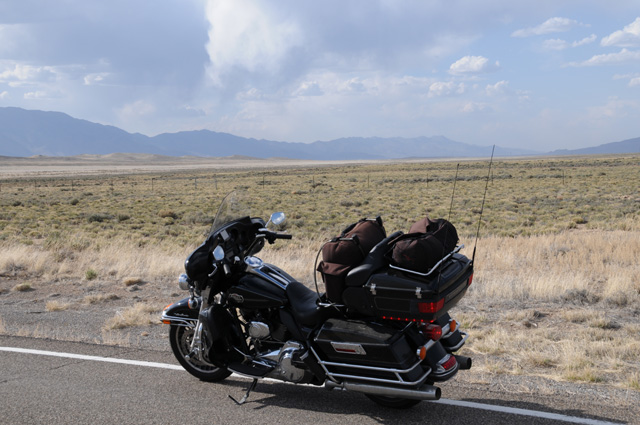 Quite a different view. Trees at the top, scrub at the bottom. It gets noticably cooler at the summit, and warmer in the valley. Often it was cloudy at the summit and sunny in the valley. And this pattern just keeps repeating.
Mileage details for today are as follows: Miles - 328. Total Miles - 4,368 since leaving North Palm Beach. I have averaged more than 45 miles per gallon not counting my first two days when I was going real fast on I-95 where I got about 38 mpg. I have had three tanks that were 49 miles per gallon or higher. I usually run about 60 mph on US50. That gives me a range of almost 300 miles.
---
17 May 2012, 10:00 PM PT, Carson City, NV
I rode 276 miles today, I have 4,644 total miles from North Palm Beach. The ride today was much like yesterday, but a little different. The ups and downs from mountain range to mountain range were far fewer. In fact, leaving Eureka, it was more than 40 miles before I had to climb, and the climb was less than it had been in the climbs yesterday. I don't remember for sure, but there must have been only two or three ranges I had to cross today. The scenery became more desert looking. The elevation has gone down 1,000 to 2,000 feet. The valley here in Carson City is about 4,000 feet above sea level. It was cloudy most of the day. I did not wear my rain jacket yesterday or today, the temperature was high enough that I did not need it. I had worn it at least part of the day every day since Washington, DC.
I took a picture of the countryside early on when I first noticed the change. Here's what it looks like.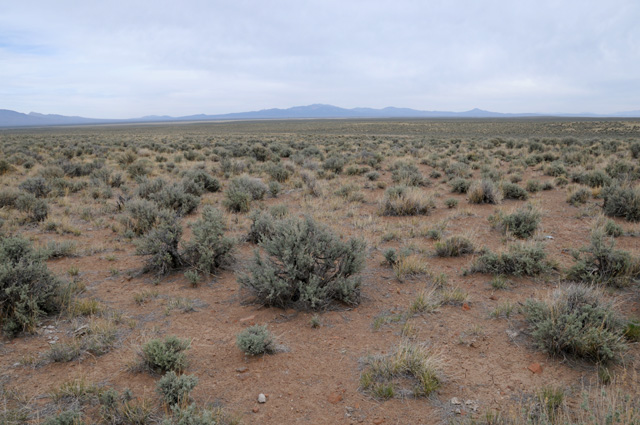 This picture shows the vegetation better.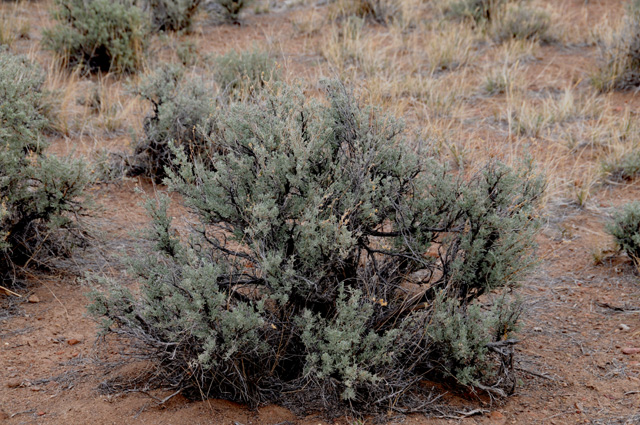 About an hour later I was at a summit, lower than the summits yesterday, and it looked different also, no trees.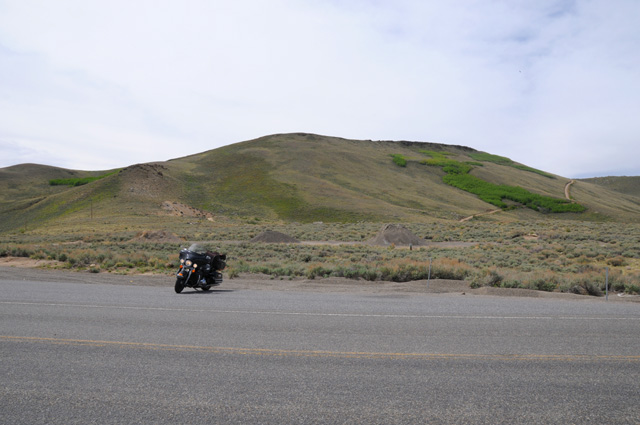 Here's a sign I saw today. I saw one yesterday but could not stop to get a picture.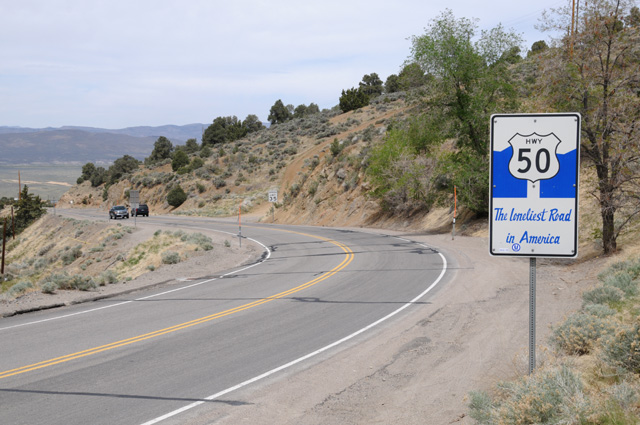 And another sign. This is saying free range, and cattle could be on the road. Looks like somebody has used the sign for target practice.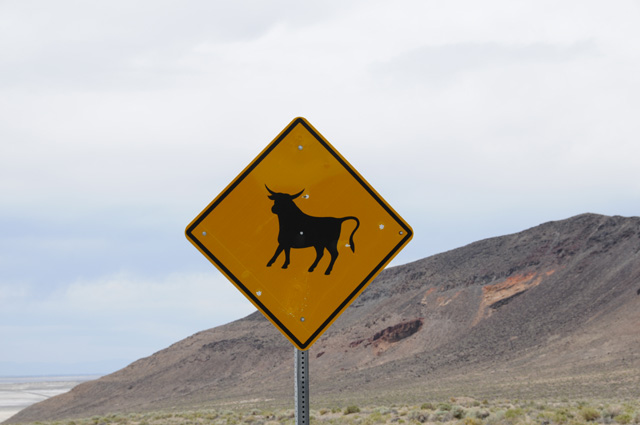 This picture illustrates the point I made yesterday about the straightness of the road across the valley. This valley was 14 miles wide.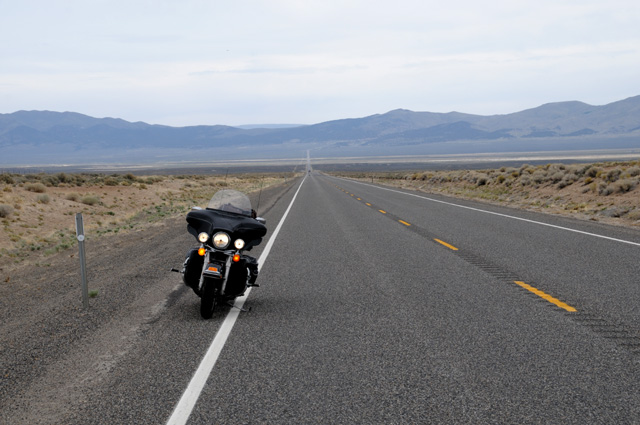 A dust devil. It appeared much stronger a little earlier, but I was not close enough. By the time I stopped, it had disappeared, but then it came back but not as strong.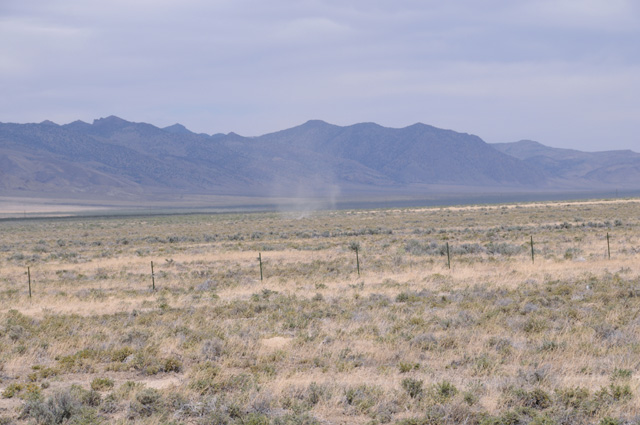 Here's a valley with a lot of salt. I suppose this happens because water collects when it rains, then leaves the salt runoff after the water evaporates. Of course, this is over thousands of years. Somebody tell me if I am wrong.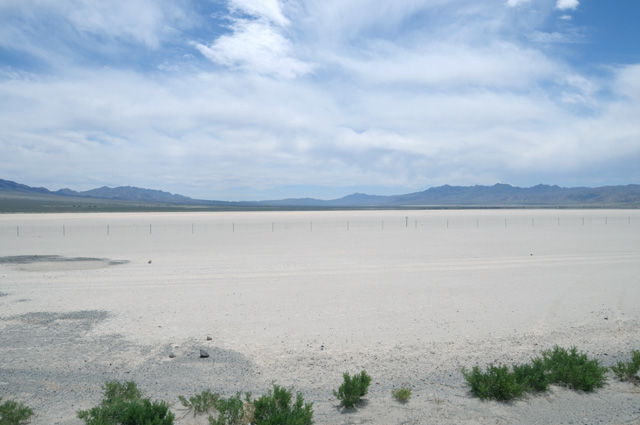 Here's a close up of the ground. The dimensions are about a foot or two wide.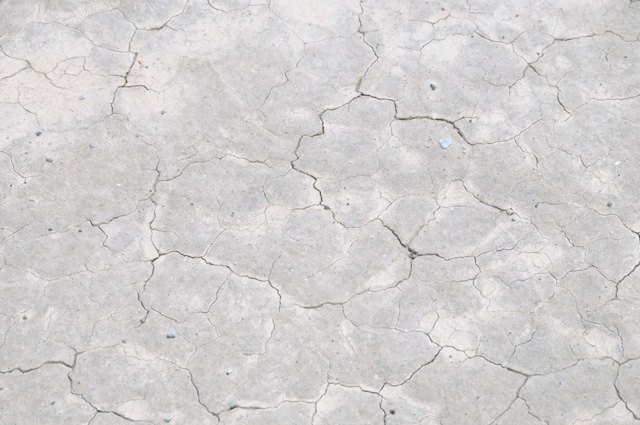 Here's still another valley with the salt bottom.
Between Fernley and Carson City the vegatation was much more sparse. The countryside looked very brown. The sun was shining now also. Makes the pictures more vivid.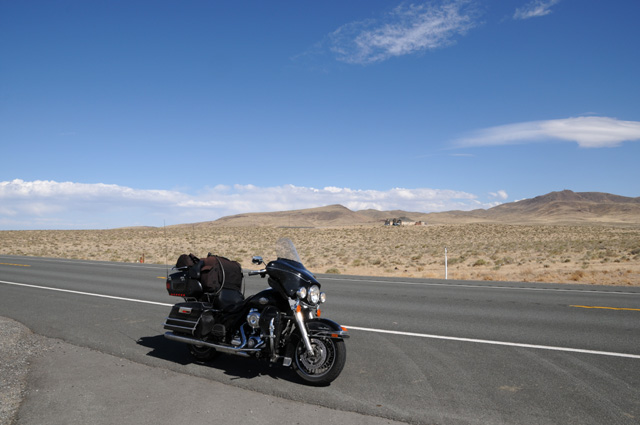 Approaching Carson City the clouds looked different, this type of cloud is a sign of high winds and mountains. You can see the Sierras in the background. It was very windy in the stretch between Fernley and Carson City. I had to lean the bike several degrees into the wind to go straight.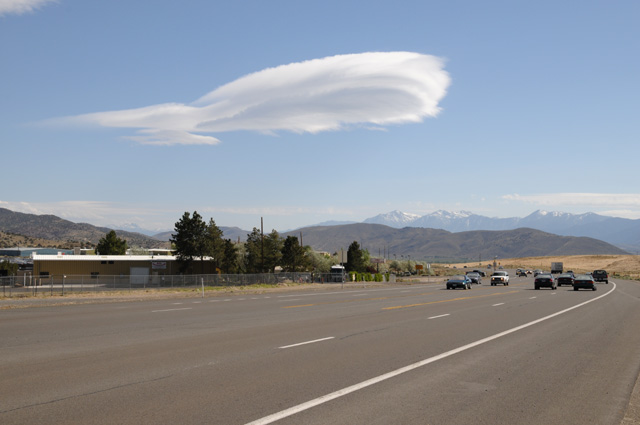 Carson City is the capitol of Nevada. You know what that means, I have to track down the Capitol and get a picture. I didn't forget. Here it is. It is almost hidden in the trees. You can only see it from this one direction. The dome is silver. What would you expect in the Silver State?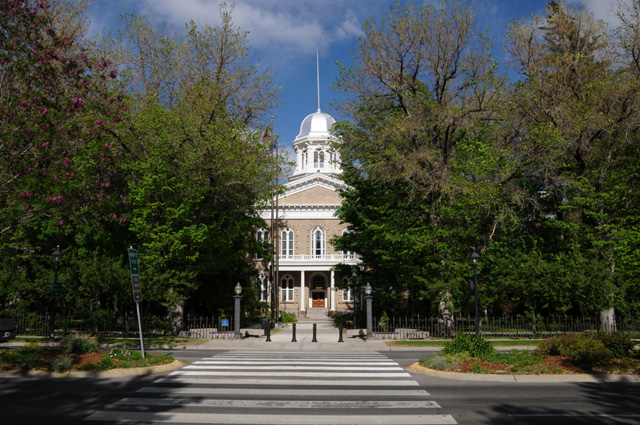 There was one statue in the Capitol, It is Sarah Winnemjucca, a 19th-century Paiute educator, advocate for Indian rights and the first Native woman to write a book. The statue is a duplicate of the statue installed in National Statuary Hall in Washington, D.C.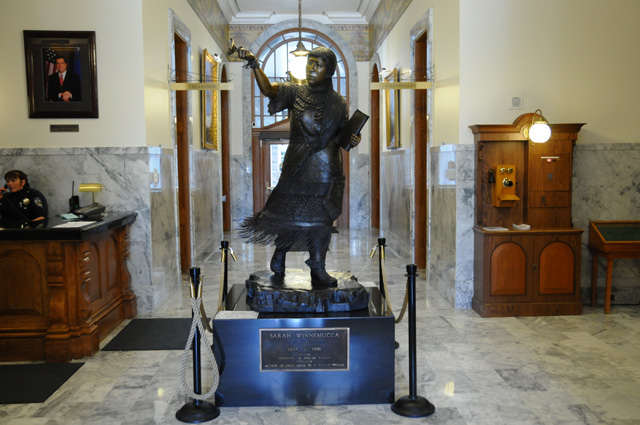 ---
18 May 2012, 10:45 PM PT, Sacramento, CA
Short riding day today. Only 162 miles. Here's why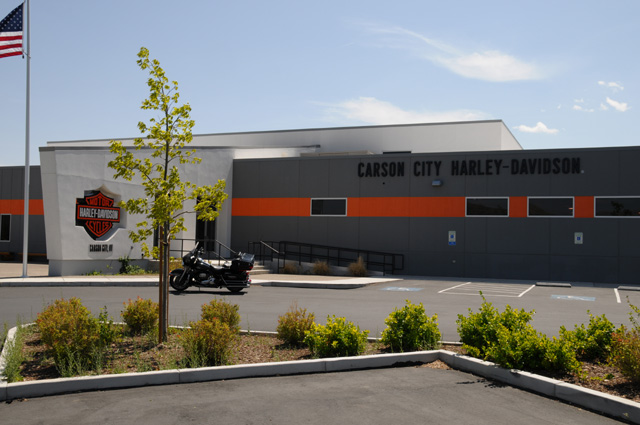 I needed to have the bike serviced. It had been 5,000 miles since the last service. Turns out it needed new brake pads in the front and rear. Otherwise it was a standard service. Thanks to Jordan at Carson City Harley Davidson for getting the work done.
Here's my first sight of Lake Tahoe. This is from mountains between Carson City and Lake Tahoe.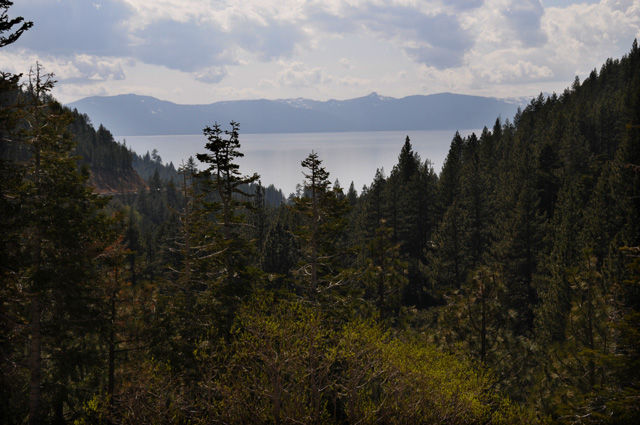 One of those rare pictures where you see me. You did notice me in that gorgeous lake and snow capped mountain picture, right?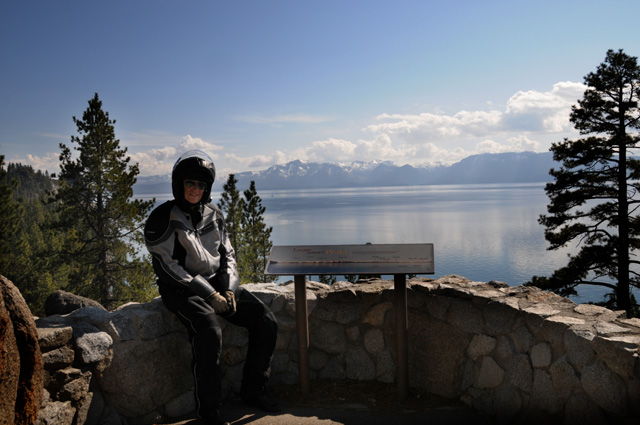 This was my last sight of Lake Tahoe. I have climbed the Sierras and am almost at Echo Summit which has an elevation of 7,283 feet. Surprisingly low for a summit in the middle of the Sierras. I had many summits in the mountain ranges in Nevada that were higher than that. But I was cold enough to put on the rain jacket / windbreaker. I took it off again when I was lower and warmer.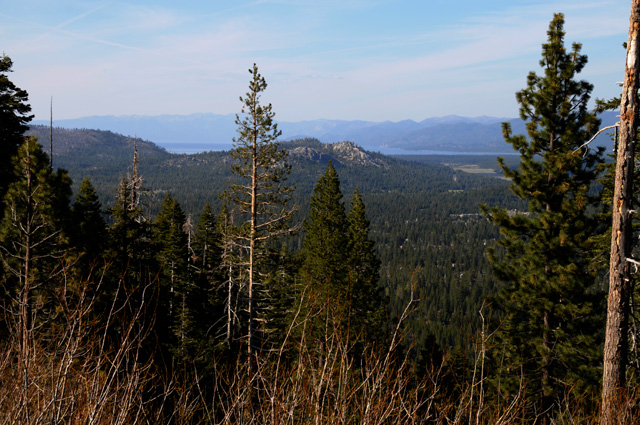 I liked the looks of that big granite mountain right behind that neat building. This is on the way down the Sierras into Sacramento.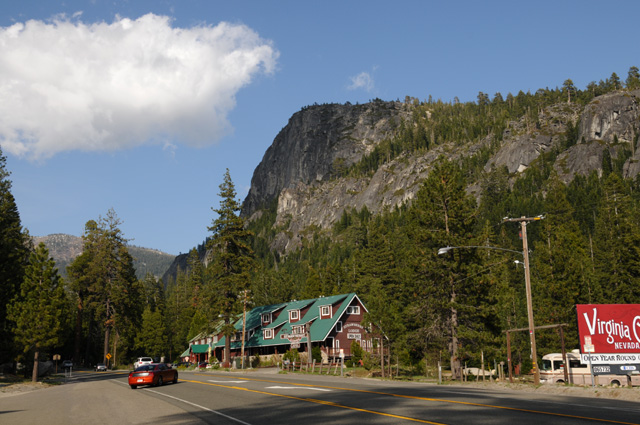 I finished the new US50, it ends here in Sacramento. But, as I have said, that is not the end as far as I am concerned. That is in San Francisco, about another 100 miles to go. I will finish it up tomorrow morning.
---
19 May 2012, 10:40 PM PT, Buttonwillow, CA
So here I am in Buttonwillow. Buttonwillow? Where is that? In the San Joaquin Valley, near Bakersfield. Why, one might ask, is he in Buttonwillow? Because that's where he was when it was late enough to stop for the night. Turns out that it may have been fortunate, though. I have been planning on taking the southern route home, I-10. Tomorrow the temperature in Phoenix, which is on I-10, is expected to be 104°F. Tucson 100°, and 106° on Monday. Now that's warm. The northern route is I-40. Barstow is expected to be 99°. Needles 108°. Flagstaff 79°. And Albuquerque 84° on Monday. I am not sure, but the southern route should be super hot all the way over the next two days while the northern route will be hot in some places and cool in others. Maybe I will decide when I leave tomorrow morning.
I started the day in Sacramento, the capitol city of California. This is the fourth state capitol city on US50. Here's the Capitol of California.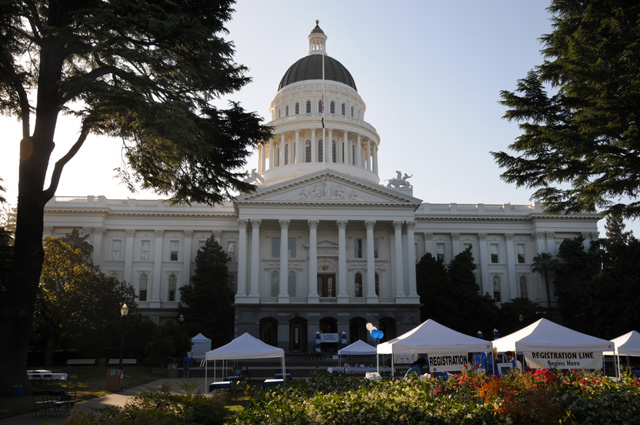 I would prefer to not have those tents in the picture. Here's another from the front quarter.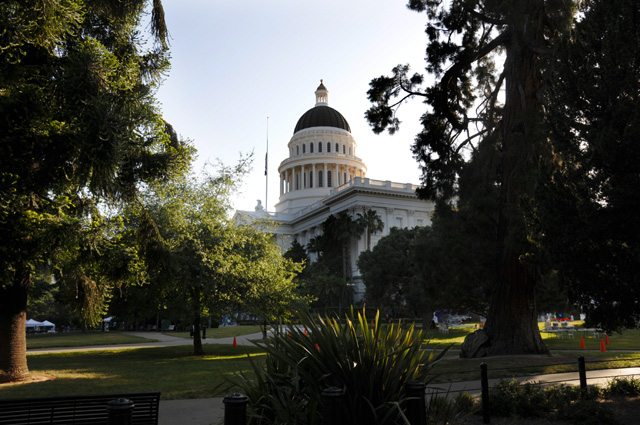 You don't have the front view, but you don't have the tents either.
I rode 443 miles today. I have 5,250 since leaving North Palm Beach. I reached the end of historic US50, the intersection of Harrison and 10th, or so I have read. It wasn't a very glamorous spot. I saw no signs showing that US50 used to be here. I rode the old route, from Sacramento through Stockton and Livermore to Oakland, then across the Bay Bridge into San Francisco.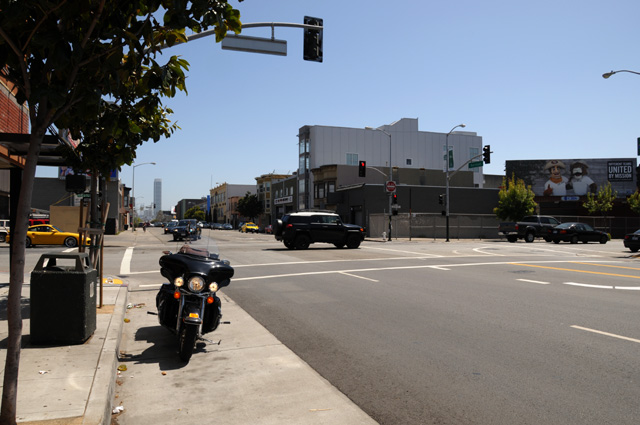 Historic US50 runs through Livermore, as I said. You may recall that I mentioned Livermore on the Introduction page. I was in Livermore around New Years Day in 1964. I was a Senior at Purdue, and I had an interview with Lawrence Radiation Laboratory in Livermore. They offered me a job at $5 more per month than RCA Laboratories had offered. The RCA salary offer was $655 per month. Not a lot, was it. But in those days it wasn't bad. I decided to find the Lawrence Radiation Laboratory when I passed through Livermore. First, you have to note a name change, since 1971 it has been called Lawrence Livermore National Laboratory. A more public sensitive name, I suppose. It does secret types of work, so all I could see was a fence with buildings way back from the fence. It didn't seem to be a good picture for my travelogue. But, there is a hill just down the road. I rode the bike past the hill, turned around, and parked on the hill to get this shot.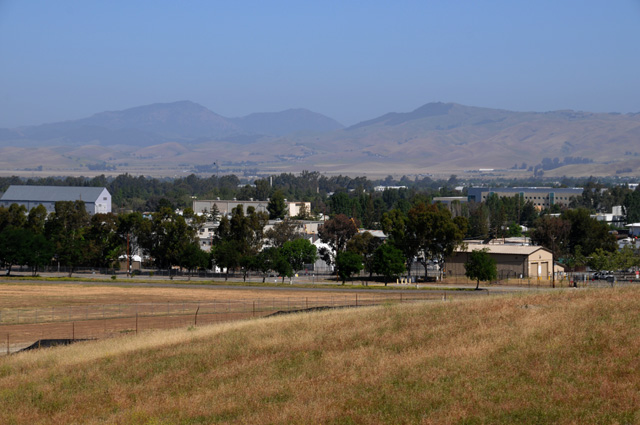 It is a one square mile campus, I have read. I remember very little from my interview day, but I do remember it was an extremely pretty campus. I spent part of the day wondering what my career would have been like if I had taken that job. The primary reason I selected RCA was that my Masters Degree would be fully supported by RCA, including full salary and the school costs, and I would have about a 50% chance of getting a PhD with RCA paying the school cost and paying me half salary whenever I was a full time student, and the thesis could be done with full pay at RCA. At Lawrence, I would have been on a tuition refund program at the University of California (which founded the Laboratory) and getting a PhD would be extremely questionable, certainly for "free". I don't regret my decision.
After arriving in San Francisco, I rode around the city and captured a picture of the Bay Bridge.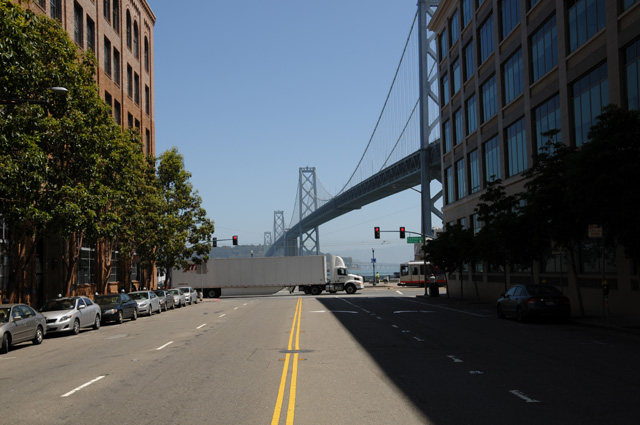 Not one of my better photographic endeavors. I didn't notice that truck until I started working on the pictures on the computer. I was standing in the middle of the street to get the picture and hustled back to the side, and never even realized that the 18-wheeler flashed into the scene and wiped out half the bridge. The little picture on the camera showed that the exposure was good, but I never spotted the truck. Had I done so, I would have taken another picture. Maybe I should not have included this picture so that you would not know that I messed up a picture.
I continued riding up the Embarcadero. Past Fisherman's Wharf. And as far as it went, then on to the Golden Gate Bridge.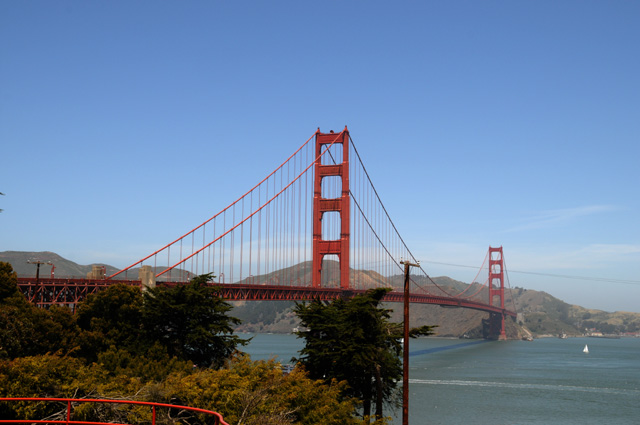 Then I continued riding to the Pacific Ocean.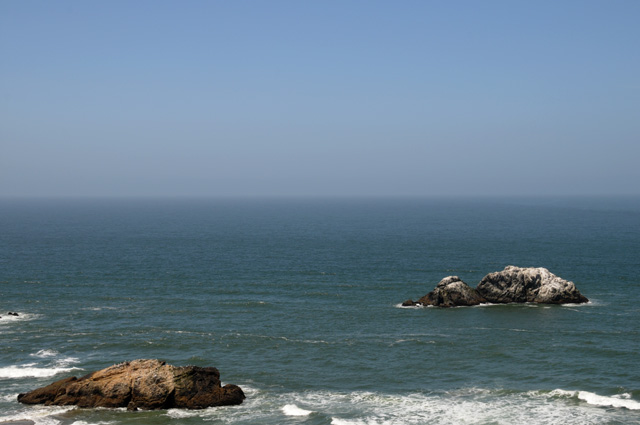 Once I reached the Pacific there was nowhere else to go, I had finished US50, I had reached the ocean, maybe it was time to turn around and head home. So I did.
I set the GPS to take me home. It said I would arrive at 6:00 PM. It didn't say what day.
I took a picture to show the landscape in the area just south of San Francisco on I-5.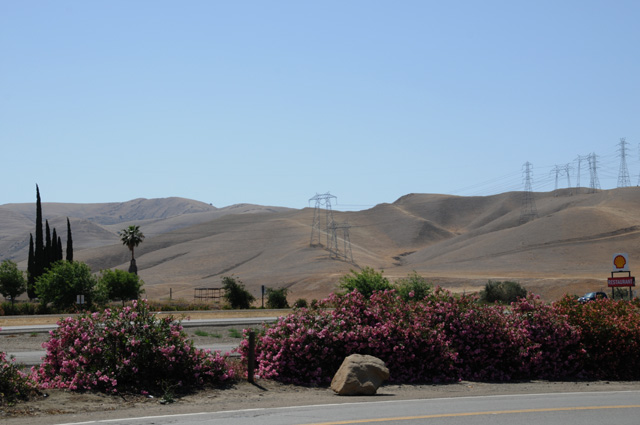 Then a bit further south, there was a "Vista" where I could get a good picture of the California Aqueduct looking to the west.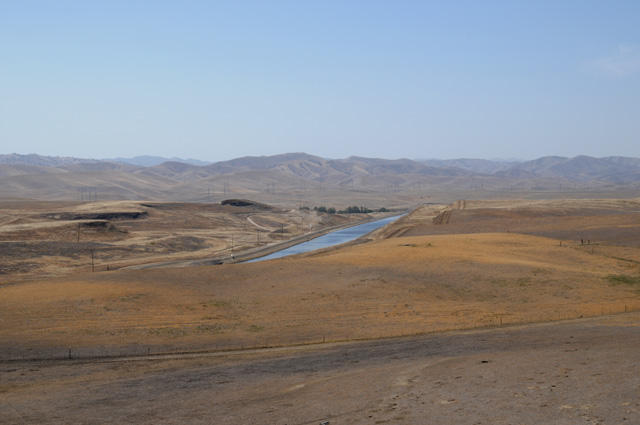 And by turning and looking east I got a picture of the farmland in the San Joaquin Valley.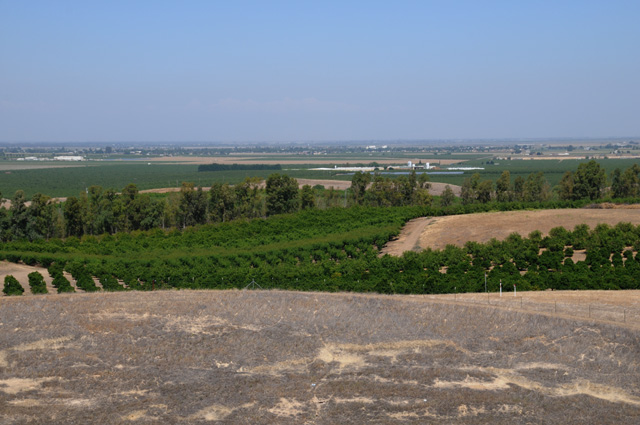 Without the water from the aqueduct, the farmland would not be green.
Come back and join me tomorrow to find out which route I am taking to Texas. I probably will not have as many pictures as I have had along US50, but I will try to get a few each day.
---
20 May 2012, 11:20 PM PT, Flagstaff, AZ
Hottest day yet. I am sure it will be the hottest day period. I rode 534 miles. I took the northern route, from Buttonwillow on CA-58 through Bakersfield, Mojave, Barstow, then on I-40 to Needles, and Kingman to Flagstaff. Tomorrow I will continue on I-40 to Albuquerque. Somewhere I must turn southeast because I want to go through Austin. The temperature gauge on the Harley went as high as 110°F just inside Arizona after passing through Needles. I just checked some weather data which says the maximum in Needles was 105. The difference could be the accuracy of my gauge, but it could also result from higher temperatures on the road. I will not have temperatures nearly this high tomorrow, like I would have had if I had gone the southern route. [Editor's note: Not sure about his use of grammar.]
Because it was so hot, I was forced to turn on the air conditioner on the Harley.
You can quit laughing now.
I guess I will have to demonstrate it to you. In this first picture, you will see a black strip of cloth that sort of looks like a tie lying on my riding jacket.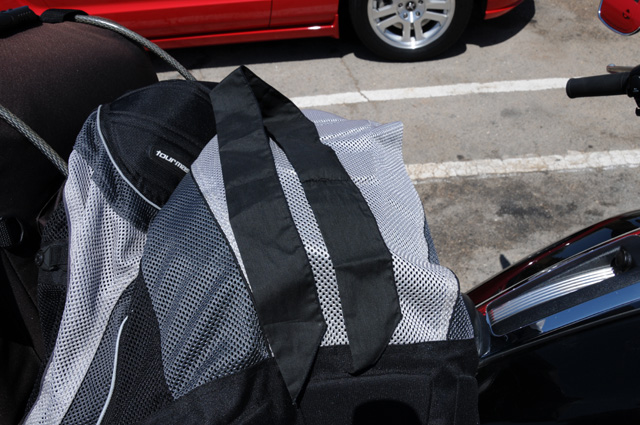 In this picture you should notice that the black strip of cloth got very fat, like a long sausage. That's becaue I loaded it. With water. I put it in water in the sink in the men's room at the rest area for about ten minutes. This device has granules of some sort that absorb water, and lots of it.
Then you tie the wet sausage around your neck.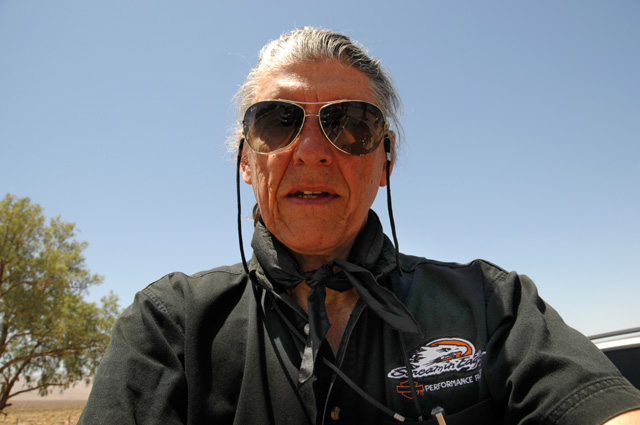 This style of air conditioner requires no electricity, just water. I believe it is called a swamp cooler by some people. Those of you old enough will remember long ago before air conditioners became standard, cars would have those black things hanging out the window, often the driver's window. They had water in them. As the hot dry air passes over the water, it causes the water to evaporate which takes energy out of the hot air making it cooler. So, my Harley air conditioner cools my neck. That helps more than you might realize. You have blood close to the surface in your neck going into your head, and it really makes you feel cooler. I felt better today in temperatures well above 100 than I did yesterday without the Harley air conditioner when the temperature just reached 90.
Enough about retro technology.
After I left Buttonwillow this morning, I went into the Tehachapi Mountains. Along a ridge line, I saw dozens and dozens of windmills. They looked awful. They looked haphazard. They didn't look neat like the ones I have show you before. They were so ugly I refused to take a picture. It's bad enough that I still have the image in my mind. It made me think of the random placing of TV antennas on a city apartment building that you used to see.
Sometime later, though, I saw some that were aesthetically pleasing to me, so I took a picture. Notice in the bottom of this picture you see some Joshua Trees.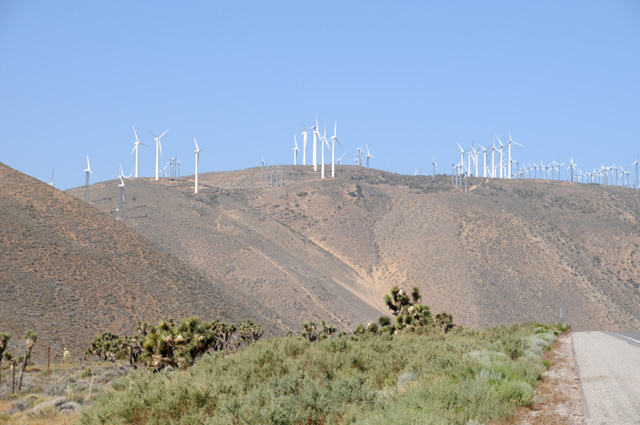 Here are the Joshua Trees.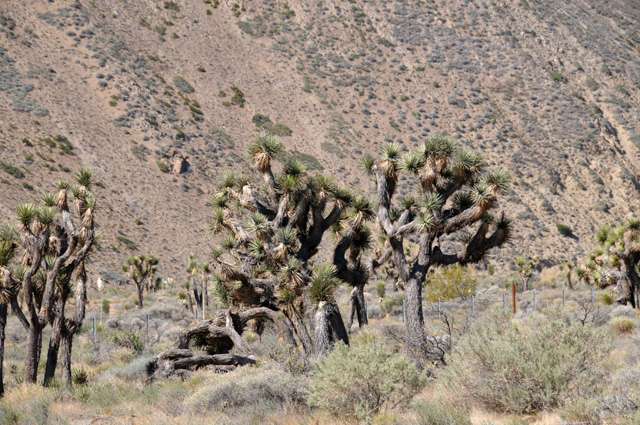 This is not that good a picture, it looks much better when the sky is the background, but I didn't have an opportunity to take such a picture. So, I have included an old picture taken by my daughter-in-law Susannah of wife Hanna and son Darryl and daughter Cindy and me in Joshua Tree National Park. This is the best Joshua Tree picture ever. You see, it explains why it is called a Joshua Tree. The trees look like people with their arms up in the air praising the Lord like Joshua did. If I remember correctly, it was Cindy's idea to do this picture, or maybe Susannah's idea. I don't remember.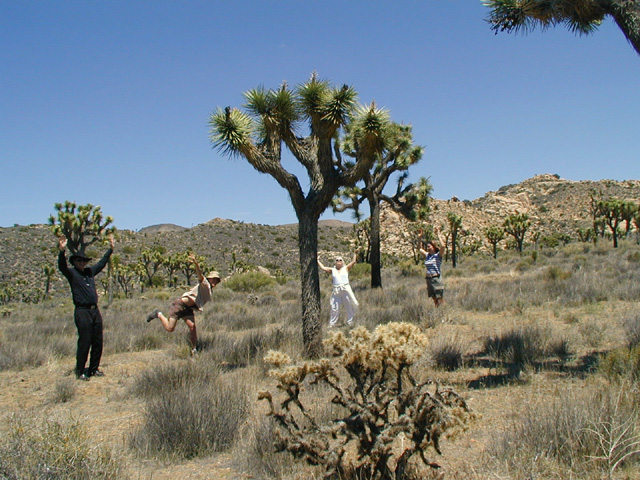 After crossing the Tehachapi Mountains, I went through Mojave. At that point I was about an hour from daughter Cindy's home. Unfortunately she isn't home right now, so we missed seeing each other.
This picture was taken just past Needles. That is the Colorado River separating Arizona (where I am standing) from California.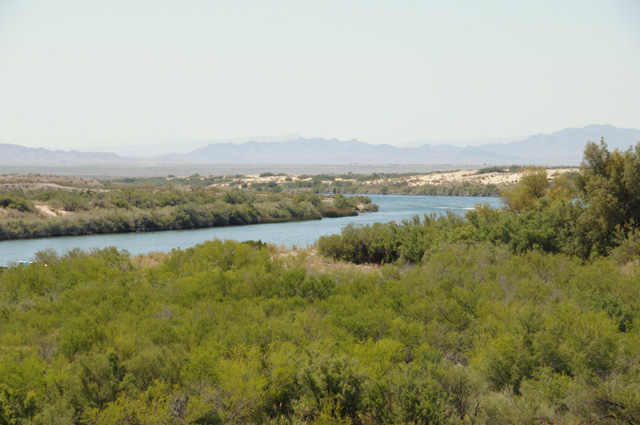 This train is crossing the Colorado from Arizona into California.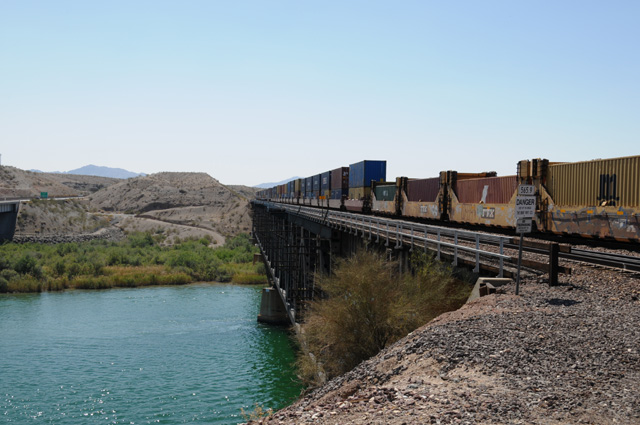 And this ugly thing is the beautiful arch bridge that Dennis Hopper and Peter Fonda crossed on the Billy Bike and Captain America in the movie "Easy Rider". That is the old Route 66 bridge. I have no idea why it is covered like that.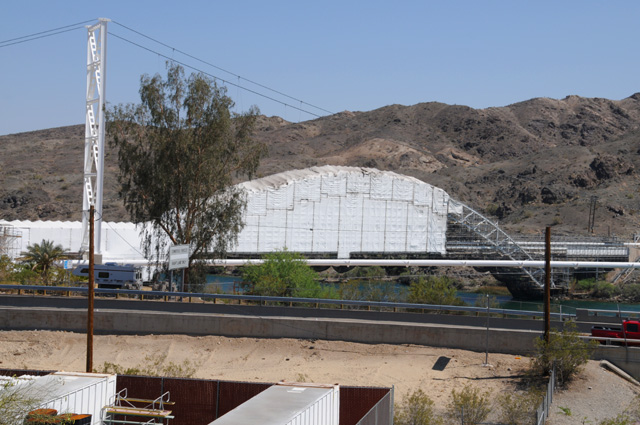 Here are some nice red rocks in Arizona when I was getting to higher elevation.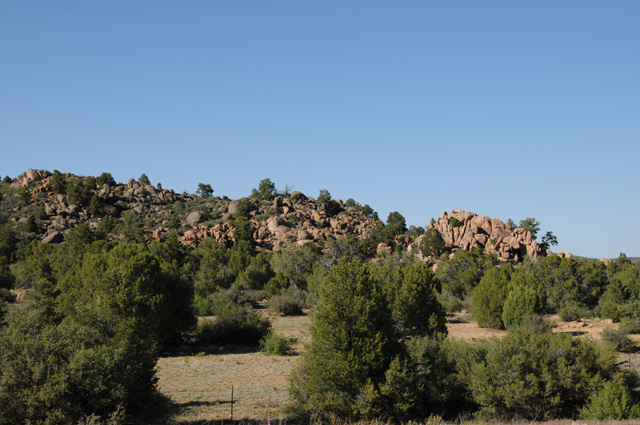 This is a motel in Seligman, Arizona where Hanna and I have stayed.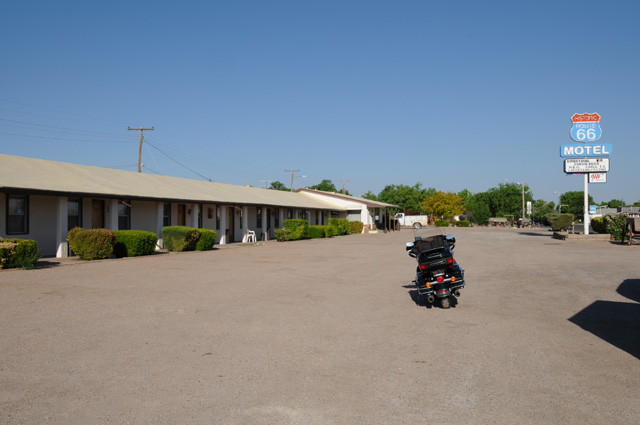 And this is the Road Kill Cafe next door. I had to get a new Road Kill Cafe tee-shirt, that's why I stopped in Seligman.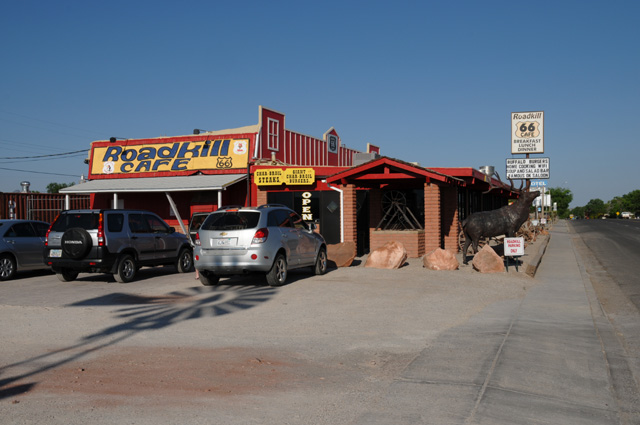 Last picture tonight was one I took about 6:30 PM, don't remember exactly the time, but it was near the peak of the eclipse. It got darker than normal, but not dark. The camera exposure was 20 times what earlier pictures were. That's why I have left the picture a bit dark, so you see it the way I did. About ten minutes later it was bright again. These are the San Francisco Peaks just north of Flagstaff. The last time I saw them, four years ago, they had snow on them.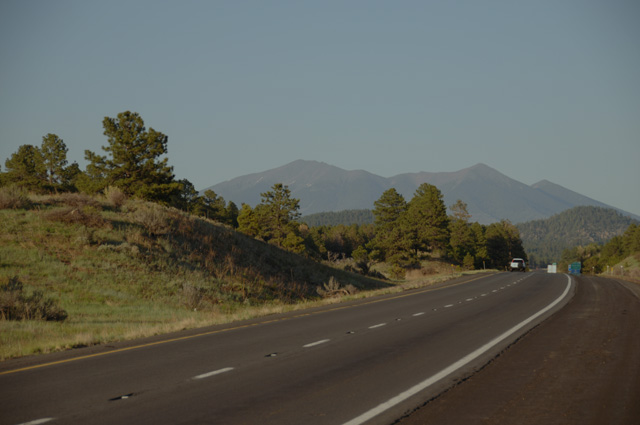 The moon was almost completely in front of the sun where I was, but it was slightly to the south as it crossed in front of the sun.
---
21 May 2012, 11:00 PM MT, Albuquerque, NM
Must tell you the big news of the day first. I saw a tornado.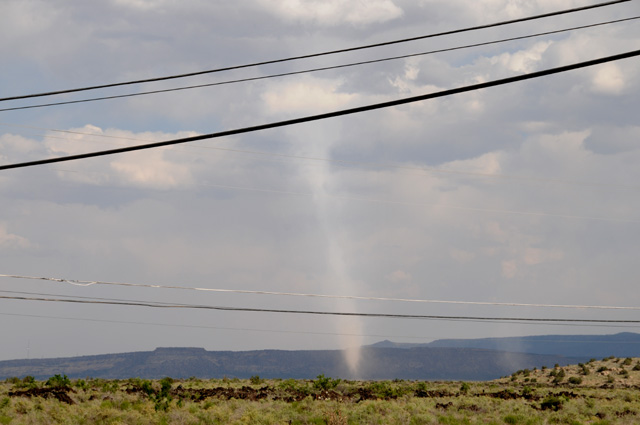 By the time I got this picture, it was almost gone. I was in Grants, New Mexico. I had just gotten gas and was headed back to I-40. As I was crossing over I-40 I noticed a big dirt devil in front of me to the right. Then I noticed the funnel cloud going all the way to the ground in front of me to the left. As quickly as I could, I got off the bridge crossing I-40 and onto the I-40 entry ramp, and stopped the bike on the shoulder of the ramp, and grabbed my camera. I got four pictures, this one was the first and the best. Another car stopped right in front of me, guys jumped out with cameras and they were taking pictues also. One of the guys walked over to me and said they had seen it for ten miles and it was bigger when they first saw it. I said are you sure it was a tornado, and he said I am from Missouri and I know tornados. He told me that severe thunderstorms had been forecast. This wasn't even a thunderstorm, just a cloud.You can see some blue sky in the picture. Notice a second circulation to the right. For a moment it looked like it was going to get bigger, then it disappeared. When I first saw the tornado it was about equal thickness all the way from the clouds to the ground. You can see it has thinned in the middle in the picture.
Back to more mundane matters. I rode 380 miles today. I had wanted more, but it was not possible. I was tied up early in the day and got off to a later than normal start, plus I lost an hour today going from Pacific time to Mountain time. I expect to lose another hour tomorrow going into Central time. I have ridden more than 6,000 miles since leaving home. I expect I will have more than 8,000 by the time I get home. And I have had a chocolate shake each day to keep my energy level up.
Here's some more red rocks. I can't have enough of them. This is in New Mexico before reaching Grants.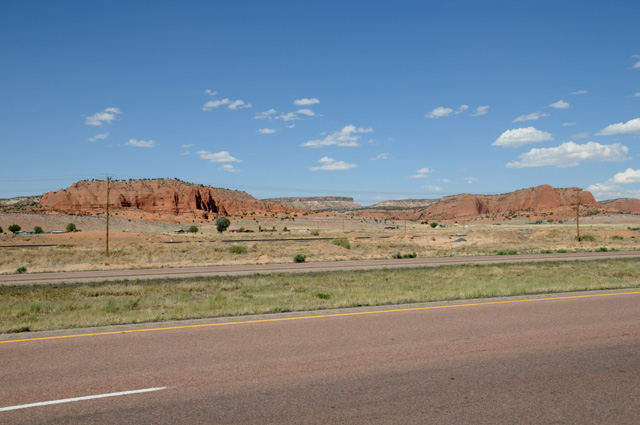 Not long after that I reached the Continental Divide.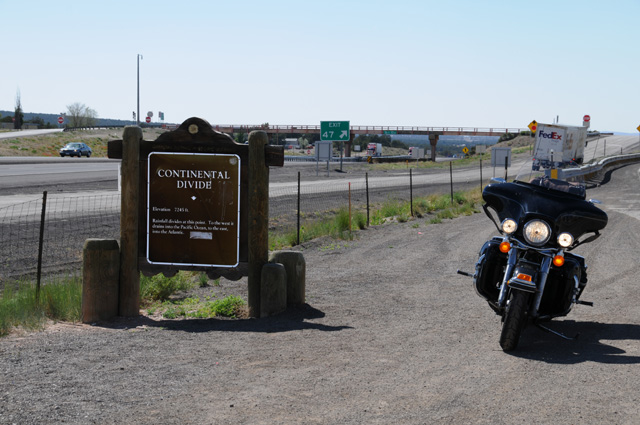 Here's what the sign says: Elevation 7245 ft. Rainfall divides at this point. To the west it drains into the Pacific Ocean, to the east, it drains into the Atlantic.
So tell me now, is it downhill the rest of the way home, can I just coast back home?
About half an hour later is when I got gas. While at the gas station, this train pulled up behind the station and waited for me to get a picture before heading out. That was nice of the engineer. There are five engines on the front. These trains out here are long, and they go past every few minutes, both ways. The gas station was on Route 66. Train tracks always seem to be next to Route 66.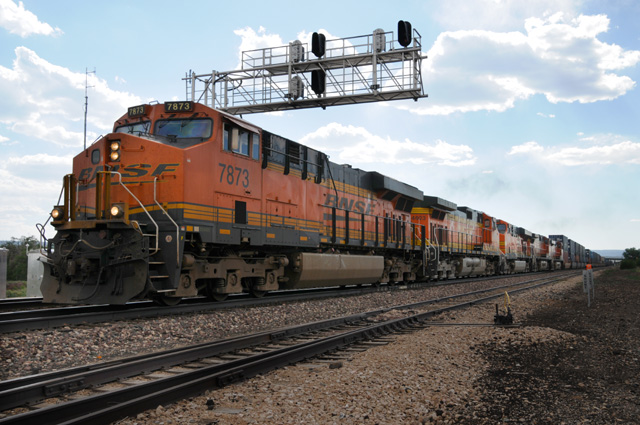 Look at the sky. The tornado picture was taken exactly ten minutes later and less than a mile from this point. You can see a bridge going over the train on the right just as the train is disappearing. That's how far away I was when I also crossed I-40 which is just on the other side of the train tracks.
Now for my last pictures of the day. When I did the Route 66 Ride four years ago, riding out of Albuquerque I passed under a Route 66 sign that I later wished I had photographed. I did not because I passed it too quickly and didn't want to turn back. Plus I really would have wanted it at night. Well, today I got it in daylight and after dark.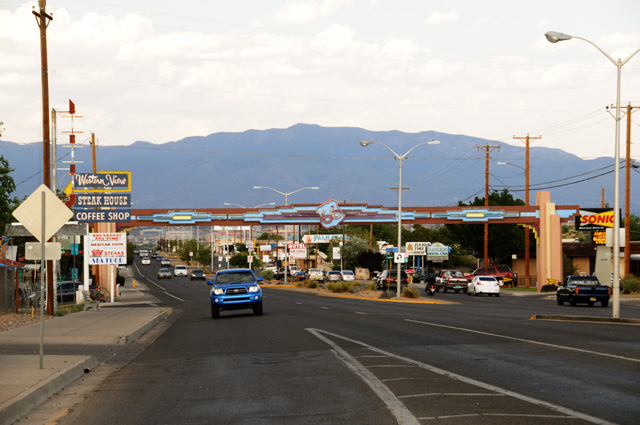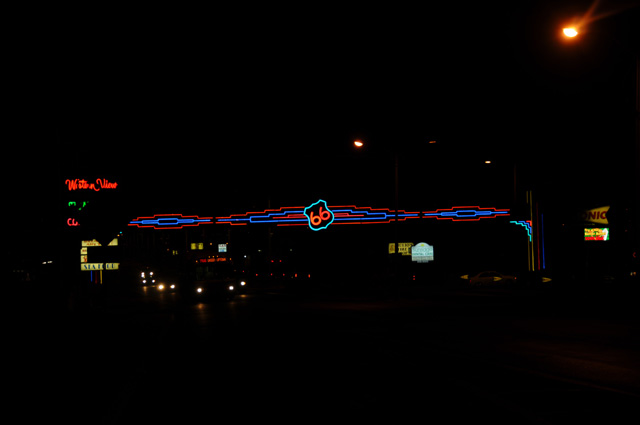 Tomorrow I will decide when to turn southeast. It depends on the temperature (the longer I stay north the less hot the ride will be) and on the weather (the northern route is more likely to have thunderstorms and tornados). I will look at the forecast tomorrow morning and decide. The earliest I would go south is at Santa Rosa, about 100 miles ahead. The latest is Oklahome City, about 500 miles ahead.
---
22 May 2012, 11:30 PM CT, Sweetwater, TX
I'm in Texas. And will be for about 750 miles. I rode 465 miles today. Just a little over 100 miles were on Interstate. Most of the rest was on US-84 which runs between Georgia and Colorado.
I don't have many pictures today, it was a travel day. Let me show you the first one, then do some explanation.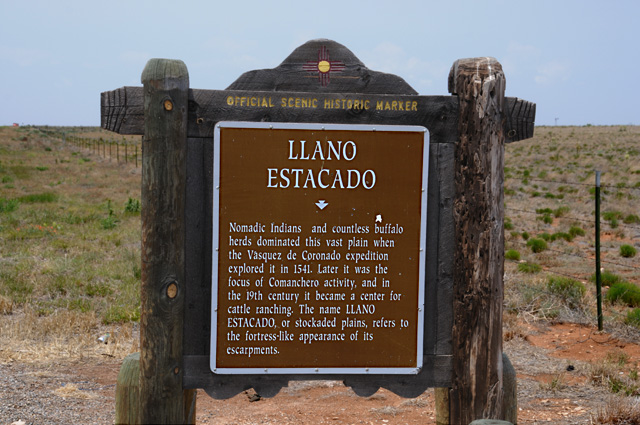 I paid particular attention to this sign because I have read about the Llano Estacado. Hanna gave me a book a few months ago titled "Empire of the Summer Moon: Quanah Parker and the Rise and Fall of the Comanches, the Most Powerful Indian Tribe in American History", a biography by S.C. Gwynne, published by Simon & Schuster. You can read the book. Or you can watch the John Wayne movie "The Searchers". Quanah Parker was the greatest Commanch chief, and the last during the American Indian wars. He was the son of a Commanche chief and a kidnapped pioneer woman. Anyway, Quanah spent a lot of time on the Llano Estacado. Here's what the land looks like behind the sign.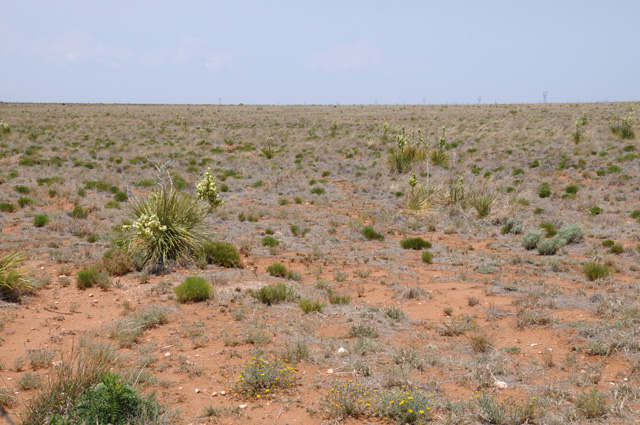 Here's another picture of the land two hours down the road.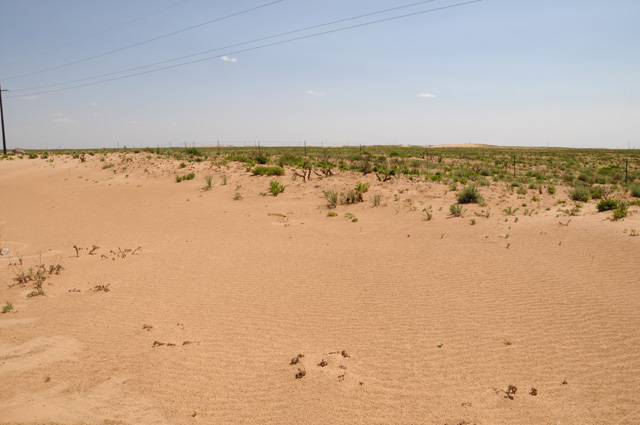 And a picture that is common in Texas.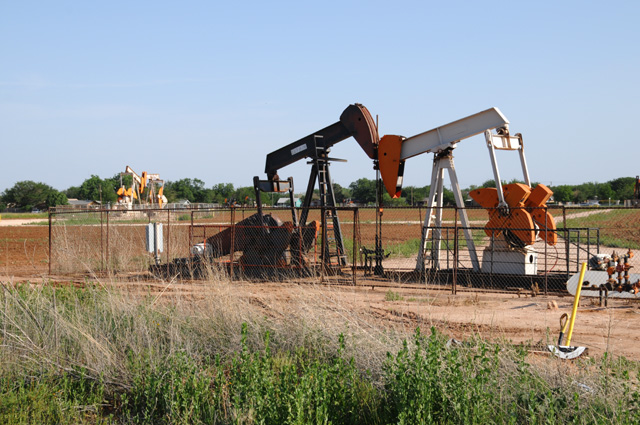 Here's the windmill picture for today. Here again I need an explanation. I went through an area where there were countless windmills. So I looked it up. It was just north and west of Sweetwater, where I am staying tonight. Quoting from Wikipedia:
Sweetwater Wind Farm is one of the largest wind farms in Texas. Construction of the 585 MW wind farm has proceeded in five stages, and some generating capacity is still being built.
Sweetwater stage 4 employs 135 Mitsubishi 1.0 megawatt wind turbines and 46 Siemens Wind Power 2.3 megawatt turbines. Its output is being sold to San Antonio's CPS Energy under a 20-year purchase agreement.
Construction of Sweetwater stage 5 began in February 2007, with completion expected by December 2007. Using 35 Siemens turbines, Sweetwater 5 will have a capacity of 80 MW.
Adding those numbers would be 216. Sure seemed like more than that to me. It went on for miles. Maybe I saw more than one farm. The Sweetwater Wind Farm is in Nolan County. I note that there are eight wind farms that are completely or partially in Nolan County with 2,365 windmills. So, maybe I did see more than one farm.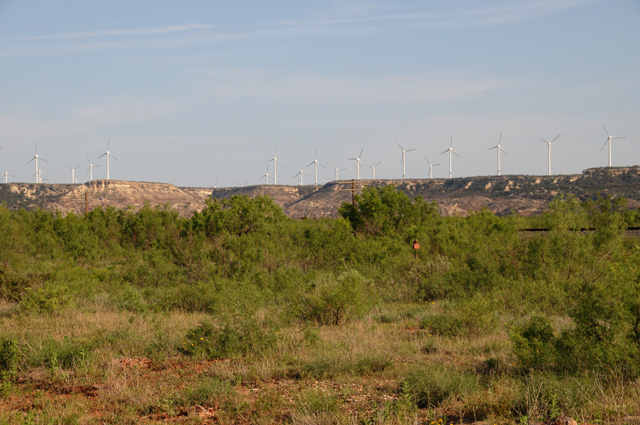 Come back tomorrow and I will show you some scenes in Austin.
Have you checked out my map which I update every evening?
It's a good thing I do this every night. I spend a couple of hours every night doing the pictures in Photoshop and the text. If I left it all to the end it simply would not get done. I'm glad I do it daily. I hope you all enjoy it.
And a completely different picture. You remember my Harley air conditioner? My brother Larry sent me this picture and here's what he said, "Here is an example of a cooler that is not an air conditioner. This is on a Studebaker. I remember seeing these when we went West in the early 1950's."
Thanks Larry.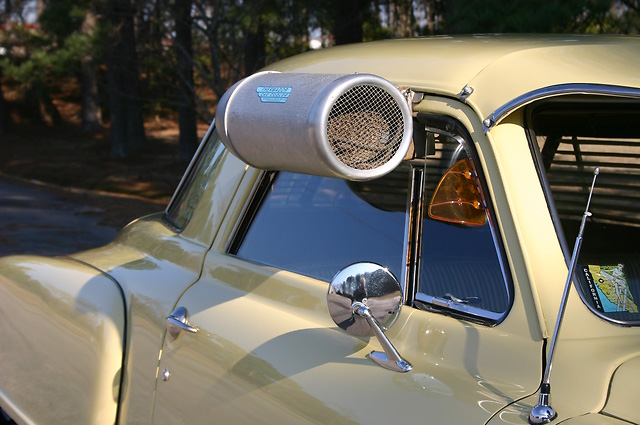 ---
23 May 2012, 11:30 PM CT, Austin, TX
I made it to Austin, but no further. I rode 348 miles today, most all on two lane roads. I did some sight seeing west of Austin in an area I had read about. It was fun riding, but it produced no pictures for you. My first picture was taken shortly after leaving Sweetwater. For me it shows Texas energy, in two forms. I saw loads of windmills, but the way you are simply surrounded by windmill after windmill doesn't show up on pictures.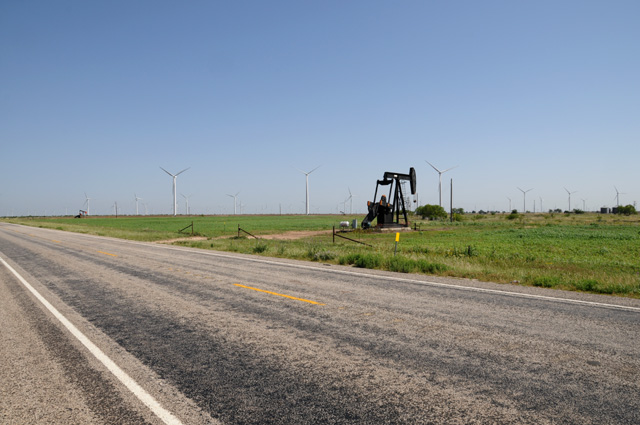 A view down the road in central Texas.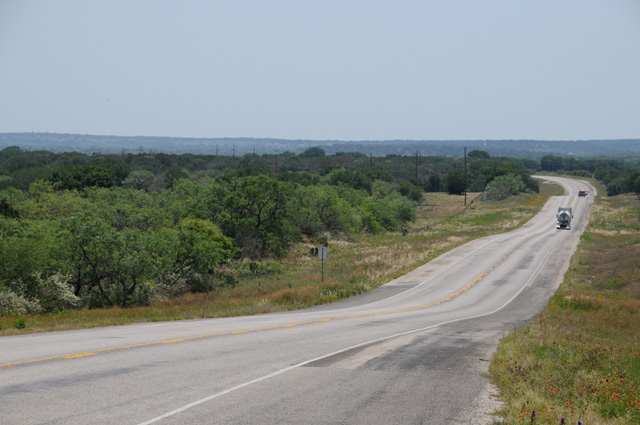 Mason County court house.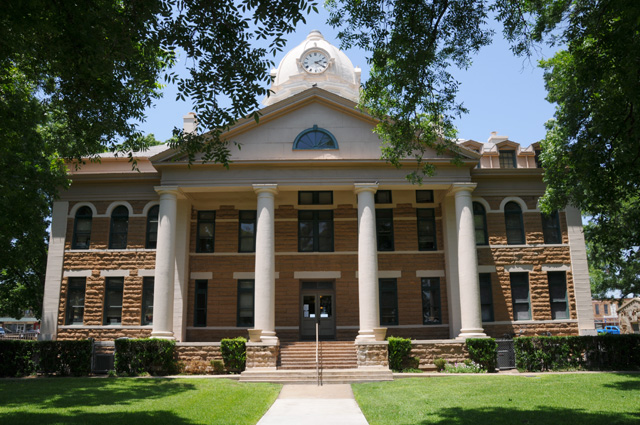 Cactus along the road.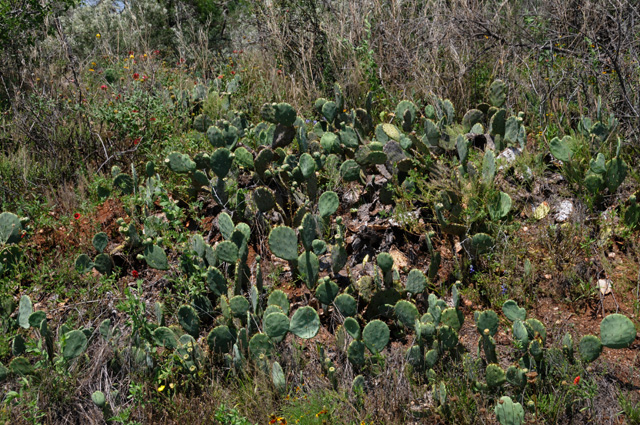 More central Texas with some wildflowers in the foreground.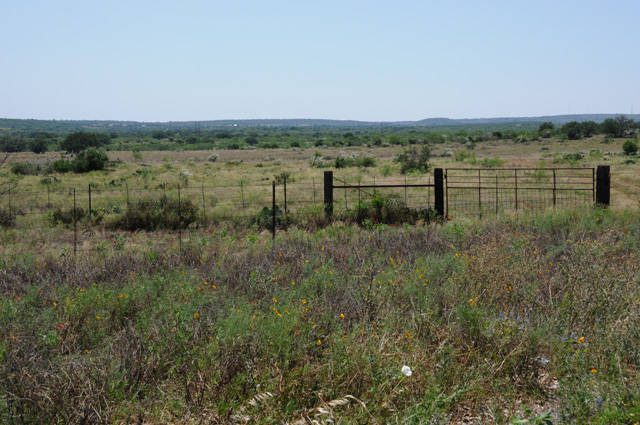 This should make the wildflowers easier for you to see.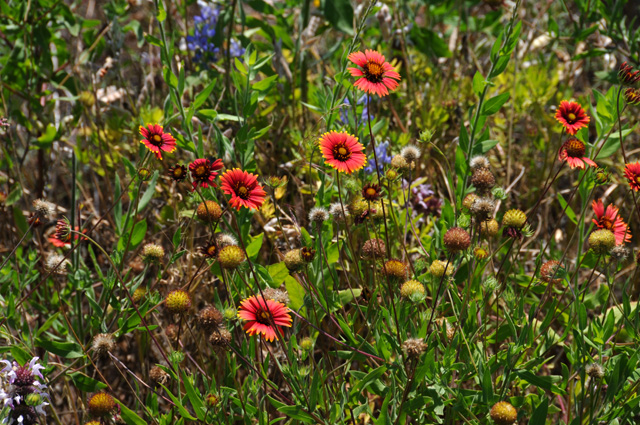 And even easier.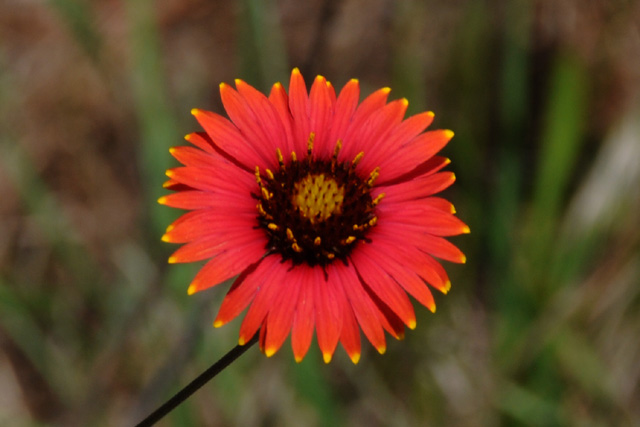 Another easy one with a hitch hiker.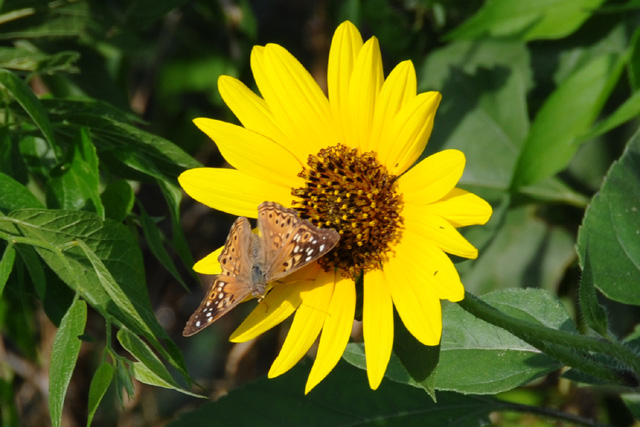 A bridge crossing the Llano River.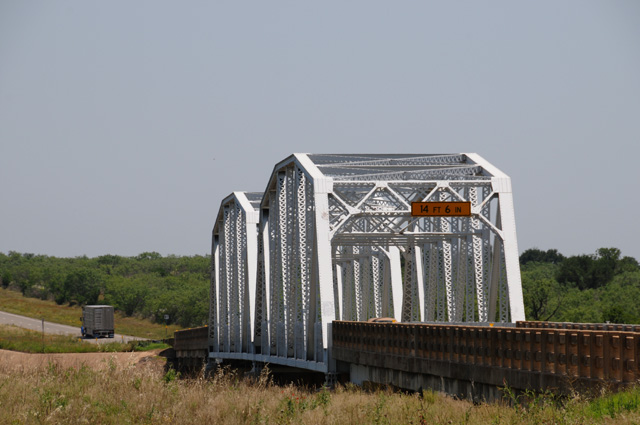 And the Llano River. This was a most gorgeous view. I didn't stop, got about a mile up the road, and decided to go back. I parked on the bridge to get the picture.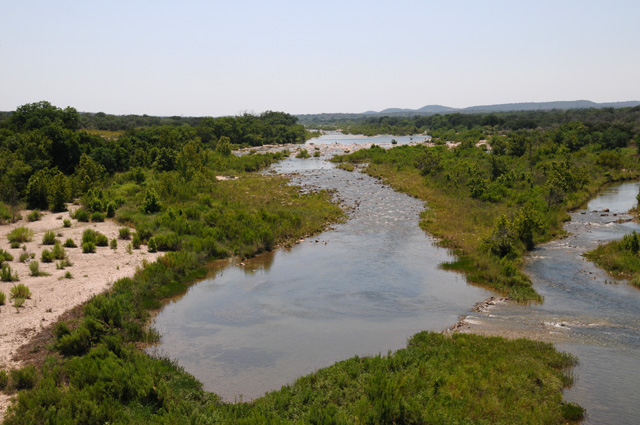 This picture is for Hanna.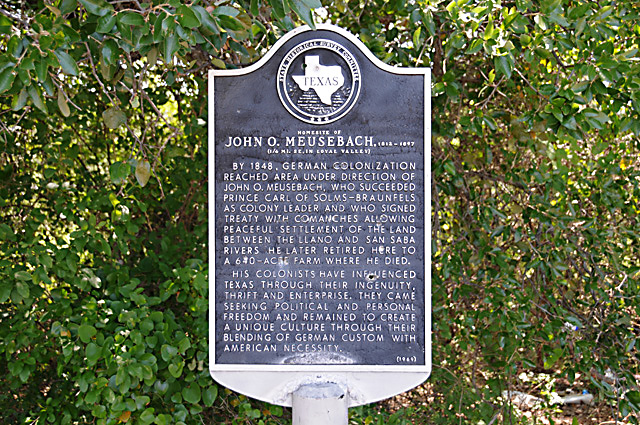 When I reached Austin, I headed to the east of the city to find where they are building the "Circuit of the Americas", a race track that will host the US Grand Prix on November 18, 2012. I plan to go to the race with my friend Eisuke.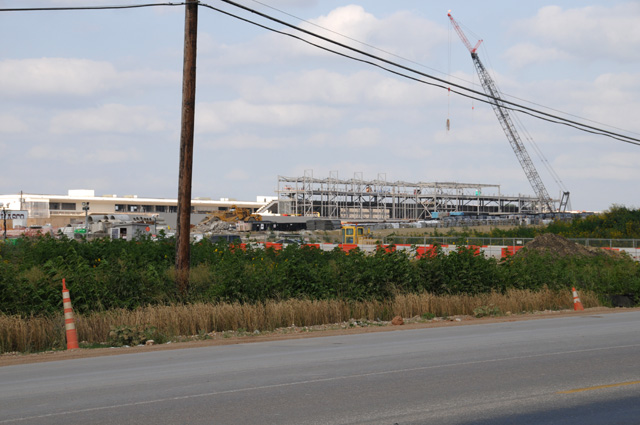 It's hard for me to say whether this is on schedule or not. I couldn't see any finished track. Maybe that comes last.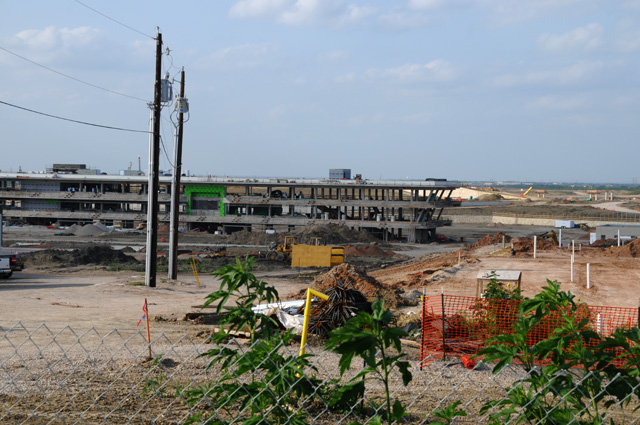 Looking a bit more to the right.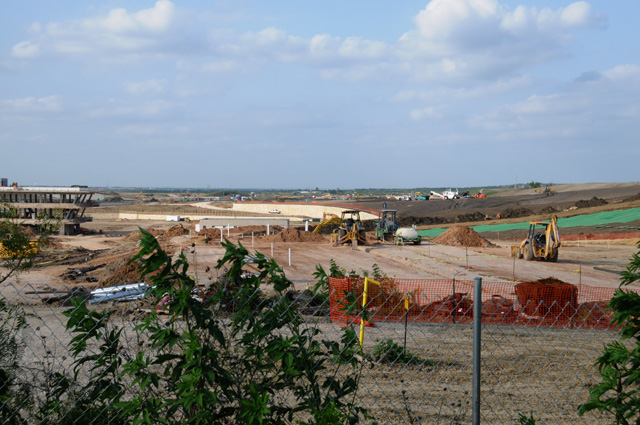 There was a TV station crew there taping something for the 11:00 news (KVUE-TV, Austin). They asked if they could interview me and I said sure. I watched the news tonight at 11:00 and sure enough I was on air. The subject of the segment was traffic and parking at the time of the race. The story is by Shelton Green, KVUE News, on the right and Photojournalist Dathan Hull on the left.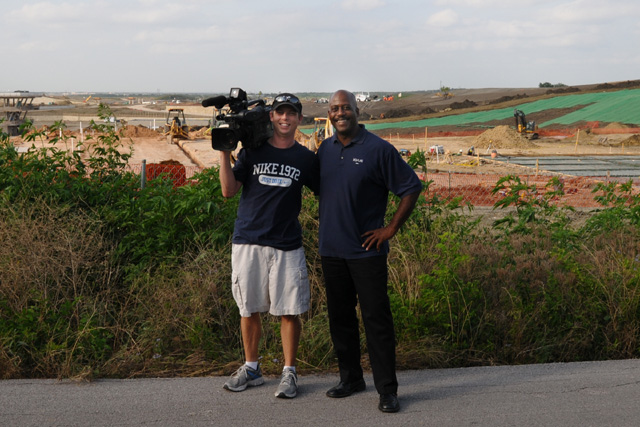 You can see the KVUE story by clicking here. The segment is titled "F1 Traffic Management Plan released". Click on the play button on the picture to see the segment. I am not sure where they got the idea that I was from Tampa. I was not asked any questions about traffic for the race, only questions about the race and the track.
Then I headed to downtown Austin. I parked in a tow away spot for a couple of minutes. I was not towed away. I was in the parking lot of the organization shown below. Ralph, this picture is for you.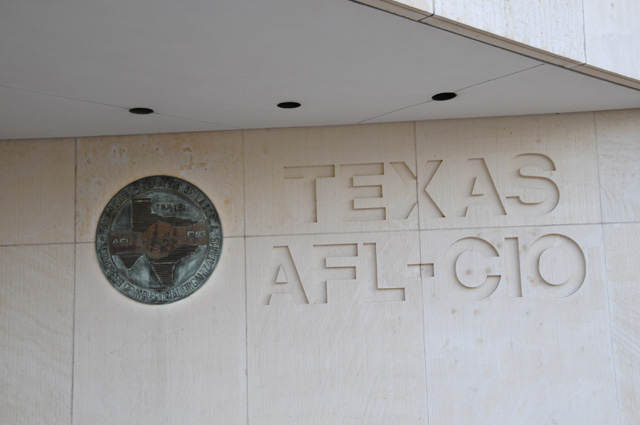 The picture I wanted to get is of the Capitol. Remember, Austin is a capitol city.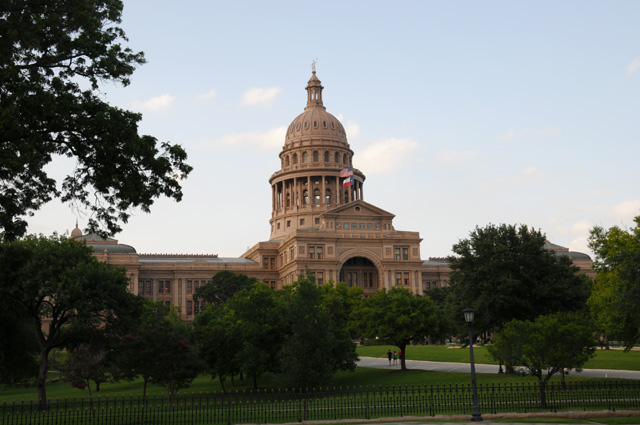 And now I am ready to ride off into the sunset. Except I am headed east. See you tomorrow.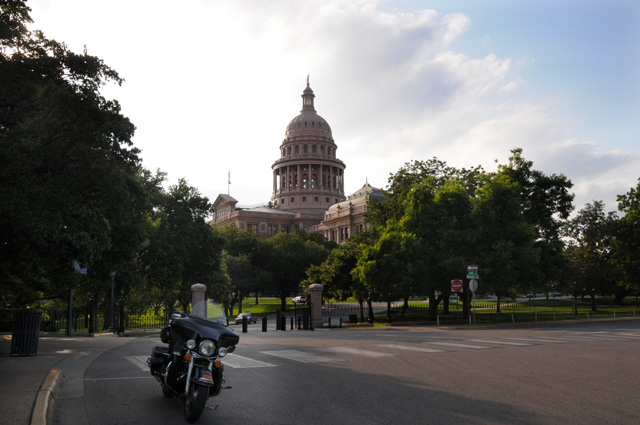 ---
24 May 2012, 8:30 PM CT, Rayne, LA
I stopped earlier this evening that I had planned. I was tired. I rode 373 miles today, and have more than 7,000 miles now. I only took two pictures today. The first is the Houston skyline.

And the second is a picture of me riding when I am tired.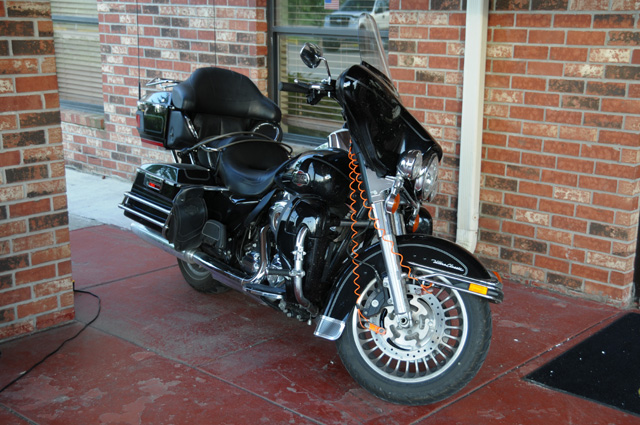 If you check the map you will see that I am now on I-10, my original planned route home. I took a more northerly route to avoid the high temperatures in the southwest. It worked out well. I have put away the Harley air conditioner. It is warm enough to use it except it doesn't work nearly as well when the humidity is high.
Did you check out the KVUE video from yesterday? If not, go back to 5/23 and see the video mentioned near the bottom of the page.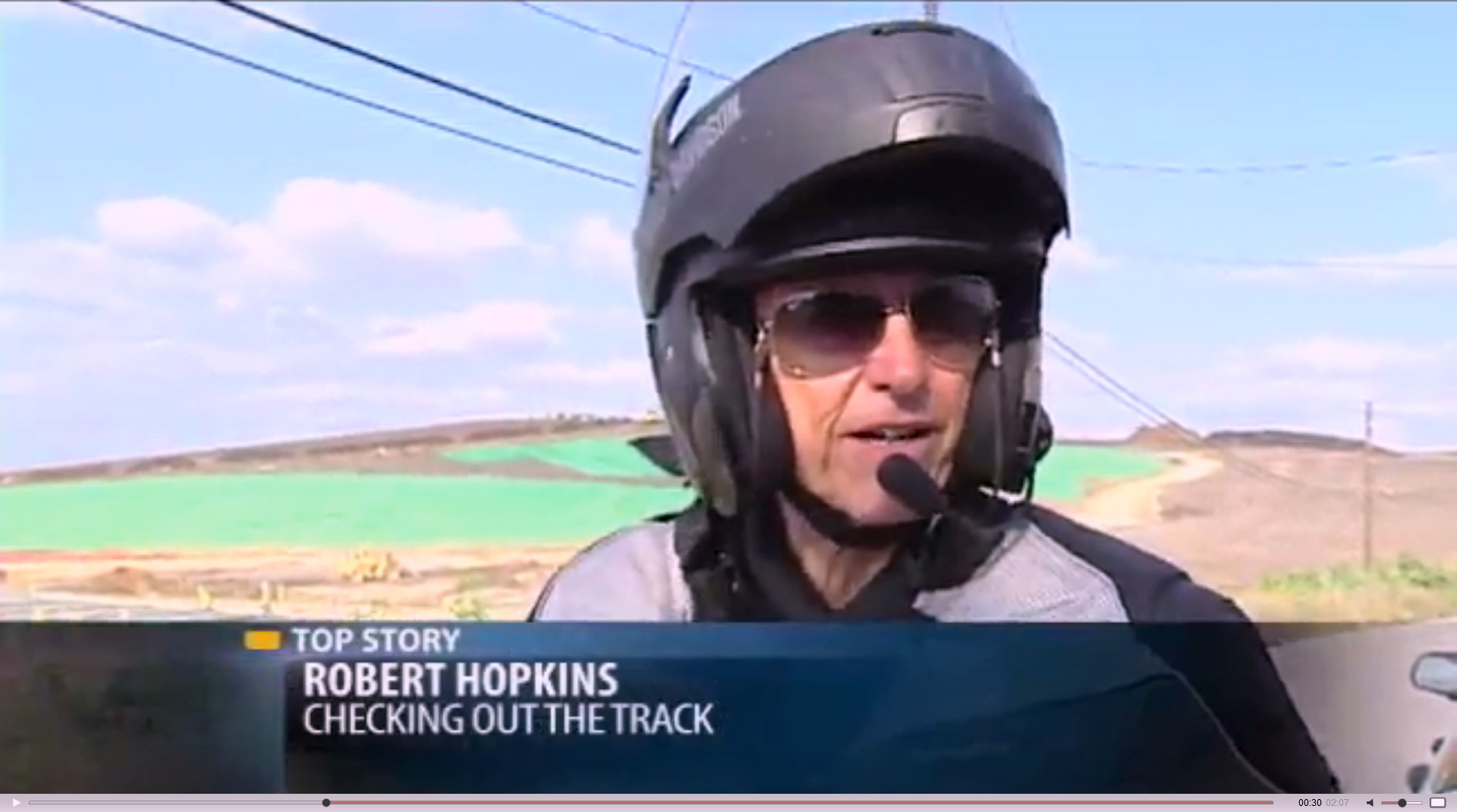 More tomorrow. Good night.
---
25 May 2012, 10:00 PM CT, Marianna, FL
I did some hard riding today, 498 miles. I have ridden 7,847 miles since leaving home. I crossed the Henderson Swamp, and thought it was beautiful, mostly water like glass, but widely scattered trees in the swamp. I really wanted a picture, but there was nothing I could do, I couldn't stop. Let me just say it was beautiful and I wish I could have a picture for you and for the future. But it was not to be.
A few miles down the road, I-10, I entered the city of Baton Rouge, Louisiana. Aha, that is a capital city. I must stop and take a picture of the capital, even if I have done it on a previous travelogue, which I have.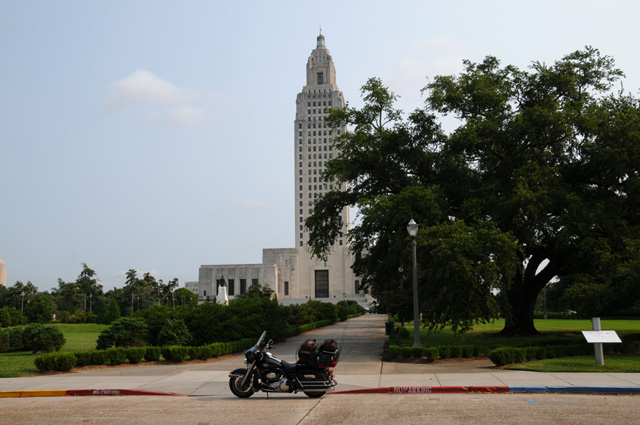 See the red paint in front of my motorcycle, it says "No Parking". See the red paint behind my motorcycle, it says "No Parking". But, not to worry, there was nothing saying "No Parking" beside my motorcycle.
Just a block or two from the capital is the mighty Mississippi River. The bridge you see is where I crossed the Mississippi just minutes earlier.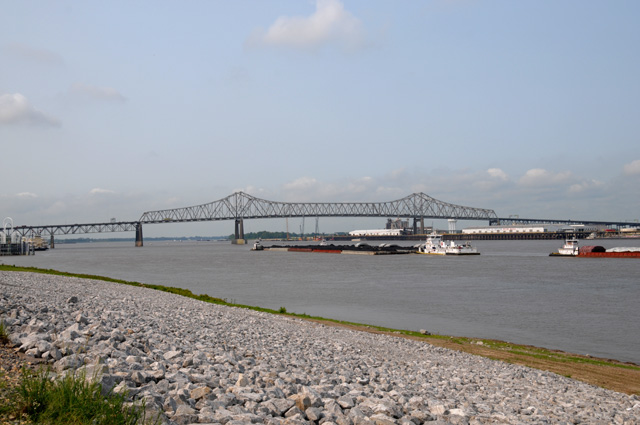 Still further down the road, I started feeling the need for a coffee break. So I did a little side trip to Cafe du Mond in New Orleans.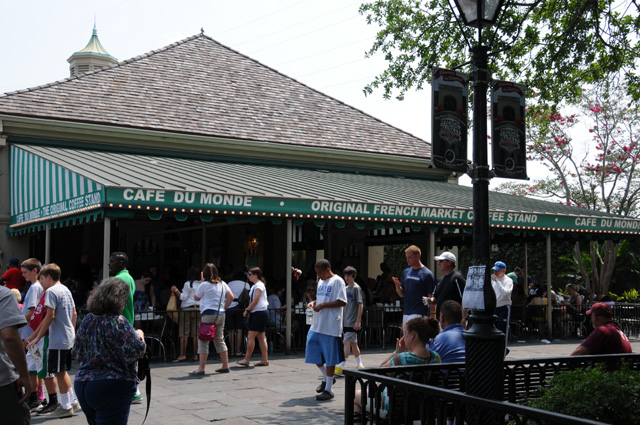 Inside you can see many satisfied customers enjoying whatever it is they are enjoying.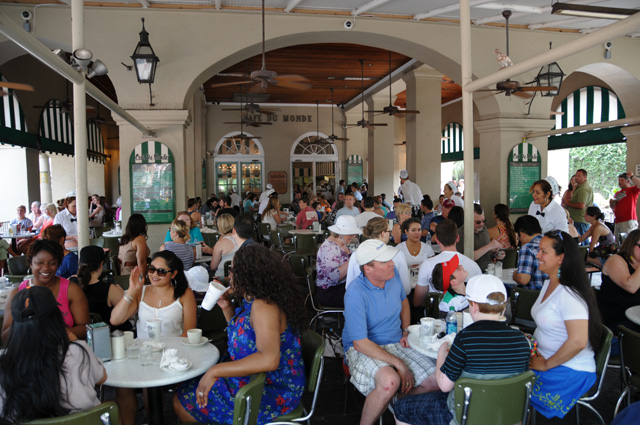 And here's one very satisfied customer enjoying his coffee and beignets.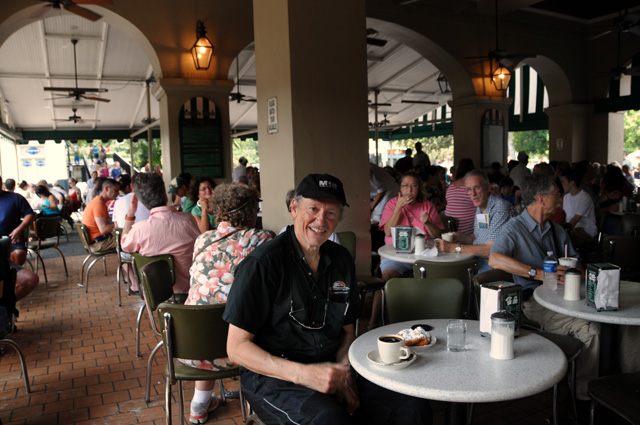 I took a little more time to walk through St. Louis Cemetery No. 2. It was right next to my exit on I-10.
I like to be able to see my motorcycle from my hotel room. That way, if it gets lonely during the night, I can hear it calling to me and I can wave to it from the window. That always seems to calm it down.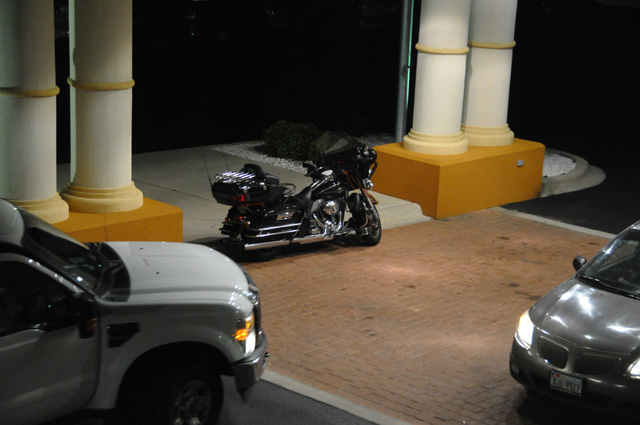 Come back and see me tomorrow, I expect it to be the last day of this journey.
---
26 May 2012, 7:30 PM ET, North Palm Beach, FL
I'm home! I rode 495 miles today. I passed through Tallahassee, another capital city. So my first picture today is the Florida capitol. If you have read my past travelogues, you will know that I only show the old Florida capitol because I don't have a particular fondness for the new one. I will have to say, however, that the view from an approaching hilltop can be impressive, so that's what I am doing. I have always liked the impression gained from this point. So, here's Florida's new capitol, the tall building with the two white domes, behind the old capitol.
Later in the day, as I was approaching the Atlantic, I had to pose my bike with the palm trees.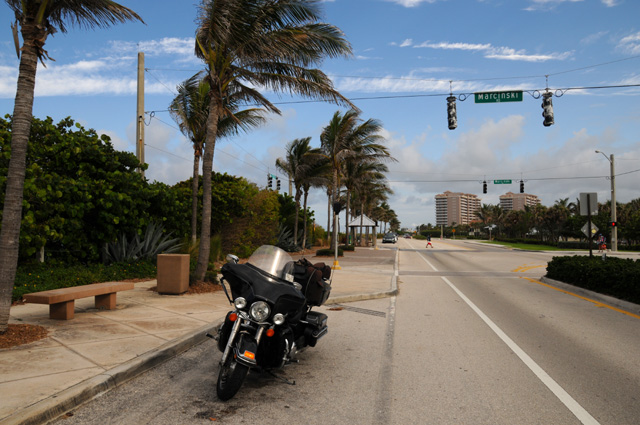 And get a shot of the beach.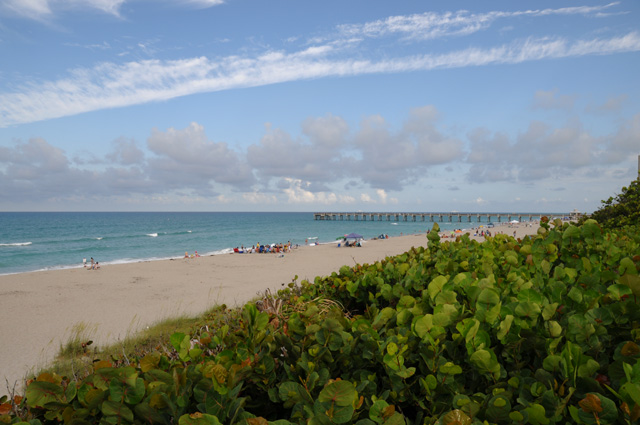 You see, I was back in the Palm Beaches. I was home.
My dog was happy to see me.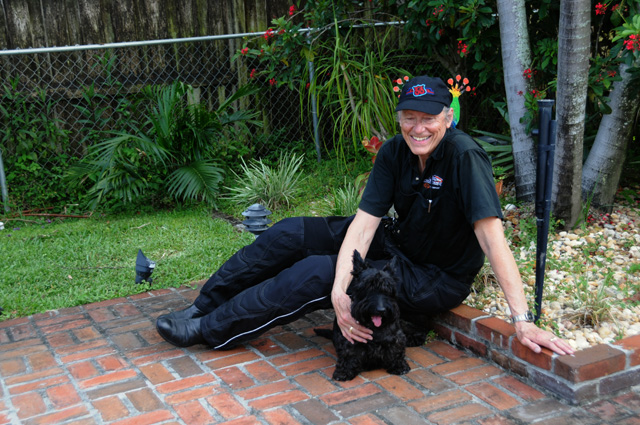 My wife was happy to see me.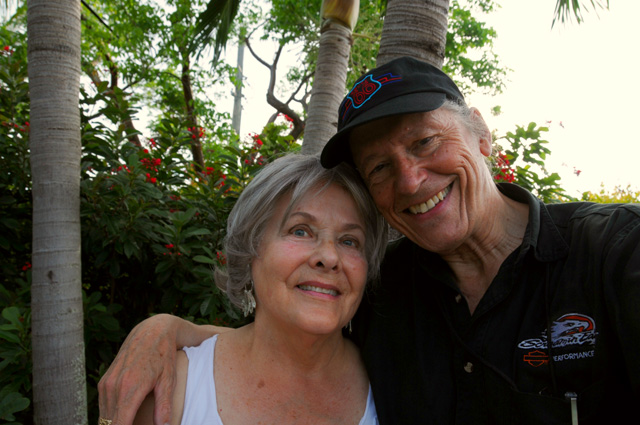 And I was happy to be home.
That's it for today. But my story is not finished. I want to reflect over the past three plus weeks, and I will write a wrap-up tomorrow. Please come back to see it.
---
27 May 2012
Wrap Up
This was a very successful ride. I had no bike problems at all. I rode 8,342 miles in 25 days. The average miles per day was 333. I had very little rain, only in West Virginia and Ohio, and that was light. My riding suit hardly got wet, but the bike did get very dirty.
My new (hot weather) riding jacket was an excellent compromise. On the really hot days, there is no question that I was much cooler than I would have been with the older (all weather) riding jacket. With only two days having some rain, that may have shaped my viewpoint.
I kept myself well nourished with chocolate shakes. I don't keep count, I just have the discipline to get one only when I feel I need it. For those of you who were counting, it was 23.
My fuel tank holds 6.0 gallons of (premium) fuel, with a low fuel level warning light that comes on when I am down to 0.9 gallons. I used 195.661 gallons which means it required 10 barrels of oil to make the gasoline I used. I averaged 42.6 miles per gallon for the entire trip. The lowest I got on fuel was in Maryland where I required 5.662 gallons to fill the tank. Using my average fuel mileage, that means I was down to 14 miles. I knew I was getting very low. I had been passing gas station after gas station, and suddenly there was a distance of 35 miles with not one gas station. I didn't expect that in Maryland. In the desert, yes, but not in Maryland. The maximum distance I got on one tank of fuel was 250.8 miles. That tank also produced my highest fuel mileage which was 51.0 miles per gallon. The maximum I paid for fuel was $5.199 per gallon in Needles, California. Fuel was most expensive, on average, in Utah, Nevada, and California.
My primary mission on this ride was to cross the US on Route 50, and especially across Nevada where US50 is called the "Loneliest Road in America". I must say I have been on lonelier roads, but not as long. It is 424 miles from the Utah border to the California border on US50. The Great Basin Desert runs from the Rockies to the Sierras. I really noticed the desert beginning at Grand Junction, Colorado. From Grand Junction to Lake Tahoe the distance is 840 miles. There were two spots in that run that went more than 100 miles with no gas stations.
I rode through 22 states plus the District of Columbia (FL, GA, SC, NC, VA, MD, WV, OH, IN, IL, MO, KS, CO, UT, NV, CA, AZ, NM, TX, LA, MS, and AL). I rode through 8 capitol cities (Annapolis MD, District of Columbia, Jefferson City MO, Carson City NV, Sacramento CA, Austin TX, Baton Rouge LA, Tallahassee FL) including our nation's capitol in the District of Columbia.
I saw my best friend from my grade school and high school days, I got a brick from my high school building, I saw my three grandchildren and gave the two older ones their first motorcycle ride, I saw my son and his wife, I saw my two brothers and sister and sister-in-law, I saw four nieces, one nephew, five grand nieces, one cousin, and various other spouses.
Here are some pictures that strike a certain note with me:
Best Tunnel Award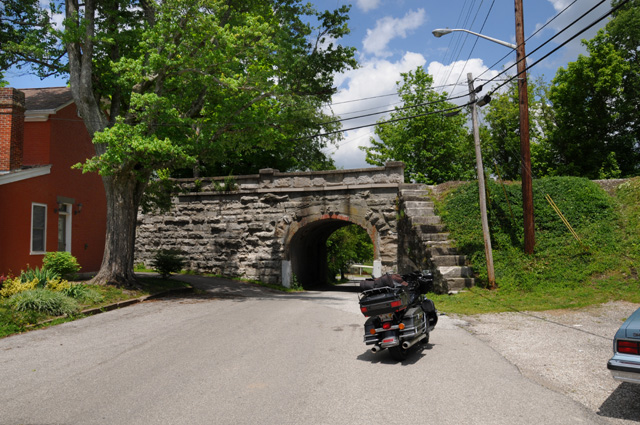 Best Skyline Award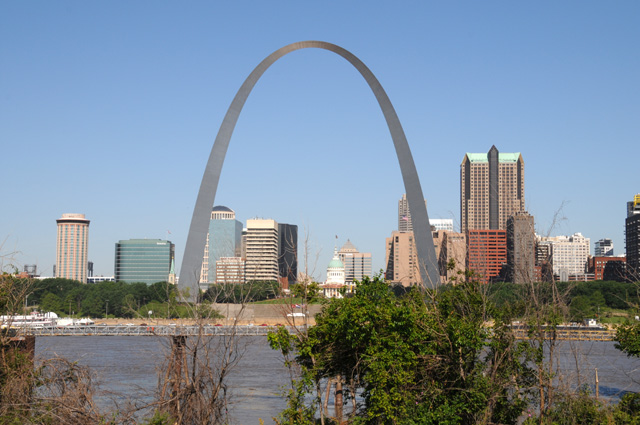 Cutest Knight Award

Most Artistic Knight Award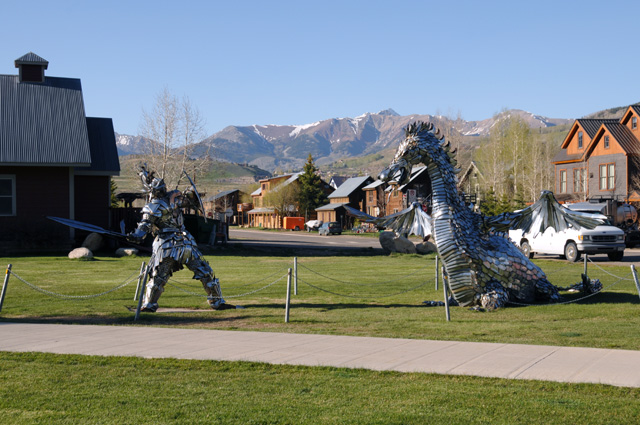 Best Coffee Break Award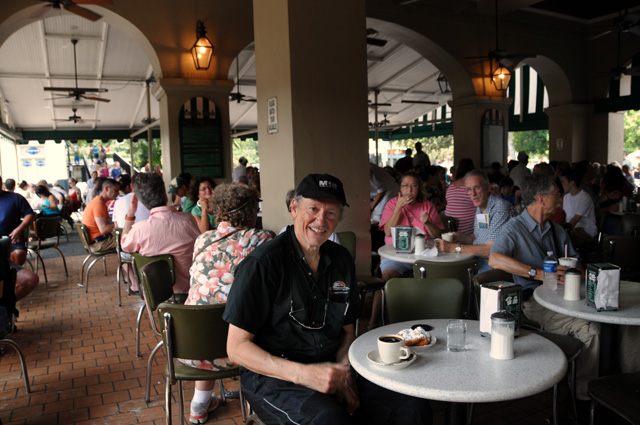 Best Mountain Picture Award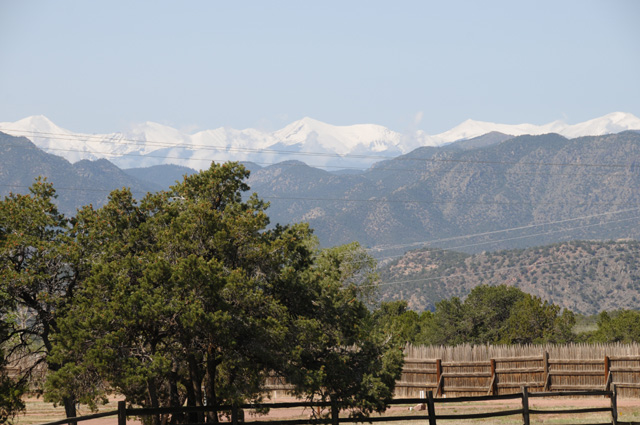 Looks the Most Like Swiss Alps Award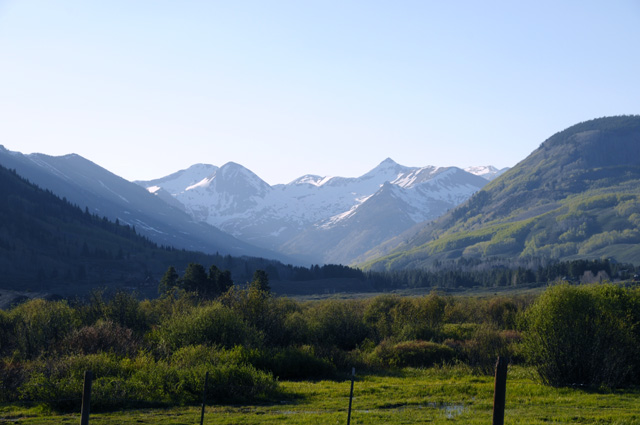 Deepest Canyon Award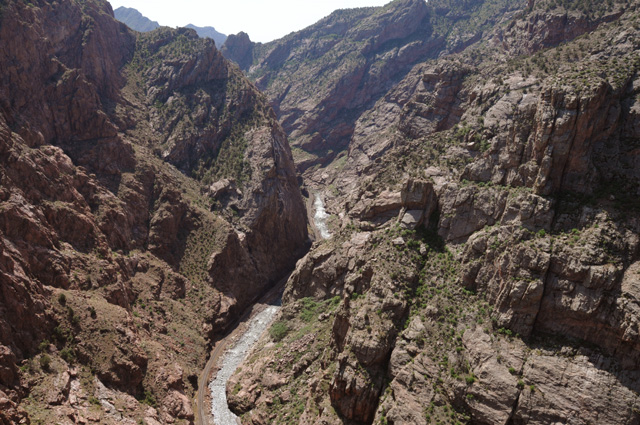 Longest Road Award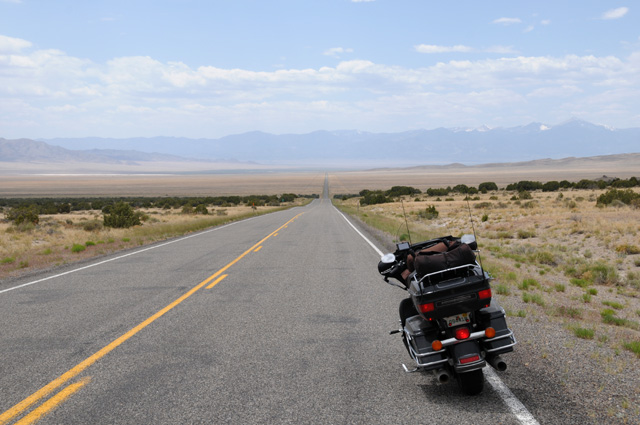 Meanest Biker Award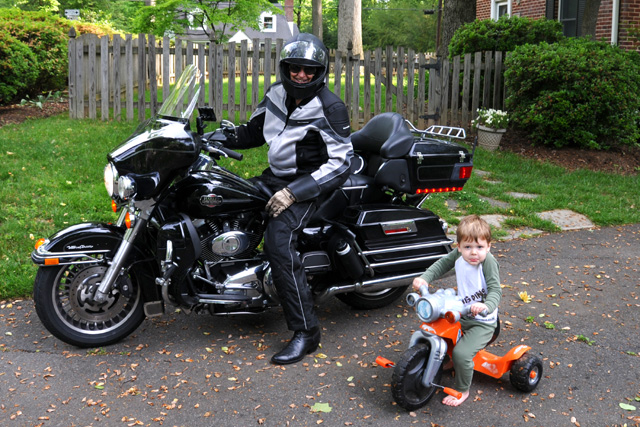 Red Rock Award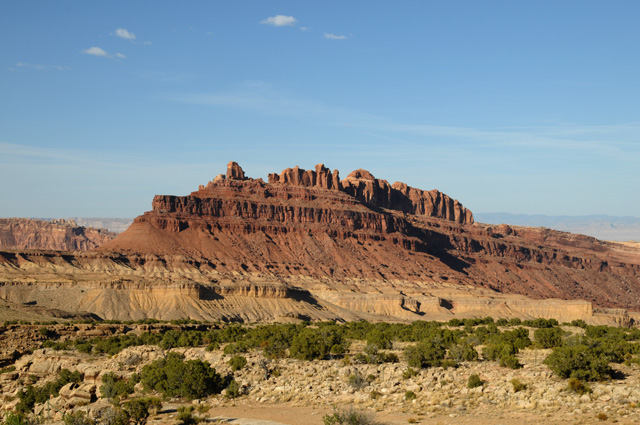 High School Award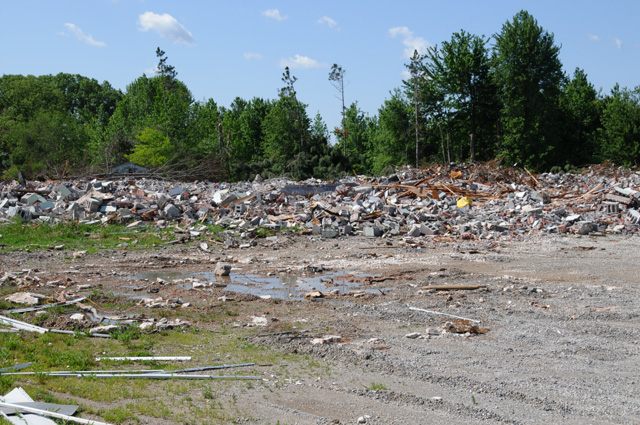 Silliest Picture That Nobody Commented On Award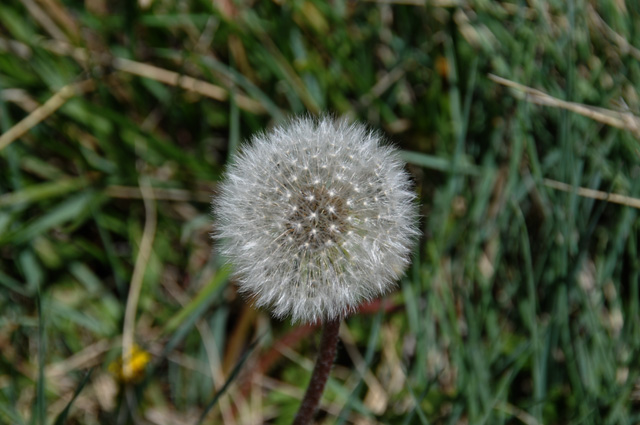 Funniest Self Portrait Award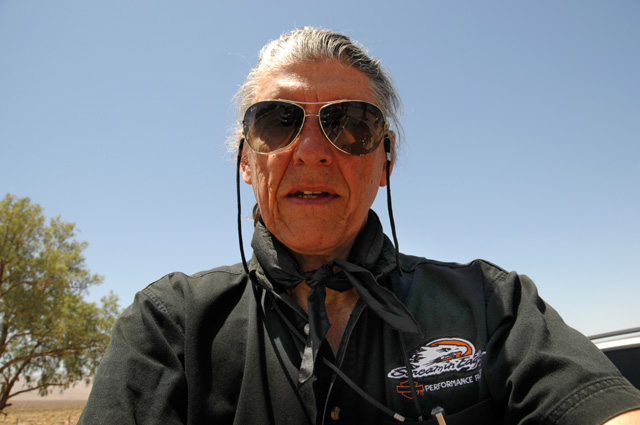 Missed Picture Award


I grabbed this Henderson Swamp picture from Google Maps Street View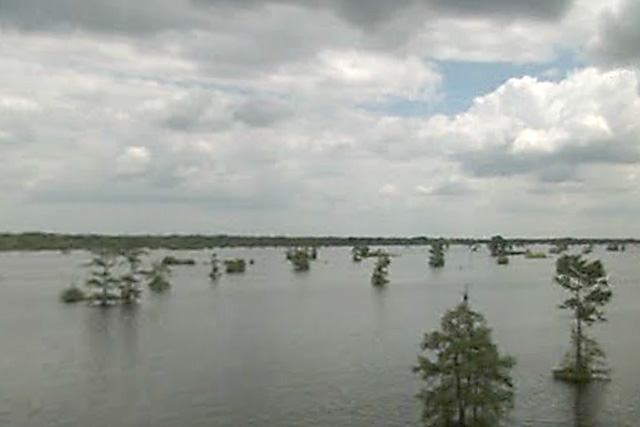 Dumbest Mistake Award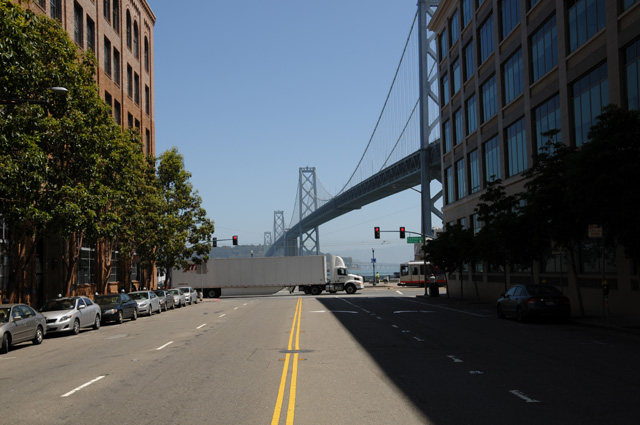 Sweetest Granddaughter Award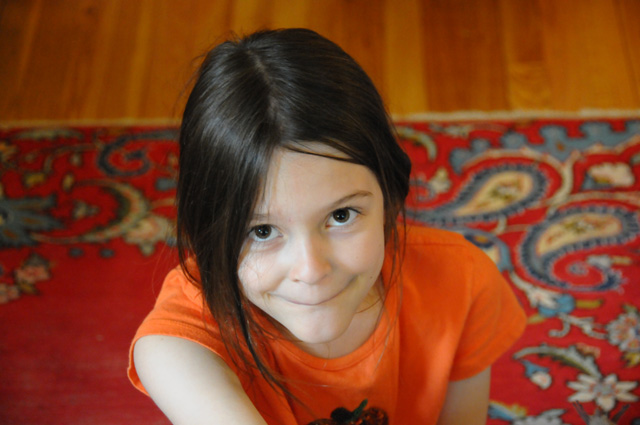 Country Bridge Award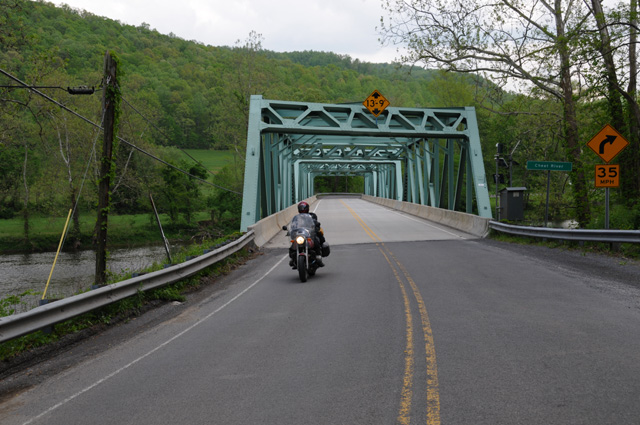 Prettiest Bridge Award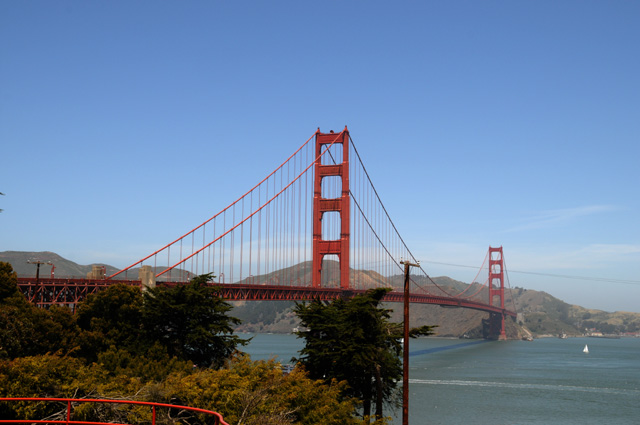 Most Unexpected Moment Award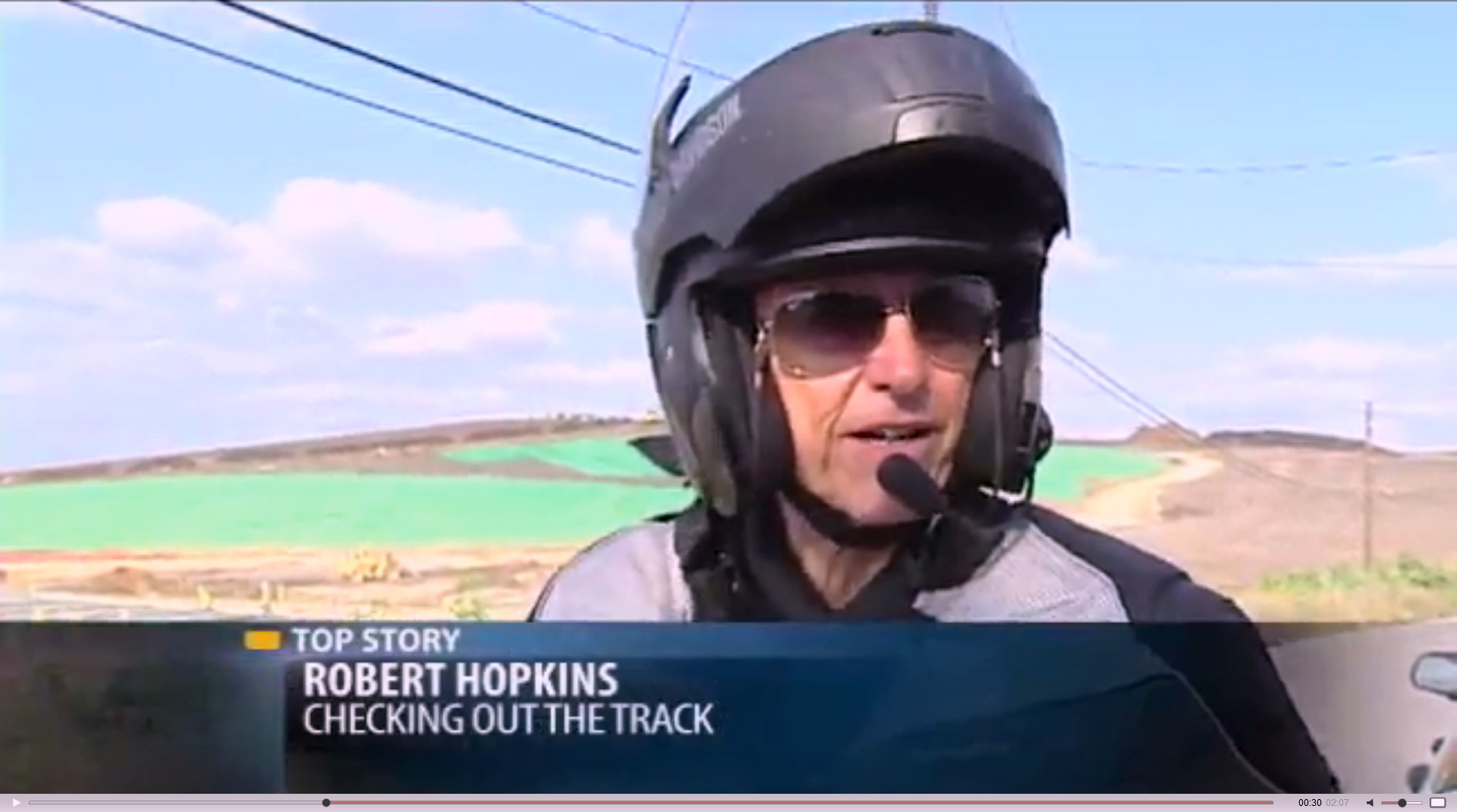 Most Unusual Moment Award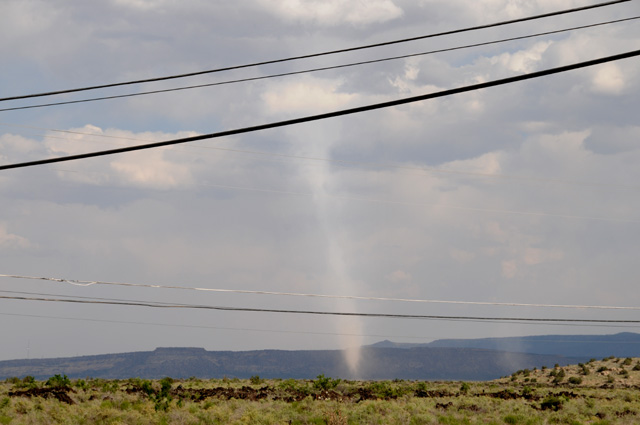 Don't Mess With Me Award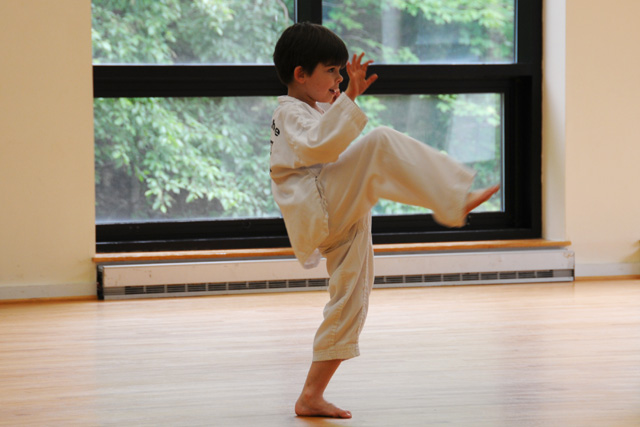 Prettiest Scene Award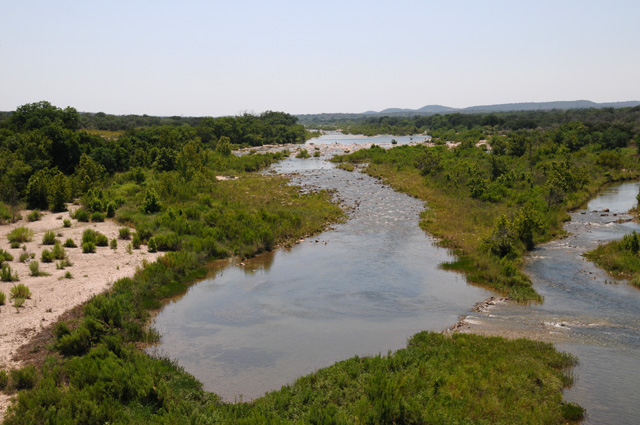 Most Impressive Capitol Award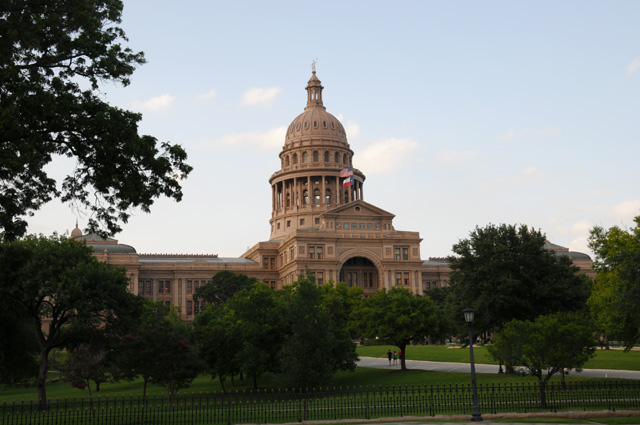 Happiest Moment Award


The ride was wonderful, but it was great to be back home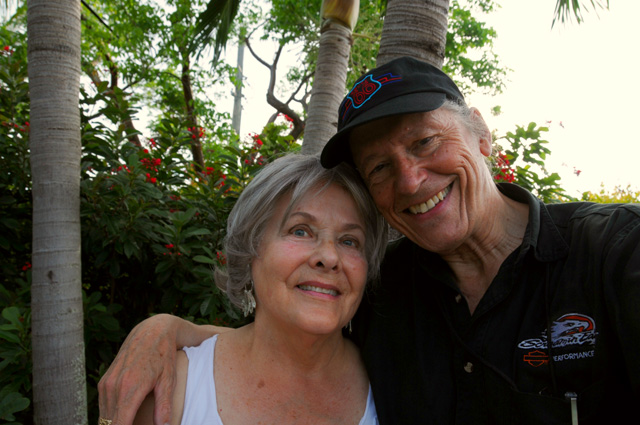 ---
28 May 2012
Wrap Up Continued
Just a couple more comments. I took 602 pictures. The terrible road I mentioned on 5/15 started at the Utah border. The road had been acceptable in Colorado, but became unacceptable when I crossed into Utah. I have determined that by examining the road in Maps.Google Street View. The change was at a cattle guard, and it appears that is the state line. It turns out that I did follow it to its end, which I did not realize at the time. I just wanted to get on the Interstate.
---
23 June 2012
Wrap Up Continued
I received the following certificate from Nevada for surviving the Loneliest Road in America. Also included, a lapel pin with the HWy 50 icon and the statement "I RODE MINE".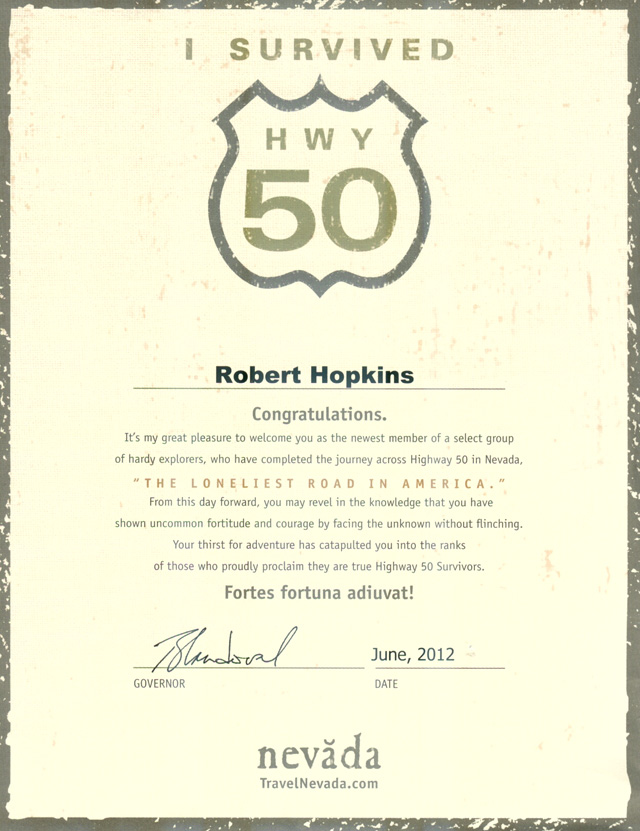 ---