---
24 June 2013, 8:30 PM PT, Wallace, ID
Greetings from Idaho. As you know, I have been riding hard to get out of the rain. I may finally have done it. The morning started with rain. Here's what it looked like.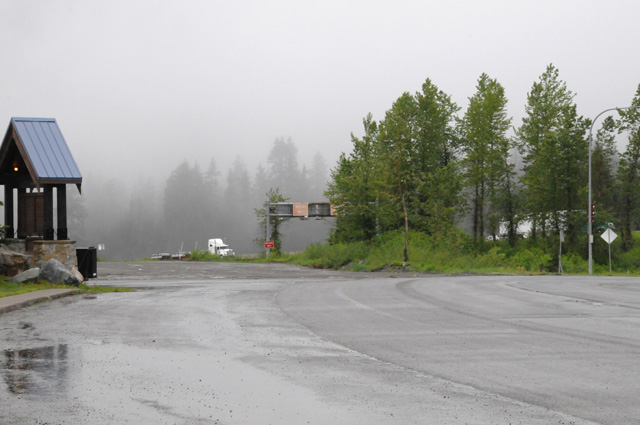 But, soldier on did I. Sometime later the skies were brighter, although never without significant clouds. Here's a windmill farm I rode past.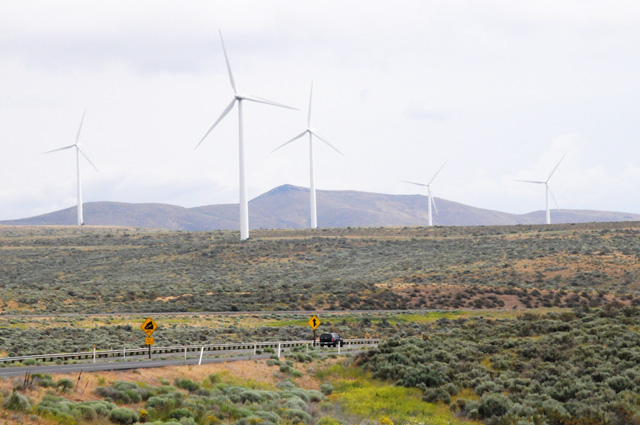 I wanted a closer look at the vegetation in the previous picture, here it is.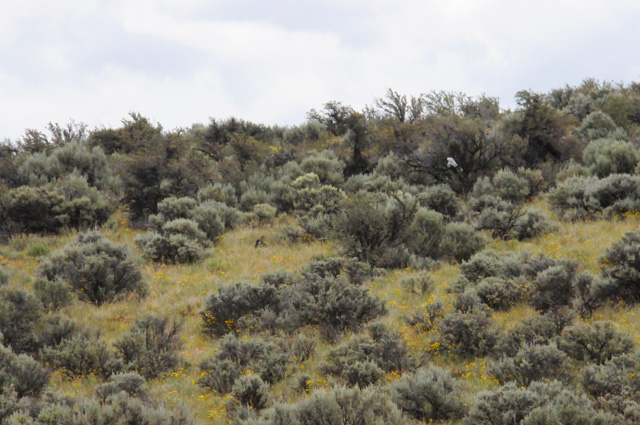 So far everything today is in the state of Washington. That's the Columbia River down there.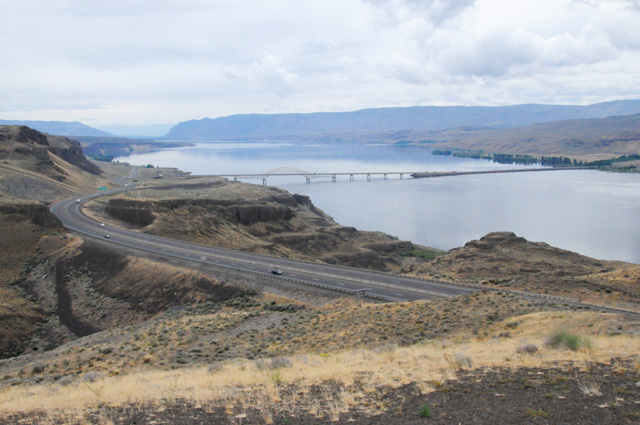 I stopped in Sprague, WA to get gas, and spotted this church. I liked the steeple, so I had to take a picture.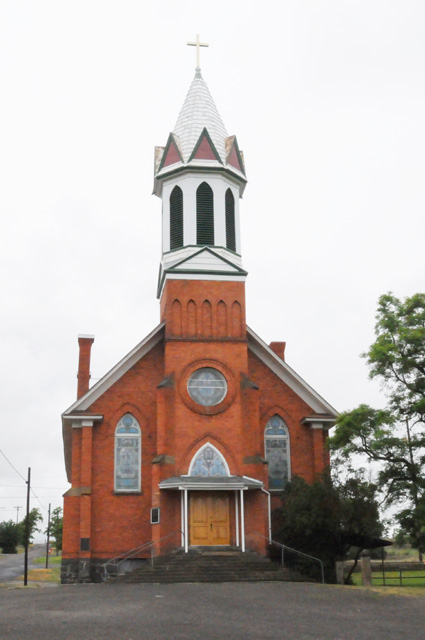 Entering Idaho. I just felt like taking a picture of the sign. Later this week I will meet up with niece Sparrow who lives in south Idaho. Maybe that's why I took this picture. I'm not sure.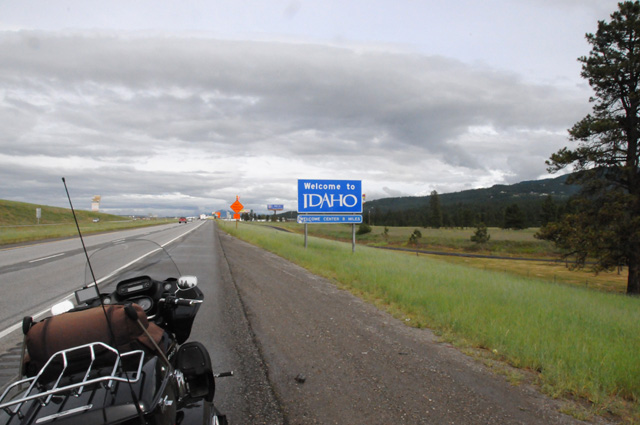 And here's a couple of pictures of the forest in northern Idaho. Can you tell that the sun is shining? Still lots of clouds, but the sun does exist in Idaho. I am not sure about Oregon and Washington. I cannot attest to it myself.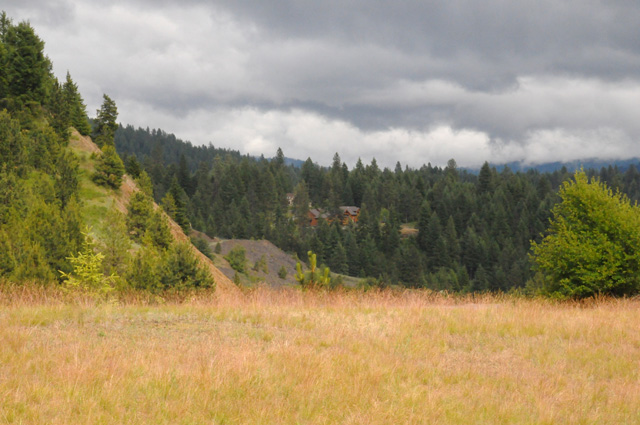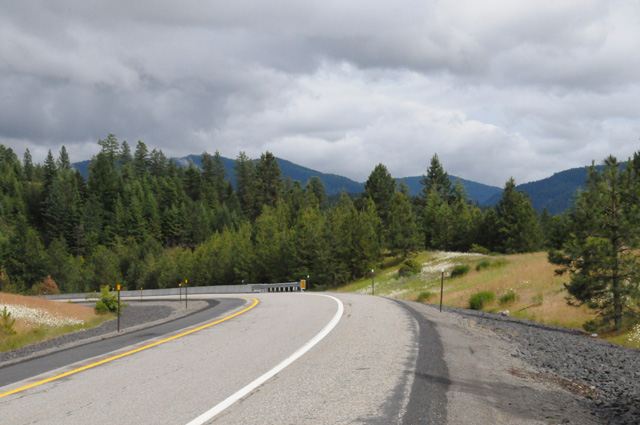 This bird was circling right over me. I think it is a red-tailed hawk. Surely one of my readers will correct me if I am wrong.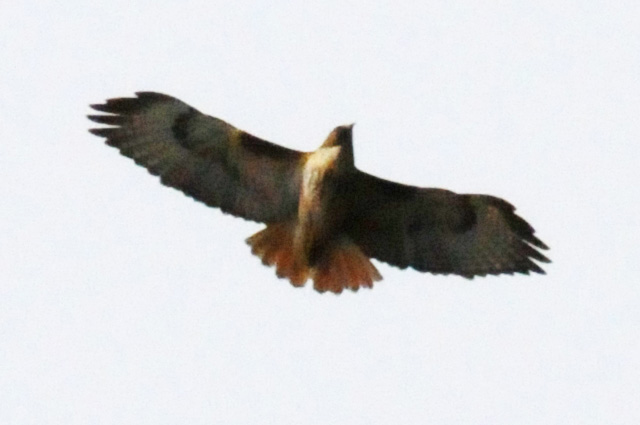 I cannot count today as a real day. I did not have a chocolate shake. I am laden with guilt, so much so, that I will probably have two tomorrow. But, on the other hand, I will be in remote areas tomorrow. I may find it difficult again to find a chocolate shake. Maybe that means three the next day. I don't know if I can handle that. I will try, though, if I must. I cannot let this go on too long, I will lose track of days.
Got the throttle fixed. It was a very simple problem. Spokane Harley, super nice guys that they are, didn't even charge me for the fix. The throttle grip was pushed on too tight and then the torx screws were tightened, it needed to be pulled off about 1/32 of an inch, then tightened again. That's all.
I rode 336 miles today. I have 5,908 total so far. I have been going 16 days, that's 369 average per day. That's a little higher than last year, which was about 330 miles per day.
Check back tomorrow. I should have ridden the Going-To-The-Sun Road. My trip is a month later this year, and it is because of that road. It did not open until last Friday.
---