---
24 May 08, 10:00 PM PDT, Glendale, CA
Today was a day to take it easy. I had breakfast at the hotel in Santa Monica, said goodbye to some more of the Route 66 Tour riders, then headed out in the misty air to Glendale to my home for the next few days. I rode the surface streets, not the freeways, to reacquaint myself with the area. I lived here just five years ago, but my aging mind needs little reminders to put things back into place. After checking into the Glendale hotel, I headed out to Encino, where I used to live, to meet some friends for lunch and music. I stopped at a shoe repair place I patronized while I lived here to get new heels on my boots. My left heel had worn down very quickly. I guess it is the 6,000 miles I have ridden in the past four weeks that is due the credit. Left foot always goes down first. I do have some pictures for today. First, my LA harem.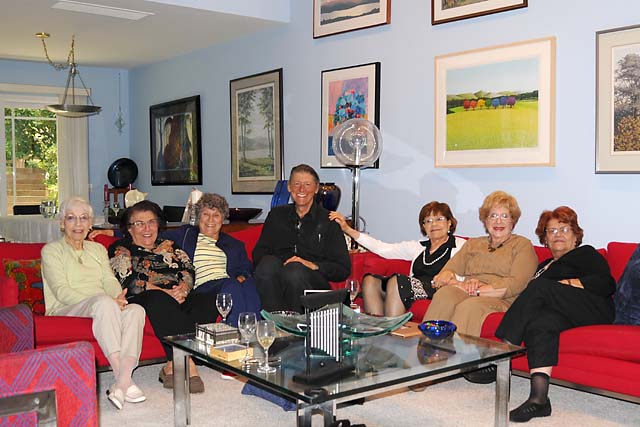 Following a delightful lunch and piano music with the ladies, I rode Mulholland Drive from Encino to the Cahuenga Pass. Here's a shot of Encino from Mulholland. My home was on the other side of the hill you see in the middle of the picture. You can see the Van Nuys Airport in the mid to upper left, the runway is pointing away from the camera. Above and to the right of the runway, in almost an S shaped curve, you can see the aqueduct that delivers water to LA through the Newhall Pass.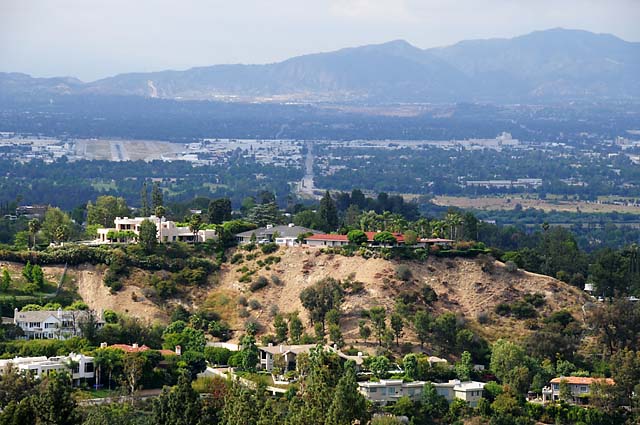 At the Cahuenga Pass end of Mulholland, you get a good view of the Hollywood sign. Being a tourist now, rather than a resident, it is mandatory that I take a picture of the sign. It doesn't matter if I already have a picture of the sign (which, of course, I do), the rules of touristism require a new picture. From the same location, you get a good view of downtown LA.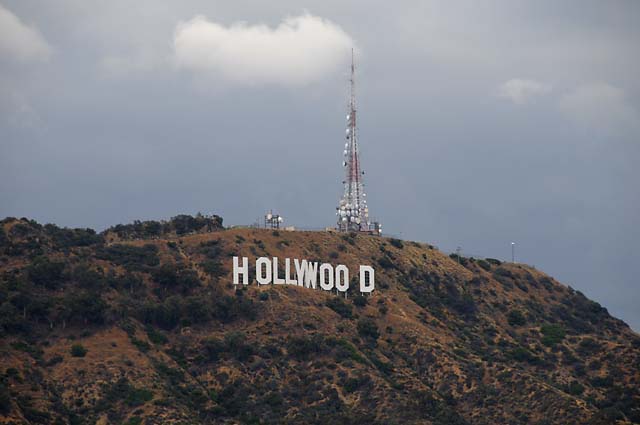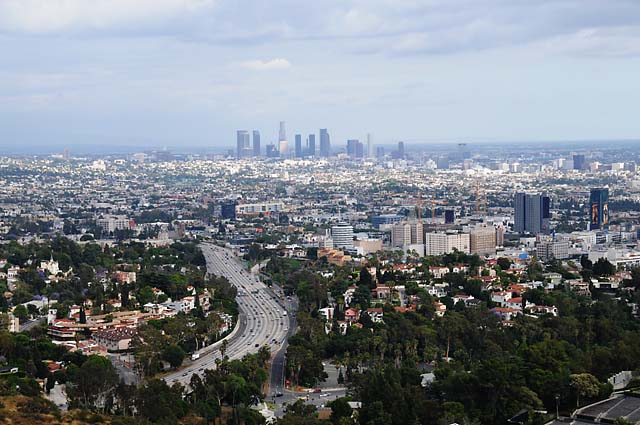 Then I found the following sight. It looked so familiar. I had to stare at it for a few minutes, then it suddenly hit me. That's where I used to work! I went through that gate daily. Unless, of course, I was on my motorcycle. No motorcycles allowed in this lot! Even in my reserved space. There's my poor little bike on the right, wanting so much to enter the gate, but knowing that such action is strictly forbidden.
Then, by habit I guess, I wandered upon the following sight. What is this? It looks so familiar, but different. Oh my goodness, this is the house I used to own! It is a very private home, it is impossible to see it from the street. It has a gated entrance now. You must go away a distance and use a telephoto lens to capture it.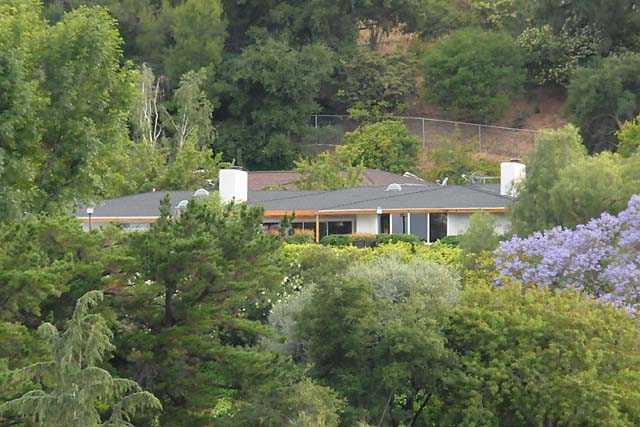 Ah, the familiarity, and yet the strangeness.
---