---
1 Jun 08, 8:30 AM PDT, Page, AZ
The day has started on a bad note. I went to the parking lot to start getting my bike ready for the day, and there was a pool of liquid under it. Oh no, I thought, an oil leak. Not so. A gasoline leak. I have made a few calls, and have decided to ride the bike about 120 miles to Flagstaff to a Harley dealer. There is one about 20-30 miles closer, where I got my new helmet, but I think I would be better off in the larger town. I had not intended to go to Flagstaff, I was going to go to Monument Valley today, but that's life. I will post an update later today.
1 Jun 08, 10:00 AM PDT, Page, AZ
I have decided to have the bike towed to Flagstaff, 151 miles, the fuel leak is too much.
1 Jun 08, 5:00 PM PDT, Flagstaff, AZ
I am in Flagstaff (actually Bellemont, 10 miles west of Flagstaff). My bike is at Grand Canyon Harley--Davidson. The bike rested on the back while Jimmy drove the truck from Page to Flagstaff, and I just sat. We had a sandwich lunch on the way. Thanks for the ride, Jimmy. The bike got here too late to finish the work today. The service shop is open on Sunday. It should be wrapped up tomorrow morning. The problem is the quick connect fuel return for the fuel injection. This is attached to the bottom of the tank with a rubber line running to the injection pump. I asked that both the fuel supply and the fuel return be replaced. If the rubber O-ring went in one, how long with it be till the other goes? I am spending the night in a motel within walking distance of the Harley dealer.
When I first arrived at Grand Canyon Harley, I walked around to see if they had any new black Ultra Classics. They didn't. If they did??????????
This morning I did a test ride and decided the leak was too bad to ride 150 miles through a hot desert with gasoline spraying on the hot exhaust pipe. I tried some duct tape, hoping to contain the leak, but the duct tape sticky stuff just melted from the gasoline, even when I dried off the metal first.
I did take some pictures of the Lake Powell Dam this morning when I did my bike test, and one looking at the lake.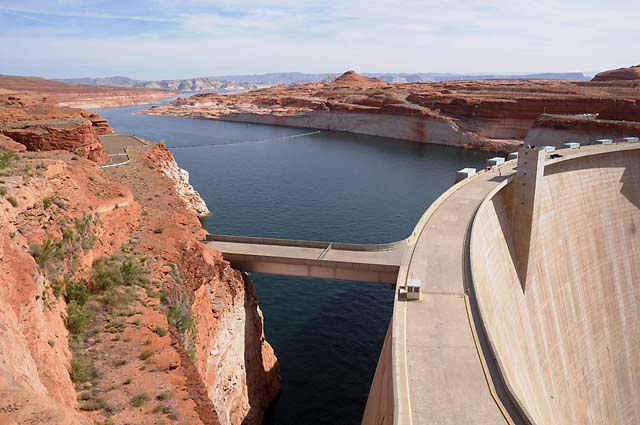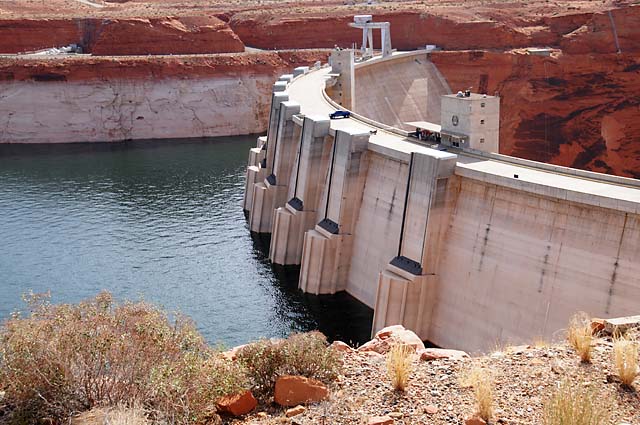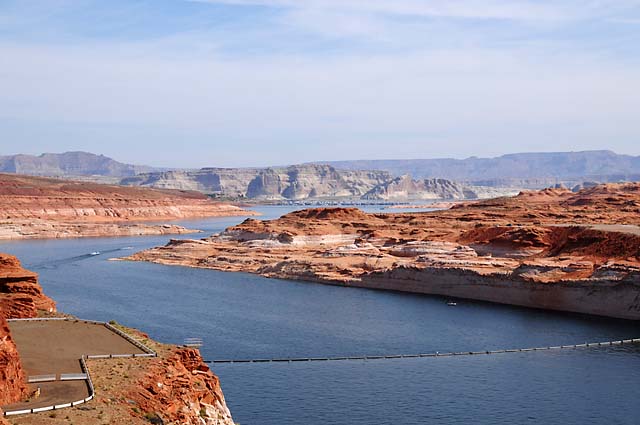 ---