---
31 May 08, 11:30 PM PDT, Page, AZ
Another full day. I went to the North Rim of the Grand Canyon. I had not planned to do this before I left home, but when I thought about it, and was less than 100 miles away, I decided I had to do it. After the North Rim, I went to Lake Powell.
On the way to the North Rim, in a meadow on the high mesa, there was a face-off. The bull vs the iron stallion. While the bull was actually larger, he was intimidated sufficiently by the iron stallion to shrink in apparent size. And thus, the encounter ended.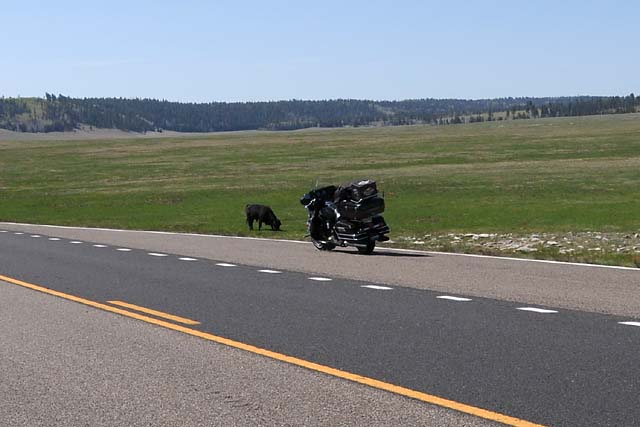 Just up the road, in another meadow, four deers.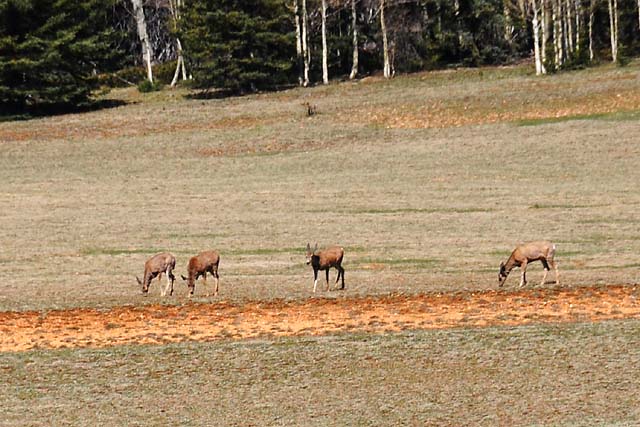 The view from the Grand Canyon Lodge, which sits right on the North Rim.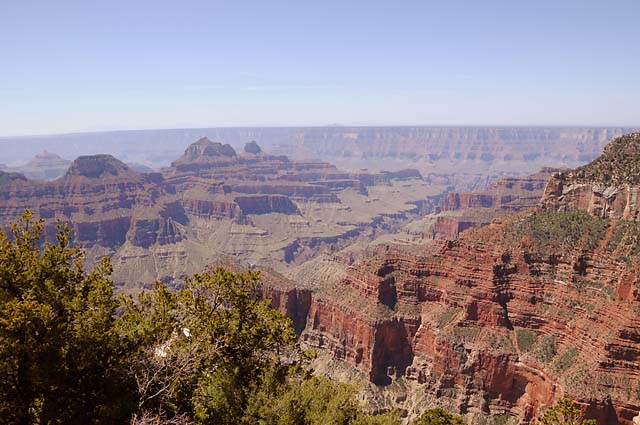 Between viewing locations on the North Rim, I saw this area where a forest fire had obviously burned the pines some time ago, and aspen are now growing by the thousands. That's what makes the light green color on the slope.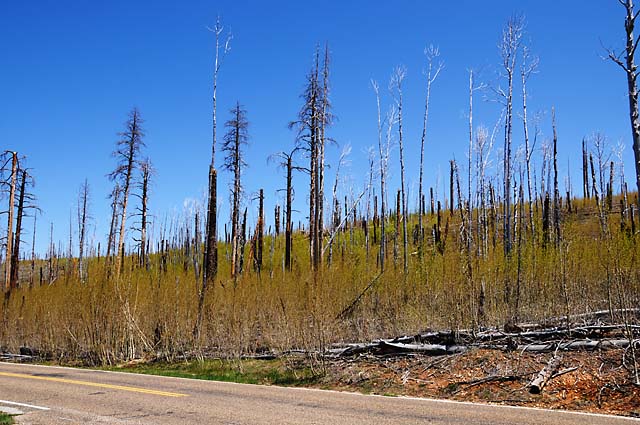 View from Point Imperial on the North Rim. The elevation is 8,803 feet. Near Flagstaff I had been at 8,046 thinking that would be my highest elevation. So far, the highest has been 8,827 which is also the highest on the North Rim, and is located at the Ranger Post entering the North Rim.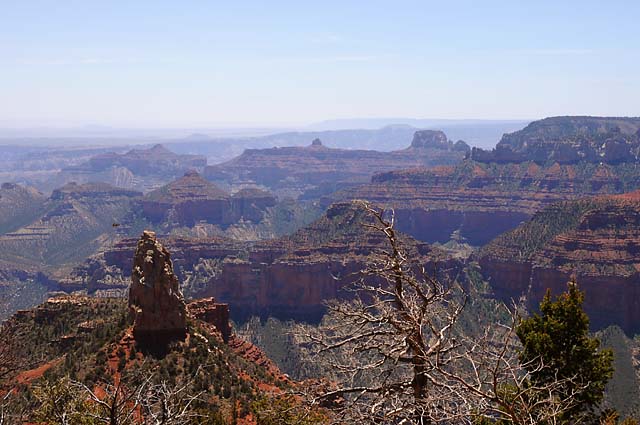 The remaining views of the Grand Canyon are from Cape Royal. This view captures the San Francisco Peaks, 70 miles away.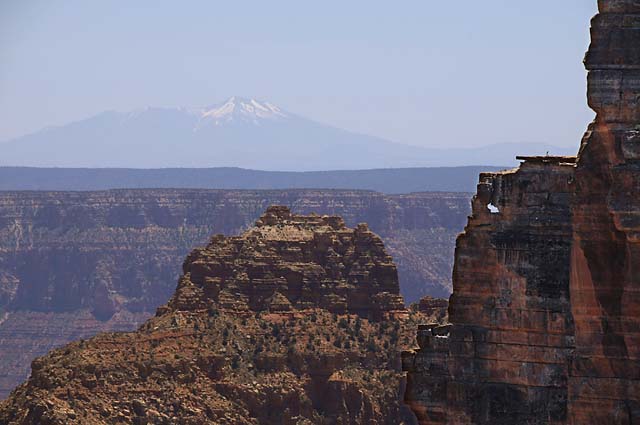 Angels Window.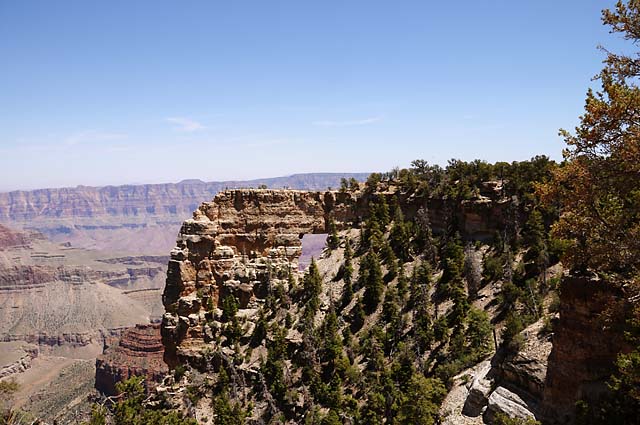 The Colorado River looking through Angels Window.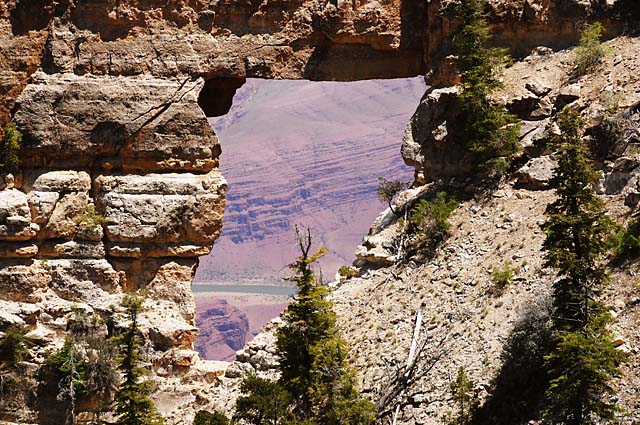 More views from Cape Royal.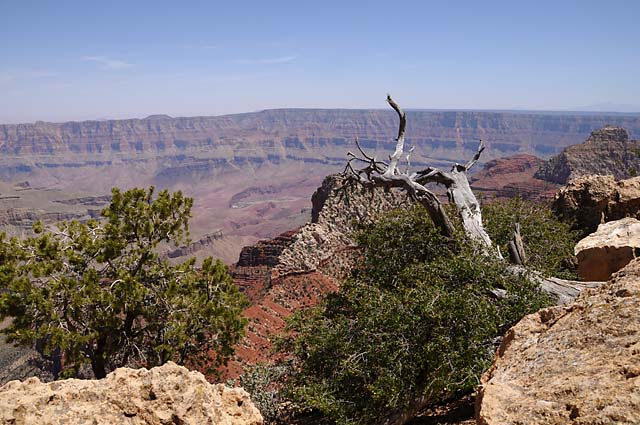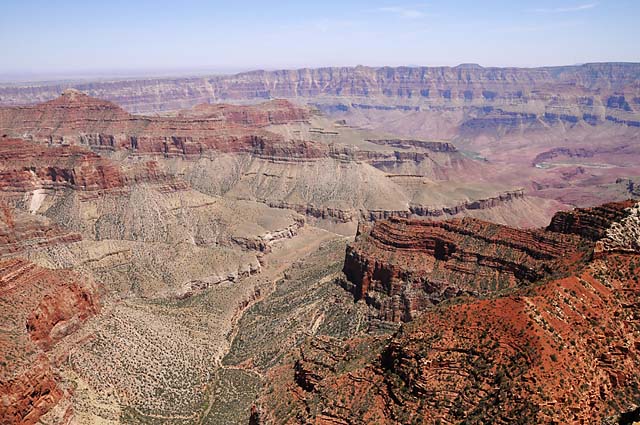 Vishnu Temple, which shows in one of my pictures from the South Rim.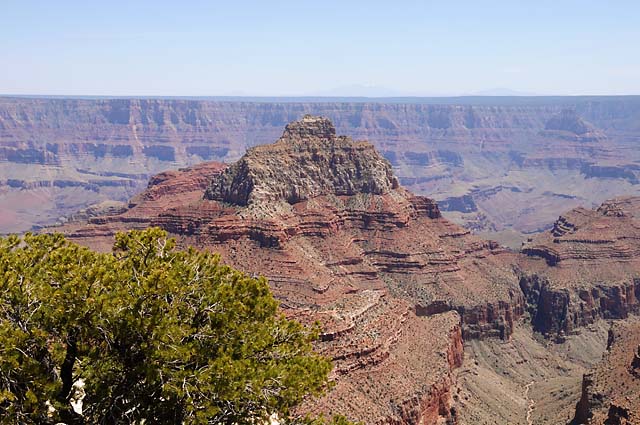 Descending from the heights of the North Rim. In about five minutes, I will be on the road seen below, running from the left just below center to the right just above center. That is US-89A.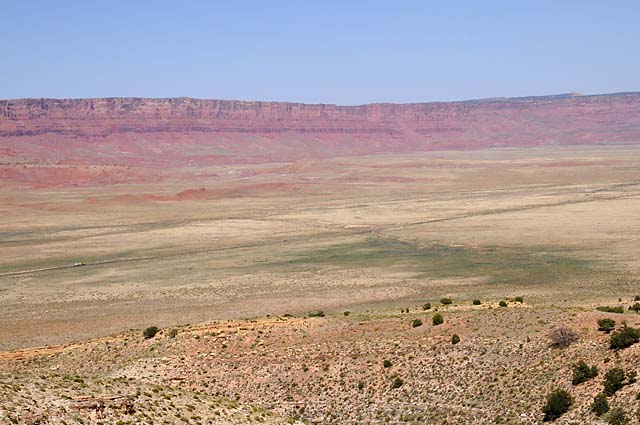 Another encounter, this time with giant boulders. This is in the town of Cliff Dwellers.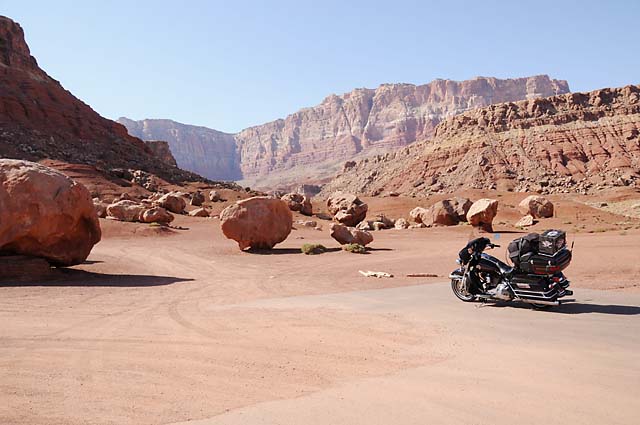 The town of Marble Canyon. I once again crossed the Colorado River here.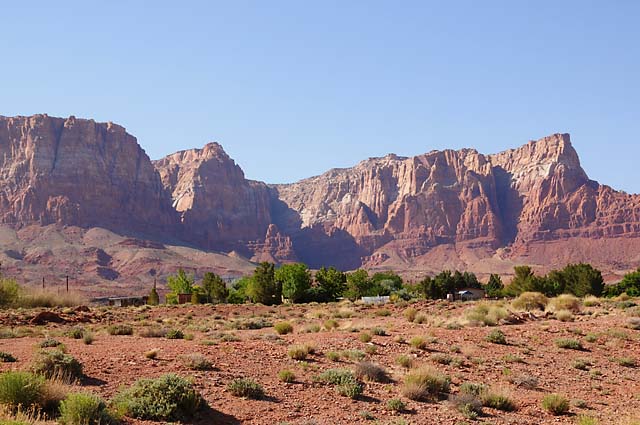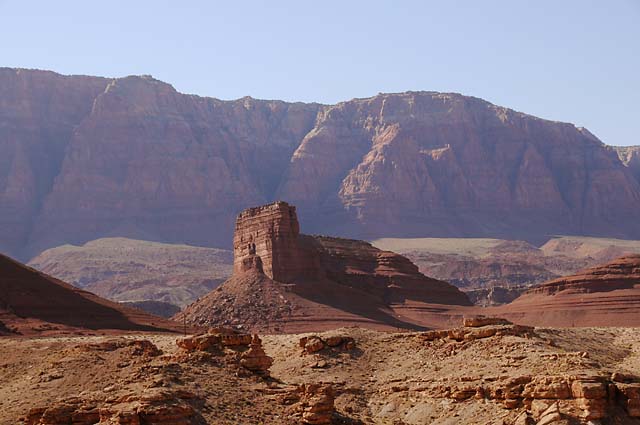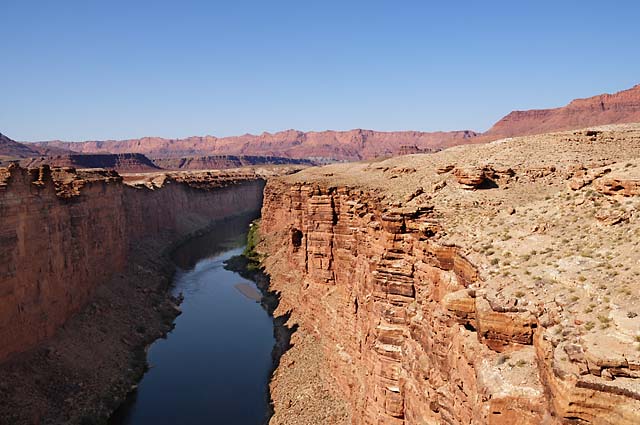 The road is going straight into the red wall. From here, I cannot see where it goes. Into a canyon? Up the side? Through a tunnel?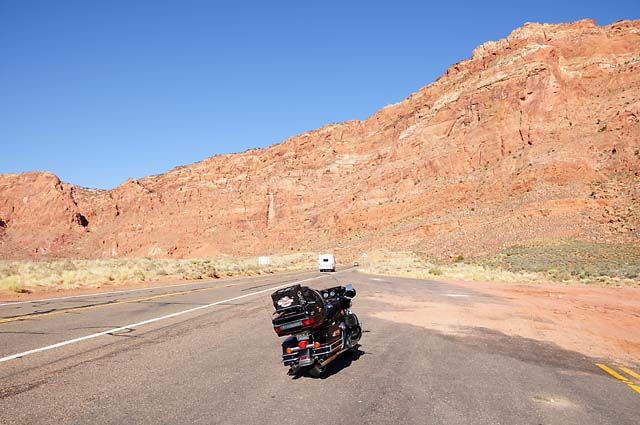 The answer was up the side. Here I am about half way up, looking back to where I started, and in the next picture looking up.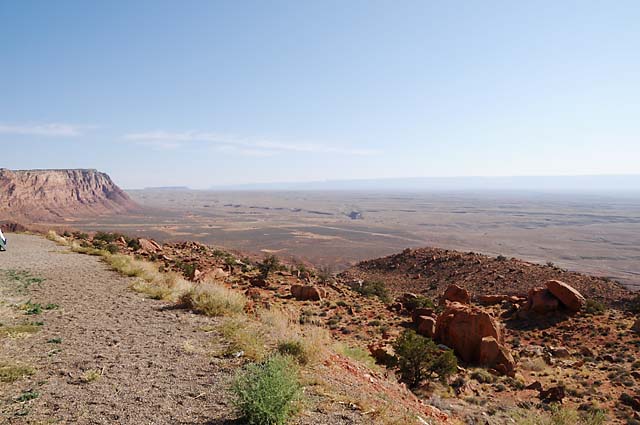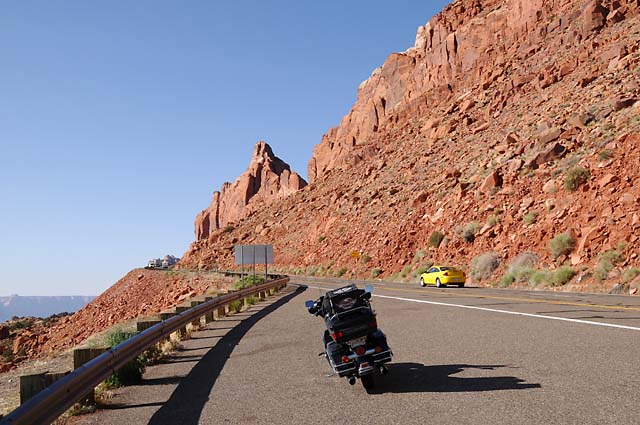 And here's what it looked like on top. I am on top of a mesa.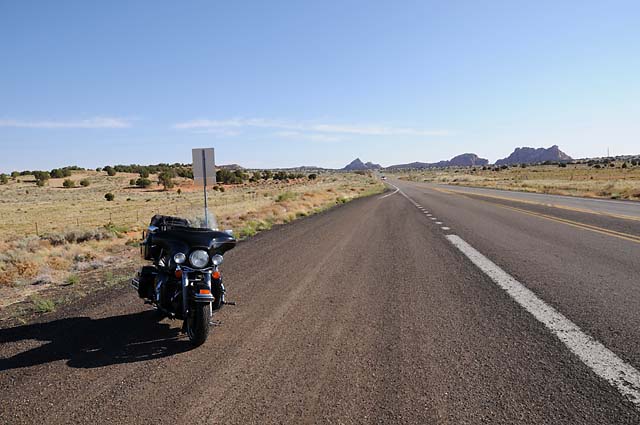 This is Lake Powell, made by a dam across the Colorado River, backing it into Glen Canyon. Getting to this scenic lookout was almost a big mistake. The road, maybe half a mile long, was gravel. That's not too bad, I have been on gravel roads. But, this gravel was soft. The tires would just sink into it, and go wherever they wanted to go, not where I wanted to go. Not only that, there were sections of washboard that were bad enough to almost throw me off the bike!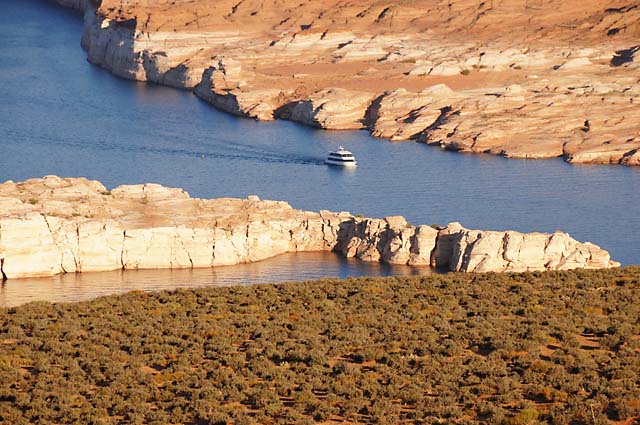 ---