---
3 Jun 08, 11:30 PM, Navajo Time, Chinle, AZ
I did a lot of riding today, partly to make up for lost time. I did 431 miles, second highest on this journey, second only to my journey from Ridgecrest to Las Vegas via Death Valley. I did have to return to Grand Canyon Harley-Davidson, but for a simple little reason. Last night, riding to the motel, I discovered that one turn signal was not flashing. It was the rear that was the problem. I was terribly worried that my wiring problems were coming back to haunt me. I swapped bulbs and the problem went with the bulb, thank goodness. But, that meant I had to go to a Harley dealer to get a replacement. I did that today after my 100 mile test ride.
When I was in Flagstaff a couple of weeks ago, I wanted to go to Oak Creek Canyon, but did not have the time. This is one of the places my family went on our Route 66 vacation in 1952. Because I found myself back in Flagstaff, and because I wanted to run 100 miles in the Flagstaff area to make sure I was happy with the bike before heading back out into the desert, I decided this was how I would test the bike. This picture shows US-89A descending into Oak Creek Canyon on its way to Sedona.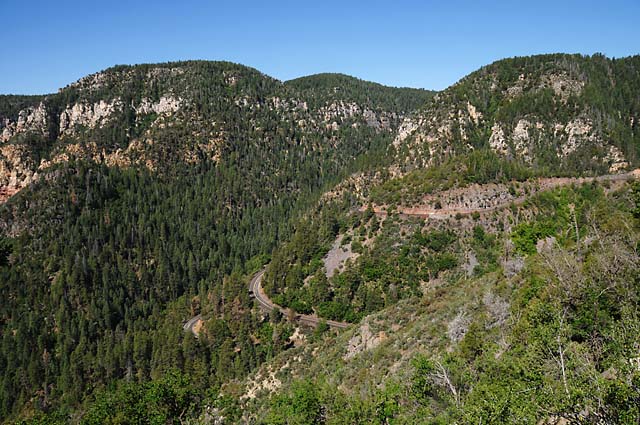 At the top of Oak Creek Canyon looking down the canyon toward Sedona.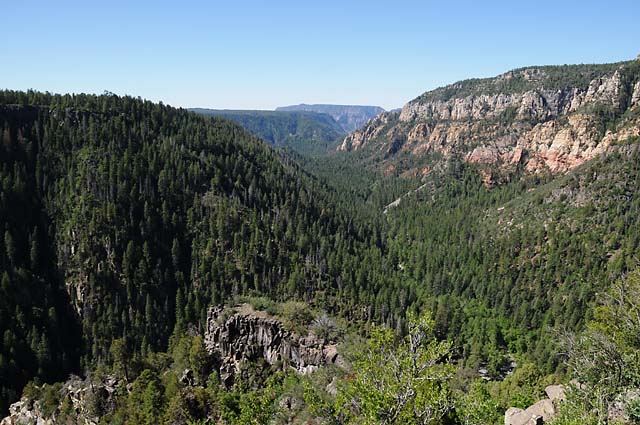 A view in the canyon, halfway to Sedona.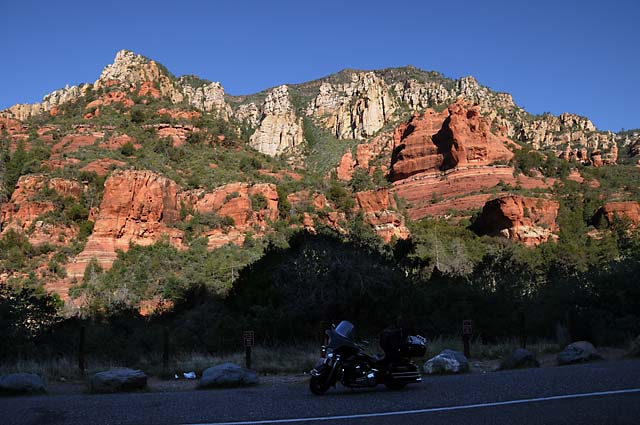 Getting close to Sedona.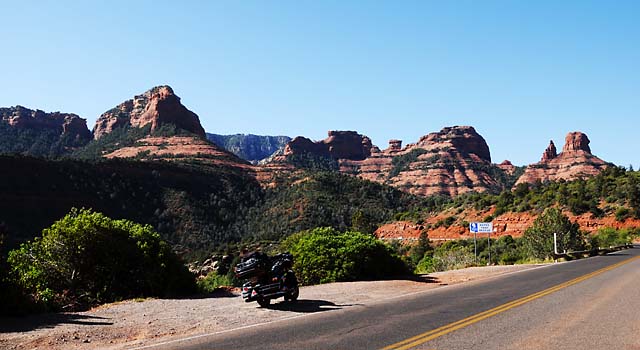 When the bike was being towed from Page to Flagstaff, I noticed this bridge and decided I would stop here on my way back up north to Monument Valley. The bridge was built in 1916. It crosses the Little Colorado River. This is just north of Cameron.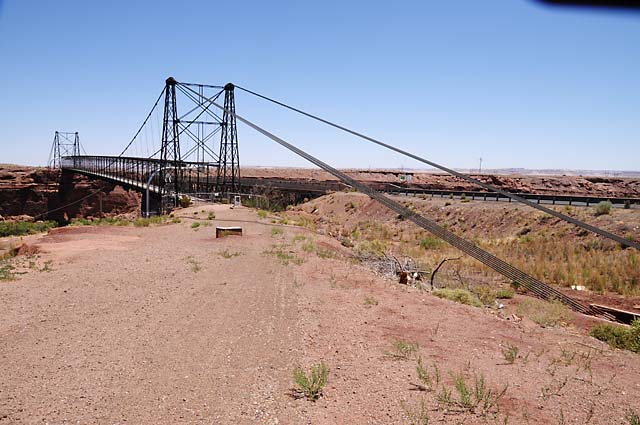 Looking through the bridge.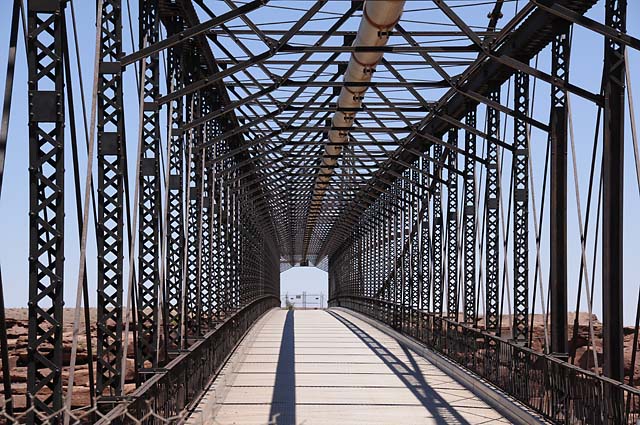 My feathered friend waited here for me, rather than following me all the way to Flagstaff and then having to fly back. I think he is asking why it took me so long.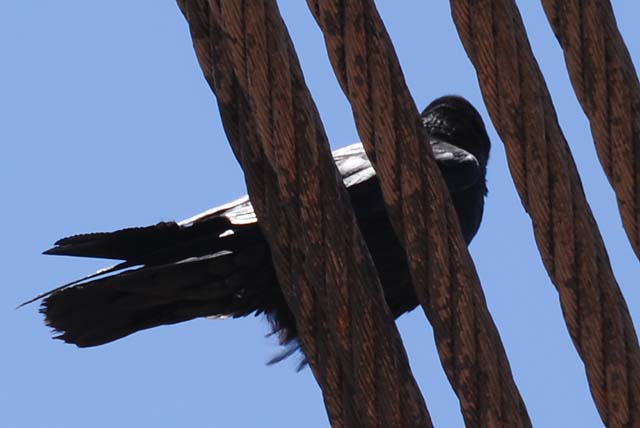 Further north, I saw these two columns. See my bird landing on the left one?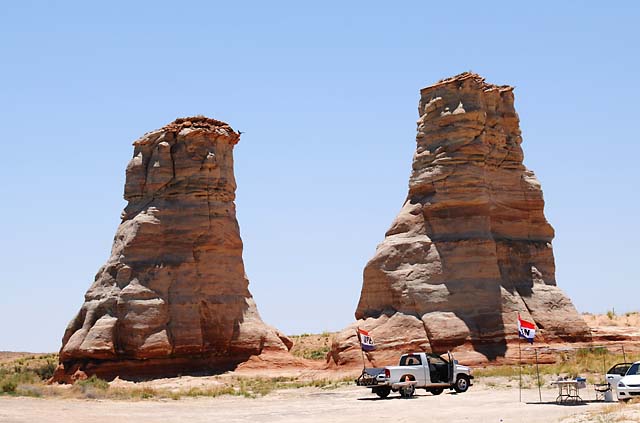 Here's a closer look at him singing during his break.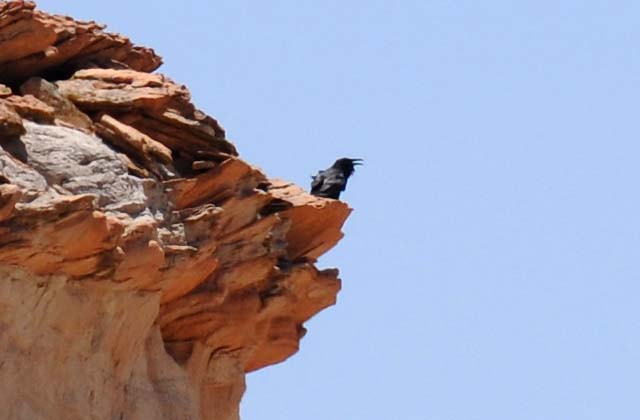 I stopped at the Navajo National Monument. I did something unusual for me, I hiked one mile to get these pictures, then one mile back. It was downhill going, but uphill coming back. Too bad it can't be downhill both ways. The second picture is looking inside the right "cave" of this picture.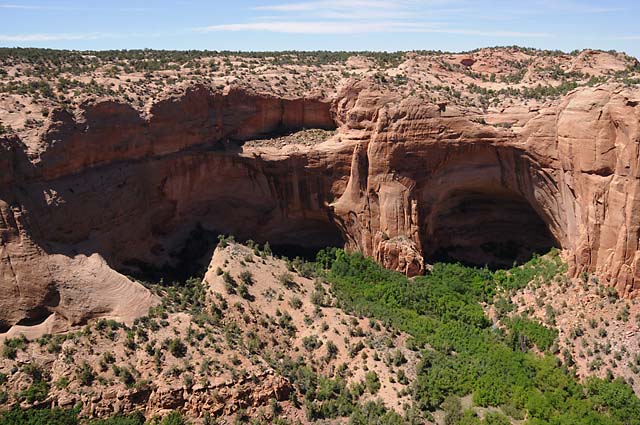 These are pueblo homes of the Anasazi (term used by the Navajo, meaning "ancient ones") until about 700 years ago.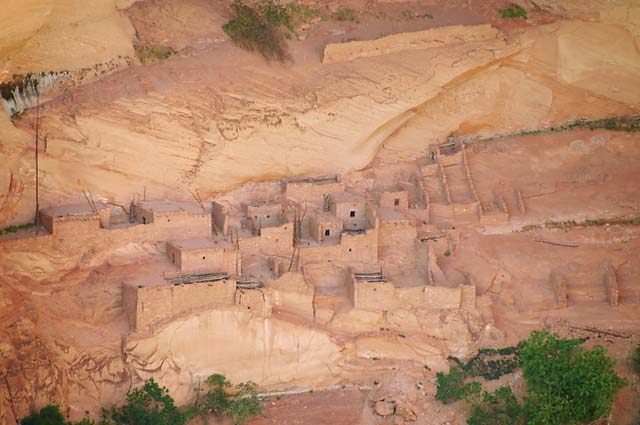 Monument Valley, approaching from the south with the sun in the west.

The mittens.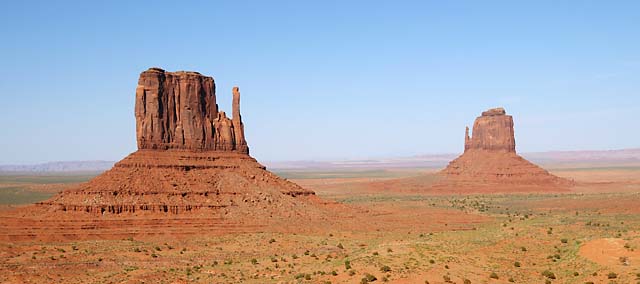 This is a view I have seen used by Harley-Davidson.

At this point along my travels today, I passed by the Valley of the Gods. It is a beautiful place, but I did not stop for three reasons. First, I really didn't have the time to do it today; second, I have been here before; and third, you really need a four-wheel drive, and I was short by three.
The San Juan River flowing through the town of Mexican Hat, Utah.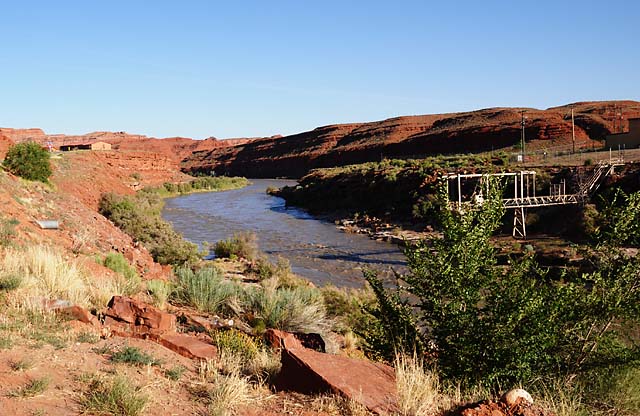 Ever wonder how the town of Mexican Hat got its name? This is Mexican Hat Rock, just north of the town.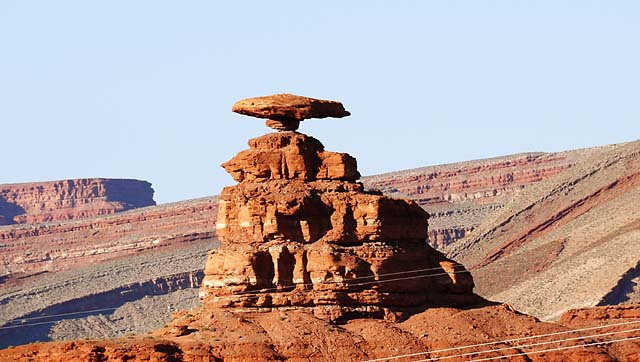 The San Juan River northeast of Mexican Hat. I was impressed at how green this area was. This is in the middle of a desert!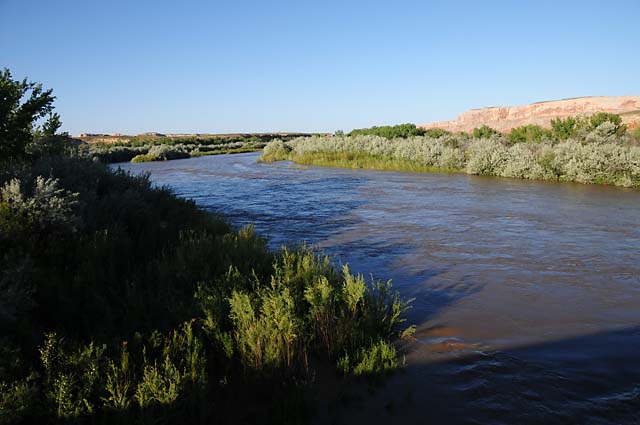 ---