---
25 May 2010, 10:00 AM, North Palm Beach, FL
My trip began today. I'm off to the Blue Ridge Parkway, and other delights. Hanna wished me a good trip.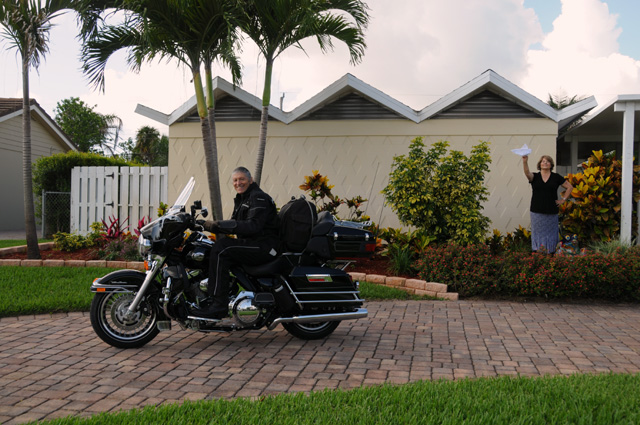 I plan to ride US-1 all day. If it gets too slow and boring, I may divert to I-95. Check back later tonight or tomorrow morning for an update.
---
25 May 2010, 1:00 PM, Rockledge, FL
I am at a McDonald's having my first chocolate shake. They have WiFi, so I can update you on my progress. Cape Canaveral is just ahead.
---
25 May 2010, 8:00 PM, Brunswick, GA
Stopped for the night. Ran 373 miles today. I will give you pictures after I have dinner. I am at a Best Western, Hanna and I have stayed here several times. They have an Italian restaurant. That's were I am headed.
---
25 May 2010, 11:20 PM, Brunswick, GA
I was in showers on and off until I reached Rockledge. Maybe the chocolate shake somwhow counteracted the showers. The first shower was less than 10 miles from home. I don't mind the showers too much, though. It was pretty. During the first shower I was in 100% sunlight. My riding suit is also a rain suit. I don't have to stop and put on rain gear. I did not have this suit on the Route 66 Ride. I had to stop to put on raing gear, and the rain gear was HOT, then stop to take it off. This is much better. I have zippers that open and close vents. Really nice. Made by Tour Master.
I did divert to the Kennedy Space Center. I decided not to pay $38 to go inside. I stopped on the road to get a couple of pictures. I think the first one is the booster rockets for the shuttle. The second one is a shuttle. I don't know if it is real or a mock-up.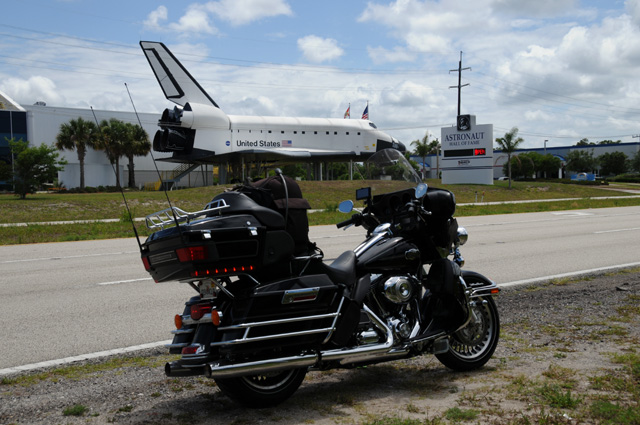 I did stay on US-1. After Cape Canaveral, I made a stop at Daytona Beach. I wanted to ride on the sand. That was both good and bad. The bad first. I got stuck in the sand. The good - I had help getting unstuck.
After getting unstuck, I headed north again on US-1. I wanted to get a picture of the old fort in St Augustine. Here's a shot of a corner of the fort, with one of those little towers. I remember the towers from 38 years ago, when Darryl and Cindy, my children, were little tots. First today's picture, then pictures from 1972.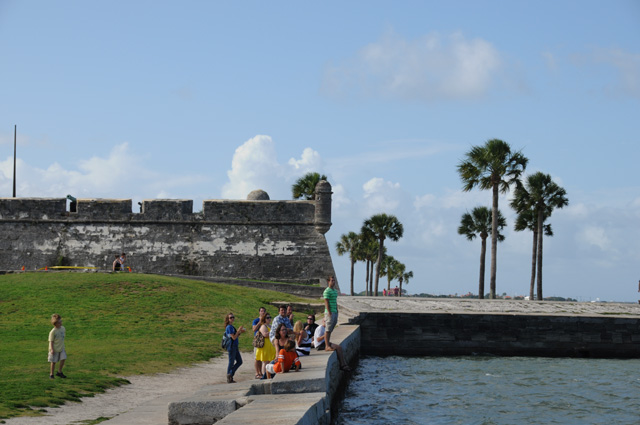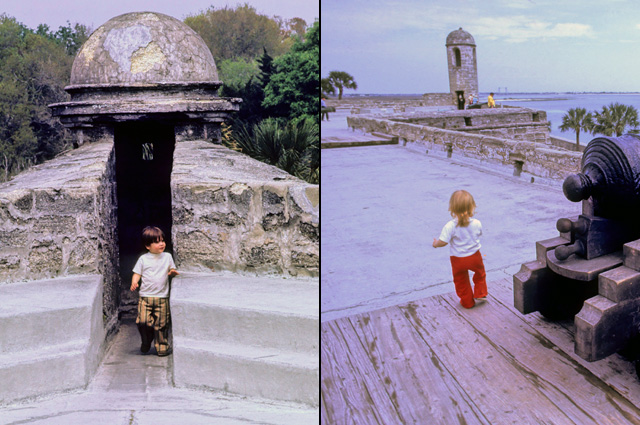 From St Augustine, I continued north on US-1, all the way through Jacksonville. Sometimes it was hard to figure out where US-1 was. Then on the north side of Jacksonville, I got on US-17 and continued into Georgia. Then I got on I-95 to find the Best Western. It is not on US-17.
Tomorrow I will try to get back on US-17 to Savannah, then US-321 to Columbia.
Good night.
---