---
January 2010
I am planning a ride during the spring of 2010, probably leaving home May 25. I will ride from Florida to Deals Gap, North Carolina to ride the Tail of the Dragon (318 curves in 11 miles), then the Blue Ridge Parkway, and then Skyline Drive. After a visit with my son and his family in Falls Church, Virginia, I will return to Florida. The ride will take ten to fifteen days and cover about 2,500 miles. I plan to take a photo of the capitols I pass, South Carolina, North Carolina and Virginia.
Each day of my journey is a separate page shown on the menu at the left. You can start at the beginning by selecting the first day, or at the end by selecting the last day. Or, you can have the entire trip on a single page (a very long page) by selecting "Single Page".
---
24 March 2010
One of my first steps preparing for my Blue Ridge Ride was to have an oil and filter change on my bike. Also, I had noticed a minor oil leak on the garage floor. And, for the past week, the idle RPM has run up from 1200 to 1800 in three to four seconds, then suddenly down to 1200, and then it repeats the cycle on and on and on. The oil leak was simple, the shifter gasket needed to be replaced. It turns out that the idle problem was because of an induction manifold leak. I was told that the manifold leak caused the motor to speed up because the mixture was lean, then the motor rapidly heated sealing the leak, thus causing the idle to drop again. While I was at the Harley shop, I took the opportunity to price a new bike and get an appraisal on mine. I decided the difference was too much. No new bike for the Blue Ridge Ride!
---
25 March 2010
I went out to fire up the bike to run a couple of errands. It wouldn't crank. Uh-oh! Are the old wiring problems showing up again? I jiggled the bundle of wires where the problems had been in the past, and sure enough she started. (If you don't know about the wiring problems from my Route 66 Ride, see what I wrote on 09 April 08 and on 22 April 08 and especially on 08 May 08.)
That was the moment when I decided I could no longer trust my bike to take me on a long ride without problems.
I called the Harley shop and made a deal for a new bike.
---
31 March 2010
My new bike being delivered to me.
---
04 April 2010
I did a long ride today, about 355 miles, to complete the break-in of my new bike. I rode it to Haines City to show it to Ralph and Lisa.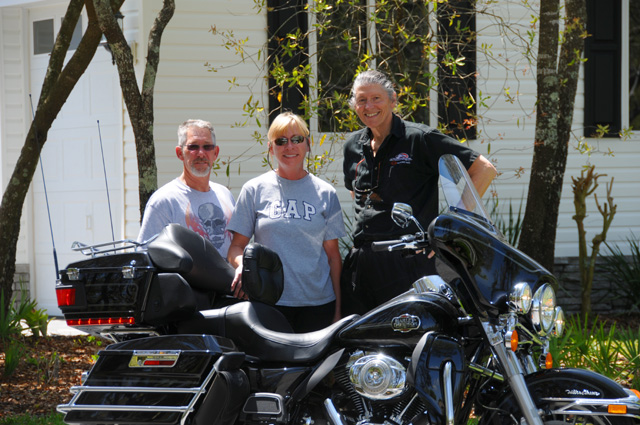 Then I headed to Lakeland to show it to Gisi. Then I headed to a Dairy Queen to have a chocolate shake!
---
29 April 2010
I did another ride today, about 155 miles, to get up to 1000 miles on my new bike. That's when the first oil change is due. The break-in oil will be drained, the oil filter will be changed, and I will use synthetic oil in the future. I found a Dairy Queen in Okeechobee, so I was able to have my chocolate shake. Just part of getting in shape for my ride.
My first service is scheduled for next Wednesday. I will have a super-loud horn installed. I learned years ago that a loud horn can be very important when somebody in a car tries to take my spot on the road. I want them to think I am an 18-wheeler.
---
5 May 2010
Had my 1000 mile service today. Got the super-loud horn installed.
---