---
9 June 2010, 1:10 PM, Walterboro, SC
I have a proof photo from the Tail of the Dragon, click here to see it.
I am at a McDonalds having a chocolate shake in Walterboro. Hanna and I have spent the night here many times, it is the half-way point between North Palm Beach and Washington DC.
I have turned on my air conditioning. It is hot riding today. The temperature gage on the bike says it is over 90. There are no clouds, so the sun is constantly on me. What is my air conditioner you ask? It is a thing I tie around my neck that holds some special material that absorbs a lot of water. You soak it in water and it swells up big with all the water. The evaporation cools my neck which cools my entire body. I am soaking it again right now.
More later.
---
9 June 2010, 10:15 PM, St Augustine, FL
I had a longer day today, the most miles of any day, 435. I have 2862 total now. I did more miles because I wanted to get to Jim McKinney's home for the night. Jim and I were together at ATSC developing the HDTV broadcasting standard. Here we are watching the fruit of our labor in Jim's living room on Jim's HDTV set.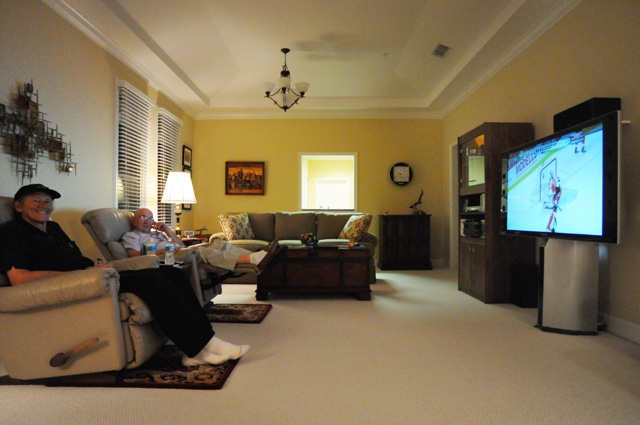 This is the first picture Jim and I have been in together since we were in Las Vegas in January 2009 to pick up the Emmy for developing the standard.
I have about 250 miles left to get home, and that should be tomorrow. Till then...
---