---
8 June 2010, 12:50 PM, South Hill, VA
What disappointment. At a McDonalds, their milkshake machine is not working. Oh dear, I guess I will try somewhere else.
---
8 June 2010, 5:45 PM, Fayetteville, NC
I am at a Comfort Inn in Fayetteville. I rode 295 miles today and now have 2427 total miles. A special thanks to Wendy's, their milkshake machine was working, had a chocolate shake. Got pictures of the VA Capitol and the NC Capitol. I will show them to you after dinner. There is a Cracker Barrel next door. Guess who's going to dinner.
---
8 June 2010, 9:20 PM, Fayetteville, NC
Two views of the Virginia Capitol in Richmond.
These two statues are on the Virginia Capitol grounds. This is George Washington.
And this is Edgar Allan Poe. It made me remember something Darryl wrote in high school, 24 years ago, that he titled "Poetic Justice".
North Carolina Capitol in Raleigh. I was told that this is the front of the Capitol. The statue honors North Carolina men and women who served in America's wars.
A side view of the North Carolina Capitol.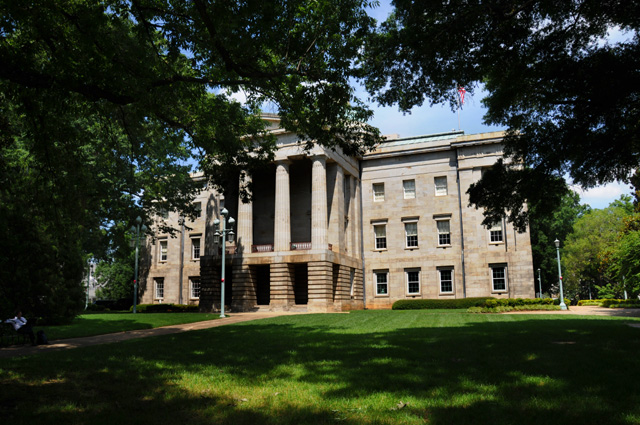 These two statues are on the North Carolina Capitol grounds. This statue reads, "TO OUR CONFEDERATE DEAD".
This is Private Henry Lawson Wyatt, the "FIRST CONFEDERATE SOLDIER TO FALL IN BATTLE IN THE WAR BETWEEN THE STATES".
That's all for today. I am headed home, I probably have two more days of riding ahead of me.
---