---
23 May 2018, 10:05 PM ET, Ashburn, GA
Man, do I have some good stuff for you tonight. I have to start with this monument I found, accidently. I was using Google Maps on my iPhone to find a place to get my dinner. Must be walking distance. That's almost always my rule, when I park it at the hotel, it is there for the night. So anyway, I saw this thing on the map, within walking distance, called "World's Largest Peanut Monument". And you know that would have to be my lead-off story tonight.
Prepare yourselves, ladies and gentlemen, I present to you
The World's Largest Peanut Monument
Not only that, there was this place next to the World's Largest Peanut Monument.

That's where I got my dinner. A pulled pork sandwich. Good.
Let me go back a little earlier. I entered Georgia after three hours of riding. I did not stop on the shoulder to get a picture of the Welcome to Georgia sign, traffic was quite heavy. But I found an identical sign at the Georgia Welcome Center.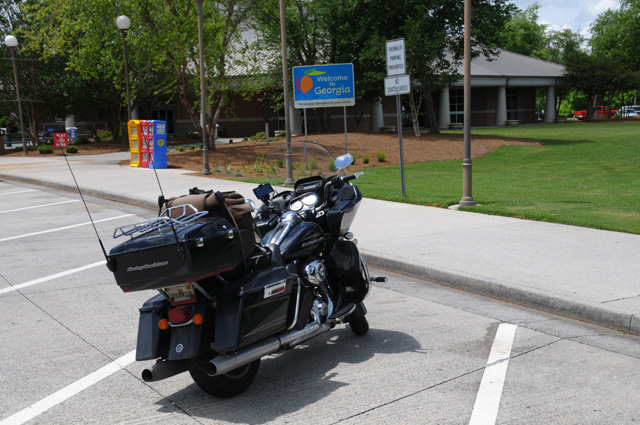 I went inside, and guess who I ran into. Norman Reedus. He has his own television show "Ride With Norman Reedus", which I watch.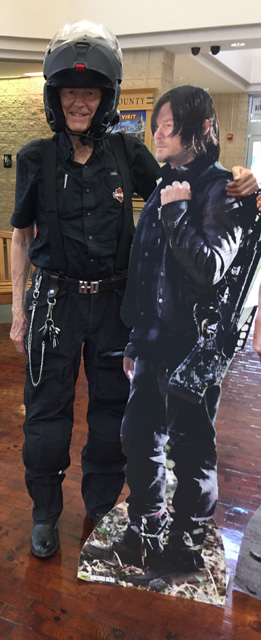 We chatted for a while, actually I think I did all the talking. Then I told him I had to go, still a lot of miles before me. We said our goodbyes and I headed out again.
I am going to jump ahead now. After I got back from marveling at the World's Largest Peanut Monument, I tried to take off my boots. It took a while. Pull a bit, let them stretch with my foot in that position, then pull a bit more, a bit more... It took a while. That's the hardest it has been on this ride to get them off.
And, they sure have taken a beating, worse than any other ride I have ever had. Here's a picture. Notice especially the toe of my left boot.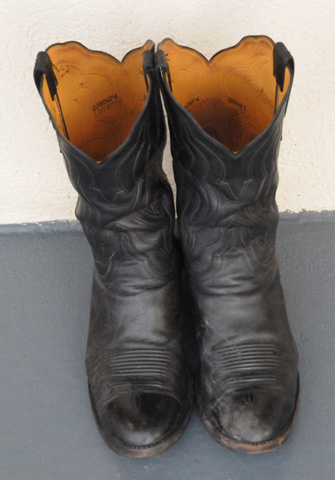 Now some riders will say that's from shifting. No, I have a heel-toe shifter, my toe never goes under the shifter. Anyway, I don't know what they will look like after I polish them. I don't think they will ever be the same.
I rode 467 miles today. I wanted to reach Valdosta which is only 365 miles from North Palm Beach. I have 430 miles left. Hopefully I will get back to North Palm Beach tomorrow. And for still another time on this ride, I have stopped early because of rain.
Time to talk about the weather. There is a stationary front that runs from Louisiana to South Carolina. It is causing rain all across that line. I can't get home without going through it. And it will be there for the next several days. I don't like riding in rain, as I have told you, but I will do it. Like in Wyoming, about 160 or so miles non-stop. So I have to ride through the rain of this front. I expected to hit rain about Atlanta, or not long after. I made it to Atlanta with no rain. Looking at my NOAA Weather Radar app, I saw that I would be OK running south from Atlanta to at least Macon. But it was not to be. About 30 miles north of the turnoff to the Macon bypass, the sky was getting dark to the east. Then all of a sudden about 18 miles north of the turnoff the sky south of me started turning dark. At 17 miles north of the turnoff, I was in rain. I did not have my rain gear on. I stopped under the first overpass I encountered and put on the rain gear. I knew there was a rest area one mile before the turnoff, and planned to stop there and check radar. I did not check radar under the overpass. So I started to ride those 16 miles and soon there was a bright flash followed very quickly by a clap of thunder. Uh oh. I am in a thunderstorm. I don't do thunderstorms. You can have very significant gusts of wind, enough to blow you over, and you can get fried. Neither appeals to me. I continued to ride those 16 miles only to find that the rest area was closed. I continued, encountered another bright flash and clap of thunder, took the turnoff and stopped under the first overpass. This time I wanted to check radar and see what the situation was. Here's what I saw: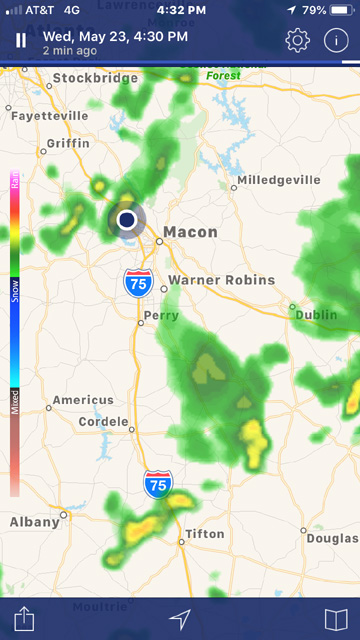 This was only a small cell, I was mostly through it. So I continued and stopped a few miles later, after the rain was completely gone, to decide my next steps. As you can see in the radar picture, it looked like I could get most of the way down I-75 to Tifton, and maybe by the time I got there the rain north of Tifton would be gone.
Again, it was not to be. I stopped on the shoulder of I-75 at Cordele, which you can see in the radar picture above, and saw that the rain was still there north of Tifton. The sky did not look that bad.
Then I stopped on the shoulder again at Ashburn because the sky was getting dark ahead, and here's what I saw: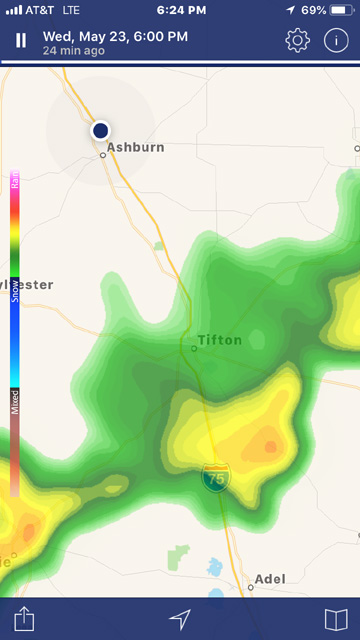 I decided that I would stop in Ashburn, and that's where I am right now, just a few hundred feet from the World's Largest Peanut Monument.
---