---
17 April 2011, 11:00 PM CDT, Monteagle, TN
I rode 345 miles today, that's 890 total for the trip so far. Had a chocolate shake for lunch. No rain today, it was sunny all day long with not a cloud in sight. The day started cold, colder than I thought. It felt to me like it was in the 50s. Not so. It was 45. I took Maggie for a walk and she loved it. She wanted to run. I ran with her a little, but not much. I'm not into running these days. On the bike, my riding suit keeps me plenty warm enough. I have vents on the bike that I can open or close to make air go directly on me, or around me. I set them to block air flow onto me. They don't block air flow onto my hands, though. I always wear gloves, normally just plain leather with gauntlets. After my first stop I put them away and pulled out my winter riding gloves. My hands were freezing.
Hanna's day got off with a bang. She wanted cream in her coffee and noticed a large pitcher with some white stuff in it so she started pouring. The lady taking care of the breakfast bar immediately said, "Ma'am, ma'am, that's waffle batter." So Hanna started over with a new cup of coffee. It must have been decaf, though, because a few minutes later she bumped into the door of the car causing it to slam on Bentley's hand. Maybe she should have stayed in the room a little longer, then she wouldn't have had the hand incident, and maybe she would have remembered to grab her cell phone and charger before checking out of the room. Hours later when the missing phone was discovered to be missing, a call to the hotel with instructions to mail the phone home took care of that problem.
Last night I told Bentley I was going to stay on I-75 through Atlanta today, rather than take the beltway, so I could see downtown Atlanta again. And I did. Suddenly my lane came to a screeching halt. I had to slam on the brakes, didn't even have time to check adjacent lanes to do a quick lane change. Turns out my lane was blocked with Sunday morning construction. No warning whatsoever. Cars were stacked up in that lane trying to get back into traffic flow. This was where lanes split between I-75 and I-85. When I could get going, I jumped into a lane that was a continuation of I-75. Turns out that Bentley driving the van had decided to go through downtown Atlanta also, and he had a similar problem, but he went into a lane that became I-85. Not what he wanted. It turned out good, though, because they got onto some surface streets that ran past some gorgeous mansions, including the Gov's mansion. They enjoyed the diversion.
I was running separate from the others all day, just as we did yesterday. Up until 3 PM today, that is. We got together to tour the battlefield at Chickamauga in northern Georgia. Turns out that was the last major battle won by the Rebels in the Civil War. I have a few pictures below from the enormous battlefield.
From there we wanted to go to the mountain lookout over Chattanooga. I had set my GPS to get us there. It took us on a shortcut, through some streets that I really didn't like on my bike. Very steep, narrow, and lots of small stones. I had to make a hard left turn from a stop sign with stones on the road, with the road sloping left to right and extremely steep. Then, the road I was turning onto was steep and narrow with a slope from left to right. That's not for me. I did a right turn, went down the hill far enough to find a turning spot, then went back uphill. When I got to the place the GPS sent me to, there was no view. So I decided that was enough of that, and set the GPS to take me to my night's lodging. On the way down I did get a nice view of Chattanooga, but I couldn't stop to take a picture. Sorry I can't share the view with you.
We had dinner at Jim Oliver's Smoke House, the Best Western in Monteagle. I have been here before, one of those times was on my Route 66 Ride. Everybody enjoyed dinner. I knew I would, that's why I selected this place for tonight's lodging.
Here's today's pictures, all from the Chickamauga battlefield. The first picture is the northern entrance to the battlefield. It is impossible to capture how large this place is. It is 5,300 acres, more than 8 square miles.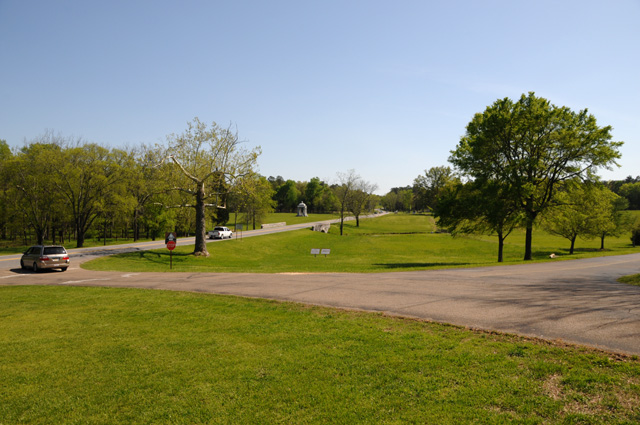 The memorials are too many to count. Here's a sampling of them.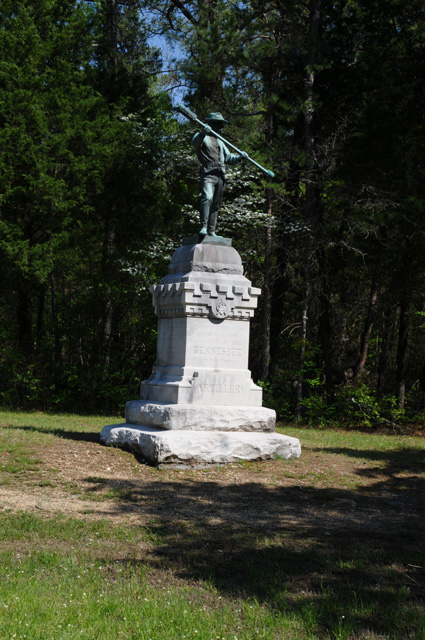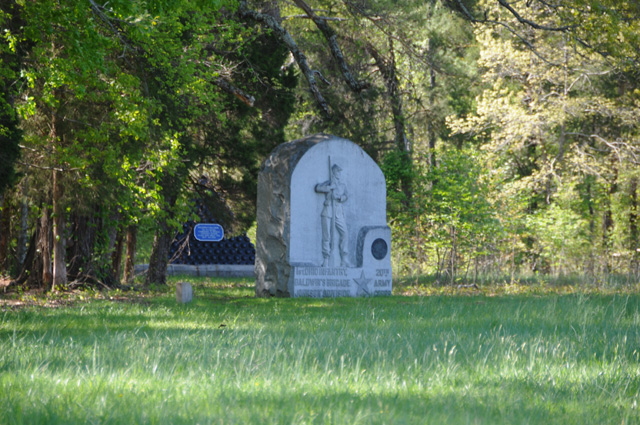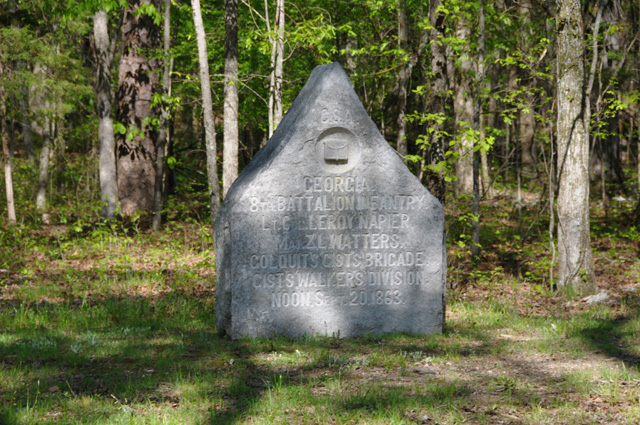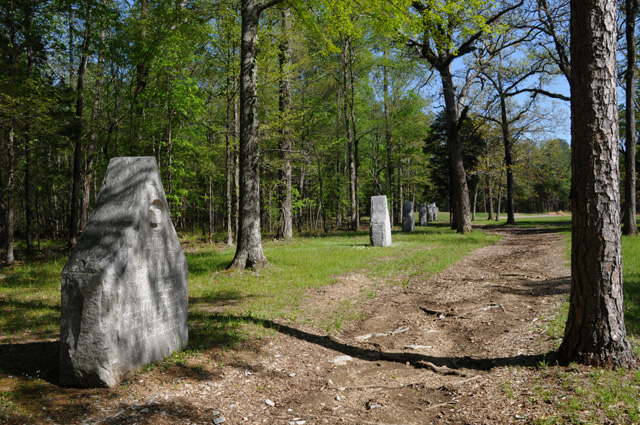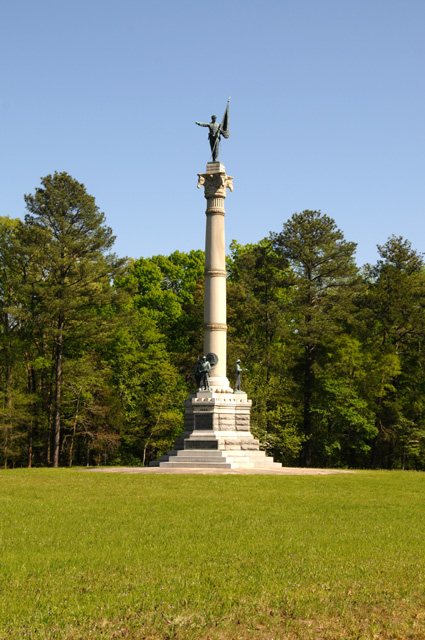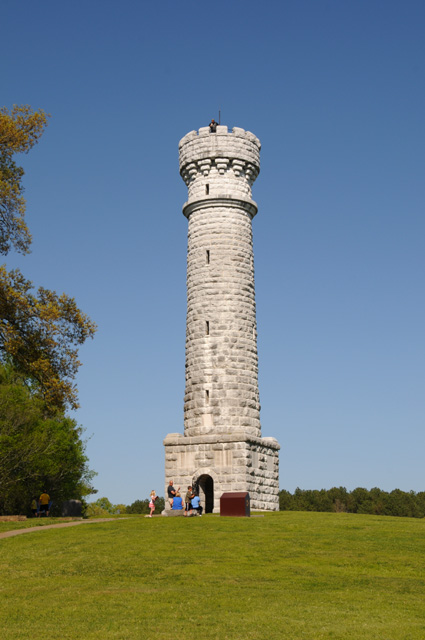 This is the Snodgrass House. Nine people lived in it. During the battle it was commandeered and used as a hospital.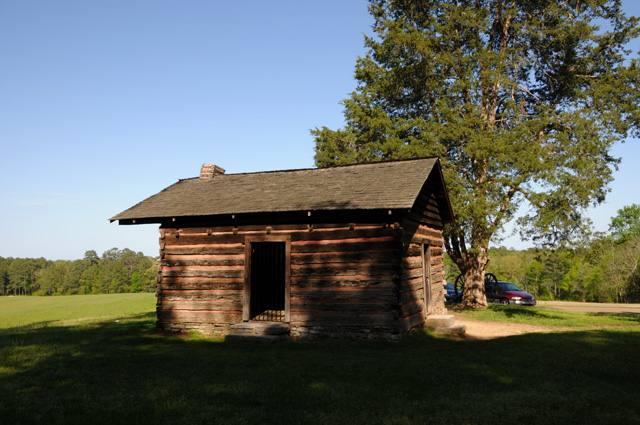 This is a shot looking away from the Snodgrass House.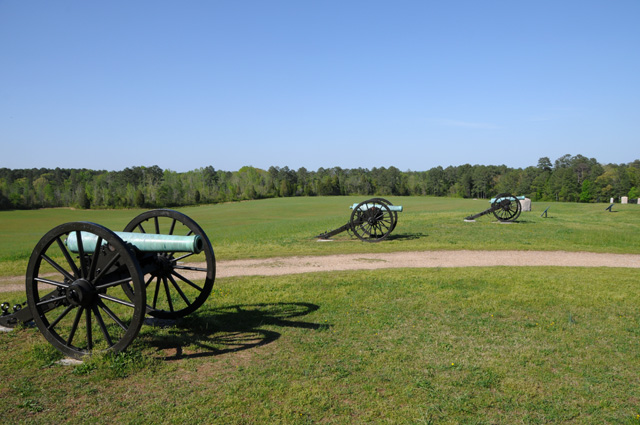 Bentley and Hanna and Maggie examining a monument in detail.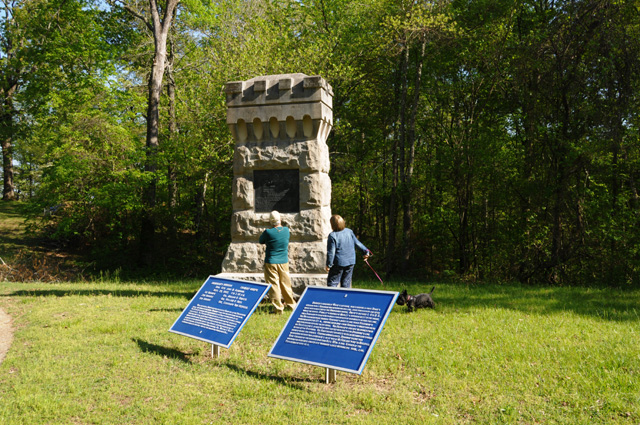 And another monument.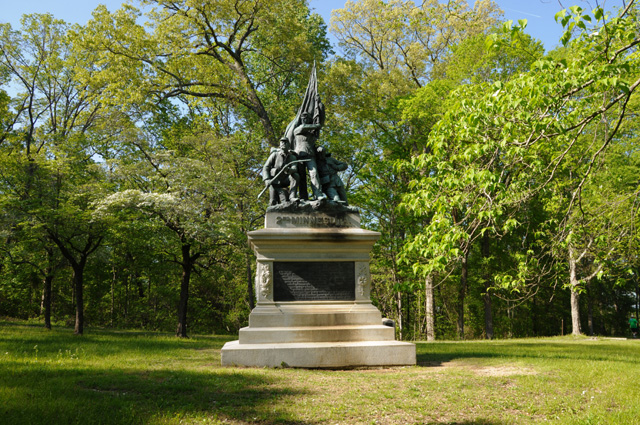 Maggie was a good girl, she took George for a walk.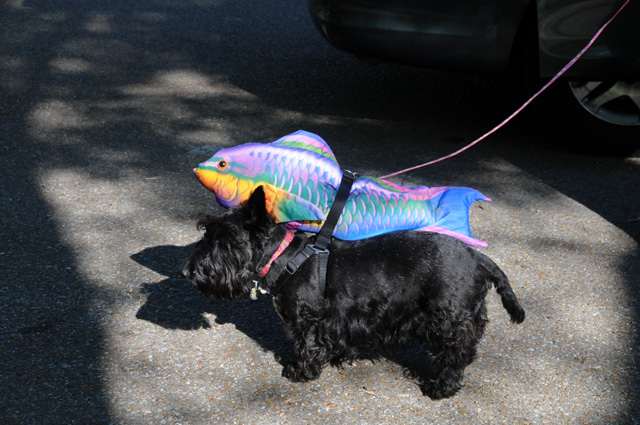 Doris and Ripple taking a stroll through the monuments.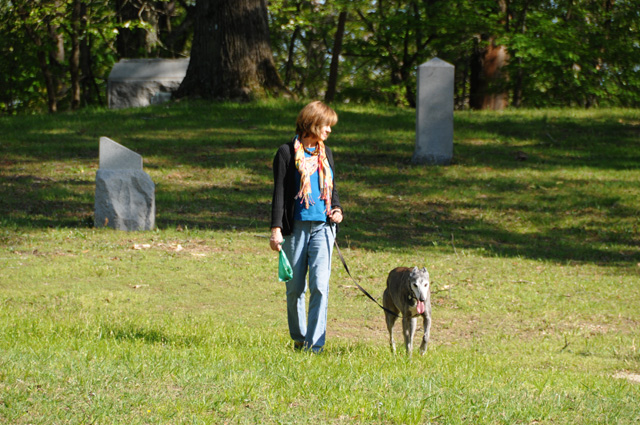 ---