---
18 April 2011, 11:59 PM CDT, Lawrenceburg, TN
Summary -- no rain, no chocolate shake, 222 miles. That's 1,112 miles total for this trip so far. The day started with Bentley taking George for a swim. More on that later. I went to the Tennessee capitol building in Nashville before heading to the Natchez Trace. I met Paul, a Tennessee State Trooper, who let me park my Harley in front of his car while I walked around the capitol to get pictures. You may recall that I take pictures of state capitols when I can. Then I headed south to catch the northern end of the Trace. I am about 72 miles into the 444 mile Trace now. Hanna and Doris with Maggie and Ripple walked to the Jackson Falls along the Trace. I didn't. I will use some of their pictures below. Enough talk. I'm going to the pictures.
First, here's Paul, the Tennessee State Trooper. Thanks Paul, for letting me park the bike without having to hike half a mile or so.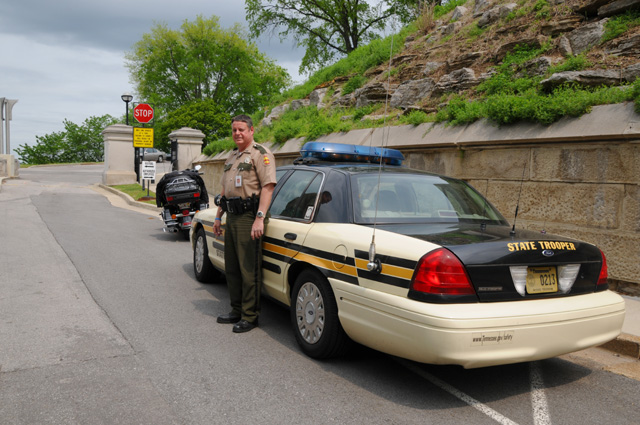 Back to Bentley taking George for a swim. Here they are heading to the pool. George can hardly wait.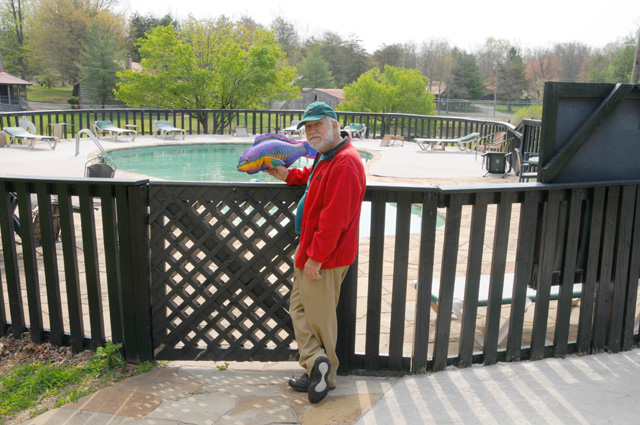 It was about this time that Bentley had the big reveal. That's not George! It's Hieronymus, or Harry for short. You may recall from my 4/15 posting that George was a substitute for a fishing trip that Bentley had planned. Actually, there were three fish, Frank, George, and Harry. As we were leaving Clearwater, Doris grabbed George, or so she thought, but it was really Hieronymus. Bentley discovered that as he was taking George/Hieronymus for a swim this morning.
Here's the old front for the Tennessee capitol.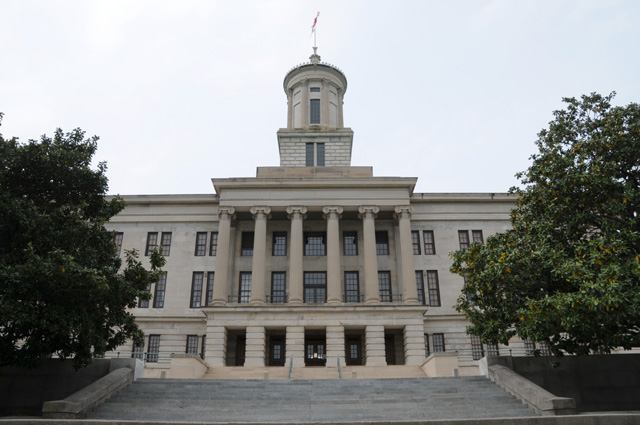 And here's what is considered the front today.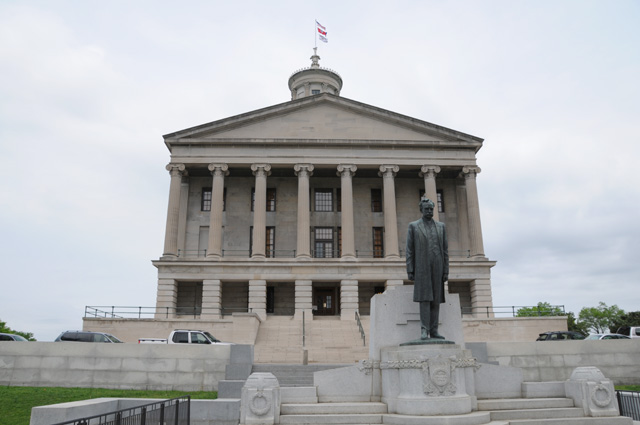 A few miles south you can find the entrance to the Natchez Trace.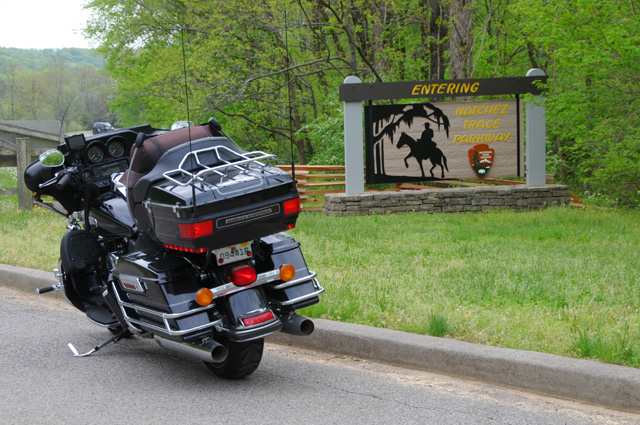 Then just a handful of miles further south you find the Double Arch Bridge. I wanted to match the picture I used as my icon for the ride. Here it is repeated, followed by my picture taken today.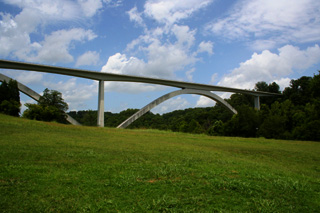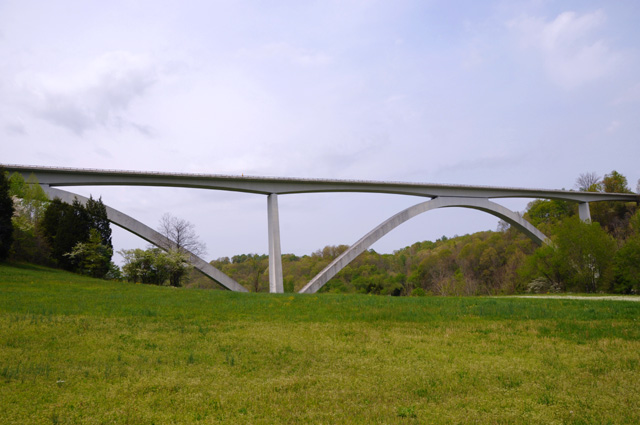 I didn't match the clouds in the sky. I think I did find the right spot to take the picture, though.
The bridge is massive. Here's a shot from the other direction with a pick-up truck passing under the bridge.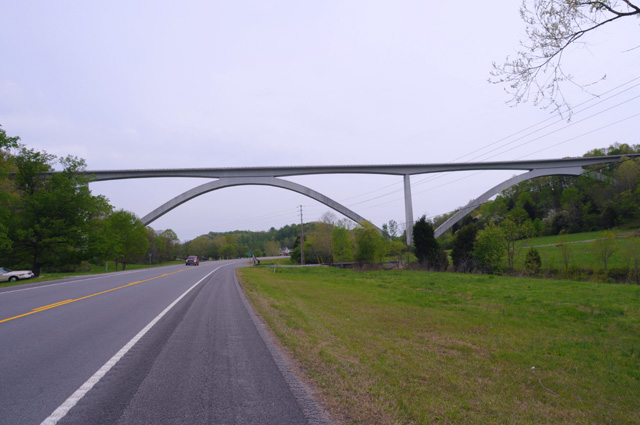 Here's a look at the bottom of the bridge.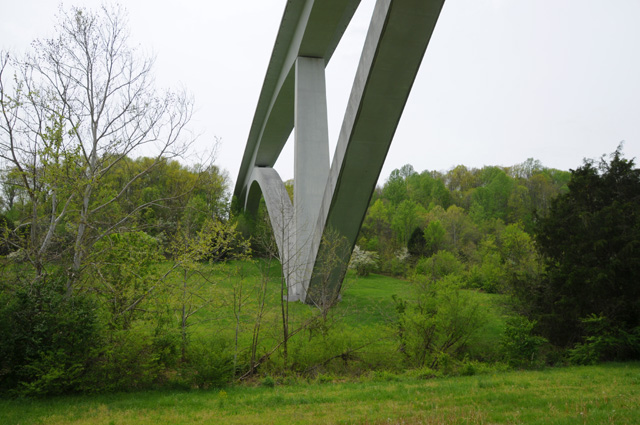 And a shot taken from the bridge (where you are not supposed to park).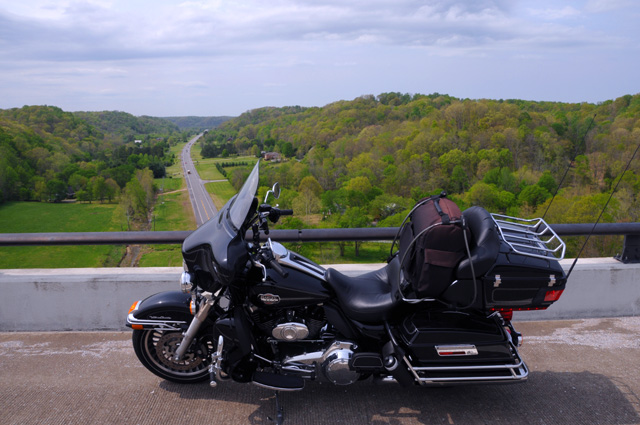 Finally, a picture taken by Bentley of Doris and the bridge.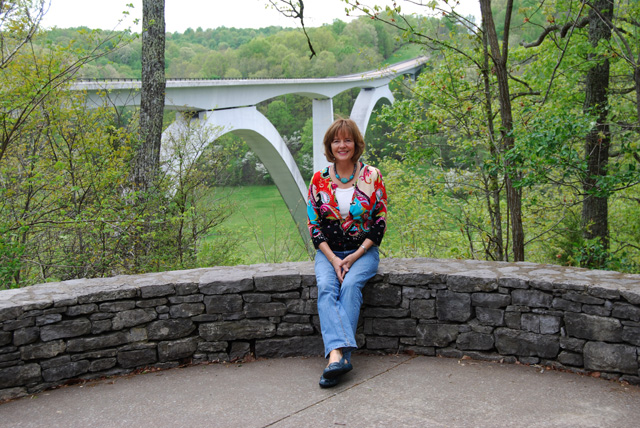 Doris and Bentley and Hanna were separate from me today. I left first to go to the capitol, and then head down the Trace. It seems that they passed by while I was spending an inordinate amount of time taking pictures of the bridge. Hanna and Doris hiked to the Jackson Falls. I came through that area later and decided to pass on by. Here are some of their pictures.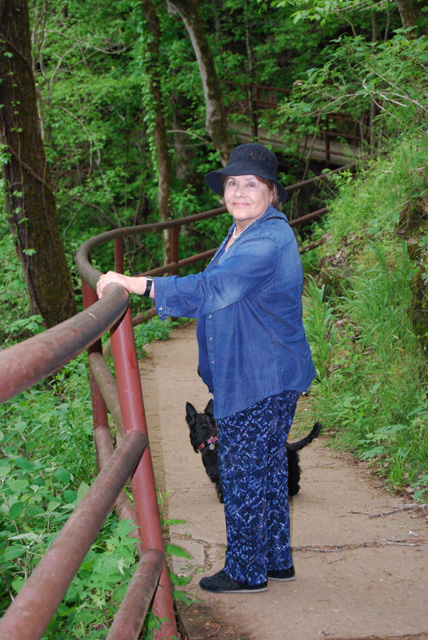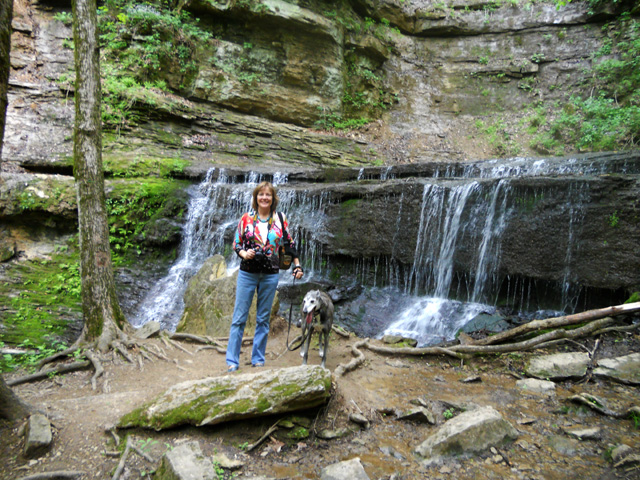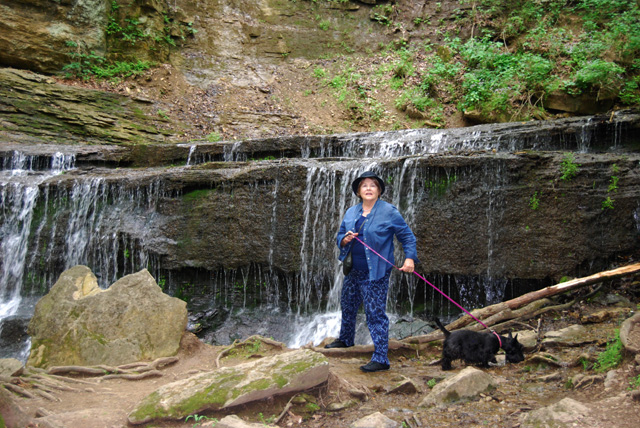 Here's a picture looking along the Trace. You can tell from this picture that it is early spring. Some trees just barely have leaves. The dogwood is blooming. I will try to get some dogwood tomorrow. It is tough because there is no shoulder, and I won't take my motorcycle off the pavement into the grass.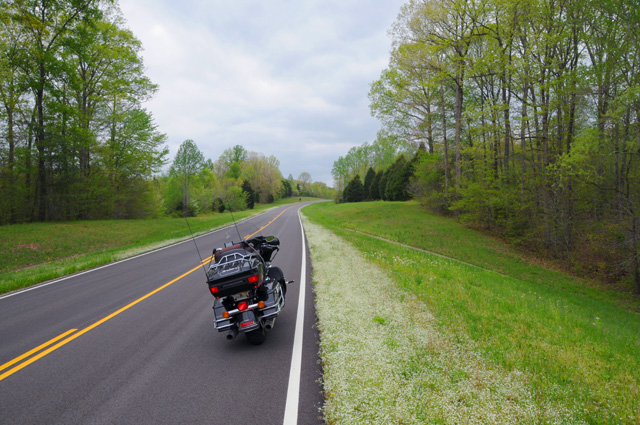 We saw many wild turkeys today. I tried to get a picture, but they run into the woods as soon as I stop. Here's the only one I could get. This picture is cropped from a telephoto shot.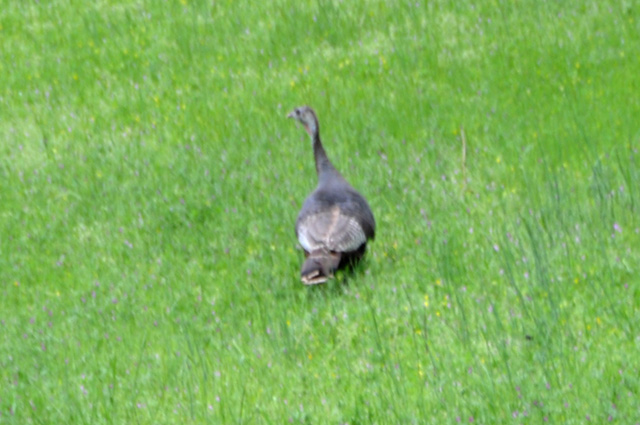 Doris got two pictures, both cropped below.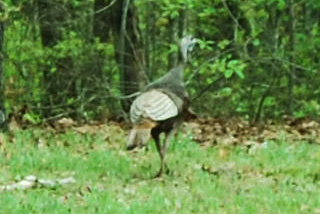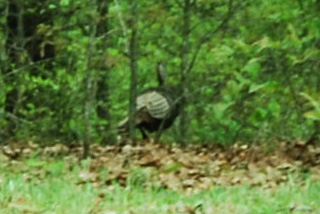 These guys are really tough to photograph!
Here's a house built along the trace in 1817-18 by John Gordon who operated a ferry across the Duck River. He died shortly after the house was completed, but Mrs. Gordon lived there until she died in 1859.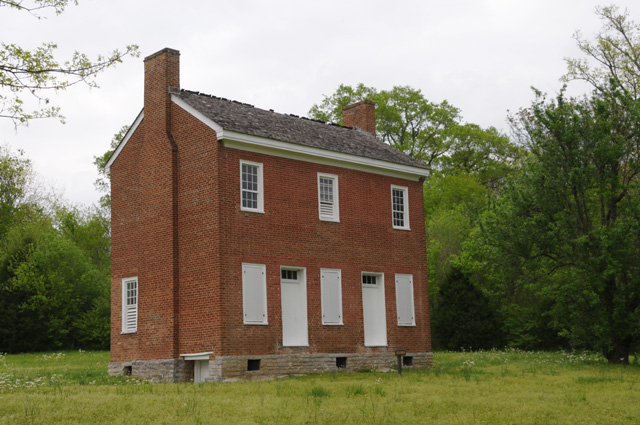 Here's a picture of the old Trace. It must have been a pleasant hike in the woods.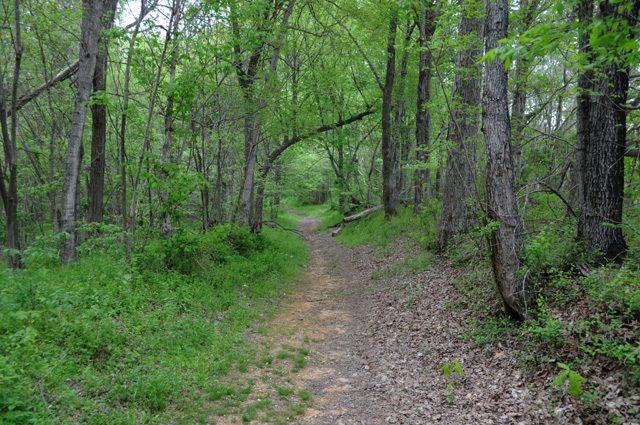 And here's another shot of the Trace Parkway just a few feet away.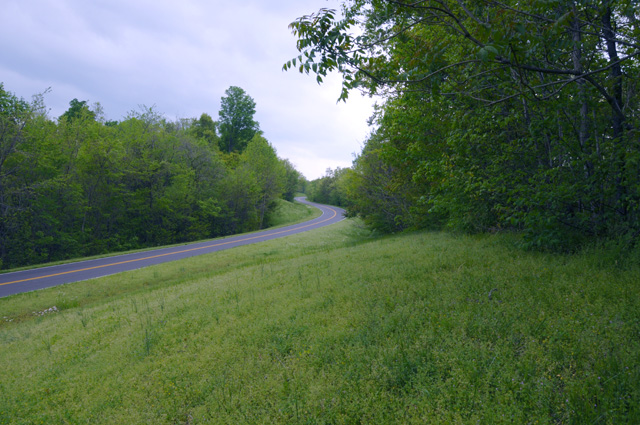 Here's a shot of the Meriwether Lewis monument taken by Doris. I see that Hieronymus managed to get himself in the picture. Meriwether Lewis died at an early age. The monument reflects that -- it was designed to look unfinished to represent the unfinished life of Meriwether Lewis.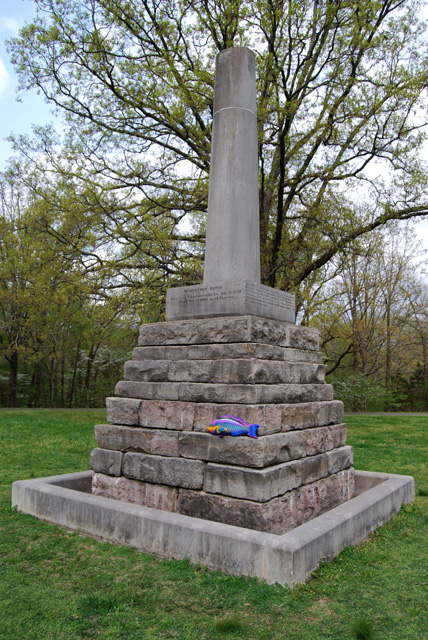 Meriwether Lewis died in this house on October 11, 1809. He died of a gunshot wound, it is not known whether it was murder or self-inflicted.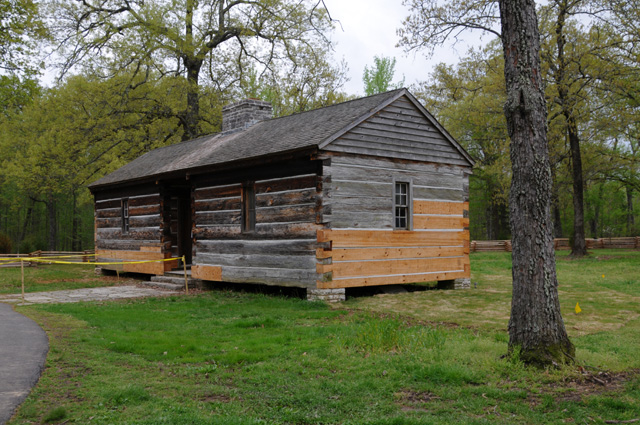 This is the Buffalo river.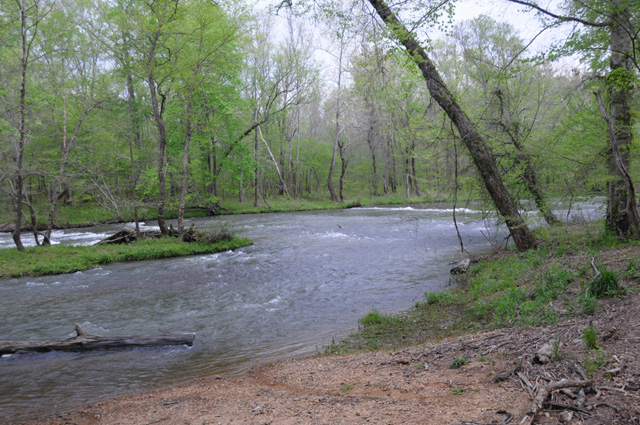 ---