---
9 June 2015, 11:59 PM CT, Pensacola FL
Well, you remember that last night I was trying to decide whether or not to ride through New Orleans. What I really had in mind was going to Cafe Du Monde to have coffee and beignets. Did I go or not? Here's the answer.
Wait a minute. That's the lovely Hanna with me. How can that be, she is in North Palm Beach. Did she come out here to join me?
Here's the real story. I decided when I got up this morning that I would skip New Orleans this time. That picture is from late October when Hanna and I were in New Orleans on the way to Austin for the US Formula 1 race. We will be there again this year. I decided that once this year would be OK.
The morning was so delightful, I almost decided to change my mind and go to Cafe Du Monde now. But this happened.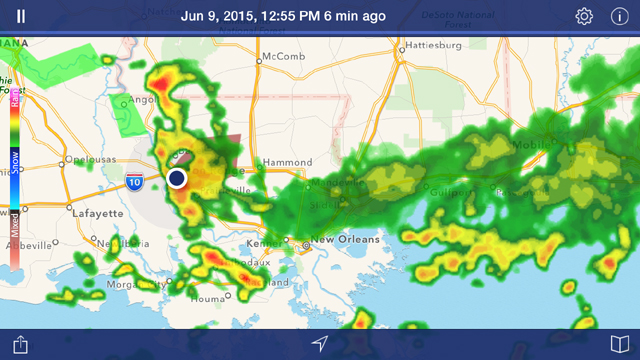 That's me, the big black dot toward the left. You cannot see all the lightning strikes I saw, nor hear the thunder I heard. As the rain started, I rolled into a gas station to park under the roof. They were kind enough to let me stay. There was flooding. I got two emergency alerts on my iPhone, one for flood warning and one for flash flood warning. Water was several inches deep running down the side of the street.
Well, it turned out to be a two-hour stay.
Not only that, look again at the radar and spot I-10, the way I planned to head back to Florida. That's right, you don't see much of it, it is raining all along the I-10 corridor. And it looked like all this would continue for hours.
After the two-hour wait, and I was standing the entire time because there was nowhere to sit, there was just light rain, the flooding in the street had subsided, so I headed out, on I-10, skipping New Orleans. The big yellow and red storm had passed slowly to the west, I was in the green stuff on the right of the storm. As the day progressed, all that stuff covering I-10 moved slightly south, so I was in rain only half an hour, then under a heavy cloud cover all along the way.
Let's go back to Alexandria for a moment. I awoke early, I had plenty of sleep. I grabbed breakfast and was on the road.
What did I see along the way? Another railroad. I was beside it for some time. Sometimes it was on the right, sometimes on the left.
Did you notice that I parked on the shoulder, not on the road?
At one point when it was on the left, I did not know it was there, it was hidden behind a row of trees. Suddenly there was the loudest horn I have ever heard, and it went on, I almost jumped off the bike. I checked the mirrors, nothing was there. Then I worried, "Oh no, another wiring problem on the bike, that's my horn". Then I realized that it was a train right beside me hidden behind the trees. You reckon the engineer blew his horn for me?
Here's a scene along the road. I think that is soybeans.
Guess what I found?
Remember our discussion of Piggly Wiggly earlier, in Memphis? If you don't remember, go back to May 22 and see the historical sign about Piggly Wiggly.
I continued toward Baton Rouge on US-71, and was on one of the roughest roads I have ever been on. The bike was jumping all over the place. The speed limit was 55, I was running about 45 to make it almost tolerable. I thought about using one of my bungee cords to help hold me on the seat. It felt like I was on a bucking bronco. Here's a typical view of the road. This went on for about 20 to 30 miles.
When I stopped to take that picture, a car drove up behind me. It was a gentleman that had been in a McDonalds a little earlier who had told me to ride safe as I was leaving after having my morning Latte. He stopped to make sure everything was OK with me, no problem with the bike. That was very nice of him to check.

Here's the bridge across the Atchafalaya River.
And here's the bridge across the Mississippi River.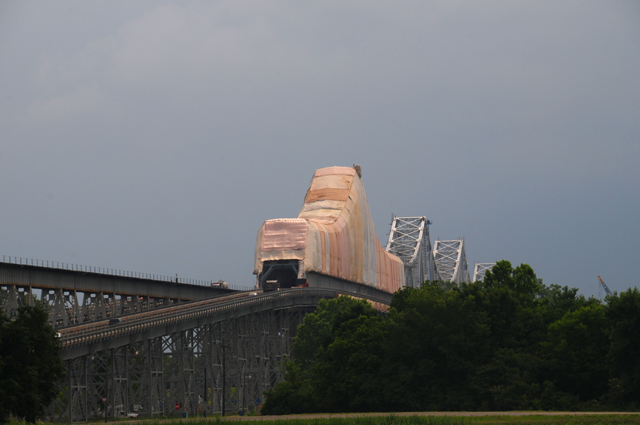 When I finally left the gas station and headed out on I-10, I decided I would go as far as I could, expecting to run into the rain. I did not run into rain. I rode 382.8 miles today. I made it to Florida, and suddenly the sun was shining. Can you believe that? Maybe that's why they call it the Sunshine State.
Do you see that bike up ahead of mine? That biker stopped to make sure I was alright. There are all kinds of helpful people around, aren't there.
---
| | | |
| --- | --- | --- |
| | | |