---
10 June 2015, 11:30 PM ET, Gainesville, FL
Today was basically a ride day, only on Interstates. I rode I-10 from Pensacola to I-75 and then south on I-75 to Gainesville. I rode 350.2 miles. I thought I would be in rain in the Tallahassee area, but that was not the case. Radar showed precip earlier, but by the time I got there it had moved south. I had a late start, I had a number of things I had to take care of first.
When I was riding I-10 just north of Tallahassee, I had the sudden urge to try to get a better picture of the Capitol than I had already taken. I have taken pictures of the Florida Capitol a few times now, but I thought I should give it another try. This is the view that I like the best, it is actually the first view I ever had of the new Capitol, about 20 years ago. As I have said a number of times, I much prefer the old Capitol to the new Capitol. Here you see both the old and the new. I think I like this picture the best of any I have taken of the new Capitol.
I have a cousin who lives near Gainesville, Cookie. She and her husband Dave joined me for dinner.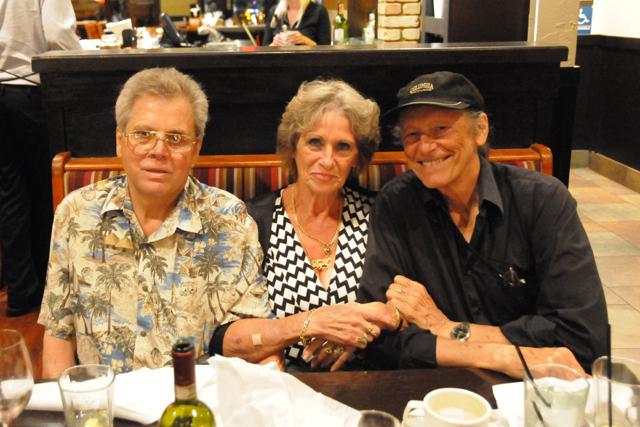 I have known Cookie since we were little kids, she lived with us during part of her high school years, but from high school years on we have rarely seen each other. I stopped to see her on my US Northwest Ride two years ago, and again on this ride.
Today will be the last full day of my Northwest Territory Ride, I expect to get back home tomorrow afternoon. I will do my normal post tomorrow, and then a Ride Wrap Up later, probably on the 12th.
---