---
2 May 2012, 9:30 AM ET, North Palm Beach, FL
I'm off. Hope to do about 500 miles today, we'll see.
Hanna and Maggie saw me off. Hanna is giving me three little frogs to give to my three little grandchlidren. Actually, it is six frogs because a baby is playing leapfrog with the momma or poppa, whichever it is. I can't tell. Maybe a biologist could. But, these are toy frogs, so who knows.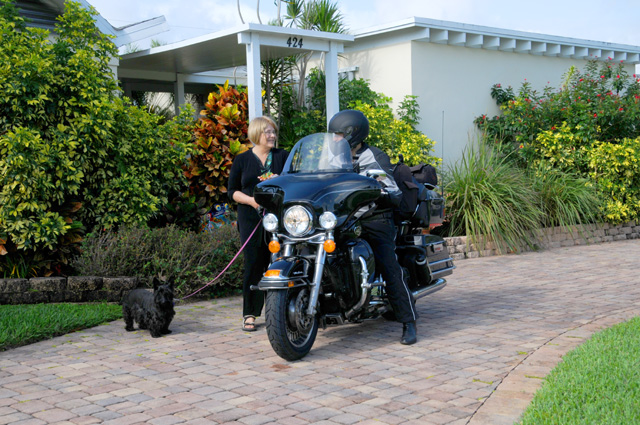 Check back later today for more.
---
2 May 2012, 10:30 PM ET, Santee, SC
I am at Santee, South Carolina. Rode 531 miles today.It took about 9 hours from the time I really left. What do I mean by "really left"? I had wanted to leave about 9 AM. The picture I took this morning was at 9:30, so I was already half an hour behind plan. Then after the picture, I discovered my camera had a problem. No way can I go on a trip like this without my camera! So, the first stop on my ride was at The Camera Shop in North Palm Beach. I waited about an hour for their repair man to arrive and fix the problem. By the time I got fuel and was on the road for real it was 11:15 AM.
A note to those who are not familiar with my Travelogue. This started on a motorcycle trip a few years ago when I went alone and Hanna, my wife, stayed home. Hanna has ridden many miles on the back seat, but sometimes she doesn't want the long boring hours of just sitting there. I guess the back seat is that way, but not the front. There is never a boring moment. Well, maybe on the rare ocassion. Anyway, I started doing a travelogue so Hanna could share with me some of the events. I did some pictures and a little bit of text. Then on my Route 66 Ride in 2008, I did it for real, lots of pictures, lots of text. Again, it was primarily for Hanna, but I let family and friends know about it. The number of readers grew, many I don't even know. So, this is written primarily for my lovely Hanna, but I write it in such a way that even strangers will feel like family.
I have only the one picture for today. I thought about taking a picture of the raceway at Daytona, but by the time I decided to do it, I had passed the exit, so I just kept going. Then I saw a really nice bridge in the distance and thought about taking a picture, but just kept going. Today was really a travel day and I wanted to get as many miles as possible. Same for tomorrow. Then I will arrive at the beginning of US50 and slow down to enjoy the ride.
Speaking of enjoying the ride, I really did enjoy it today. After a few miles, maybe 100, my mind had gotten rid of all those pesky annoying things that lurk there, and I was into the ride. Even on the Interstate it is enjoyable. I become one with the bike and the road. Other riders will know what I mean.
I have a new jacket which I really love, so far. I have a riding suit that is all purpose. In warm weather you zip open some vents. In cold weather you close the vents. If you are in rain you close the vents. The problem is that warm/hot weather can get too warm even with the vents open. So, I bought a new jacket that is mesh. It has all the "armor" on the shoulders, back, elbows, but the fabric has hundreds or thousands of holes everywhere. It was much cooler in the warm weather. The downside is that it will get cold quickly when the temperature drops, and you will get soaking wet if it rains. But I have a rain jacket I can put on over the mesh jacket. The compromise is having to stop and put on an over-jacket or internal liner for cold or wet weather. Most of the time, the heat is a bigger issue for me. For today, at least, it was a wonderful compromise. We'll see how it averages out over the coming days.
Bye, I will talk to you again tomorrow.
---