---
3 May 2012, 11:00 PM ET, Exmore, VA
Fewer miles today, 462. Total for two days is 993. The last 110 were not Interstate, that makes it slower. I went past Norfolk and crossed the Chesapeake Bay on the Bridge-Tunnel. I have wanted to do that for a long time, now I finally have. Traffic in the Norfolk area was terrible, worse than DC traffic. That slowed me down also.
I am proud to say that two days equals two chocolate shakes. I must keep my reputation intact.
The mesh jacket really was good today. From about 11 till 2, the temperature was somewhere between 90 and 100, really oppressive. I would have been broiling in my other jacket. The morning started foggy and cool, but I did not need extra warmth, the mesh jacket was OK. Late this evening crossing the bay, I was almost cold, but still did not need extra warmth. I closed the bike's air vents to keep air from blowing on me. That was enough. So, after two days it is still both thumbs up for the mesh jacket.
Today's pictures are the Chesapeake Bay Bridge-Tunnel. There are two tunnels. There are three stretches of bridge. The southernmost and middle stretches of the bridge are flat, the northernmost has a rise. The first picture is looking at the southernmost bridge back toward Norfolk.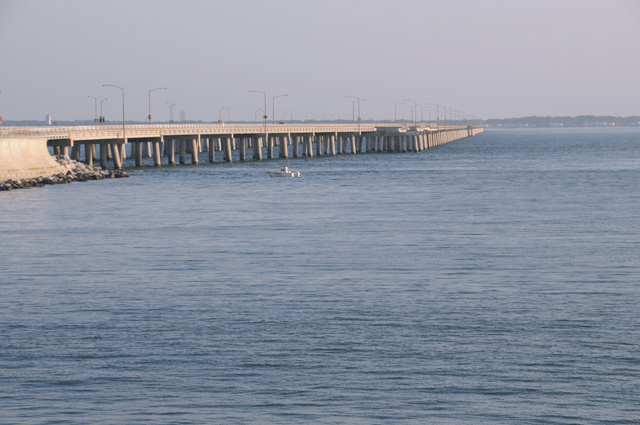 The second picture is looking from the northern end of the southernmost stretch to the middle stretch, with the south tunnel straight ahead (which you don't see, of course, because it is under the water).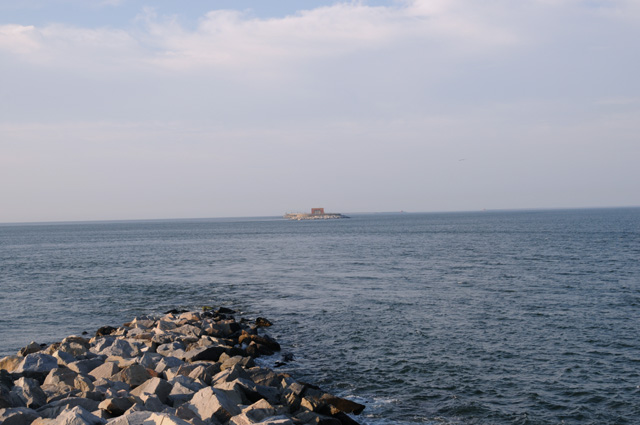 Here's a zoomed picture where the tunnel becomes a bridge again.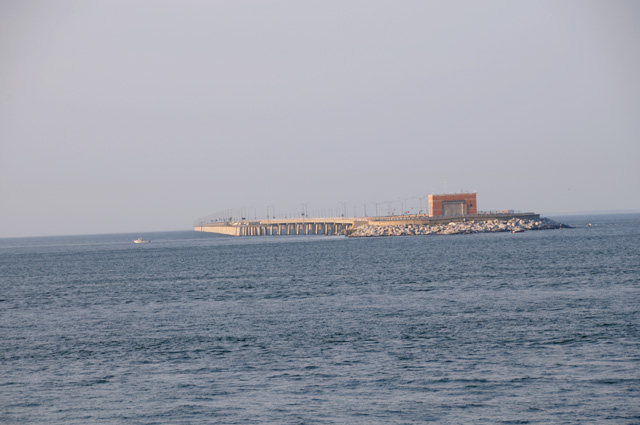 The third picture is the northernmost bridge. This picture was taken after I was off the bridge looking back.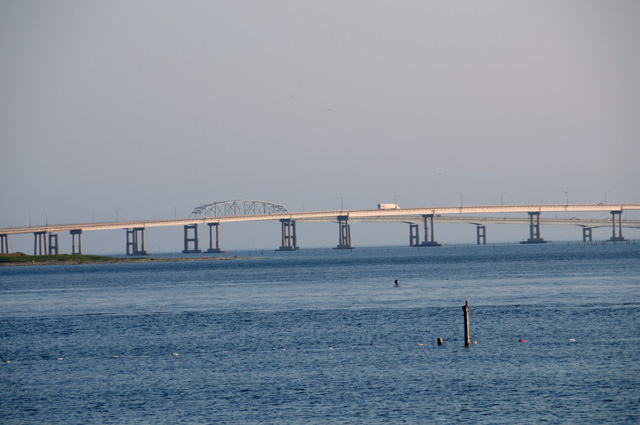 That's it for today. Tomorrow I reach US50. And, I will have my first picture of a state capitol.
---