---
21 July 2014, 7:15 PM ET, Morristown, TN
This was a mixed kind of day. I was up early and off by 8:00 AM again. That's not as good as it sounds. I got to bed about 11 PM last night, but I woke up at 5:00 AM. That's bad. I could not go back to sleep, and that was not enough sleep for me. The result is that I stopped very early today, about 2:30 PM. I rode only 191 miles. I just wanted to take a nap. From about 11:30 this morning, I stopped every half hour, walked around a bit, drank some water, then started off again. I had trouble even going half an hour before stopping again. So, about 2:30 this afternoon, I called it quits. My total miles on this ride are now 5,034 miles.
Now for the good stuff. I am going to take you on a ride. Here's how today's ride started.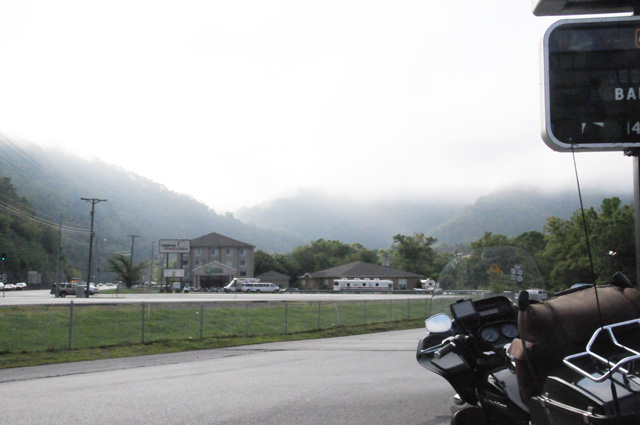 That's fog in the mountains. That's not good. I am going into the mountains. I don't want fog. Fortunately, though, it did not affect me. Let me show you where we are going. Here's a map of southeastern Kentucky. You can see Pikeville in the upper right corner. That's where I spent the night. I am taking you to the tip of the blue arrow. Notice that there are only mountain roads in that entire area. Yellow is a major road, most likely a four-lane, and all those white roads are mountain roads.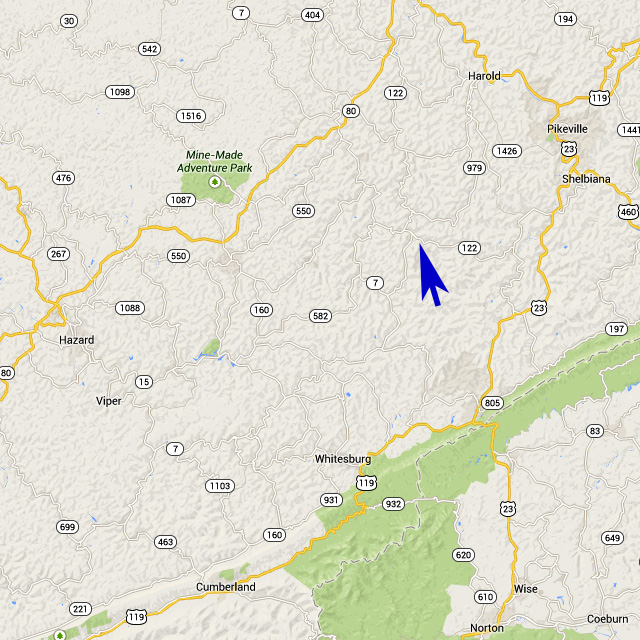 Now let me blow up the map quite a bit. The map below is only a small portion of the map above. It is a short portion of Highway 122, and the blown-up portion is just to the right of the blue arrow tip in the map above.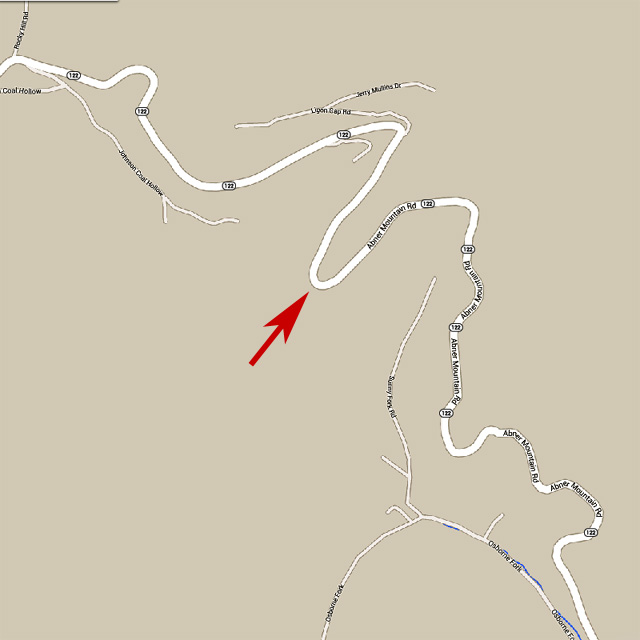 The mountain is called Abner, you can see that the road is called Abner Mountain Road. I would not want to cross Abner at night. I know some people who do not want to cross Abner during the day. The red arrow shows the top of the mountain.
And here's the view from the top of Abner.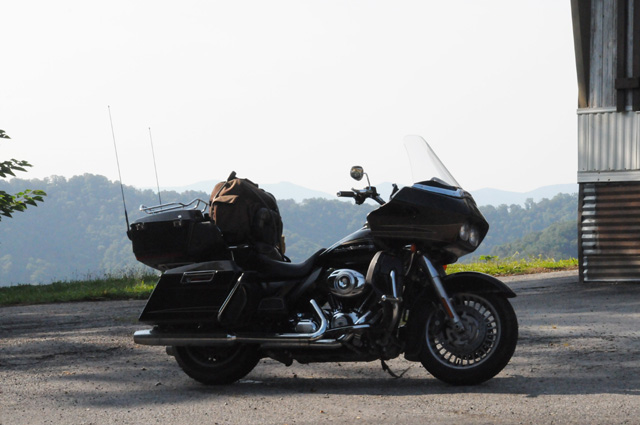 Oh wait a minute, let me get the bike out of the way.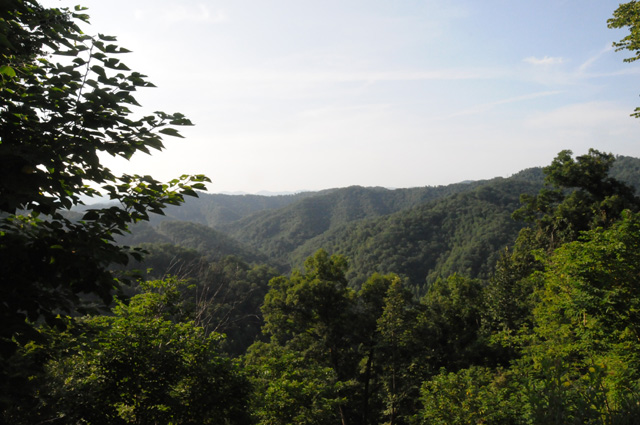 OK, why did I want to take you on a ride across Abner? Here's why.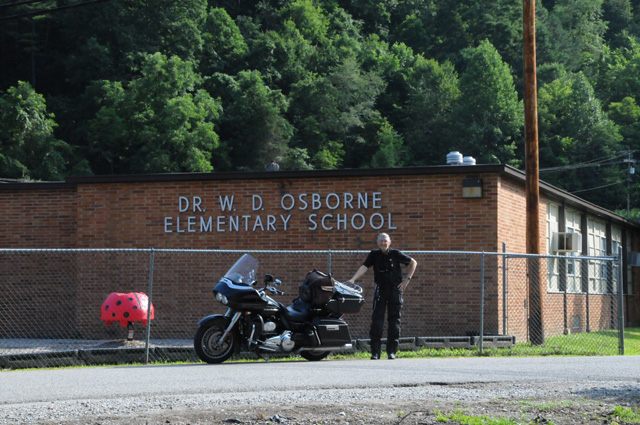 So I can just imagine you saying, "Why is he showing me this school?" Well, as you can see, that school is called Dr.W.D. Osborne Elementary School. And Dr. Osborne was the doctor who delivered me, just a few feet behind where I am standing in a home that no longer exists. It has been replaced by this school. Named after the doctor who delivered me. So, this is my birthplace. That's why we are here today.
This little town is called Bevinsville.
Let me show you another picture, taken from the same spot, just using a wide angle lens. You can see the mountains, we are in a valley, a small valley. My birth home stood just about where the far right corner of the school building is. And yes, I was born at home, not in a hospital. Keep in mind that once upon a time doctors really did make house calls.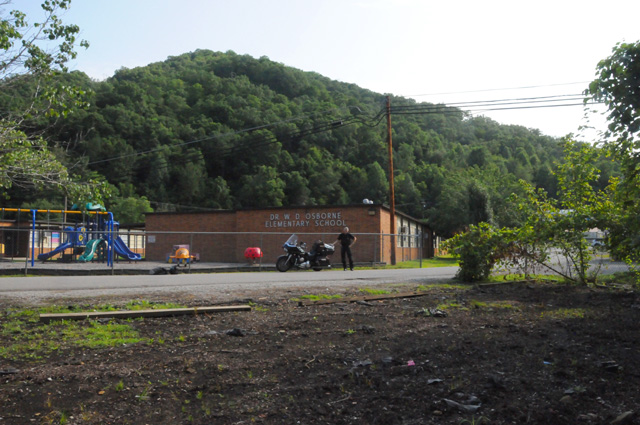 This picture is looking across Highway 122 from the school. More mountains.
This stream is between the road and the mountain. It is called Left Fork Beaver Creek.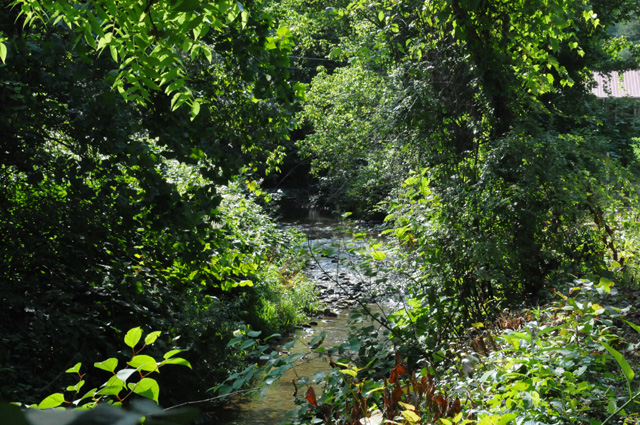 And this little stream, yeah, I know, you can hardly see it, is called Riley Branch. It ran right beside my birth home.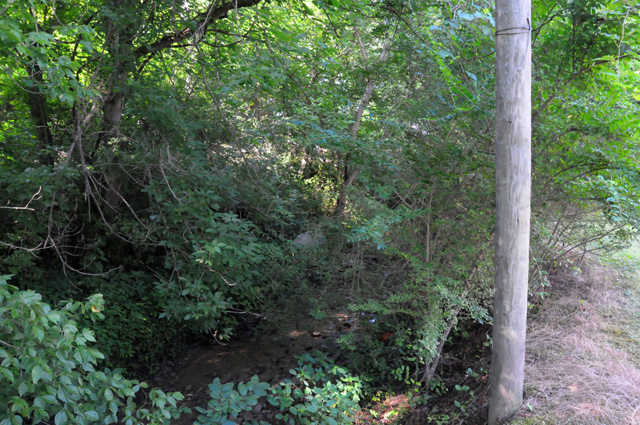 Now I have headed south again, I am approaching the Kentucky/Virginia border. Can you see how that mountain has been cut away for the road? All those lines running left and right on the mountain are the terraced cuts.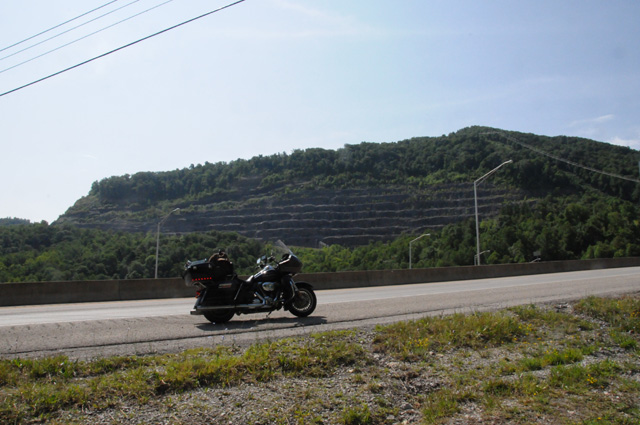 My final picture for today is at the top of that terraced mountain, right at the border, looking back into Kentucky. Right about the middle of that far ridge is where we just were, in Bevinsville.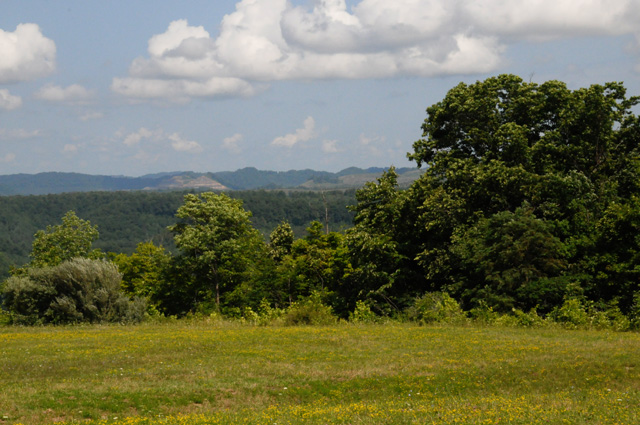 ---