---
26 July 2014, 6:00 PM ET, North Palm Beach, FL
My ride is complete. The extension of my ride is complete. You may recall that my original plan did not include a ride to Key West. On the page called "Prep", I said, "Although I have ridden to Key West in the past, I will go again in the next few months so I can count the lights on US1 south of Lighthouse Drive." And then something happened, you could see it coming when I also said on the page called "Prep", "I cannot explain it, but I am driven to know how many traffic lights there are on US1 from Key West, FL to Fort Kent, Maine." Well, that "drive" made me do it immediately.
So, now I know how many traffic lights there are on US1. But you don't. You will know tomorrow when I write my wrap up of the ride.
As you know, I planned to do the Key West ride in one day, but that did not work out. It took me nine hours to get there yesterday riding US1 the entire way, it took me six hours to get back home today riding US1 only when there was no choice. Otherwise I was on the Florida Turnpike.
Today was 247 miles. Yesterday was 241. It was six miles shorter on US1. My total for the entire ride was 6,409.7 miles.
I slept a bit later this morning, I guess yesterday made me tired. I got on the road later, also. For the past several days I was out by 8:00 AM or earlier. This morning I hit the road at 9:30.
I stopped at the "Seven Mile Bridge" to grab some pictures. This is the old Seven Mile Bridge. You can see the new one just to the left.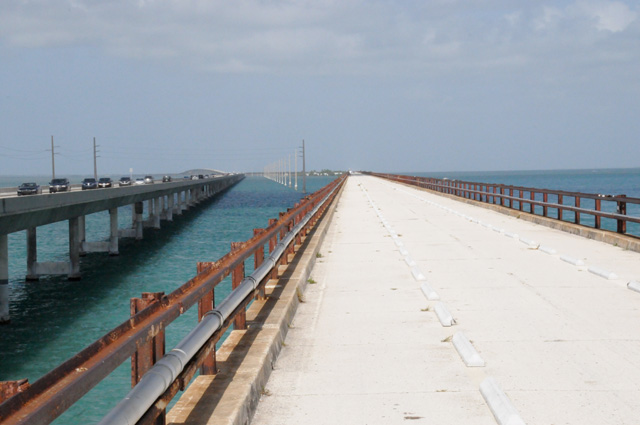 And this is looking dow the new Seven Mile Bridge with the old one just to the right.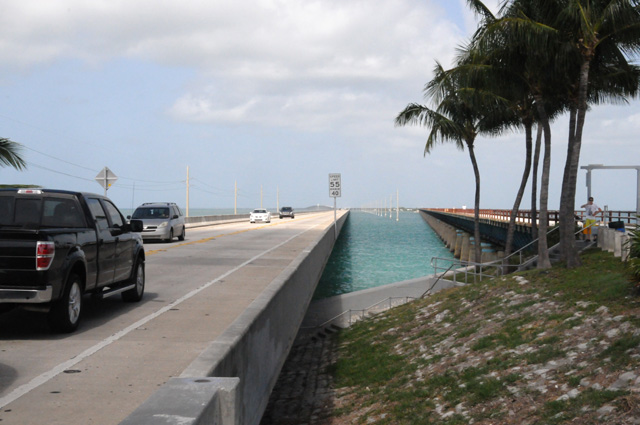 The old bridge was originally built for a railroad. It was built between 1908 and 1912, and was modified for automobile traffic in 1935. It was replaced by the new bridge in 1982. Here's a look at the lower structure of the old bridge.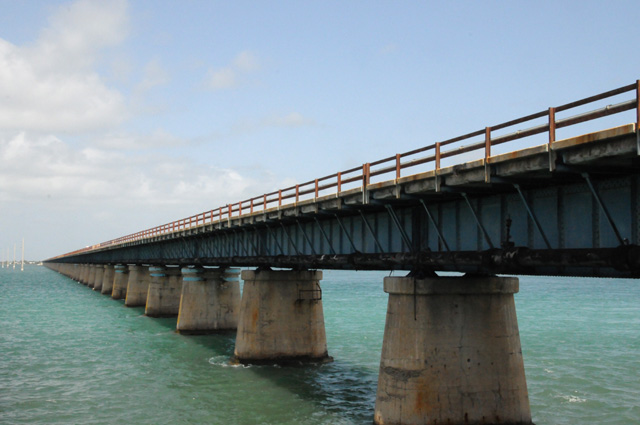 While I was stopped there, I also grabbed this picture looking to the northwest. This water is the Gulf. There was one lonely boat out there.
I was pretty dedicated to riding today, I wanted to get home. The traffic was certainly better leaving Key West than it was yesterday going to Key West. Traffic today going to Key West was terrible. There was a 30 mile backup starting on the Florida Turnpike and going down Route 1 all the way to Key Largo. I sure was glad I was not riding that direction!
I stopped at the first service plaza on the Turnpike to put on my rain gear. I already knew from radar that I would encounter some thunderstorms. We are in the rainy period in southern Florida. There is thunderstorm activity every day. It doesn't hit every area every day, but if you are riding 250 miles like I was, you know you will encounter some rain somewhere along the ride. Here's what it looked like to the north.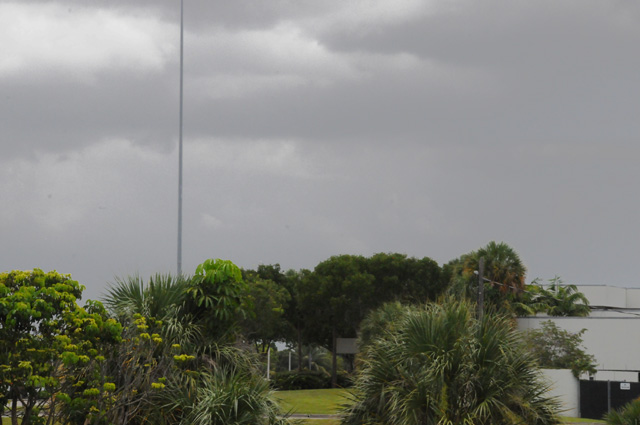 It wasn't raining when I got home, but it is right now. Maggie, our Scottie, is lying right at my feet, her favorite place when there is thunder.
I thought I would be riding in two different cells, but it was only one, the one you saw in the picture. I expected one further north, but it had gone out over the ocean by the time I arrived.
That's my story for today. I am glad to be home. I love my rides, but I also love getting back home. I could not do that every day. Once a year works well. Maybe twice a year would work also. Only time can tell.
Come back and join me one more day, tomorrow, when I will summarize my entire ride. And tell you how many traffic lights there are on US1.
---