---
20 June 2013, 11:30 PM PT, Dixon, CA
I had the bike serviced this morning, thank you Carson City Harley-Davidson. It was after Noon when I got away. I first headed back into downtown Carson City to get a picture of the Nevada State Capitol. I have taken a picture of this Capitol before, on the US50 ride last year. But, my rules say I have to take another one when I visit again on a bike ride. So, here's my picture of the Nevada State Capitol for this year.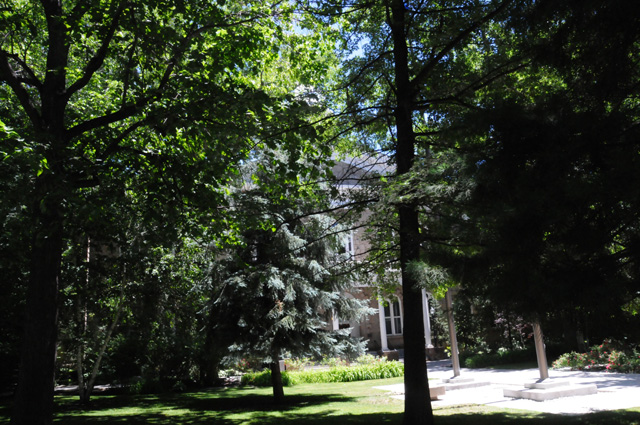 There's a bit of a problem, isn't there. The building is so surrounded by trees that you can get only one picture, what I showed you last year. But, keeping with my tradition, I shot it again, and here's what it looks like from the only location that is not blocked by the trees. That dome looks like silver to me. This is a new picture, it is not last year's.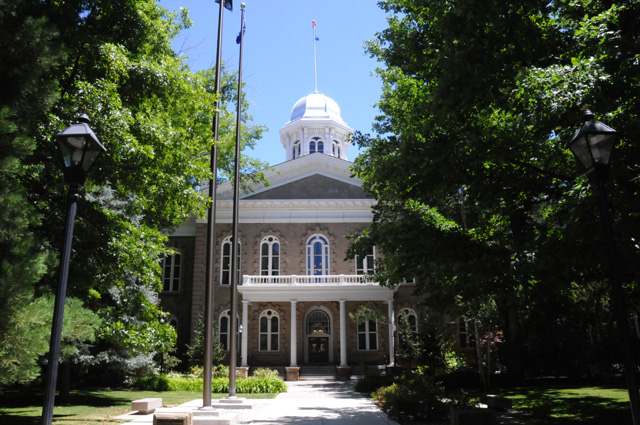 After gassing up and getting a chocolate shake, I headed out to Virginia City. I have wanted to go to Virginia City before, but never made it. The road has signs warning that RVs and 18-wheelers and trailers are not welcome on the road, there is a 16% grade. That 16% grade happens in a very tight switchback also. I decided to brave it, and I did make it. This is a school building from 1876.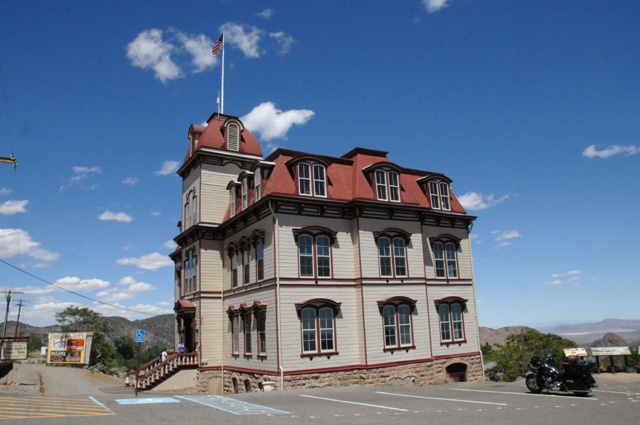 Here's another old building with a shot of the distant valley.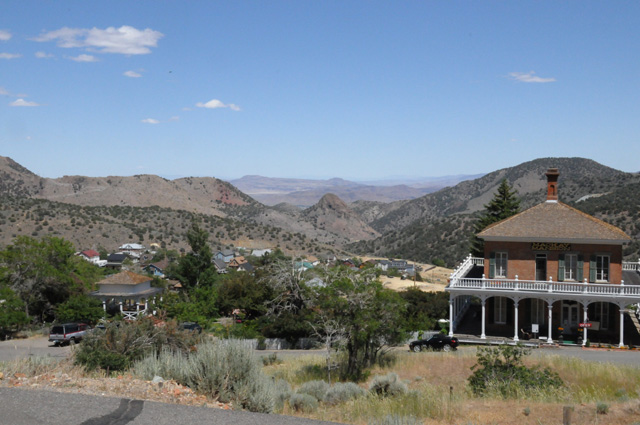 A church in Virginia City.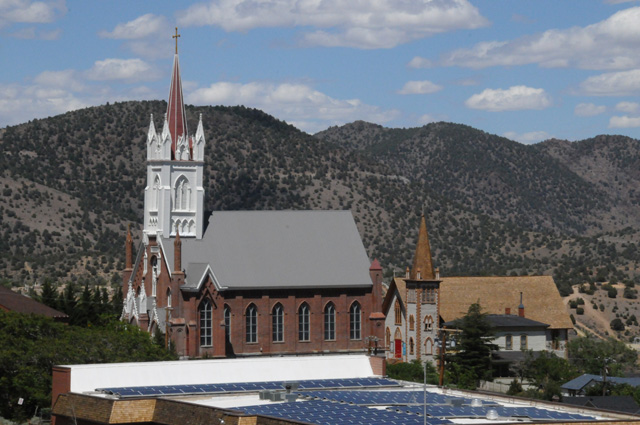 The main street of Virginia City.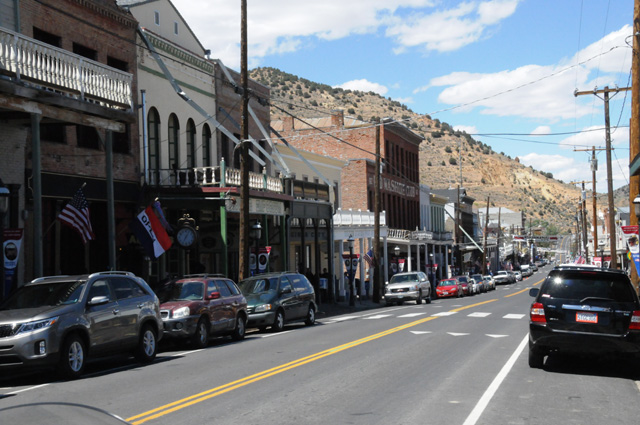 After leaving Virginia City, I went through the Mt Rose Summit at 8,900 feet elevation, the highest year-round Sierra Pass. Here's a shot looking out from the Pass.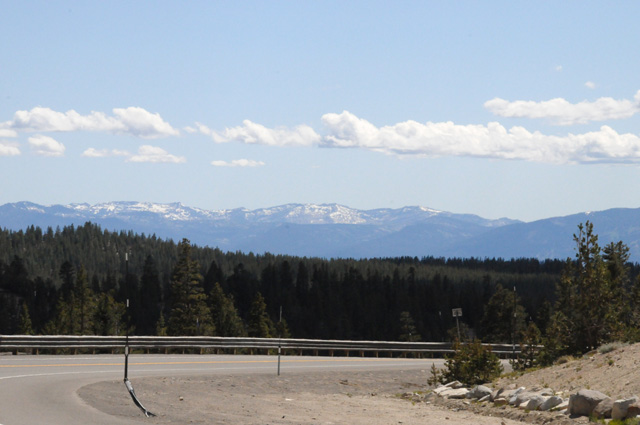 On the way down the other side of Mt Rose, you can catch glimpses of Lake Tahoe. Here's one of the views.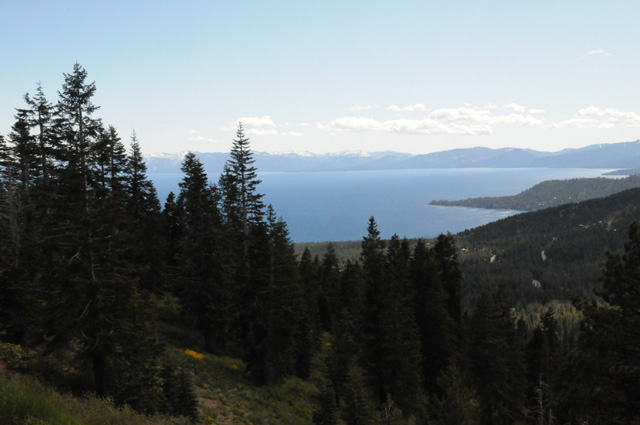 This picture is taken from the same location, just looking another direction, the direction my bike happens to be.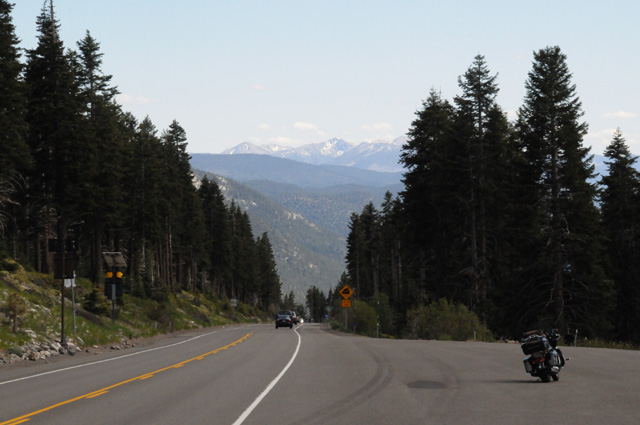 Why did I happen to go through that particular pass you might wonder. Well, it's the way to the Ponderosa Ranch. The Ponderosa Ranch House is still there, it is no longer open, but it is still there, or so they say. I couldn't get close enough to it to find out for myself. If I were a few years younger, I might have climbed the fence, but no longer. I walked the fence to find a hole, or a spot I could get through. No such luck. So, I cannot give you a picture of the Ponderosa Ranch House. All I can give you is this picture of the gate where it says, "The Ponderosa Ranch is Closed."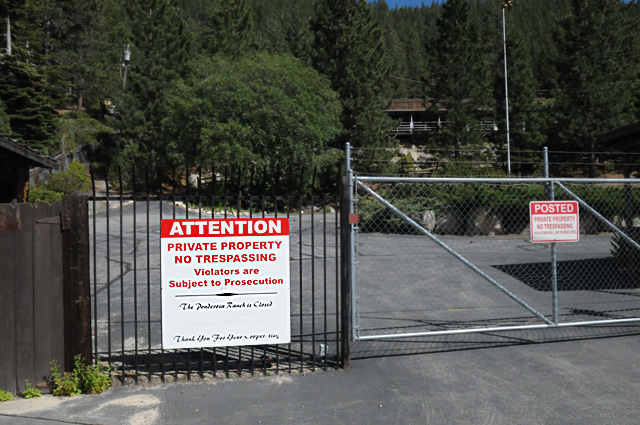 As I said, I cannot give you a picture of the Ponderosa Ranch House taken today, but I can give you a picture I took in 2001 on another bike ride, a bike ride where I had a passenger, Hanna.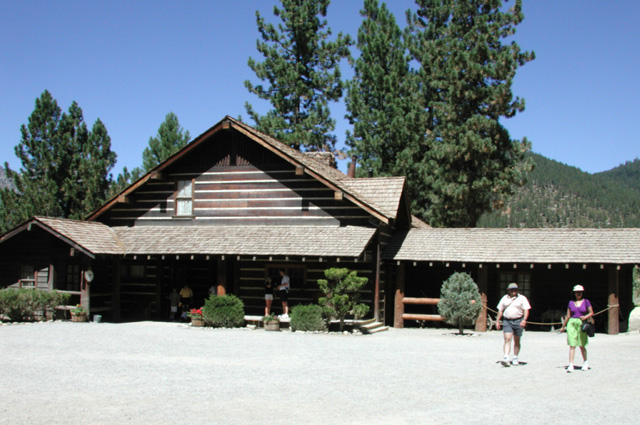 After giving up on seeing the Ponderosa Ranch House, I headed up into the mountains again in search of the Donner Pass. I found it. US40 (I should say Old US40) went through Donner Pass. It is 7,135 feet elevation. Here's a shot of a bridge just before the Pass.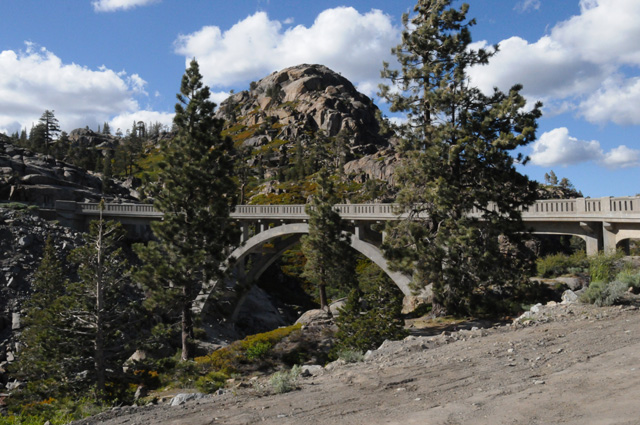 And here's a picture looking back toward Truckee, the lake is Donner Lake.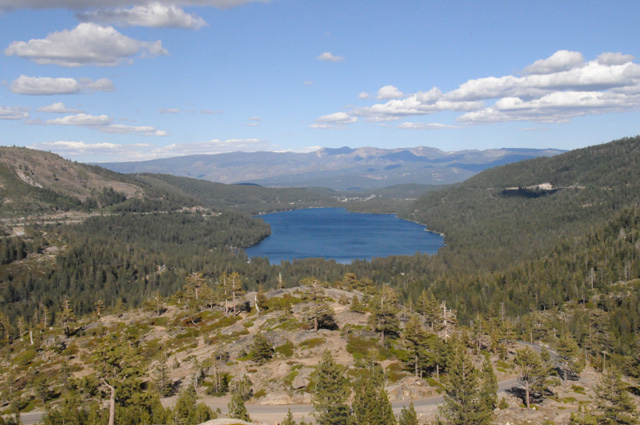 Then I headed toward San Francisco, but I didn't get there, not enough time. I am in Dixon, CA, a few miles west of Sacramento. Sacramento is a Capitol City. So, here's the required photo, the California State Capitol.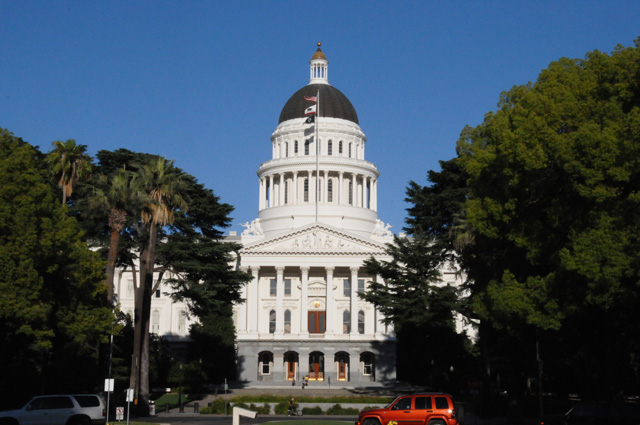 Tomorrow I will reach San Francisco, and start my trek up CA1. I have ridden CA1 south of San Francisco, but not north.
I rode 236 miles today. I have ridden 4,427 since leaving home. I am ahead of my tentative schedule in location and in miles. Before leaving home, I expected to be somewhere in Nevada tonight with 3,900 miles.
Don't forget to check the map to see where I am.
---