---
22 June 2013, 11:59 PM PT, Roseburg, OR
I started the day on US101, rather than CA1. I left CA1 yesterday to find a place to stay overnight on US101. So, first order of business today was to gas up and get back on CA1. I did ride it to its end. It was an extremely pleasant ride. The southernmost part north of San Francisco is too twisty for me and I don't see the ocean. I like CA1 from LA to San Francisco, I just love it. The middle part above San Francisco is similar to that. The northernmost part gets twisty again. That's OK, but I get tired of it. It is sort of like the Tail of the Dragon, but it just goes on and on and on. Actually, it is more challenging and difficult than the Tail of the Dragon. I am shifting through every gear, from sixth down to first back up to sixth, etc., etc., etc., etc., etc., etc., etc., etc. (Get the picture?) I don't do that much shifting on the Tail of the Dragon.
On my way back to CA1, I thought I would give you a picture of the landscape.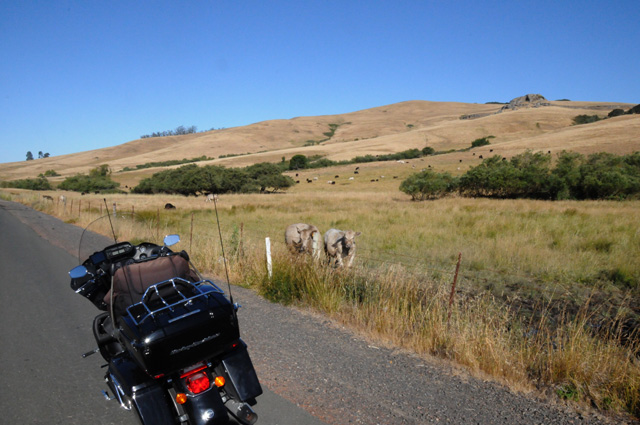 Those two cows were very interested in my bike.
Here's a shot on CA1.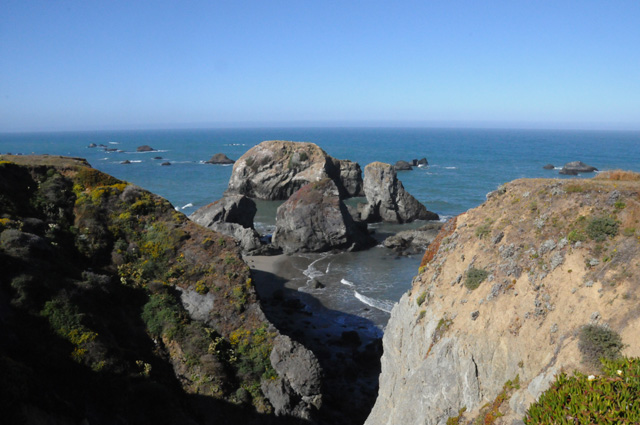 Several miles of CA1 had been re-surfaced. Rather poorly I might add. There is a seam right in the middle of the northbound lane. It rises up a couple of inches above the main roadway. I think the seam should have been in the middle of the road, not the middle of this lane. It was difficult, because it tends to capture the bike's front wheel, or shove it to one side or the other. I had to always stay on the left half of the lane, or the right half of the lane. The least they could do is level it again with a roller. This picture shows the seam, but you cannot see that it rises up. The road is too busy for me to park on it to get a picture, and the shoulder is too narrow to park. So, I had to find a pullout where the seam was present. Typically, it would disappear whenever there was a pullout. CALDOT, please fix this, there are many motorcycles on this road. It is a problem.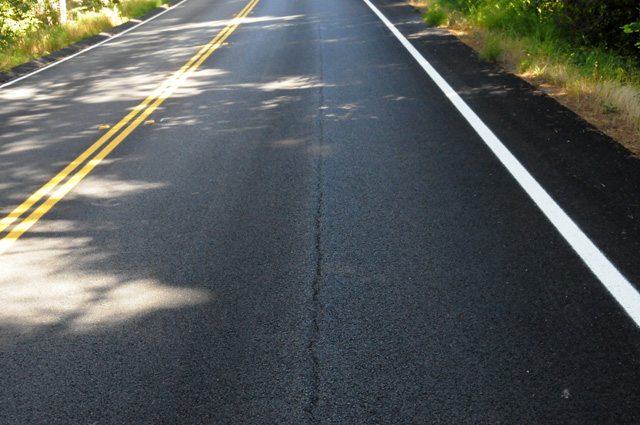 Here's a shot along CA1 (also called Highway 1). Sometimes you see the ocean through holes in the trees, like in this picture.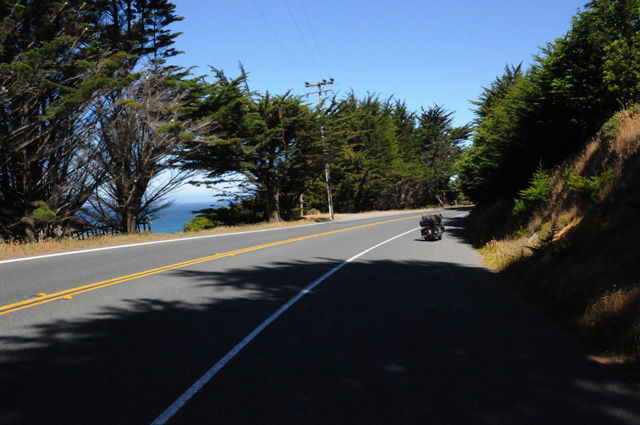 And sometimes the ocean is right there beside you. I love the part of Highway 1 that is like this picture and the one just above.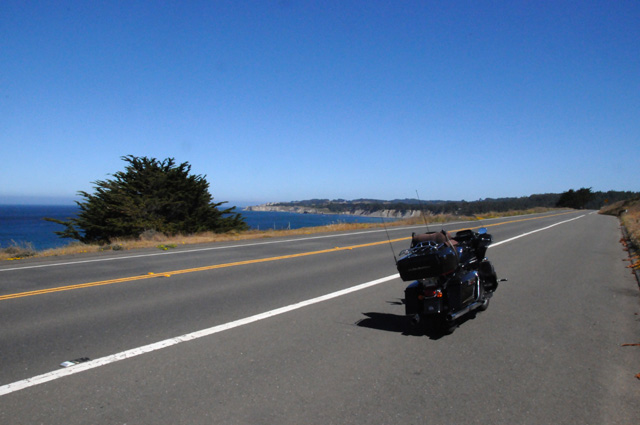 Another shot looking off the highway.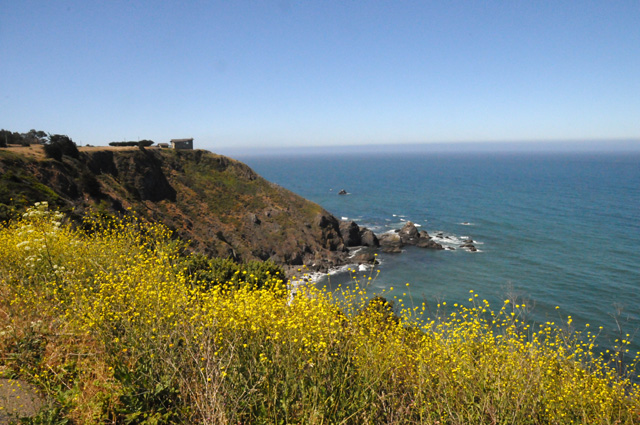 When you get into northern California, you start seeing lots and lots of redwoods. Just look at them on this hillside.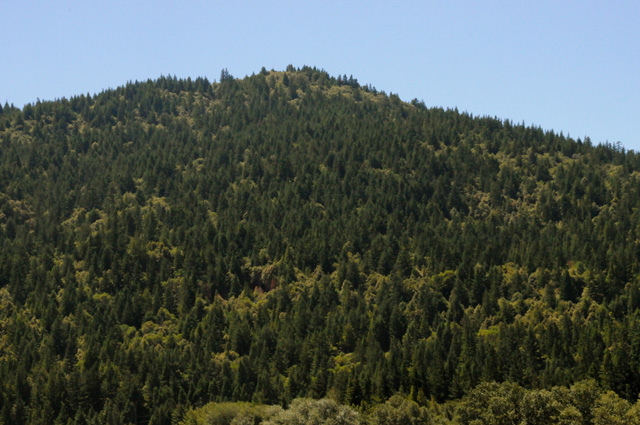 By this time, Highway 1 had ended, and I was on US101. There is another road that runs beside US101 in the redwoods, it is called the "Avenue of the Giants". Here's what it looks like riding along the Avenue of the Giants.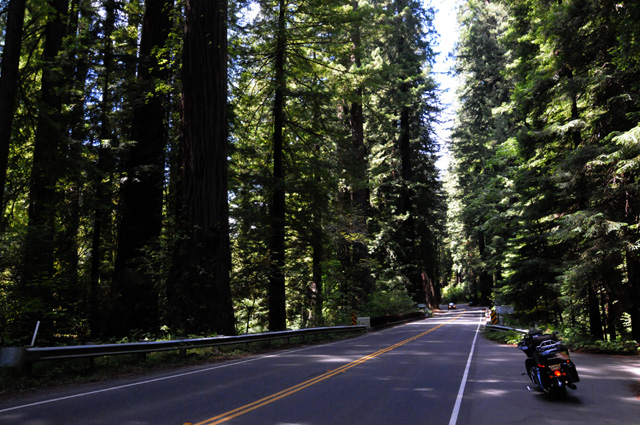 Here's an isolated tree, not the largest of the group, but one I could park my bike in front of and take a picture showing the full height of the tree. Can you see my bike at the bottom?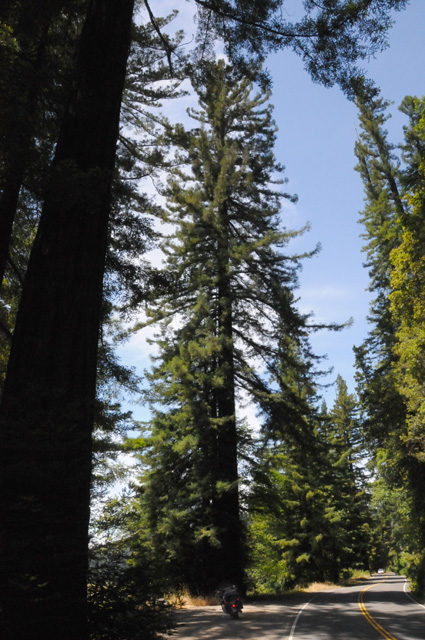 And here's one of the larger trees, and one where I could park the bike beside it and get a picture to show you how fat it is. My wingspan is a little over six feet. My bike is just two inches shorter than 8 feet. So, how wide is this tree?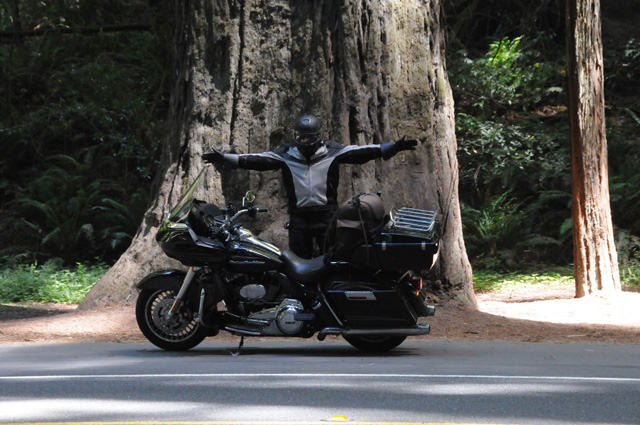 That's all my pictures for today. I am out of California, so it will be easier to gas up. California has this thing on the end of the pump nozzle that has to be pushed back to pump gas. It covers the tank opening so fumes don't escape. It works fine on cars. But, for many bikes, you have to push the rubber thing back towards the handle with one hand while holding the nozzle in the other hand to make it pump. I don't know if I made that clear, but it is a pain.
On the other hand, California is the only state that allows white-lining. I like white-lining. When traffic is slow or stopped, you can ride between the lanes of cars and keep moving. Or at a traffic light, you can move to the front of the que. I like white-lining (also called lane-splitting). You may think it is dangerous, but if you know what you are doing it is OK. Living in California, I learned how to do it well. I know how to do it, when to do it, and most important, when not to do it.
Late in the afternoon I changed my route. I was planning to take US101 all the way north to the middle of Oregon, then I was going to head due east to Salem, the Capitol. Rain is on its way, though, and it is forecast to last four days in the Pacific Northwest. As I was riding along the ocean, clouds started moving in, and banks of fog were appearing here and there. So at Crescent City CA, a few miles south of the Oregon border, I decided to head inland to I5 (where I got my daily chocolate shake). I did as many miles as I could today, 514 miles, stopping after sundown. I want to get all the way north to Olympia, the Capitol of Washington, then head east to get away from the rain. I don't know if I will beat the rain or not. I looked at weather radar later, and found that I did avoid some rain in southern Oregon by heading inland. My plan for tomorrow is to reach Olympia and head east. That puts me ahead of my tentative schedule, but I want to avoid the rain as much as I can.
See you again tomorrow. We'll see how much rain I get.
---