---
29 June 2013, 11:30 PM MT, Sturgis, SD
I left Sheridan, WY this morning headed to Devils Tower. Little did I know at the time what I was to encounter. I guess you could call me one of the lucky ones, or maybe one of the tormented ones. I don't remember just how long the ride took, but as best as I can recall, it was about three hours, 2/3 on Interstate, and 1/3 on regular roads. I don't know if this area is officially the Black Hills, but it is very similar. I remember so clearly my first glimpse of Devils Tower. I had just ascended one of those dark pine covered hills and I could see it a few miles ahead of me, partially hidden by another intervening ridge. Only one thing, though, I saw some bright flashing lights and something hovering over the tower. I stopped on the road as rapidly as I could, shoved down the kickstand, grabbed my camera, and got this shot.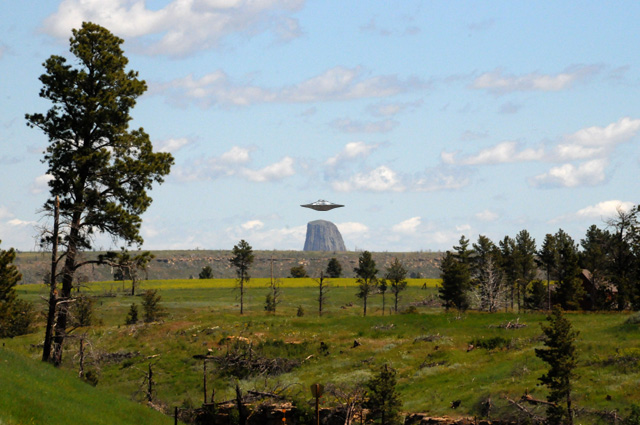 I quickly stowed the camera, jumped back on the bike because I wanted to get there as quickly as I could, but before I could even get the bike rolling, the thing that was hovering shot quickly up into the sky, and I did not see it again.
Maybe that's a sign that I have not been getting enough sleep. Or maybe my imagination is running wild. After all, I did meet Richard Dreyfuss who played Roy Neary, an Indiana electrical lineman, and Vilmos Zsigmond the Cinematographer on the Columbia Pictures movie "Close Encounters of the Third Kind" directed by Steven Spielberg. For those of you who may not know, in a former life I worked for Sony Pictures, one of whose movie companies is Columbia Pictures. Why don't you rent "Close Encounters" and see the real hovering craft!
Maybe I should start over. About an hour after I left Sheridan, I looked back and saw snow capped mountains, I believe it was the Bighorn Mountains. I said to myself that this is probably the last snow capped mountains I will see on this ride, so maybe I should take a picture to remember it.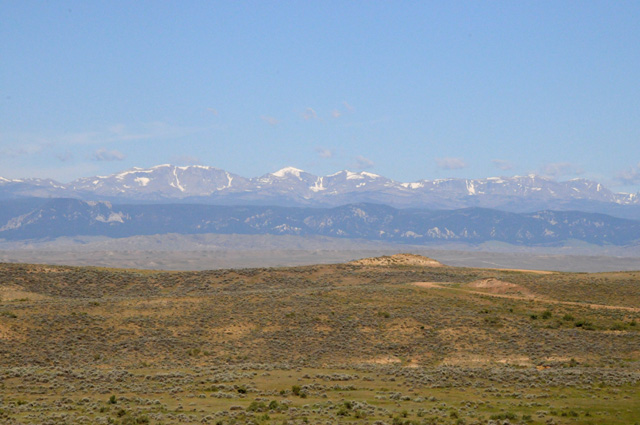 About three hours into the ride, I did have my first view of Devils Tower.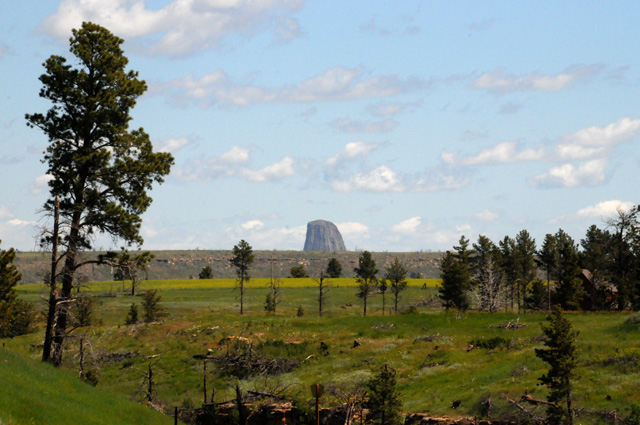 Here are three more pictures I took riding around the tower.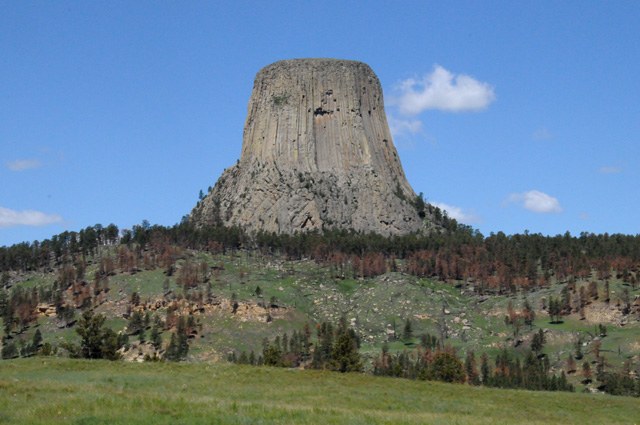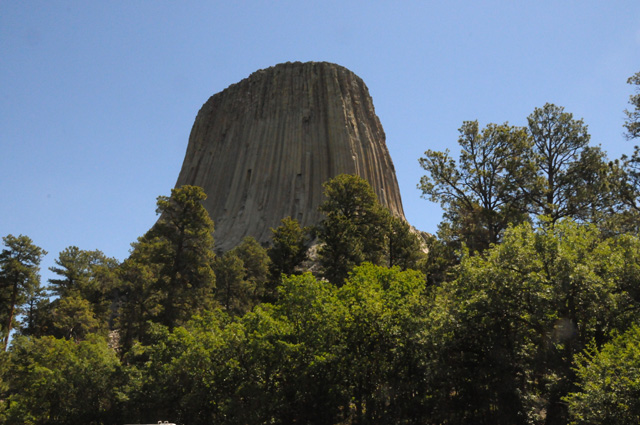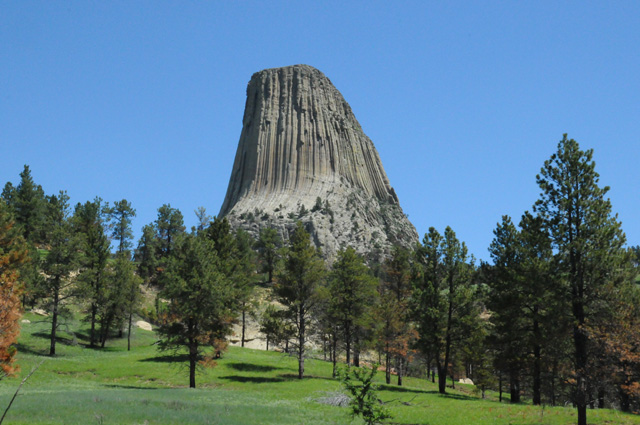 Here's some of the landscape around the tower. You may recall that I have a thing about red rocks.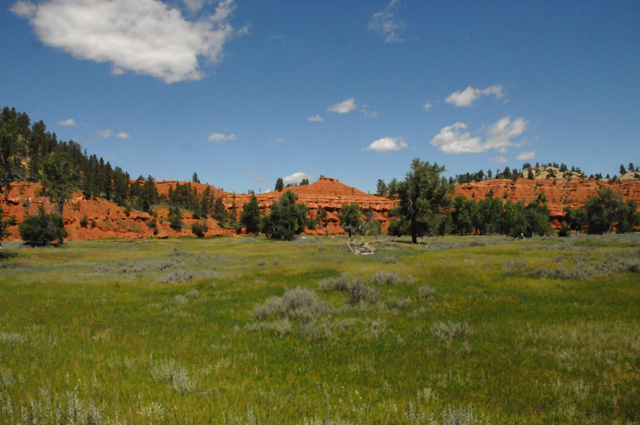 In Custer, SD, I had a craving for a chocolate shake, and I found this place that was perfect for my needs.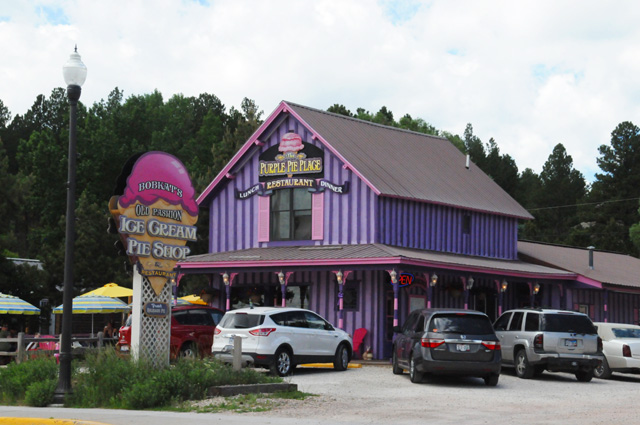 I ordered my chocolate shake, and noticed that they have several types of pies. I was enchanted by the Bumbleberry pie, I had to try it. It has rhubarb, strawberries, apple, raspberries, blueberries, and blackberries. I enjoyed it.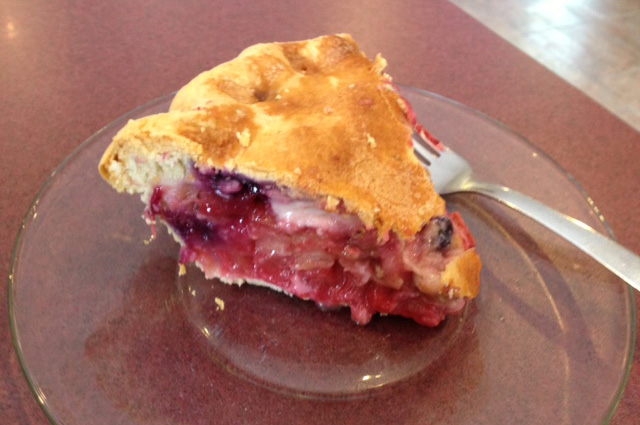 Then I was off to see the Crazy Horse Memorial.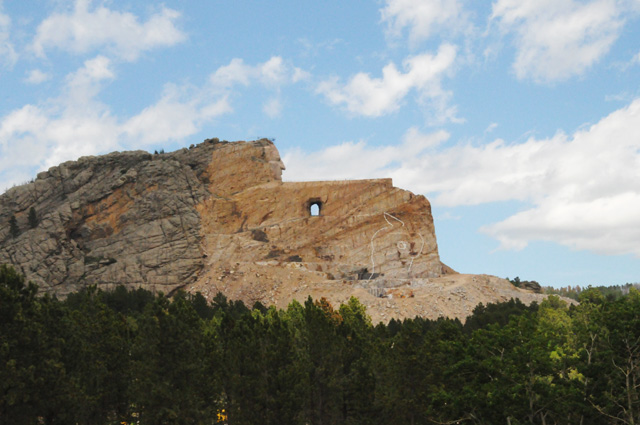 Here's what it will look like after it is completed.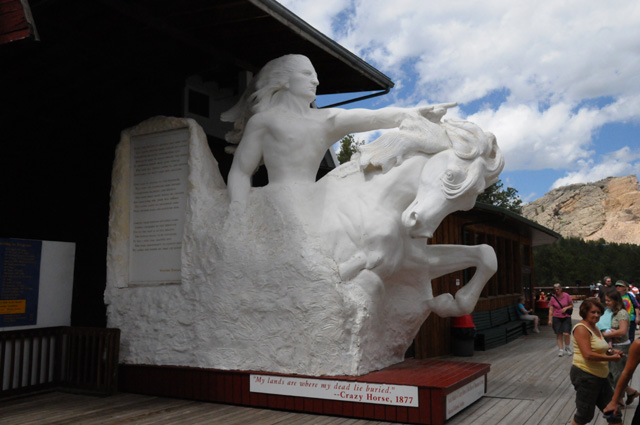 Off again, this time to Mount Rushmore by way of the Needles Highway. Here are several shots taken along the way.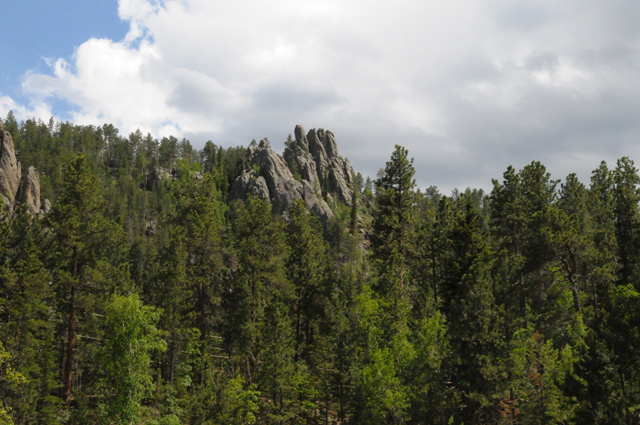 That's the road going through the tunnel.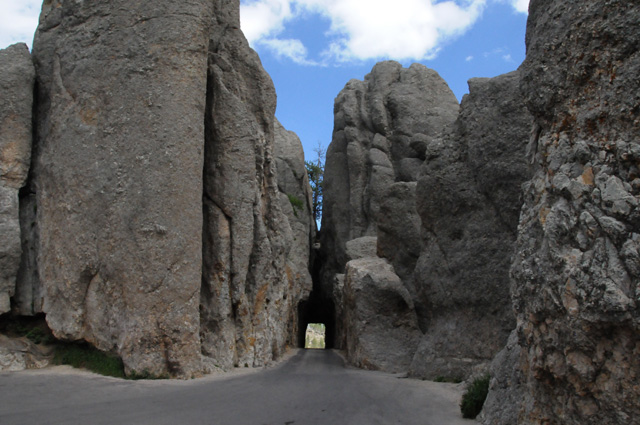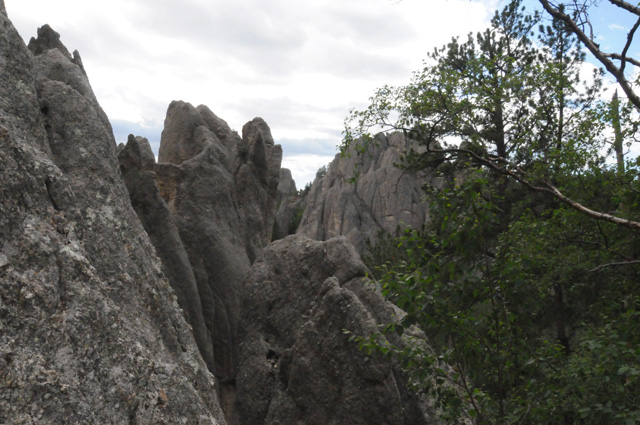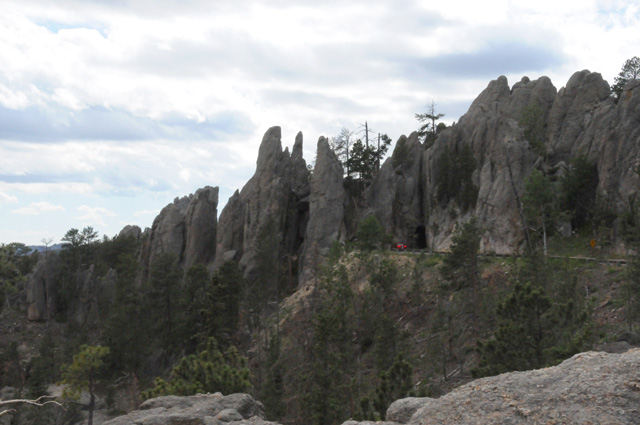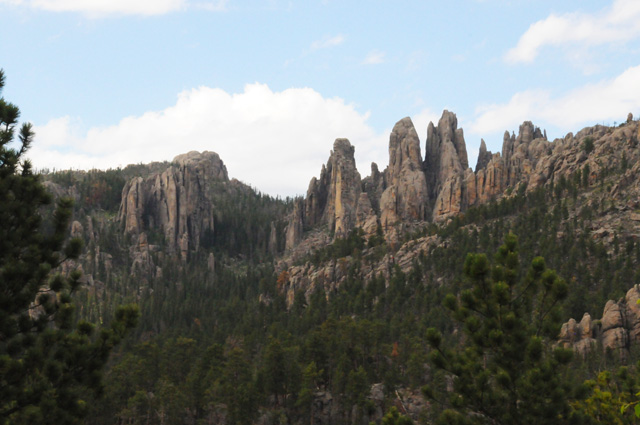 I think this road was the toughest road I have ever been on. There were several switchbacks that are the worst I have seen. On one of them, the yellow sign suggesting a speed said 5 mph. Some of the switchbacks are essentially a tight U-turn with a grade that must be 10-20%.
I am off the Needles Highway, approaching Mount Rushmore, and pass through another tunnel. You can see Mount Rushmore through the tunnel.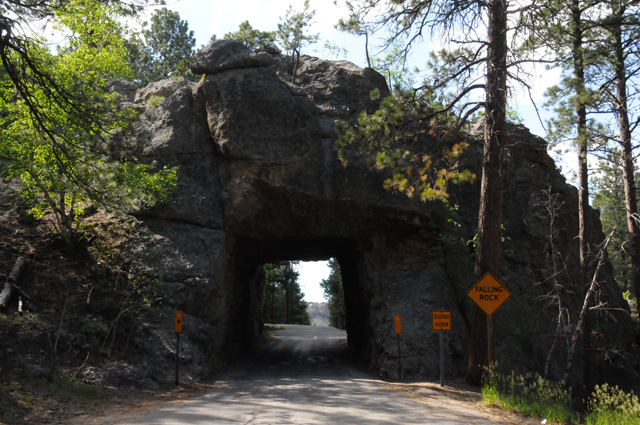 Here's a close up looking through the tunnel.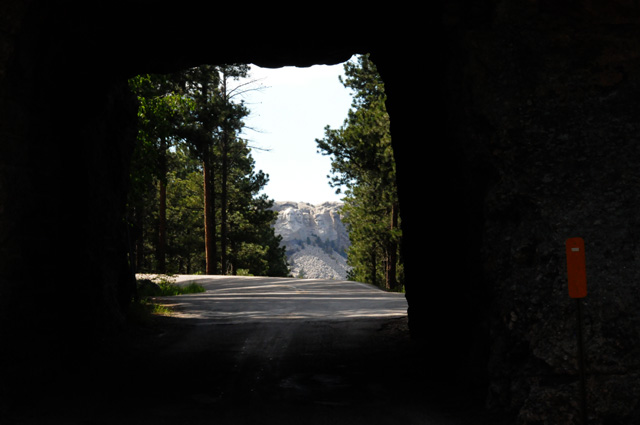 This is the first National Park I have had to pay for, I have a Golden Age Passport, so normally I don't have to pay. Here you have to pay for parking. So I parked, and walked most of the way to the hill. I wanted to give you a perspective of the size of the hill.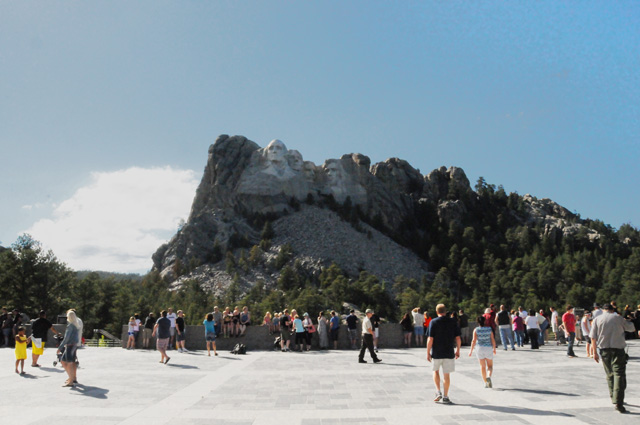 Here's a close up of the Presidents.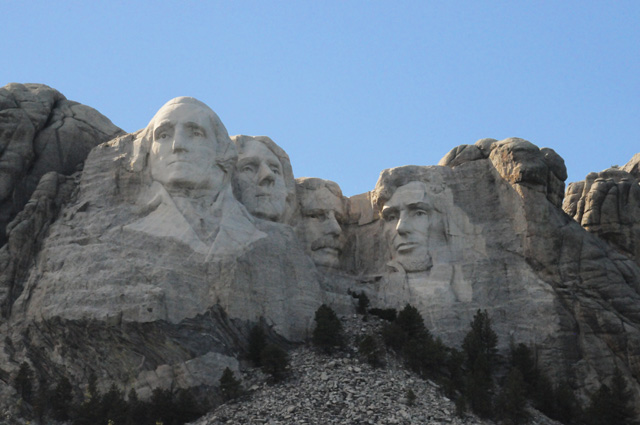 Now I am off again, a one hour ride to Sturgis. I could have taken the fast way, Interstate, but I wanted to ride the two lane highway through the Black Hills. That could have been the wrong decision, it turns out that 13 miles of the road are "grooved" ready for a new surface. Some spots had oil on the grooved surface. It could have been a disaster, but it turned out OK.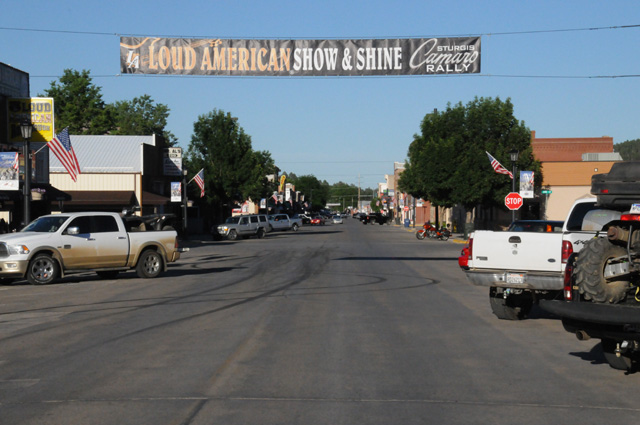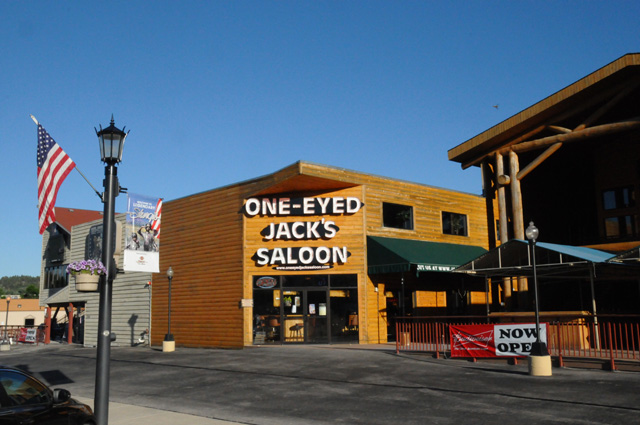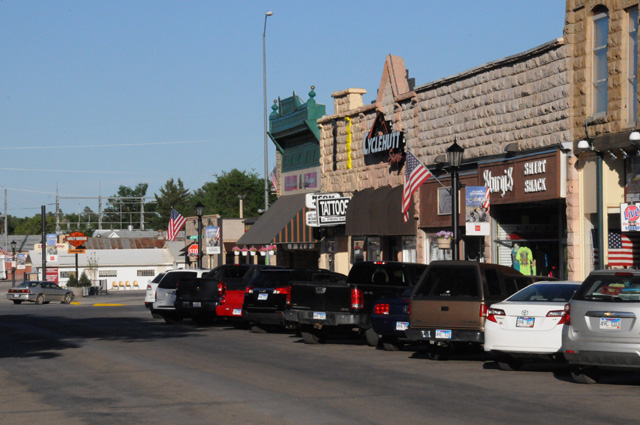 Hotels are mostly full here, I was told that it is because of the Camaro Rally. Did you notice the banner in the first Sturgis photo?
Now I can say I have been to Sturgis. I will be silent about the Motorcycle Rally, because most people mean the Motorcycle Rally when they talk about going to Sturgis.
I rode 399 miles today. I have been on the road 21 days. I have averaged 373 miles per day.
---