---
1 July 2013, 11:30 PM CT, Alexandria, MN
I want to start by saying thanks so very much to Aaron at Roughrider Harley-Davidson in Mandan, ND. Aaron got me in for a service when his shop was full. He patiently allowed me to add the installation of two accessories when I know he had his hands full with other bikes. Aaron, would you please tell the guys in Parts that the air deflector did decrease turbulence and that the highway pegs are much better than what I had, my boots stay on the pegs even when I completely relax my legs. That was not the case with the pegs you replaced.
Something I forgot to mention yesterday. My presence has been noted in all 50 states. It has been officially certified (by me). When I began this trip, I had never ever been in Iowa, Nebraska, South Dakota, and North Dakota. Slowly but steadily I have added each of those states to my list. I should get an award for that. Is there a Presidential Medal coming my way now?
In the next couple of days I will have been in Wisconsin and Michigan on my bike. At that time I can declare that I have ridden one of my bikes in 38 of the 48 continental states. I have already decided what my spring ride will be next year -- it will be my US Northeast Ride. During that ride I will complete the continental 48 for riding one of my bikes.
I was in no rush to get off today. As always, I did not set an alarm, I got up when I woke up. I had to rush to get breakfast, though. Then I headed out to get a picture of the North Dakota Capitol. Then I called Aaron. After the bike was serviced, I headed out to Minneapolis. Along the way, I stopped in Fargo. I wanted to see downtown Fargo. I only know Fargo from the Cohen Brothers movie, "Fargo", starring William H. Macy and Joel's spouse Frances McDormand.
Details for the day -- one chocolate shake and 325 miles. That's low mileage! It is below my average. I may do more tomorrow, I should have a good night's sleep because I stopped earlier than I have the past few days. Tomorrow I will pass through Minneapolis-St Paul and head to Milwaukee. I want to tour the Harley-Davidson Museum on Wednesday.
Bentley asked me to talk about the temperatures I have encountered. I know it is hot in the southwest, but that hasn't affected me that much. A couple or so days ago I intended to mention that I had my first day without my rain jacket / windbreaker. That has continued for about three days now. I used the rain jacket only once because of that thunderstorm yesterday. For several days, I needed the rain jacket for warmth, especially my arms. The last few days have been very pleasant, rarely have I been hot. Today was an exception, it was warm approaching Fargo, and hot riding through downtown Fargo. A bank in Fargo showed the temperature as 94. As soon as I got out of town, though, I was fine. Riding through the Badlands was extremely pleasant. I did not need the rain jacket for warmth, and I was not hot wearing my summer jacket. I could take days like that any time.
Brother Larry asked me to photograph the Northern Lights. Sorry, but so far I have not seen any Northern Lights.
I do not have as many pictures today. For those of you who yearn to see more and more of my pictures, you must suffer. It will be good for you.
So far I have taken 871 pictures. Tonight you will see eight of them. We will start with the North Dakota Capitol in Bismarck.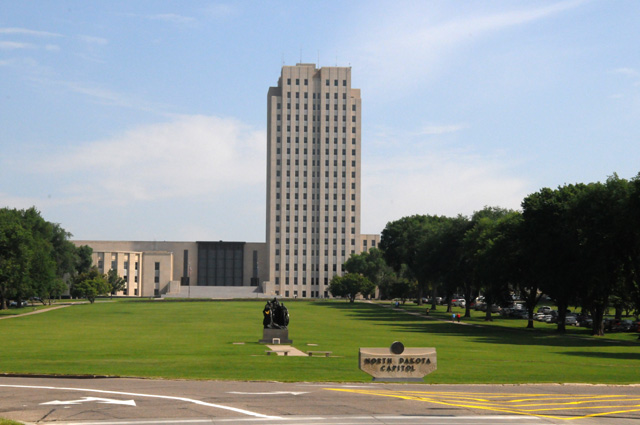 The Missouri River runs through Bismarck. It runs through Pierre. And it runs through Great Falls, MT. See my picture of the Missouri just south of Great Falls on June 26. Here are three pictures of the Missouri River in Bismarck. I wonder, how long does it take a drop of water to get from Great Falls to Bismarck. Did a drop of water in my Great Falls picture get to Bismarck first, or did I get to Bismarck first? Is there a chance that I photographed the same drop of water in the two different places?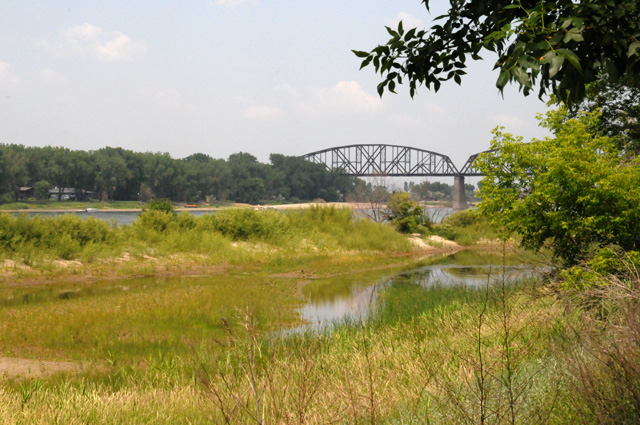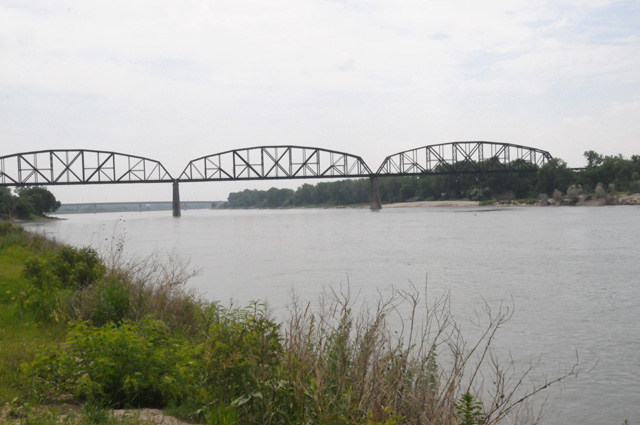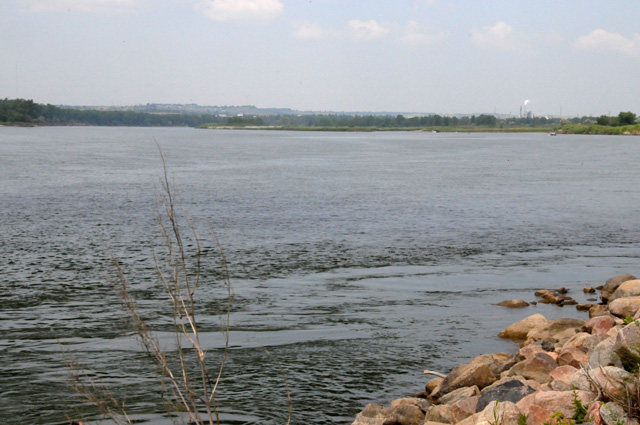 As I said before, I rode into downtown Fargo. While I was there, this train came barrelling through town. I like trains.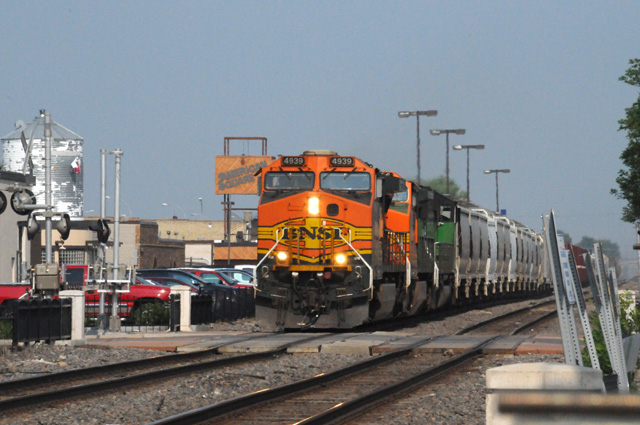 The Red River (of the North) runs through Fargo.
Here's a bridge crossing the Red River.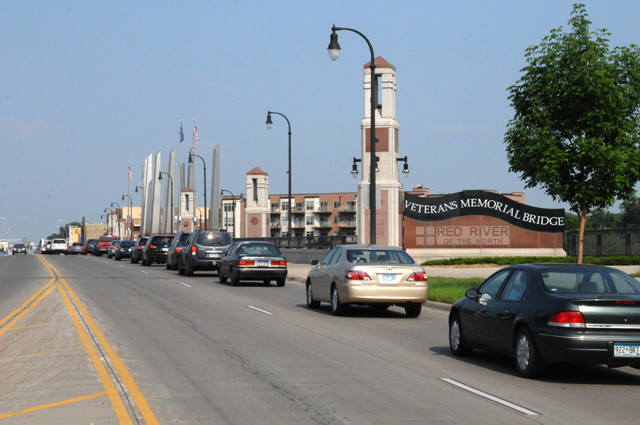 Leaving Fargo, I saw this neat church, so I had to include it here. Normally I would stand in the street to get a picture like this to eliminate all the cars, but in this case the cars were never-ending being routed through a detour.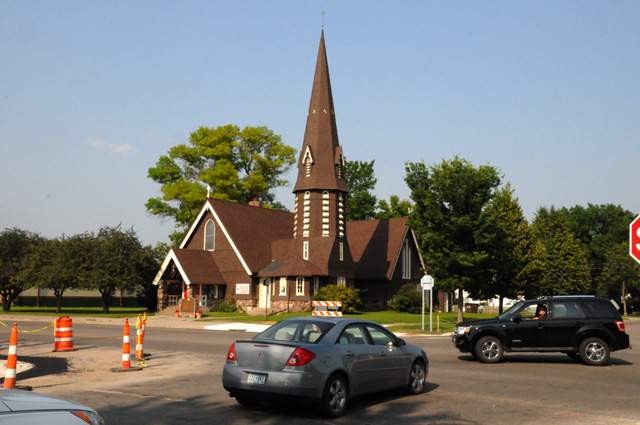 That's your eight pictures. Good Night.
---