Travelogue -- Dr Bob's US Northwest Motorcycle Ride
Send a message to Dr Bob
---
19 March 2013, 6:00 PM ET, North Palm Beach, FL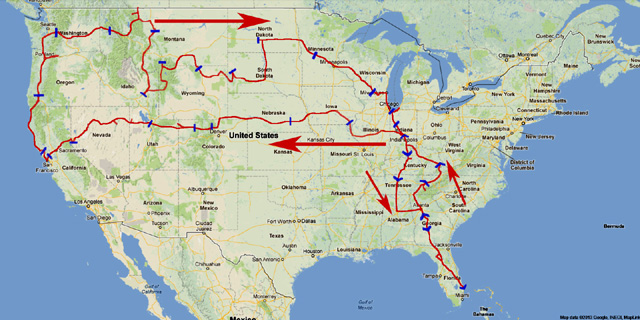 I have started planning my next ride, the US Northwest. I will ride from North Palm Beach, FLorida to San Francisco via Indianapolis, then north on CA1. I want to see the Columbia River Gorge, Mount Rainier National Park, Glacier National Park, the Going-To-The-Sun Road, the Beartooth Highway, Little Bighorn Battlefield, Devils Tower, Crazy Horse Memorial, Mount Rushmore, and the Badlands. I will visit several capital cities, Atlanta, Nashville, Indianapolis, Des Moines, Lincoln, Cheyenne, Salt Lake City, Salem, Olympia, Helena, Pierre, Bismarck, St. Paul, and Madison. Then I will return to North Palm Beach, again through Indianapolis stopping at Purdue along the way.
I have been in every state except North Dakota, South Dakota, Nebraska, and Iowa. I plan to take care of that on this trip.
Nothing is definite yet, including a date. I am thinking of May 2013. I don't want to be too early in the year because there are high mountian passes, and I don't want any snow on the road. I don't want to be too late because it starts getting too hot in June, especially on the ride back to Florida.
I would plan to ride about 500 miles a day if I am on Interstates, otherwise 200-300 miles a day. The trip will be more than 8,500 miles.
I will do this ride like I have done others, by posting pictures and text every day of the ride. Once I start the ride, each day of my journey will be a separate page shown on the menu at the left. You can start at the beginning by selecting the first day, or at the end by selecting the last day. Or, you can have the entire trip on a single page (a long page) by selecting "Single Page". I won't put together the single page until the ride is complete. The little arrows at the top and botom of the page will take you to the previous or next page.
---
25 March 2013, 12:00 PM ET, North Palm Beach, FL
Slight change in plans, I will stop at Purdue at the beginning of my trip, not the end (I may stop both times!). I met with the Head of Purdue's School of Electrical and Computer Enginnering this morning, Dr. Balakrishnan, and learned that the semester will have ended before I make my way back home. I would rather visit when school is in session.
---
25 March 2013, 3:00 PM ET, North Palm Beach, FL
I am continuing to look at a schedule for the ride, and I have discovered that portions of the Beartooth Highway are expected to be closed until about Memorial Day. If I want to ride the entire Beartooth Highway, I will have to start my ride mid-May or later. Also, the Going-To-The-Sun Road is expected to have portions of the road closed until about June 21, or perhaps even later. If I want to ride 100% of the Going-To-The-Sun Road I will have to delay the beginning of my ride until the second week of June. I don't think I want to start the ride that late. I will have to think about this!
---
31 March 2013, 1:30 PM ET, North Palm Beach, FL
I am still looking at my schedule. I have decided that I want to ride the Going-To-The-Sun Road. It seems to me that it does not make sense to schedule my ride when I know I cannot ride that road! So, my tentative plan is to leave North Palm Beach around the 7th to 10th of June. If the weather cooperates and I make no further changes in my general plan, I would arrive back in North Palm Beach sometime the first week of July, probably late in the week.
That means I will visit Purdue when regular semester classes are not in session. Purdue will be in Summer Session, on both ends of my ride, so maybe things won't be completely dead.
As I mentioned already, this ride will take me through the rest of the states that I have never visted before. I am setting another goal at the conclusion of this ride, to ride my bike in all the "Lower 48 States". And I plan to take care of that on my next long ride, to the US Northeast. Only one problem -- Michigan. Therefore, I HAVE to visit Michigan on this ride. I will be within 40 miles of Michigan when I hit I-65 on my return, so I am sure you can guess what I will do. A side trip!
Another destination I have added to this ride is the Columbia River Gorge.
---
16 April 2013, 4:30 PM ET, North Palm Beach, FL
I have added another destination, Trail Ridge Road, the highest major roadway in North America. Trail Ridge Road is in Rocky Mountain National Park, about 100 miles northwest of Denver. Eleven miles of this highway travel above the treeline, near 11,500 feet. The high point is 12,183 feet elevation.
---
24 April 2013, 12:30 PM ET, North Palm Beach, FL
I have made a rough schedule for my ride. Because I do not ride to a schedule, this is only a best estimate of where I will be each night. Obviously it will get less accurate as the ride unfolds. I expect to leave home about the 8th or so of June. I will not decide for sure on a start date until sometime in early June when it looks like the Going-To-The-Sun Road will be cleared of snow by the time I get there. On the map below each small open arrowhead shows my best guess of my location after I leave home. Each arrowhead is one day. I have circled the 7th and 14th and 21st and 28th nights. You can click on the map for a larger image.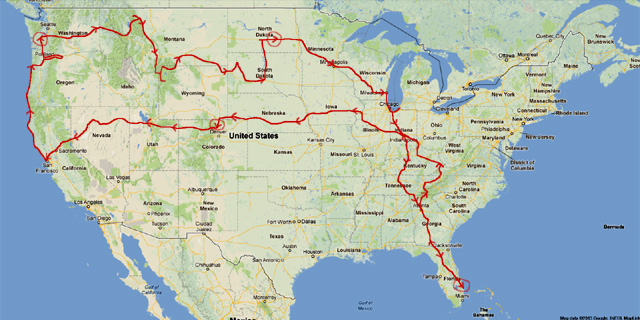 I forgot to mention that I have a new bike. I was starting to have some problems with my other bike (Harley Electra Glide Ultra), and I decided that I did not trust it to take me on this 9,000 mile trip without problems. I now have a Harley Road Glide Ultra.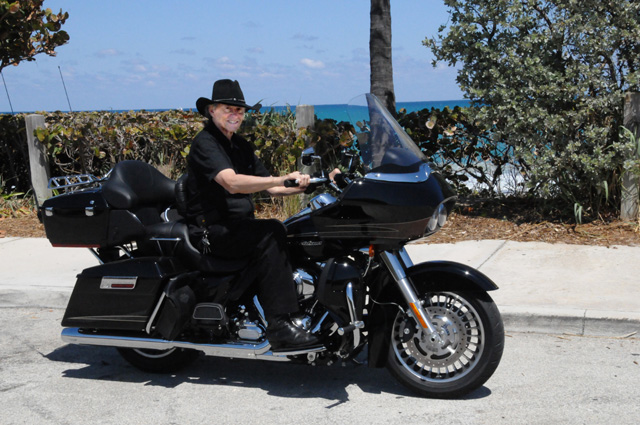 ---
4 May 2013, 3:30 PM ET, North Palm Beach, FL
Today is Kentucky Derby day. I am sipping a Mint Julip and thinking about all the motorcycle rides I have taken. Here's a composite of all the rides I can remember, including what I am planning to do on this ride.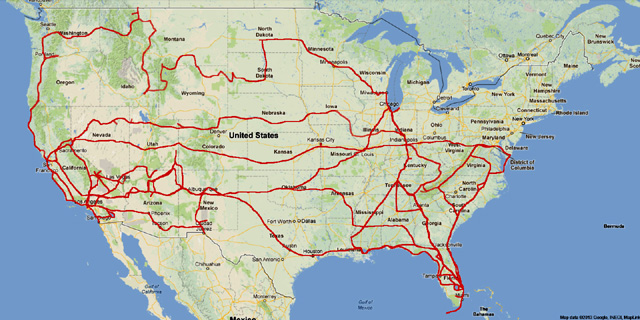 ---
19 May 2013, 11:30 AM ET, North Palm Beach, FL
I continue to check road conditions so I can set a departure date. I am following conditions on the Trail Ridge Road, on the Beartooth Highway, and on the Going-To-The-Sun Road. As of today, they are saying that Trail Ridge Road is scheduled to open May 24, that Beartooth Highway is scheduled to open June 14 (normally they say Memorial Day), and that Going-To-The-Sun Road could be accessible for its entire length on June 21, the nominal date. There should be no problem with Trail Ridge Road, it will open before I leave home. Beartooth Highway should open before Going-To-The-Sun Road, so no problem there because I will reach Going-To-The-Sun Road first. It is Going-To-The-Sun Road that will determine my departure date. My rough schedule says it will take 16 days to reach Going-To-The-Sun Road, so the earliest OK departure date would be June 5. However, I don't trust that date. The opening date for Beartooth Highway is two weeks later than normal. If the Going-To-The-Sun Road opening is delayed for two weeks, it could be early July before it opens, and that would require a departure sometime after June 15. So, as of today, my departure date will probably be sometime between June 5 and June 15, more likely closer to June 15.
---
22 May 2013, 3:45 PM ET, North Palm Beach, FL
I just received an email from "Friends of the Beartooth All-American Road". Plowing of the entire Beartooth Highway is complete. The entire road will open at 9:00 AM on Friday, May 24. So much for the June 14 prediction! Maybe I can stick to my earlier plans leaving closer to the 5th than the 15th.
---
2 June 2013, 2:30 PM ET, North Palm Beach, FL
My tentative departure date is June 10.
---
7 June 2013, 2:15 PM ET, North Palm Beach, FL
My departure date is now Sunday June 9.
---
9 June 2013, 9:00 AM ET, North Palm Beach, FL
I'm off. I will be running up the Florida Turnpike until it ends at I-75. I plan to gas up there, the town is Wildwood, and stop at the Steak 'n Shake for a chocolate shake. I can hardly wait.
I was getting ready to go this morning, and suddenly, I felt the bike going forward. I looked back, and Hanna was pushing it, I guess she couldn't wait for me to leave! Or maybe she is tired of hearing me talk about this ride and just wants me to get going and enjoy it. Maggie is licking her chops while wondering, "What the heck is going on here?"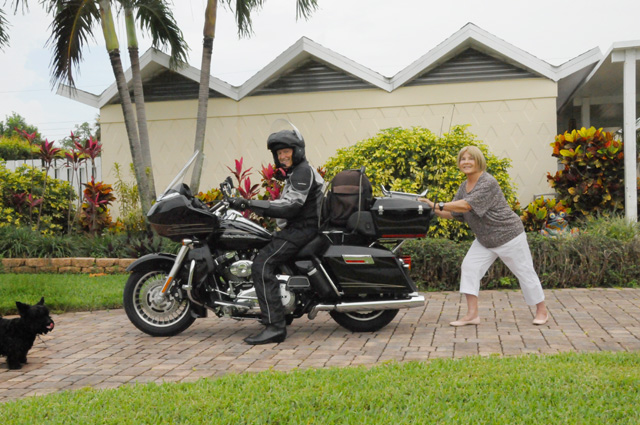 In any event, check back later and I will let you know what else happened today. Weather radar looks good, but we have been having thunderstorms every day here in Florida. Hopefully I will get far enough north before they hit. I may run into bad weather in Georgia. Right now, it looks like the farther north I get the better it will be tonight and tomorrow.
---
9 June 2013, 11:00 PM ET, McDonough, GA
On my way out of town, I stopped at the beach to get a last look at the Atlantic for a while. I will see the Pacific before I see the Atlantic again. This is Juno Beach, same area code as North Palm Beach, just five miles north.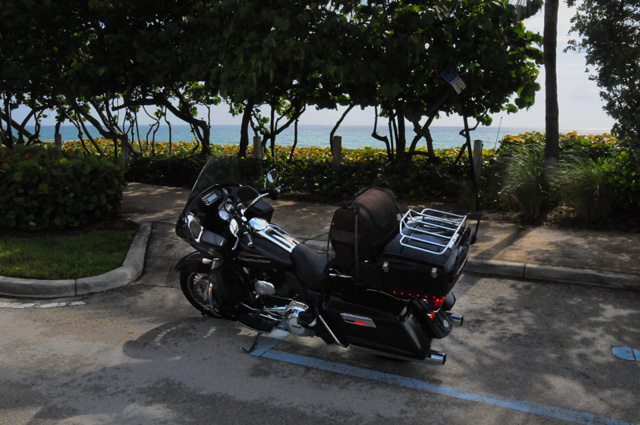 Just as I predicted earlier today, I got gas in Wildwood and had lunch at the Steak 'n Shake. A nice big lunch! The life of a biker sure is wonderful.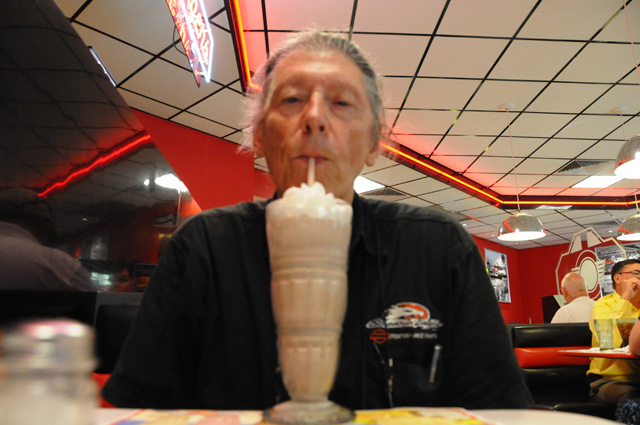 I had more rain today than I did on my entire Route 50 Ride. It started at I-10 and lasted about 40 miles. Some 25 to 30 of those miles were with heavy rain. Traffic slowed significantly. I just followed a yellow 18-wheeler a safe distance back. That made it easier for me, I didn't have to see through the rain, just keep the yellow truck in sight.
Then 60 miles later more rain. This time it was only moderate rain, and it lasted only five miles.
Then maybe another 100 miles later, there was more rain. This time it lasted about 35 miles and was a moderate rain, lasting until my stop for the night.
My motorcycle rain jacket is not working. I am getting soaking wet. It has lost its water resistance. I will get another one as soon as I find a Harley dealer. I stopped at one after the first rain today, but it was already closed. Harley dealers are usually closed on Mondays, so I probably will not be able to get one tomorrow either.
Sorry, no more pictures for today. I leave the camera in the Tour Pack when it rains.
I'll be back with you tomorrow. I am 30 miles south of Atlanta. Atlanta is a state capitol. Some of you already know that I take pictures of state capitols. I have taken a picture of the capitol in Atlanta on a previous ride. Nonetheless, my rule says I have to take another one if it is a different trip. So that will be my first stop tomorrow.
I rode 574 miles today. That may be a one day record for me. I will have to check.
---
10 June 2013, 12:30 PM ET, Cartersville, GA
Another rainy day. I have been in rain all morning. I took refuge at a McDonalds with a chocolate shake. I feel much better already. Fortunately, I may be finished with rain today. It looks good where I am going -- to Chattanooga and Knoxville. I have changed my plan. I was going to go northeast into the mountains to the Tail of the Dragon, but it is still raining in that direction and I don't want to be on curvy mountainous roads in the rain.
I stopped at the Georgia State Capitol in Atlanta. It was raining a little, so I made it as quick as I could. I had to ride around the Capitol and surrounding streets several times to find a place to park. It was only sprinkling when I parked, it was beginning a moderate rain as I pulled out of the parking spot. The Capitol is surrounded by close buildings, so it is hard to get a good picture. This was taken with a wide angle.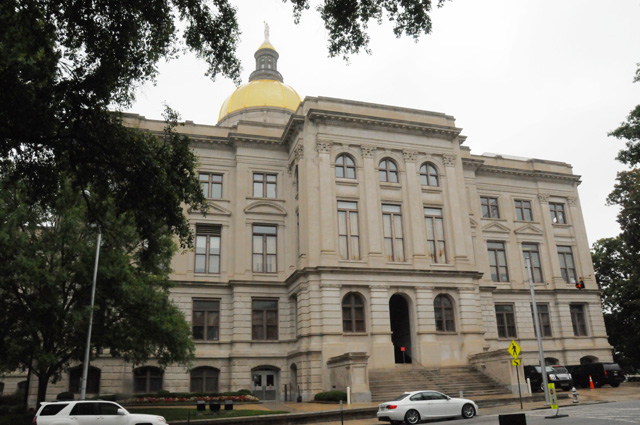 Before going to the Capitol, I went to Harley Davidson Clayton County in Morrow, GA, just south of Atlanta. Thanks Ralph for finding a close-by open-on-Monday Harley dealer for me. They didn't have a rain jacket in my size, normally a Large, I had to settle for a 2XL. They had to search in the back to find that. Otherwise I would have had to get a 4XL. The only advantage to such a large rain jacket is when you are riding 2-up, you wouldn't need a second jacket.
Here's a picture of my new rain jacket.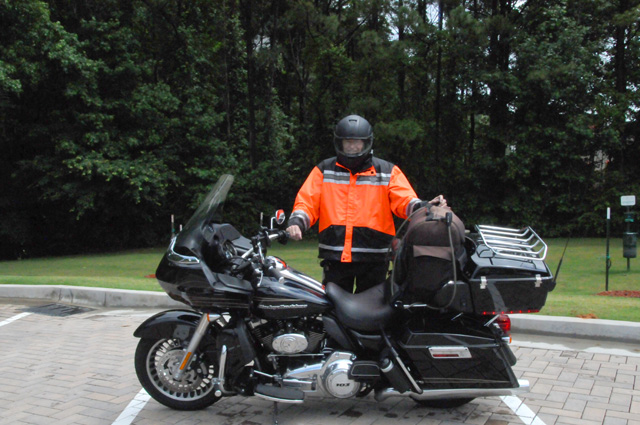 For comparison, here's my regular summer jacket. It has armor and lots of holes in a mesh fabric to stay cool. The rain jacket is like a windbraker, I put it on over the summer jacket.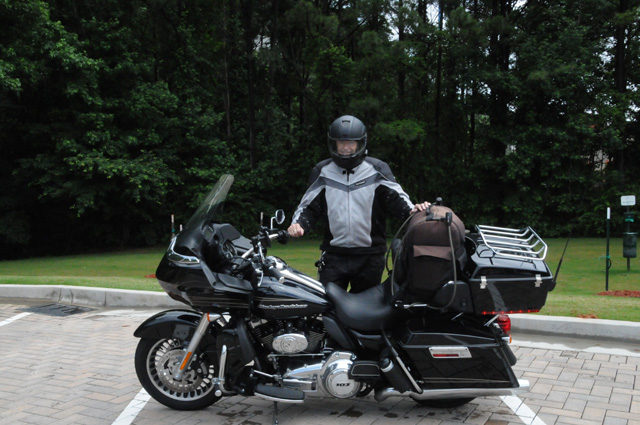 The jacket pictures were taken at the McDonalds. You can see the sun was shining. I will add more this evening. Bye for now.
---
10 June 2013, 10:00 PM ET, Knoxville, TN
I don't have much to add, no new pictures. I did stay dry after lunch. It was a busy day although I rode only 243 miles. I made two long stops during the day, plus I already knew where I wanted to spend the night. As I said earlier, I abandoned my plan for Tail of the Dragon because of weather. I am close to the Dragon, though. Only 50 miles away. If the weather is good tomorrow morning, I will go backwards 50 miles, then forward 50 miles, then on to my next evening stop which will be Pikeville, KY. That's very close to where I was born.
If you take a look at the map on the menu on the left, you will see two blue lines on the map. That's were I was each night. I will update that daily, so you can always tell where I am on my ride. Notice how the red path goes south from where I am tonight and then it ends -- that's the Tail of the Dragon. If I don't do that tomorrow, that little red path will disappear! I update the red path depending on what I actually do. If you had looked at the map last night, you would have seen the red line running from Atlanta to the Tail of the Dragon. That's not what I did today, I went through Chattanooga, so I changed the path to reflect what I did, not what I planned.
Why did I change my route today -- because of the rain. I much prefer to ride an Interstate in rain than a regular road. As far as I am concerned, it is much safer. If the weather is good, and I do not need to get a lot of miles, I would rather be on a regular road.
Talk to you again tomorrow. Good Night.
---
11 June 2013, 11:30 PM ET, Pikeville, KY
I rode 319 miles today. I did have my chocolate shake for lunch. And I did do the Tail of the Dragon. Twice. West to East, then East to West. There are 318 curves in 11 miles. This is US129 running across the mountains from North Carolina into Tennessee, just south of the Smoky Mountains. If you want to know more, go to the link above and explore as you wish.
I had no rain, just sunny skies with a few clouds and moderate temperatures all day long. A very nice day. My boots have dried enough that I can get them on and off without struggle this evening.
I am in Pikeville, Kentucky. Just across one mountain to the west, a mountain called Abner, is where I was born. Pikeville is named for the same person that Pike's Peak is named. Pikeville was the location of some of the struggles of the Hatfield and McCoy families.
Let's go to my pictures. I headed south from Knoxville, the wrong direction for my overall trip, to ride the Tail of the Dragon. I rode the Tail of the Dragon in 2010, but I wanted to do it again. As I was running along, I saw a "bridge" that was very interesting. I saw it for only a moment, and never again. On my way back, I looked for it, flashed past it again, then circled back to get this picture. I was able to see this for only about 20 feet or so.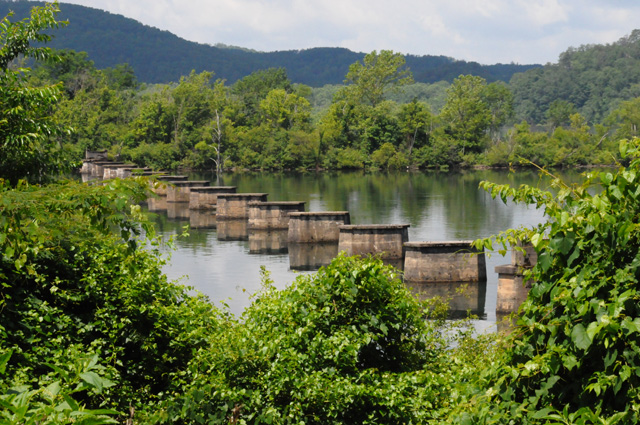 My next picture is already inside the 11 miles of the Tail of the Dragon, at a scenic overlook.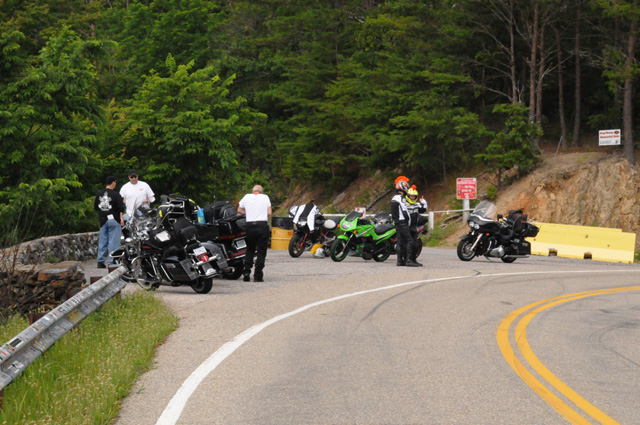 Looking out one direction,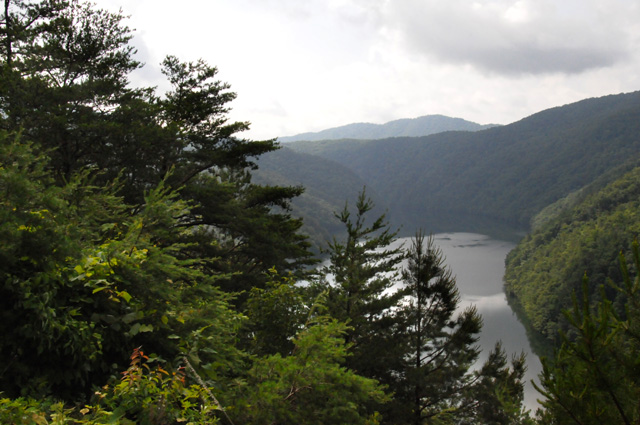 and the other direction.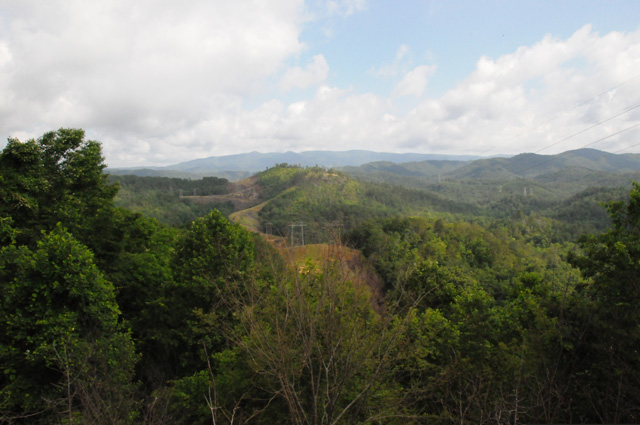 This gives you a glimpse of what the road is like. It goes on and on this way, no straight sections, just continuous curves.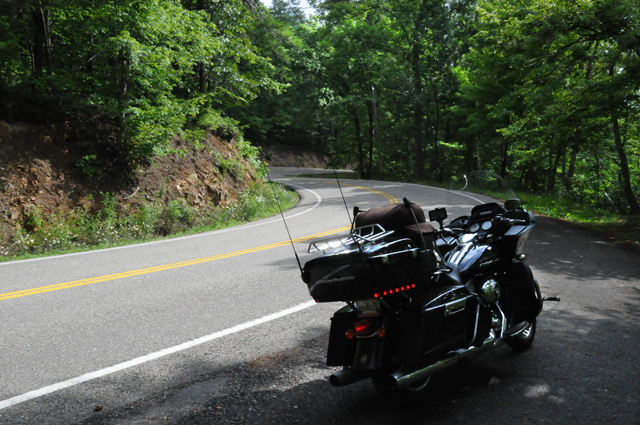 On the North Carolina end is a motorcycle resort called Deal's Gap.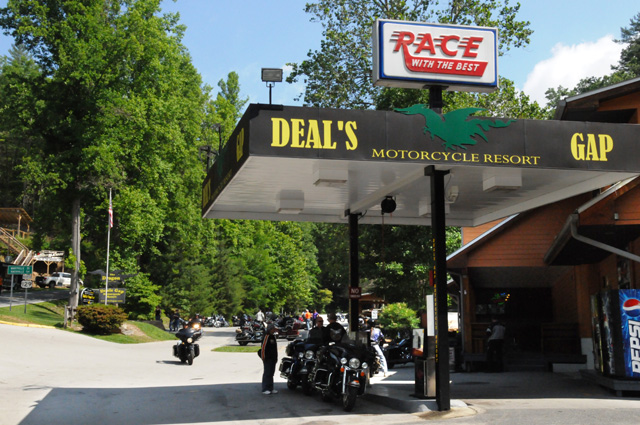 Here's some of the bikes at Deal's Gap.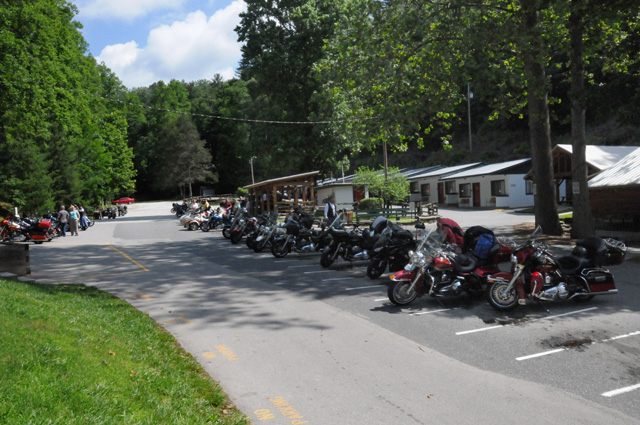 There are photographers along the Tail of the Dragon taking pictures and selling them. I have bought two pictures of me from MoonshinePhoto.com which will be digitally delivered to me on the Internet. In the meantime, I am posting the two proofs.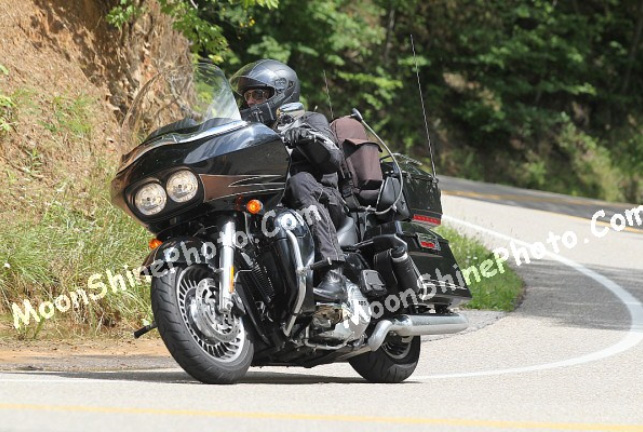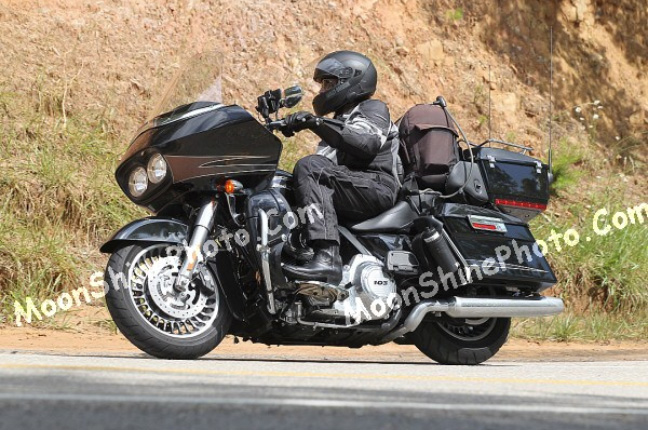 Don't I look good? My bike looks good also.
Going from Knoxville to Kentucky, you run through about 60 miles of the very western part of Virginia. This picture was taken about 20 miles south of Kentucky in Virginia.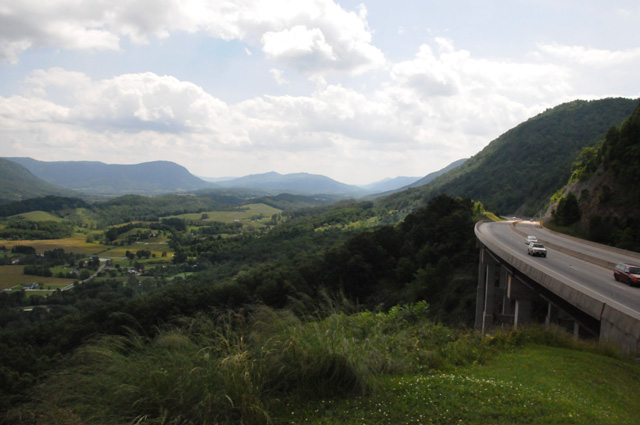 In a small town in this part of Virginia, there is a historical marker for somebody that is probably known to the old-timers out there, but probably unknow to their children. Do you know who Francis Gary Powers was?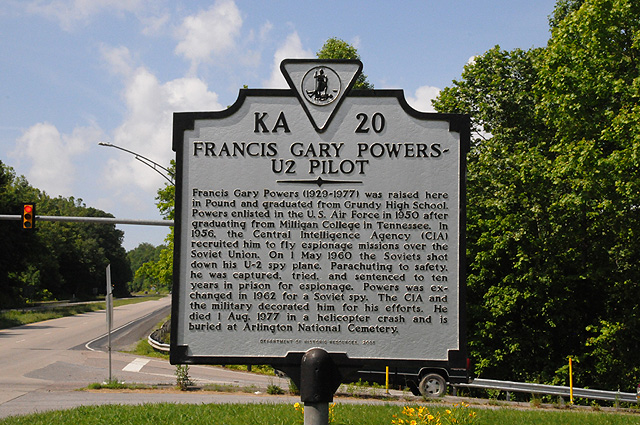 I remember when he was shot down. I was in New York City, on my high school senior trip, and first saw it on the Times Square scrolling marquee.
I have just entered Kentucky, this is my first view.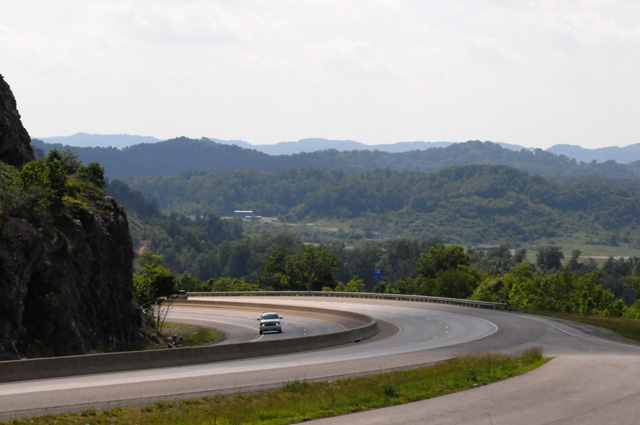 Just south of Pikeville is another historical marker, this one is more personal. John May is one of my great great great great grandfathers.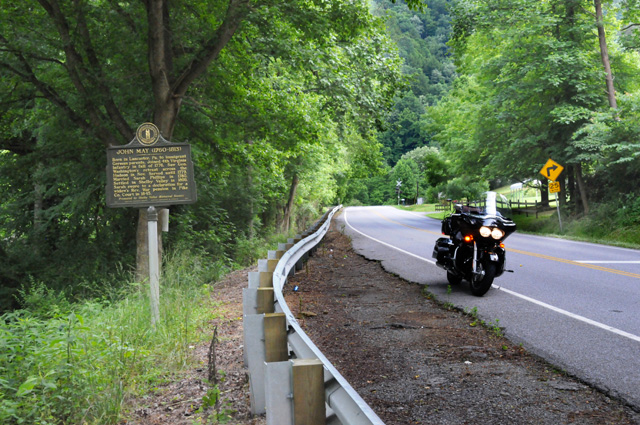 Here's a close up of the marker. He was an American soldier in the Revolutionary War. I could be in the National Society of the Sons of the American Revolution. I have not done it yet, I must get it done.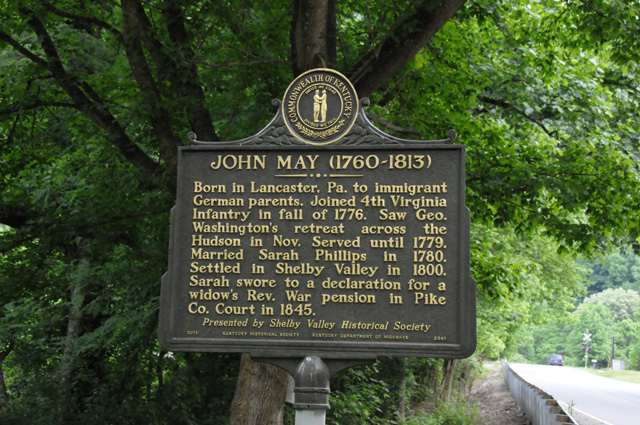 My reason for going through Pikeville was to see family. Here's my step daughter, her husband, and one of their two sons. We had a very nice dinner at Pikeville's Top of the Landmark Inn.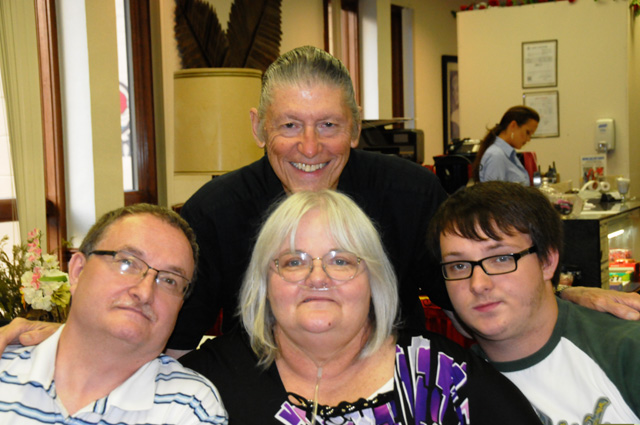 One last picture. This was taken well after sunset, it was almost dark, but I wanted to show you an engineering achievement. The two mountains you see on the far left and the far right are really one mountain that was cut in half to re-route the Big Sandy River to stop flooding in Pikeville. It was called the Pikeville Cut-Through.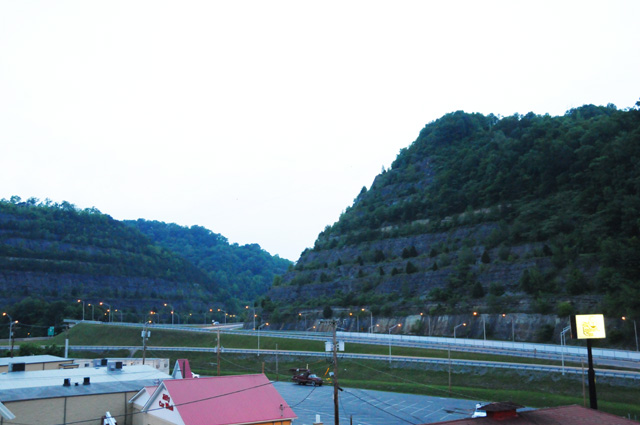 That's it for today. Join me again tomorrow.
---
12 June 2013, 11:59 PM ET, Indianapolis, IN
Today I went from one family location (Pikeville, KY) to another family location (Indianapolis, IN). Before I left the Pikeville area, though, I visited some places I have been before, but I wanted to show you. First is a tombstone. It is a special one, one that is placed on graves of soldiers from the War Between the States. This is the tomb of my great grandfather. It is hard to read, the stone has deteoriated somewhat. The name is James C. Hopkins. He was my father's father's father. He fought for the North. Different members of my family fought on different sides in the war.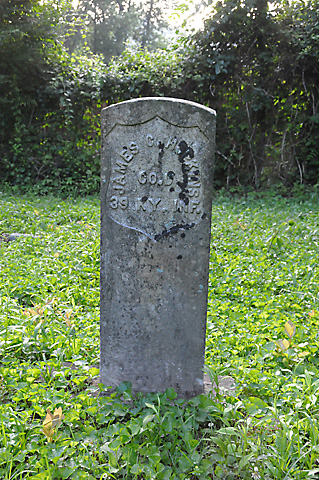 The next picture is from Prestonsburg, KY. This was the home of Samuel May, one of the son's of John May whose historic marker you saw in yesterdays posting. This house is the oldest house in Prestonsburg. Samuel built it in 1817. It is now a museum of the May family. During the War Between the States, the house was comandeered by the Confederates.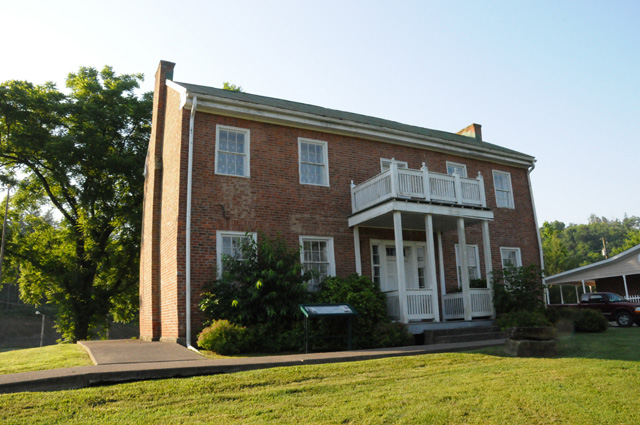 Another tombstone. This one is in the village of Maytown. The name is hard to read, it is Darcos May. She was one of my great great grandmothers. I am told that she is my link to a Cherokee heritage.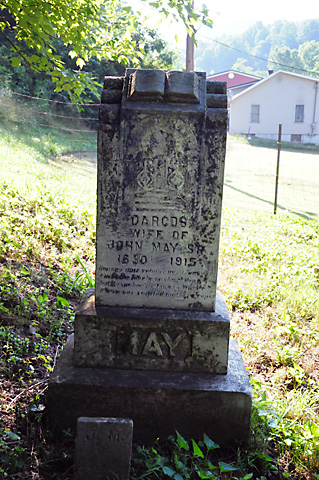 I passed through Frankfort, the capitol of Kentucky. Here is the required photo with my double parked, but running, bike.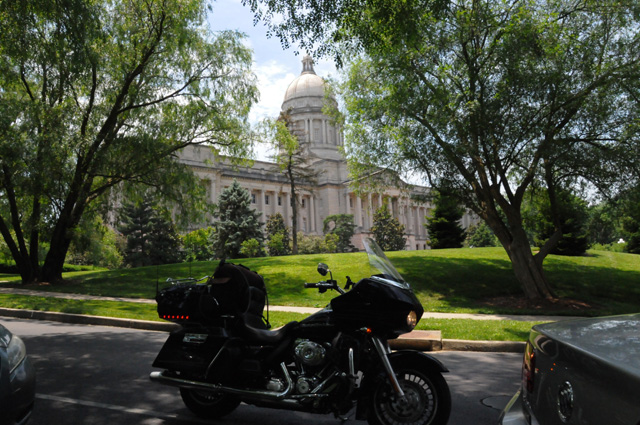 From Frankfort I rode north on US421, a two-lane curving road that crosses the Ohio River into Madison, Indiana. Just a few miles north of Frankfurt, a deer ran across the road right in front of me. I had to hit the brakes hard to avoid it. The next picture is Madison from the Kentucky side. You can see a little of the Ohio River.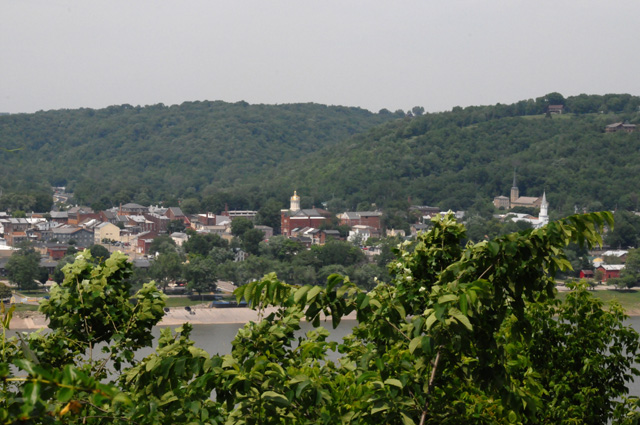 They have built a new bridge across the river.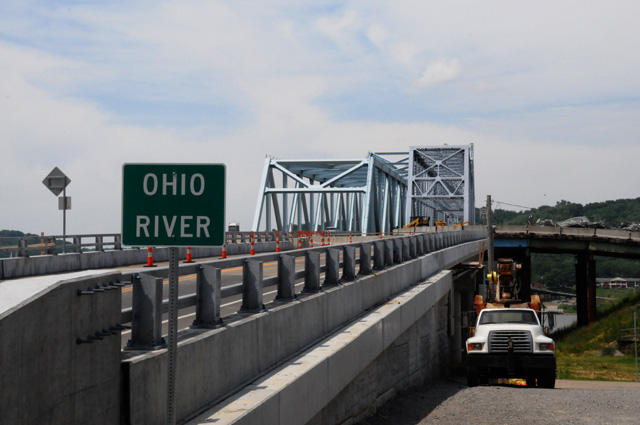 From Madison I continued north on US421 until it hit Michigan Road. Running along the west side of US421 and then continuing on the west side of Michigan Road is a dense forest behind a security fence. In the picture below you can see the rusted fence. That area is the Jefferson Proving Grounds. It was used in the 40s and 50s to test munitions. I can remember as a kid hearing the bombs go off, the windows in the whole house would shake.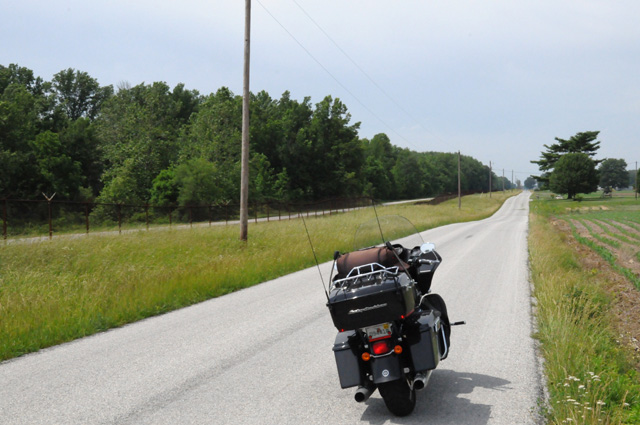 After a few miles I reached US50, my ride from last year. I rode about 15 miles of the road again as I was heading to Indianapolis. We had a family dinner in Indianapolis.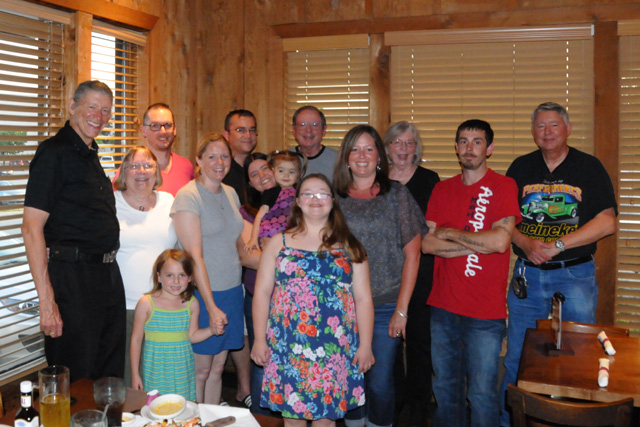 Right to left are brother Larry, Rick, sister Carolyn, Karen, brother Johnny (rear), Riley, Stephanie holding Lily, Kelly, Jessica holding Olivia's hand, Ray (rear), Bonita, and me.
So far I have been riding north, tomorrow I head west. I rode 361 miles today, and I have ridden a total of 1,498 miles so far. And, yes, I did have my chocolate shake today.
---
13 June 2013, 11:59 PM CT, Mt Pleasant, IA
The day started late, I slept the latest I have on the trip. I was up late last night. I got off at 11:00, the latest I have left on the trip. Nonetheless, I rode a lot today, 449 miles. Some was Interstate, some was not. The ride at the end of the day was especially pleasant. I was on US61 in Missouri and Iowa. It was a four lane highway. And it was deserted. I encountered only a couple of cars in my direction. In the other direction, I would see about three cars every mile. The temperature was very pleasant also.
It was cloudy when I left, almost looked like rain. But it stayed dry. A few miles west of Indianapolis, the skies cleared and it was partly cloudy the rest of the day.
When I started, I went into downtown Indianapolis to get a picture of the Capitol.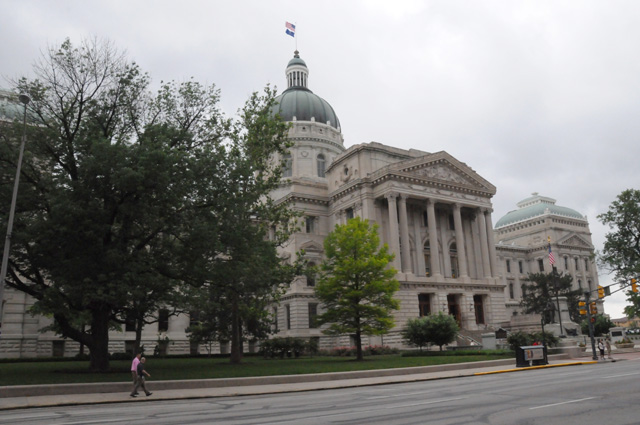 The Soldiers and Sailors Monument is only a block or two away, so I got a picture of it also. When I left, I tried to ride all the way around the Monument, but I was allowed to ride only halfway. Police were keeping vehicles off the northern part of the circle.
Here's what central Illinois looks like. Somewhat flat. The wind was terrible. Sometimes it felt like I was getting punched in the head the way the wind would jerk my head around. It was exceedingly noisy also. There is not much road noise or motor noise, it is wind noise. And the gusting winds from the side made it terribly noisy. So I stopped at a drug store and got some earplugs. Then I was no longer assaulted by the wind noise but I was still assaulted by the wind.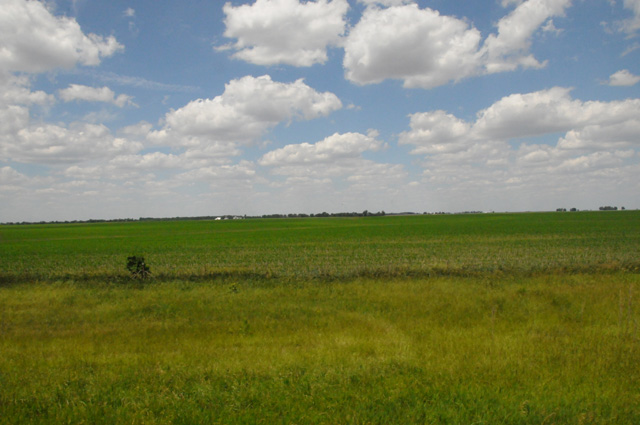 A side trip I planned was to see something I missed five years ago on my Route 66 Ride. There is a section of old Route 66 that was brick, and still is brick. This is just north of Auburn, IL.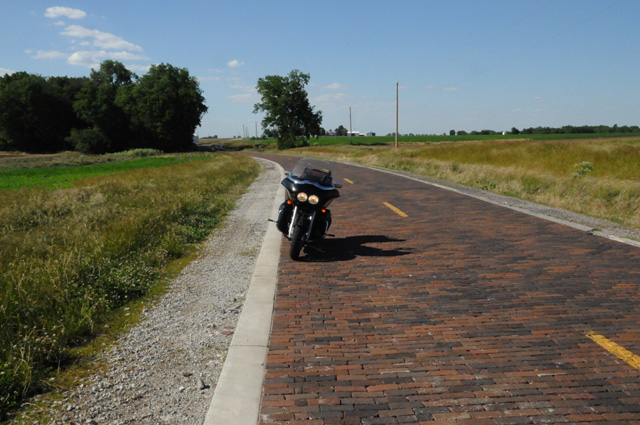 So far on this trip I have repeated a little bit of three previous rides, Route 66, Route 50, and the Tail of the Dragon.
I crossed the Mississippi River into Missouri. I did not realize that I would ride in Missouri on this trip. Here's a picture of the Mississippi looking south from the Illinois side.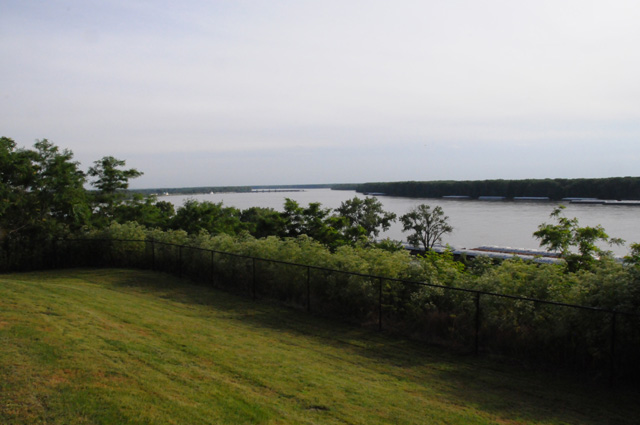 And this is looking north from the same point. There are two different bridges in this picture, one is a steel girder bridge, the other is a suspension bridge with two tall towers. I crossed the suspension bridge.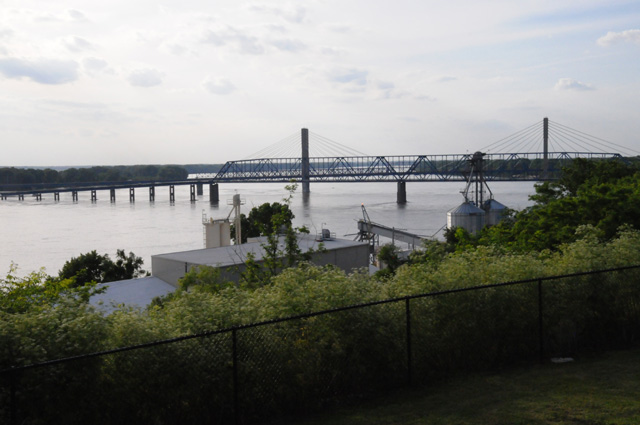 There will be another Capitol tomorrow, maybe two of them.
So far on this ride I have 1.946 miles. My pre-ride estimate for the end of today was 1,760. I am almost 200 ahead already. There will definitely be more than 10,000 by the time I get back home.
Oh, I forgot to mention what I had for lunch. Why don't we have a contest and see if anybody can guess correctly.
---
14 June 2013, 9:00 PM CT, York, NE
Yesterday and today I have been in two states I had never been in before, Iowa and Nebraska. I left Mt Pleasant, Iowa about 8:30 this morning. I knew there was bad weather ahead. There was an area of storms approaching Des Moines, just where I was headed. At the appropriate time I put on my rain jacket and my gaiters (boot covers to keep my boots dry -- I didn't use them the other day and it took two days for my boots to dry). I wasn't sure if I would make it all the way to Des Moines because it looked bad on radar (Ralph, I am using the myradar app, thanks for suggesting it). I didn't know if I would divert to the north, or hole up for an hour. I didn't have to do either, there was a bright area in the middle of the darkness ahead and that's exactly where my road was going. I was in light rain, even arriving at Des Moines. I got my pictures in the rain and got out.
Here's the Iowa Capitol (in the rain).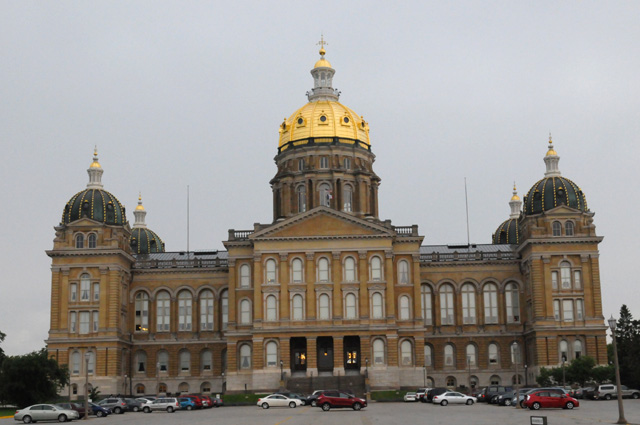 I rode downtown and was headed out when I spotted this real neat pedestrian bridge with the Capitol in the background. I circled the block, in the rain, parked again, and got this picture.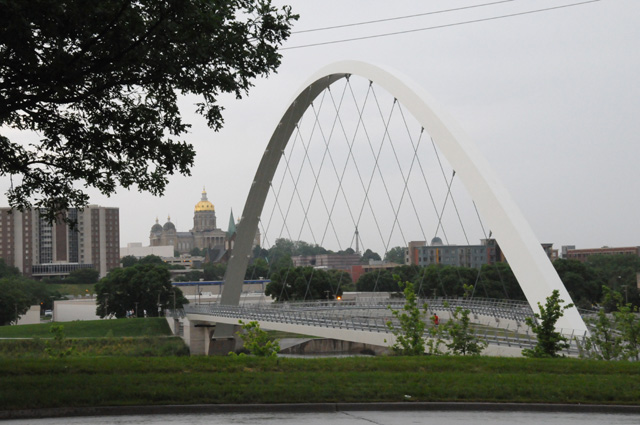 As I headed west, the sky behind me was dark and ahead was bright. I stopped on an exit ramp to get this picture looking back. That's where I had just been.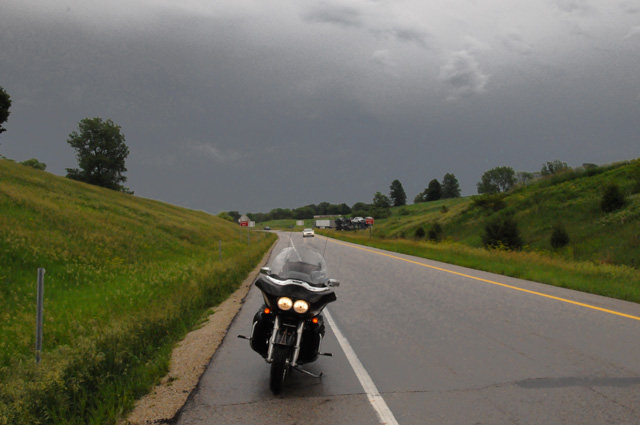 As soon as I spotted a McDonalds, I stopped, got my chocolate shake, and grabbed this radar picture. I have circled in red Mount Pleasant where I started the day and Des Moines where I had just been getting pictures. I marked a red X where I was sitting sipping my chocolate shake. I went through all that rain and the rain was always light where I happened to be. Some times you get lucky.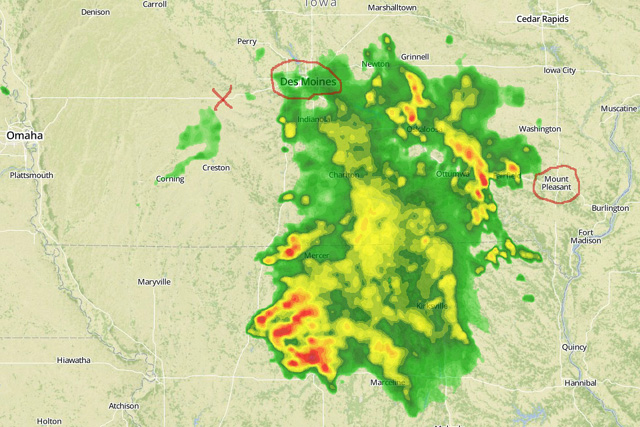 I headed on west, to Lincoln, Nebraska. Here's the Capitol picture.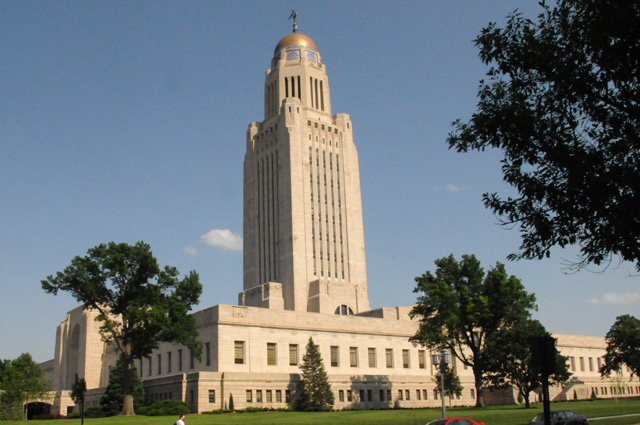 Here's a telephoto shot of the statue on top, it is "The Sower".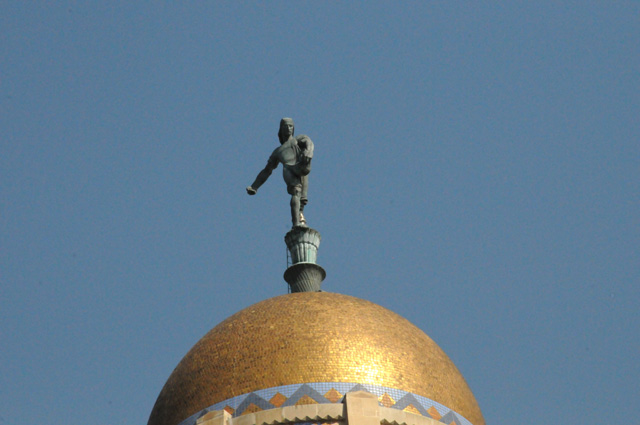 This is the Governor's Mansion, just across the street from the Capitol.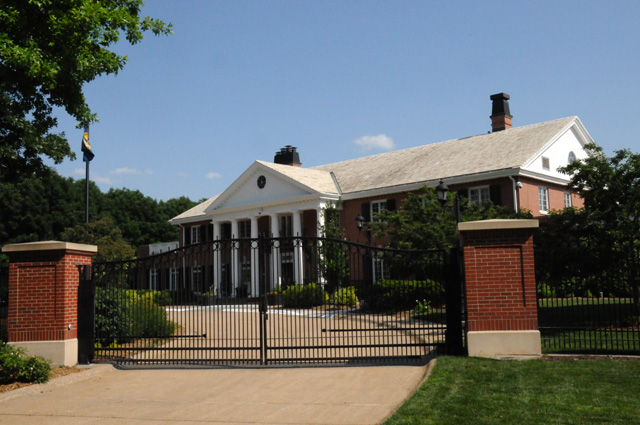 This is St Mary's Catholic Church. I took the picture because I liked the style.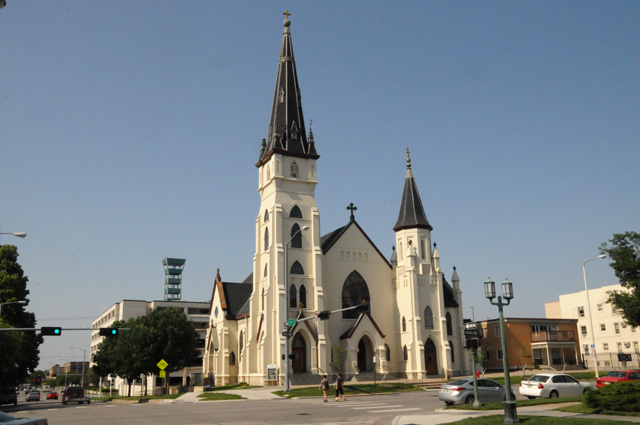 I quit riding earlier than I had planned this evening, I wanted to go another hundred miles. I stopped to get gas, saw that the sky was dark ahead, and looked at radar on my iPhone. When I saw how bad it was, I decided immediately to stop for the night. There was a Comfort Inn next door to the gas station, so I checked in. Here's another radar picture. When I stopped the storm was about ten miles away. This radar picture was taken when the rain started. I am at the tip of the arrow. You can see Lincoln to the right, and Omaha further to the right and up a bit. We had some hail, but my bike was safely parked under the portico of the motel.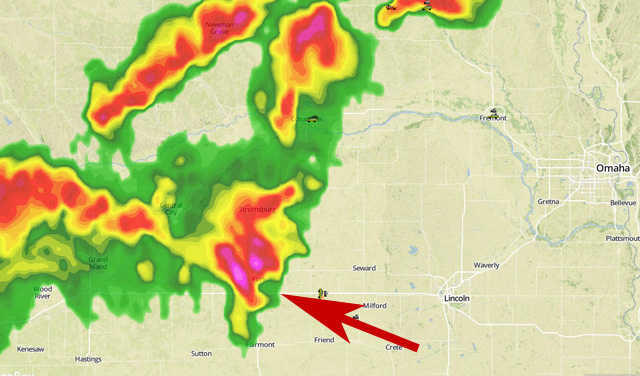 Here are some shots of the sky just before the rain started.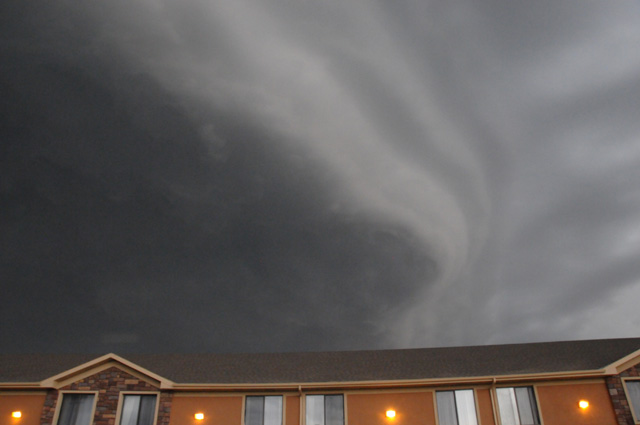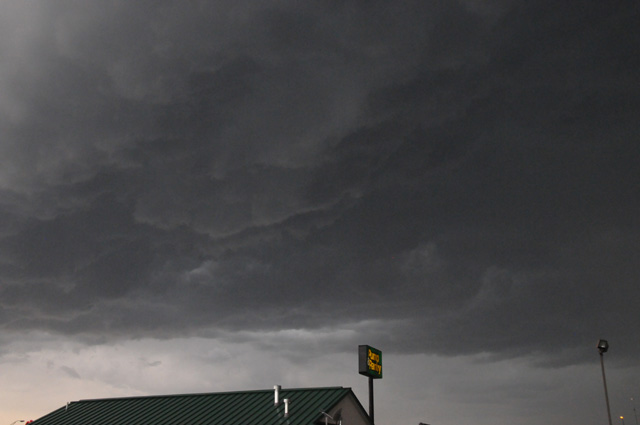 You can see lightning in this one. And you can see where my bike is, on the left under the portico just next to the column.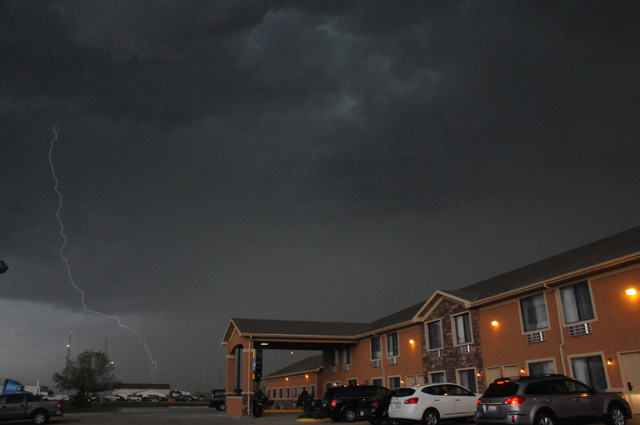 A wrap up detail -- I rode only 389 miles today, I wanted to get 450 to 500. But that's the way it goes. See you all tomorrow.
---
15 June 2013, 8:15 PM MT, Estes Park, CO
I have been negligent. Normally I show you pictures of the countryside. I must make up for that. Remember that I showed you what central Illinois looked like two days ago?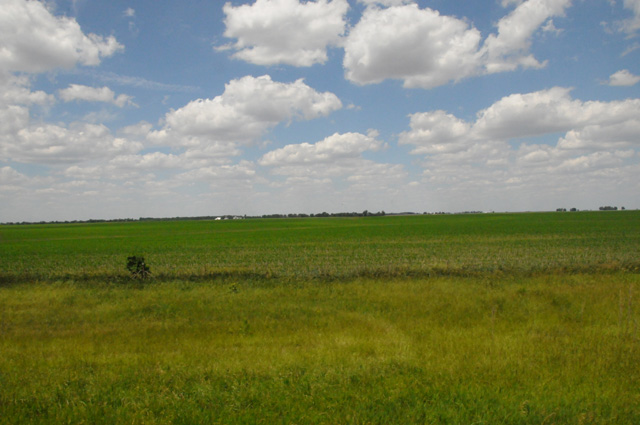 Well, here's what Iowa looked like yesterday.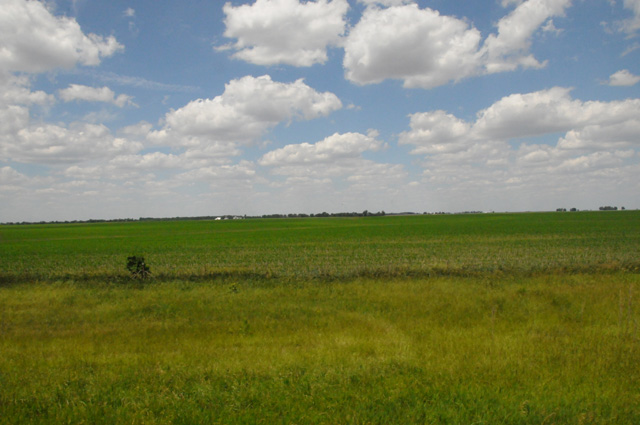 And here's what Nebraska looked like today.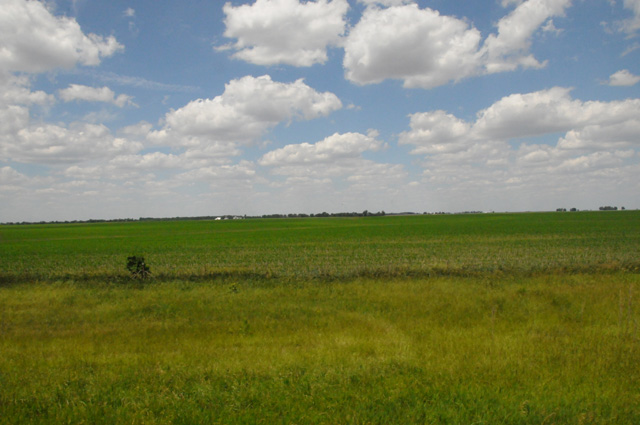 Yeah, they all look the same, don't they. Notice that I did not say the picture was Iowa or Nebraska, I only said that's what it looked like.
On a more serious note, you can say this part of the country consists of the sky above and the ground below. Here is an actual picture of Nebraska.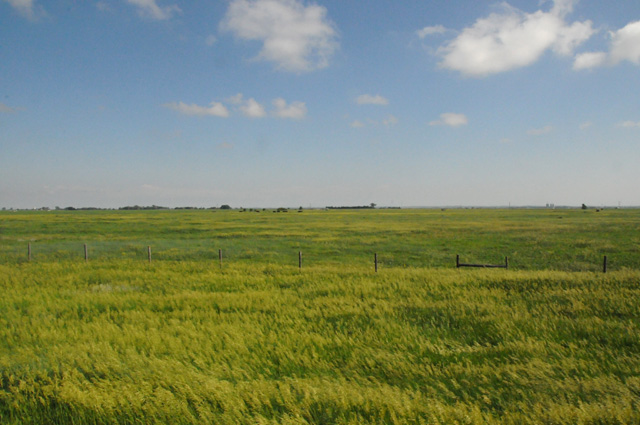 Hanna would say the countryside is boring, it is too flat. But I say it is constantly changing. Here's Nebraska about 25 miles later. And it changed, there is a tractor there. And a tree.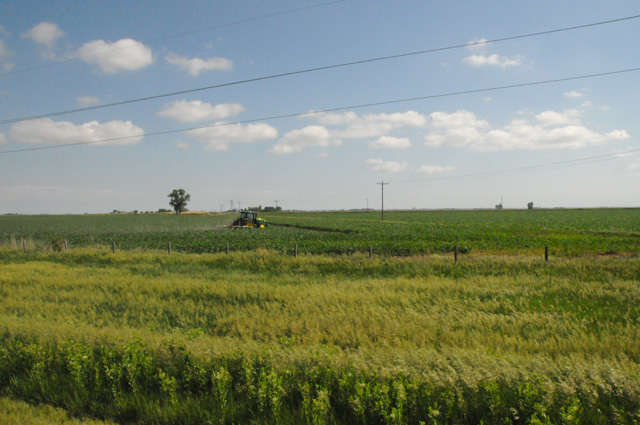 And here's Nebraska about 200 miles later. Now there's a power line. See that tower sticking up above the horizon in the center? If you look carefully, you will see that the land is not totally flat, it rises a little as you get closer to the horizon,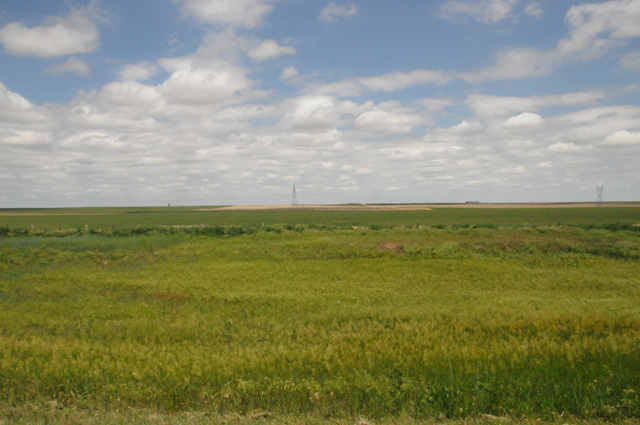 And here's my last picture of Nebraska, maybe another 60 miles later, just 5 miles before the Wyoming border.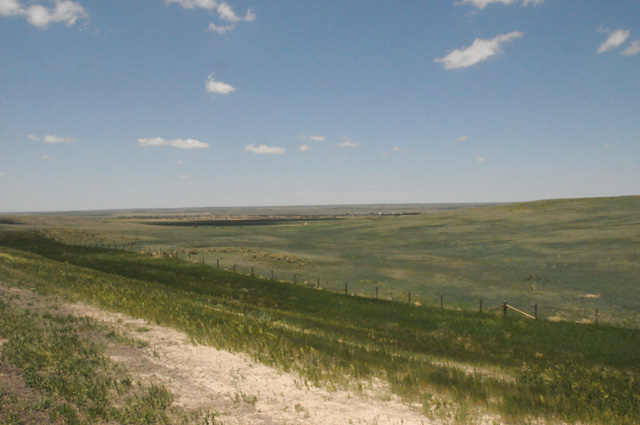 This is a thunderstorm in the making just north of Cheyenne. It wasn't a thunderstorm yet, it was about an hour later.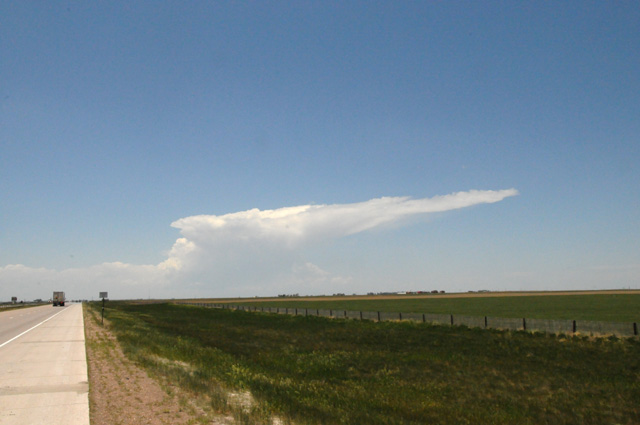 Another State Capitol, this one is in Cheyenne, Wyoming.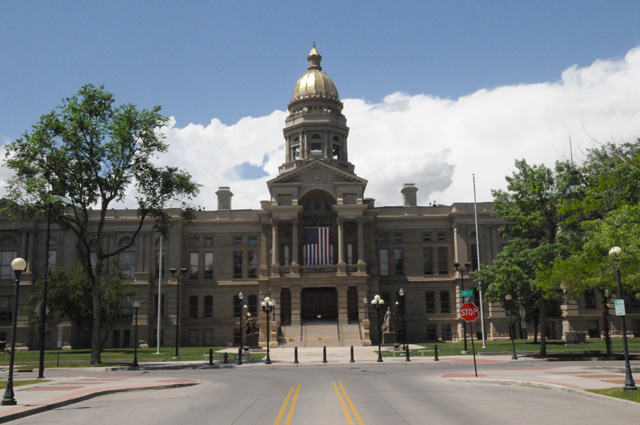 Here's a view of the Rockies from Estes Park.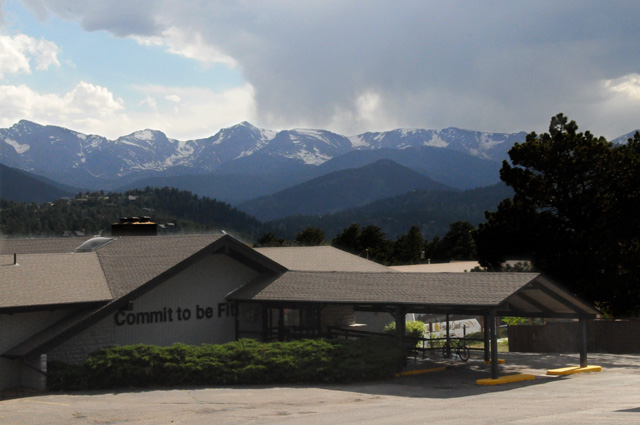 Tomorrow morning I will dine with niece Elizabeth and family, then I will head into those mountains riding the highest continuous paved road in America.
Details for the day. 500 miles (exactly). One chocolate shake. I rode about 460 miles on Interstates today running at 70 mph. I gassed up at the beginning, in the middle, and when I got off the Interstate. My gas mileage for that portion was 47.1 miles per gallon. Not bad, wouldn't you say? Especially at that speed.
Well, that's it for today. Come visit me again tomorrow.
---
16 June 2013, 9:00 PM MT, Craig, CO
Today was a little different. Started with a breakfast with niece Elizabeth and her family. Then I went high up in the Rockies. I got cold enough that I decided to not go to Mount Evans, which I had been considering. I just headed west on US40, a two-lane highway. I didn't do that many miles today, only 238. I stopped shortly after 6 PM. I had thought I would ride longer, but I decided to call it a day. I checked into a Best Western, then headed out to find a chocolate shake. I was successful. Now I am back at the Best Western deciding just what my storyline is for today.
We had breakfast at the Stone Cup in Lyons, north and west of Denver. We sat next to a fiddler and banjo picker. We enjoyed their music very much.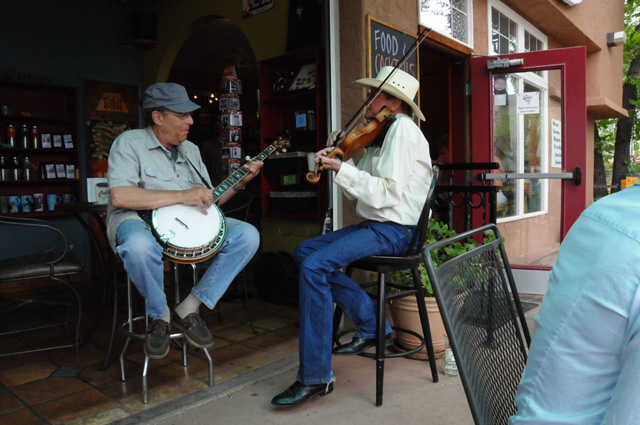 Here's Elizabeth, then daughter Delia, then spouse Stephen, then Louisa.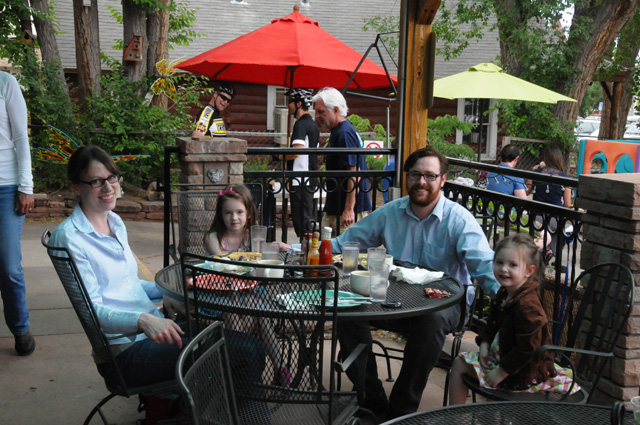 This is Delia.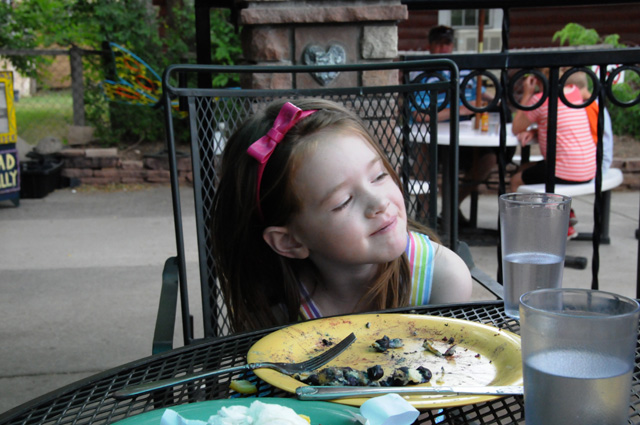 And Louisa.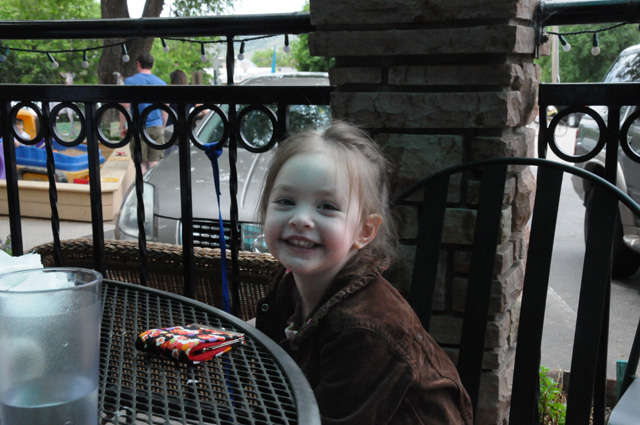 Elizabeth and me.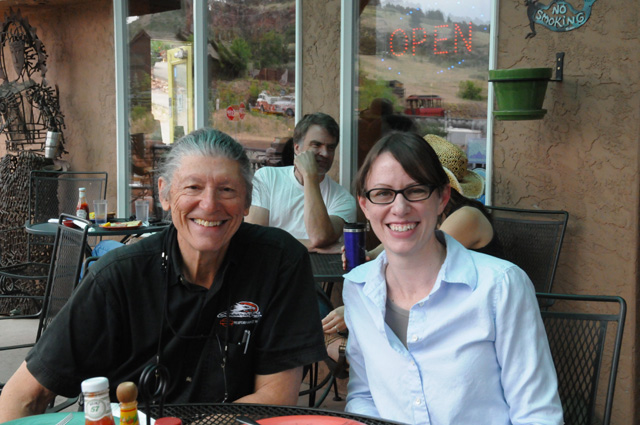 Now I am up pretty high in the Rockies, but still not above the tree line. You can see all the switchbacks to get up here.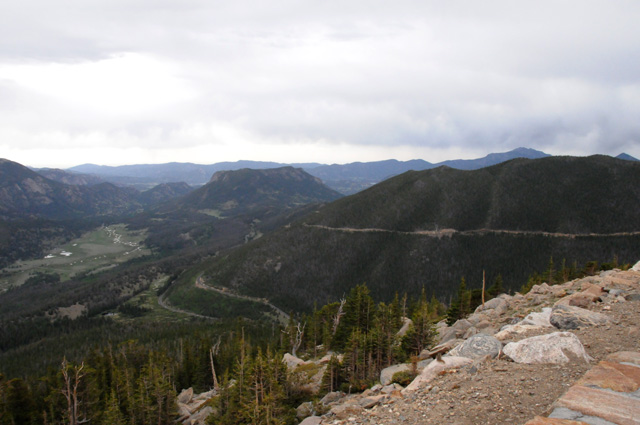 This is the same point, just looking ahead instead of back.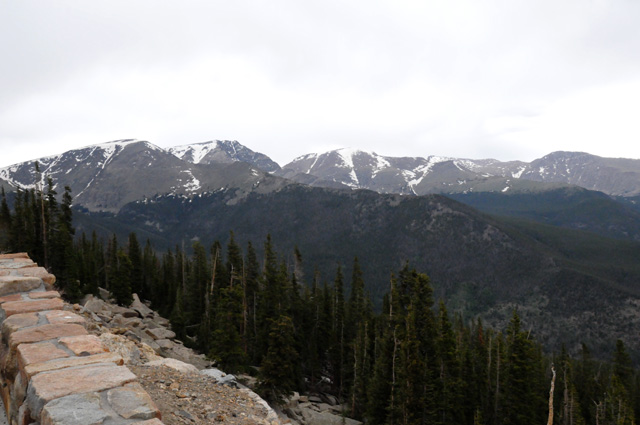 OK, now I am above the tree line. It is cold. It is raining a little. It is windy. It is even snowing! SNOW! None of my bikes have ever been in snow before. The flakes are melting as soon as they hit, fortunately.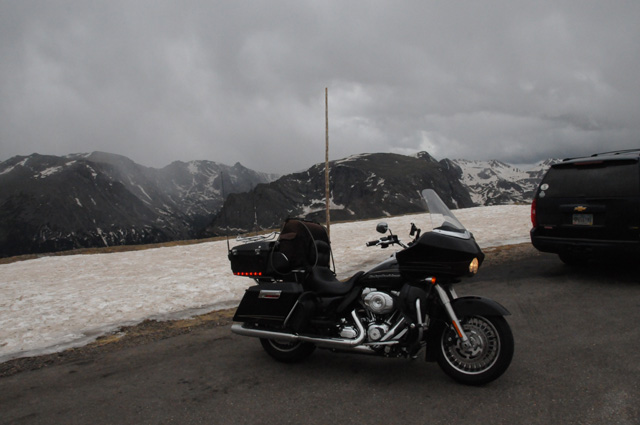 This is the top of this mountain. I don't know just what elevation this was, but the highest the road goes is 12,183 feet.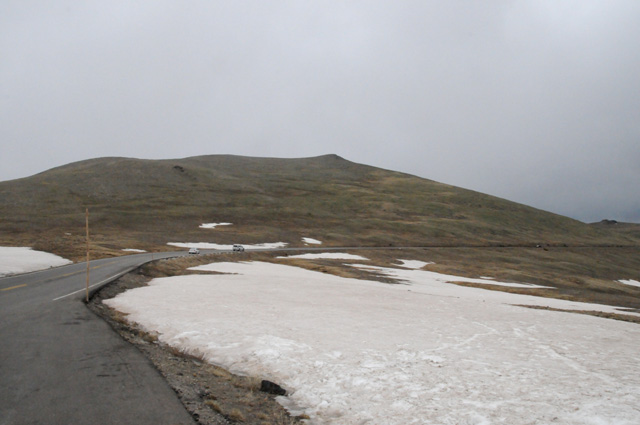 Looking out at other peaks. Most of them are lower than I am.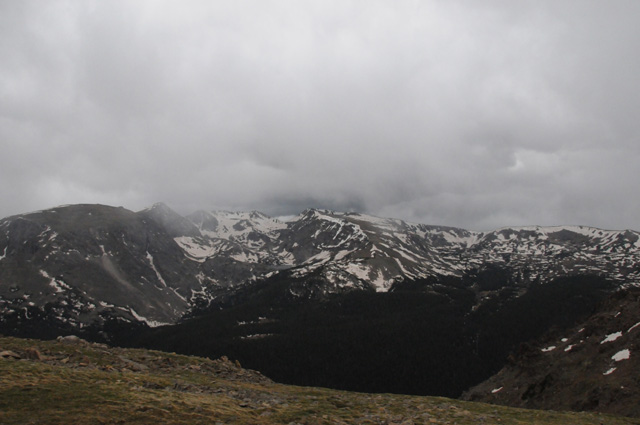 I am lower now, this is the Colorado River.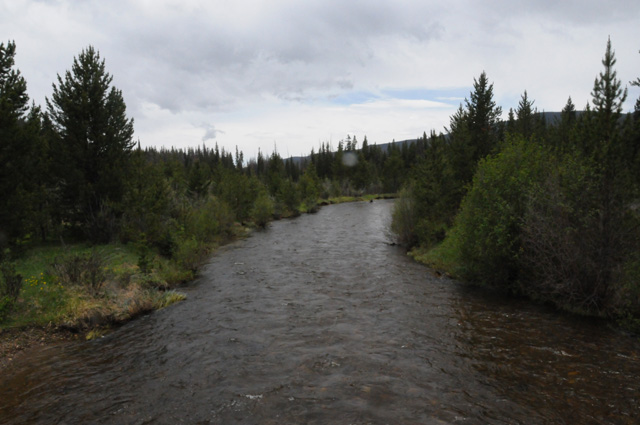 A meadow beside the Colorado River.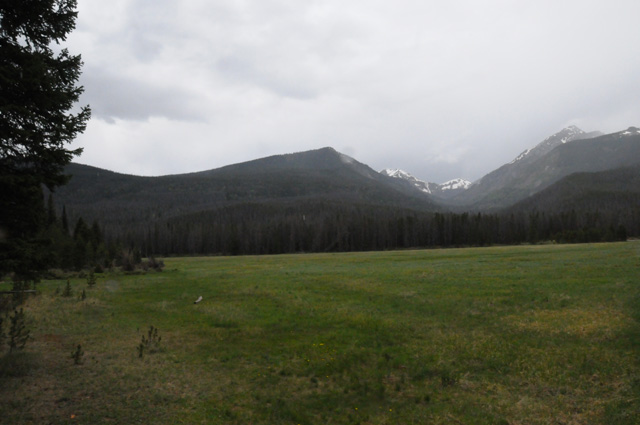 Another picture of the Colorado River. This time with a train track, and a train beside it. Notice that there are three engines -- in the MIDDLE of the train! I have never seen engines in the middle of a train. I have seen them at both front and back, but never in the middle. This train had two engines up front, these three in the middle, and one at the back. All cars were filled with coal.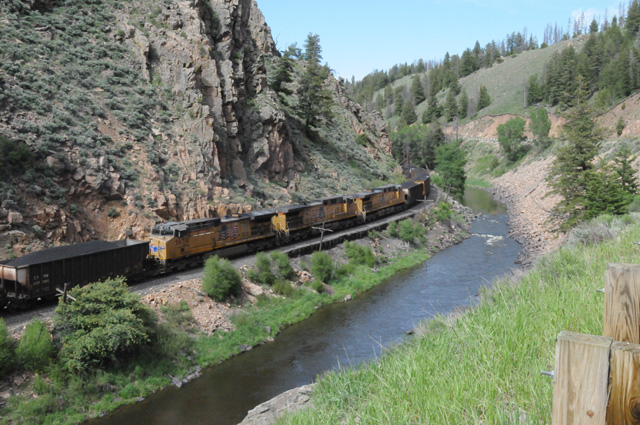 When I got out of Rocky Mountain National Park, I could go east or west on US40. East would take me toward Mount Evans and Denver. West would take me toward Salt Lake City. I looked at weather radar. Mount Evans is covered with stuff. I decide rather quickly that I am not going there. I had also considered going back into Denver to get a picture of the State Capitol. That would cost me four riding hours, plus the building is under construction and the area below the dome is wrapped. I decided to go west. Now I have to decide what I will do tomorrow. You will have to check in again tomorrow to see what I decided to do.
I will wrap up with pictures of wild animals I saw today.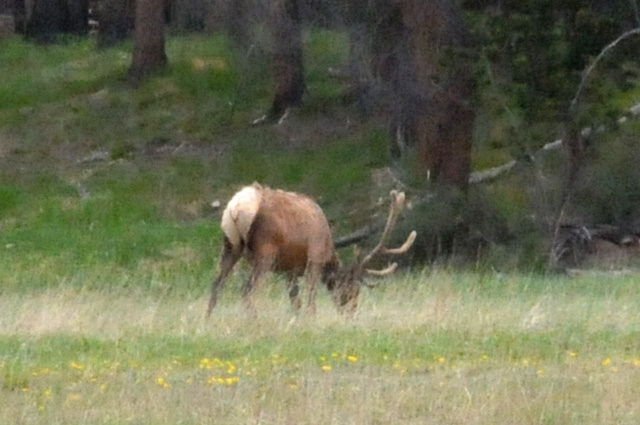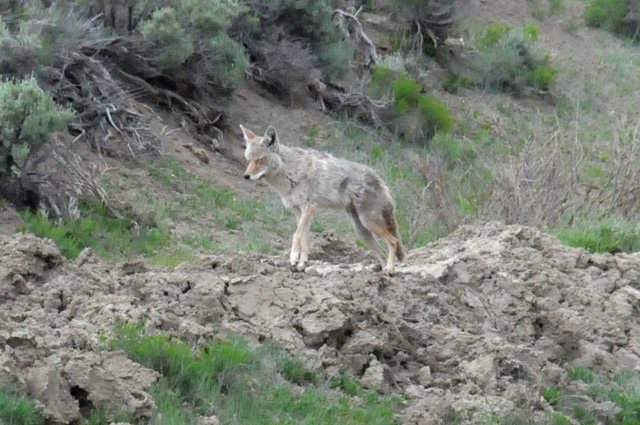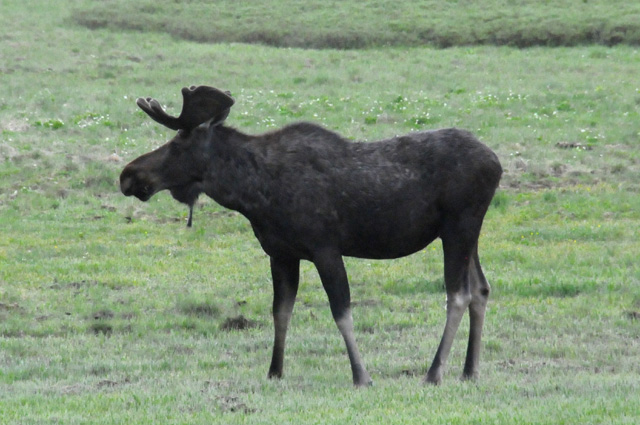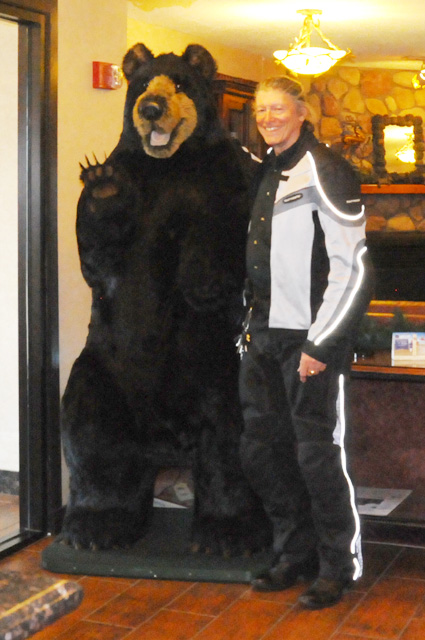 ---
17 June 2013, 11:59 PM MT, Salt Lake City, UT
Let me start with a rant. On all my Harley motorcycle tours, until today, every dealer I have ever visited to have something done to my bike has taken me right away. Not so for Salt Lake City Harley. I need a 5,000 mile service. They cannot do it tomorrow, or the next day, but they can do it the next day. That's not what I call Harley-traveler friendly. No way am I going to stay here until they can help me. I suggest my Harley riding buddies remember that!
Now on to more pleasing topics. I rode 404 miles today, straight from Craig, CO to Salt Lake City. I rode US40. I did a side trip to the Dinosaur National Monument. I had a chocolate shake. I have ridden a total of 3,477.5 miles so far.
I saw a large female deer in the road ahead. I stopped in the road, shut off the engine, and put down the kickstand. I started to get up to grab my camera, and she started to get nervous. Then a very small deer ran into the road to join the momma. Then both ran off the road on the other side. Too bad I could not get my camera.
I am getting some fantastic gas mileage. One tank today gave me 216 miles on just 3.74 gallons of gas for 57 miles per gallon! My last 1,000 miles have averaged 49.6 miles per gallon.
Remember to take an occasional peek at the map, it shows my progress with blue marks where I spend each night.
Now to the pictures, and I have a lot today. I have broken them into categories.
Pictures of THE ROAD.
The road ahead (western Colorado).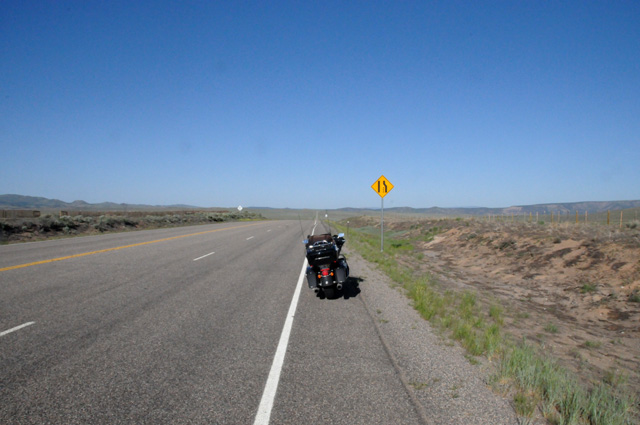 The road behind (same place in western Colorado).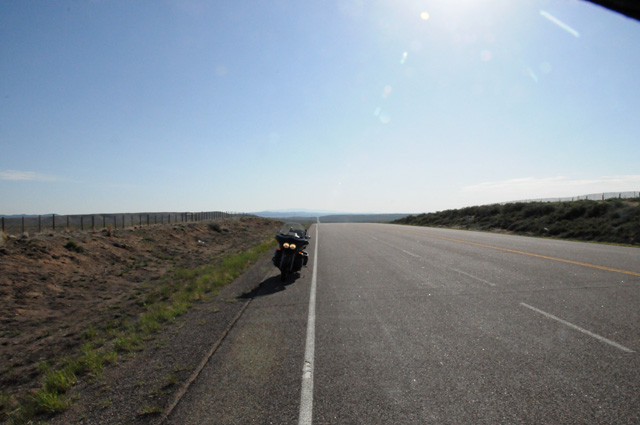 The road ahead (dropping fast from Park City to Salt Lake City).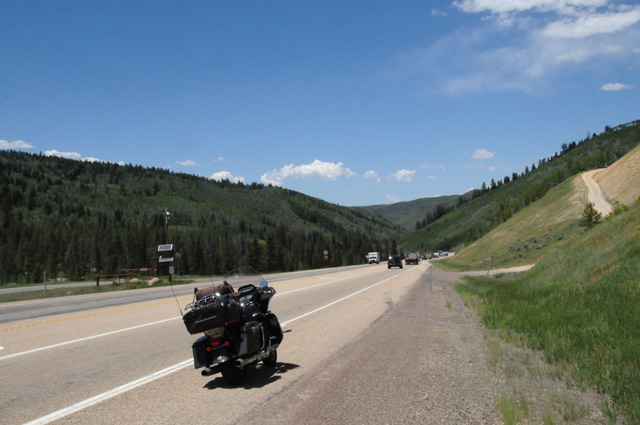 Pictures of FLOWERS.
I always like to take pictures of flowers in desert areas.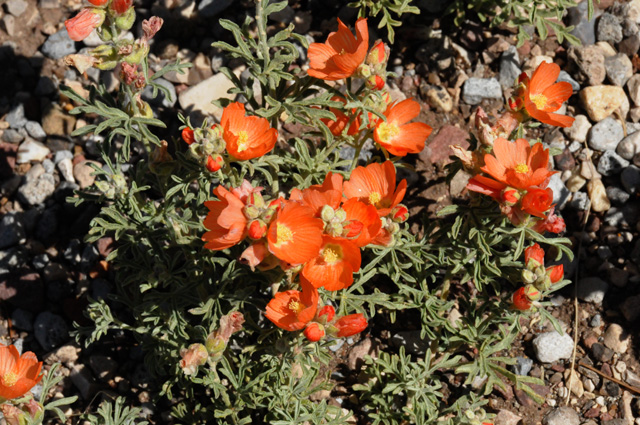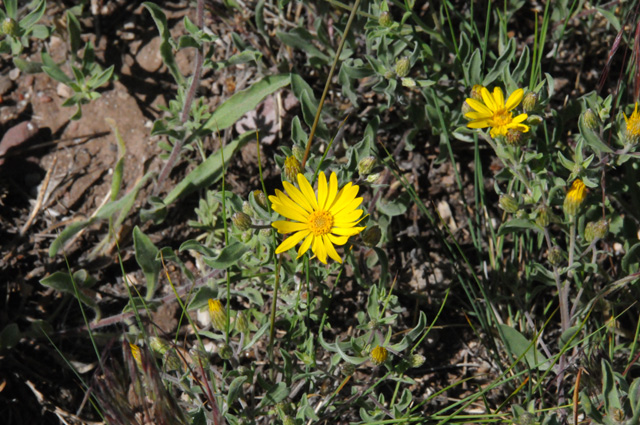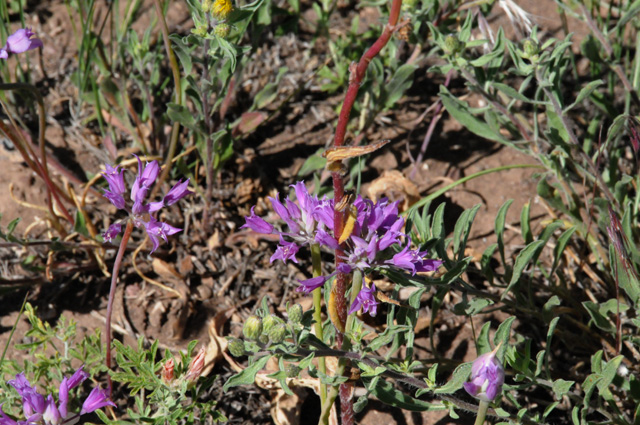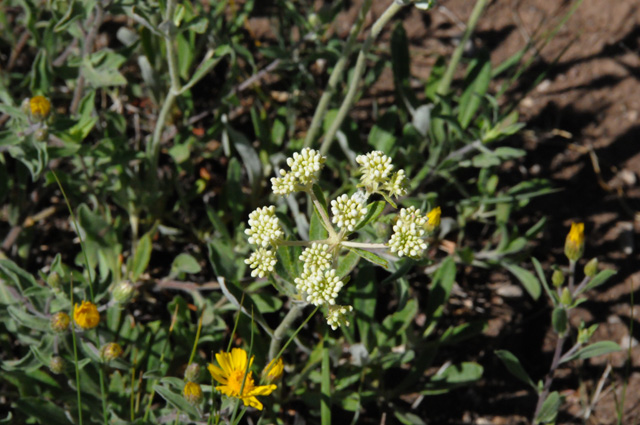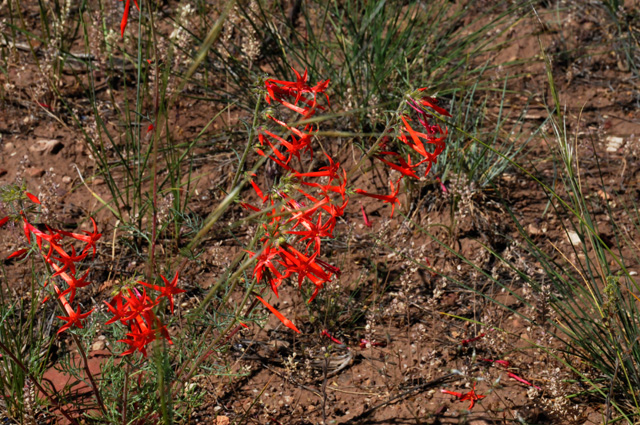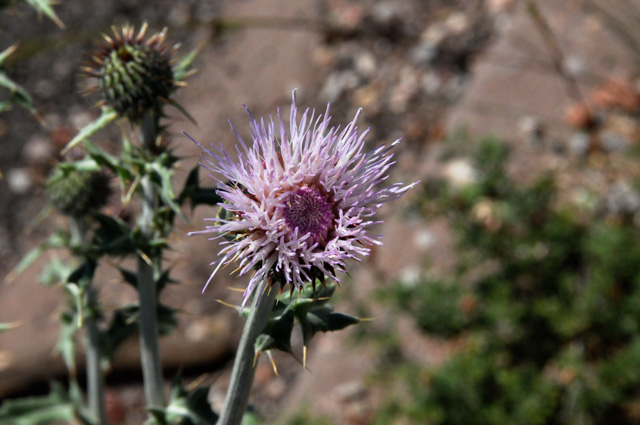 Pictures of TREES.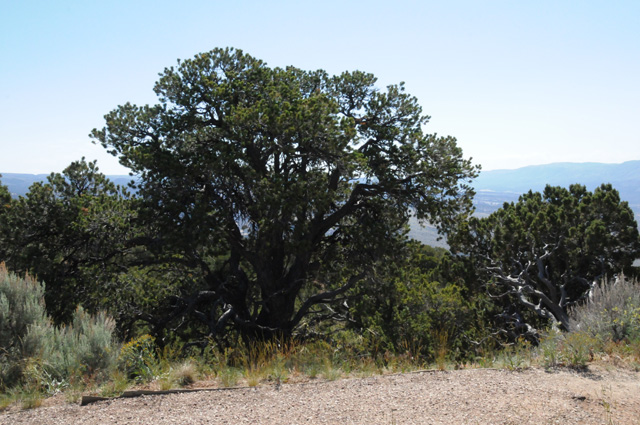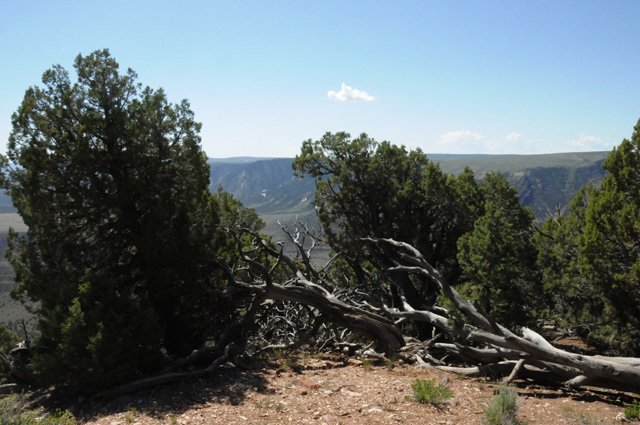 Pictures from Dinosaur National Monument.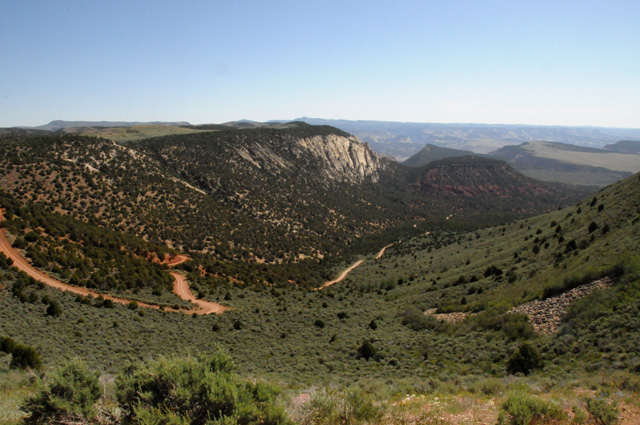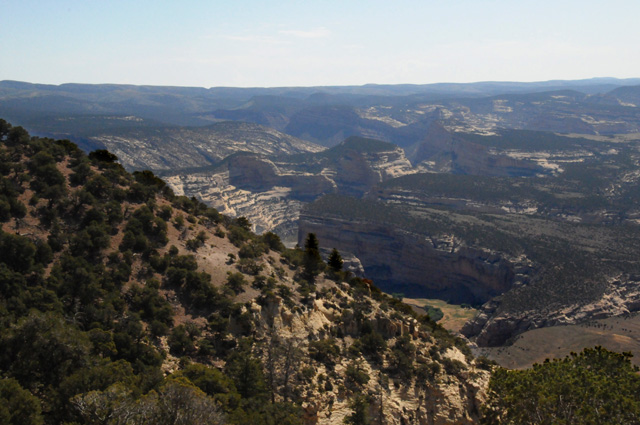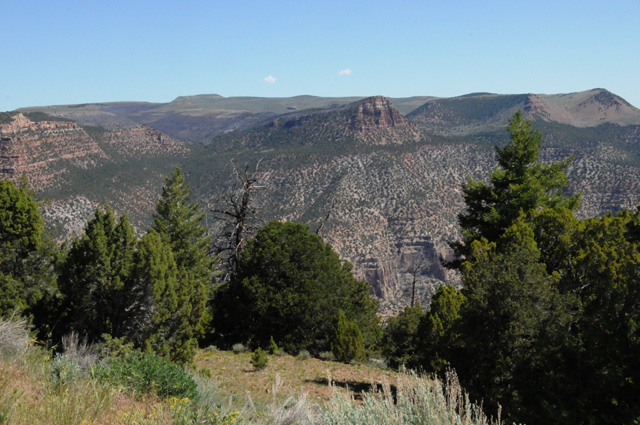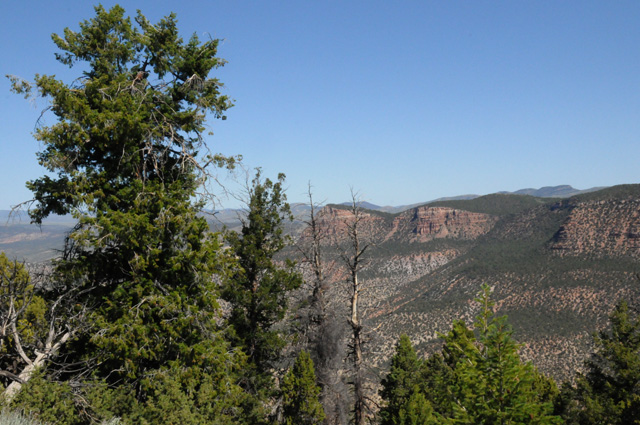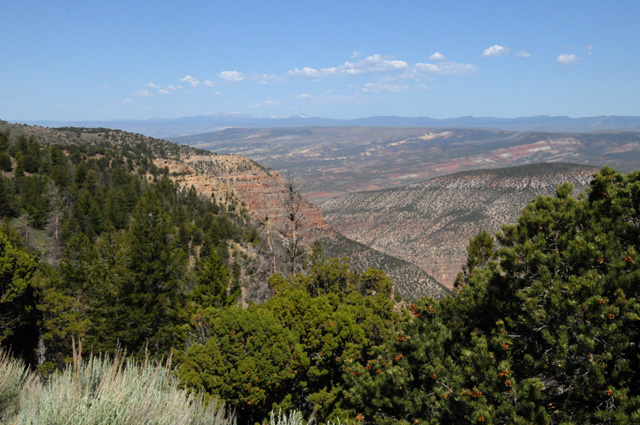 The mountains in the distance are the Unita Mountains, which include the highest peak in Utah. They are unusual because they are the highest range in the contiguous US running east-west.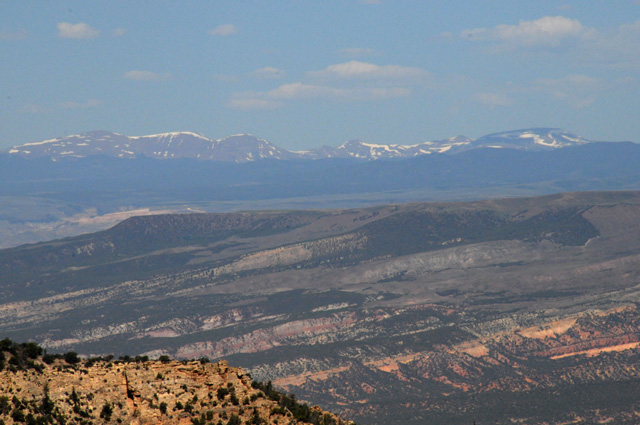 Ski slopes in Park City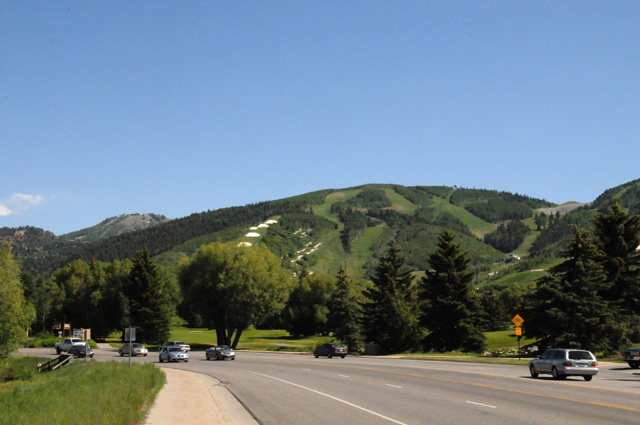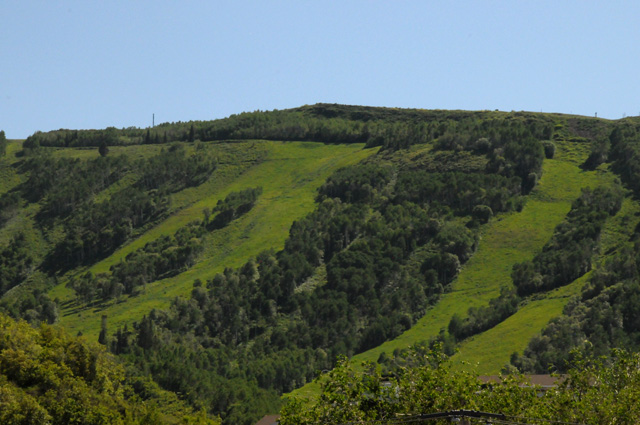 THe Wasatch Mountains tower over Salt Lake City. This picture was taken near my Best Western hotel.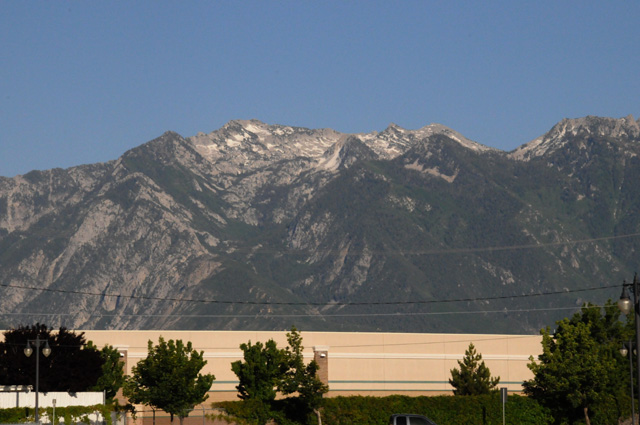 Today's State Capitol is Utah in Salt Lake City. It sits on a hill and is visible from all around.
From the West.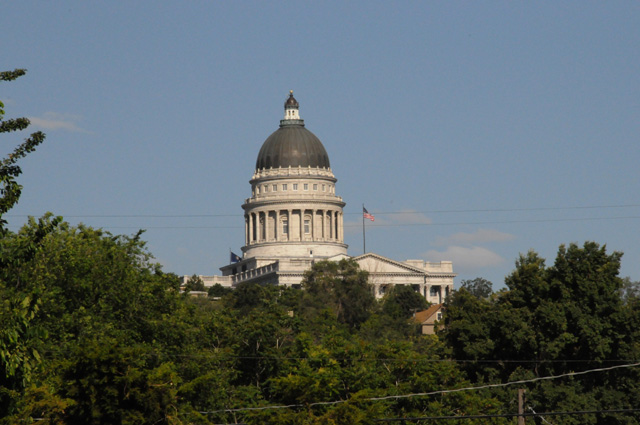 From the South.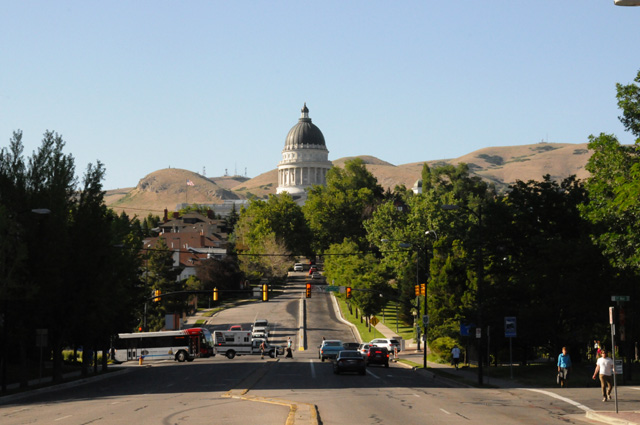 And close up.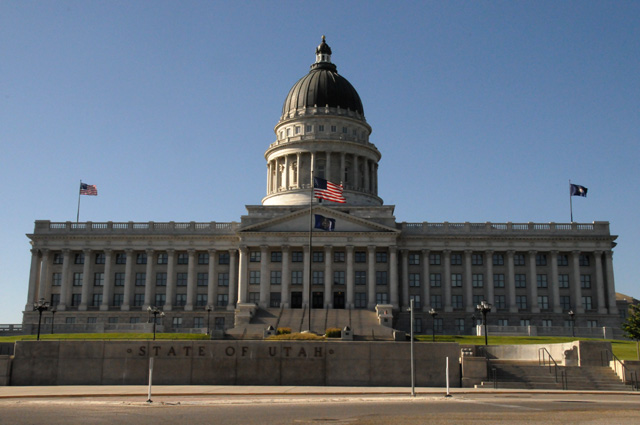 The Salt Lake Temple.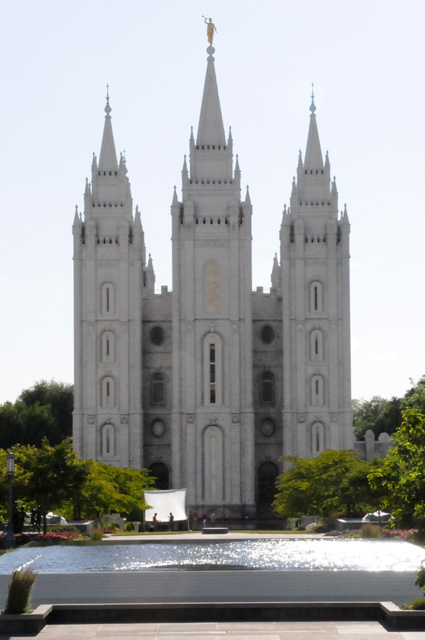 ---
18 June 2013, 7:45 PM MT, Salt Lake City, UT
Today was a catch up day. I had a business meeting, so that's why I arrived a day early. I washed clothes, did a short ride to see the Great Salt Lake, and just took it easy. I don't have many pictures today. I thought of taking a picture of the washing machine and dryer, but decided that was a bit over the top. I have not had my chocolate shake, but the day is not over yet. And I have not had dinner. So, I am not too worried. I rode 70 miles today. You may think that is a fair number of miles, but when you consider that I will ride about 550 miles tomorrow...
The first picture is a wide angle of the Great Salt Lake, and the second is a telephoto to see the edge of the water. The third picture is the Great Saltair.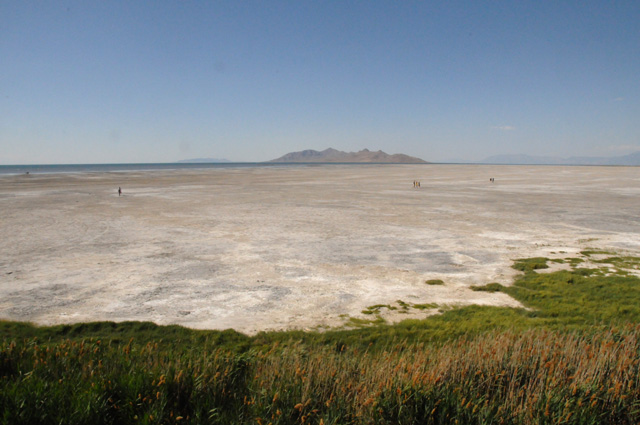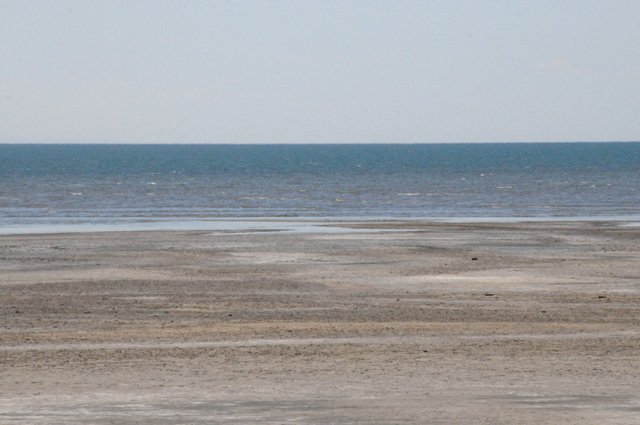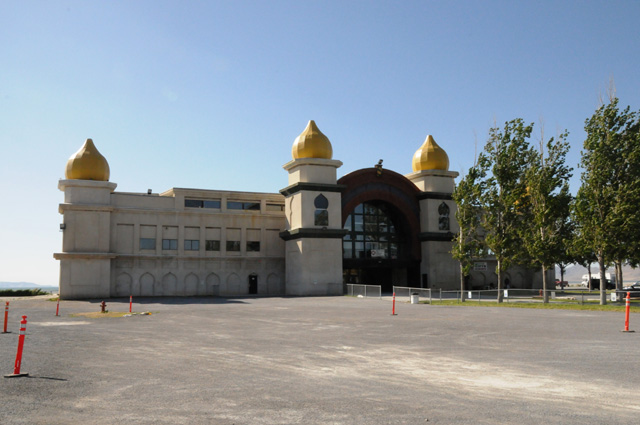 The Heat-Spurs game has started, I will go get some dinner then come back and see the end. Night all.
---
19 June 2013, 10:30 PM PT, Carson City, NV
Today was a good day. I rode lots of miles. I saw georgous scenery. I listened to good music.
Let me take it one piece at a time. I left Salt Lake City early, knowing I had a long day ahead of me. I wanted to reach Carson City, NV, 555 miles away, because I have an appointment to have the bike serviced tomorrow by Carson City Harley-Davidson. I stopped to take a picture of the view, which was a lot of salt.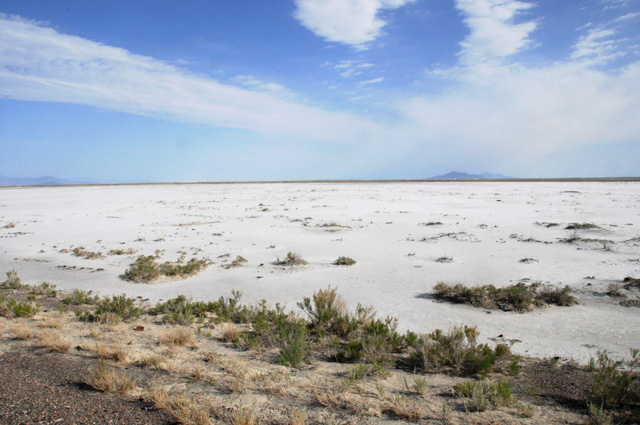 Then I realized I was close to the Bonneville Salt Flats. This sign helped me realize that.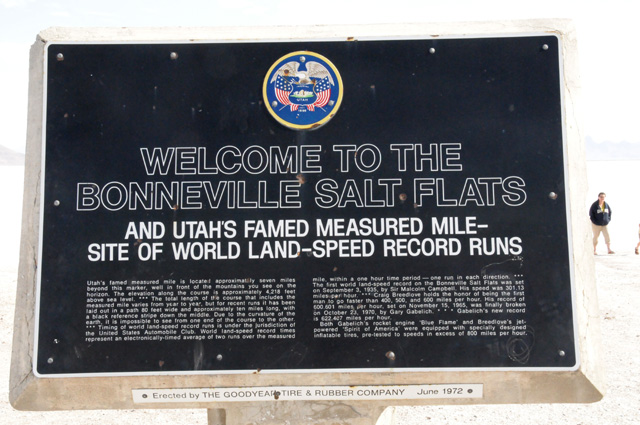 Here's part of the text on the sign, "Utah's famed measured mile is located approximately seven miles beyond this marker, well in front of the mountains you see on the horizon... The first world land-speed record on the Bonneville Salt Flats was set on September 3, 1935, by Sir Malcolm Campbell. His speed was 301.13 miles per hour. Craig Breedlove holds the honor of being the first man to go faster than 400, 500, and 600 miles per hour. His record of 600.601 miles per hour, set on November 15, 1965, was finally broken on October 23, 1970 by Gary Gabelich. Gabelich's new record is 622.407 miles per hour..."
I couldn't resist the temptation to take a side trip. This is as far as I could go on a paved road. After this, you ride on the salt. I decided to not ride on the salt. Those "mountains you see on the horizon" in the previous picture are the mountains you see close up in this picture. The measured mile is somewhere ahead of this point, along the salt road.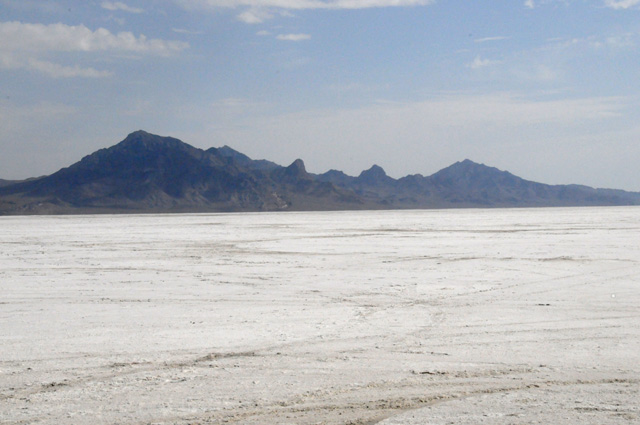 I knew I had to buckle down and ride. It would be a long day. But then I saw these mountains, so I had to stop and get a picture. These are the Ruby Mountains, the northern end. They run 80 miles to the south.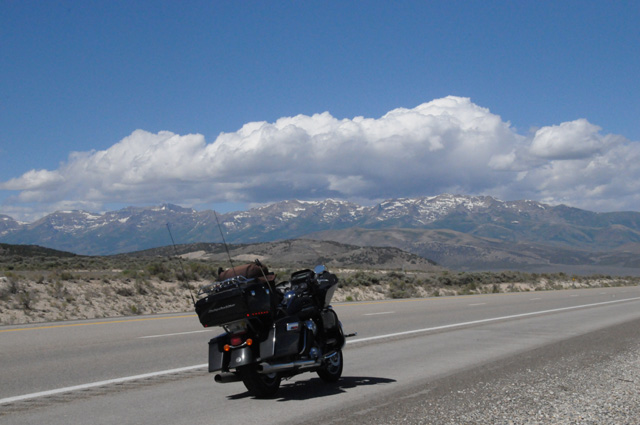 Yesterday, I was told about a canyon south of Elko, NV, the Lamoille Canyon. I knew it was only 20 miles off my route (which was I-80) and that the canyon is about 12 miles long. Elko is almost half the way from Salt Lake City to Carson City. I was in Elko before Noon. Again, I couldn't resist the temptation. Another side trip. Lamoille Canyon is in the Ruby Mountains, the same mountains you saw in the previous picture, about halfway down the range. Here I am approaching the canyon, looking up at the mountains.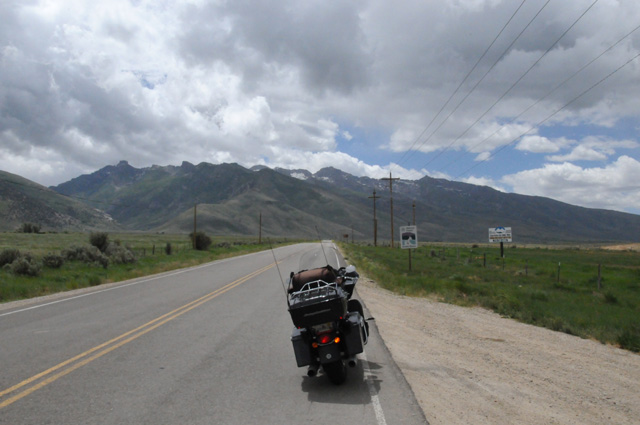 This is partway up the canyon.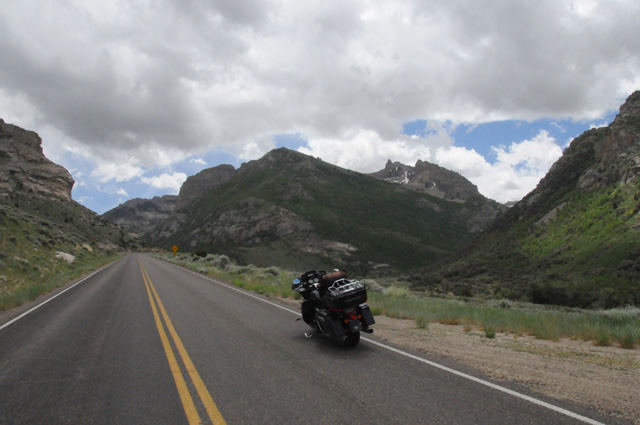 Same location, other side of the road.
Here's the first good view of the glaciers.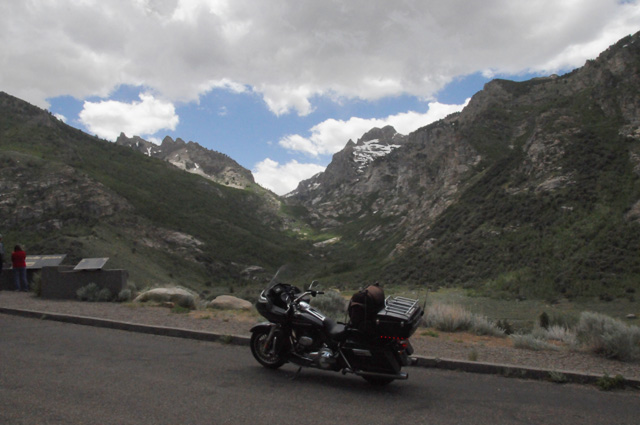 Looking the opposite direction from the glaciers.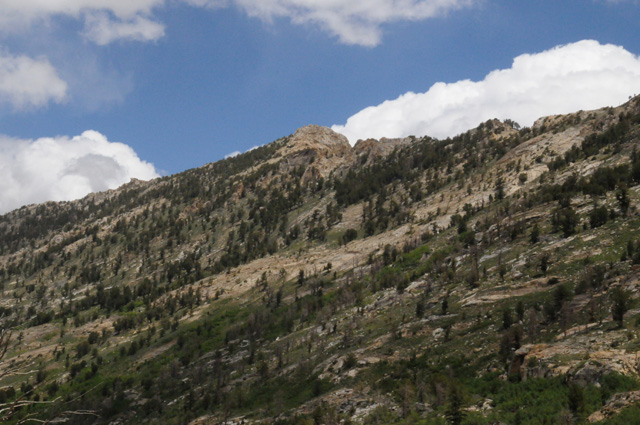 Views further up the canyon.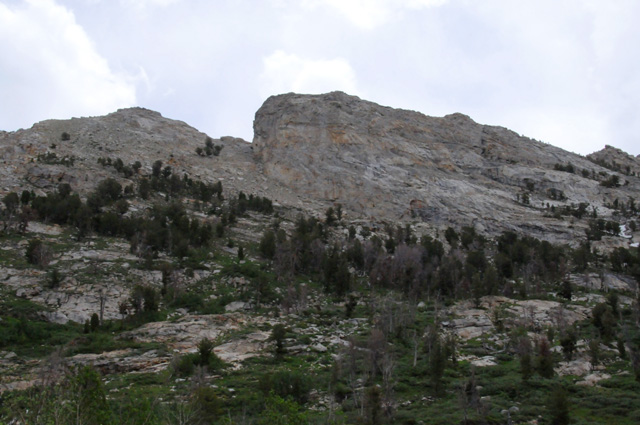 I have gone as far up the canyon as the road goes, here's some glaciers straight ahead. I did not hike up to them. I am not into hiking.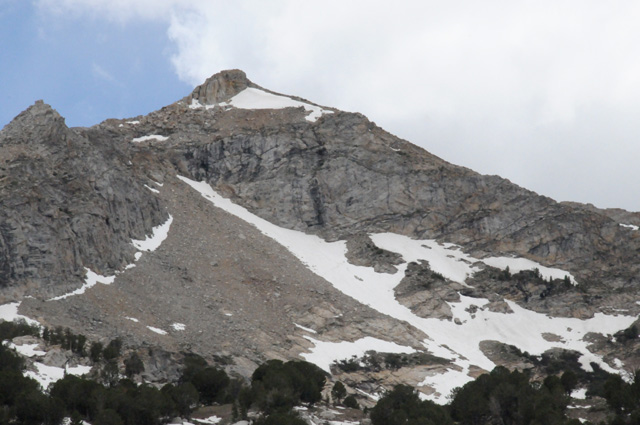 Now I am on my way back down the canyon.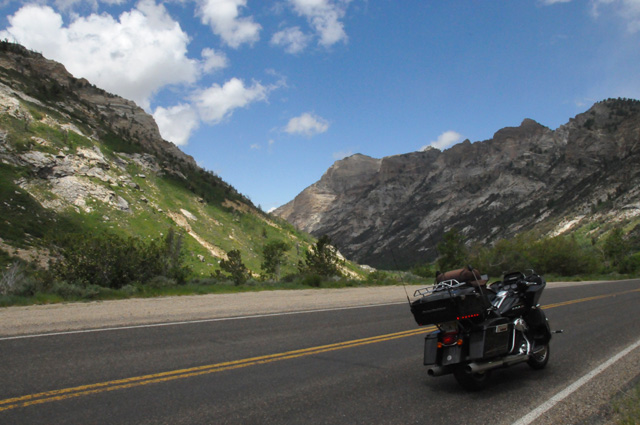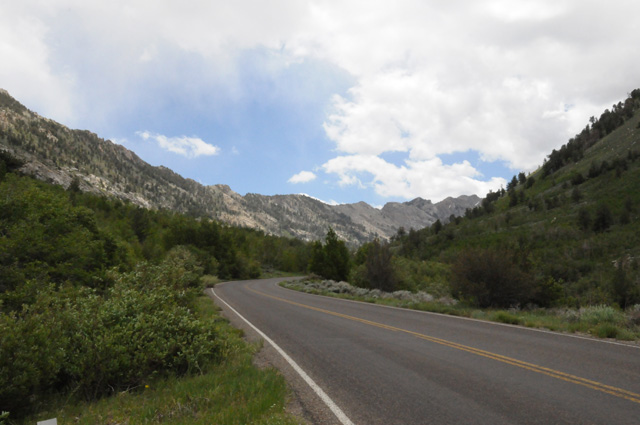 What is this, a frozen waterfall?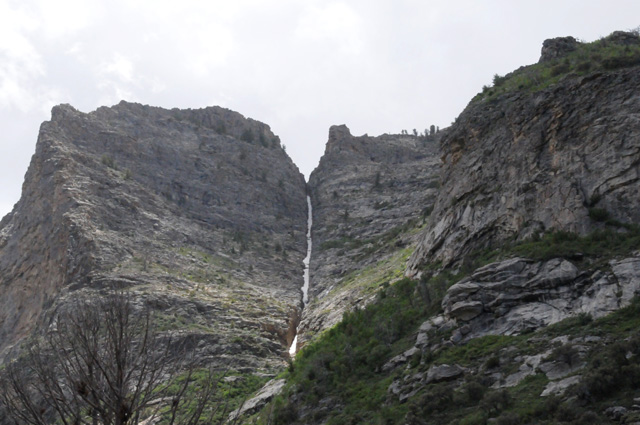 After this side trip, I did buckle down and ride. My total today was 643 miles. And one chocolate shake.
I needed extra warmth today. The temperature at the top of the canyon was in the 30s. The elevation was 9,000 feet. The temperature along I-80 was generally in the 50s. It got into the 60s later in the day. I was wearing the lining to my summer jacket, my summer jacket over that, and my rain jacket over that.
I love the desert, and today's ride was mostly in the desert. I like to look around all the time. I decided to listen to music while riding in the desert. I tuned in a country music AM station. I heard Charlie Rich singing "Behind Closed Doors", Marty Robbins singing "El Paso", Jimmy Buffet singing "It's Five O'Clock Somewhere" and "Margaritaville", John Denver singing "Sunshine On My Shoulder" and "Leaving On A Jetplane", and many others. I was tapping my foot on the floorboard keeping time with the music while looking all around me, and ocassionally looking at the road.
A very pleasant day.
---
20 June 2013, 11:30 PM PT, Dixon, CA
I had the bike serviced this morning, thank you Carson City Harley-Davidson. It was after Noon when I got away. I first headed back into downtown Carson City to get a picture of the Nevada State Capitol. I have taken a picture of this Capitol before, on the US50 ride last year. But, my rules say I have to take another one when I visit again on a bike ride. So, here's my picture of the Nevada State Capitol for this year.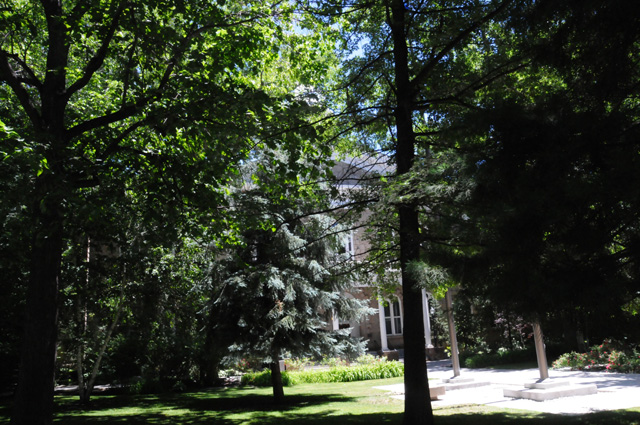 There's a bit of a problem, isn't there. The building is so surrounded by trees that you can get only one picture, what I showed you last year. But, keeping with my tradition, I shot it again, and here's what it looks like from the only location that is not blocked by the trees. That dome looks like silver to me. This is a new picture, it is not last year's.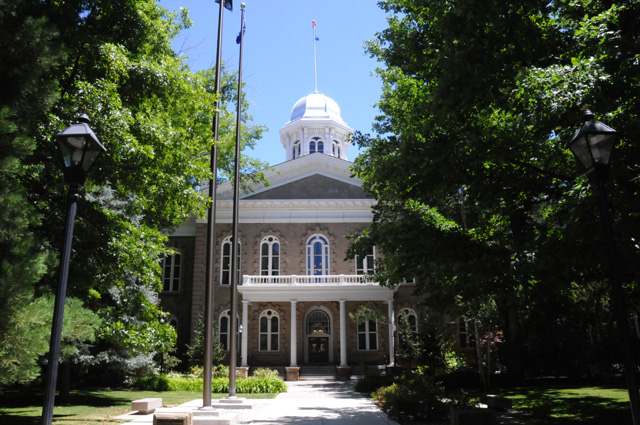 After gassing up and getting a chocolate shake, I headed out to Virginia City. I have wanted to go to Virginia City before, but never made it. The road has signs warning that RVs and 18-wheelers and trailers are not welcome on the road, there is a 16% grade. That 16% grade happens in a very tight switchback also. I decided to brave it, and I did make it. This is a school building from 1876.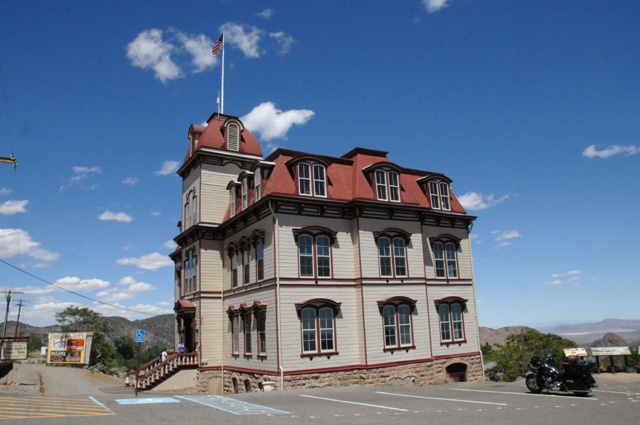 Here's another old building with a shot of the distant valley.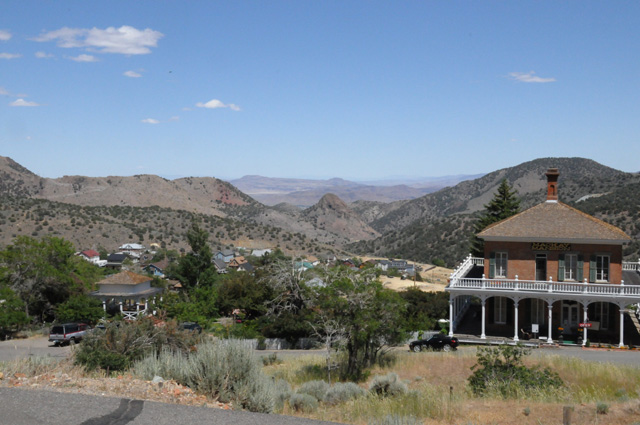 A church in Virginia City.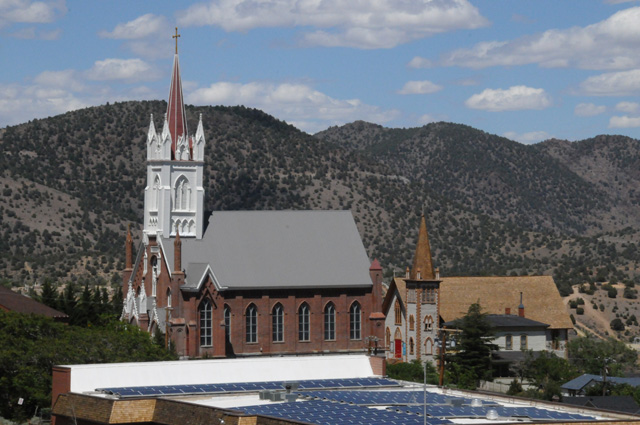 The main street of Virginia City.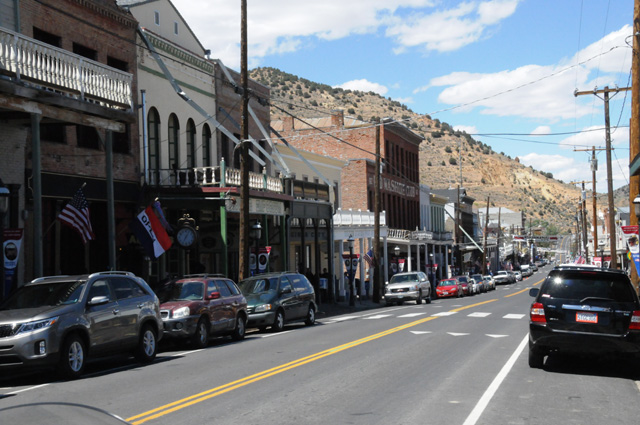 After leaving Virginia City, I went through the Mt Rose Summit at 8,900 feet elevation, the highest year-round Sierra Pass. Here's a shot looking out from the Pass.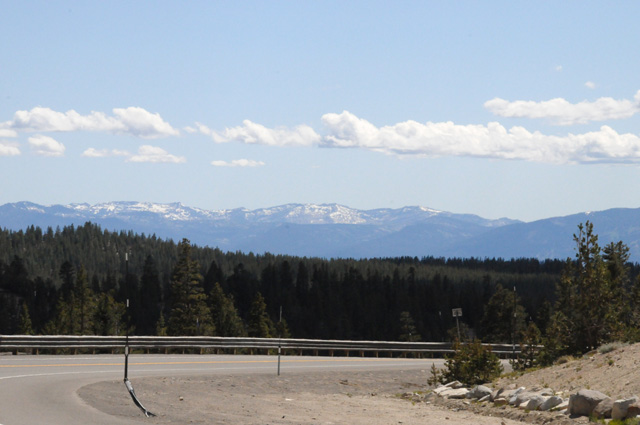 On the way down the other side of Mt Rose, you can catch glimpses of Lake Tahoe. Here's one of the views.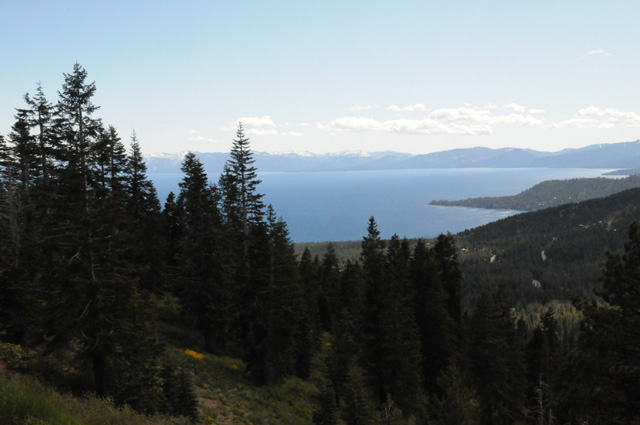 This picture is taken from the same location, just looking another direction, the direction my bike happens to be.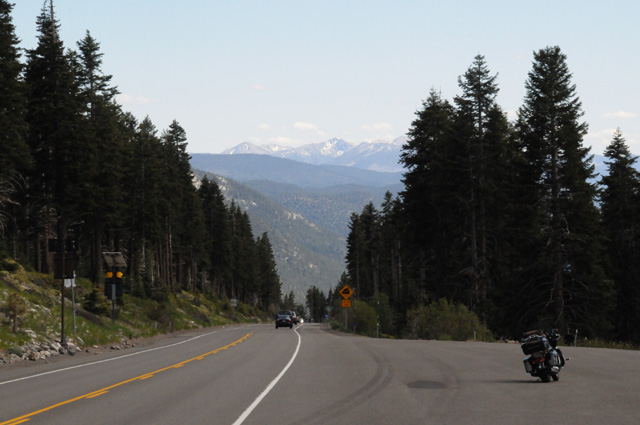 Why did I happen to go through that particular pass you might wonder. Well, it's the way to the Ponderosa Ranch. The Ponderosa Ranch House is still there, it is no longer open, but it is still there, or so they say. I couldn't get close enough to it to find out for myself. If I were a few years younger, I might have climbed the fence, but no longer. I walked the fence to find a hole, or a spot I could get through. No such luck. So, I cannot give you a picture of the Ponderosa Ranch House. All I can give you is this picture of the gate where it says, "The Ponderosa Ranch is Closed."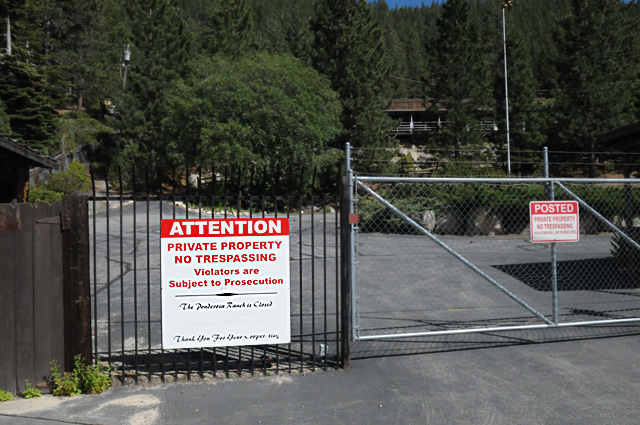 As I said, I cannot give you a picture of the Ponderosa Ranch House taken today, but I can give you a picture I took in 2001 on another bike ride, a bike ride where I had a passenger, Hanna.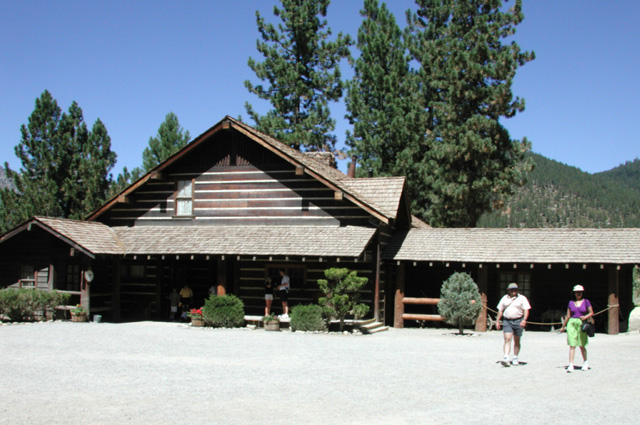 After giving up on seeing the Ponderosa Ranch House, I headed up into the mountains again in search of the Donner Pass. I found it. US40 (I should say Old US40) went through Donner Pass. It is 7,135 feet elevation. Here's a shot of a bridge just before the Pass.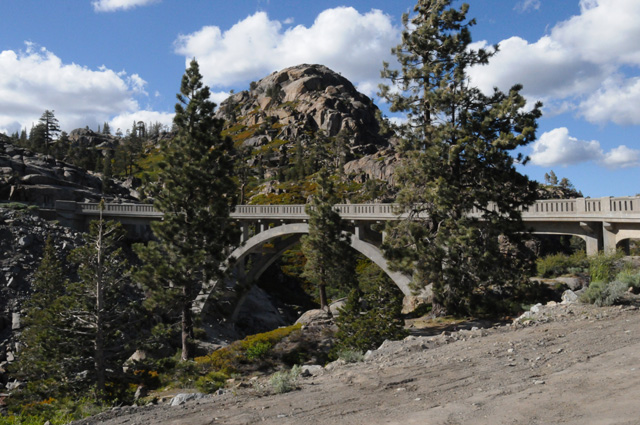 And here's a picture looking back toward Truckee, the lake is Donner Lake.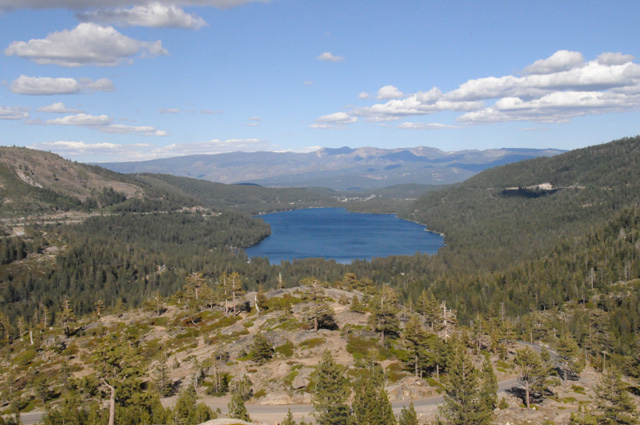 Then I headed toward San Francisco, but I didn't get there, not enough time. I am in Dixon, CA, a few miles west of Sacramento. Sacramento is a Capitol City. So, here's the required photo, the California State Capitol.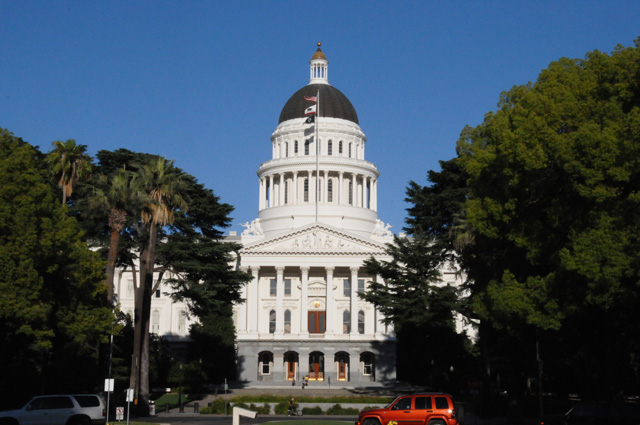 Tomorrow I will reach San Francisco, and start my trek up CA1. I have ridden CA1 south of San Francisco, but not north.
I rode 236 miles today. I have ridden 4,427 since leaving home. I am ahead of my tentative schedule in location and in miles. Before leaving home, I expected to be somewhere in Nevada tonight with 3,900 miles.
Don't forget to check the map to see where I am.
---
21 June 2013, 10:00 PM PT, Rohnert Park, CA
This morning I woke up at 7:15, that is the latest awakening I have had on the ride. This evening I quit earlier than normal. Maybe that tells me something, that I needed to take it easier today, and that is just what I did. Only 165 miles today. I have 4,591 total now. Either I am reaching half the miles I will do, or I will do more miles that I expected. Bet you it is the latter.
I rode straight to San Francisco, on I80. Met up with friend Steve and had a cup of coffee. Then I headed out to see parts of San Francisco that I had in mind. First, I had to make up for my stupid error last year -- I took a picture only to discover after I had left San Francisco that I blew it on the picture. So, here's the fixed picture from last year. Some of you may know what I am talking about, some of you may not. If you want to see the stupid error, click here.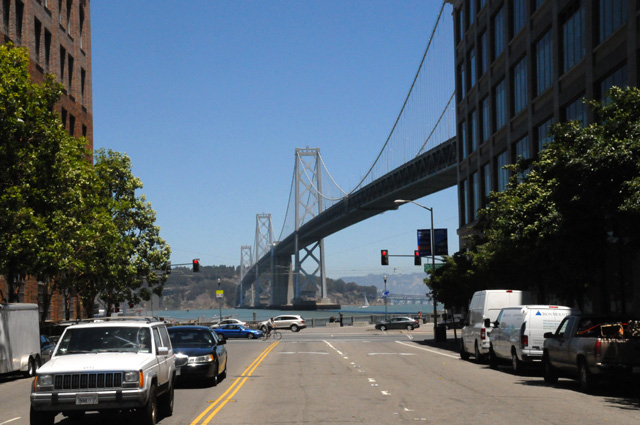 It took a long time to figure out where I had taken the picture last year, but finally I found the spot, got the picture, then headed to my next target. The target was Sutro Tower, but on the way I went past this landmark which I remembered, Hanna and I have been here, it is one of the 21 Spanish missions in California, Mission Dolores. The old original mission is on the left, partially hidden by the tree, the new one (1918) is the large structure.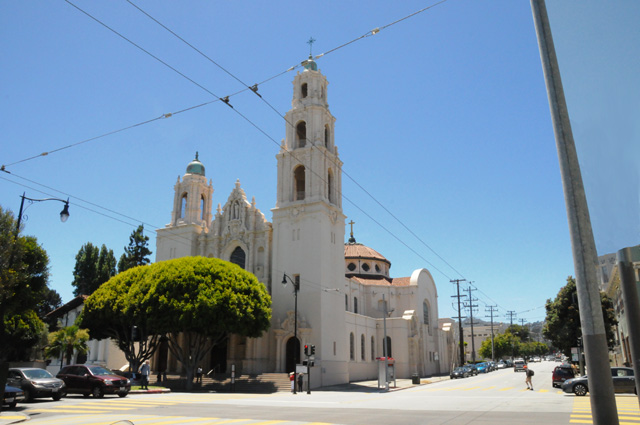 I continued my journey to Sutro Tower. Last year, shortly after I left San Francisco, I read an article that claimed that the people of San Francisco have grown to love the Tower having hated it for years. I don't know how true that is, but that's what the article claimed. It made me wish I had taken a picture of the tower. Having been in the broadcast bussiness during part of my professional career, it seemed appropriate. Several television stations have their antenna on Sutro Tower. So, this time I got Sutro Tower.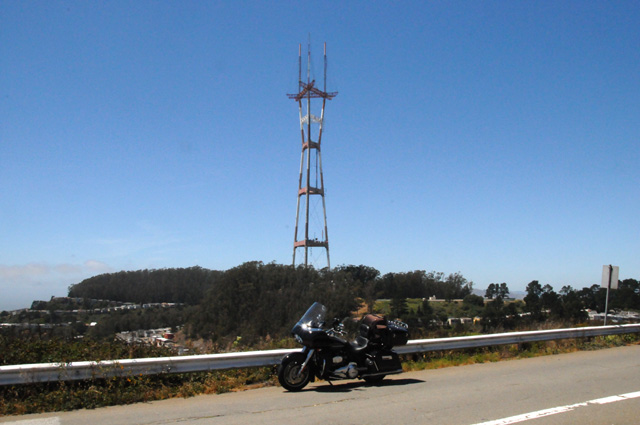 Sutro Tower is between the Twin Peaks, so while I was up there, I got some pictures looking down on San Francisco.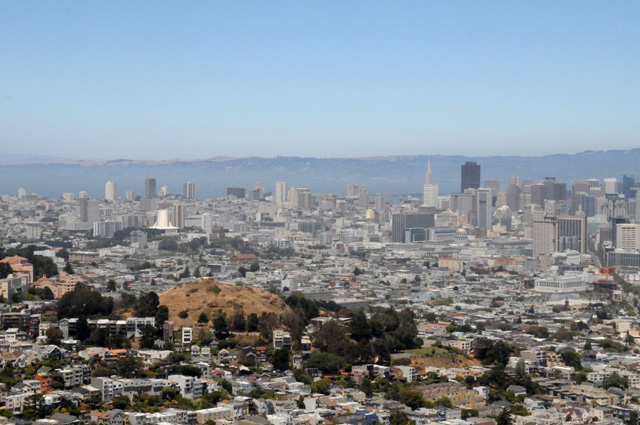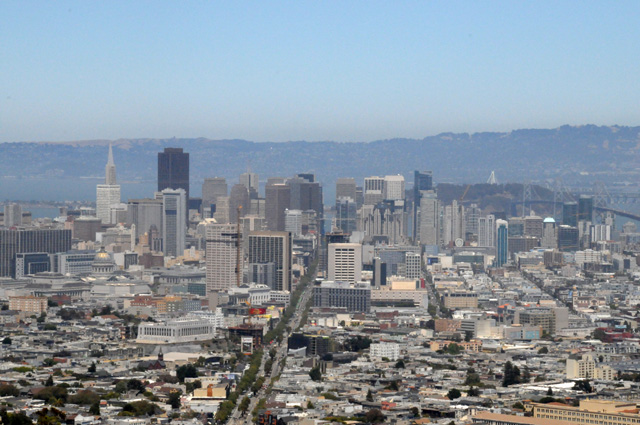 Then it was time to return to my overall mission, my ride. I headed to the Golden Gate Bridge, but stopped first to get a picture of it. It was not my first, it no doubt will not be my last. My first one was approximately January 1, 1964.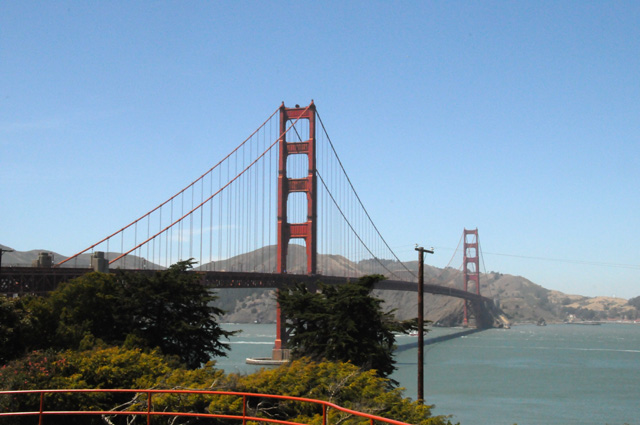 After crossing the bridge, I found California Highway 1 and headed north. This was the first sight I had of the Pacific Ocean, looking south and then looking north.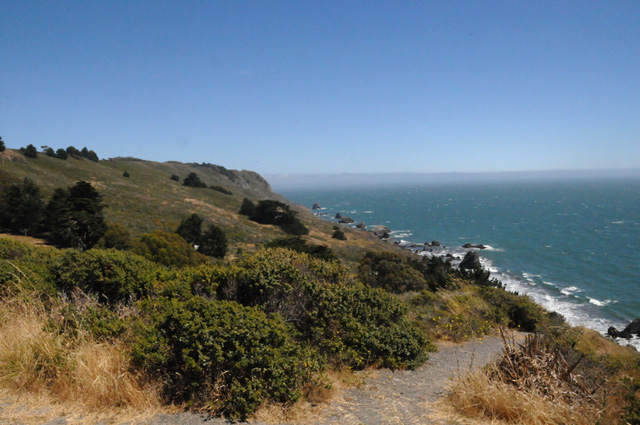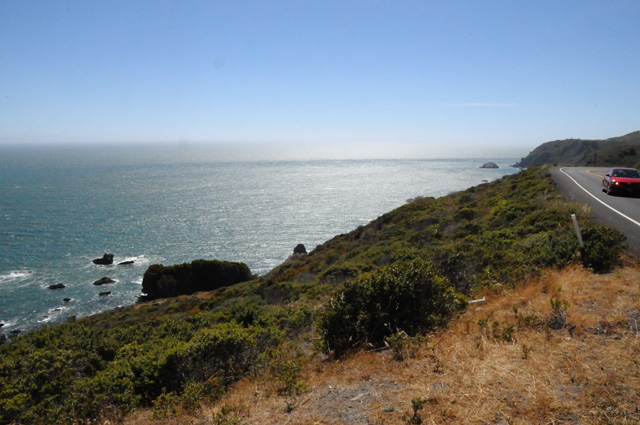 That's it for today, not that many pictures. Tomorrow morning I plan to continue up Highway 1. It's a long way to Oregon, and Highway 1 is slow. We'll see how long I stay on it. Maybe all the way, maybe not.
---
22 June 2013, 11:59 PM PT, Roseburg, OR
I started the day on US101, rather than CA1. I left CA1 yesterday to find a place to stay overnight on US101. So, first order of business today was to gas up and get back on CA1. I did ride it to its end. It was an extremely pleasant ride. The southernmost part north of San Francisco is too twisty for me and I don't see the ocean. I like CA1 from LA to San Francisco, I just love it. The middle part above San Francisco is similar to that. The northernmost part gets twisty again. That's OK, but I get tired of it. It is sort of like the Tail of the Dragon, but it just goes on and on and on. Actually, it is more challenging and difficult than the Tail of the Dragon. I am shifting through every gear, from sixth down to first back up to sixth, etc., etc., etc., etc., etc., etc., etc., etc. (Get the picture?) I don't do that much shifting on the Tail of the Dragon.
On my way back to CA1, I thought I would give you a picture of the landscape.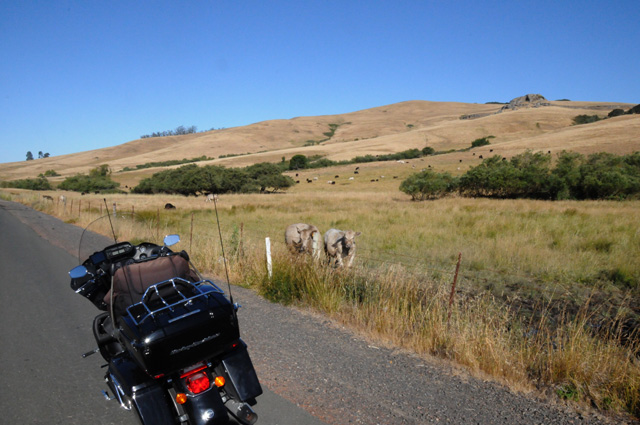 Those two cows were very interested in my bike.
Here's a shot on CA1.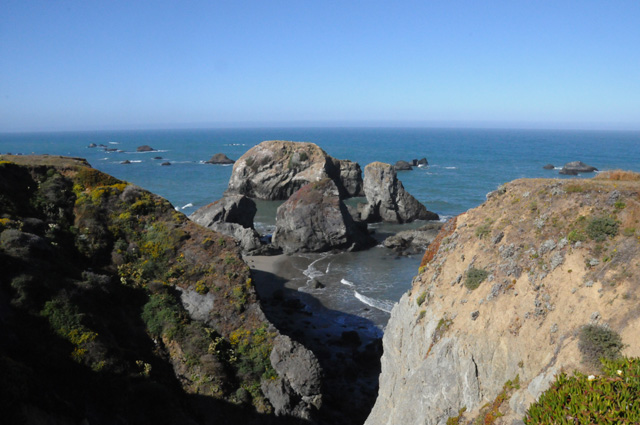 Several miles of CA1 had been re-surfaced. Rather poorly I might add. There is a seam right in the middle of the northbound lane. It rises up a couple of inches above the main roadway. I think the seam should have been in the middle of the road, not the middle of this lane. It was difficult, because it tends to capture the bike's front wheel, or shove it to one side or the other. I had to always stay on the left half of the lane, or the right half of the lane. The least they could do is level it again with a roller. This picture shows the seam, but you cannot see that it rises up. The road is too busy for me to park on it to get a picture, and the shoulder is too narrow to park. So, I had to find a pullout where the seam was present. Typically, it would disappear whenever there was a pullout. CALDOT, please fix this, there are many motorcycles on this road. It is a problem.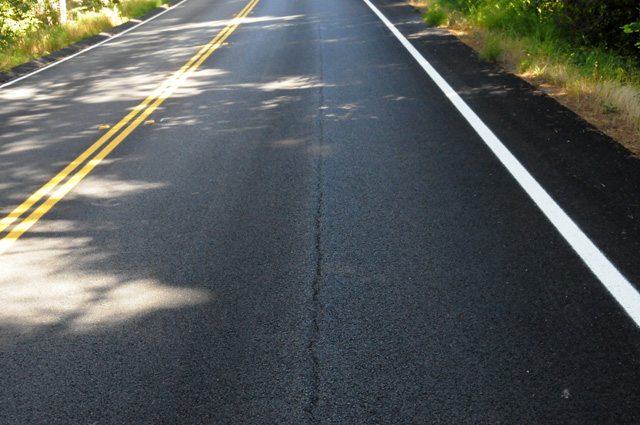 Here's a shot along CA1 (also called Highway 1). Sometimes you see the ocean through holes in the trees, like in this picture.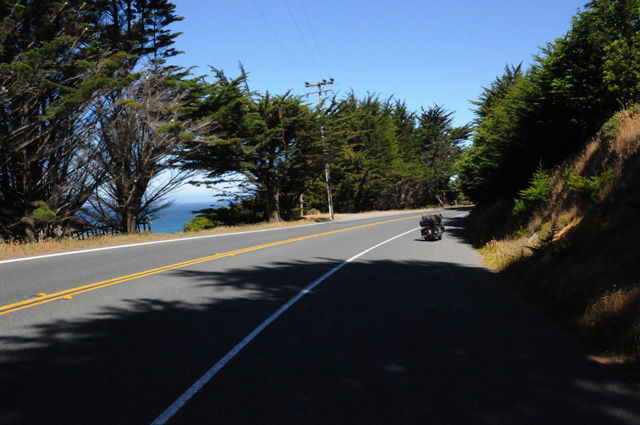 And sometimes the ocean is right there beside you. I love the part of Highway 1 that is like this picture and the one just above.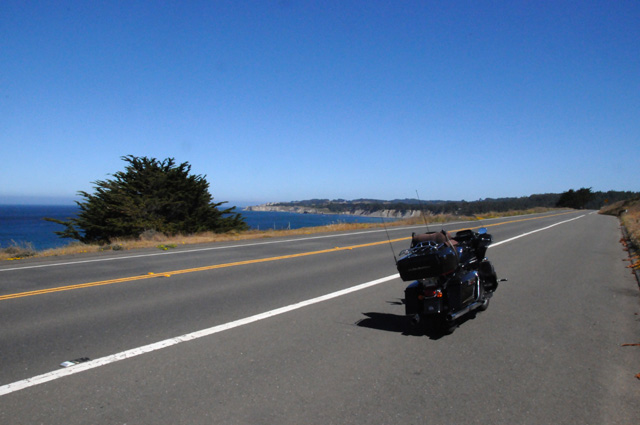 Another shot looking off the highway.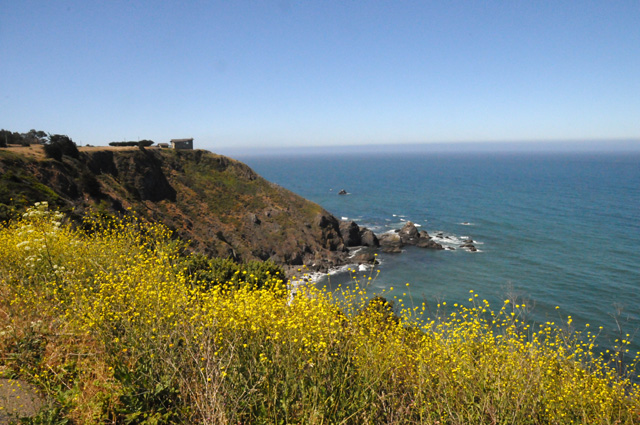 When you get into northern California, you start seeing lots and lots of redwoods. Just look at them on this hillside.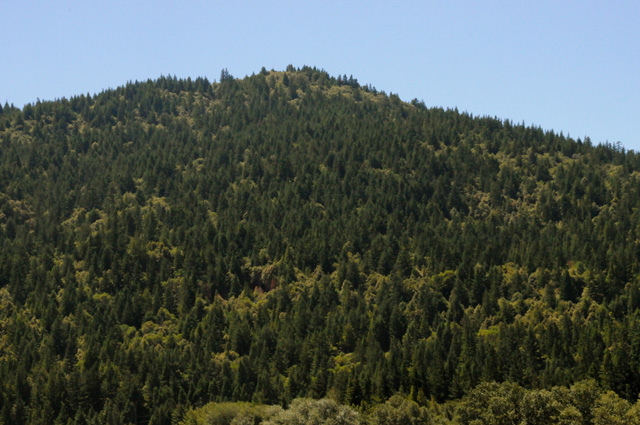 By this time, Highway 1 had ended, and I was on US101. There is another road that runs beside US101 in the redwoods, it is called the "Avenue of the Giants". Here's what it looks like riding along the Avenue of the Giants.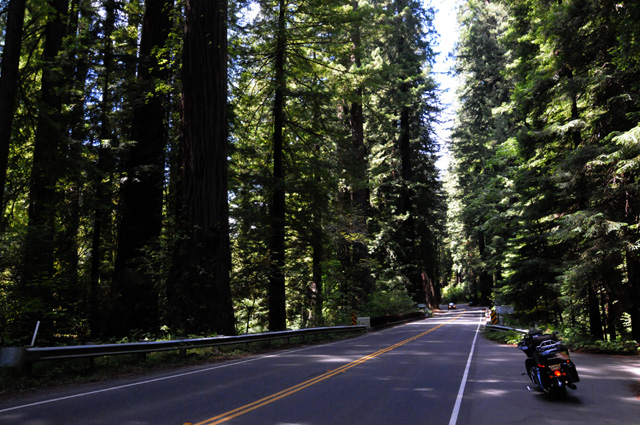 Here's an isolated tree, not the largest of the group, but one I could park my bike in front of and take a picture showing the full height of the tree. Can you see my bike at the bottom?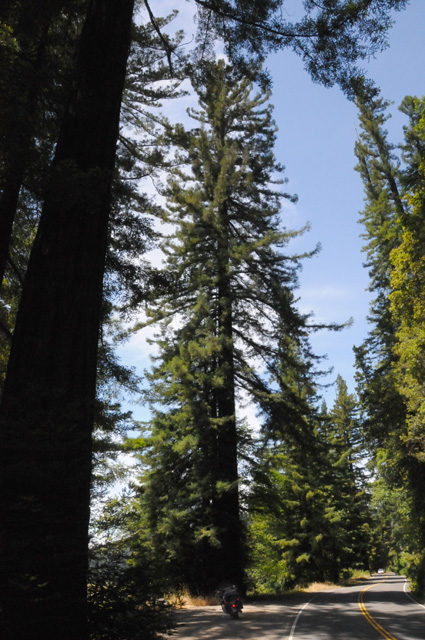 And here's one of the larger trees, and one where I could park the bike beside it and get a picture to show you how fat it is. My wingspan is a little over six feet. My bike is just two inches shorter than 8 feet. So, how wide is this tree?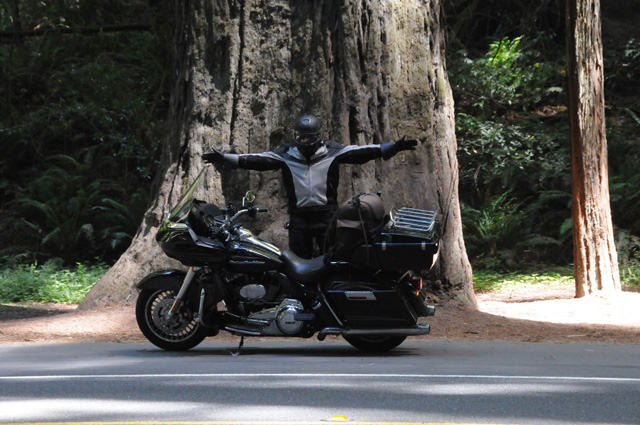 That's all my pictures for today. I am out of California, so it will be easier to gas up. California has this thing on the end of the pump nozzle that has to be pushed back to pump gas. It covers the tank opening so fumes don't escape. It works fine on cars. But, for many bikes, you have to push the rubber thing back towards the handle with one hand while holding the nozzle in the other hand to make it pump. I don't know if I made that clear, but it is a pain.
On the other hand, California is the only state that allows white-lining. I like white-lining. When traffic is slow or stopped, you can ride between the lanes of cars and keep moving. Or at a traffic light, you can move to the front of the que. I like white-lining (also called lane-splitting). You may think it is dangerous, but if you know what you are doing it is OK. Living in California, I learned how to do it well. I know how to do it, when to do it, and most important, when not to do it.
Late in the afternoon I changed my route. I was planning to take US101 all the way north to the middle of Oregon, then I was going to head due east to Salem, the Capitol. Rain is on its way, though, and it is forecast to last four days in the Pacific Northwest. As I was riding along the ocean, clouds started moving in, and banks of fog were appearing here and there. So at Crescent City CA, a few miles south of the Oregon border, I decided to head inland to I5 (where I got my daily chocolate shake). I did as many miles as I could today, 514 miles, stopping after sundown. I want to get all the way north to Olympia, the Capitol of Washington, then head east to get away from the rain. I don't know if I will beat the rain or not. I looked at weather radar later, and found that I did avoid some rain in southern Oregon by heading inland. My plan for tomorrow is to reach Olympia and head east. That puts me ahead of my tentative schedule, but I want to avoid the rain as much as I can.
See you again tomorrow. We'll see how much rain I get.
---
23 June 2013, 11:59 PM PT, North Bend, WA
A dreary day. Here's how it started.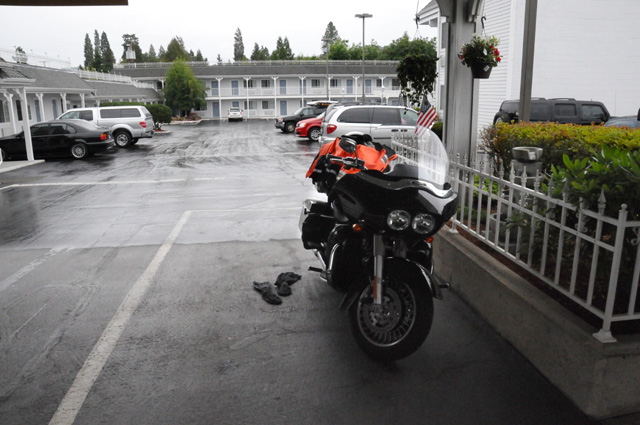 It wasn't really raining, it was sort of misting. The air was full of water and anything the air touched got wet. In the picture above, my bike was under a roof overnight, so it stayed dry. You can see the water line on the pavement. Those two things lying by the bike are my gaitors, rain jackets for my boots. You can see my rain jacket lying on the bike. I wore it all day. I wore the gaitors most of the day. It was a wet day. I stayed dry, because I have good protection.
In spite of the rain, I put in 466 miles today. That's a lot, but I wanted to get out of this weather. I am almost out tonight, but not quite. Had my chocolate shake also. That's how I keep track of days, by counting shakes.
Here's my first Capitol of the day, this is the Oregon State Capitol in Salem.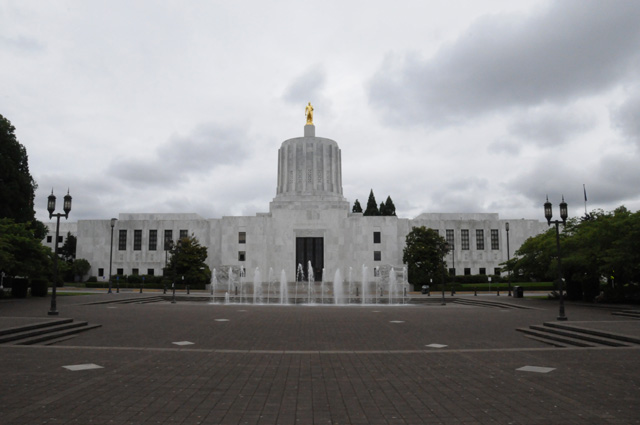 Here's a close up of the statue. The Oregon Pioneer.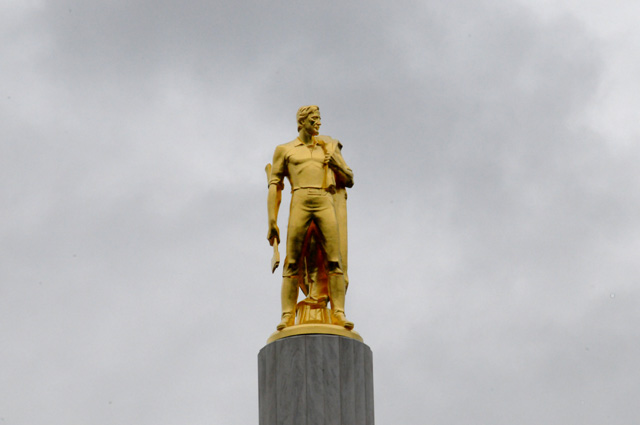 The rain did not keep me from exploring the Columbia River Gorge. I did do less exploring than I had planned, not going as far up river. These are the Multnomah Falls, the tallest in North America after Yosemite Falls. It is a 620 foot waterfall.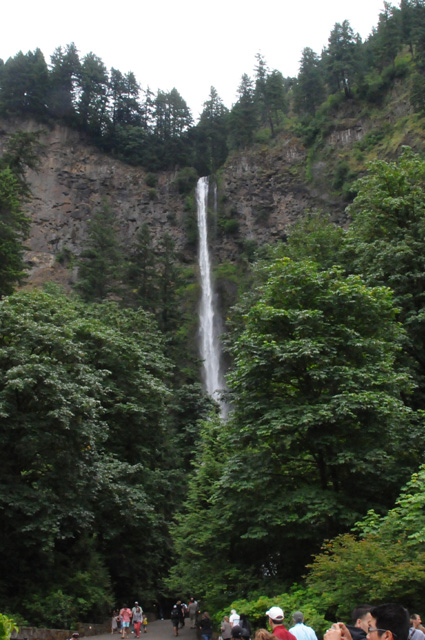 A shot along Old US30.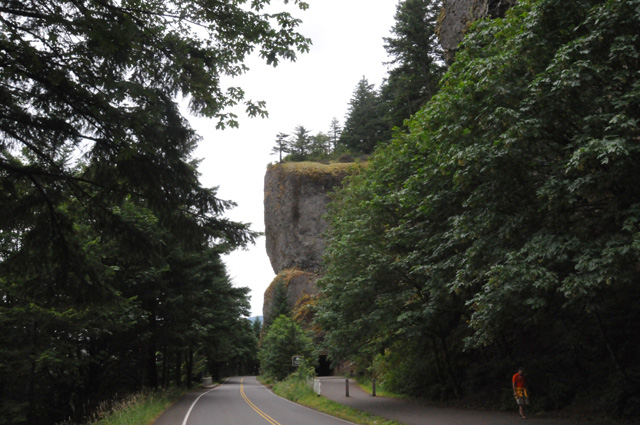 This is Horsetail Falls, a 176 foot waterfall.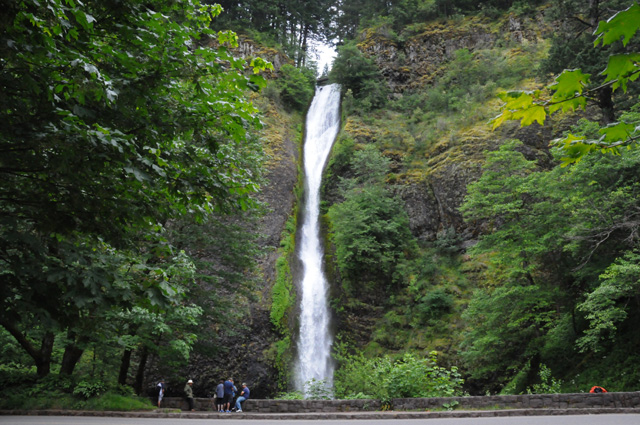 Another view in the Gorge.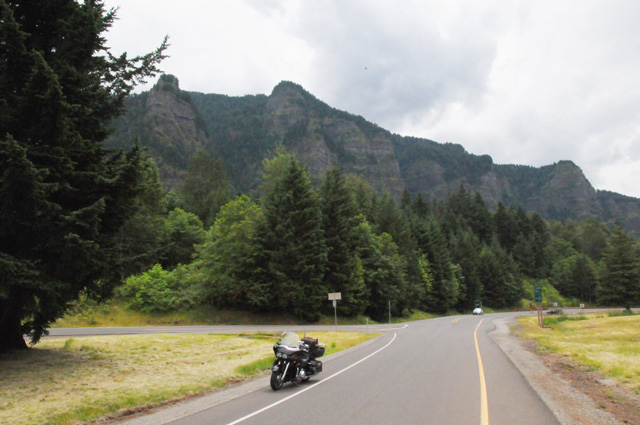 This is the Bridge of the Gods. This was as far up river as I got.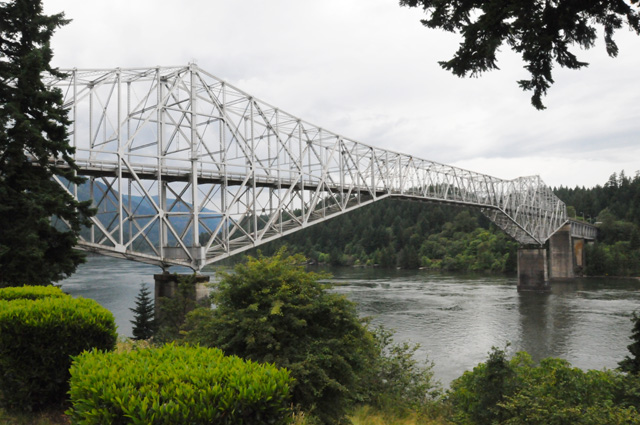 Looking across the river.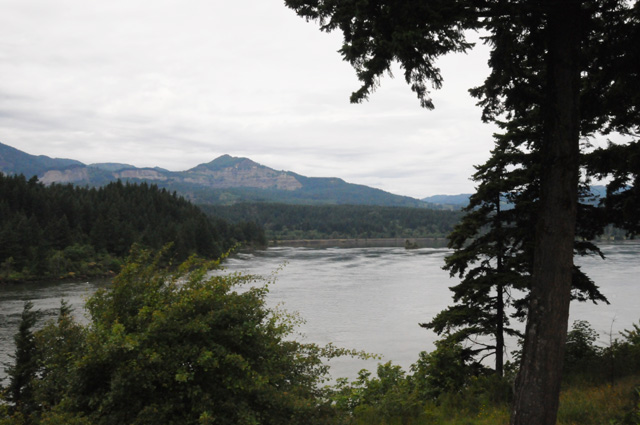 I heard this train before it reached this spot, then waited to get the picture. This is zoomed in at the center of the picture above.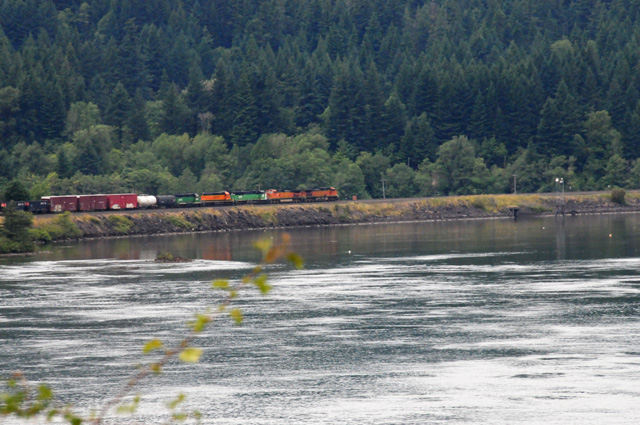 I am almost back to Portland now. I saw this "vista" on my way to the Gorge, but it is only for the other direction of travel. So, I am looking back into the Gorge. You can see just how dreary a day it was.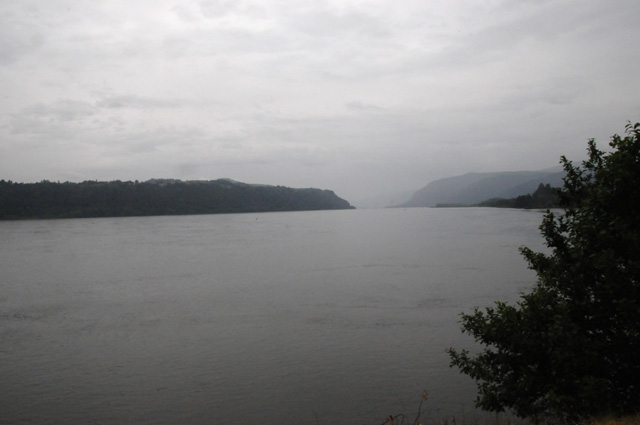 Then I was off to Olympia for the Washington State Capitol.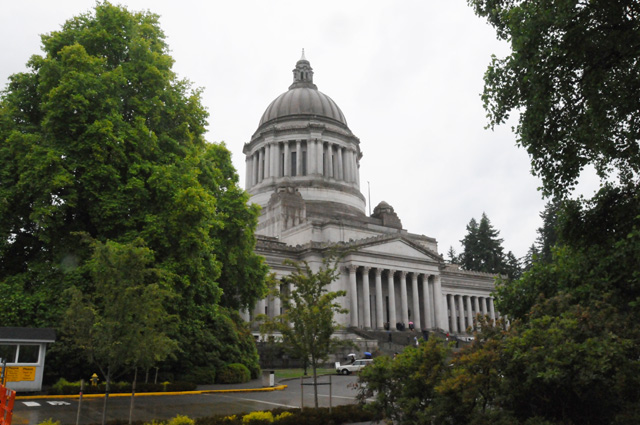 Even though it was late in the afternoon, perhaps time to call it a day, I kept on riding. This final shot was taken on a shortcut connecting I-5 to I-90. It is the diagonal road at the top left of my map. Pretty much the halfway point of my journey. At the time I thought the rainbow was the sign that I was out of the rain. Not so, I had more rain after taking this picture. A few minutes later the rainbow was a full arch, but I couldn't stop to take another picture. That was the only sun I saw all day.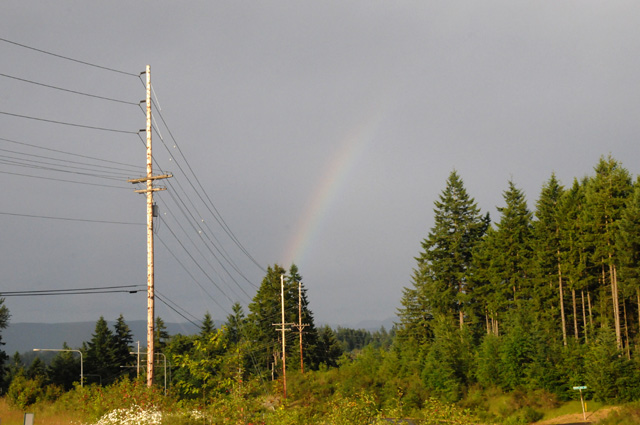 I have had a slight problem with the bike the past two days, the throttle sticks sometimes. It is an electronic throttle, not a mechanical throttle, but the sticking is mechanical. When I roll the throttle control on the end of the handlebars, it can stick and not return when I take my hand off. That made it fun when I was shifting thousands of times yesterday. It may be temperature related, it is only happening when I am in colder air. I hope to have it checked at a Harley dealer in Spokane tomorrow.
---
24 June 2013, 8:30 PM PT, Wallace, ID
Greetings from Idaho. As you know, I have been riding hard to get out of the rain. I may finally have done it. The morning started with rain. Here's what it looked like.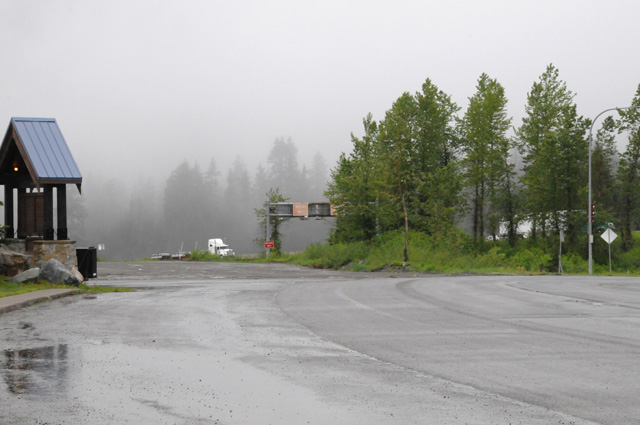 But, soldier on did I. Sometime later the skies were brighter, although never without significant clouds. Here's a windmill farm I rode past.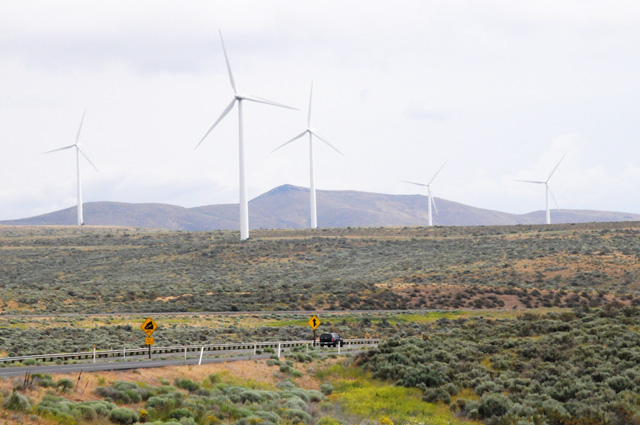 I wanted a closer look at the vegetation in the previous picture, here it is.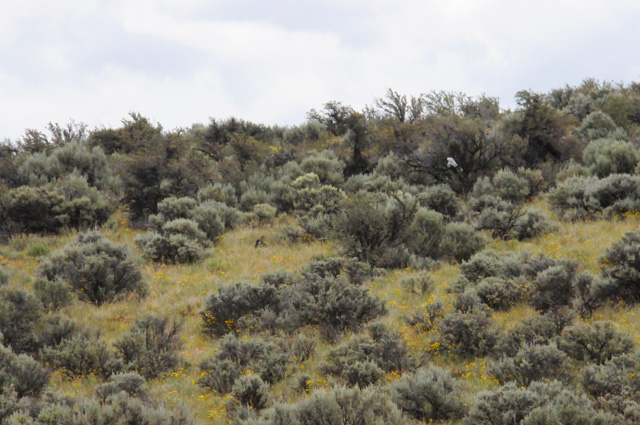 So far everything today is in the state of Washington. That's the Columbia River down there.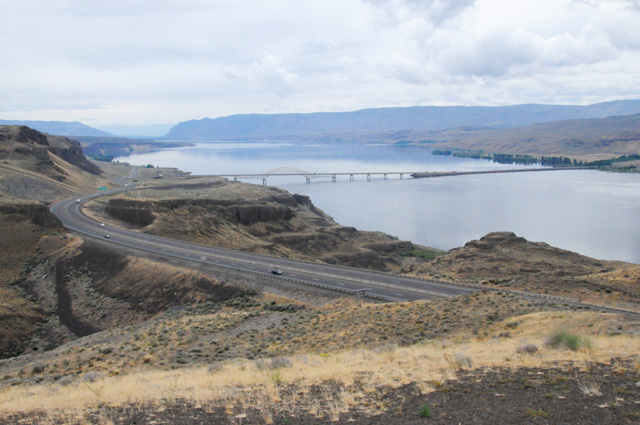 I stopped in Sprague, WA to get gas, and spotted this church. I liked the steeple, so I had to take a picture.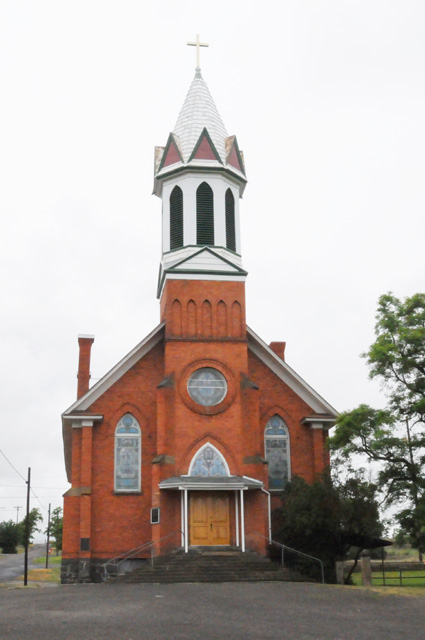 Entering Idaho. I just felt like taking a picture of the sign. Later this week I will meet up with niece Sparrow who lives in south Idaho. Maybe that's why I took this picture. I'm not sure.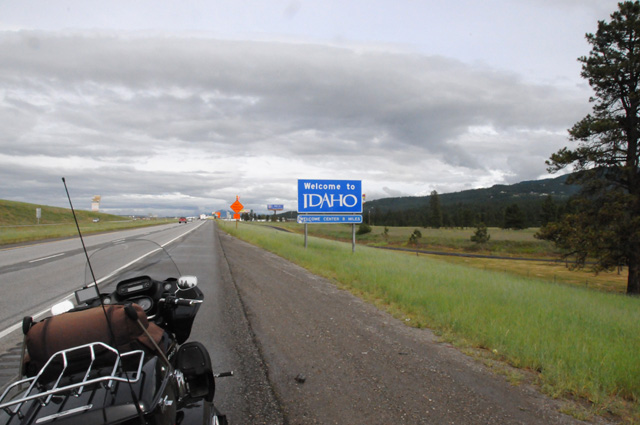 And here's a couple of pictures of the forest in northern Idaho. Can you tell that the sun is shining? Still lots of clouds, but the sun does exist in Idaho. I am not sure about Oregon and Washington. I cannot attest to it myself.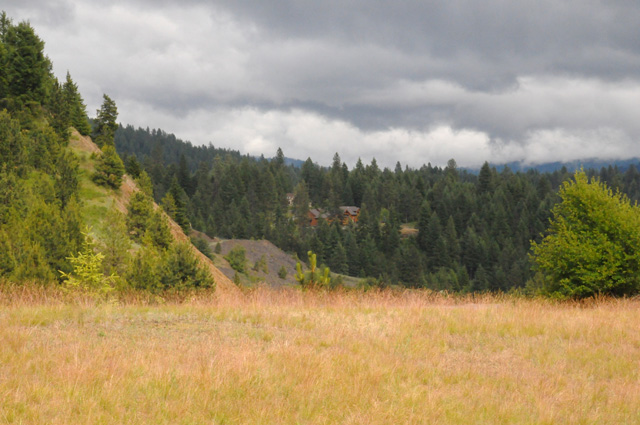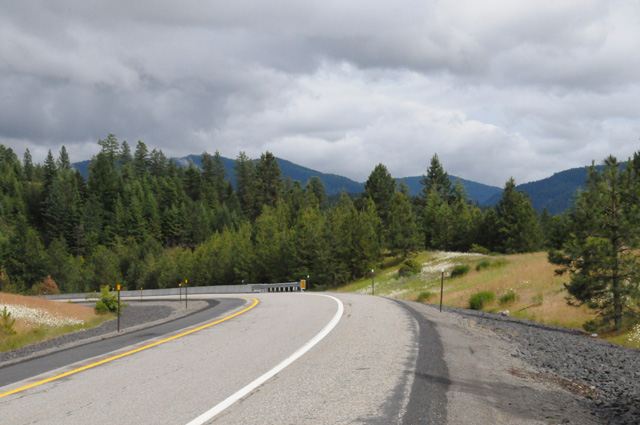 This bird was circling right over me. I think it is a red-tailed hawk. Surely one of my readers will correct me if I am wrong.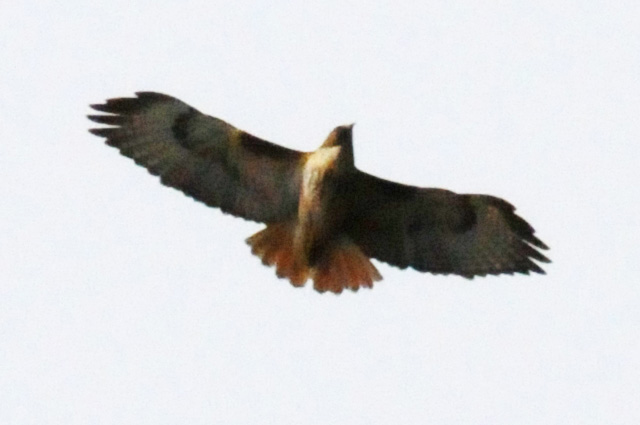 I cannot count today as a real day. I did not have a chocolate shake. I am laden with guilt, so much so, that I will probably have two tomorrow. But, on the other hand, I will be in remote areas tomorrow. I may find it difficult again to find a chocolate shake. Maybe that means three the next day. I don't know if I can handle that. I will try, though, if I must. I cannot let this go on too long, I will lose track of days.
Got the throttle fixed. It was a very simple problem. Spokane Harley, super nice guys that they are, didn't even charge me for the fix. The throttle grip was pushed on too tight and then the torx screws were tightened, it needed to be pulled off about 1/32 of an inch, then tightened again. That's all.
I rode 336 miles today. I have 5,908 total so far. I have been going 16 days, that's 369 average per day. That's a little higher than last year, which was about 330 miles per day.
Check back tomorrow. I should have ridden the Going-To-The-Sun Road. My trip is a month later this year, and it is because of that road. It did not open until last Friday.
---
25 June 2013, 11:00 PM MT, Great Falls, MT
I have a surprise for today. I rode my bike into Canada. Here's my new Canadian friend, Rob, welcoming me to Canada.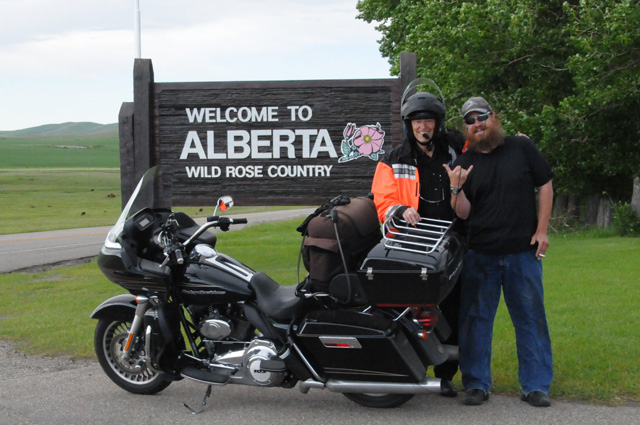 I am jumping well into the day, but let me continue with this part of the story then I will go back earlier. After I finished exploring Glacier National Park, I discovered I was only ten miles from Alberta, Canada. I had my passport with me. I decided to go for it. I went through Canadian immigration, rode the bike about 500 feet to the sign you see in the picture above, posed with Rob, then turned around and went through American immigration and continued my journey. I was in Canada about 15 minutes, but I was there. I can now say I have ridden my bike in Canada.
Back to the start of my day. I was in Idaho, close to the Montana border. After a few minutes on the bike, I was in Montana. Here's my first view of Montana.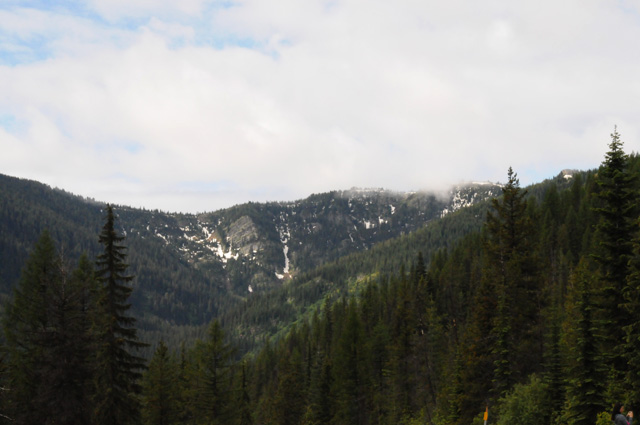 You can see blue sky, but you can also see that the top of the mountain is in the clouds. The weather has not cleared completely yet. In fact, I was in some rain late in the Glacier part of my day.
Here's three more Montana pictures, they show the countryside as I headed to Glacier. You are going to get a lot of pictures today. I hope you are up to this.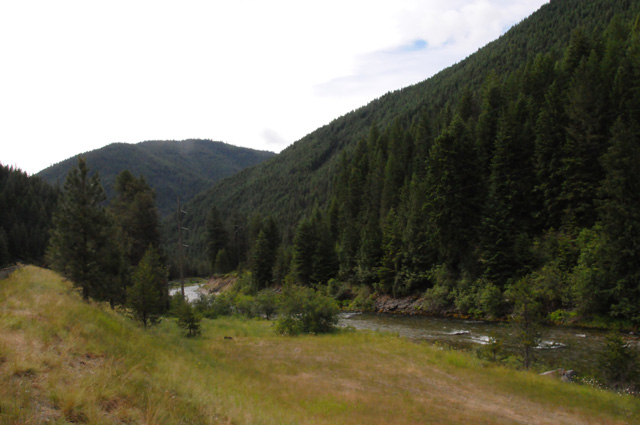 That's a railroad bridge.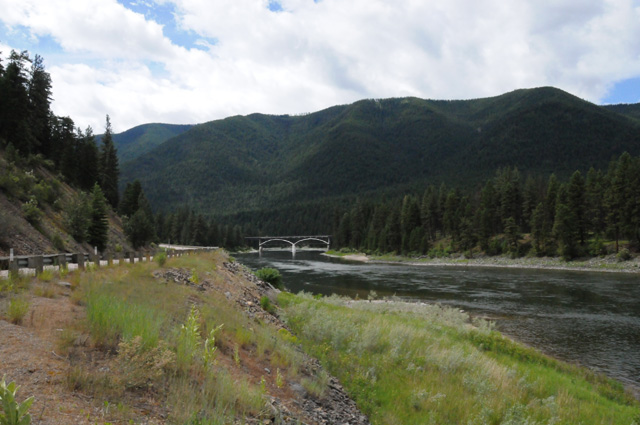 The ride was just so pleasant. Beautiful scenery in the mountains, usually with a river beside the road. Then the scenery changed.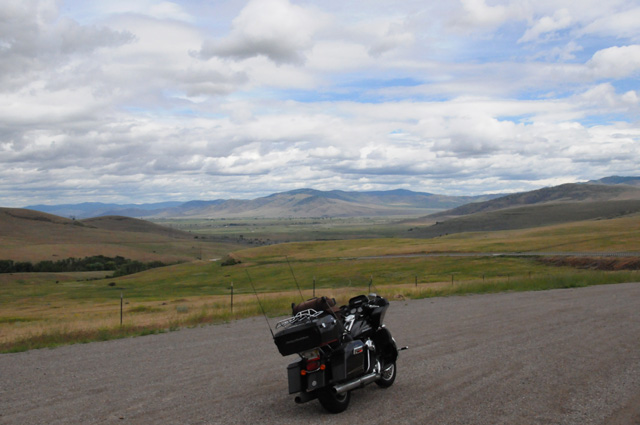 I'm off the Interstate now, headed into the mountains.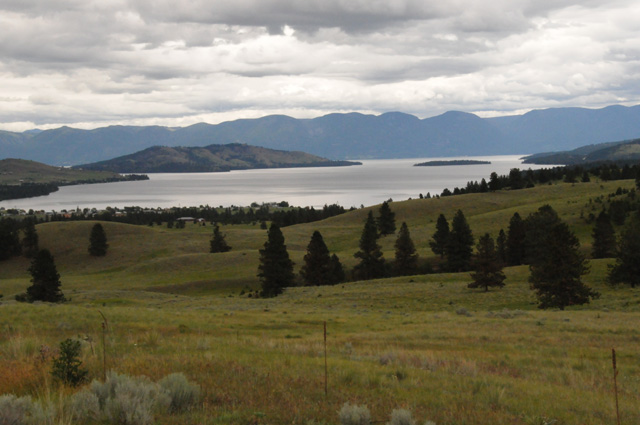 I'm going to go through that gap into the distant mountains.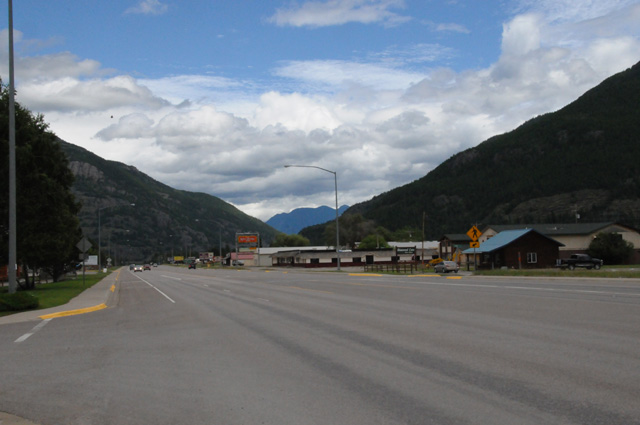 I'm getting closer to Glacier all the time.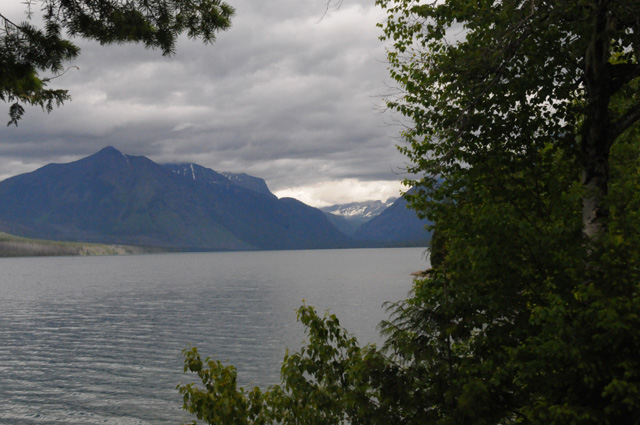 I have entered Glacier National Park now. I am on the Going-To-The-Sun Road. Towering mountains with glaciers are right by the road.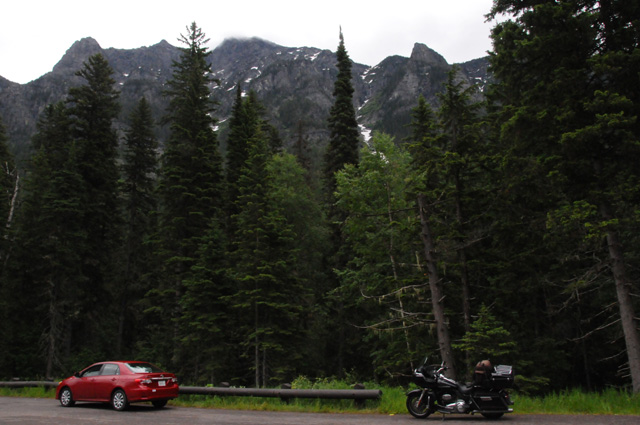 Lots of water.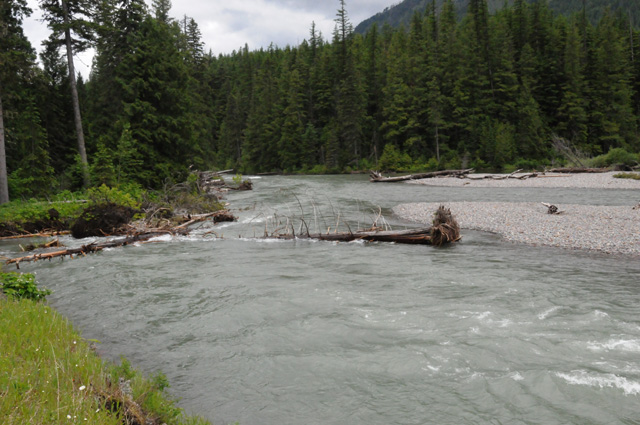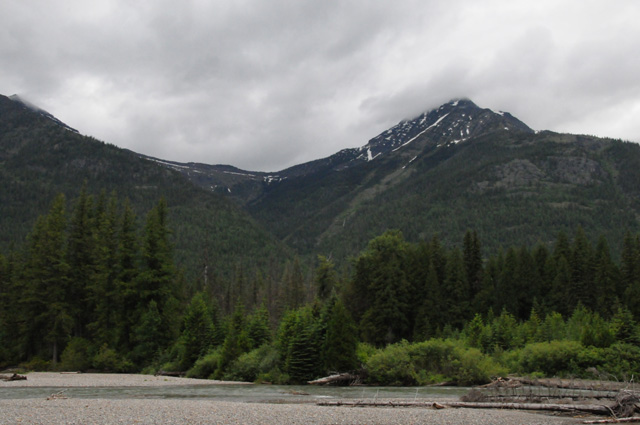 Two beautiful waterfalls.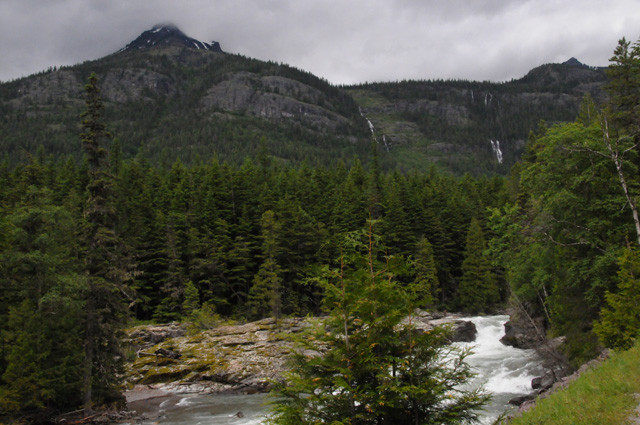 I went past them looking for a good place to park the bike to get a picture, but went too far. Then I turned around and went too far. There was no place to park where you could see the falls. So, I had to do a little walking to get this picture.
Here's a closeup of one of the waterfalls.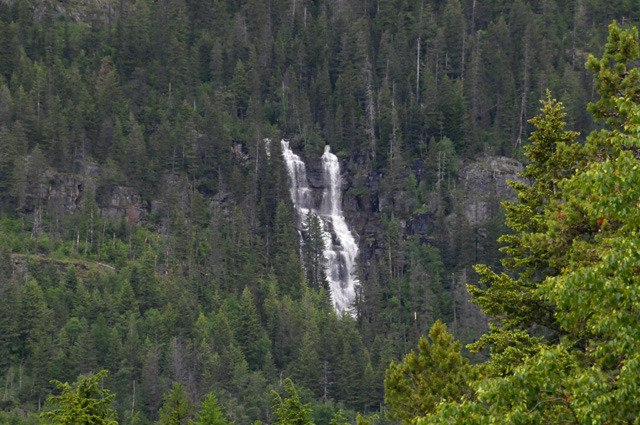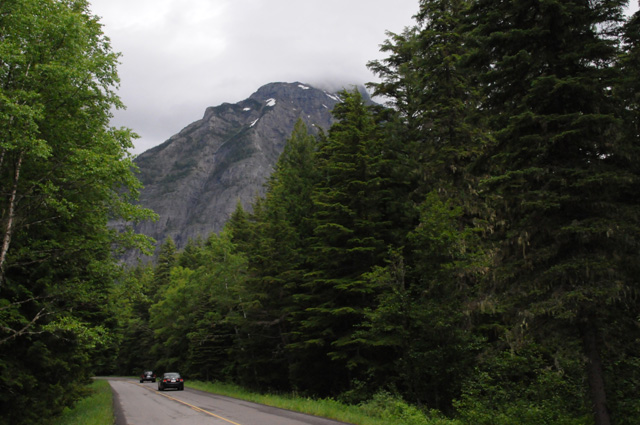 Road construction caused us to sit here about 15 minutes, then we were escorted a couple of miles over rough road that they are going to re-pave.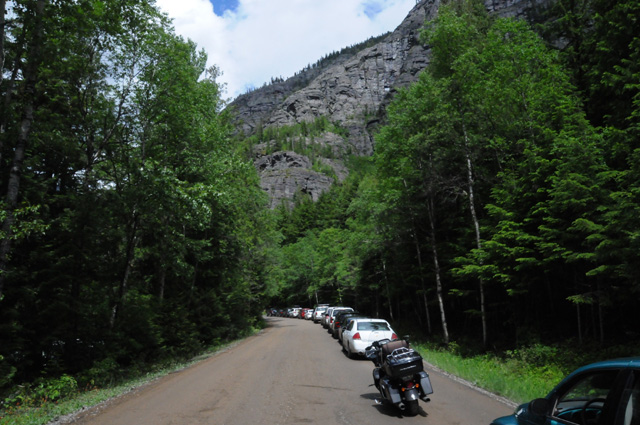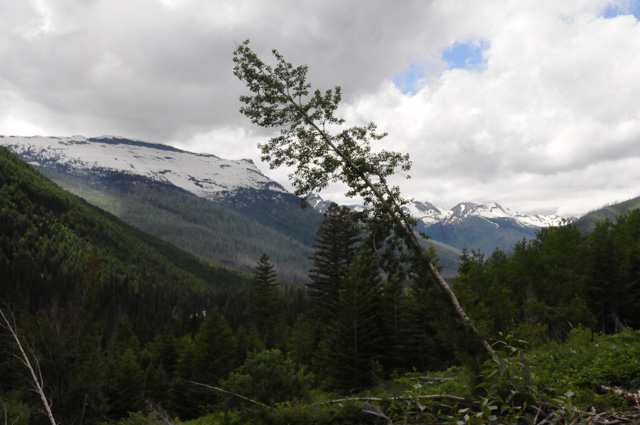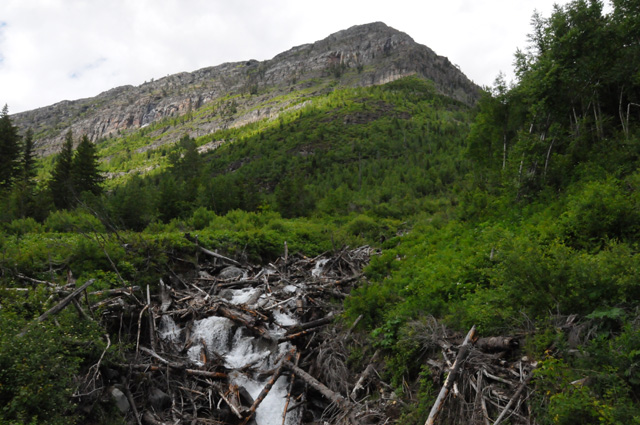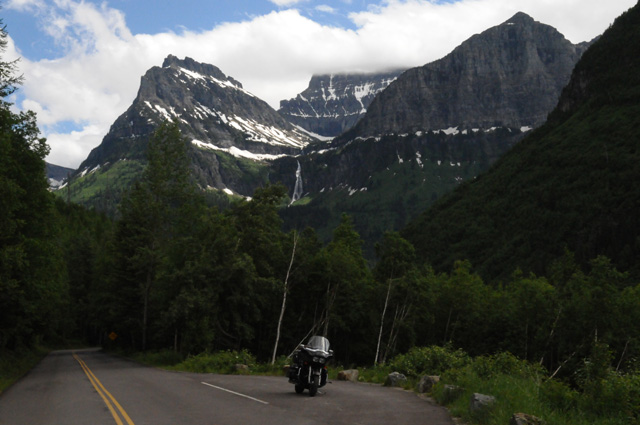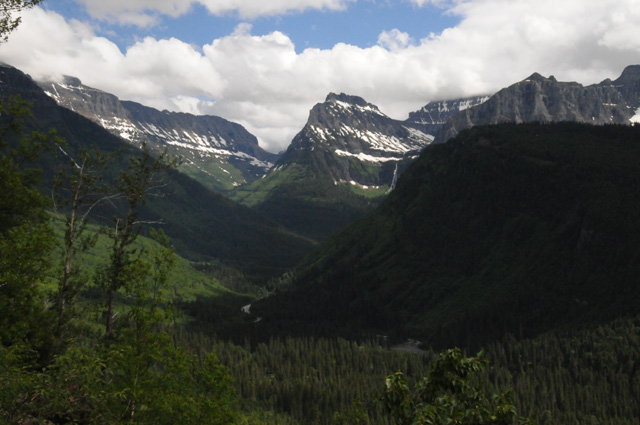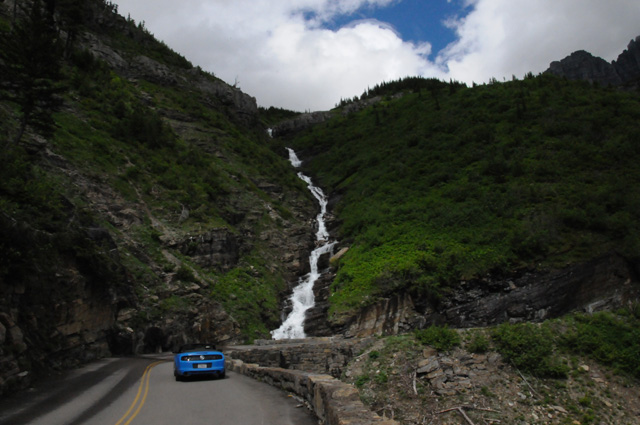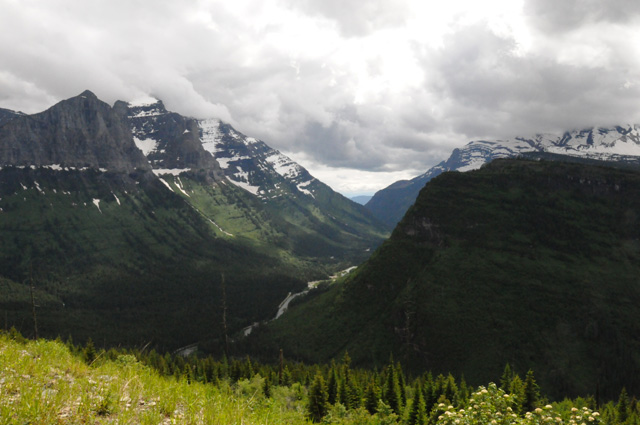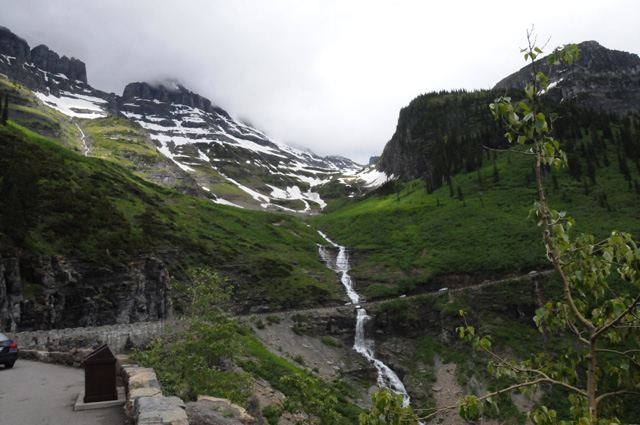 This is Logan Pass. It was only cleared of snow last week. It is the highest point on the Going-To-The-Sun Road. It is also on the Continental Divide.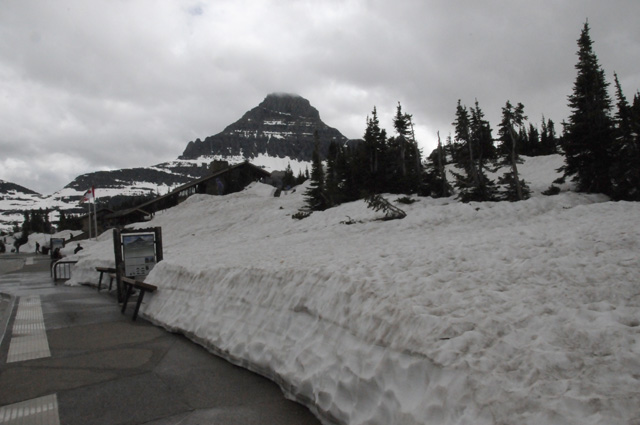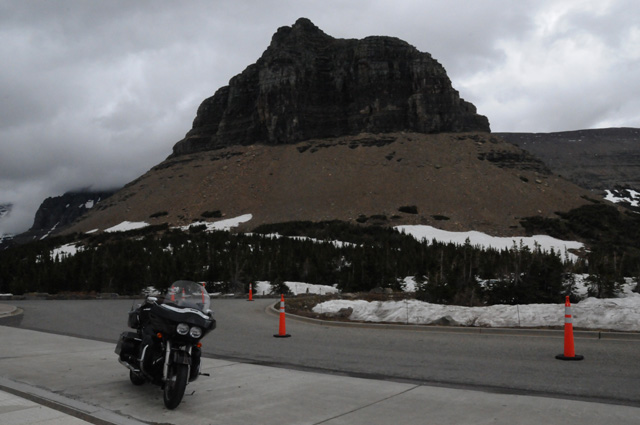 Now I am going down the other side of the pass.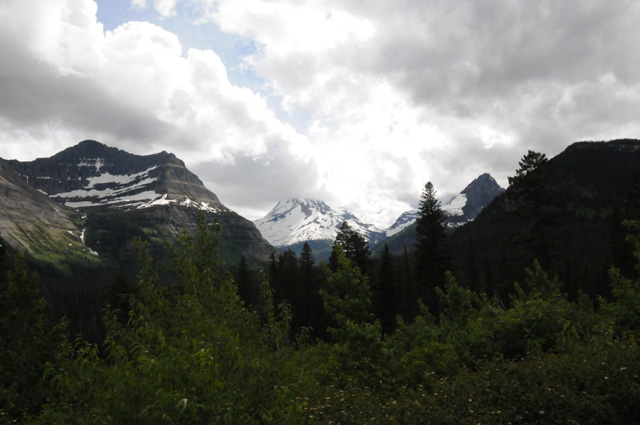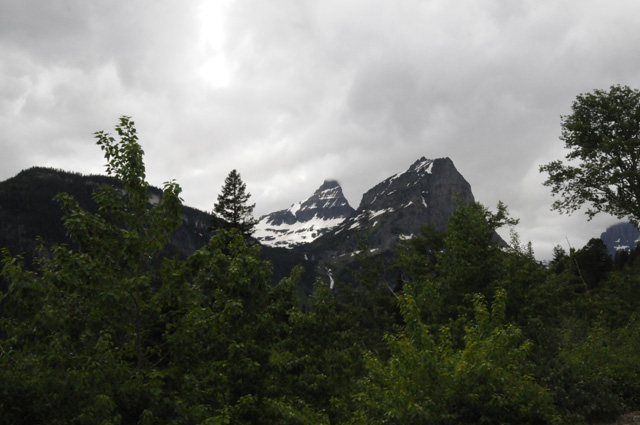 I didn't take many pictures on this side, the sun was in the wrong place, plus, I already had a lot of pictures. I hope you are not tired of looking at them. I have to say that this was a most spectacular day for me.
I entered Glacier on the west side, went east on the Going-To-The-Sun Road, then exited on the east side. I rode north ten miles and entered again on the Many Glaciers Road. That was the wet part of the day. It was getting too late, about 5PM, and thunderstorms had formed. There were many glaciers to be seen on this side, the north side, but the rain kept me from seeing them as well as I would have liked.
This is when I entered Canada.
On the way back south, I stopped to get a picture of the Blackfeet Nation's welcome sign.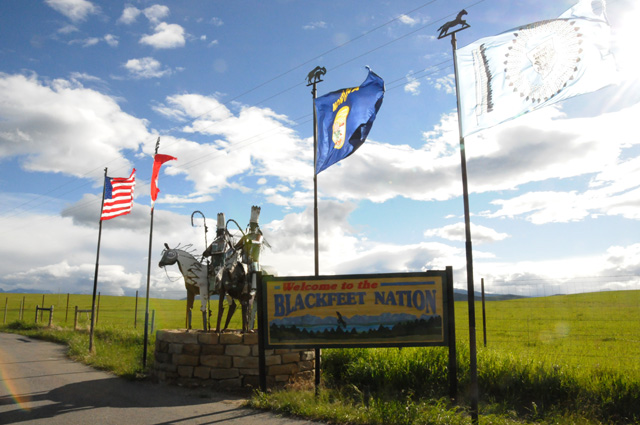 Here's just the statue.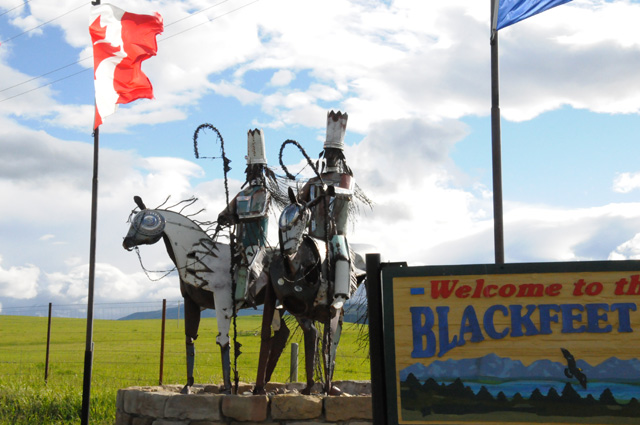 We are looking at the Glacier mountains from the north, seeing only the highest part of the mountains. You can see the anvil of a thunderstorm.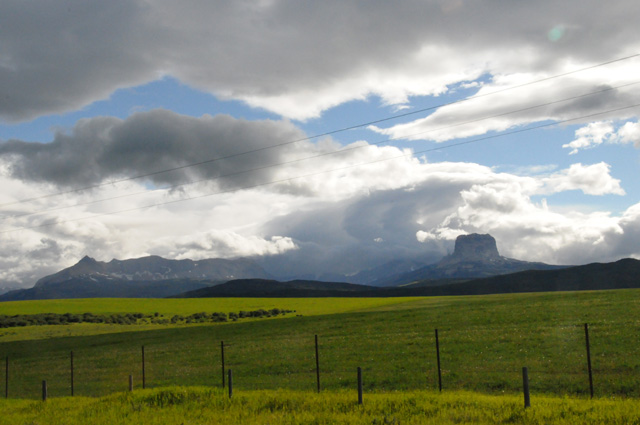 Here's another couple of pictures of the scenery, this is east of Glacier on a high plateau, about 4,000 to 5,000 feet elevation.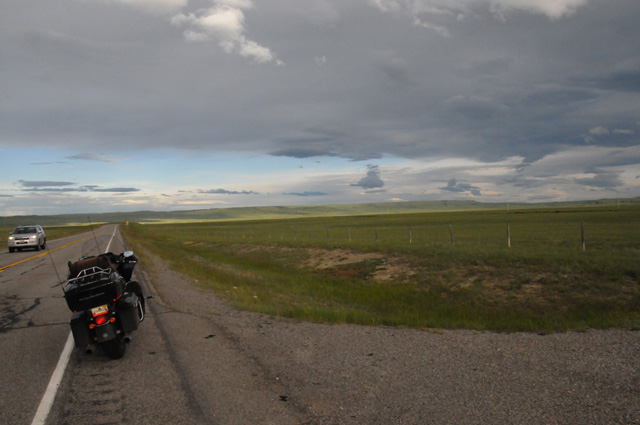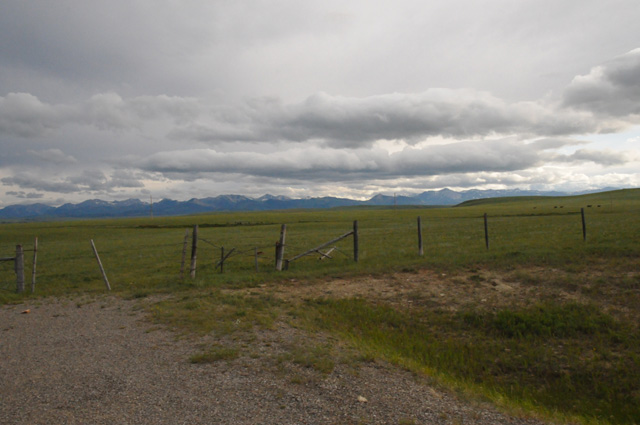 I rode until well after dark. There were no lodging establishments. I was afraid I was going to have to hobble my horse and sleep under the stars. The setting sun sky was spectacular.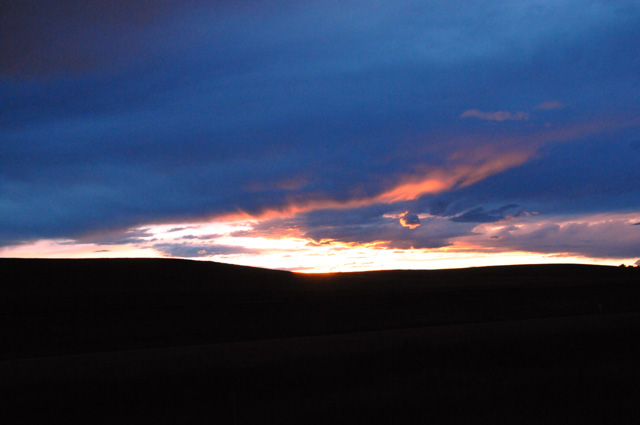 Finally I arrived in Great Falls, found a room, found a chocolate shake (I am still one short), and started working on my travelogue. I rode 475 miles today. I have 6,383 total now. I will be many miles over 10,000 when I get home. I may be close to 11,000.
Tomorrow I will see niece Sparrow.
---
26 June 2013, 11:59 PM MT, Pocatello, ID
Today I rode from Grand Falls, MT to Pocatello, ID, 430 miles. My niece, Sparrow, was going to meet me at Yellowstone, but problems befell her car, and she was stuck in Pocatello. I decided, what the heck, I will go to Pocatello, and I did.
I took fewer pictures today, and compared with yesterday, hardly any. The first is a view of the Missouri River in Montana. You might have a problem spotting the river, it is somewhat hidden. Look in the middle of the picture.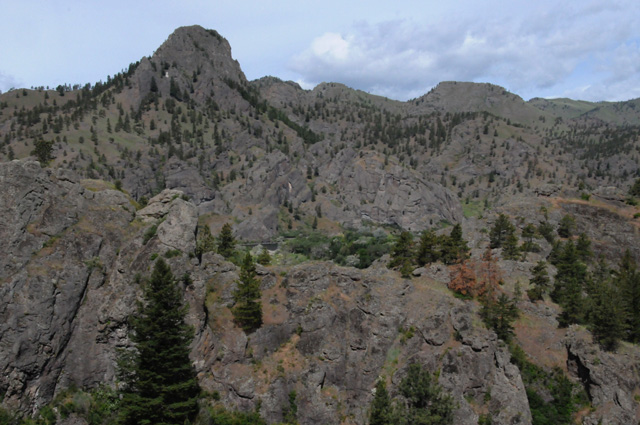 Here's a close up in case you had trouble seeing the Missouri.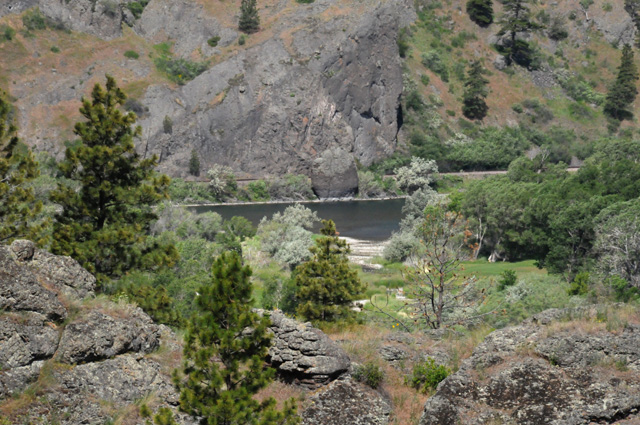 Another capitol city today, Helena, Montana. The statue on top of the copper dome is the "Goddess of Liberty".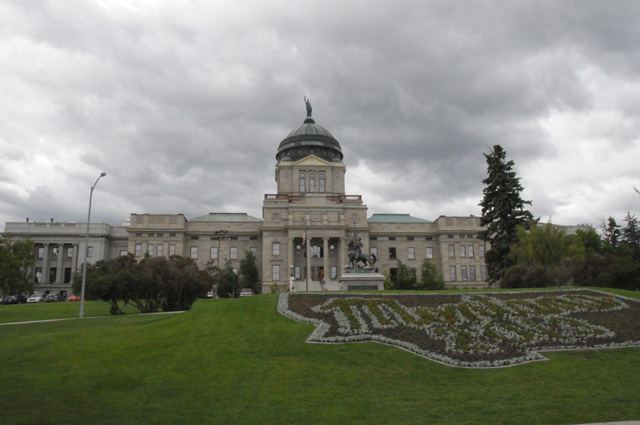 This is Butte, Montana.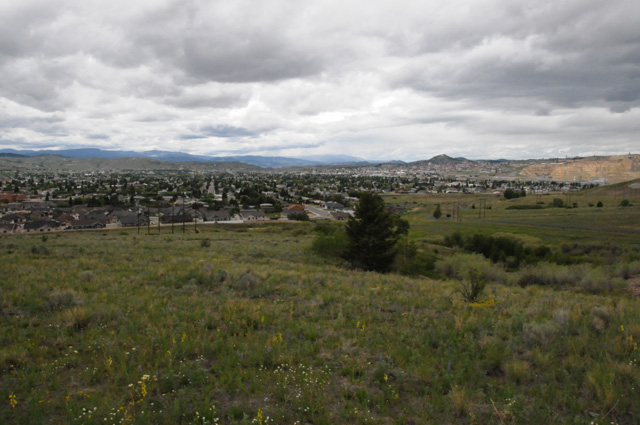 The terrain in southern Idaho was quite different. In Montana, typically you saw close mountains in all directions, and small valleys. Here in Idaho, you see distant mountains in all directions, and very flat land between the mountains. Here are two examples.
I arrived in Pocatello late afternoon. Sparrow and I met first at a coffee shop, then had dinner. We had not seen each other since 1994.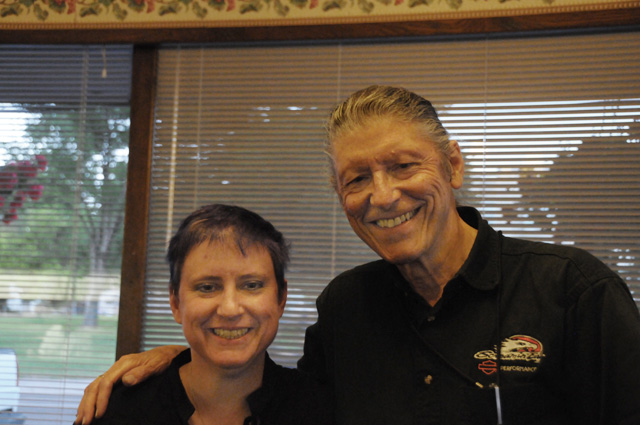 When I left dinner, it was getting late, almost dark. I thought I would get 20 to 50 miles up the road, but I decided pretty quickly after getting gas that I didn't want to ride any further. So I went up I-15 only one exit and found a Best Western.
Tomorrow I am off to Jackson, Wyoming and Yellowstone and the Beartooth Highway.
I keep forgetting to mention it, but the sticky throttle is fine. Spokane Harley knew exactly what they were doing. I have been in cold weather several times since then, and it is perfect.
---
27 June 2013, 10:30 PM MT, Gardiner, MT
I warned y'all. All day long I have thought today was Wednesday. During dinner I discovered that it is Thursday! Here's what I said on June 23: "Had my chocolate shake also. That's how I keep track of days, by counting shakes." Go back and check it. You will see that I said it. Then on June 24 I said: "I cannot count today as a real day. I did not have a chocolate shake. I am laden with guilt, so much so, that I will probably have two tomorrow. But, on the other hand, I will be in remote areas tomorrow. I may find it difficult again to find a chocolate shake. Maybe that means three the next day. I don't know if I can handle that. I will try, though, if I must. I cannot let this go on too long, I will lose track of days." So, here's what has happened. I have had a chocolate shake every day except the 24th, and I have not made it up yet. And you can see what has happened, I am off one day thinking that today was Wednesday. If I don't get this fixed soon, I am going to have some real problems.
I left Pocatello this morning, late. I was up late last night. I finally got off at 9:30, and I didn't get as far today as I had hoped. I quit a little early, but that was because I was ready to start the Beartooth Highway, and I might have finished it after sundown. I don't want to be in the high mountains after dark. I can ride in the dark, I have a number of times, but I don't want to be in high mountains and run out of light. So, I will tackle the Beartooth Highway tomorrow morning. I would have preferred afternoon, because that way the sunlight would be behind me, but I think I will be able to manage. I may not know what day it is, but I will know I am on the Beartooth Highway.
Do you ever check out my map to see where I am? You may not have noticed, but I update it daily showing a blue bar where I spent the night. It seems that I update the red path every day also. For example, I am in Montana tonight, directly north of Old Faithful. That wasn't on the red path until I updated it tonight to show the red path going into Montana. I have said I do not ride to a schedule, and I do not reserve hotel rooms in advance. That's because I keep changing where I am going. When I left home I had no idea that I would end up in Pocatello. It could be that I wouldn't have known how to spell Pocatello. Anyway, I just wanted you to know that I do keep the map up to date.
Let's get to today's pictures. I want you to know that I took 74 pictures today, but I am not going to show you all of them. Just the very best ones.
OK, what is this bird? When I took the picture, I thought it might be a bald eagle. Now I don't think so. It might be an osprey. Somebody tell me. This nest is on a platform on top of an electric pole.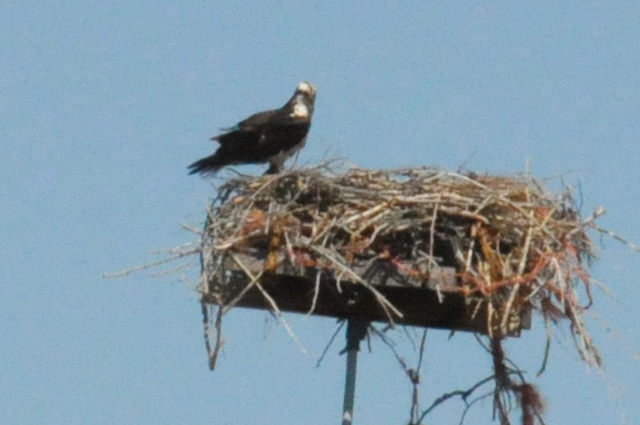 This is the Snake River. I saw it a number of times today. This was in Idaho. It runs through Jackson Hole, through Yellowstone, and it empties into the Columbia River. It is 1,078 miles long!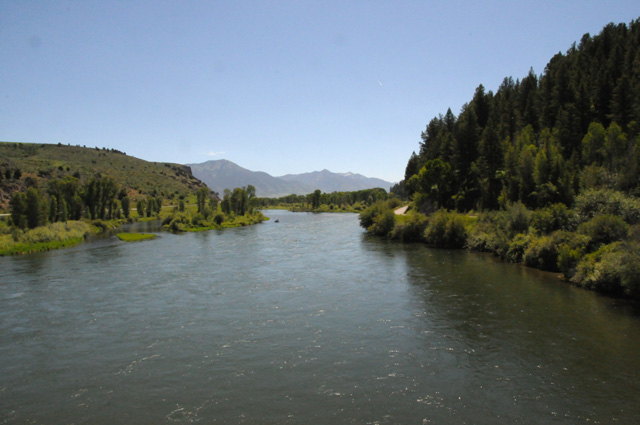 Now I have climbed the west side of the Grand Tetons, and I am in Teton Pass, about 8,400 feel elevation, looking down east to Jackson Hole. The sign says, "Howdy Stranger, Yonder is Jackson Hole, the Last of the Old West."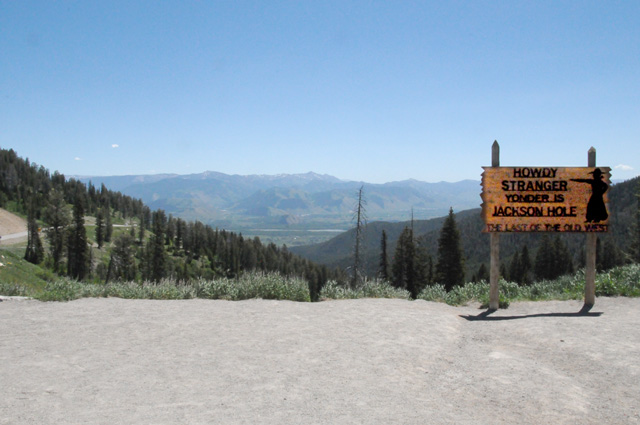 The Grand Tetons soar up on each side of me.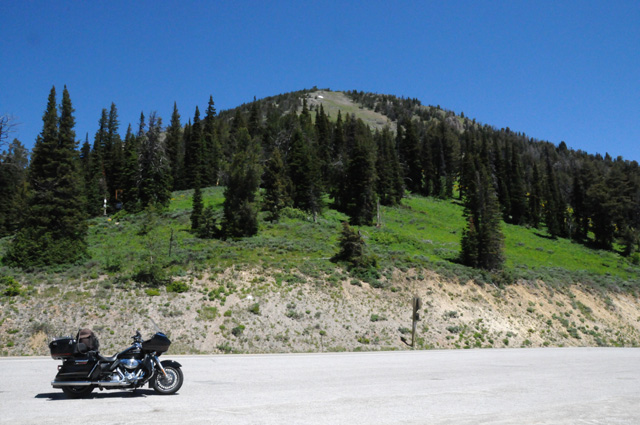 Suddenly I am overcome with an urge to know what a Grand Teton feels like.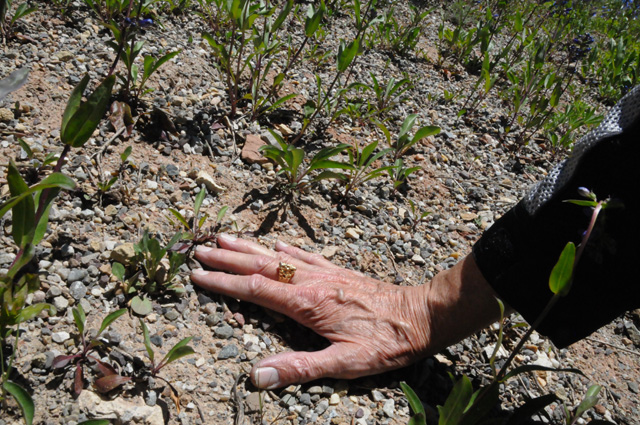 Now I know.
I descend the east side of the Grand Tetons into Jackson Hole. I was here 13 years ago with Hanna for the Jackson Hole Film Festival. I decided to find where the film festival was held. And I did. At the Snow King Resort.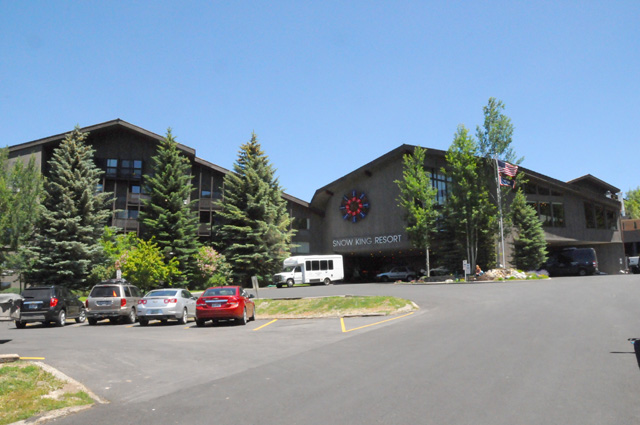 I remember our last morning there in 2000, it was September 23. It had snowed overnight. I was concerned about getting out of Jackson Hole. We would be going through the same pass I just came through on the Harley. We made it just fine, but snow plows had been in the pass. Here's what I saw from our room that morning. That was an early snow, the night of September 22.
Here are some shots of Jackson earlier today.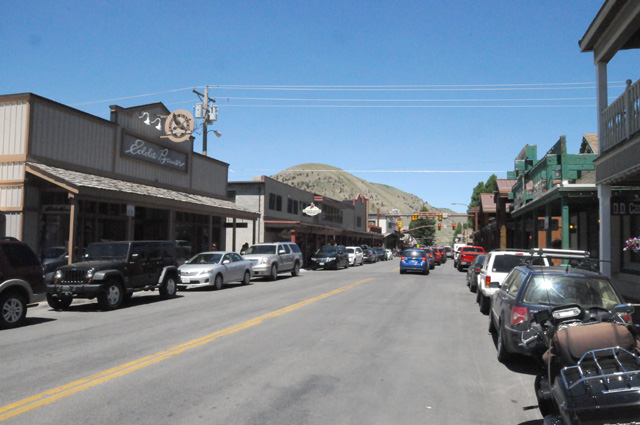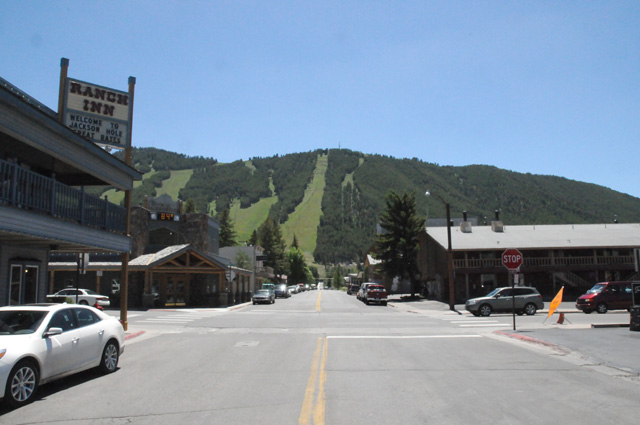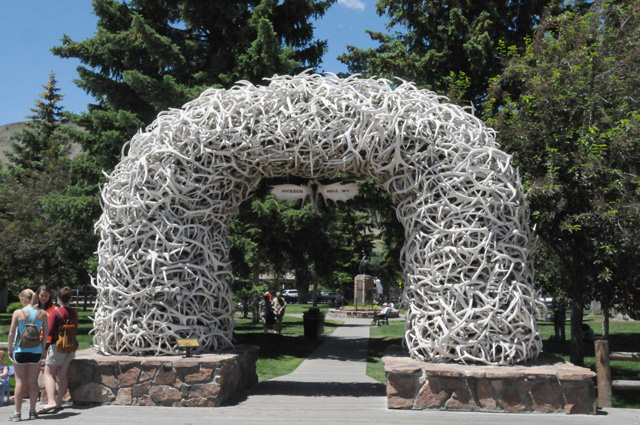 That's antler horns. All four corners of the park had a gate like this.
Then I headed north to Yellowstone, I wanted to see Old Faithful again. I was not satisfied with the pictures I took in 2000, the sky was filled with clouds and it was hard to distinguish the geyser from the clouds. I knew that would not be the case today with the bright blue sky. I ran along the Grand Tetons first, and found them as amazing as ever. Here are some pictures I took today.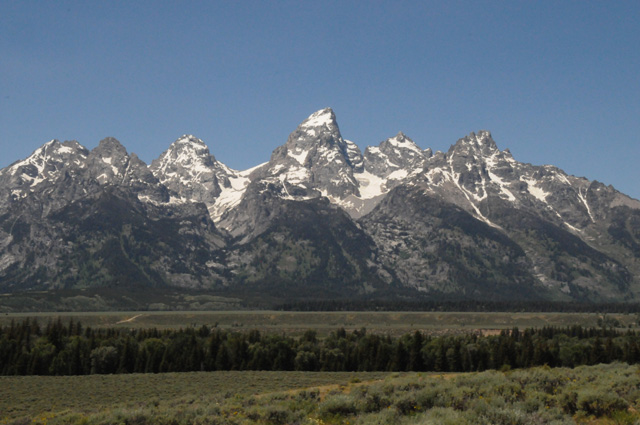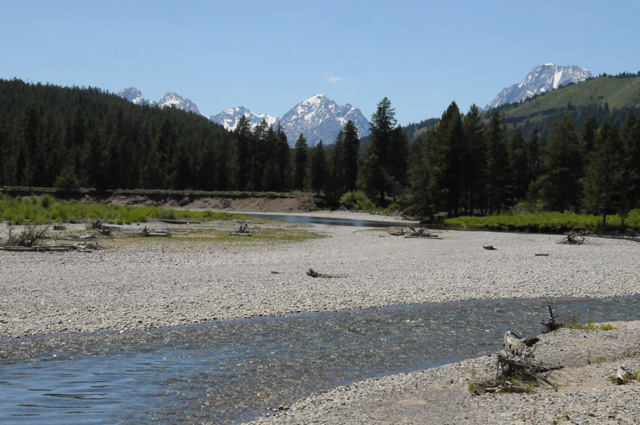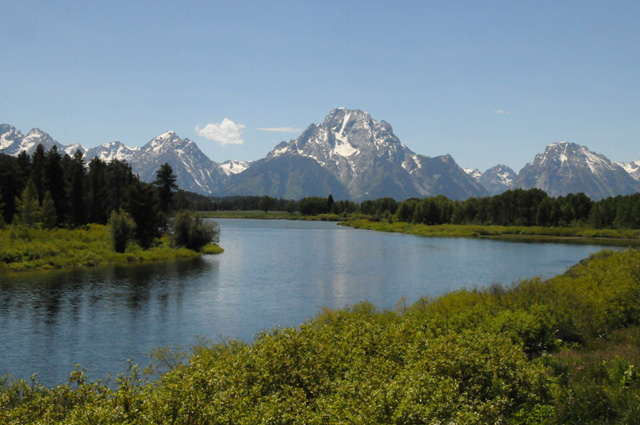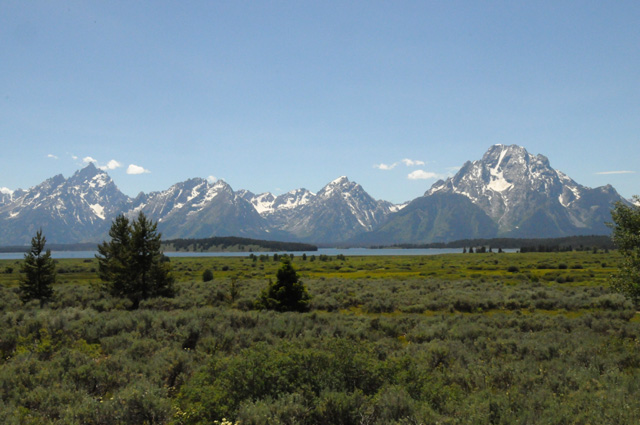 Makes you wonder why people like Harrison Ford would want to live in Jackson Hole. How can you take that beauty day after day? I would go crazy.
I spotted this guy fly fishing along the way, and it was another reminder of our visit to Jackson Hole in 2000. One evening an event was planned where some of us were taught how to fly fish. I was busy talking shop, but Hanna volunteered. It was kind of funny. The guys had trouble, they thought they knew what they were doing and would not follow instructions. Hanna knew she did not know what she was doing, so she listened and followed instructions, and was told she did the best!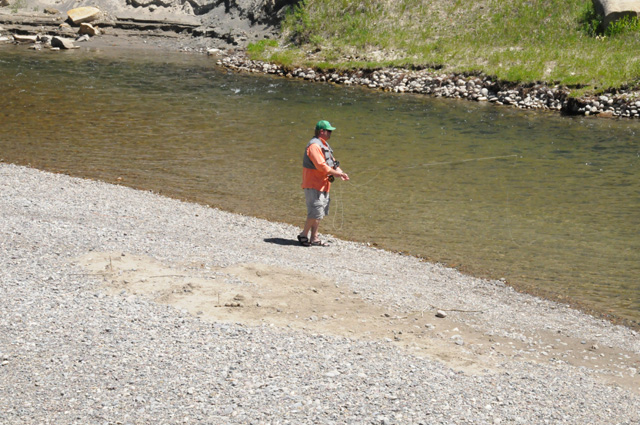 Then on to Old Faithful. Here's my pick of the 33 pictures I took today of Old Faithful.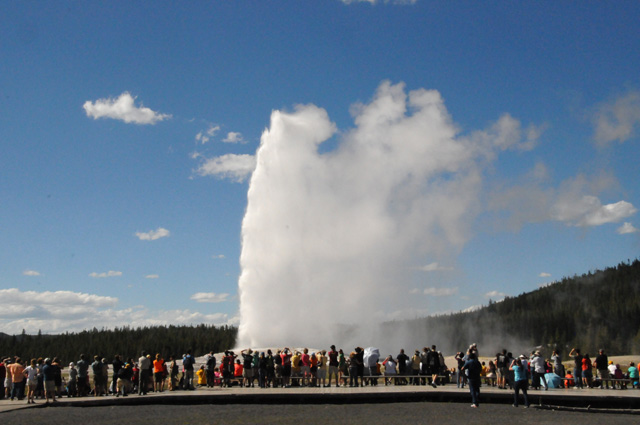 As I continued my travel toward the Beartooth Highway, I saw these critters grazing beside the road.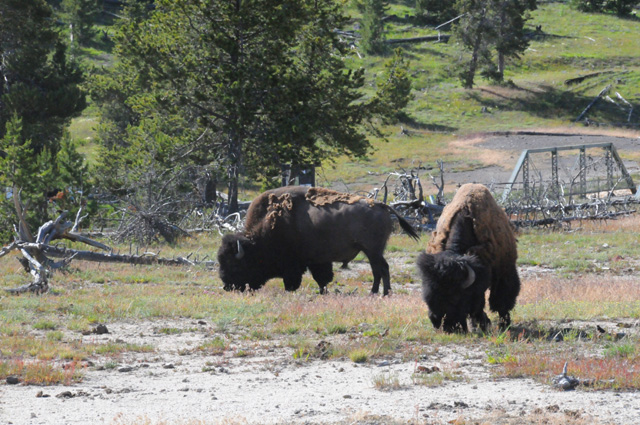 I crossed the Continental Divide several times today. I will be in mountains again tomorrow, and that will be all the high mountains for this ride. I will hate to leave them behind, they can be awe inspiring.
---
28 June 2013, 11:00 PM MT, Sheridan, WY
Well, here we go again. I had to change the red track on the map. I was planning to take US-212 from the Little Bighorn Battlefield to Devil's Tower. There was a big orange sign on US-212 giving a caution for motorcycles, saying there is road work ahead and it may be unsafe for motorcycles. I talked to a park ranger, and he told me the problem is loose gravel on the road (which I dislike very much) and that there are no detours around it, either I take the road under repair or I take I-90.
I started the day in Montana, went into Wyoming, went into Montana, and went into Wyoming. I logged 324 miles today and 2 chocolate milk shakes. Now I know what day it is, it is Friday. I forgot to tell you that I had 305 miles yesterday. As of the end of today (which I know is Friday), I have a total of 7,441 miles on this ride. I have 9,012 miles on the bike now, which means I will soon need another service. I will have to start planning for that. I'll think about it tomorrow, not today (which I know is Friday).
I can confirm that the bird from June 24 was a red-tail hawk and the bird from June 27 was an osprey. The bird confirmer is daughter Cindy, who is an expert. She gave me Sibley's bird guide, I must have learned something from it!
I want to thank all of you who have written an email to me. I do appreciate getting your thoughts and greetings. I may be slow getting back to you, but let me say here that I am very happy to get them. It is amazing how time gets used up during the day, either I am sleeping, or eating, or sitting on the bike, or sitting in front of the computer composing this travelogue. I do get in some phone calls to Hanna and some business calls. Normally at home, I will read half an hour to an hour every night before retiring, every night. I don't even take a book with me on my rides, I know I will never have the time to open them.
Enough of that. Let's look at some pictures. I was riding along cluelessly headed from the motel in Gardiner MT through the northern part of Yellowstone to the Beartooth Highway when the scattered bushes in a valley far below caught my attention. I started thinking that they were not bushes, I need to get a better look. I stopped, grabbed my binoculars, and here's what I saw.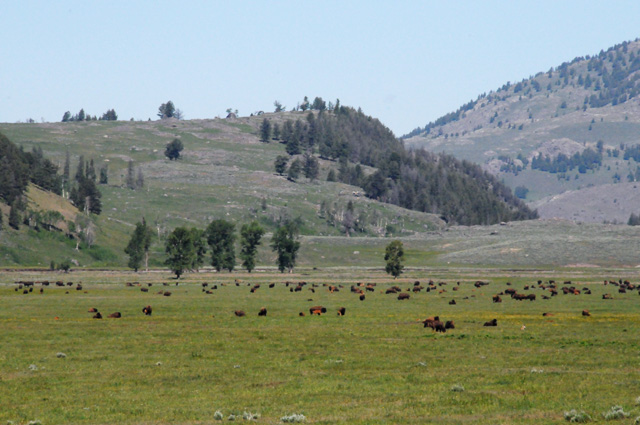 Here's a closer look.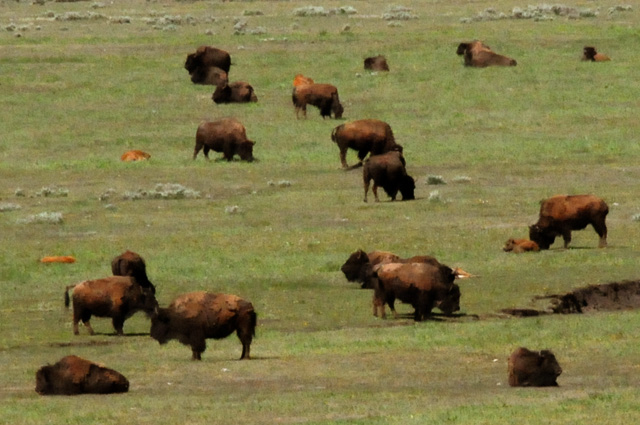 A herd of buffalo!
Next I will give you several pictures taken along the Beartooth Highway.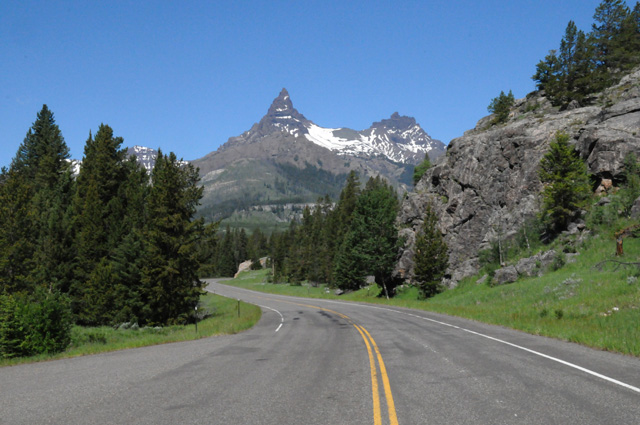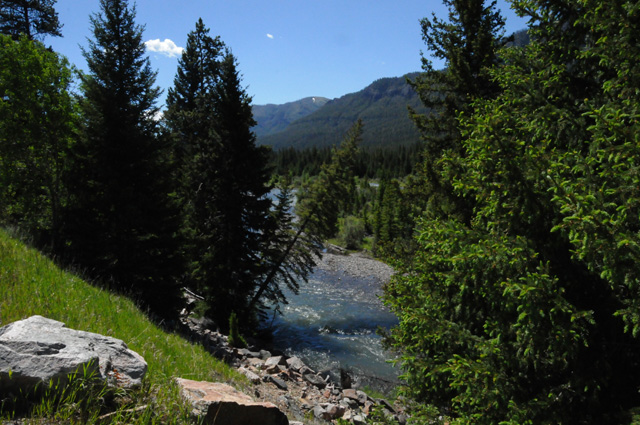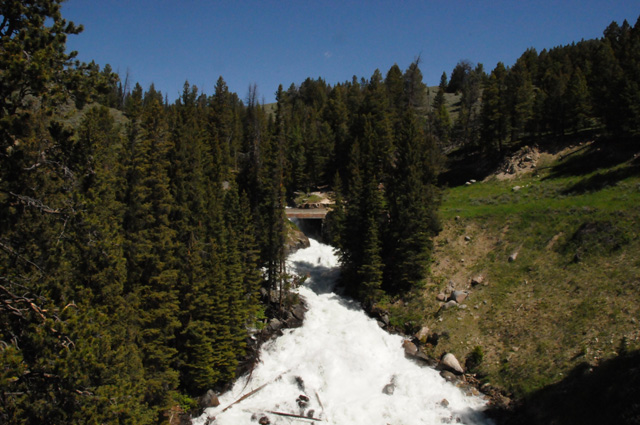 The previous picture was the upper half of a waterfalls/rapids taken from a bridge. The next picture is looking at the lower half from the other side of the bridge.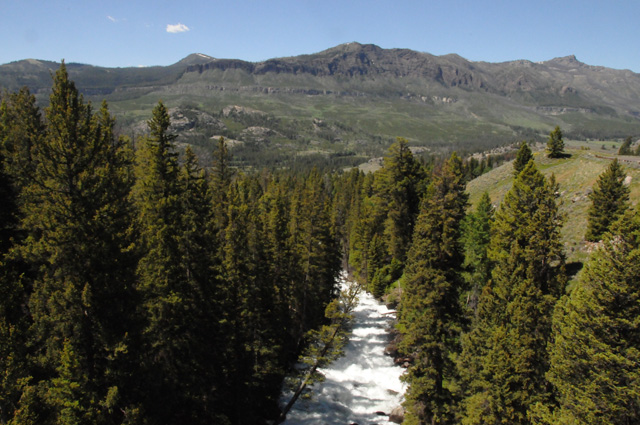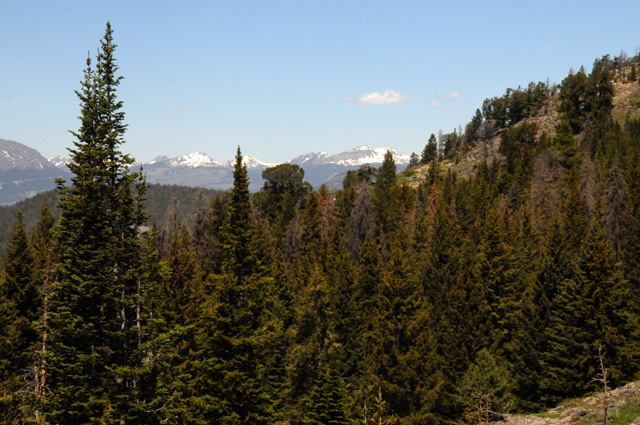 The lake in the picture below is Beartooth Lake.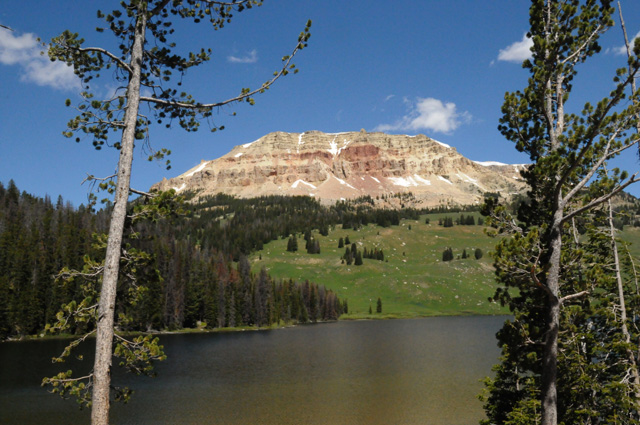 Now I am at 11,000 feet. The ice started at 10,000 feet.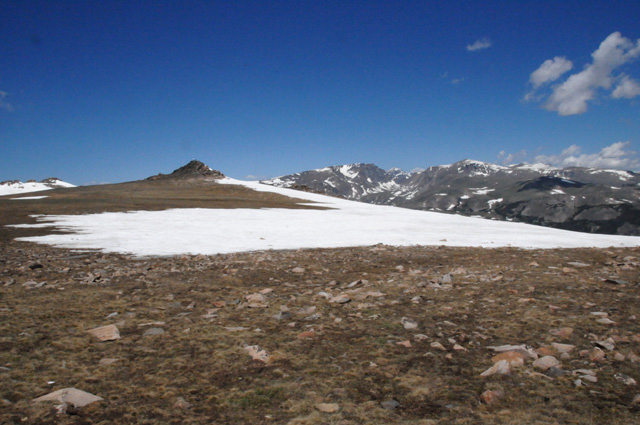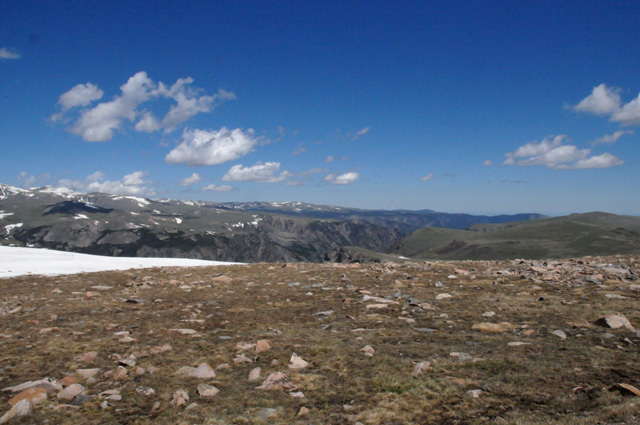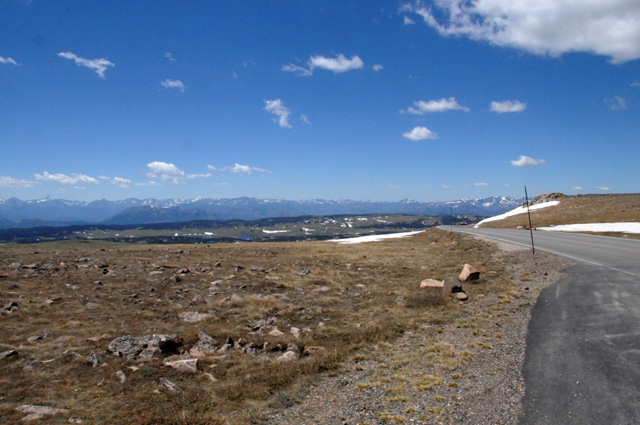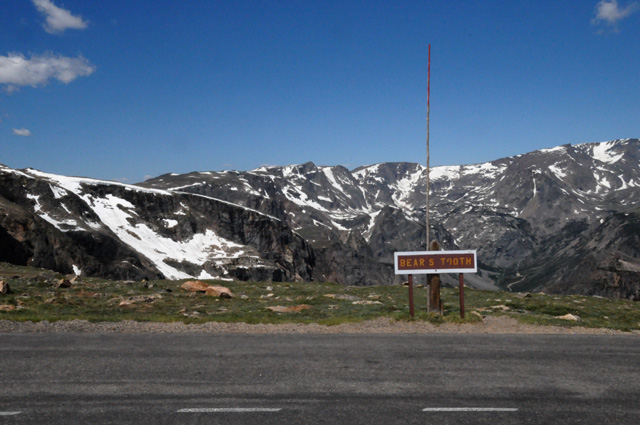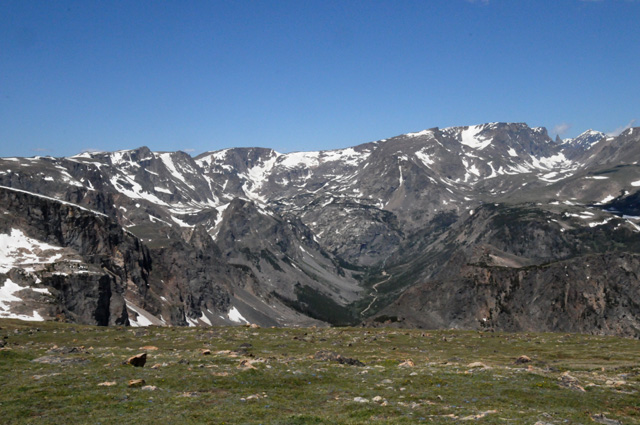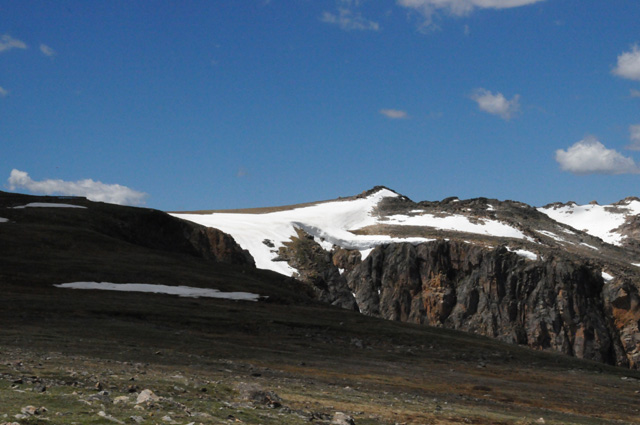 I saw this critter on the way down.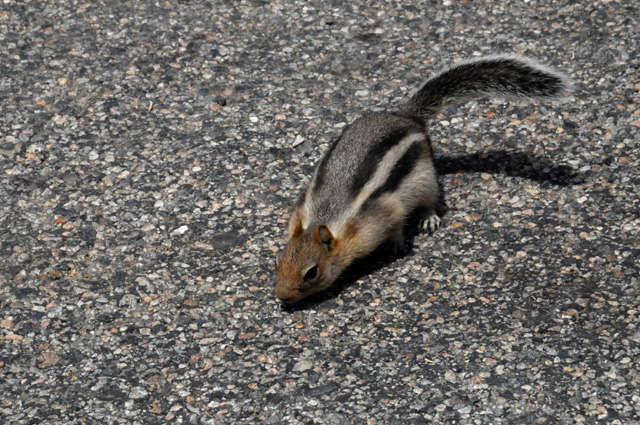 This is the Little Bighorn Battlefield.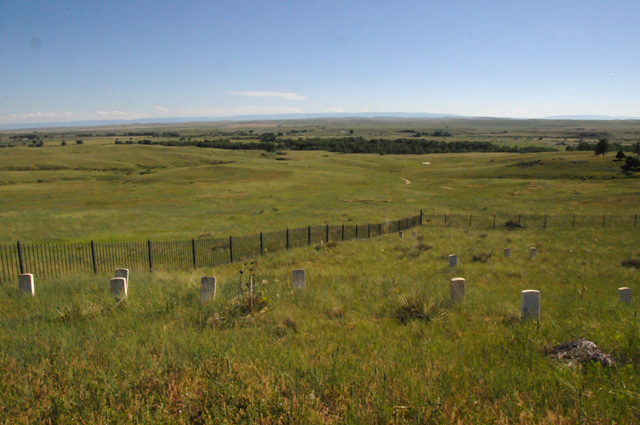 The Indians had thousands of teepees down among those trees.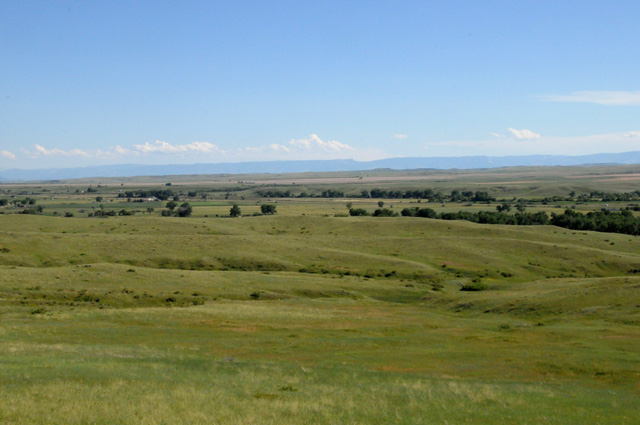 A memorial to the US Calvary men who died here. Many are buried at the stones.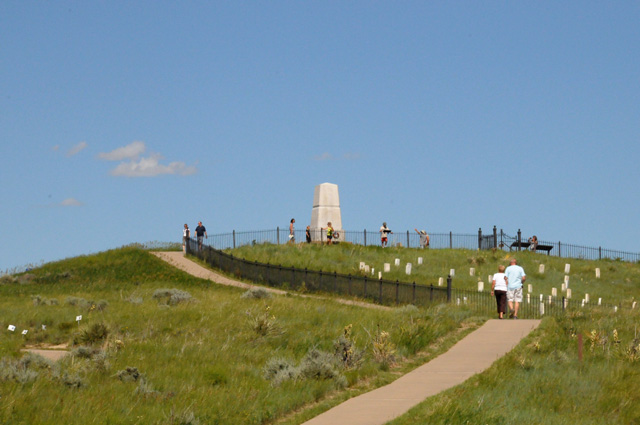 Many other US Calvary men are in a mass grave all around the memorial.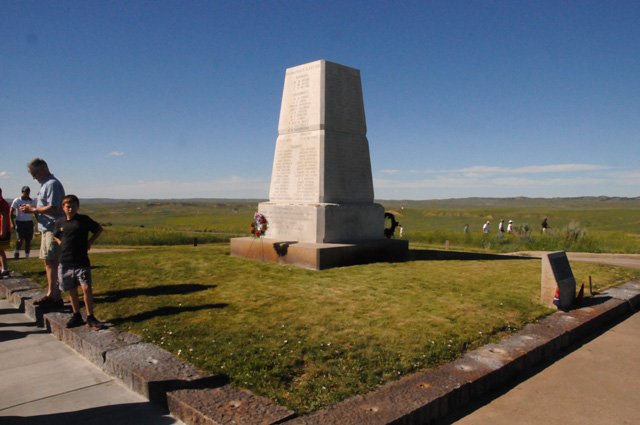 This is a memorial to the Indians who died here.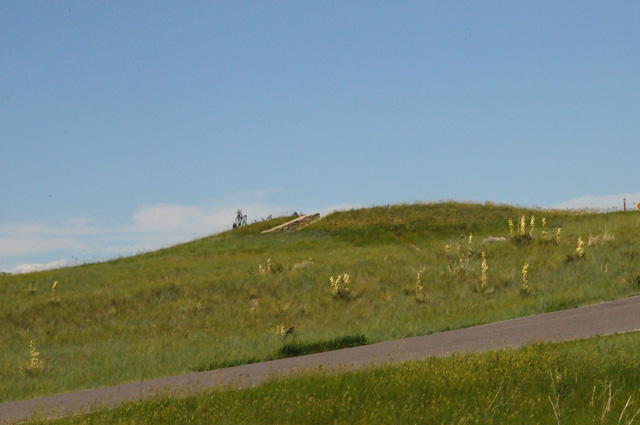 Artwork at the memorial.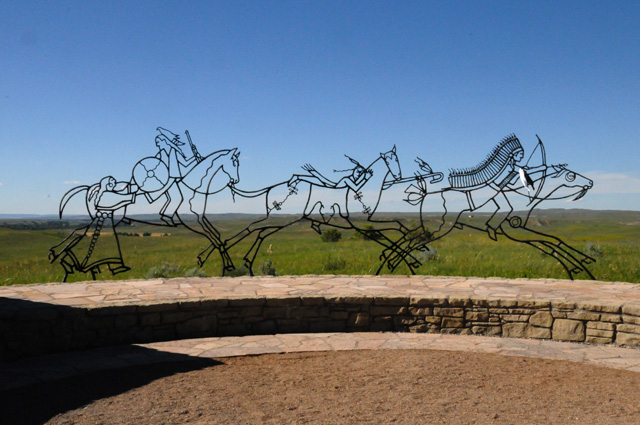 A portion inside the memorial.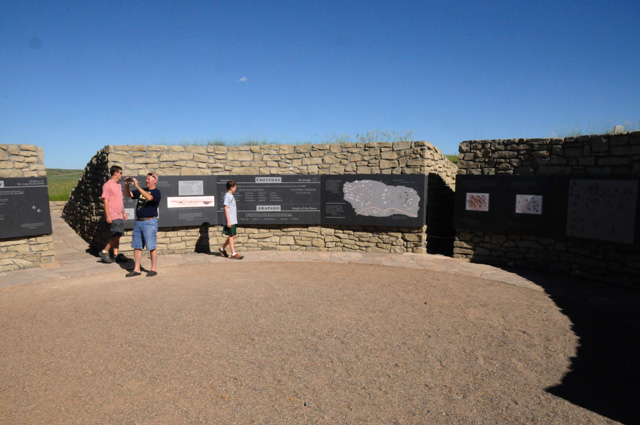 And a memorial to the horses that died here.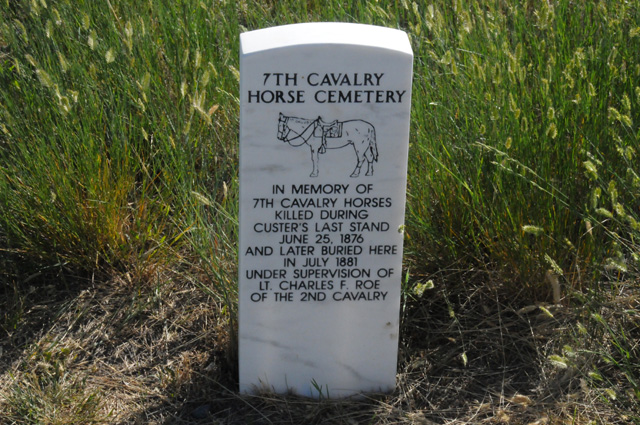 A US National Cemetery is here also. Very few of the men who died in the battle are buried here, it is primarily for soldiers who died in later wars.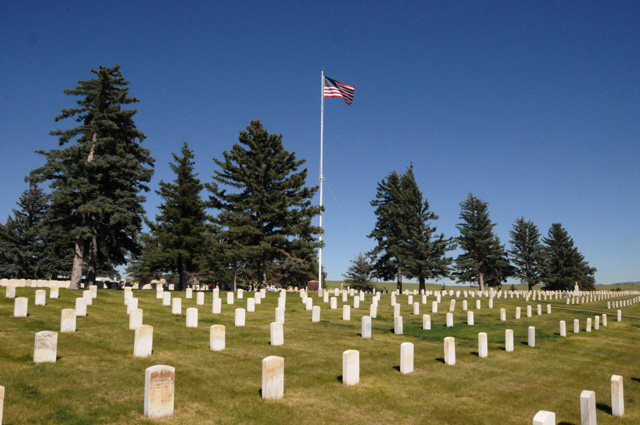 ---
29 June 2013, 11:30 PM MT, Sturgis, SD
I left Sheridan, WY this morning headed to Devils Tower. Little did I know at the time what I was to encounter. I guess you could call me one of the lucky ones, or maybe one of the tormented ones. I don't remember just how long the ride took, but as best as I can recall, it was about three hours, 2/3 on Interstate, and 1/3 on regular roads. I don't know if this area is officially the Black Hills, but it is very similar. I remember so clearly my first glimpse of Devils Tower. I had just ascended one of those dark pine covered hills and I could see it a few miles ahead of me, partially hidden by another intervening ridge. Only one thing, though, I saw some bright flashing lights and something hovering over the tower. I stopped on the road as rapidly as I could, shoved down the kickstand, grabbed my camera, and got this shot.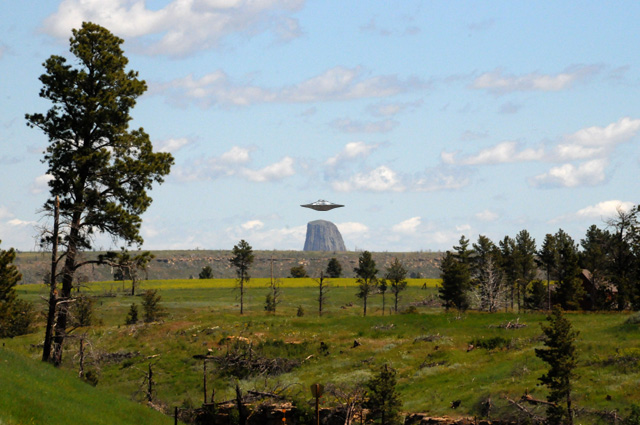 I quickly stowed the camera, jumped back on the bike because I wanted to get there as quickly as I could, but before I could even get the bike rolling, the thing that was hovering shot quickly up into the sky, and I did not see it again.
Maybe that's a sign that I have not been getting enough sleep. Or maybe my imagination is running wild. After all, I did meet Richard Dreyfuss who played Roy Neary, an Indiana electrical lineman, and Vilmos Zsigmond the Cinematographer on the Columbia Pictures movie "Close Encounters of the Third Kind" directed by Steven Spielberg. For those of you who may not know, in a former life I worked for Sony Pictures, one of whose movie companies is Columbia Pictures. Why don't you rent "Close Encounters" and see the real hovering craft!
Maybe I should start over. About an hour after I left Sheridan, I looked back and saw snow capped mountains, I believe it was the Bighorn Mountains. I said to myself that this is probably the last snow capped mountains I will see on this ride, so maybe I should take a picture to remember it.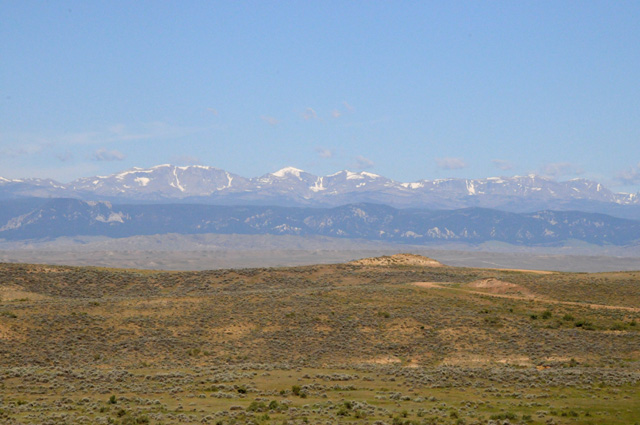 About three hours into the ride, I did have my first view of Devils Tower.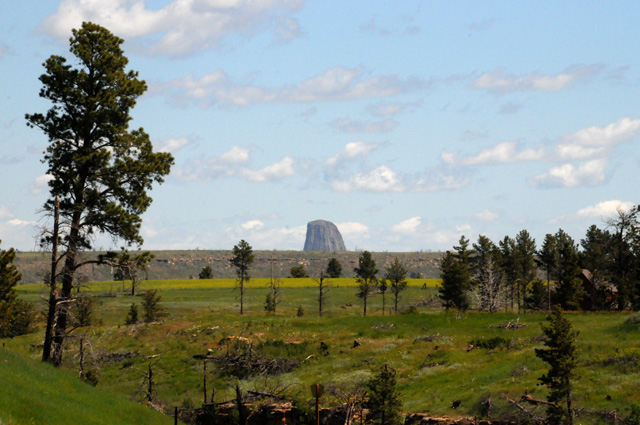 Here are three more pictures I took riding around the tower.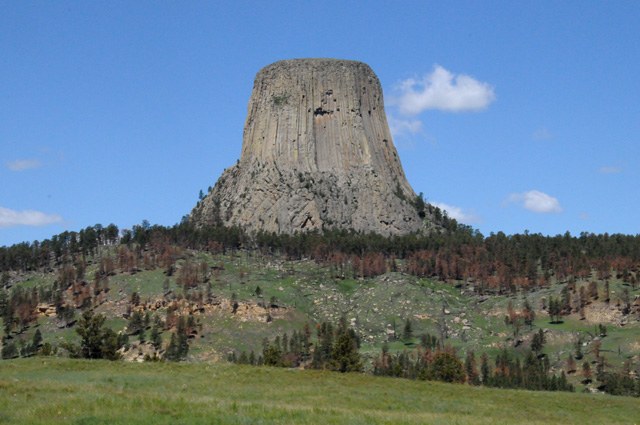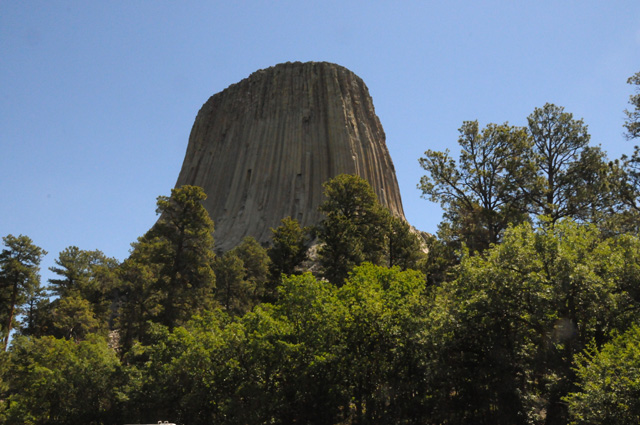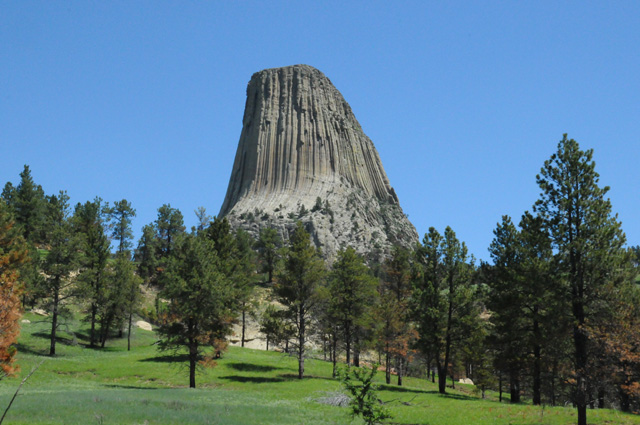 Here's some of the landscape around the tower. You may recall that I have a thing about red rocks.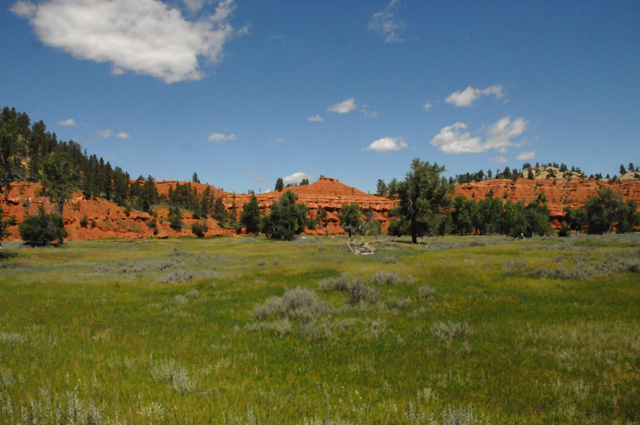 In Custer, SD, I had a craving for a chocolate shake, and I found this place that was perfect for my needs.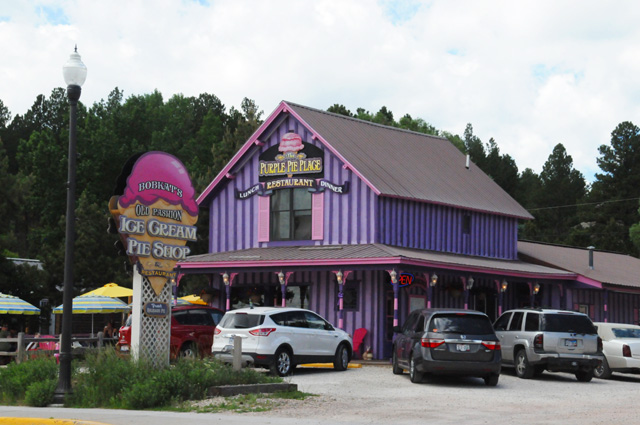 I ordered my chocolate shake, and noticed that they have several types of pies. I was enchanted by the Bumbleberry pie, I had to try it. It has rhubarb, strawberries, apple, raspberries, blueberries, and blackberries. I enjoyed it.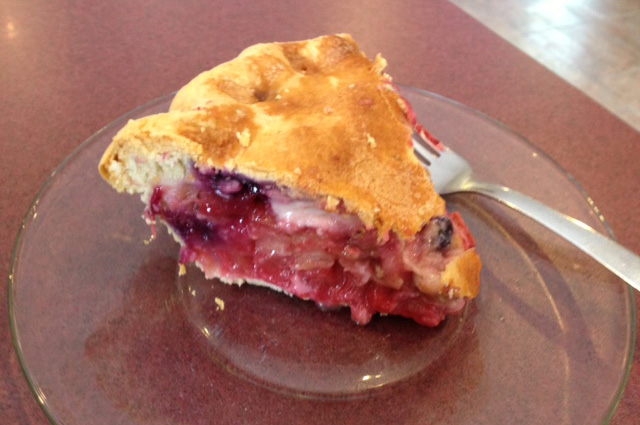 Then I was off to see the Crazy Horse Memorial.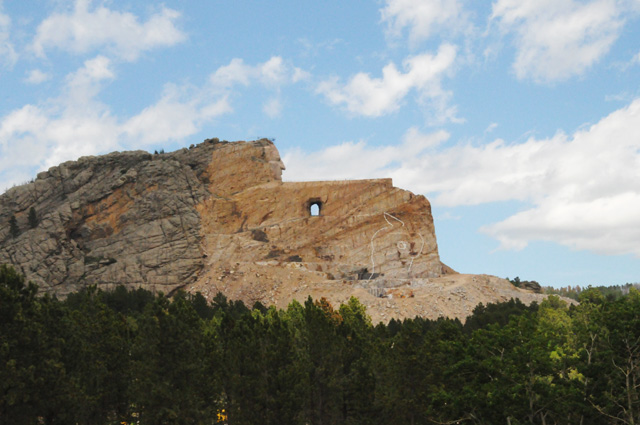 Here's what it will look like after it is completed.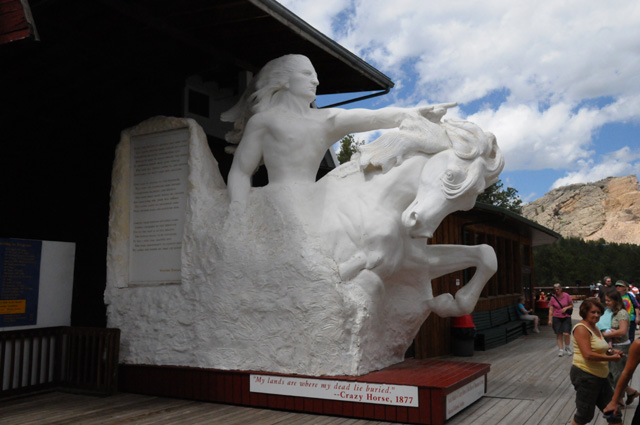 Off again, this time to Mount Rushmore by way of the Needles Highway. Here are several shots taken along the way.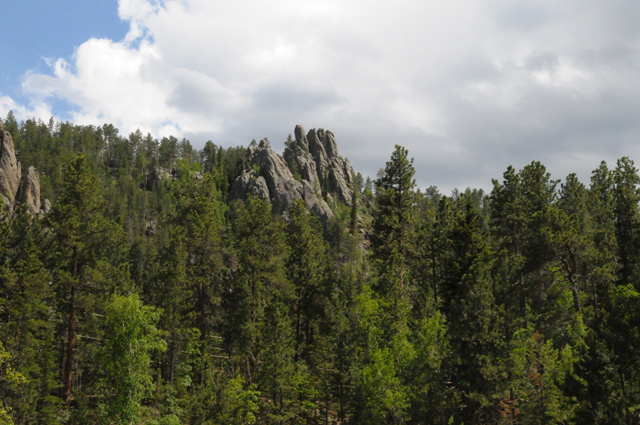 That's the road going through the tunnel.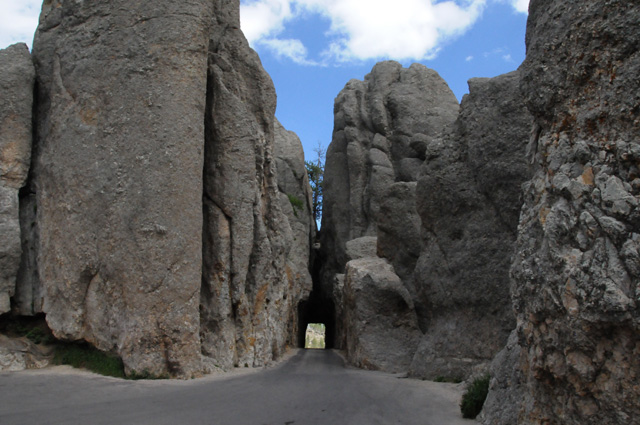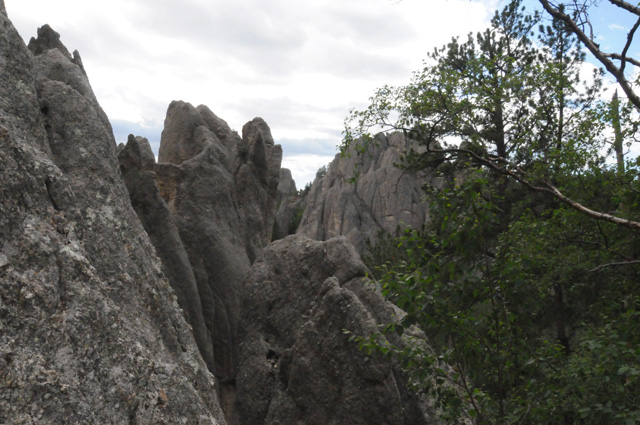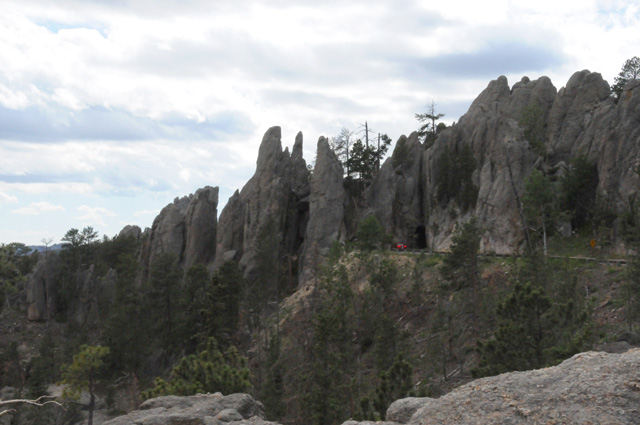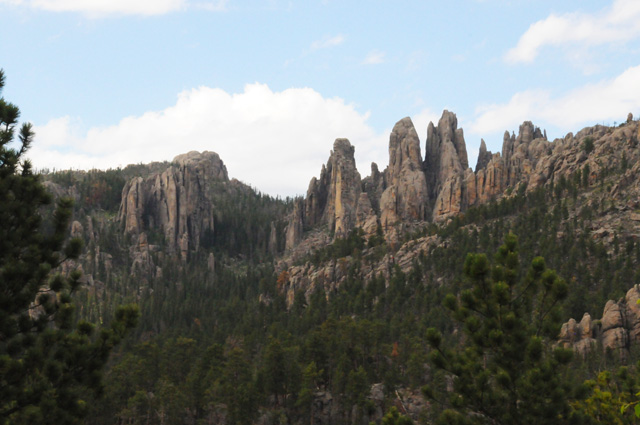 I think this road was the toughest road I have ever been on. There were several switchbacks that are the worst I have seen. On one of them, the yellow sign suggesting a speed said 5 mph. Some of the switchbacks are essentially a tight U-turn with a grade that must be 10-20%.
I am off the Needles Highway, approaching Mount Rushmore, and pass through another tunnel. You can see Mount Rushmore through the tunnel.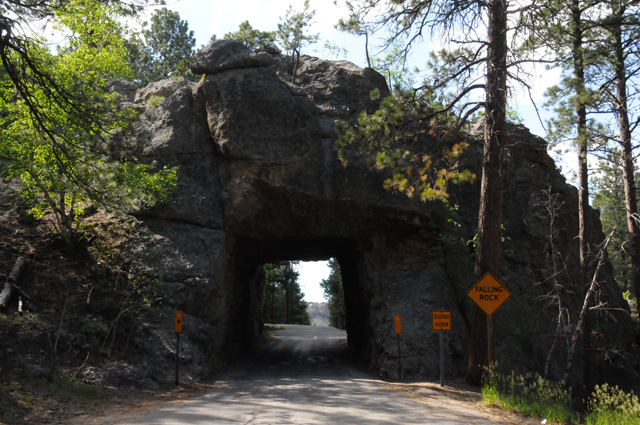 Here's a close up looking through the tunnel.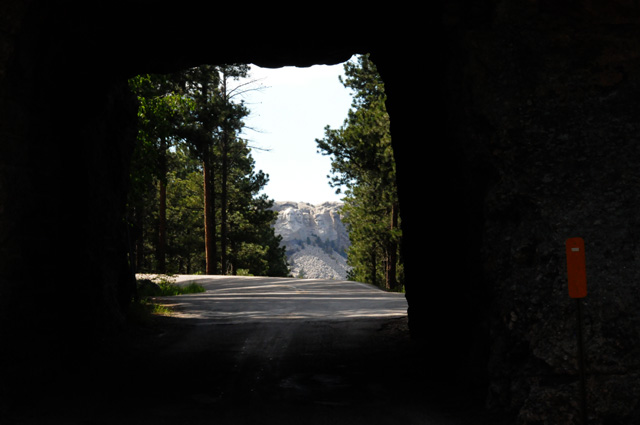 This is the first National Park I have had to pay for, I have a Golden Age Passport, so normally I don't have to pay. Here you have to pay for parking. So I parked, and walked most of the way to the hill. I wanted to give you a perspective of the size of the hill.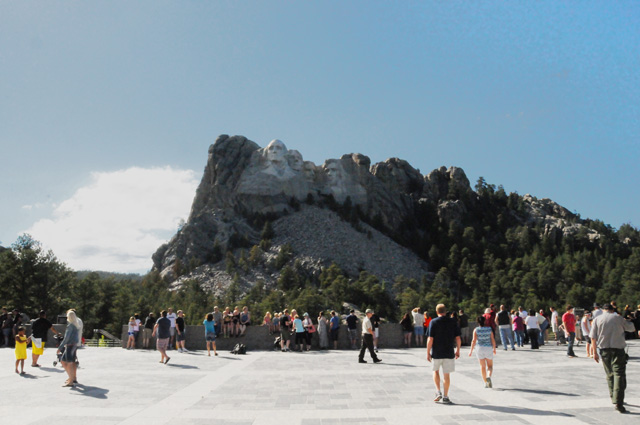 Here's a close up of the Presidents.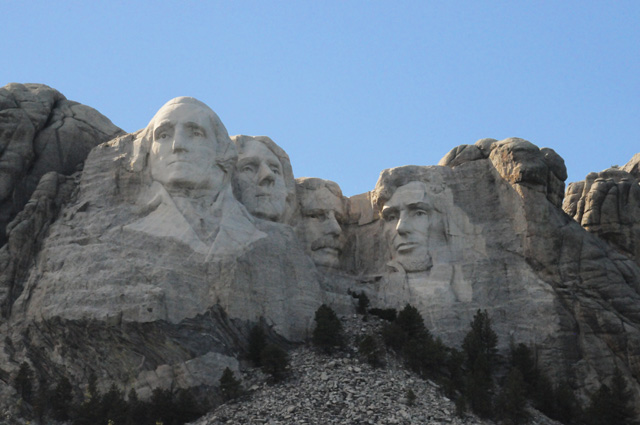 Now I am off again, a one hour ride to Sturgis. I could have taken the fast way, Interstate, but I wanted to ride the two lane highway through the Black Hills. That could have been the wrong decision, it turns out that 13 miles of the road are "grooved" ready for a new surface. Some spots had oil on the grooved surface. It could have been a disaster, but it turned out OK.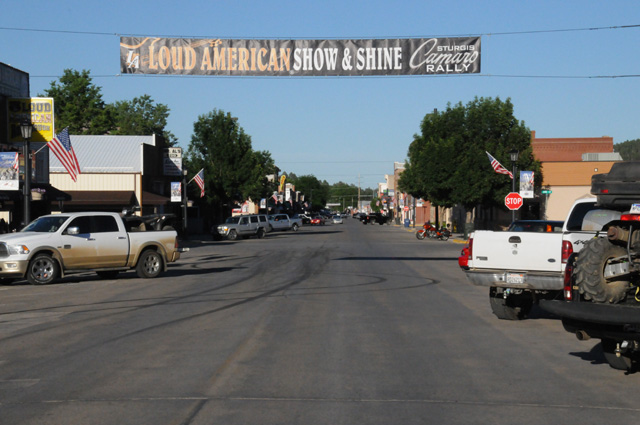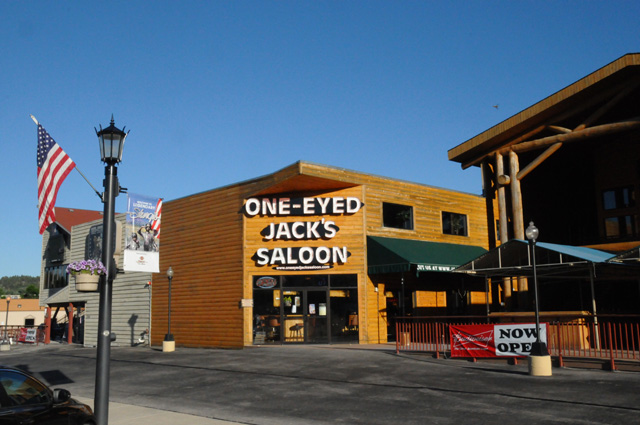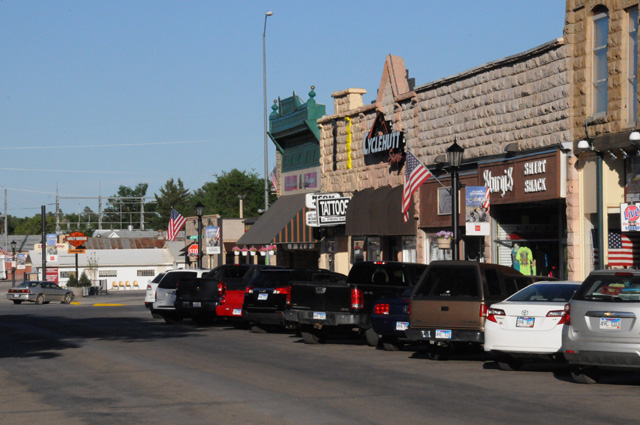 Hotels are mostly full here, I was told that it is because of the Camaro Rally. Did you notice the banner in the first Sturgis photo?
Now I can say I have been to Sturgis. I will be silent about the Motorcycle Rally, because most people mean the Motorcycle Rally when they talk about going to Sturgis.
I rode 399 miles today. I have been on the road 21 days. I have averaged 373 miles per day.
---
30 June 2013, 11:59 PM CT, Bismarck, ND
Let's start with a question. Take a look at this picture.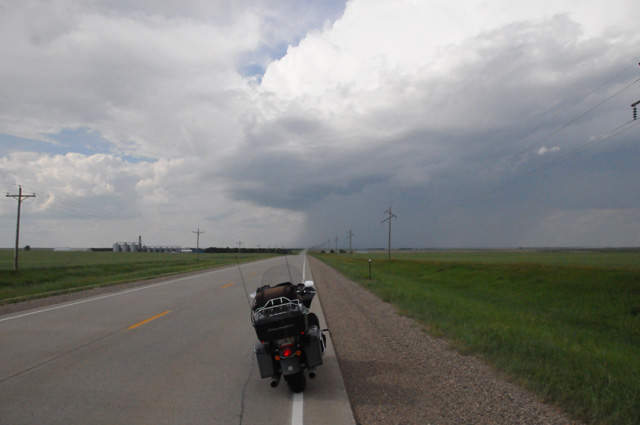 Here's the question -- did I ride through rain? You can see the thunderstorm ahead on the right. You can see the rain edge exactly straight ahead on the road. The road runs straight, it doesn't curve before the storm. So, did I ride through rain? The storm could move right, it could move left, it could shrink, it could expand. You will find the answer later in today's post.
I started the day in Sturgis. Lisa had suggested a ride I might enjoy near Sturgis, Spearfish Canyon. I decided to move on, and not do Spearfish Canyon. I was very tired upon arrival last night. By the time I got everything done and got to lights off, it was midnight. I do not set an alarm when I am riding, I want to feel rested, so I get up when I wake up. I woke up a little after 9. That is the latest I have slept on the trip so far, and the longest. I guess I needed the sleep. I have been averaging six to seven hours, and last night it was nine!
I missed the breakfast in the motel, it was too late. So I went to a McDonalds and had a McMuffin. It was almost 11 by the time I hit the road, so I just headed east.
My first destination was the Badlands. It was interesting how the land turned from the Black Hills to completely flat, then the Badlands suddenly appear. I rode the Badlands Loop which almost immediately descended into the Badlands. After a while it went back up on the flat countryside and you could look out into the Badlands. I entered from the west.
Let's look at more pictures. Here are two where I am looking at the Black Hills getting smaller.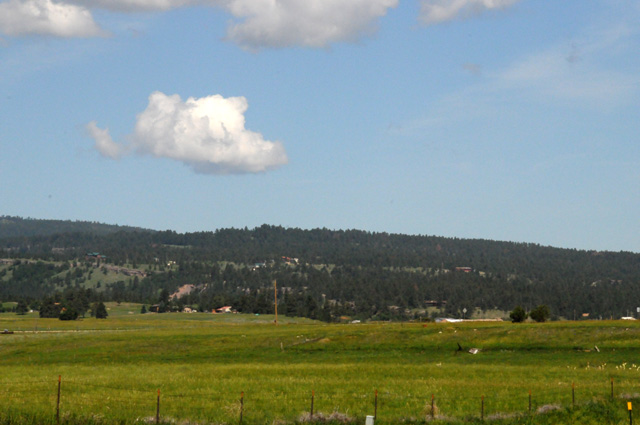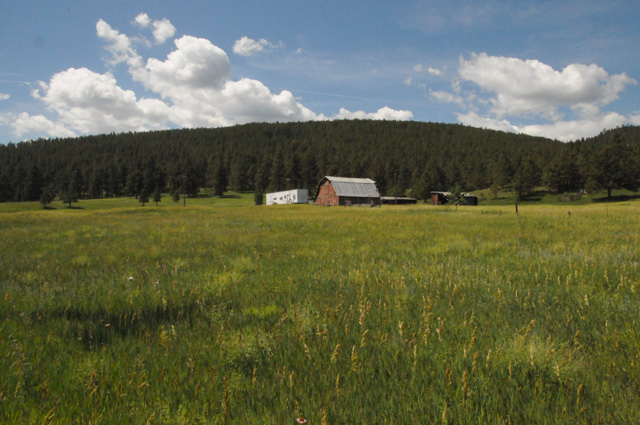 I found these picnic table covers interesting.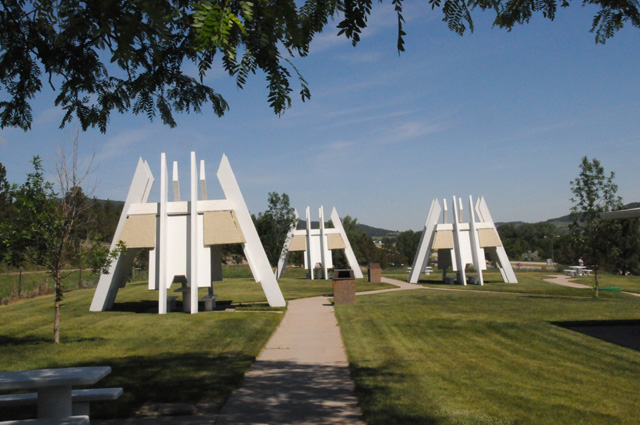 Here are two pictures looking at how flat the land has become. The third picture below is taken from the same spot, just looking from the other side of the road. You can see the Badlands beginning.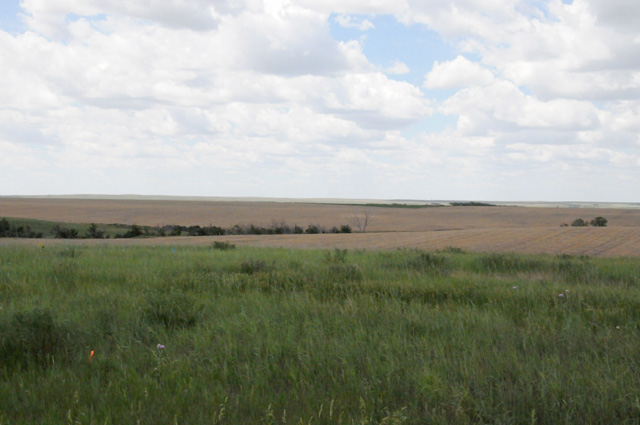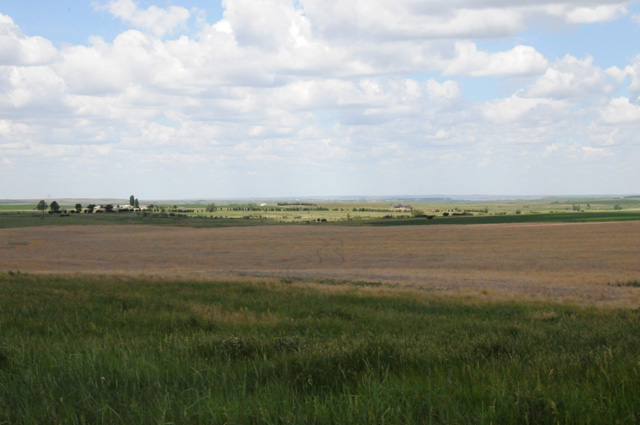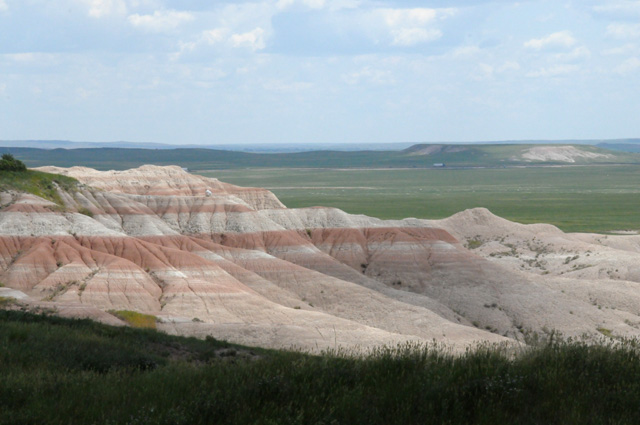 My brother Larry had told me that the weeds are kept short along the road in this part of the country by farmers cutting along the road and baling the cuttings. I guess this is an example.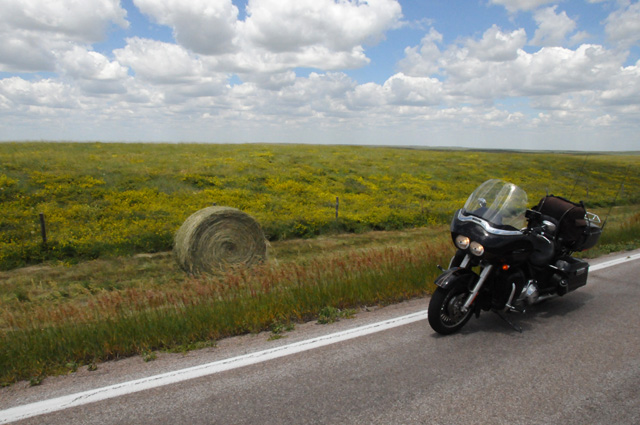 Here are a bunch of Badlands pictures.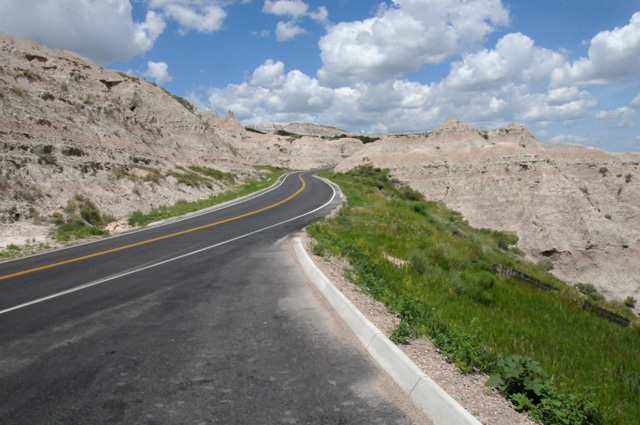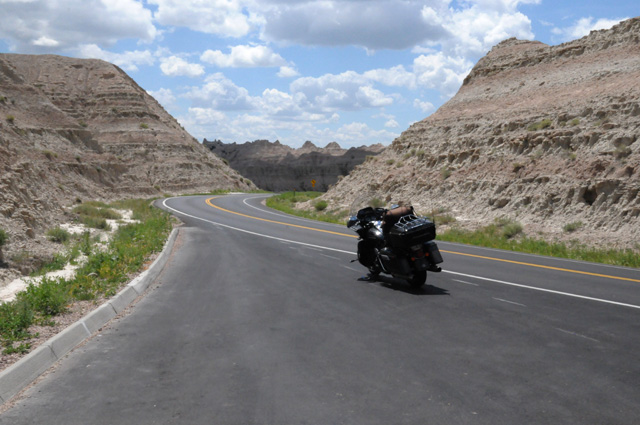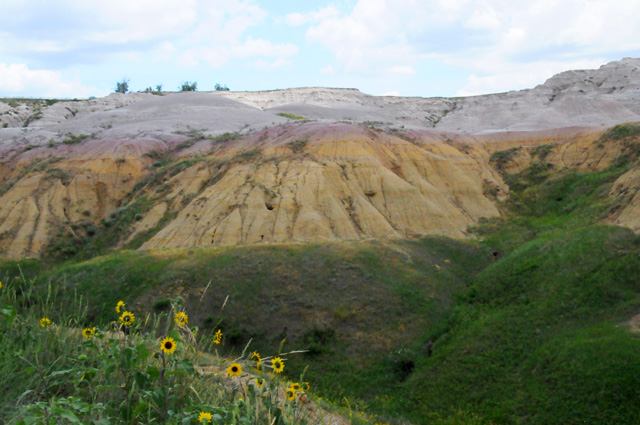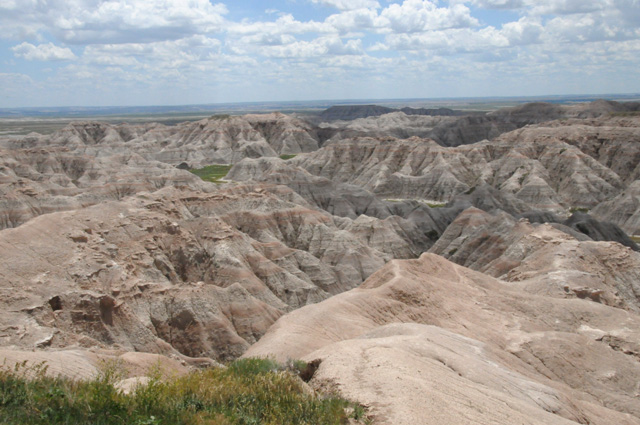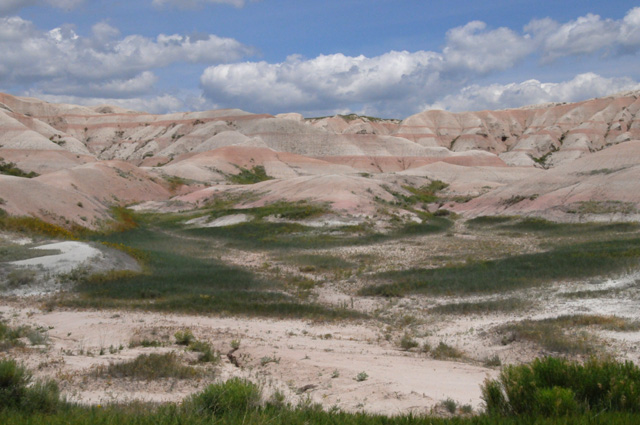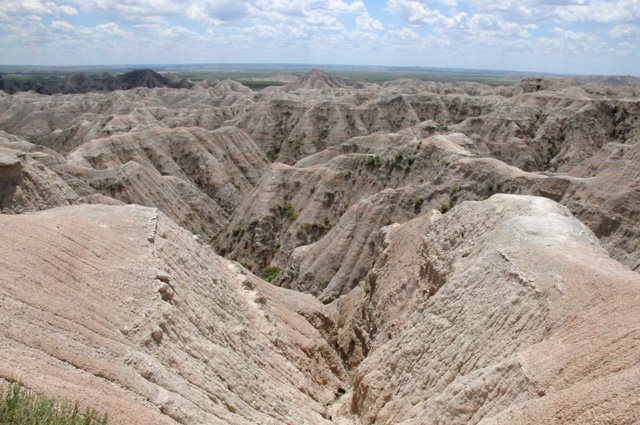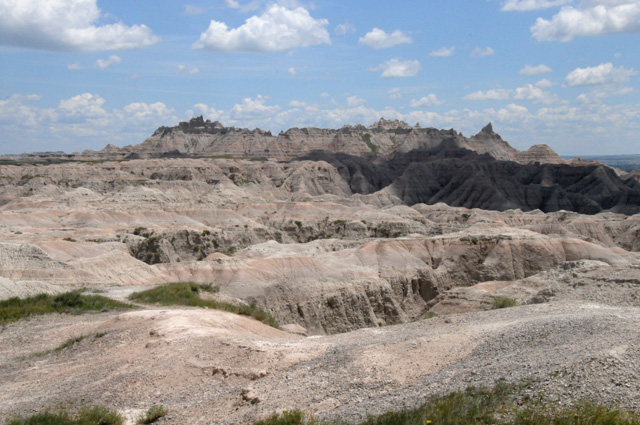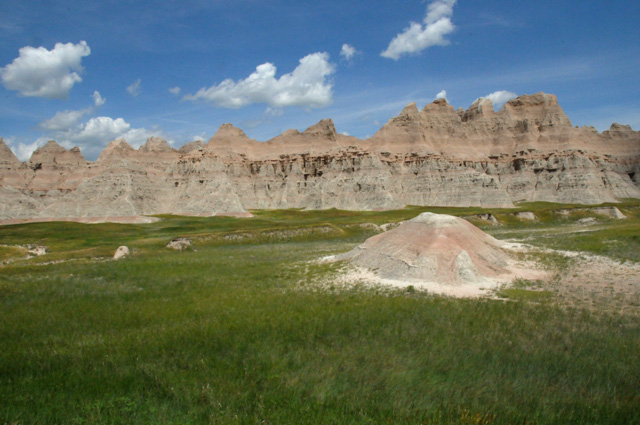 Pierre is a Capitol city. Here it is.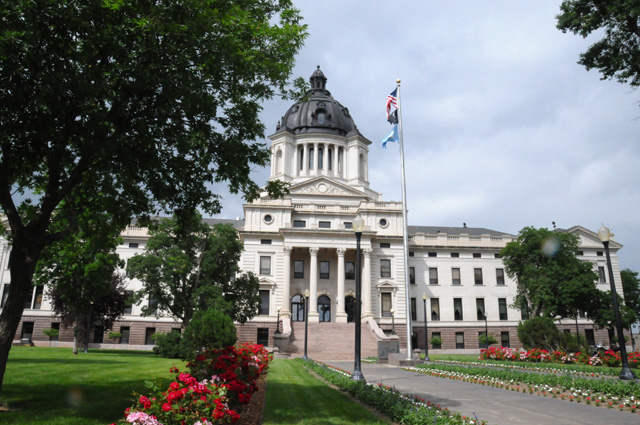 Yes, I had my chocolate shake. I am good on that, one per day average. I rode 473 miles today, higher than average. I had a late arrival in Bismarck, it was almost 9:30 CT, sunset was about ten minutes later. I lost an hour today, I crossed from Mountain Time to Central Time between Sturgis and Pierre.
The answer to the question -- yes, I rode through rain. The storm expanded or it moved left. I suspect it expanded. I am riding straight north, and the storm probably did not move west. It proably got bigger. I am just a few miles north of Pierre, SD. When I was in Pierre, I checked radar, because a storm was passing just to the east of Pierre, I had a few raindrops from it. And, at that time, there were no storms to the north. This was a new storm, so it was probably still expanding. Only one or two miles after I took the picture, I stopped again to put on my rain jacket. It was obvious by that time that I would be in the rain. It was already well to the left of the road.
---
1 July 2013, 11:30 PM CT, Alexandria, MN
I want to start by saying thanks so very much to Aaron at Roughrider Harley-Davidson in Mandan, ND. Aaron got me in for a service when his shop was full. He patiently allowed me to add the installation of two accessories when I know he had his hands full with other bikes. Aaron, would you please tell the guys in Parts that the air deflector did decrease turbulence and that the highway pegs are much better than what I had, my boots stay on the pegs even when I completely relax my legs. That was not the case with the pegs you replaced.
Something I forgot to mention yesterday. My presence has been noted in all 50 states. It has been officially certified (by me). When I began this trip, I had never ever been in Iowa, Nebraska, South Dakota, and North Dakota. Slowly but steadily I have added each of those states to my list. I should get an award for that. Is there a Presidential Medal coming my way now?
In the next couple of days I will have been in Wisconsin and Michigan on my bike. At that time I can declare that I have ridden one of my bikes in 38 of the 48 continental states. I have already decided what my spring ride will be next year -- it will be my US Northeast Ride. During that ride I will complete the continental 48 for riding one of my bikes.
I was in no rush to get off today. As always, I did not set an alarm, I got up when I woke up. I had to rush to get breakfast, though. Then I headed out to get a picture of the North Dakota Capitol. Then I called Aaron. After the bike was serviced, I headed out to Minneapolis. Along the way, I stopped in Fargo. I wanted to see downtown Fargo. I only know Fargo from the Cohen Brothers movie, "Fargo", starring William H. Macy and Joel's spouse Frances McDormand.
Details for the day -- one chocolate shake and 325 miles. That's low mileage! It is below my average. I may do more tomorrow, I should have a good night's sleep because I stopped earlier than I have the past few days. Tomorrow I will pass through Minneapolis-St Paul and head to Milwaukee. I want to tour the Harley-Davidson Museum on Wednesday.
Bentley asked me to talk about the temperatures I have encountered. I know it is hot in the southwest, but that hasn't affected me that much. A couple or so days ago I intended to mention that I had my first day without my rain jacket / windbreaker. That has continued for about three days now. I used the rain jacket only once because of that thunderstorm yesterday. For several days, I needed the rain jacket for warmth, especially my arms. The last few days have been very pleasant, rarely have I been hot. Today was an exception, it was warm approaching Fargo, and hot riding through downtown Fargo. A bank in Fargo showed the temperature as 94. As soon as I got out of town, though, I was fine. Riding through the Badlands was extremely pleasant. I did not need the rain jacket for warmth, and I was not hot wearing my summer jacket. I could take days like that any time.
Brother Larry asked me to photograph the Northern Lights. Sorry, but so far I have not seen any Northern Lights.
I do not have as many pictures today. For those of you who yearn to see more and more of my pictures, you must suffer. It will be good for you.
So far I have taken 871 pictures. Tonight you will see eight of them. We will start with the North Dakota Capitol in Bismarck.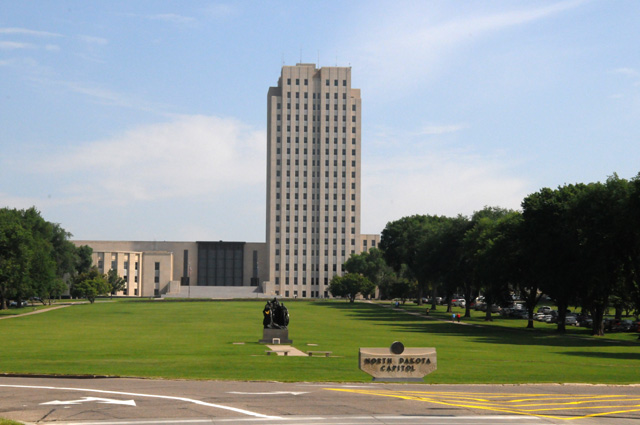 The Missouri River runs through Bismarck. It runs through Pierre. And it runs through Great Falls, MT. See my picture of the Missouri just south of Great Falls on June 26. Here are three pictures of the Missouri River in Bismarck. I wonder, how long does it take a drop of water to get from Great Falls to Bismarck. Did a drop of water in my Great Falls picture get to Bismarck first, or did I get to Bismarck first? Is there a chance that I photographed the same drop of water in the two different places?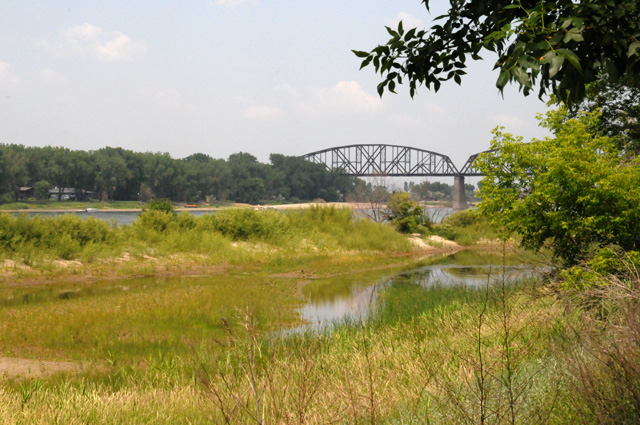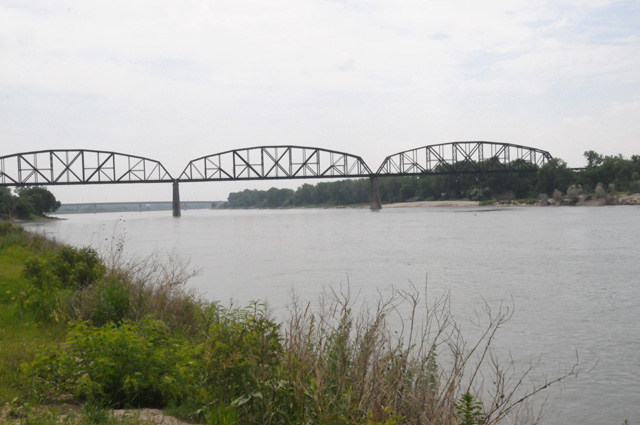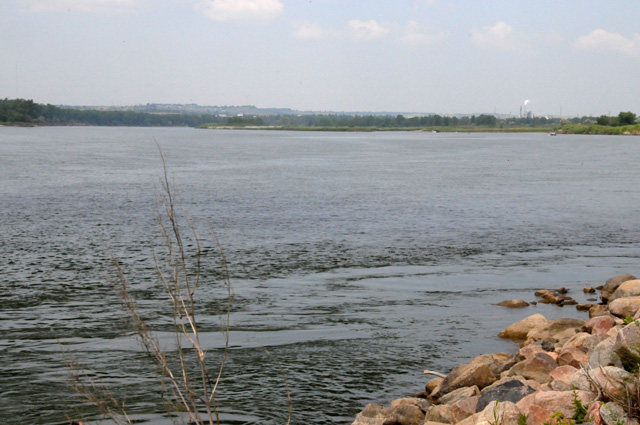 As I said before, I rode into downtown Fargo. While I was there, this train came barrelling through town. I like trains.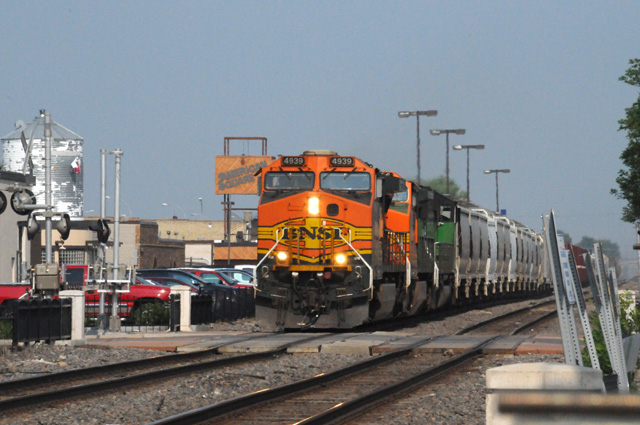 The Red River (of the North) runs through Fargo.
Here's a bridge crossing the Red River.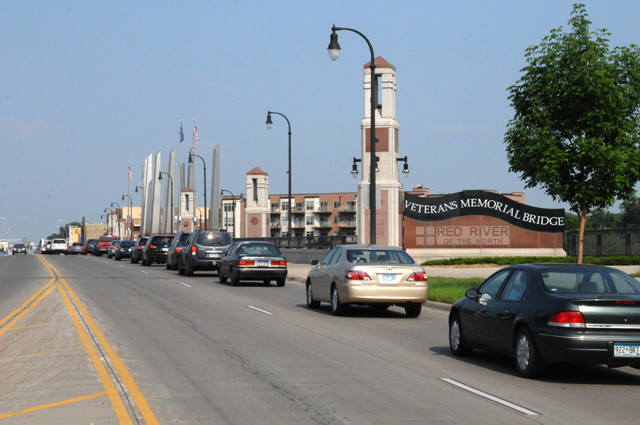 Leaving Fargo, I saw this neat church, so I had to include it here. Normally I would stand in the street to get a picture like this to eliminate all the cars, but in this case the cars were never-ending being routed through a detour.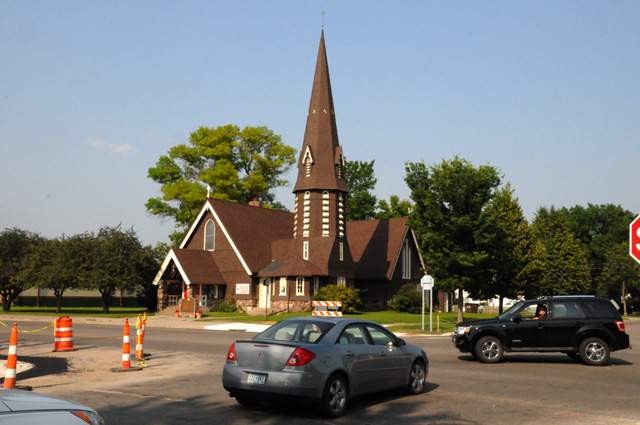 That's your eight pictures. Good Night.
---
2 July 2013, 11:20 PM CT, Madison, WI
I really like my new highway pegs. As I said yesterday, I can now relax my legs while they are on the pegs. I have told Hanna before that the bike is very comfortable, it is like a Barcalounger except it needs an ottoman. Well, now it has one. I thought I should show you.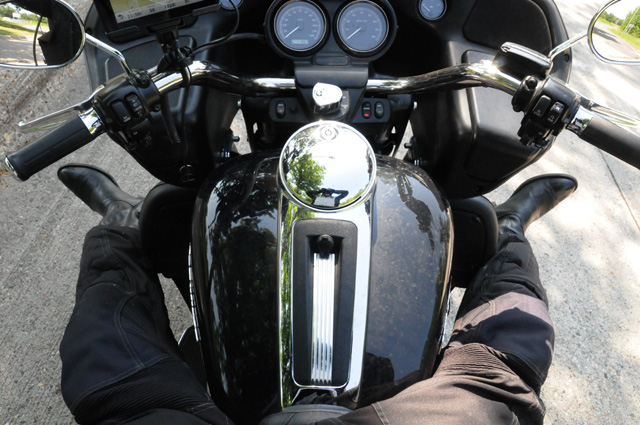 See how I can just lay my legs on the pegs. My boots look kind of small here, don't they. My feet are not that petite. The lens is a wide angle and it makes things looks smaller as they get farther away from the lens.
Now when the road is long, I can really lean back, put up my feet, and take a snooze one eye at a time.
I logged 429 miles today. I have 9,067 for the trip.
I added a big blue arrow to the map to show where I am. Because I am getting close to the original track going north, it will be difficult to tell which blue mark is going and which is coming. The big blue arrow will answer the question.
I am back east now. I crossed the Mississippi today. It runs through Minneapolis-St Paul. Here's a view looking up river.
And a view down river.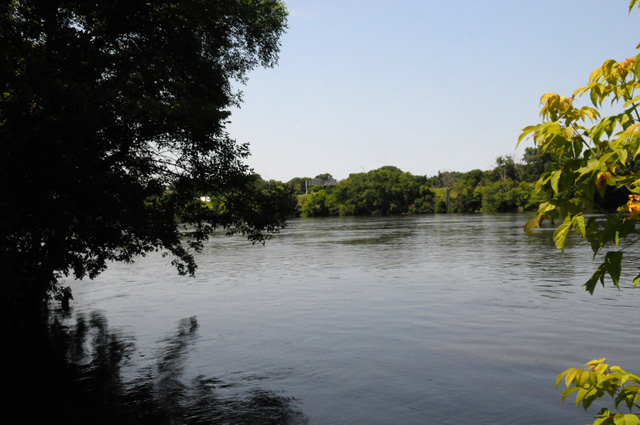 Two Capitol cities today. First is St Paul, the Capitol of Minnesota.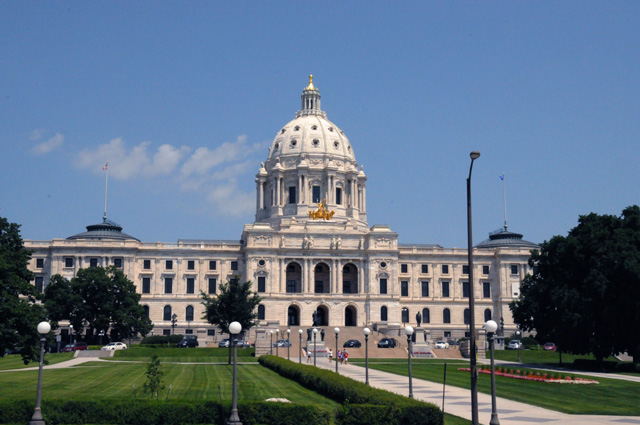 Here's a close up of the gold chariot. It is called "The Progress of the State".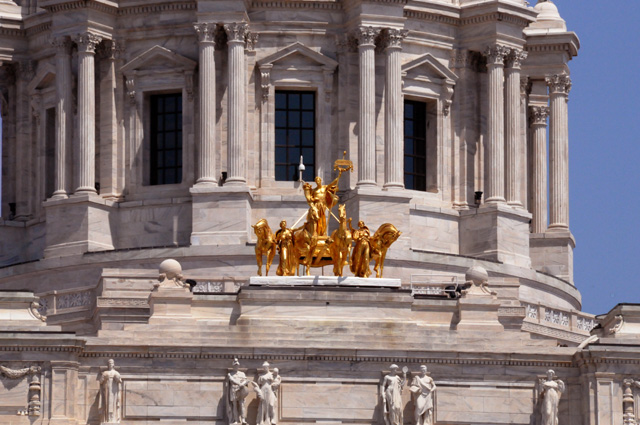 Just down an avenue from the Capitol is the Cathedral of Saint Paul. You can see one from the other. They don't face each other, they are each at 45 degrees from facing one another. The Capitol faces south, the Cathedral faces east, and the avenue is northeast-southwest.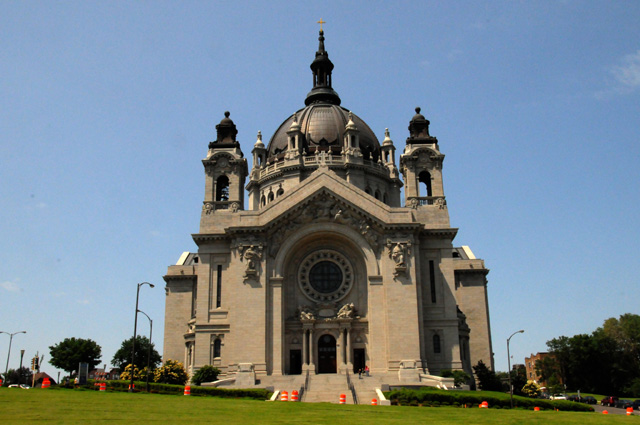 This is downtown St Paul looking from the Cathedral.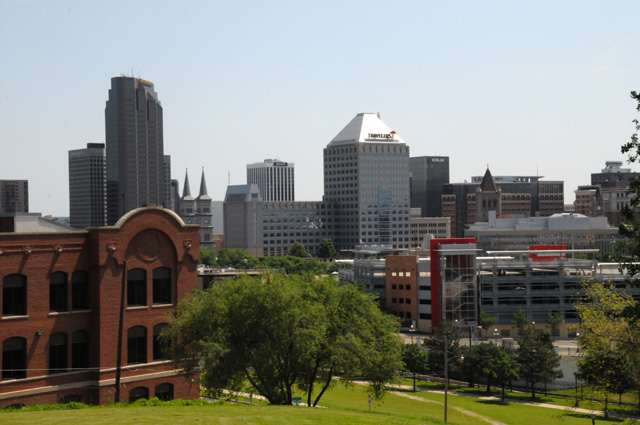 This tree was across the street from the Cathedral. Anybody know what it is?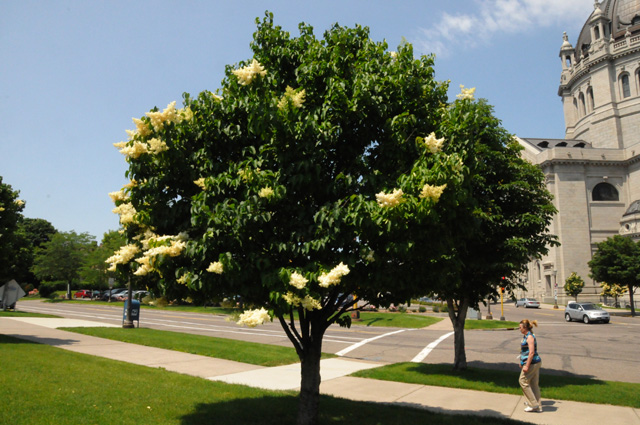 Here's a close up of one of the flowers. If you want to see the flower in full resolution, just click on it.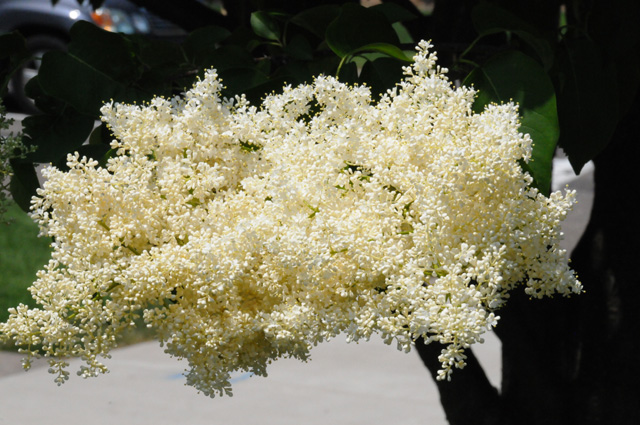 Then I was off again, this time to Madison, another Capitol city, the Capitol of Wisconsin.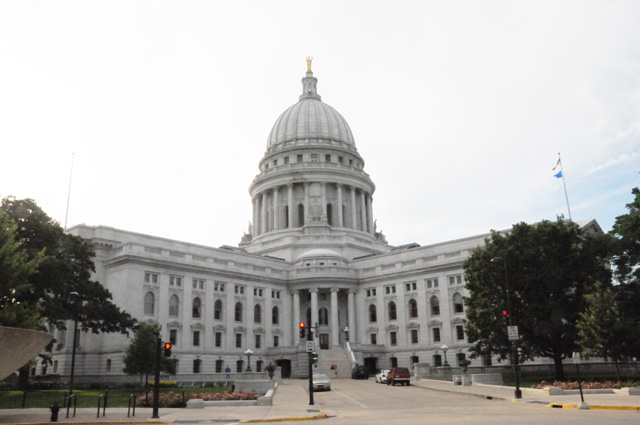 Here's a close up of the statue on top, often called the "Golden Lady".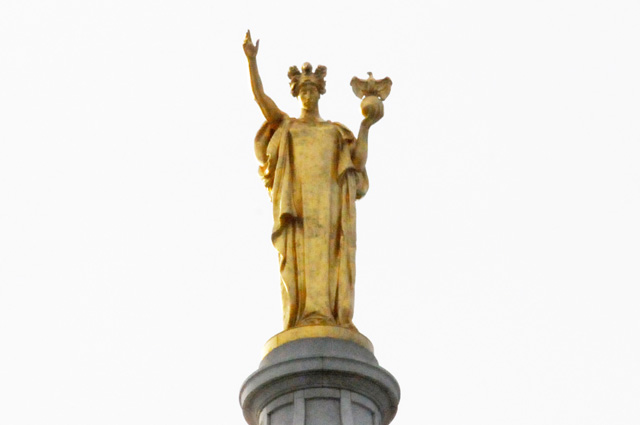 The front of the Capitol faces east, this was late afternoon, so the sun was on the west side. The front was not directly lit by the sun. The sun always makes things look better, so I took a picture of the back which was in direct sunlight. You can hardly tell it is the back. It looks the same as the front except for the direction the statue faces. This building is different from other Capitol buildings because it is like an X. There are four wings each at 90 degrees, but the front is between two of the wings.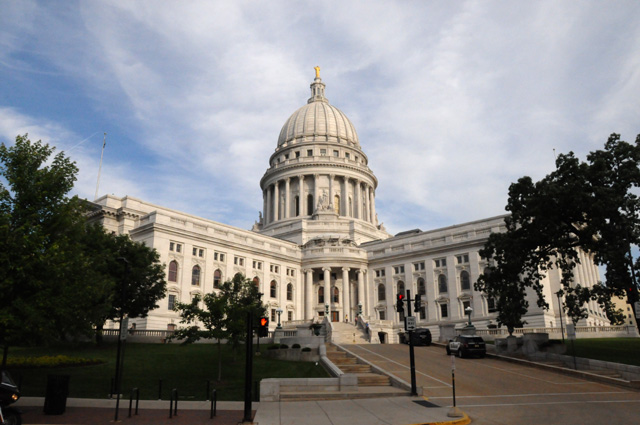 ---
3 July 2013, 11:59 PM CT, Merrillville, IN
We start tonight with another quiz. Does anybody recognize this house?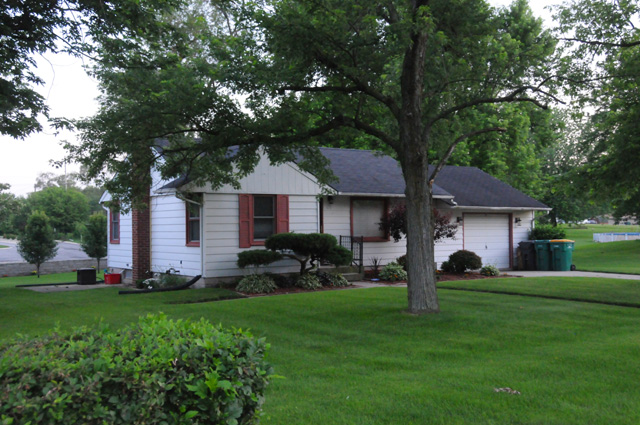 There are very few of my readers I would expect to recognize the house, maybe none. The dateline at the top of the page might help.
The next few days I will be seeing things from my past, about 50 years past. I hope I don't bore you, but so be it. Tomorrow I will arrive at Purdue. I received a BS from Purdue in 1964. I have been back a few times, but this time I will be there for a longer time that I have before. One week after my graduation from Purdue I was married (the first of two marriages, the mother of my children). This house was where my wife's family lived during our sophomore, junior, and senior years. Here's a picture of the house in 1965, scanned from one of my 35mm slides.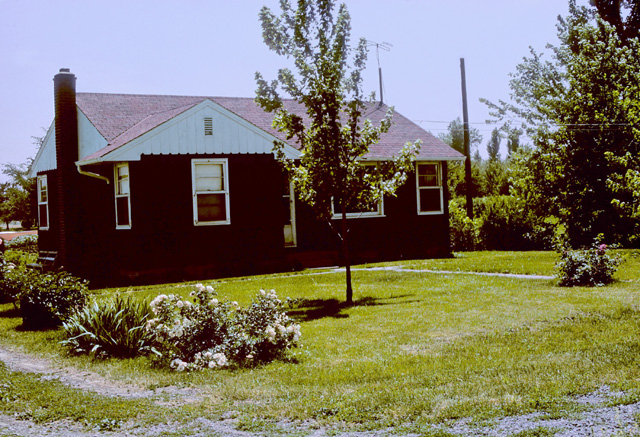 The color has changed, it has a garage now. The tree in front of the house is much larger. And there is a house next door where only fields were in 1965. But the basic house is still there. This is Merrillville, Indiana. I am at a Best Western just off I-65, the Interstate than runs from Gary, Indiana to West Lafayette, the location of Purdue.
It was a rainy day. A miserable rainy day. Leaving Madison, I did not wear my rain jacket. A few miles down the road I put it on. Then the sun came out and I got hot so I took off the rain jacket. Then the sun disappeared and it looked like rain would come any moment, so I put it back on. And the rain did come. I was unable to read my GPS and I needed it to find the Harley-Davidson headquarters and the museum in Milwaukee. I suffered through all that, and then more later. I had to go through Chicago to get to Indiana. Tomorrow is a holiday. Traffic was terrible, and there was the on and off light rain. I was averaging about 1/10 mph on the Interstate. My bike gets hot under such conditions. So hot, that I decided to abandon riding and go to a McDonalds. I did not get a chocolate shake, I already had my daily allotment at the Harley-Davidson Museum. So I had a Coke. After a long wait, I tried riding again. And I abandoned it again. I should have gone around Chicago, through Iowa I suppose. Again I found sanctuary at a McDonalds. Again I resisted the temptation and did not have a chocolate shake. If I had not been strong, I might have had three today! This time I studied traffic from an NBC web site and found that I should go all the way to Lake Michigan on surface streets, and then south staying close to the Lake. I rode down Michigan Avenue, past the beginning of Route 66 at Adams and Michigan. That worked well enough, By 7:00 PM, I was south of downtown and traffic was moving on the Interstate. Here's what downtown looked like just a few blocks before I got there.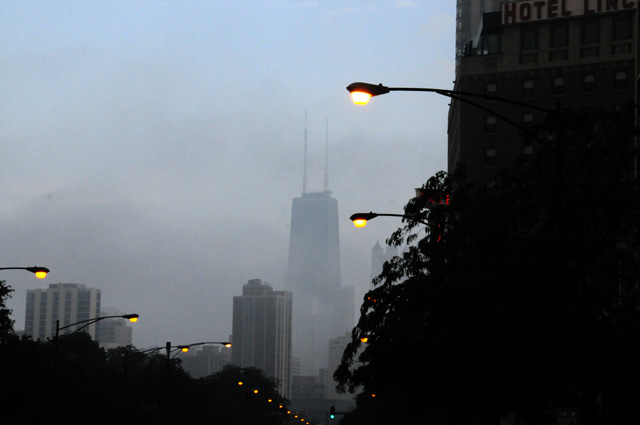 Here's the Harley Headquarters in light rain.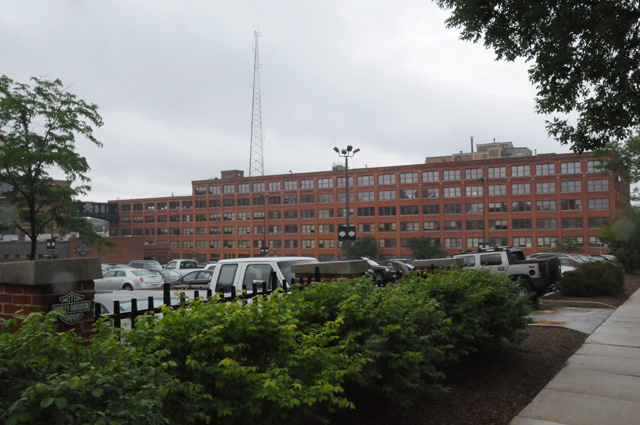 And the Harley Museum under a dismal sky. They are about five miles apart.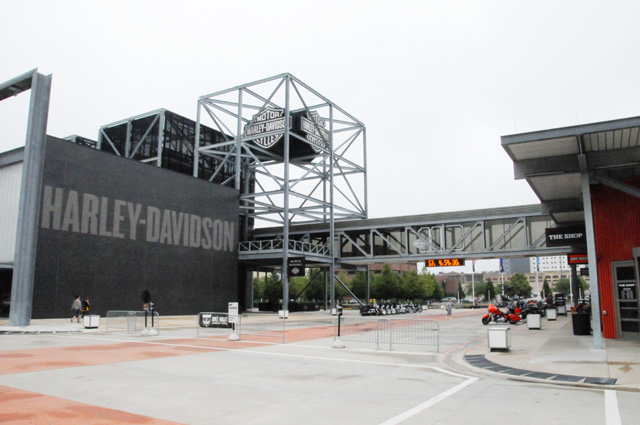 All that's left now is to show you some pictures from the Harley Museum. Here goes.
Here's the first Harley, serial number 1.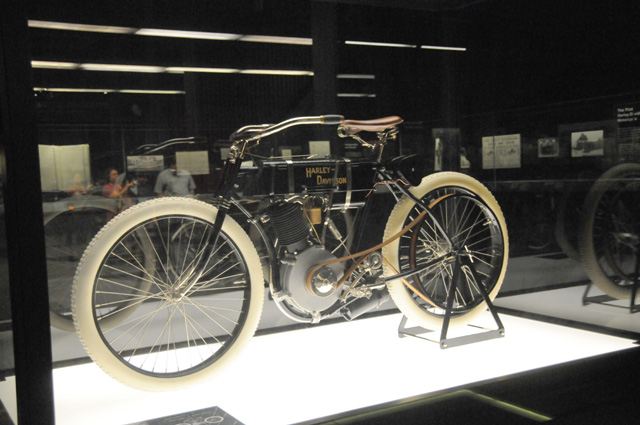 These are Harleys.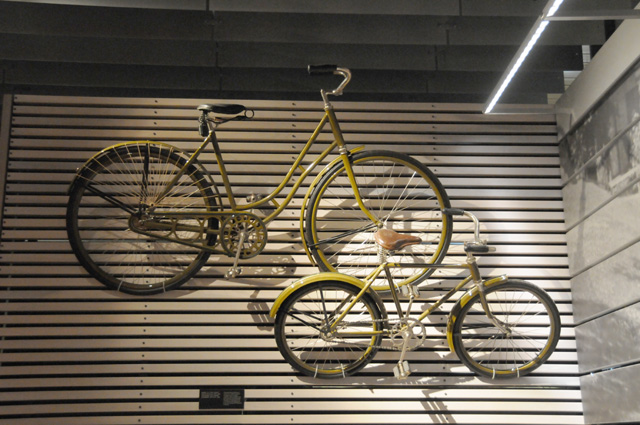 Here are both sides of a 1936 Harley Knucklehead, and a picture of the motor. In many ways, this was a modern bike, or maybe I should say that today's Harleys try to capture the feeling of this bike.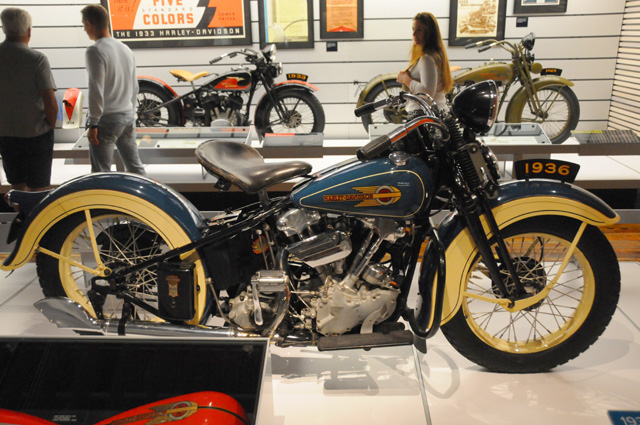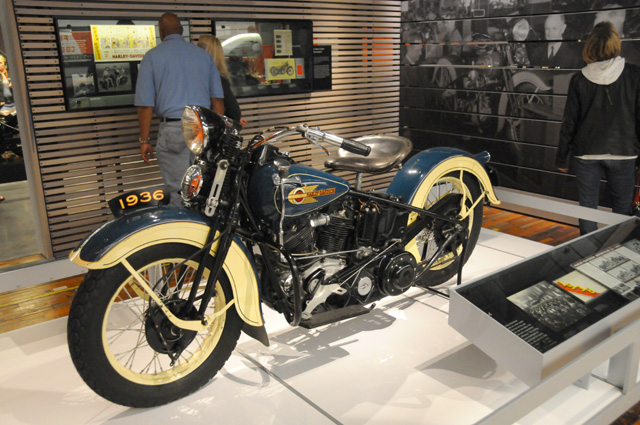 This is a prototype three-wheeler from 2006.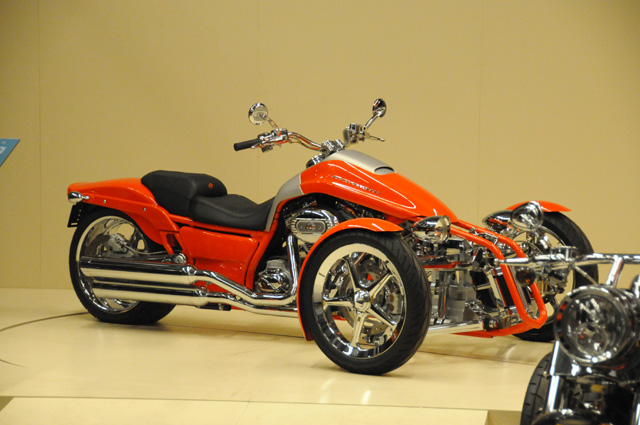 This is a design mock-up three-wheeler from 1999.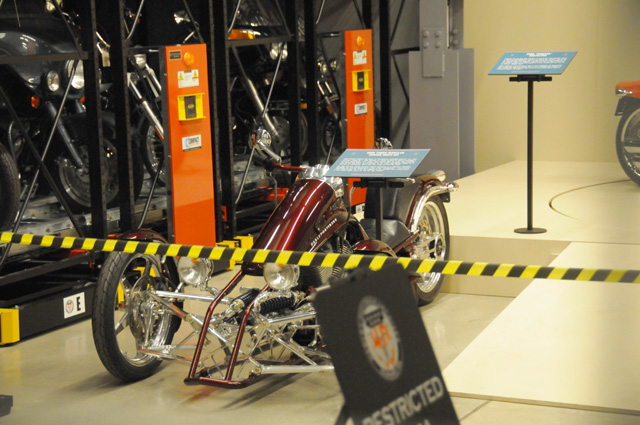 Reproductions of the Billy Bike and Captain America from "Easy Rider", a Columbia Pictures film.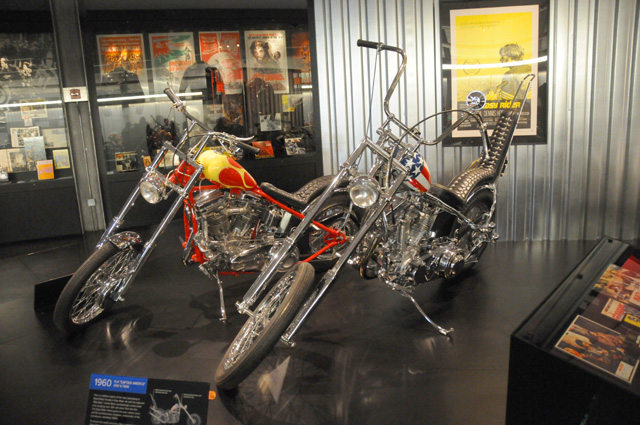 I rode 257 miles today. Well below my average. But it still was late when I finally got to the Best Western. I must get my life in order. That's it for tonight. Tomorrow is a side trip into Michigan so I can say I have ridden my bike in Michigan and then on to Purdue for two nights.
---
4 July 2013, 11:59 PM ET, Purdue University, West Lafayette, IN
I am at Purdue. I spent four years here half a century ago. Had dinner with niece Amanda and her family, then walked around (a part of) the campus, then watched fireworks. Amanda was here ten years ago, a 2003 graduate, and a member of the Purdue All-American Marching Band. Here she is pointing at herself in a picture of the band.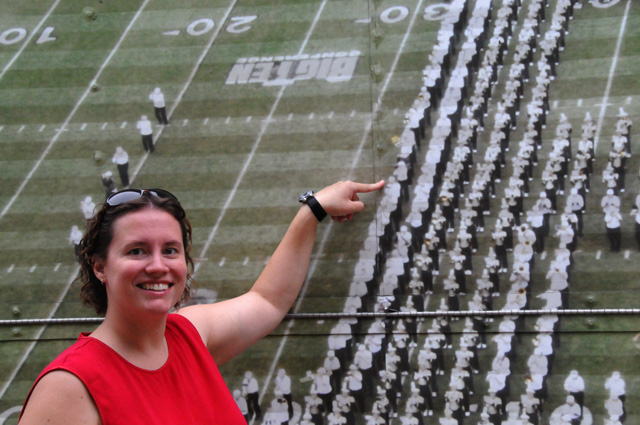 I am getting ahead of myself. Let me go back to the beginning of the day, 205 miles ago. I left Merrillville to ride in Michigan. Here's proof (or very good Photoshopping) that I had the bike in Michigan.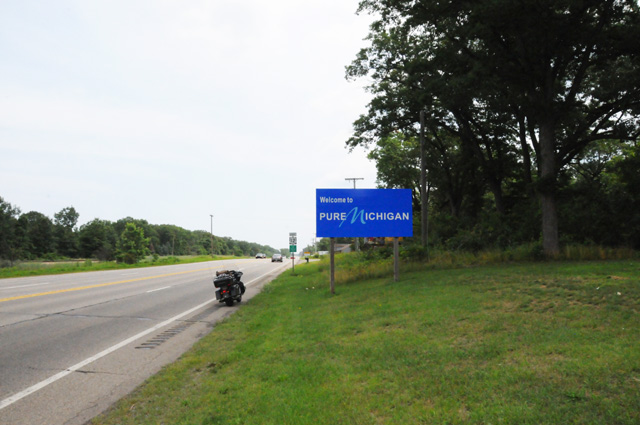 Actually, in the picture, only the front wheel is in Michigan. The rear wheel is in Indiana. I did get both wheels in Michigan, and went on to spent more time in Michigan than I did in Canada, I had a chocolate milk shake. After I finished my culinary delight, I went back to Indiana to go to Purdue. I didn't go the fast way, I went out of my way to go the old route from Merrillville which is US41 south to US52, the way you went before the Interstates were built, which was the case half a century ago.
On the way to Michigan, I rode to Lake Michigan to get a picture of the Indiana Dunes. Here's Mount Baldy.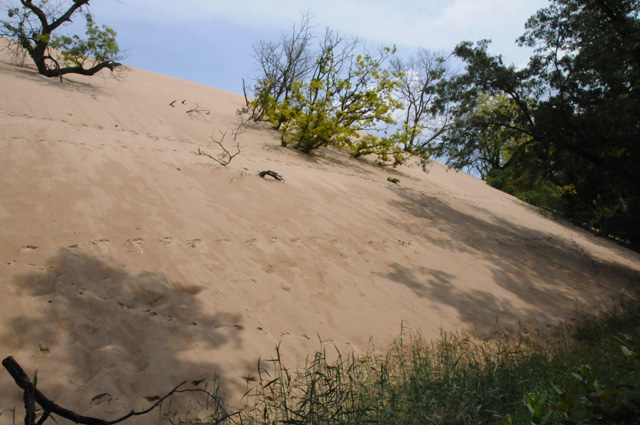 I'm sorry I cannot show you more of Mount Baldy, I could not get any further away to get the picture because of all the trees. Here are two pictures looking out over the dunes and the Lake.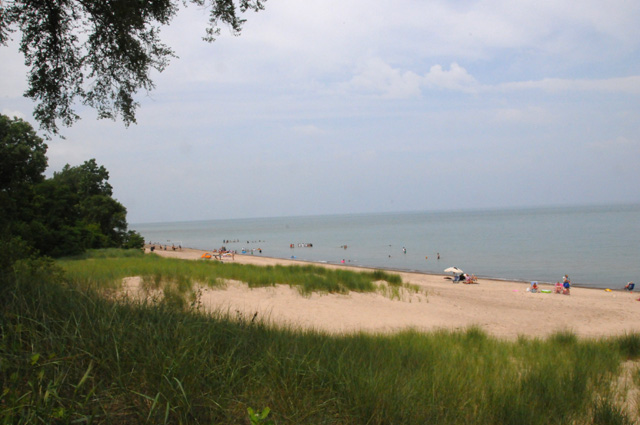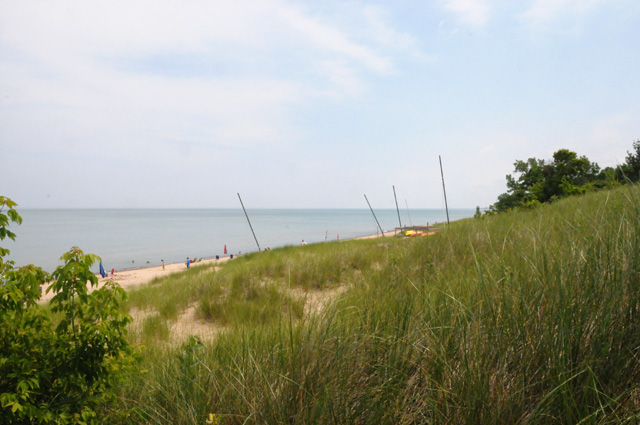 Then it was on to Purdue, founded in 1869.
Here's an after dinner shot of Justin, Amanda, Carson, Duncan, and me.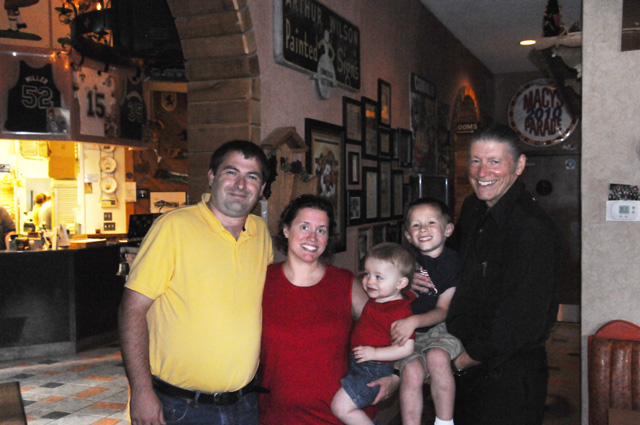 After dinner, I had a chat with the founder, John Purdue.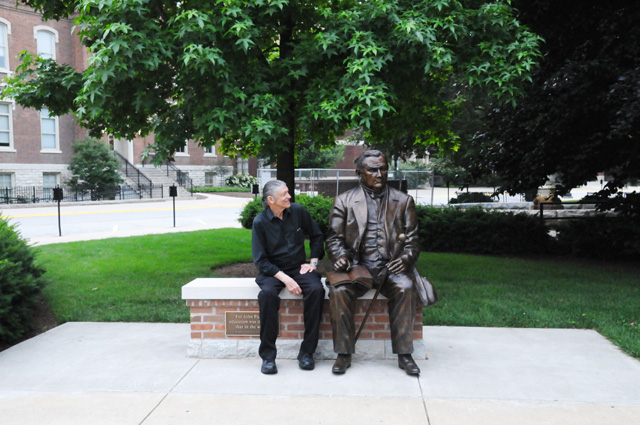 This is the Purdue Memorial Union. The Union Club Hotel is in this building.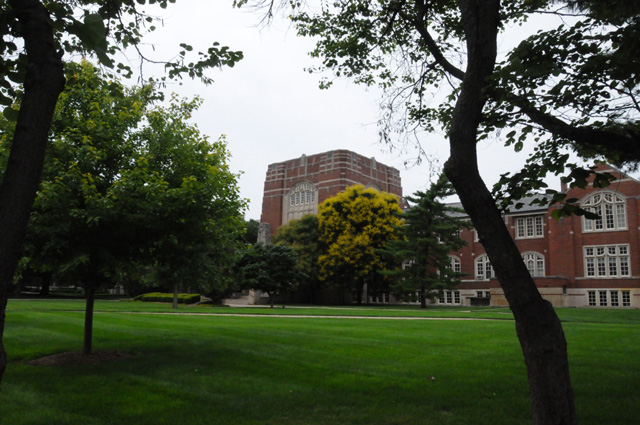 This fountain has been moved.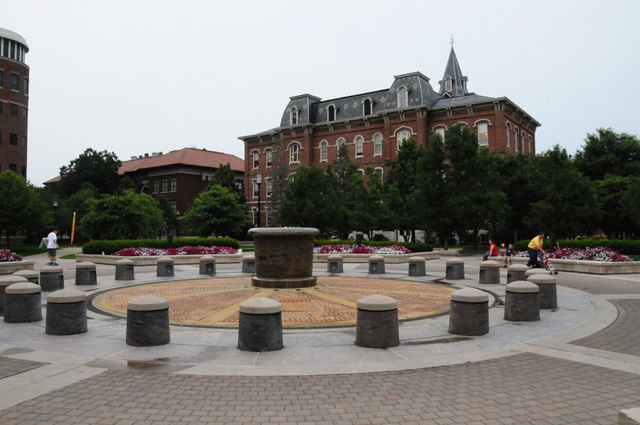 It used to be in front of this building.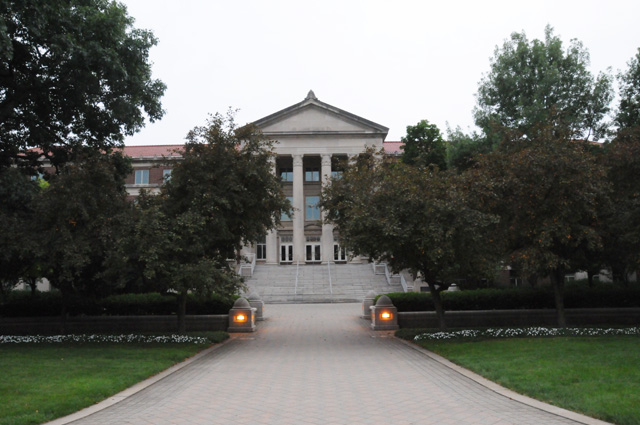 We are standing in a natural ampitheater. I am clapping my hands to hear the effect.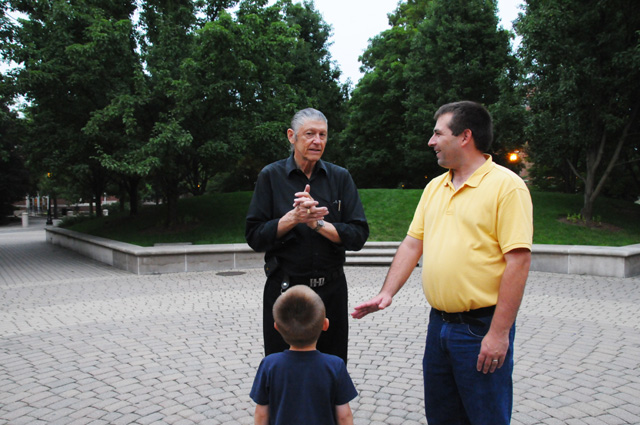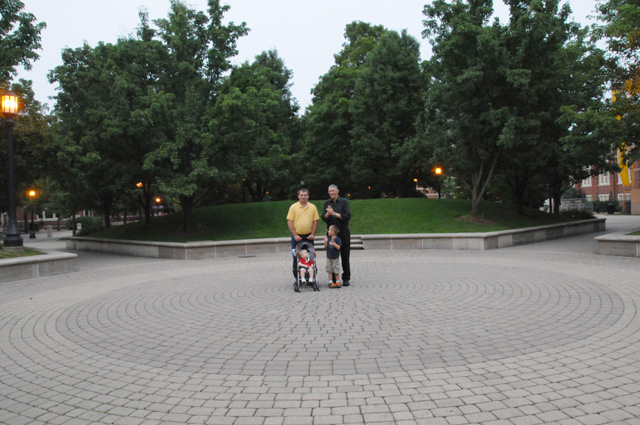 Dinner and the campus walk are over, and the guys are sitting in the back of Justin's pickup waiting for the fireworks to start.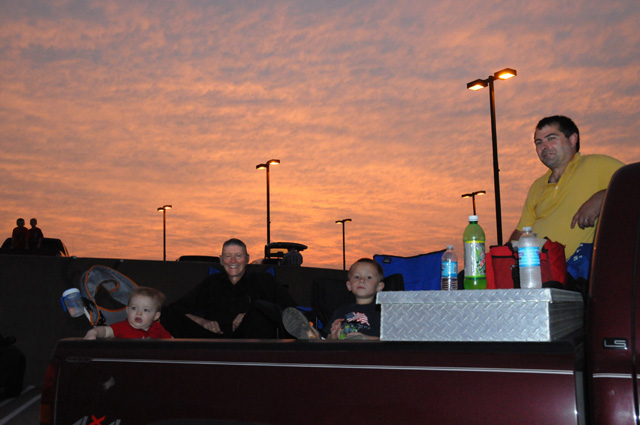 Here's one shot of the fireworks.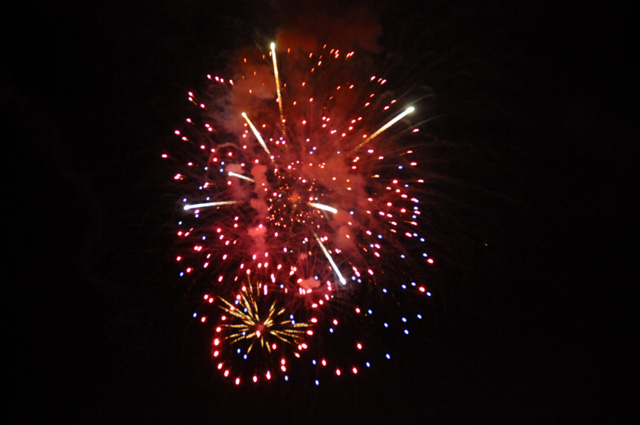 ---
5 July 2013, 11:30 PM ET, Purdue University, West Lafayette, IN
I am still at Purdue. I had a busy day, and ended up being more tired than when I ride all day. I took a two hour nap this evening! I have not had one single nap on my ride until today! So there for all you people who think riding all day is tiring! I get more tired when I don't ride!
As I predicted a couple of days ago, today was a time to relive old memories.
Let's get to the pictures. First is the Electrical Engineering Building. I would call it the EE Building. I had many classes here. Today the department is called ECE for Electrical and Computer Engineering. When I was a student, computers were part of EE, but a small part. There were no personal computers. There were no work stations. There were a few main-frame computers scattered around the country. I did some programming as a student. We used a language called Fortran. We would type the lines of our program and they would be punched into index cards about 3 inches by 6 inches. Those cards were called IBM cards. Then we would submit the IBM cards to the computer people who would run them overnight and give you some papers the next day showing the results of your program run.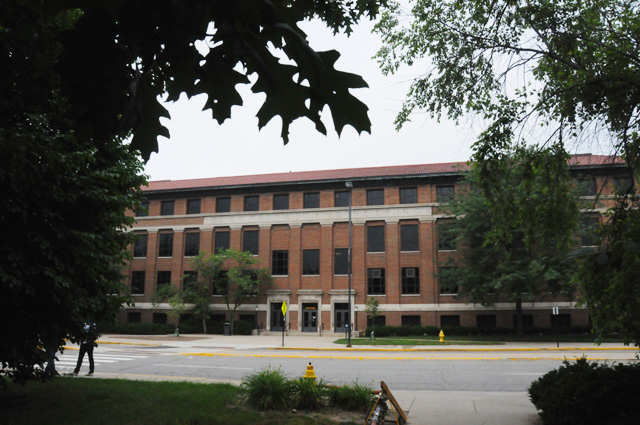 When I was a student, there were two tall towers on the EE Building, supporting a wire that hung between the two towers. That was an antenna for a radio station. The towers were removed in the 1980s.
Next picture is the Physics Building. I had many classes here also.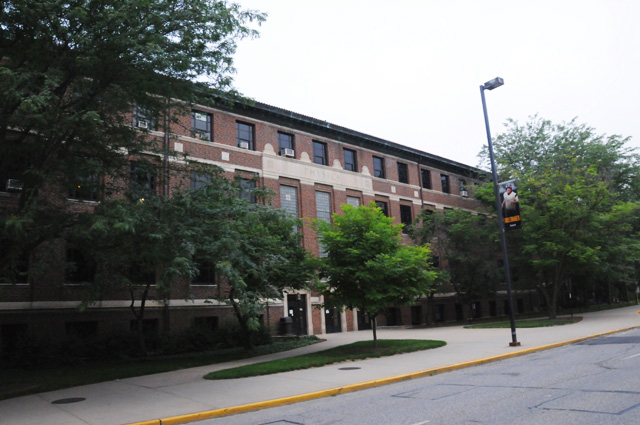 The EE Building and the Physics Building were a few hundred feet apart, and the engineering mall was between them. You could see all the way down the mall to the Hovde Administration Building with a fountain in front. Here's the Hovde Building with its new fountain, which was running today.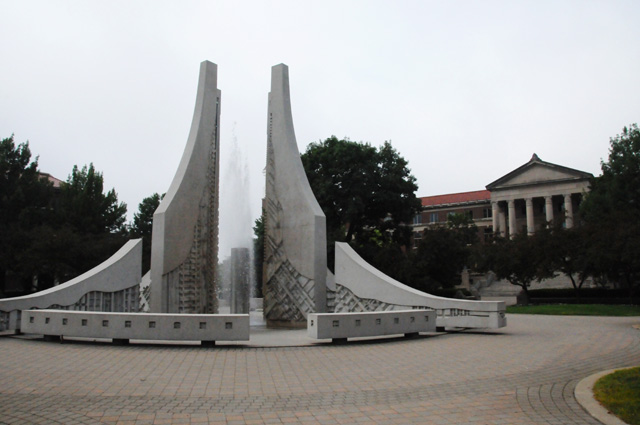 The fountain in front of the Hovde Building when I was a student is the fountain I showed you yesterday that I said had been moved. Today the fountain was running, here's what it looks like with water. Much better.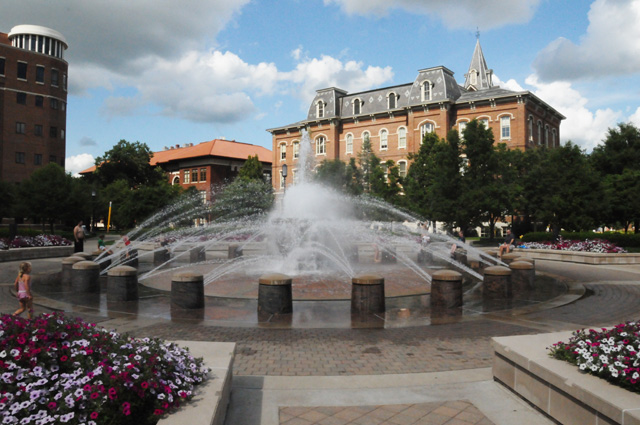 I went to the EE Building at 9 AM to meet with Julia who was going to show me around the EE Building as it is today. On the way to meet Julia, I stepped into the lecture hall and grabbed a picture.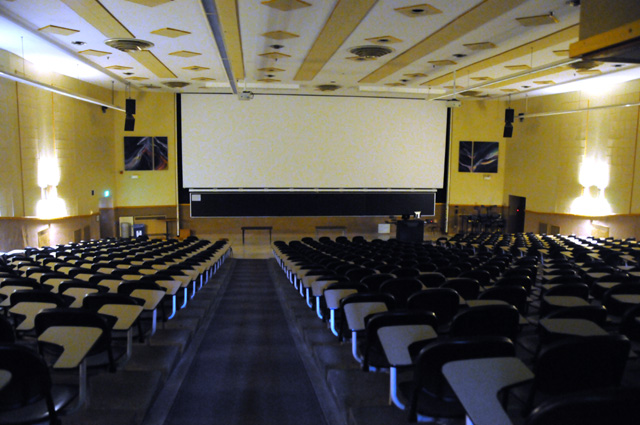 I had a number of classes in this room. Normally a full Professor would give a lecture on the topic of the course, and this would happen a couple of times a week. Then the rest of the week you would meet in smaller classes with a Teaching Assistant, normally a graduate student, for an informal discussion of the topics from the lecture.
Julia was taking me to the area where there used to be a big motor lab, a lab I remember well, but a lab that was removed not long after I left Purdue, and I saw pictures hanging on the hallway wall that showed EE classes from the past. I had never seen these pictures. Immediately I wanted to see mine, from 1964. Here it is.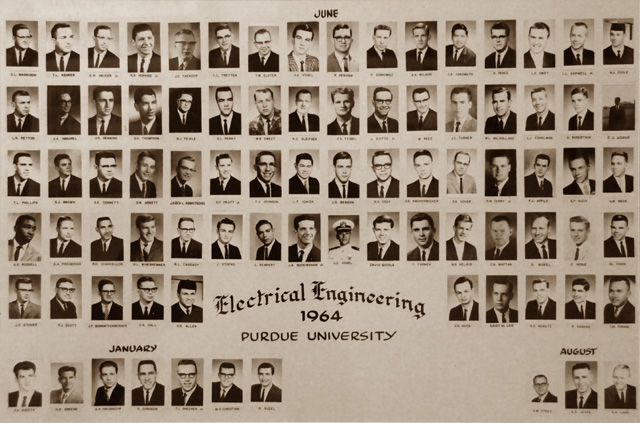 That's me on the top row, the fourth from the left. If you click on the picture you will see a high resolution copy.
After much more discussion and exploring the EE Building with Julia, we headed to the Sweet Shop. That's what I call it. Today they call it Pappy's. The full name is "Pappy's Sweet Shop". What I cannot remember is whether that was its full name back in the early 1960s. I never knew it as Pappy's, only as the Sweet Shop. Among other things, the Sweet Shop serves chocolate shakes. Here's Julia and me getting ready to enjoy our chocolate shakes as soon as the picture is taken. We could hardly wait!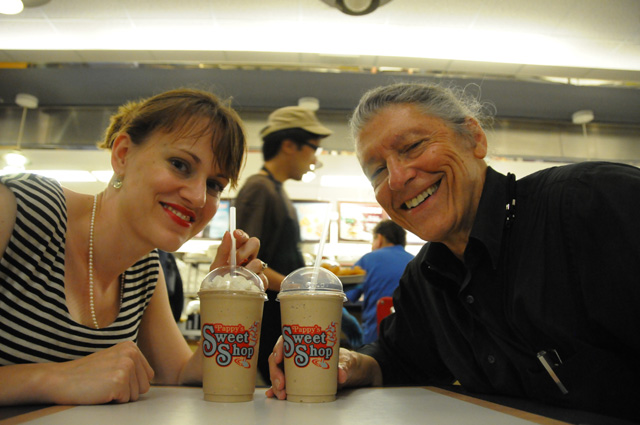 Here's a part of the Sweet Shop that looks familiar to me. I think this is sort of what it looked like when I was there.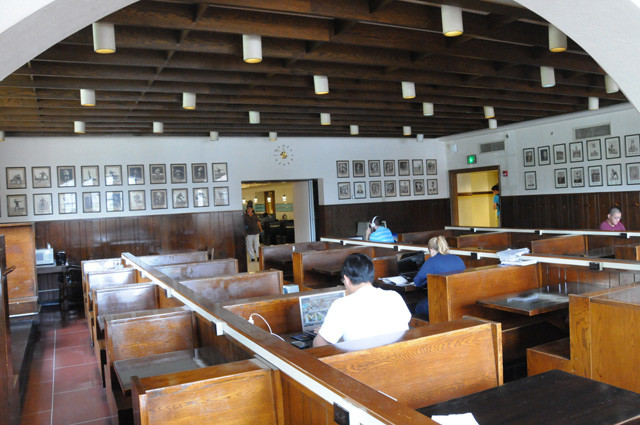 Here's another part of the Sweet Shop, rather Art Deco. I don't remember that. Maybe it was that way, but I remember it more like the picture before.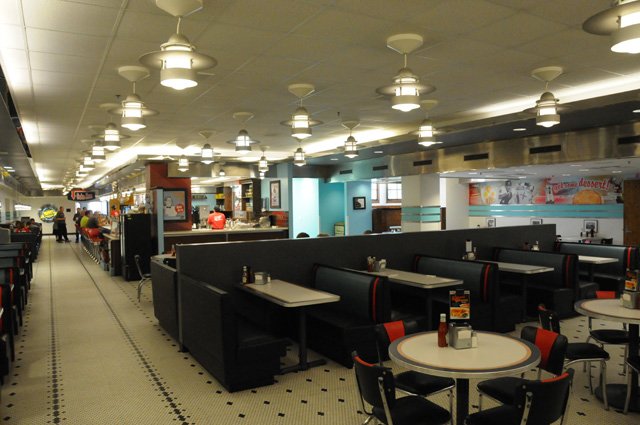 After Julia and I finished our shakes, she headed back to the EE Building and I headed out to explore other areas.
Purdue was a land-grant college. When I was a student, ROTC was required at land-grant colleges. I was in Air Force ROTC. This picture is the Armory. We often marched around inside the Armory.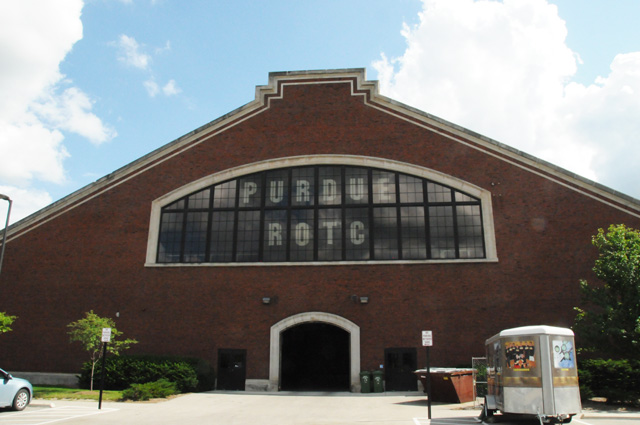 Here's a look inside the Armory.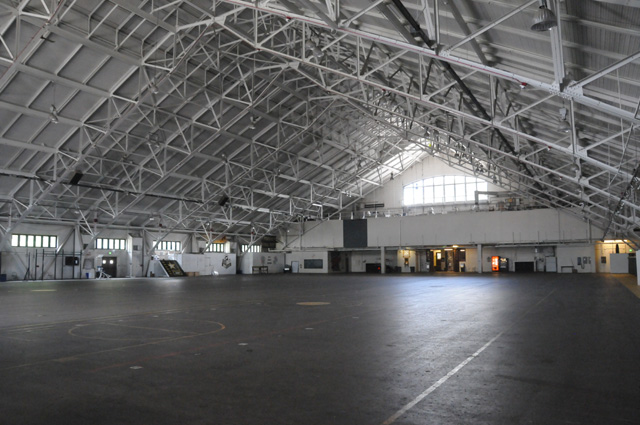 Another part of student life was studying. And I did a lot of that. I had come from a very small country school, 22 students in my class, and I was enrolled in a difficult curriculum. I had to study a lot. This building is the Stewart Center. It has a library inside, with lots of floors. I would often study in the library. There were some small glass-enclosed rooms with a table and four to six chairs. The lady who was to become my wife and I would often meet here in one of those rooms to study.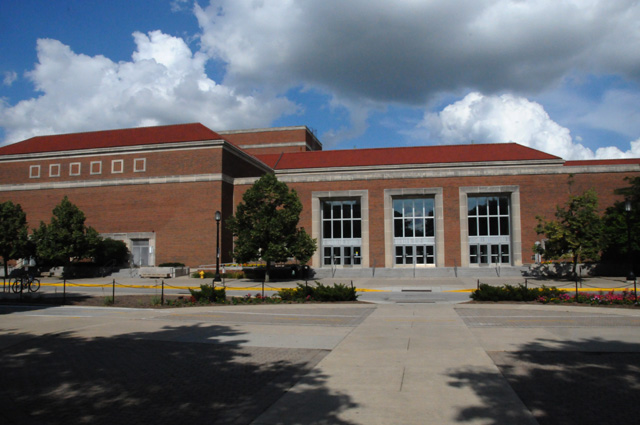 There is a mural at this entrance to the Stewart Center.

To see the mural in higher resolution, click on the picture. The mural was done by Eugene Francis Savage in 1961. It is titled "Spirit of the Land Grant College". The mural was a gift of Mr & Mrs R B Stewart and Mr & Mrs W Scholer. R B Stewart is the person for whom the Stewart Building is named. I knew him. He was an executive at Purdue, and had become a member of my fraternity when he was a student.
During my freshman year at Purdue I lived in a dorm called H2. There were three buildings shaped like the letter "H", and I was in the middle one. This is H2 in the picture below. My room was on the third floor on the left, just about where the tree is.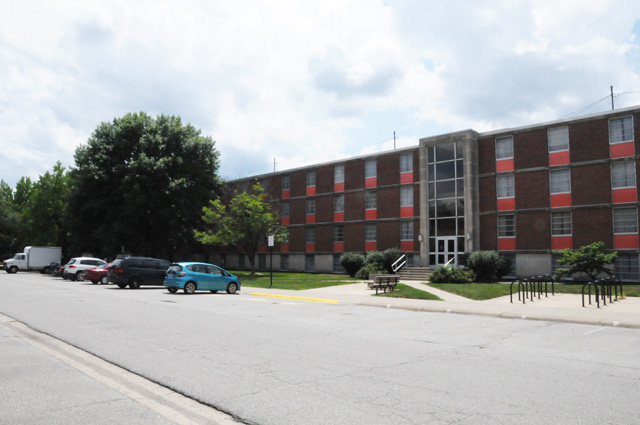 At the end of my freshman year I pledged the fraternity Alpha Chi Rho, or AXP. Here's the fraternity house. I went there today and walked through the house. Some of the guys could not believe there was an alumi from 49 years ago visiting.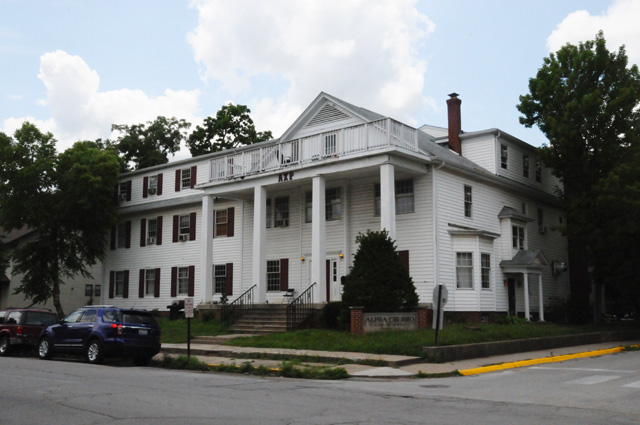 During my Purdue years I often went to the Baptist Student Foundation. During my freshman year it was a regular house, it was replaced with this building when I was a sophomore.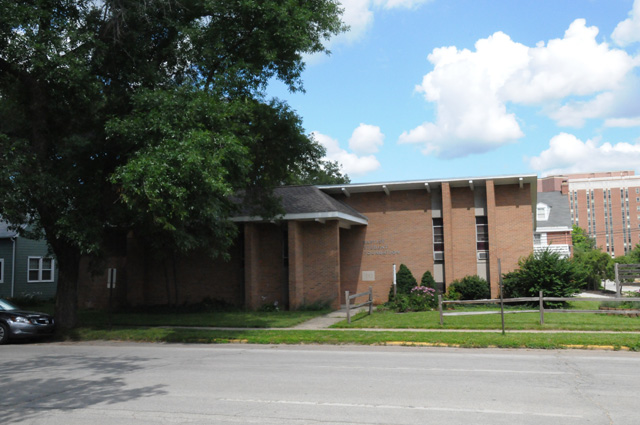 I mentioned my first marriage a day or two ago, here's the church where I was married. It was new in 1964, and I believe our marriage was either the first or second in the church. It looked the same as it did 49 years ago.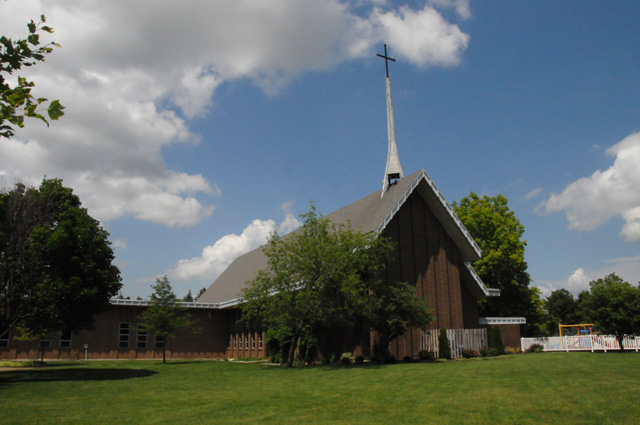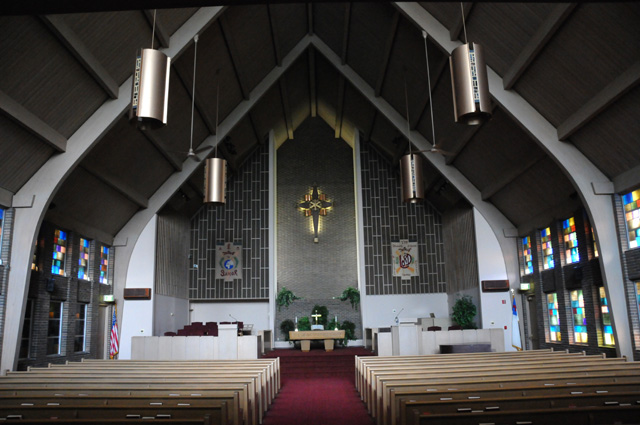 This is a new building on campus. Named after a famous alumni.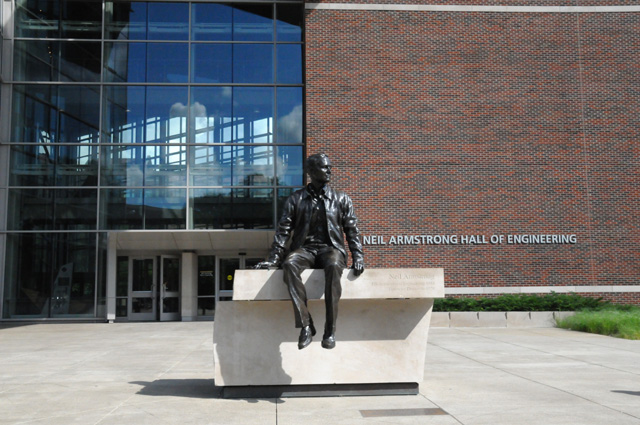 And here's the Sigma Chi house for any of you who may be or know a Sigma Chi.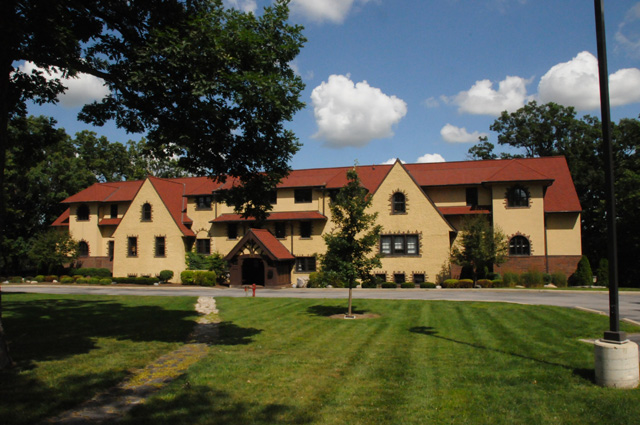 Tomorrow I will be off again. I have been on the road almost a month, and stayed somewhere different every night except for two times, in Salt Lake City and here at Purdue. I will get back home on Tuesday. I rode 32 miles today exploring the area. I have 9,562 total for the ride. I don't know if I will reach 11,000, it will be close. We'll have to wait and see.
---
6 July 2013, 11:59 PM ET, Louisville, KY (actually Clarksville, IN very near Louisville)
Today was another rainy day. I left Purdue, and within ten minutes it was raining. I saw sprinkles on the bike before leaving. I was in two different showers on the way to Indianapolis, with very light rain between the showers. I was in Indianapolis for about two hours, and that was dry.
I returned to downtown Indianapolis for two reasons. First was to meet Dean over a cup of coffee. Thanks for the coffee Dean. We have corresponded a number of times with email, but we have not met in person until today. Some time ago, Dean found my Route 66 Travelogue on the Internet and that's what started our discussions.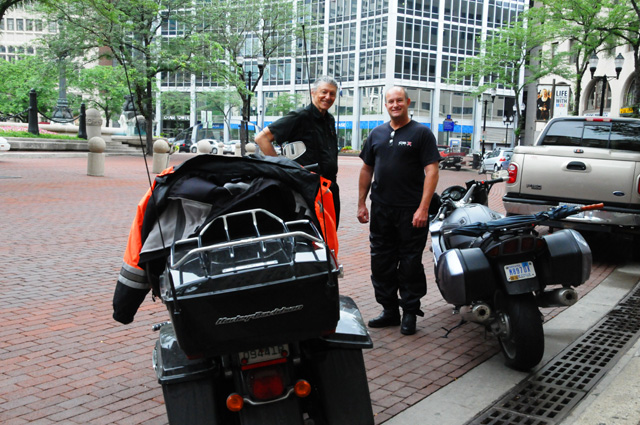 Dean pointed out to me these bears who work so very hard to keep the lamps up that surround the Soldiers and Sailors Monument.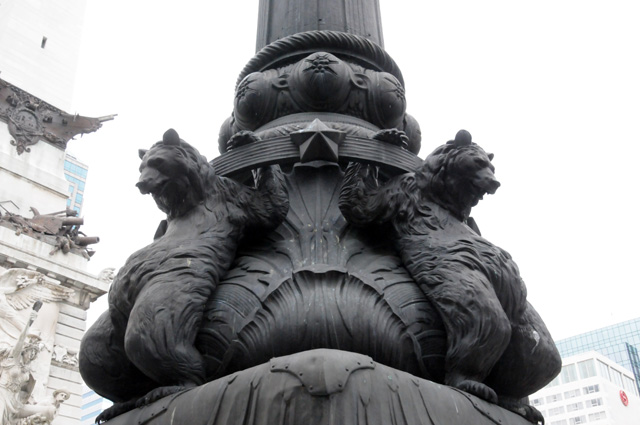 And that leads me to my second reason for returning to Indianapolis. After I was in Indianapolis earlier on this ride, Charlotte told me by email that her father's name was engraved there. I decided that I would find his name on my way back home. It turns out that names are not engraved on the Soldiers and Sailors Monument. The names are at the Indiana World War Memorial. Dean led me there on our bikes and we asked for help. Eventually, we found the name. But first, you have to see the Memorial just as we did. Here's the outside.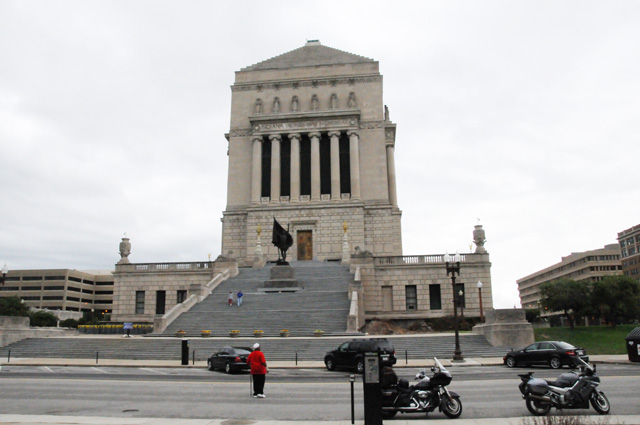 And this is inside the Indiana World War Memorial.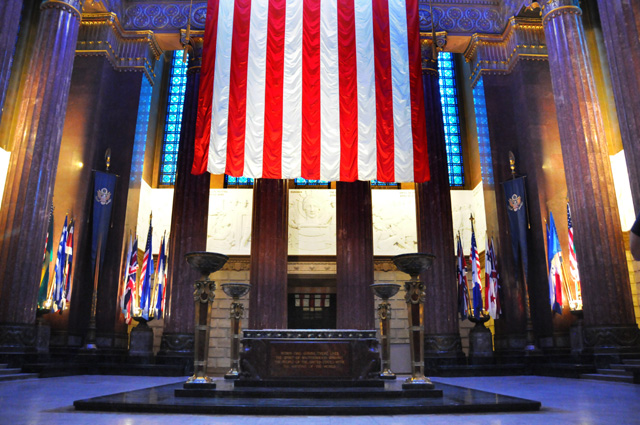 This last area is up some steps (actually many steps) and all along the steps up both sides of the Monument are large frames holding names of World War I Army and Marine Corps Veterans from Indiana. Here's one of those frames. Click on the picture to see a high resolution copy. Look at the fourth column, the fifteenth name from the bottom. You are looking for Charlotte's father, George P. Dennerline.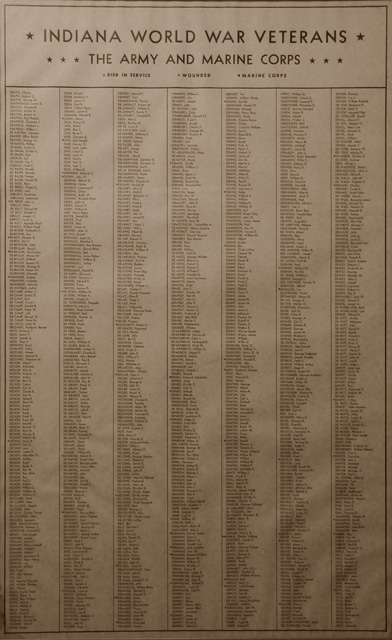 To make it a little easier to find the name, here's a close up photo of only a few names.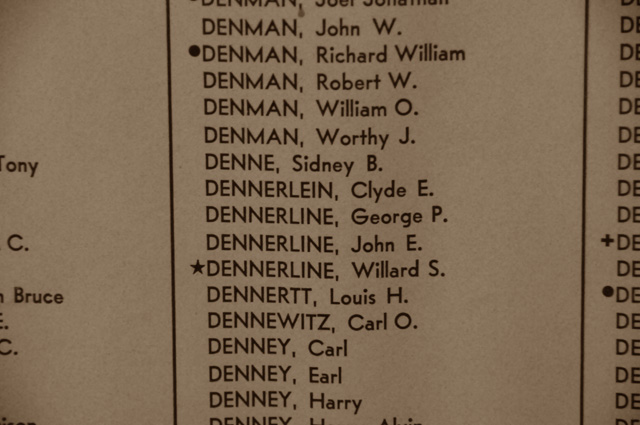 After a couple of hours, I had to leave, and I endured constant rain almost immediately after leaving downtown Indianapolis that lasted until I reached Columbus. Then it was dry the rest of the way.
I had another appointment. In southern Indiana, near New Albany, I met Phil for the first time. The story is the same as you heard just a few pictures ago. Phil and I have corresponded since Phil found my Route 66 Travelogue and got in touch with me. Phil and I had a chocolate shake. Thanks for the shake Phil, I needed it.
I think it is really cool to be able to put pictures and stories of my rides on the Internet and have strangers find them and get in touch because of similar interests.
Thanks Dean and Phil for getting in touch with me.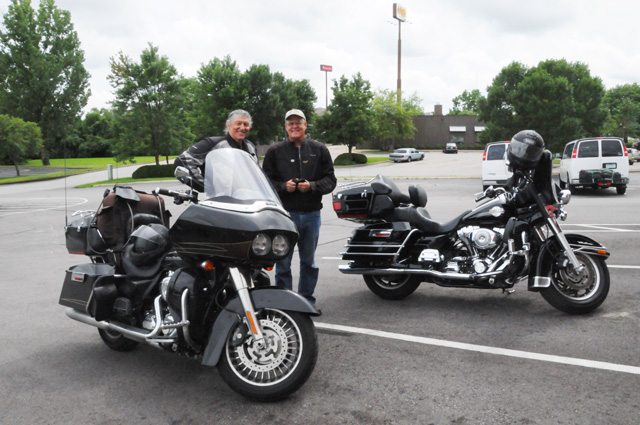 I had only five more miles to ride, and Phil rode ahead of me because it was on his way back home. I had to get ready for dinner. My two brothers and sister and various nieces and families and a sister-in-law and I would share one more meal before I went home. We went to a Texas Roadhouse.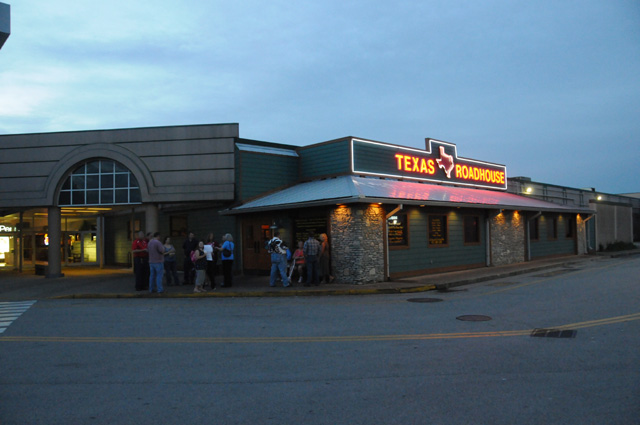 Not only were we to dine at a Texas Roadhouse, it was the very first Texas Roadhouse. It opened on February 17, 1993.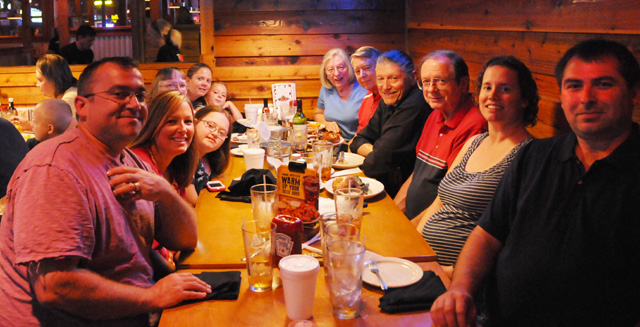 The group above starting at left front is Kelly, Karen, Riley, Bonnie, Jessica, and Olivia. On the right, starting from the rear is Carolyn, Larry, me, Johnny, Amanda, and Justin.
This is Chandra who was very good to us. Thanks Chandra.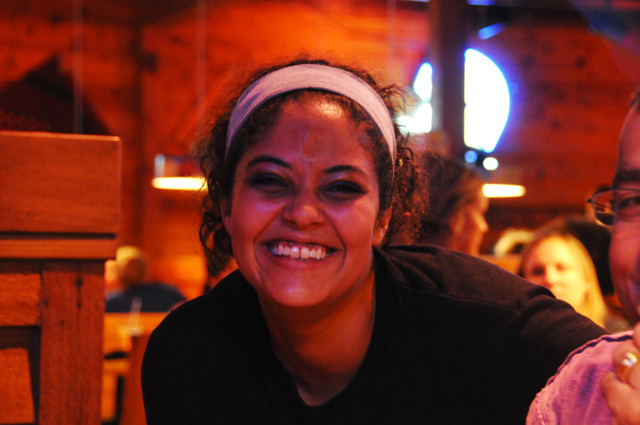 So that's my story for today. I didn't get wet, although I was unable to get my boots on for dinner, they had gotten just wet enough that I could not pull them on. I wear orthotics, and after I removed them I could pull the boots on. I hope they are dry enough tomorrow that I can get them on with the orthotics.
I rode 185 miles. I have 9,747 miles now. I may reach 10,000 tomorrow.
Why the strange byline for today? The family meal was to be in Louisville where my sister lives. In order to be kind to the rest of the family, she suggested we meet on the Indiana side of the Ohio River so they would not have to go through Louisville traffic. As far as I am concerned, though, we met in Louisville. So, my byline.
---
7 July 2013, 10:30 PM CT, Nashville, TN
My ride is winding down. I can feel it. I cannot get away from that feeling. It is not a good feeling. I do want to get home. I am ready to get home. But I don't want the ride to end. But it is ending. I can feel it.
To help soothe that feeling, I have already set up the web site for my next ride, it is my US Northeast Ride. With my current ride, my US Northwest Ride, I have now been in all 50 states, and I have ridden in 38 of the 48 continental states. My US Northeast Ride will complete the 48 for riding one of my bikes.
I left the Louisville area in sunlight this morning. No rain. I did not use my rain jacket at all today. In fact, it was hot at times. I did have problems getting my boots on. I went to breakfast without the orthotics, I just couldn't get the boots on with them in the boots. After breakfast, I decided I had to do my boots correctly, so I took them off, put in the orthotics, and worked at it for about ten minutes pulling here, pulling there, and finally the boots snapped on. I thought about sleeping with them on tonight so I don't have to go through that tomorrow, but then I thought about showering, so off with the boots. Afterall, tomorrow is another day.
I picked up another 270 miles today, again below my average. I have 10,016 total miles now. I will have to pick up about 500 each day Monday and Tuesday to get home. I do need to be home by Tuesday evening. I have lots of things to get done on Wednesday and the rest of the week, and I must be home to do them.
I had a few things I wanted to do today, with pictures for you. First was Churchill Downs. You know I am a Kentuckian by birth. Because of that, I have to watch the Kentucky Derby every year. It is not by choice. Many times I have seen Churchill Downs from I-65, but this time I had to capture it for you. I went directly to Churchill Downs, told the nice guy I had to get a picture for you, and he told me he wasn't supposed to let me in, but if I parked my bike over here, and went over to that fence I could get a picture and then be on my way. Here is my picture through the fence.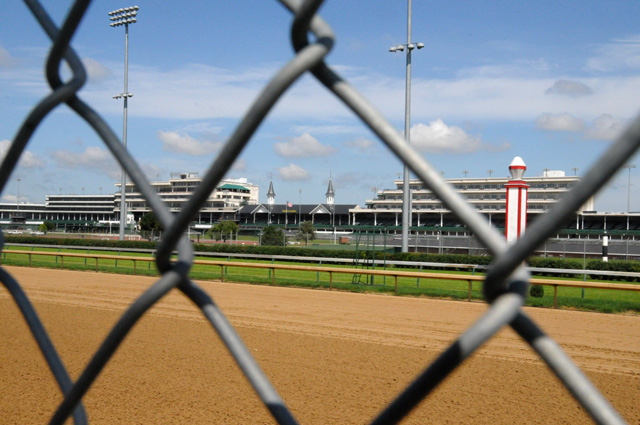 And another one with more telephoto through the fence.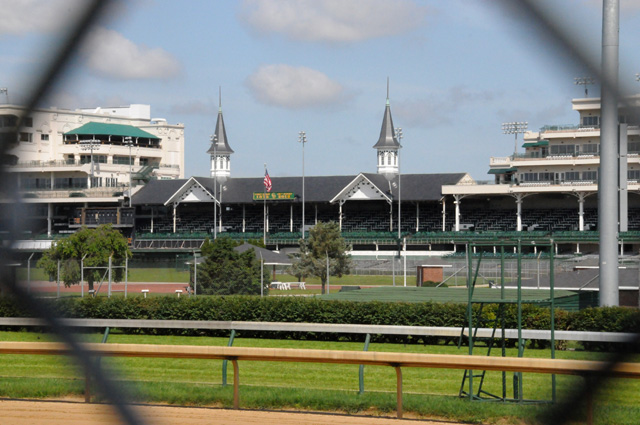 Here are two stables I walked past to get to the fence.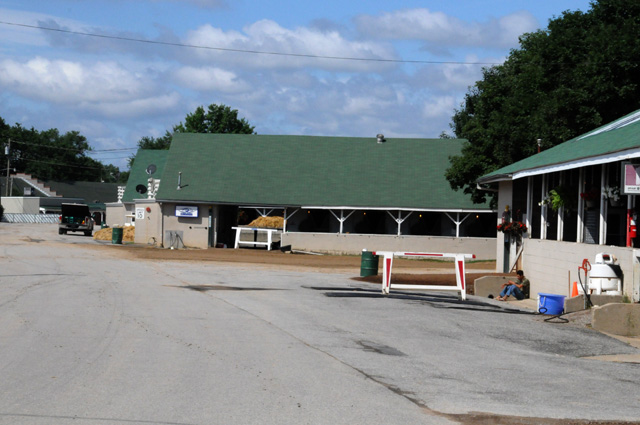 This horse watched me very carefully to make sure I did as I was told.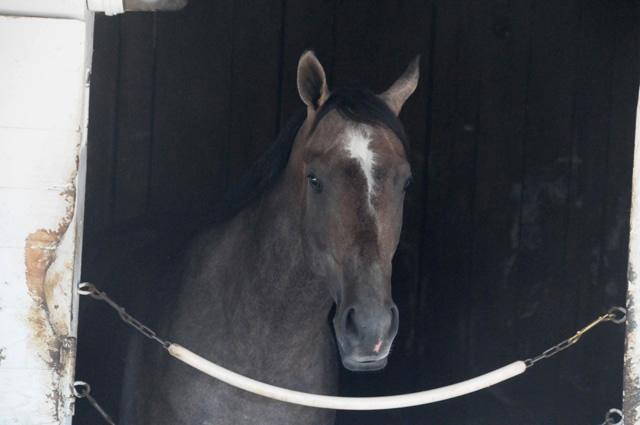 Then I was off on my next mission. You know I am a Kentuckian by birth. Because of that, I have to consume a large number of Mint Julips while watching the Kentucky Derby every year. It is not by choice. The bourbon is Maker's Mark. Many times I have seen a sign for the Maker's Mark distillery on I-65, but this time I had to capture it for you. Here's the most important building. This is where they make Maker's Mark. They make it by hand, not by machine. Like my boots, Lucchese, made by hand, not by machine.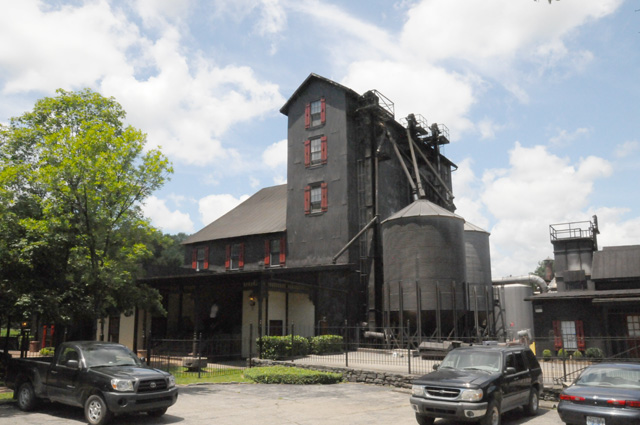 Here's the entry to the building.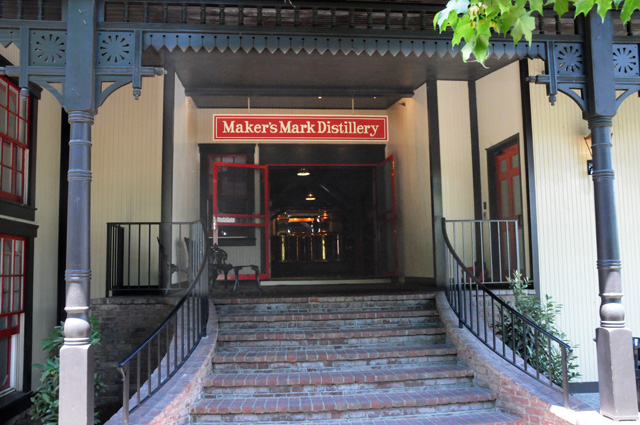 First they do something in these big vats.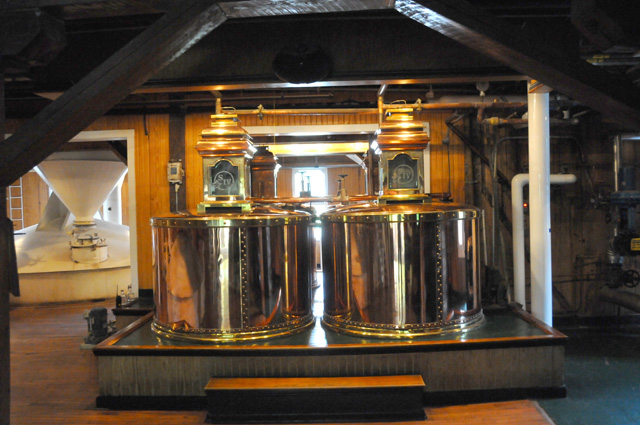 Then they do something else in these big vats.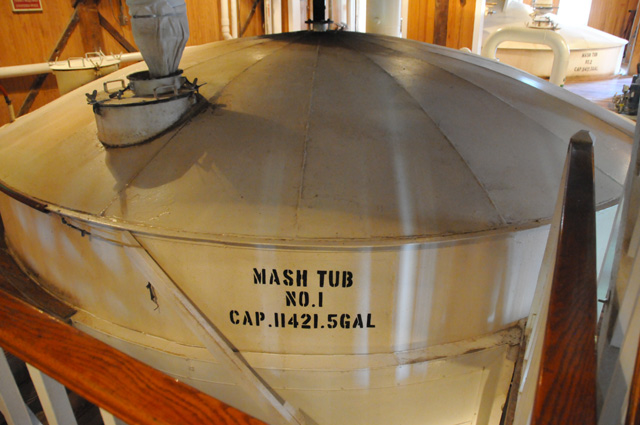 Then they do still something else in these big vats.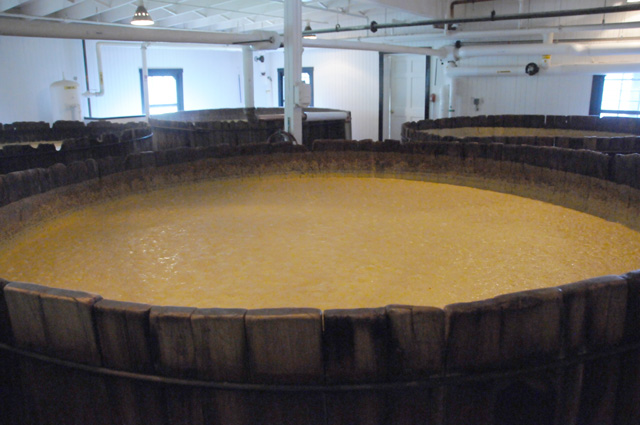 Then they age it in these barrels.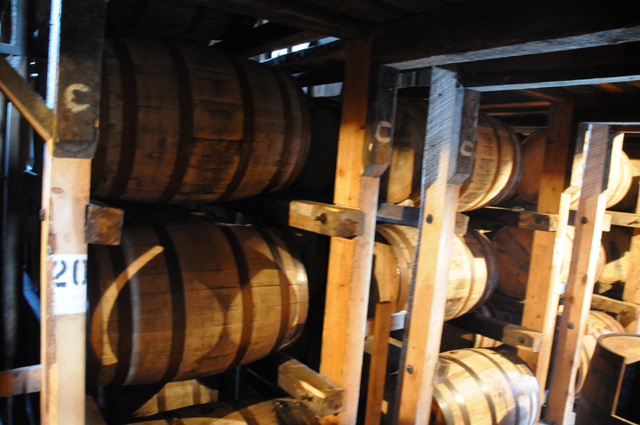 Then you can taste it.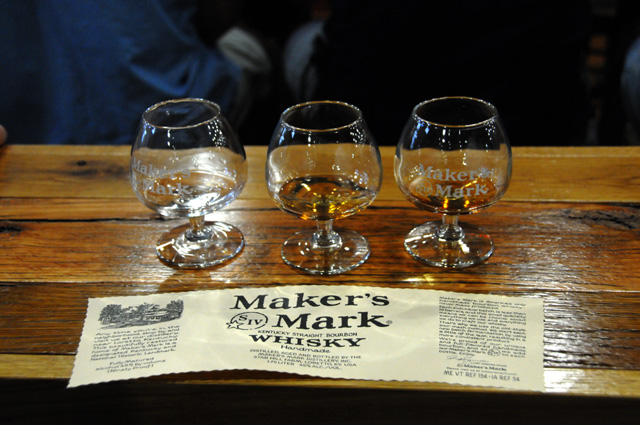 Then you can buy some in these bottles.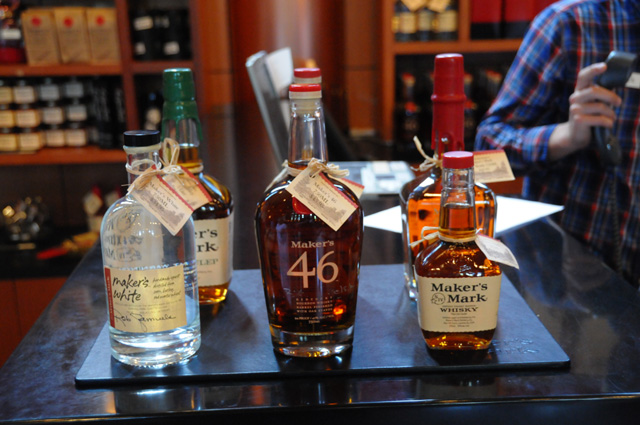 That's sort of a summary of how they make Maker's Mark. I hope you understood that.
Here are a couple more pictures from the Maker's Mark distillery.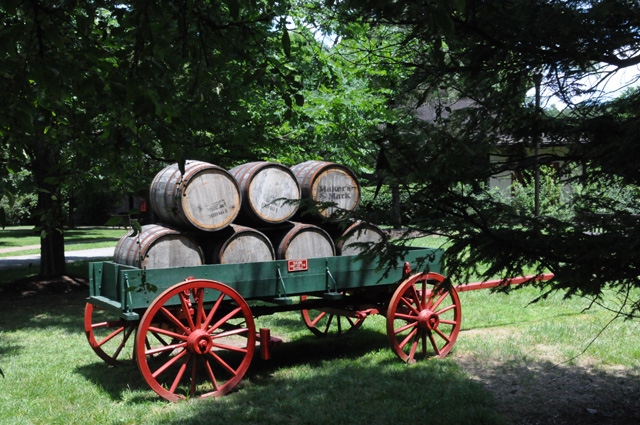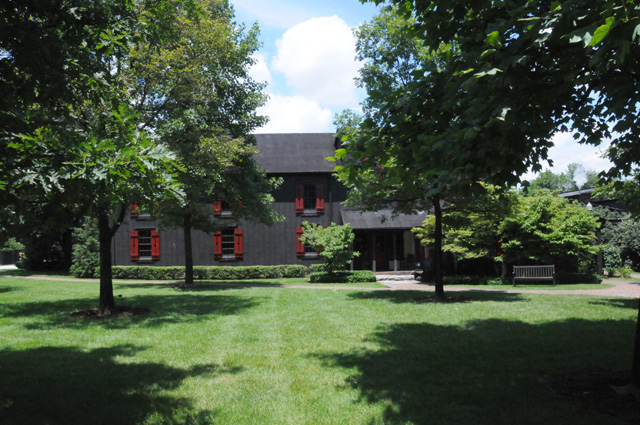 Did you remember that I am in Nashville tonight? Did you know that Nashville is a Capitol City? Here is a picture of the Tennessee Capitol. I think this may be the back of the building, but that's where the sun was shining and it looks better, so that's what you get. If you want to see the front, you can go back to my Natchez Trace pictures and find it.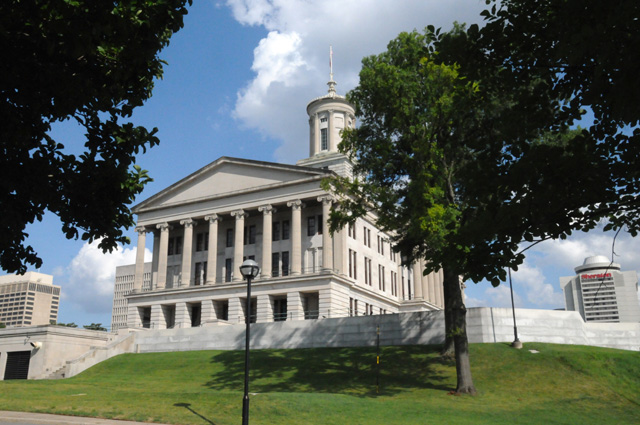 As I was riding into Nashville, I thought how distinctive the skyline looks. On my way out, I decided to stop on the bridge, there is no shoulder, I stopped in a lane of traffic, and quickly took this picture. I worry that someday a policeman will not think kindly of my parking my bike in an active lane of traffic.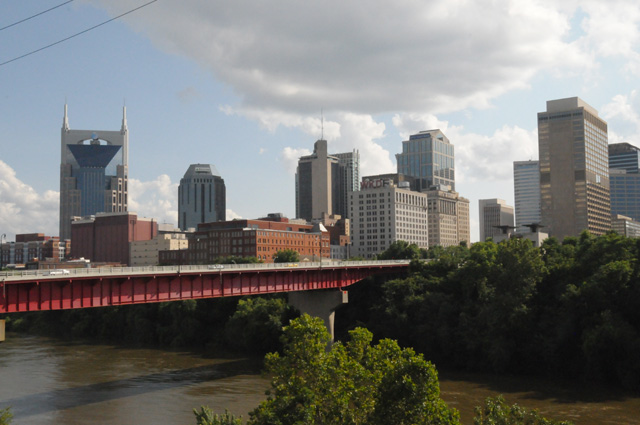 I am very near the Grand Old Opry tonight. So, I had one last mission for the day, to get a picture of it for you.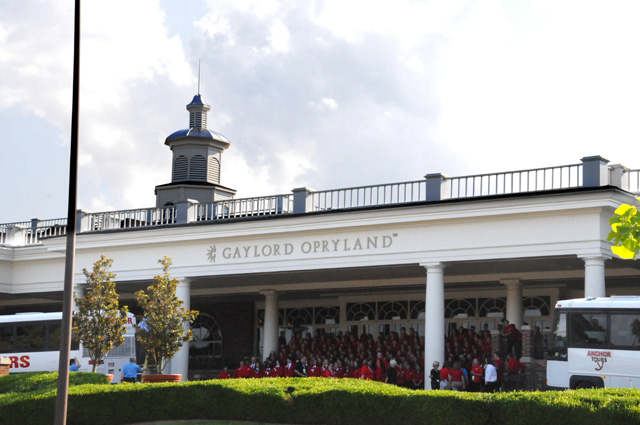 Some sort of photo thing was going on. Here's a better look at that.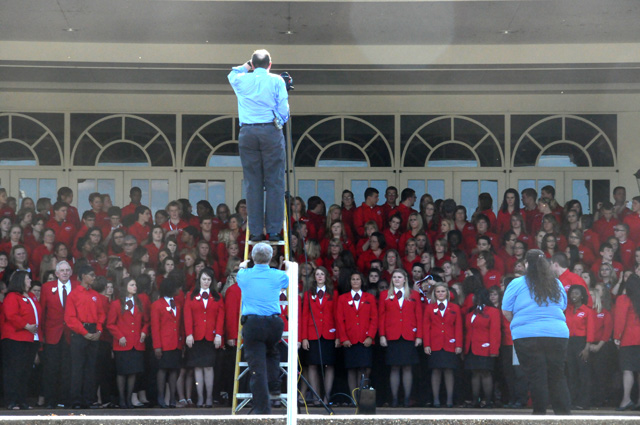 Well, that's all folks. For tonight, anyway.
---
8 July 2013,m 11:50 PM ET, Cordele, GA
In some ways today was the most tiring day I have had. Rain had a lot to do with it. During the later afternoon, I had to stop multiple times because I didn't feel right. I wish it would just rain, or not rain. Not both. When I am in and out of showers, I have to wear the rain gear all the time. When I am in rain it is OK. When I am not, it is miserable. I overheat.
I had trouble with my boots again this morning. The left boot took about 10 seconds to get on. Not normal, but acceptable. The right boot took a few minutes. It is still very tight. I always had my gaiters on during the rain today. Hopefully the boots are not worse tomorrow morning.
On a positive note, I had a chocolate shake. It made me feel much better. For a while, anyway.
I rode 507 miles today. I have 10,524 total. It is 450 miles to home. Will I have 11,000? You will have to check back tomorrow to know. Any guesses?
I left Nashville late this morning, I was up late last night and I slept late this morning. I do not set an alarm, I get up when I wake up. I decided to follow a suggestion by Dean, I went to Birmingham to see the Barber Vintage Motorsports Museum. There are more than 1200 vintage and modern motorcycles and racecars there, mostly motorcycles. I took several pictures, but I will show you only a few.
Can anybody tell me why it rains when I go to a motorcycle museum?
Entering Alabama from Tennessee on I-65, I saw a big rocket. I parked my bike at the foot of the rocket to compare them.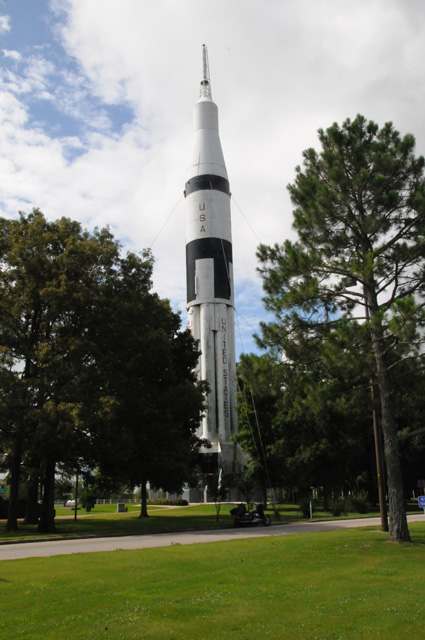 Can you see my bike near the base of the rocket? This is a Saturn IB, it is 224 feet tall. It was a 363 feet tall Saturn V that took astronauts to the moon.
Now some motorcycle pictures.
Here is an 1885 Maybach Daimler Reitwagen. It weighs 110 pounds and went 7 miles per hour. It is one of the very first motorcycles to be built.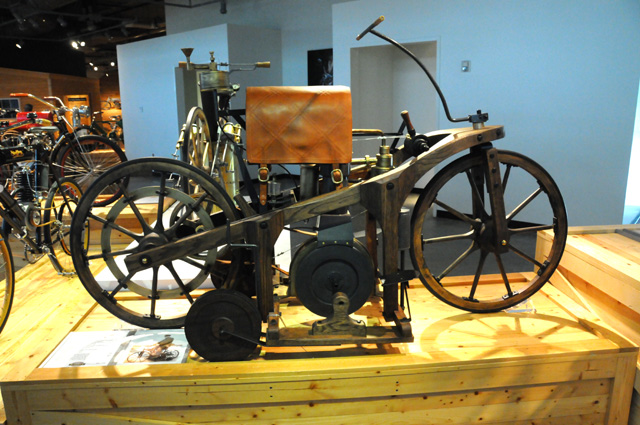 This is an 1867 Roper Steam Velocipede.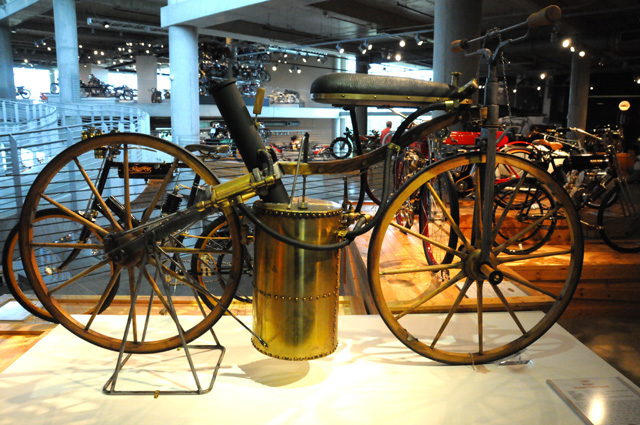 This is a 1925 Boehmerland, the oldest known to exist.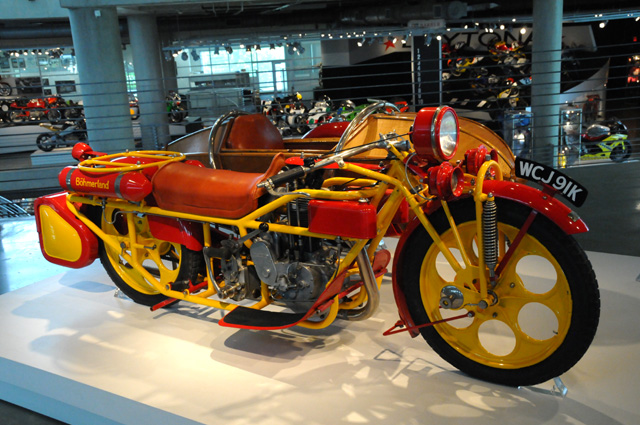 This is what I need when it rains.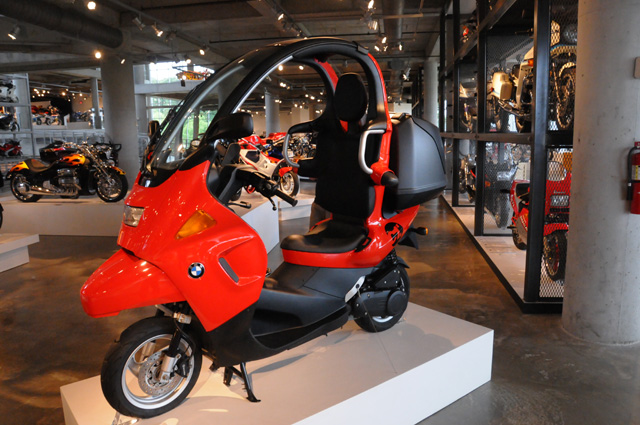 This is a 1948 Marmon/Schwinn. It has 3 1/4 horsepower. It can go 35 miles per hour and deliver 90 miles per gallon. The Marmon Products Company was established by Zeppo Marx, the youngest of the Marx brothers.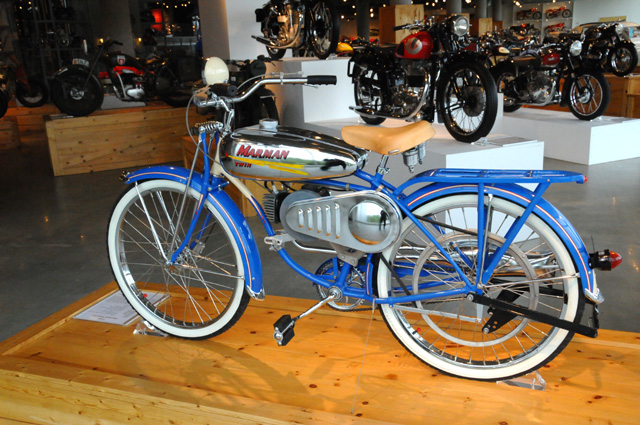 An Indian Scout.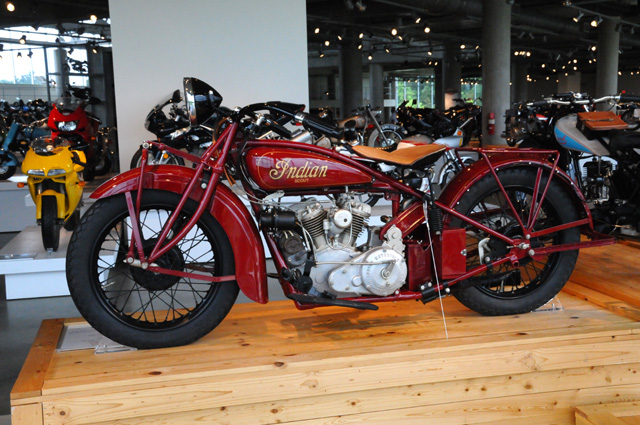 This picture gives you an idea of what the museum looks like. You see one floor straight ahead, one above, and one below. There are five floors altogether.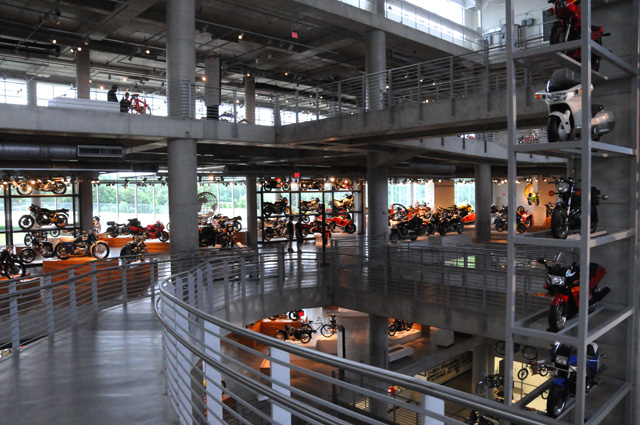 This Formula 1 car was driven by Rene Arnoux. Hanna and I may have seen this car run at Watkins Glen.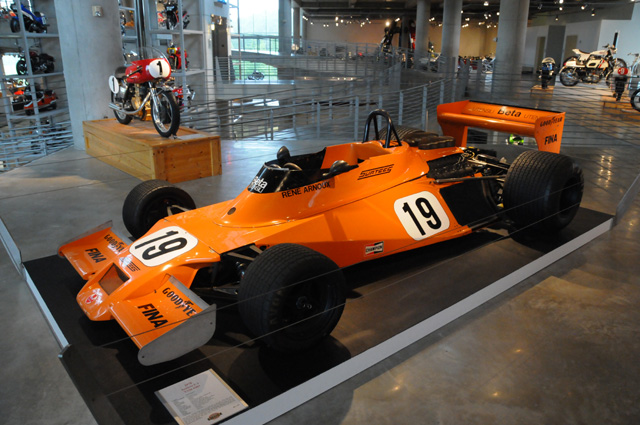 Hanna and I may have seen this Lotus John Player Special run also.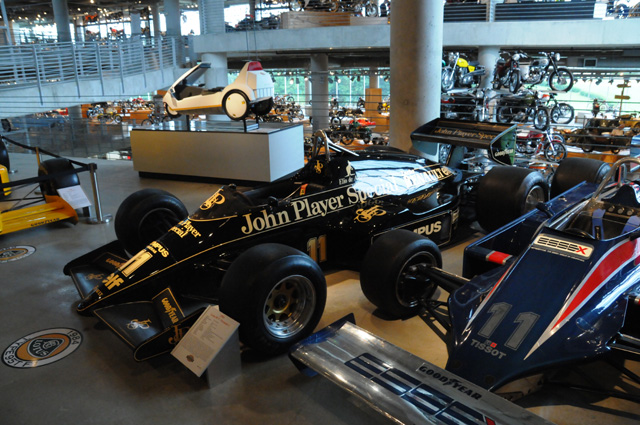 There were several race cars on this floor, many were Lotus.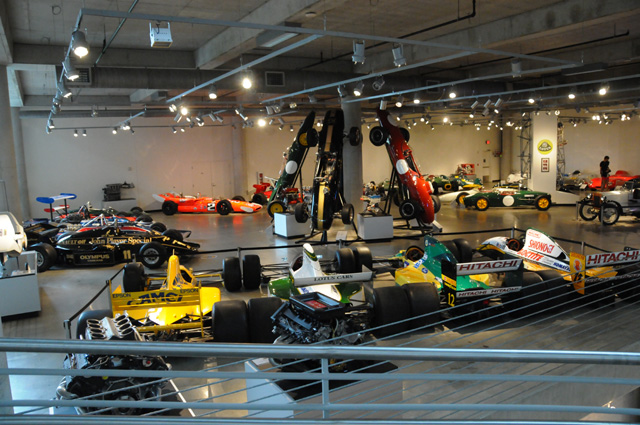 That's it for today. Tomorrow will be my last day on the road. This will have been my longest mileage ride, but not my longest time ride.
Good Night.
---
9 July 2013, 10:30 PM ET, North Palm Beach, FL
My US Northwest Ride has come to an end. I am home. I rode 493 miles today and have a grand total of 11,016 miles in 31 days. I will write a wrap up tomorrow, please come back and see my conclusions. I have not thought much about them yet, but I will before writing my wrap-up page.
I had no rain today, although I thought I would. There had been thunderstorms over much of the Florida Turnpike, but they had dissipated by the time I rode through the area. I had a late arrival home, it was 7:30 PM. I do know one of my conclusions, I had too many miles per day, which meant I had to ride later than I would prefer each day.
Today mostly was about getting home.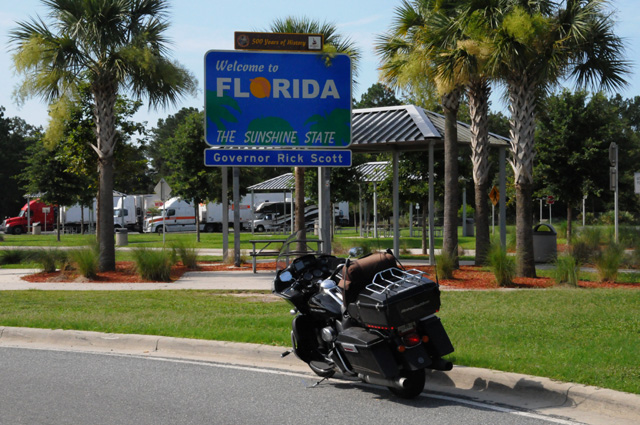 I just had to stop in front of this sign at the Florida Welcome Station on I-75, blocking incoming traffic, to get the picture.
I stopped to see somebody in the family on the way through the Gainsville area. This lady and I knew each other as children, but we have not seen each other since we were teenagers. This is Cookie and her husband Dave. Cookie is my cousin, she lived with us for a year or two during high school.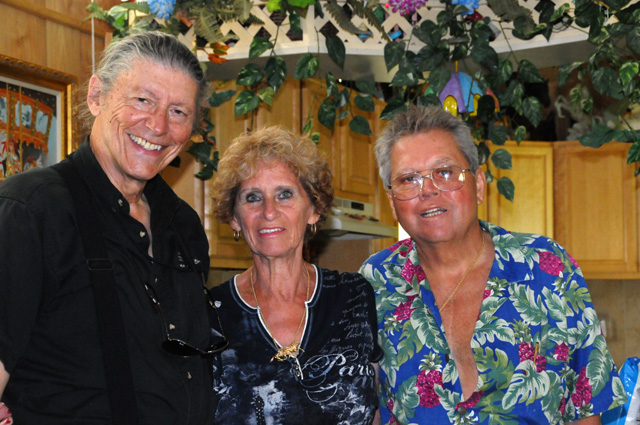 When I got back to the North Palm Beach area, I had to run past Juno Beach and see if the Atlantic Ocean was still there. It was. It was not sunny like it was when I took my departure picture on June 9. In fact, this evening when I was there it was spritzing rain.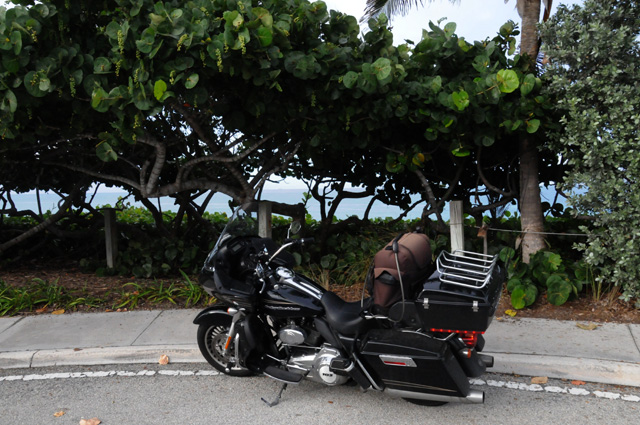 When I got home, my ladies were very happy to see me, and I was very happy to see them. They even had some red roses to welcome me home.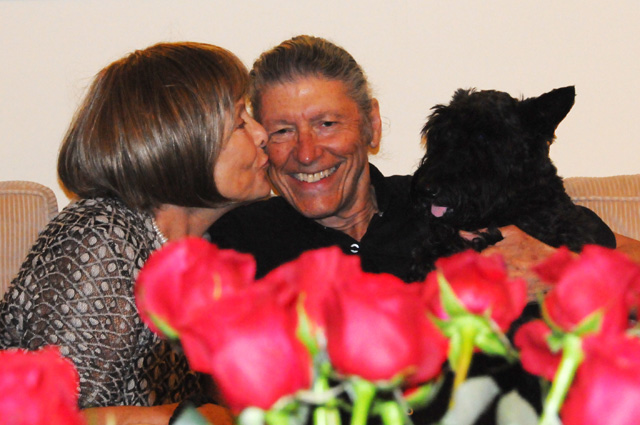 ---
10 July 2013
Wrap Up
Another very successful ride. Only two minor bike problems, the sticky throttle and a loose bolt that holds one of the side packs to the bike (the same bolt that holds down the rear seat strap). I found the loose bolt and tightened it using my handy Harley tool kit. I could have repaired the sticky throttle, but I didn't recognize the problem.
I rode 11,016 miles in 31 days, an average of 355 miles per day. I encountered rain in several regions, but no severe weather. I did see some snow, but it didn't stick to the pavement.
On previous rides, I normally had a target road, like Route 66, or US50. This time there was no specific road, just areas I wanted to ride through, including a number of US National Parks.
I burned 250.050 gallons of premium fuel and 2 gallons of regular. That's more than 13 barrels of oil. It turned out that I could have avoided the 2 gallons of regular, but I did not know it at the time and I did not want to take the risk of running out of fuel. I averaged 43.7 miles per gallon which is more than one mile per gallon better than last year. My highest mileage tank was 57.7 mpg, my lowest was 37.3 mpg. I never was low enough on fuel to worry about it, but the scarcity of premium fuel in some regions was a little troubling. I got fuel 54 times, 7 of them were over 5.5 gallons -- I have a 6 gallon tank. I had the bike serviced two times, necessary because of the high mileage on this ride.
I averaged 1.000 chocolate shakes a day.
I rode through 25 states, FL, GA, TN, NC, VA, KY, IN, IL, IO, NE, WY, CO, UT, NV, CA, OR, WA, ID, MT, SD, ND, MN, WI, MI, and AL, plus Alberta, Canada. I rode through 17 capitol cities, Atlanta, Frankfort, Indianapolis, Des Moines, Lincoln, Cheyenne, Salt Lake City, Carson City, Sacramento, Salem, Olympia, Helena, Pierre, Bismarck, Saint Paul, Madison, and Nashville.
On the ride I saw my sister and brothers two times. Except for one niece, I saw every one of my nieces and nephews, and some of them two times. I saw a cousin I had not seen in more than 50 years.
I like the way my new bike rides. It has a fixed fairing, my past bikes had the fairing attached to the fork. I really like the way it handles in windy conditions, especially turbulence.
Here's a list of my longer rides and how many days I was on the ride:

| | | | | |
| --- | --- | --- | --- | --- |
| Ride | Miles | Days | Miles Per Day | |
| US Southwest | 2,734 | 6 | 456 | |
| Route 66 | 9,266 | 35 | 265 | |
| Blue Ridge | 3,140 | 17 | 184 | |
| Natchez Trace | 2,910 | 11 | 265 | |
| US50 | 8,342 | 25 | 334 | |
| US Northwest | 11,016 | 31 | 355 | |
The US Southwest Ride was a true whirlwind ride. Many miles per day, but for six days only. Most of it was on Interstates where it is easier to ride more miles. I felt this ride was too many miles per day, but I see that it was only 20 miles per day more than my US50 Ride. Maybe I am just getting old!
Let me show you some of my favorite pictures. Here's the Capitol of Kentucky. I like the trees and the framing of the dome in the trees.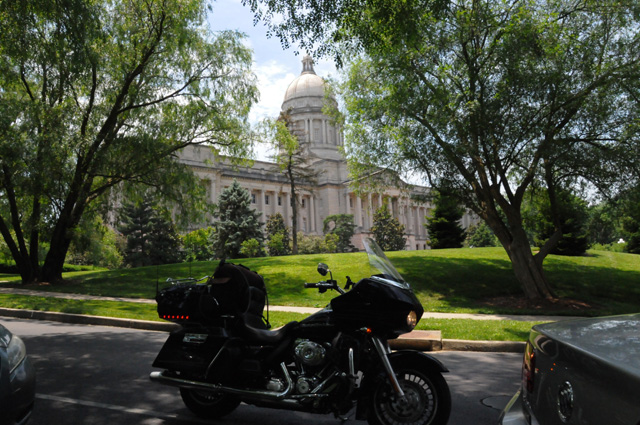 The following picture must be one of my favorites because it appeared four times in my travelogue.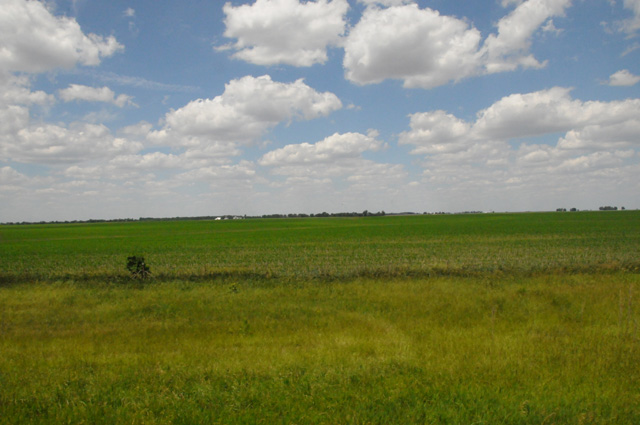 I like the clouds.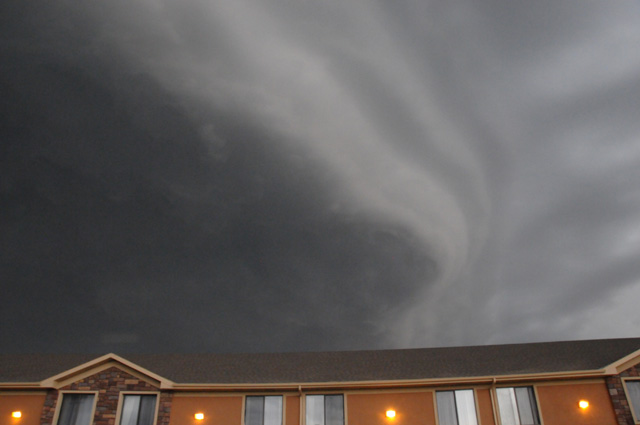 I liked the music and the way the guys interacted with each other.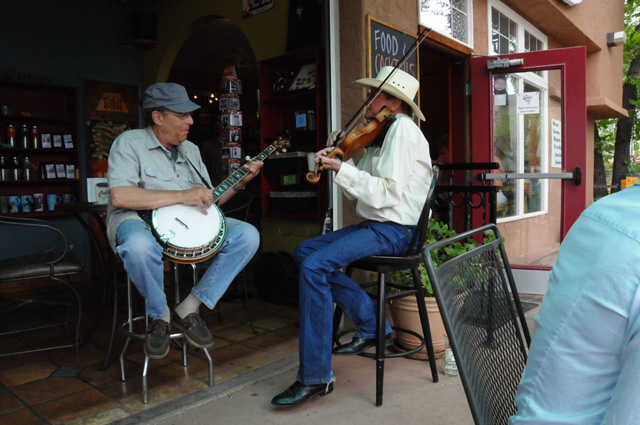 I like hills, rivers, and trains.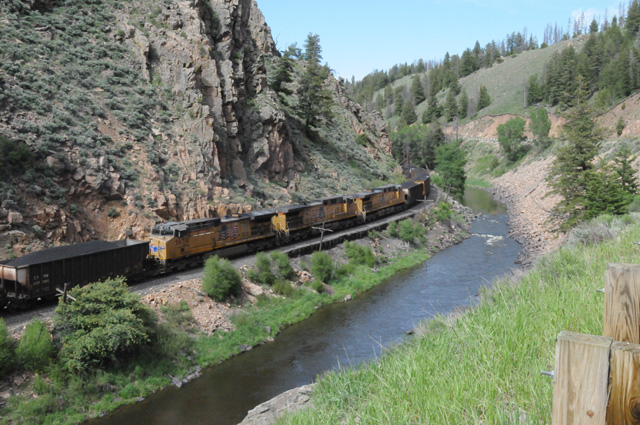 My new buddy.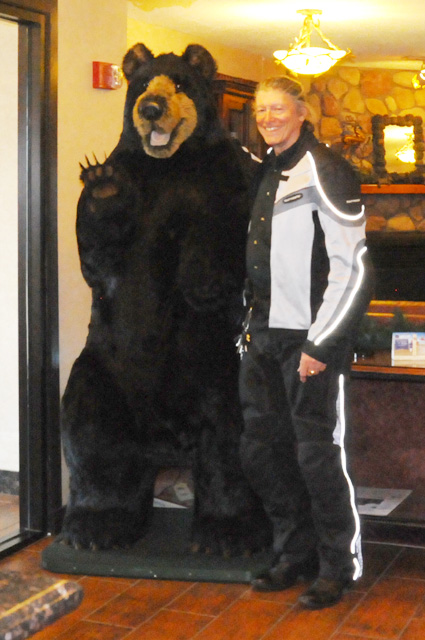 Can you find the Capitol?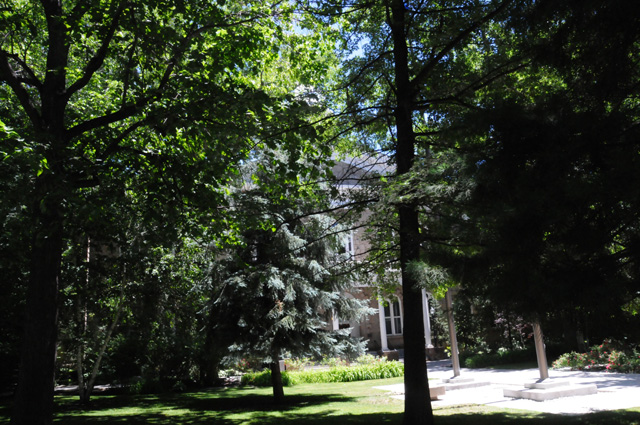 Just a nice picture.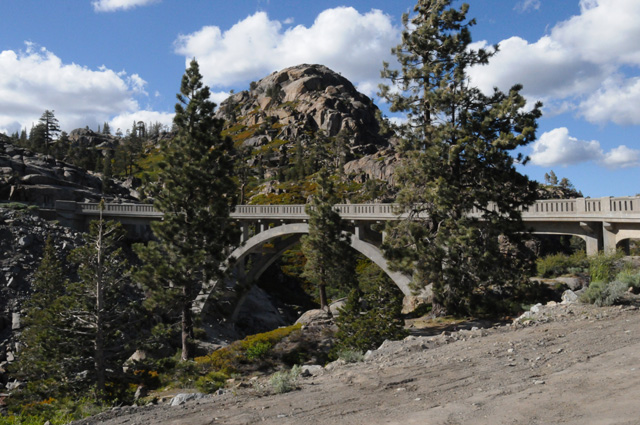 I laugh every time I see this one.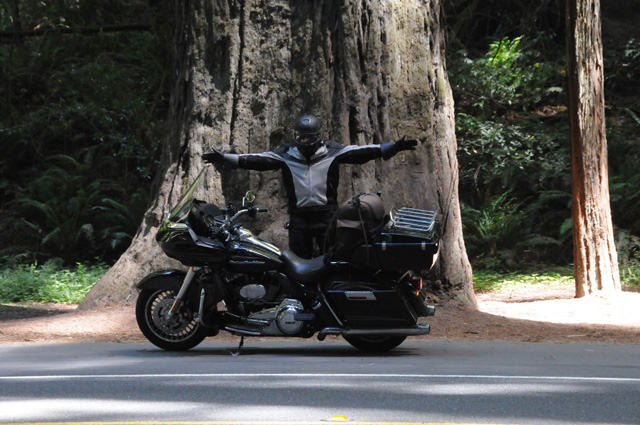 Another nice picture.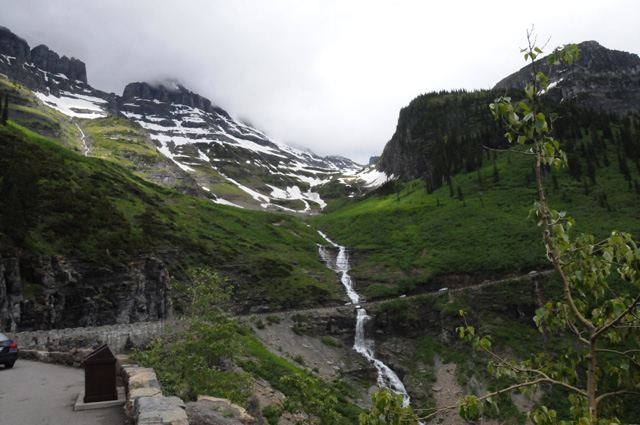 One of my late riding days.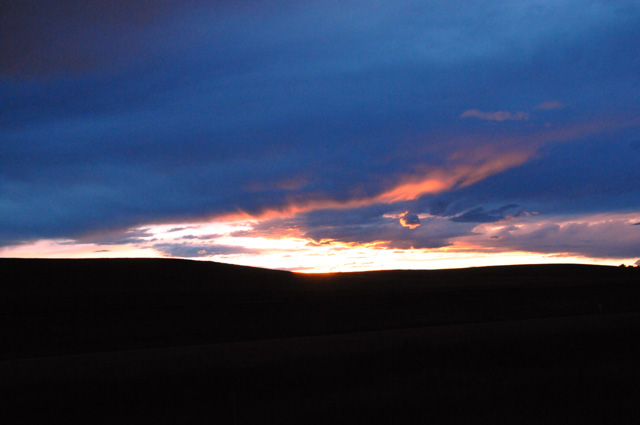 There is something about this picture I like.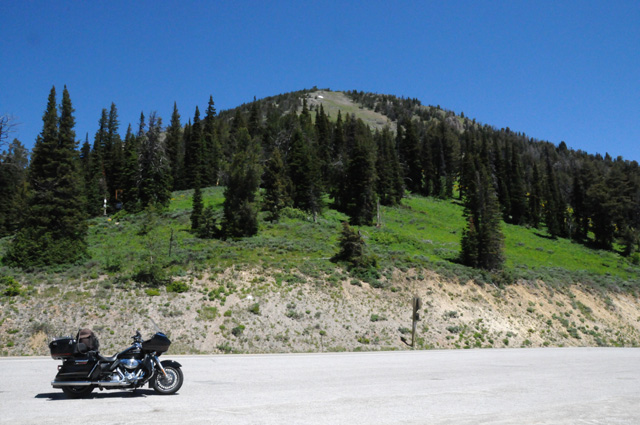 And another nice one.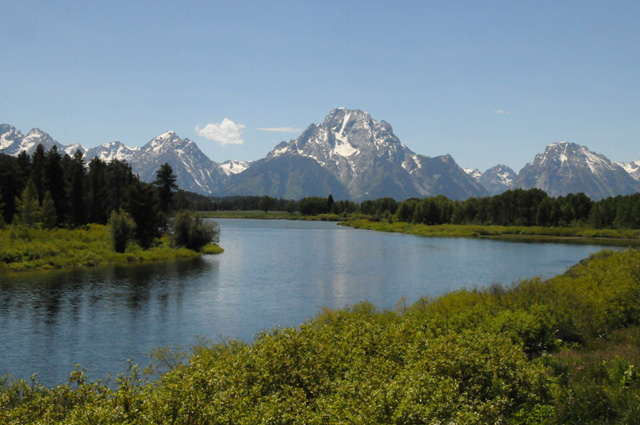 Do I have to explain why I like this one?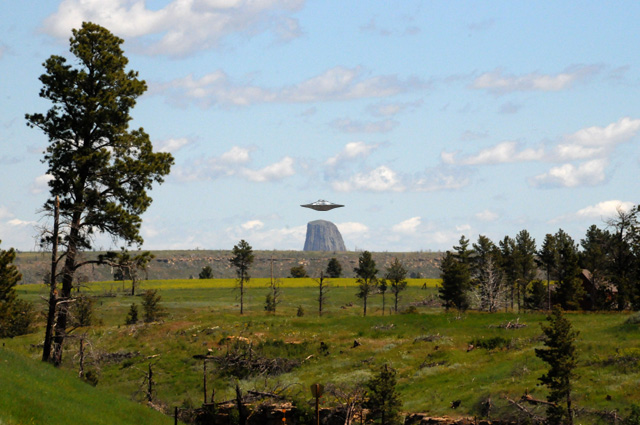 Another cloud picture.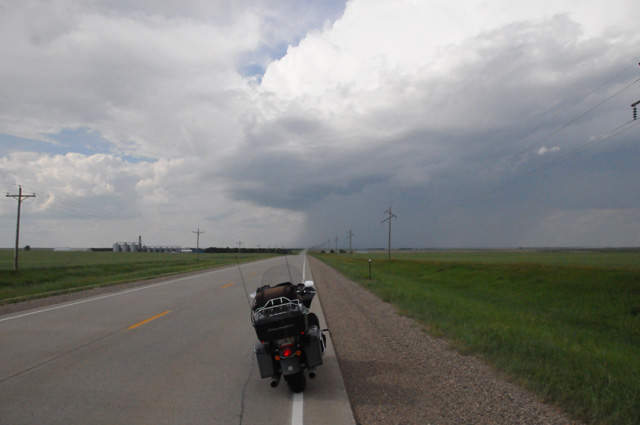 I like the colors, the scene.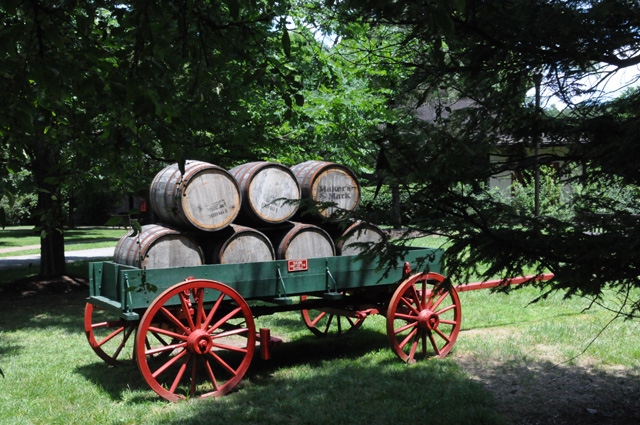 And of course getting home to my ladies.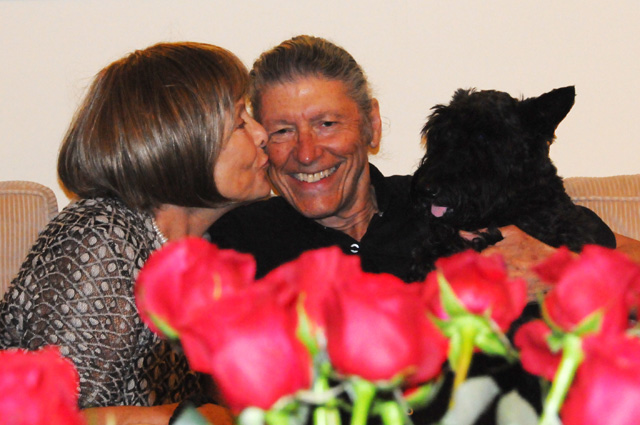 Don't forget to follow my next ride, my US Northeast Ride, probably in May 2014. See you all then.
---