---
08 May 08, 3:30 PM, Louisville, KY
I have good news and bad news. First the good news. I was in rain most of the day, heavy at times. Makes you wonder what the bad news is, doesn't it! The bad news is that the bike just quit running. I was 9 miles into Indiana, exiting to get a Dairy Queen chocolate milk shake, and to get out of the rain for a while. It died on the off ramp. I rolled to a stop and locked it up when I found that it would not start (the starter wouldn't even turn it over). Some things were working, like lights, horn, radio. I was about 50 feet from a Cracker Barrel, so I took refuge from the rain and sat on one of their chairs on the porch while I called the Indianapolis Southside Harley (where I am supposed to get an oil change tomorrow morning). They gave me the phone number of the closest Harley dealer, Louisville. I called them and they sent a truck to get me and the bike. They have diagnosed the problem, and it is another wiring problem. This one is also under the upper fairing (between the headlamp and the radio). They are predicting I will get the bike in an hour. Then two more hours to Indianapolis and dinner. I will write more later.
08 May 08, 4:00 PM, Louisville, KY
They have completed the job and are road testing the bike.
08 May 08, 4:45 PM, Louisville, KY
On the road again.
08 May 08, 6:20 PM, Louisville, KY
Uh-oh! Dead again! This time it quit at the top of the bridge crossing the Ohio River between Kentucky and Indiana. I coasted down the Indiana side with my flashers warning people of Harley trouble ahead -- in the fast lane. Soon as I coasted off the bridge, I went onto the four foot wide shoulder next to the concrete barrier that separates north bound traffic from south bound traffic, cars and trucks whizzing by just inches away, or so it seemed. So now I am trapped there, in the middle of I-65, no way to get out. I called Louisville Harley, and they sent the tow-truck out to get me again. Now they are trying to find what other wire is a problem. They may have found it while I was unloading my luggage -- wiggling a bundle of wires that goes from the gas tank area and then underneath the upper fairing makes it start again. So, they are taking apart that bundle and hopefully they will find the culprit! Stay tuned.
08 May 08, 7:00 PM, Louisville, KY
Road testing again. Hopefully it is OK and I will be on my way. I will update later tonight when I get to Indianapolis.
Ah, he just got back from the road test and said he had no problems. Well, I'm off again. As I just said, I will update later tonight.
08 May 08, 11:50 PM, Indianapolis, IN
I made it! Kudos to the folks in the service department at Louisville Harley. They found other broken wires. Hopefully all have now been found and I can go another 6,000 miles with no problems.
Once I made it to Indianapolis, I went to my brother Larry's home. He is on the left in this picture. Then my brother Johnny, then my sister Carolyn, then Johnny's wife Bonita, then Larry's wife Pat, then Johnny and Bonita's daughter Jessica, then me. This was before our late dinner.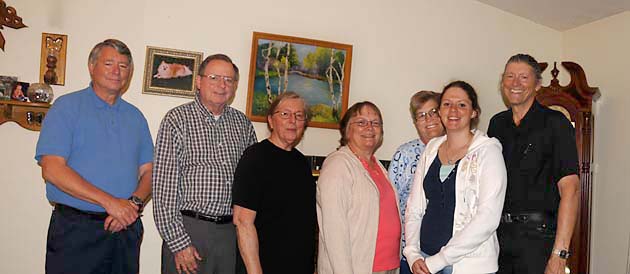 This was a long tiring day, the ride from Louisville to Indianapolis ended in the dark, with rain, and cold. Glad it's over.
---