---
09 May 08, 7:40 PM EDT, Chicago, IL
I am in Chicago. This is where the Route 66 Tour begins. I will meet the other riders tomorrow afternoon. I have ridden 1,417 miles to get here. No bike problems today. It was cold this morning when I took the bike to Indianapolis Southside Harley for a scheduled oil and filter change. The service folks here have been very helpful. When my bike broke down yesterday, this is who I called first. Larry at Southside referred me to Louisville Harley and gave me the phone number. Not only that, he called me back a few hours later to make sure I had been taken care of.
Then Larry, Pat, Johnny, Bonita, Carolyn, Karen (daughter of Johnny and Bonita), Olivia (Karen's one year old daughter) and I had a Bob Evans breakfast. After breakfast, I picked up the bike and headed back to Larry and Pat's to pack the bike, then headed north. A big thanks to Larry and Pat for the very comfortable bed to rest my weary body.
I continued up I-65 to Lafayette, then took a detour to ride all around Purdue. I went past my fraternity house, past the Electrical Engineering building, past the new Neil Armstrong Engineering Building, and a bunch of other places, then headed north again on the scenic River Road and then I-65.
I detoured again at Rensselaer to meet up with Amanda (daughter of Larry and Pat) and her husband Justin for a Dairy Queen break. That's the three of us in the picture below.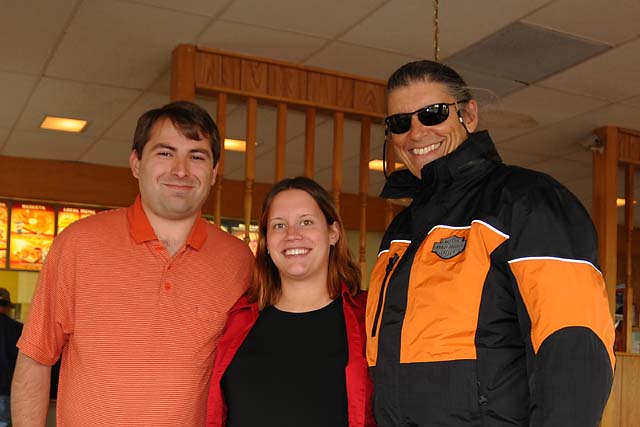 The ride on to Chicago was cold, and wet with some rain showers. Now it is time for dinner and then some rest.
---