---
17 May 08, 9:30 PM MDT, Santa Fe, NM
Today was a "day off". We could stay in bed all day. I did not. I awoke at 4:00 AM when the alarm went off. Very loudly. I did not set it! I felt like throwing the clock across the room, but my calm demeanor prevailed and I simply unplugged it for the rest of my stay. I did manage to go back to sleep, then awoke at 6:00 AM and decided to get up. After breakfast I did laundry and washed the bike. I have been on some dirt roads and gravel roads, so the bike (not my laundry) was quite dusty.
I visited the local Harley dealer to get a part that fell off the bike somewhere along the way. It is the rubber bumper that cushions the kickstand when you retract it. When the part is missing and you raise the kickstand, you hear metal clanging against metal. They didn't have that part where I got my handlebars raised, but they did here in Santa Fe. The Harley guy and I went out to the bike to look at something else, and I looked over the missing part and discovered it looked different from what I expected, and it fit differently, and then I noticed that the part was not missing on my bike at all, it had simply rotated out of position and out of sight!
Then I headed out to find some gloves. I bought some beautiful gloves somewhere on the road between Santa Fe and Taos ten years ago. The gloves have worn a bit over the ten years, and there is a hole in one of the fingers. I wanted to find a replacement pair, or maybe find out where the gloves came from and get another pair. So I retraced steps from ten years ago. Unfortunately I could not find the store. Eventually my search led me to Taos, so I decided to head to Taos Pueblo and have some fry bread. While there, I took the following pictures.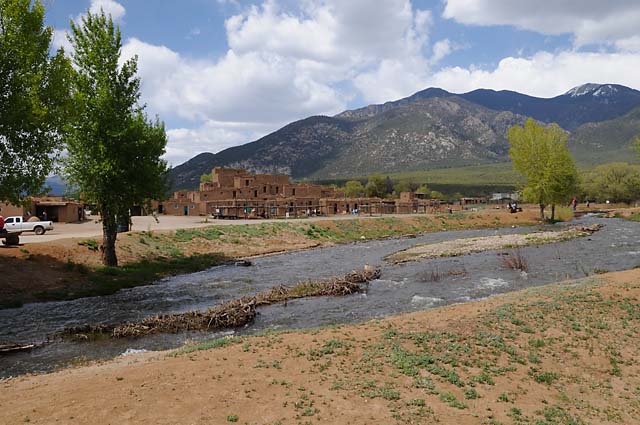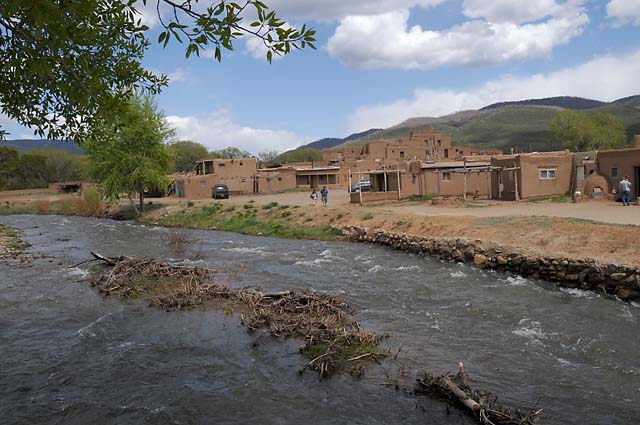 These multi-storied adobe buildings have been continuously inhabited for over 1000 years!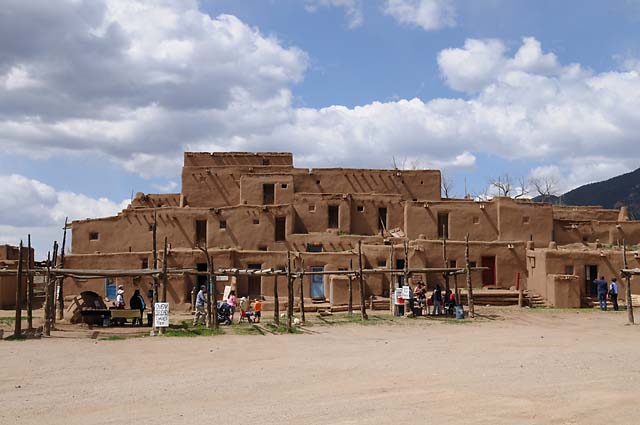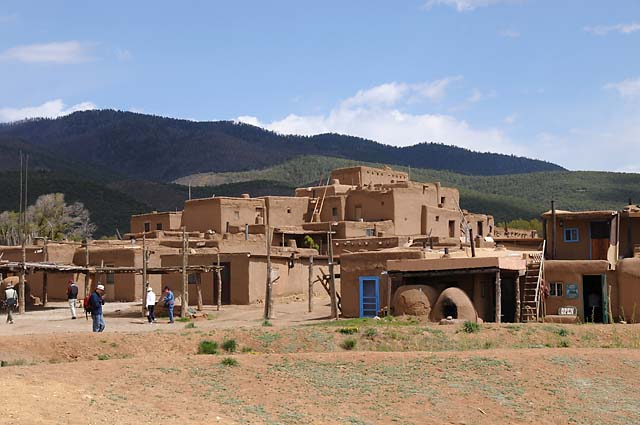 Then I headed out to see a bridge near Taos that Hanna and I have visited before. Here it is, unremarkable though it may appear.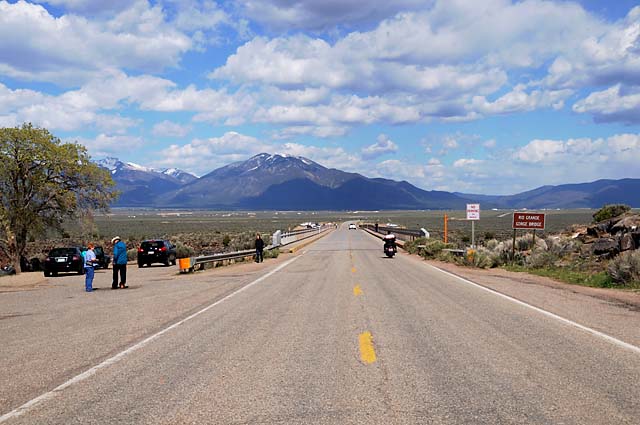 Unremarkable, that is, until you look over the sides!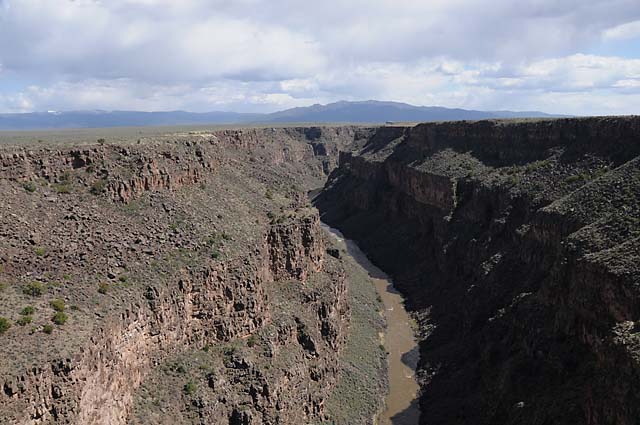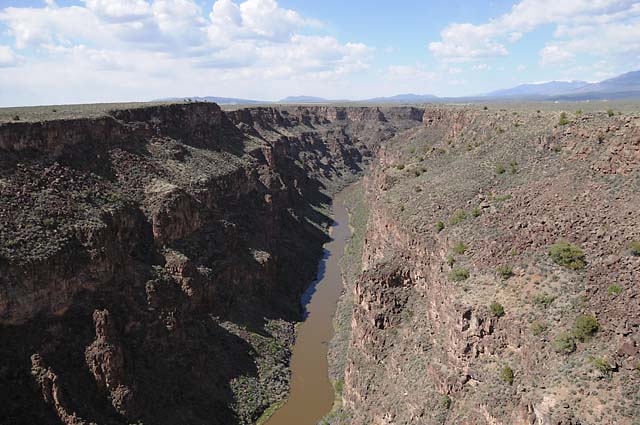 Here's a shot of the side of the bridge.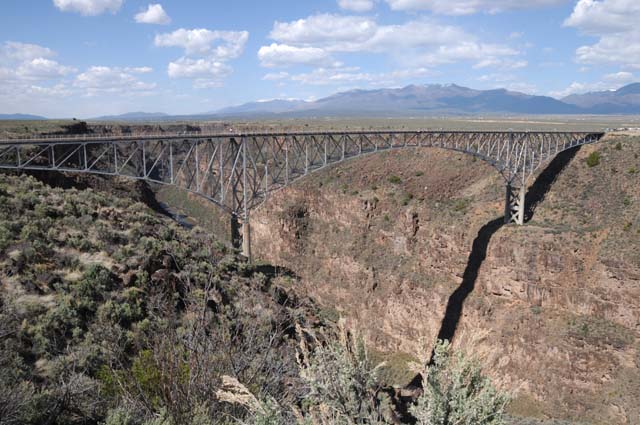 This is the bridge that crosses the Rio Grande Gorge. The bridge is only 1,280 feet long. The Rio Grande is 650 feet below.
Somewhere along the road back to Santa Fe, I took this picture looking back at the Gorge.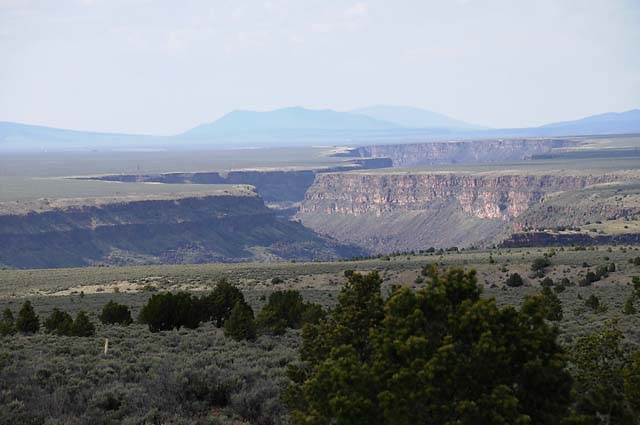 And still later, I took this picture after the road had descended into the Gorge.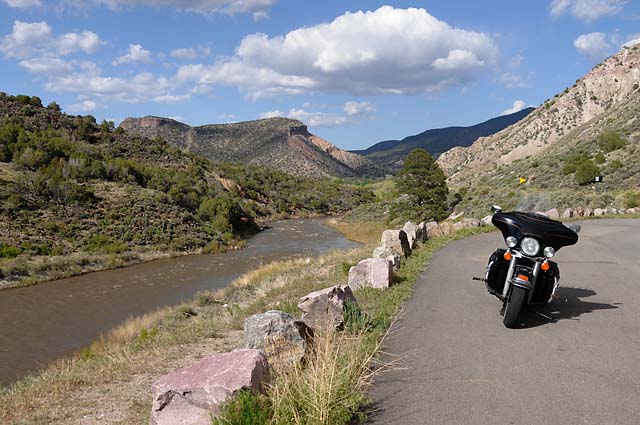 ---