---
26 May 08, 11:45 PM PDT, Glendale, Ca
Today was a day to visit with friends from my days in Los Angeles. First I went to Eisuke's home, spent time with him, his wife, and two daughters, and had lunch at a restaurant, then dessert at home. Here's a shot of Eisuke.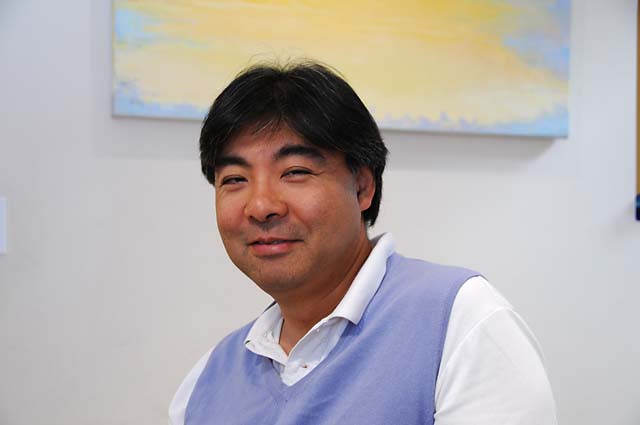 Eisuke and I have seen each other several times since I left LA, we have gotten together two times for Formula 1 races in Indianapolis, and two times at my home for the Sebring 12 Hour Endurance Race.
Then I went to visit with Garrett and Kelly. I had not seen them since leaving LA. We talked about old times, what's been happening, looked at some pictures, and some glassware. Garrett does glassware now, which surprised me. In this picture of Garrett and Kelly, Garrett made the three glass pieces you see.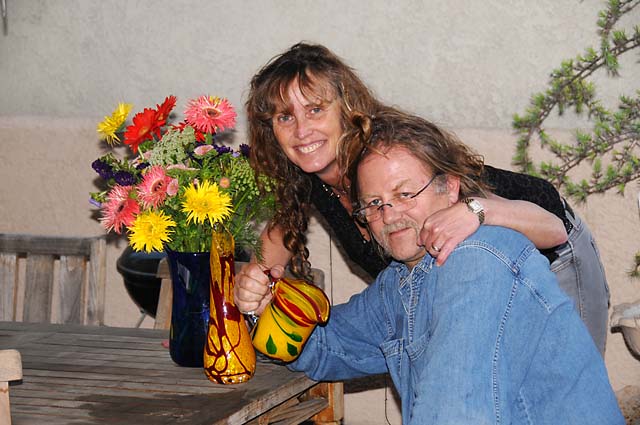 We went out for dinner -- today's a holiday so most places were closed. Finally I had to leave to get ready for tomorrow.
I leave LA tomorrow. I will get the bike serviced at Glendale Harley, where I bought it ten years ago, then I will be off to Ridgecrest to see my daughter Cindy.
---