---
27 May 08, 11:59 PM PDT, Ridgecrest, CA
I left the Glendale Best Western this morning to get the bike serviced. Turns out more things needed to be done that I had anticipated. We decided the rear tire would need to be replaced before I got back to Florida, so I wanted to do it now. I had replaced both the front and rear tires before leaving. I typically get 10,000 miles on a rear tire, this one may have fallen a thousand or two short of that. The upper fairing had been shaking a lot at certain RPMs, so I wanted that checked -- turns out that four brackets were broken inside the fairing. The left front fork was leaking. The kickstand rubber bumper was not bumping. I decided to replace the gas gage because it gets fogged up all the time and annoys me. Plus the 5,000 mile service I had scheduled. The bike also needed a bath very badly. It was 3:30 PM before I was able to ride out. Thanks to Tom and the team at Glendale Harley for getting me out as fast as possible given the load of work to do. While they were enjoying all this work, I was enjoying a chocolate shake.
I rode up I-5 till it hit CA 14 and on through Mojave, the way I had come into LA in the rain. I continued up CA 14 to Red Rock State Park. Here's a shot of the rocks.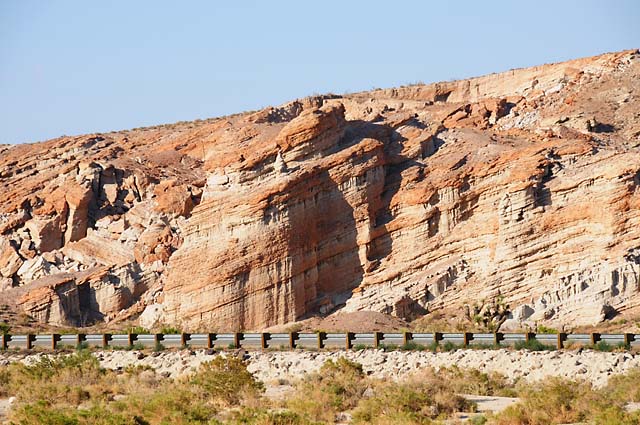 This is called the tilting rock by my daughter Cindy.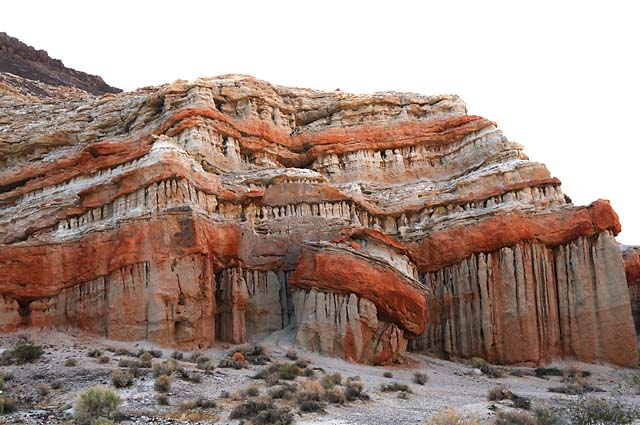 It is interesting to look at this up close. The white rock is eroding more rapidly than the red rock.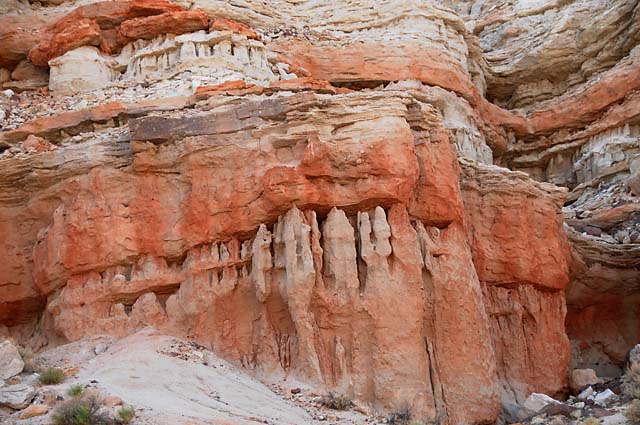 I suspect this is all sandstone, but with different degrees of hardness. I am sure somebody will let me know if that is incorrect.
Then I rode into Ridgecrest where Cindy and her husband Dave were awaiting my arrival.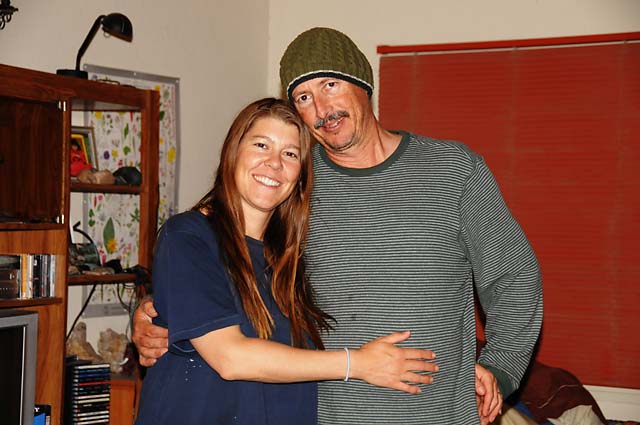 For those of you who have no idea where Ridgecrest is, it is one mountain range removed from Death Valley. Telescope Peak is the highest mountain in the Panamint Mountains, you see it from Ridgecrest, and from Death Valley. Maybe I will get a picture of Telescope Peak tomorrow, and then again when I am in Death Valley. Sounds like a plan.
---