---
28 May 08, 11:00 PM PDT, Ridgecrest, CA
No bike riding today, not one single mile. It sat in the sun all day, resting up for a big day in Death Valley tomorrow.
Cindy showed me around their 3 acre yard, a desert botanical garden if I ever saw one. First stop on the tour was to see Buffy again. Here she is.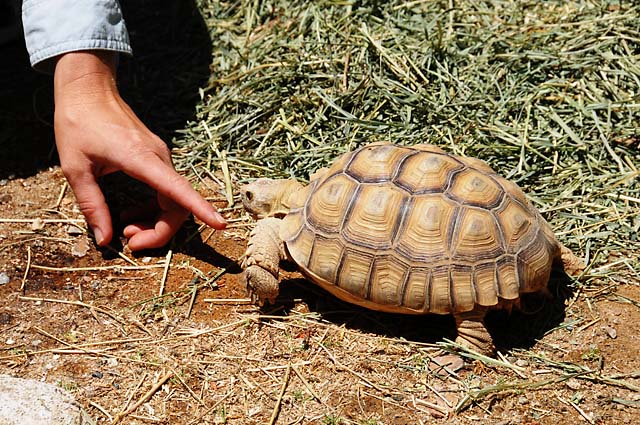 Take a look at Buffy the last time I saw her, almost five years ago, in September 2003, in Hanna's hands. She was still a baby, less than one year old. She could live to be 100. Cindy and Dave are working on a trust fund for her.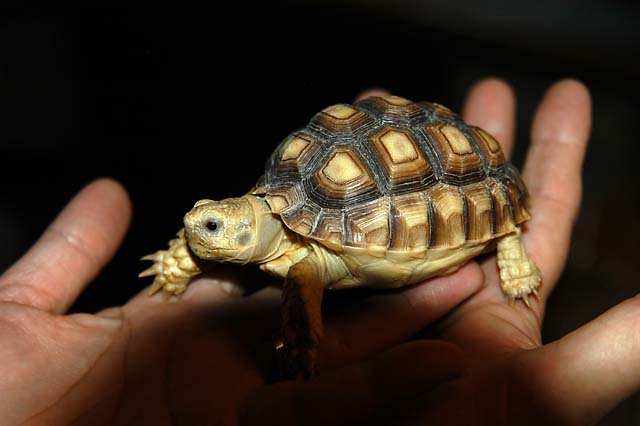 And here he is, the terror of the gardens, Reptilicus, a desert tortoise, in his own fenced area because he will attack any creature in sight, in this case Cindy. He will try to flip over his opponent, thinking of course that his opponent is another turtle, hoping his opponent will bake in the hot desert sun before being able to flip himself back on his feet.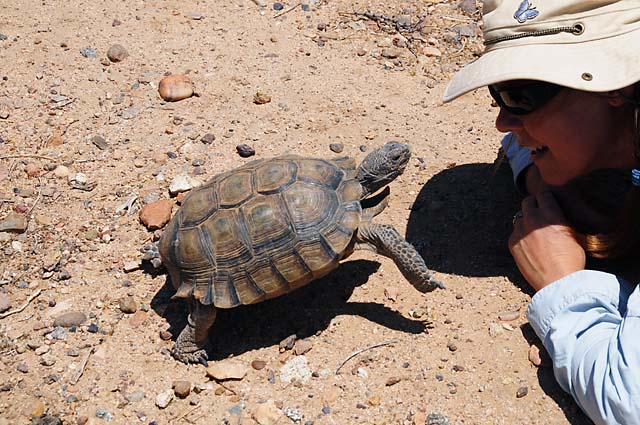 In this case, though, he underestimated the abilities of his opponent -- Cindy flipped him first!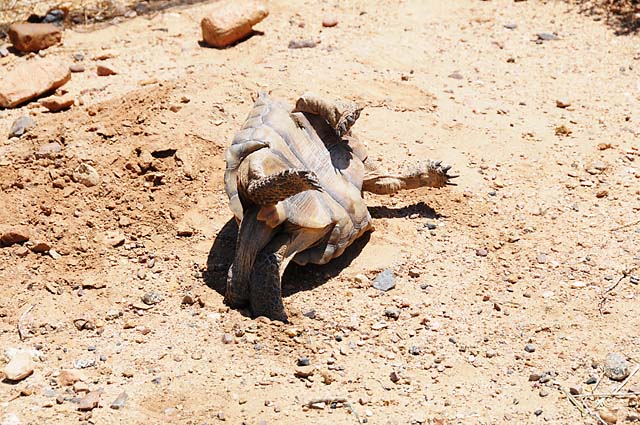 Not to worry, he is soon back on his feet and attacking a cow skull, which doesn't seem to mind.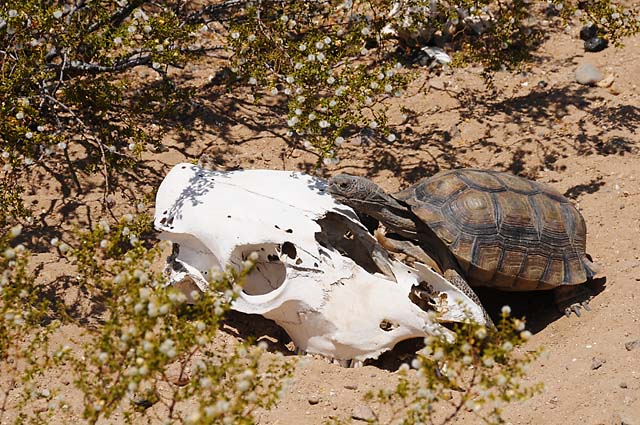 Next on the tour is Stumpy Joe, a desert iguana. He is a stray who has decided he would like to live here. Dr Bob has just fed him a mealy worm, which he enjoys immensely (Stumpy Joe, that is, not Dr Bob).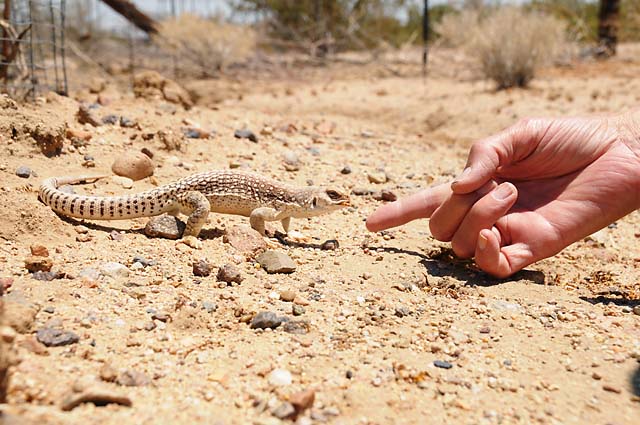 On to the desert botantical garden. This is a flowering beavertail cactus.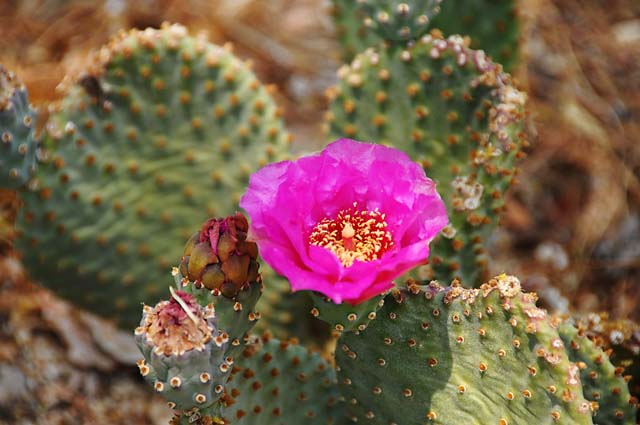 A cholla cactus.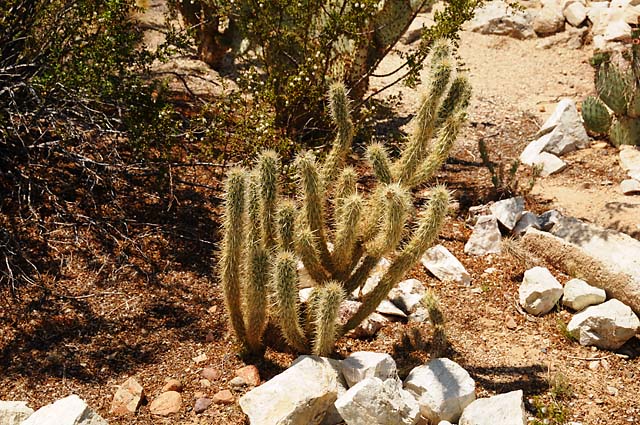 A rock formation with beavertail, cholla, and prickley pear cactus, plus a creosote bush.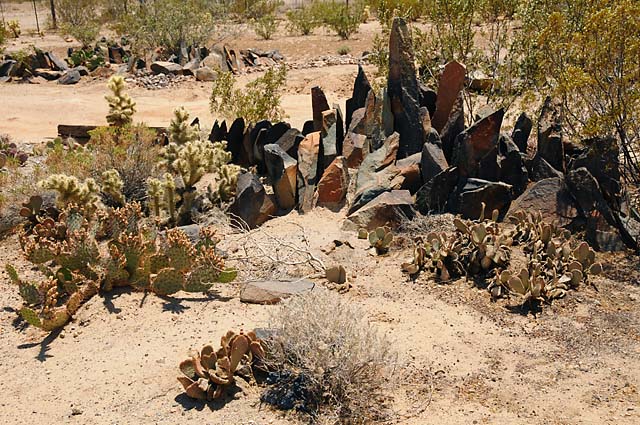 A flowering prickley pear cactus.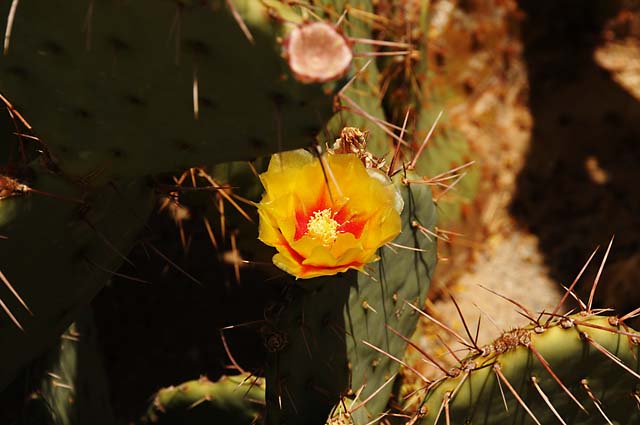 Barrel, prickley pear, and beavertail cactus.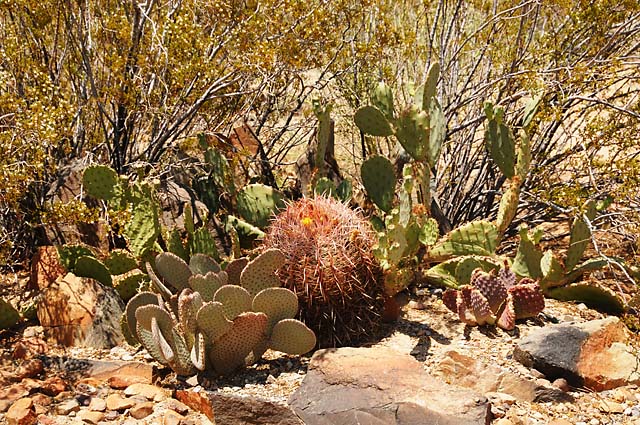 A bunch of cholla cactus. Stay away from them. It is said that arms from this extremely prickly cactus can actually jump several inches to get you.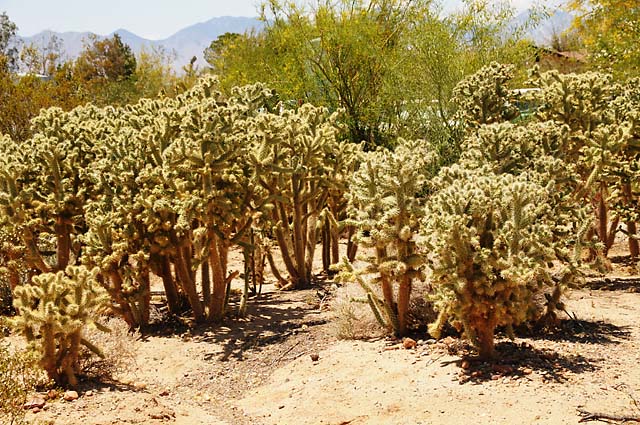 Part of the purple cactus patch, a prickley pear.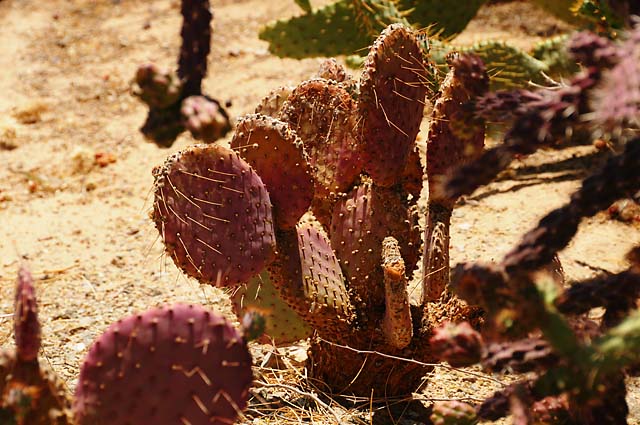 A flowering cow's tongue cactus.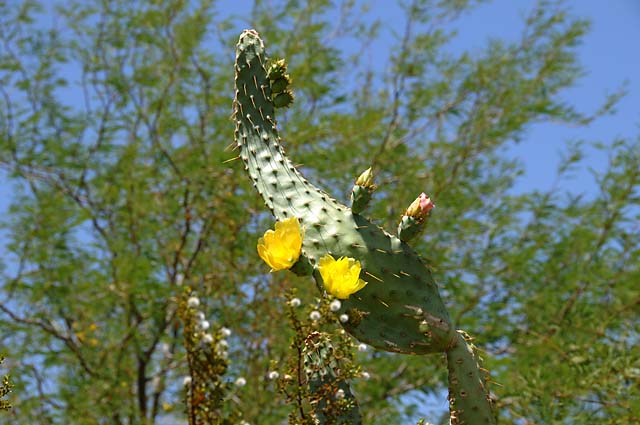 Then my friend dropped in (you notice he avoided Los Angeles) and invited us to follow him up into the Sierras.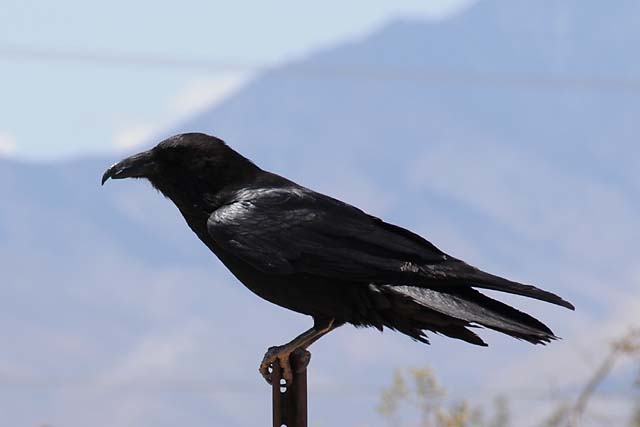 Here, about half way up to the 9,000 foot level we eventually reached, is Cindy standing in a clump of Joshua Trees.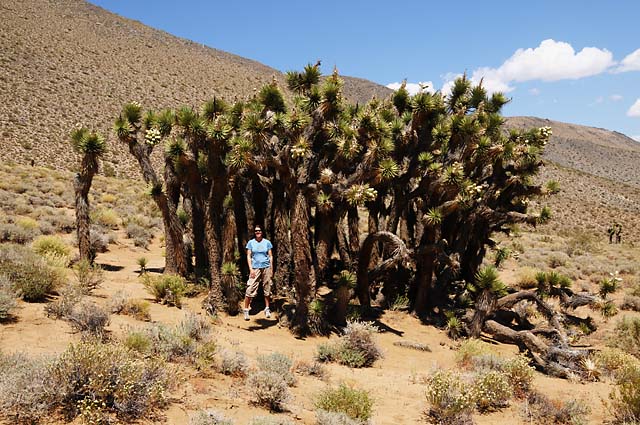 A forest of Joshua Trees.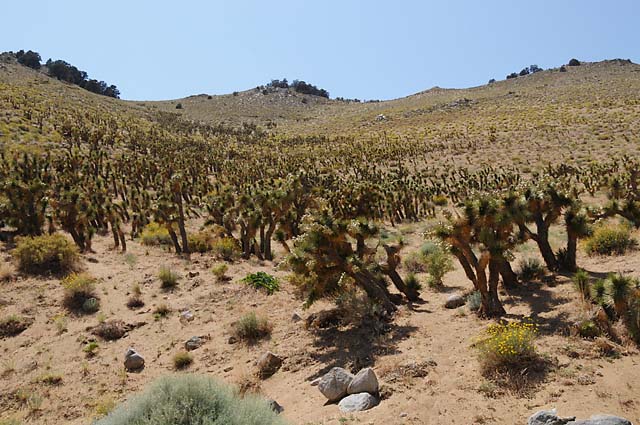 We spotted this coyote near Kennedy Meadows, at about 8,000 feet.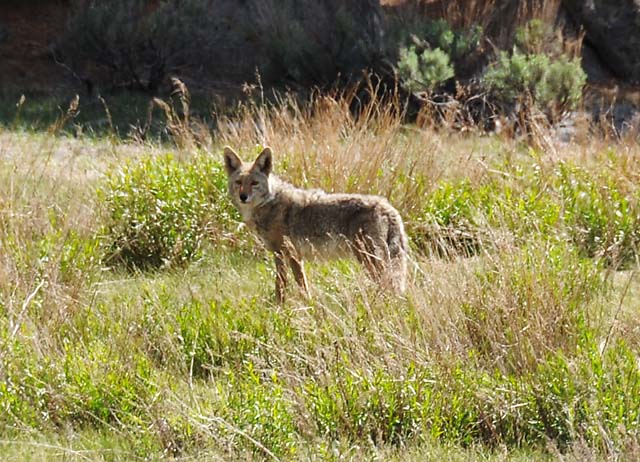 A snow covered peak in the Sierras. Here we are at 9,000 feet.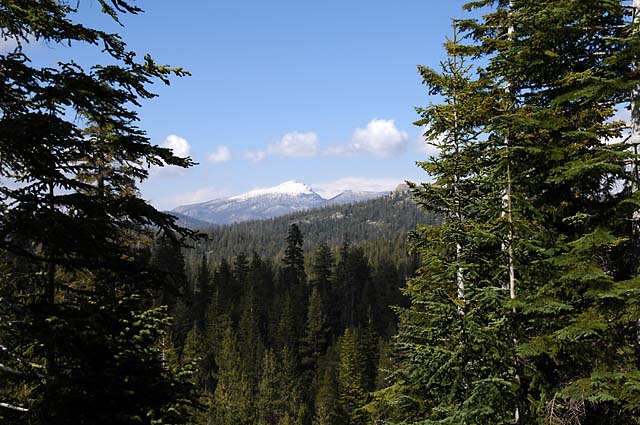 Here's the promised picture of Telescope Peak from Ridgecrest. It is the hazy looking mountain in the distance, right in the center of the picture. If you look very carefully, you will see my feathered friend, just up and to the left of Telescope Peak, getting ready to lead the way for me tomorrow. That is the direction I will be heading.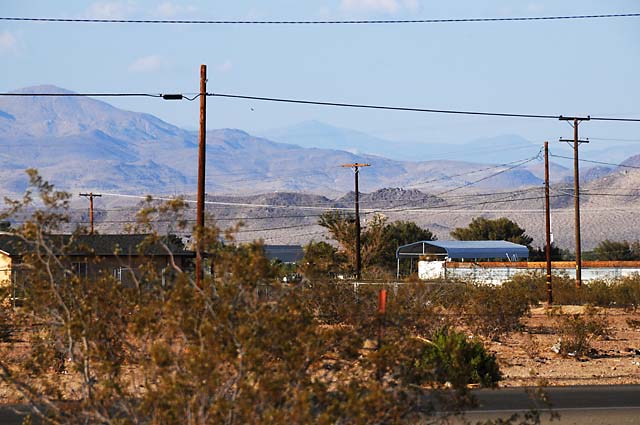 ---