---
30 May 08, 11:00 PM PDT, Kanab, UT
What a spectacular day. I love the landscape in southern Utah and northern Arizona. From Las Vegas I rode the I-15 to Saint George, UT-9 to Zion and Mt. Carmel, then US-89 to Kanab. The spectacular sights were the Virgin River Gorge and Zion National Park, and much of the area between them. After the photos, I will add some comments on other topics from the past few days.
This shot is looking back (down) at I-15 running through the Virgin River Gorge. It was so impressive entering the Gorge. The road was running straight toward an enormous rock wall -- the mountain. But all of a sudden the road curved and went into the rock. The walls towered on both sides, but the road just wiggled up through those high walls. Very impressive -- and this is an Interstate!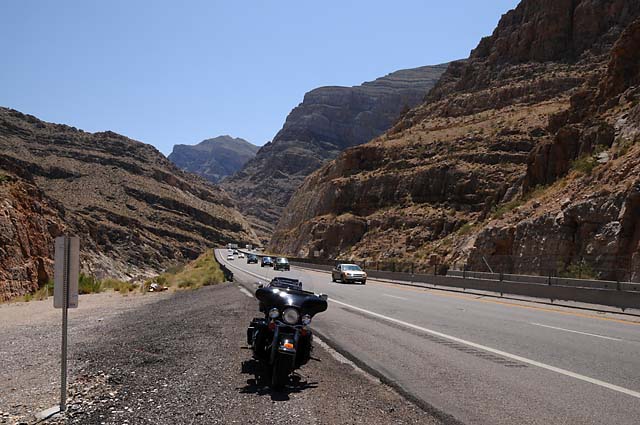 This shot is looking forward. I would have taken more pictures inside the Gorge, but there were no places to pull off the road.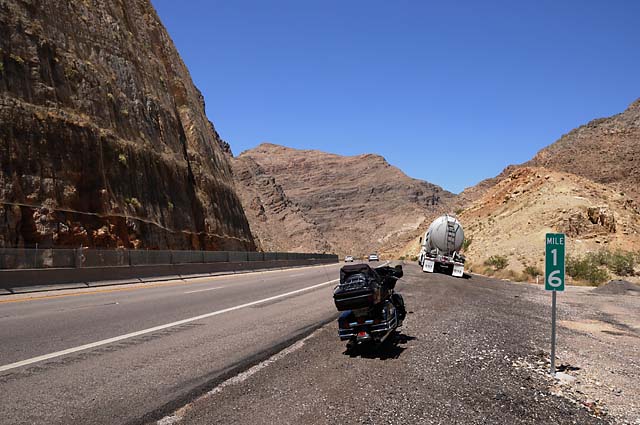 Some of the spectacular scenery between the Virgin River Gorge and Zion.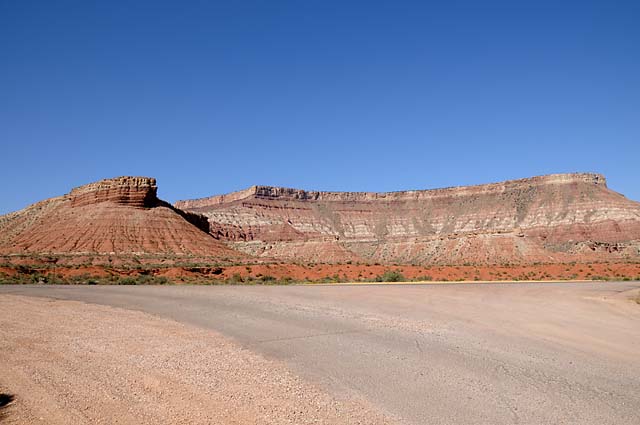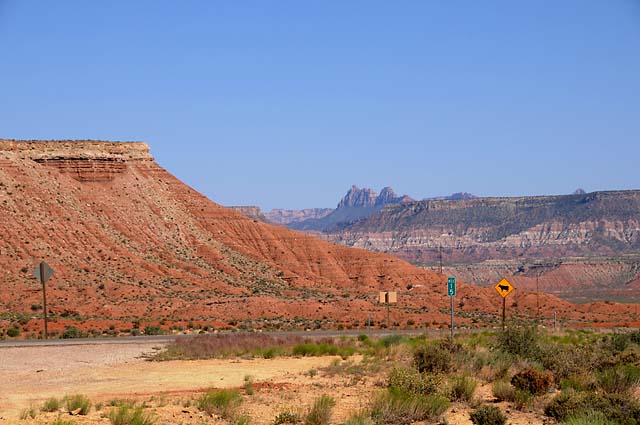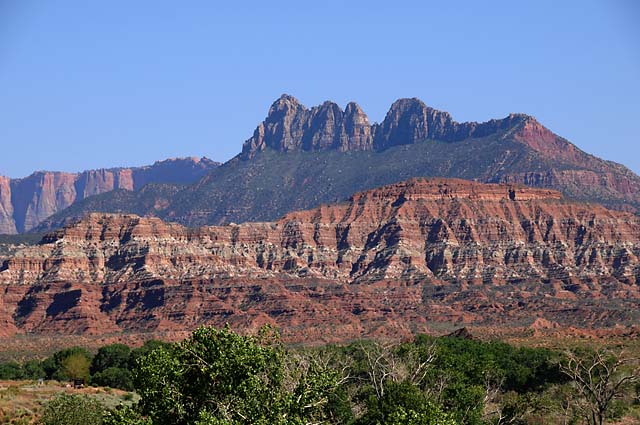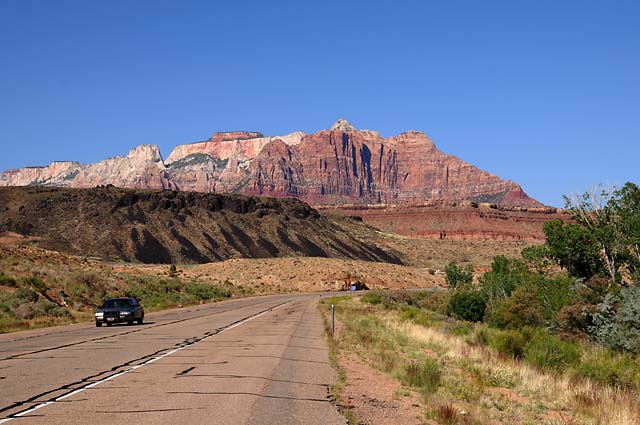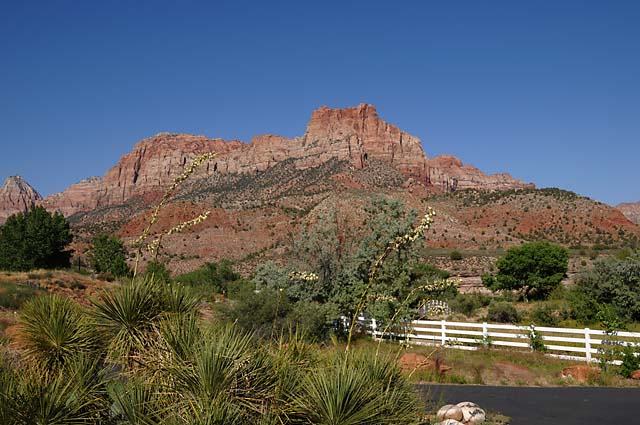 Some of the jaw-dropping, awe-inspiring, drop-dead gorgeous scenery along UT-9 (also called the Zion - Mt. Carmel Highway) in Zion National Park.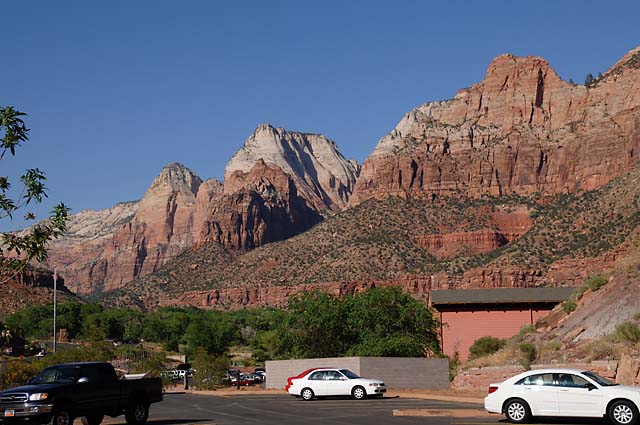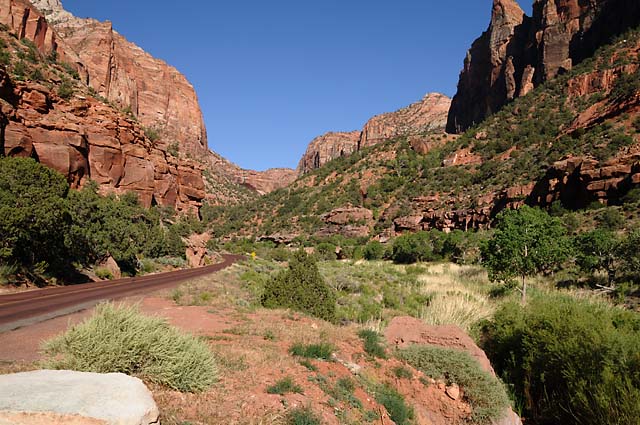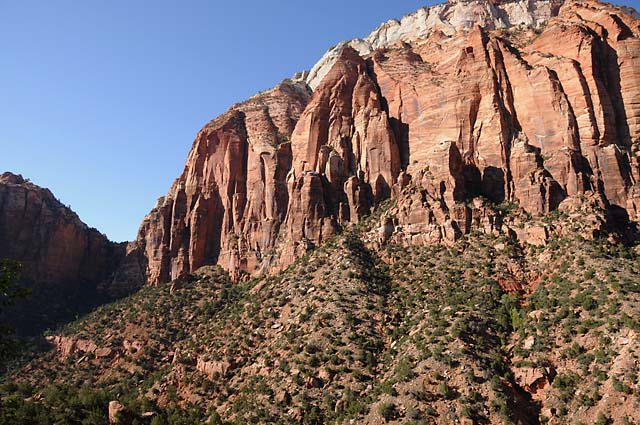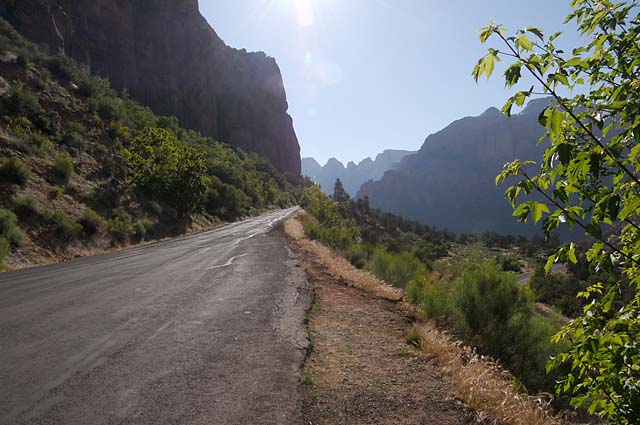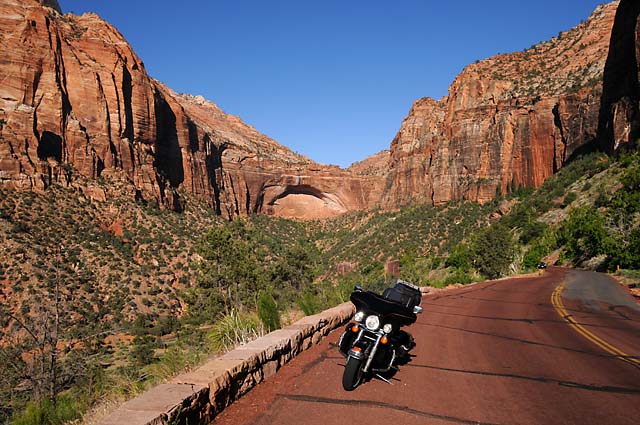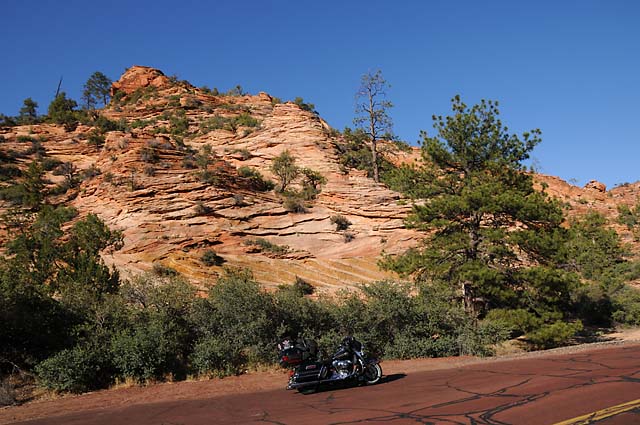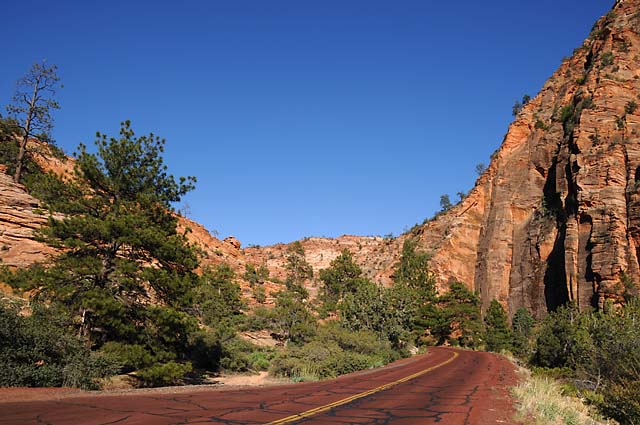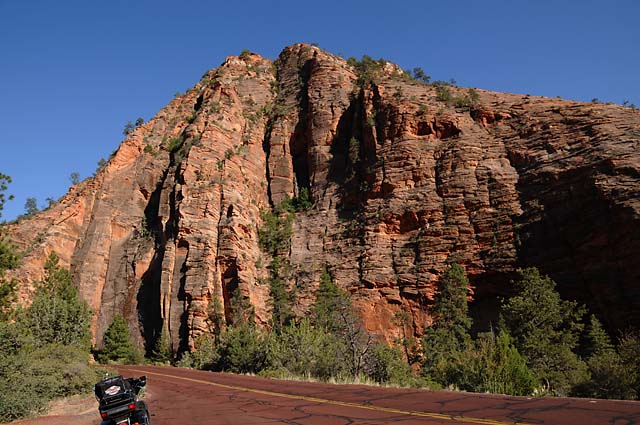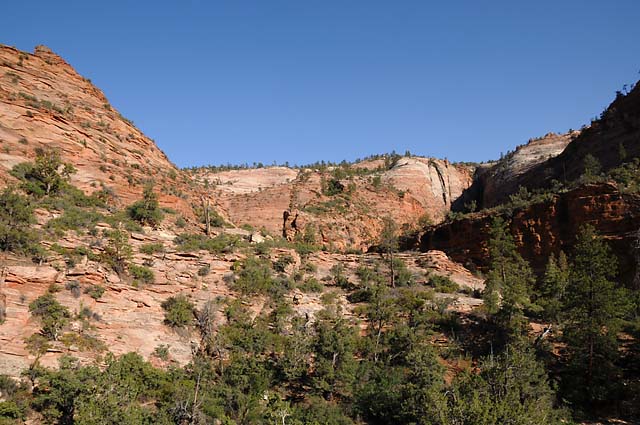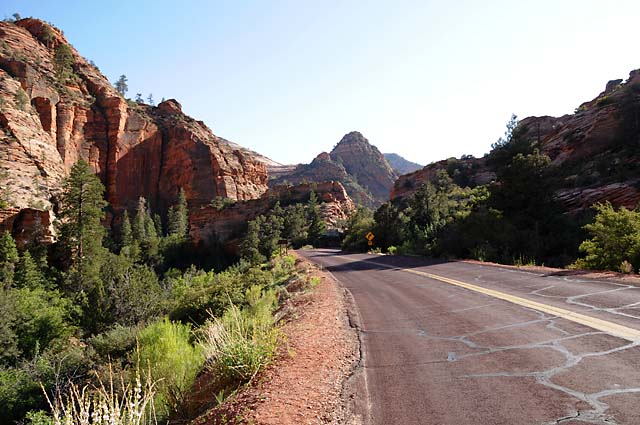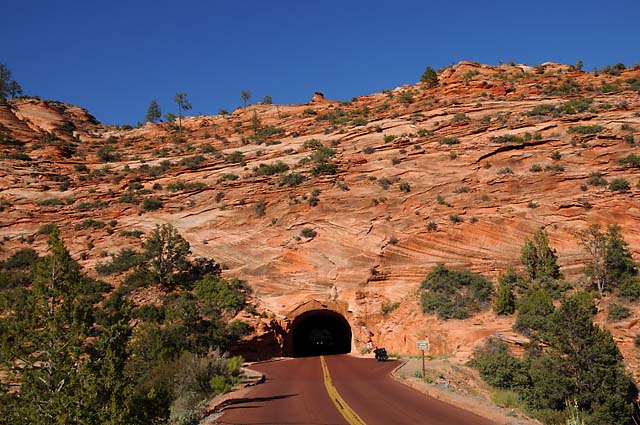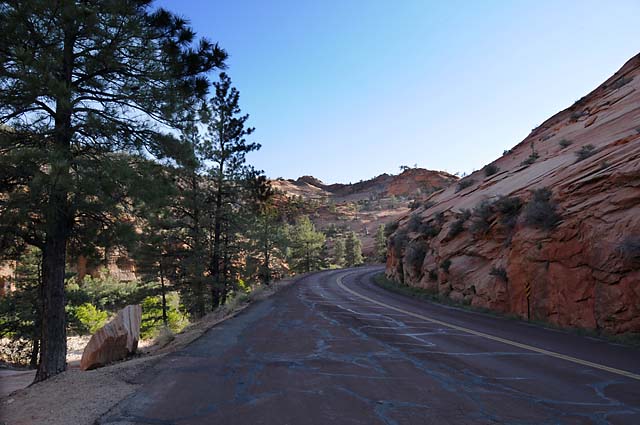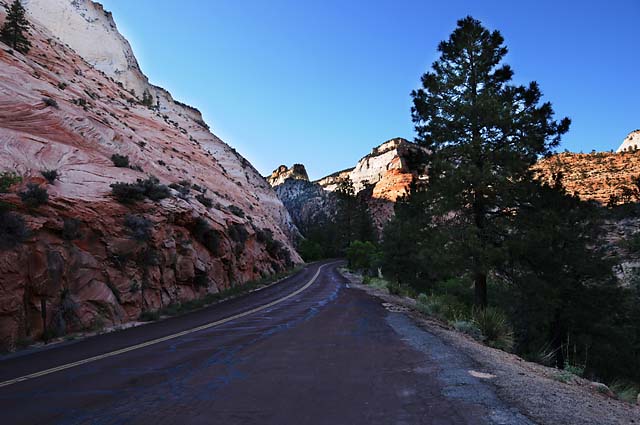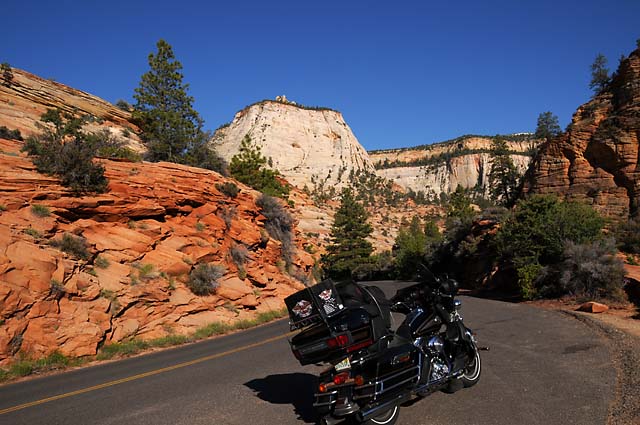 The Checkerboard Mesa in Zion.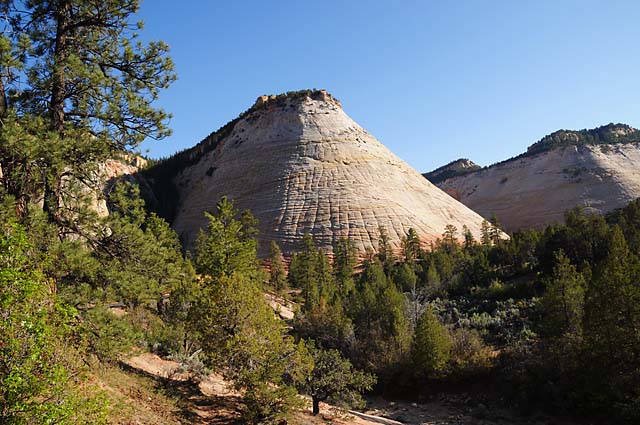 And now for the comments.
Today I passed the 6,000 mile mark since leaving home.
Thanks to Cindy and Dave for helping me find a way to protect my rear seat speakers from the rear seat suitcase/bag. The corners of the bag were punching holes in the speaker grill cloth; fortunately the speakers were not damaged. When I get home, I will replace the speaker grill cloth. I had already purchased chrome accents for the rear speakers, anticipating that I would use them somehow to protect the speakers. Dave had some spare sheets of tin. Cindy and I cut and filed the tin to fit just inside the chrome ring. That provided a protective cover for the speakers.
Soon after I replaced the heels on my boots in Los Angeles, I noticed that the protective rubber sole (3 mm glued to the leather sole) was wearing through on my right boot. When a hole starts, it spreads very quickly. My leather sole would have been terribly damaged by the time I got home. Cindy and I tried to find a place in Ridgecrest to replace the protective rubber sole, but we failed. I decided to get it done in Las Vegas, but I figured it had to be done on Friday, it was not safe to leave this to Saturday. That's why I did so many miles yesterday to make sure I ended up in Las Vegas. The desk at the Best Western in Las Vegas helped my by picking a boot repair shop relatively close to the hotel. I went there first thing Friday morning. They could do the job while I waited, but they had run out of the protective rubber soles and wouldn't have new ones till next week. They told me that if I found a shop that had the material but couldn't do the job while I wait, I could buy the material from that shop and bring it back to them for installation while I wait. They sent me to another shop which couldn't get the boots back to me till Tuesday. They sent me to another of their shops which did the job in two hours. It took one hour to find the right place, then two hours to get the job done. So, my boots are back up to snuff, but it was Noon before I could begin Leaving Las Vegas.
I have been getting more disgusted with my helmet. I have a 3/4 face helmet (for those of you who don't know what this means, the 3/4 helmet covers your ears but not your chin). The face shield has been snapping up in gusts of wind; at first, this scared the heck out of me, but I got used to it; but I still didn't like it. Also, turbulent wind gets inside the helmet and bothers my eyes, especially at Interstate speeds. The helmet is not the most aerodynamic, so my head gets some buffeting at Interstate speeds or with crosswinds. Anyway, I have been looking at full face helmets at every Harley dealer I have visited on this trip. I have never liked the full face helmet. It seemed so restrictive. But, I have never tried one. Today on the I-15, my face shield must have snapped up ten times. Finally, I said to myself that I had had enough. Whenever I see another Harley dealer, I said, I will buy a new helmet. It wasn't 60 seconds later that I saw a Harley emblem sticking up in the air. I stopped. I tried on a full face helmet. I bought a full face helmet plus new headphones and microphone to fit the helmet (rather than remove the headphones and microphone from my old helmet). You can lift the chin bar making it easier to get it on and off, and easier to wear sunglasses on a string, the way I do; that's so I can take them off easily and just drop them, rather than have to hold them till I can put them in a pocket. I am very impressed with the new helmet. It is much, much better than what I had. The buffeting is gone. The turbulent winds inside the helmet are gone. Visibility is not restricted. Fresh air in the helmet is very good. I should have done this long ago. Plus, it is a more protective helmet. Thanks to Keena and Tony at Zion Harley for helping me pick the helmet and get the headphones and microphone set up.
---
| | | |
| --- | --- | --- |
| | | |