---
6 Jun 08, 10:30 PM CDT, Pine Bluff, AR
I am in Arkansas. The day before yesterday I was in Monument Valley. Incredible. I rode 524 miles today, 1,047 yesterday plus today. Today I went through 8,000 miles since leaving home. It will be over 9,000 miles before I get home. I expect to get home Sunday evening, or more likely Monday. That will be within 24 hours of five weeks since I left. I can't believe I have done this!
I have two pictures today, a bird (not that one) and a capitol. I will come back to this.
As you can see, today was a travel day. The temperature was 57°F this morning. Cool enough for a little warmth. Normally I wear my leather chaps and my summer leather jacket. The jacket has about a zillion little holes in it, so if the temperature is 70°F I might feel cold at riding speed. Somewhere between 75°F and 80°F is where it becomes comfortable for me. Blame it on my Florida blood. So I started with my regular riding gear plus a windbreaker -- which is my rain jacket. I took off the rain jacket about 90 minutes later. In the afternoon, rain looked likely, I had run through sprinkles a couple times, but now it really looked like it would rain. I put on the rain jacket and the rain pants. About half an hour later, there was no rain, and I was cooking. I took off the rain jacket. Sometime later, when I was getting my chocolate shake, I took off the rain pants. Neither went back on. While I was walking around the capitol in Little Rock, I took off the chaps and zillion hole leather jacket. When I left Little Rock, I did not put the chaps back on, I was just too warm. I did wear the zillion hole jacket, though. If I do another trip like this (even many fewer miles), I will probably get a different riding suit, one that is all-purpose, and has proper ventilation. If my chaps had a zillion or so holes, they would be much more comfortable when it is warm. I had 100°F plus temperatures in the desert, but it was a dry heat. Today it was about 95°F with high humidity, and that was far more uncomfortable than the heat in the desert.
Now for the pictures. About 2PM or so today, I entered western Arkansas on I-40 from Oklahoma. As Hanna can tell you, I like to stop at the Welcome Center and get a map. That's what I did. Then I went to a park bench and called Hanna. While we were talking I saw a most interesting bird. I have no idea what it is. I have never seen one before. If I were home, I would look it up in the Sibley's that Cindy gave me, but I am not home. I could look it up on the Internet, but I don't feel like doing it. Maybe one of you will send me an email telling me what it is. If not, I will look it up in my Sibley's when I get home. If some kind soul does send me an email telling me what it is, I would like to know if it is a native bird to western Arkansas, or if maybe it is some exotic bird that was a "pet" but escaped! Here's today's bird. It has a grey head and chest, brown wings, and a very long tail that splits. When it flew, it looked like it was going after flying insects. So, what is it?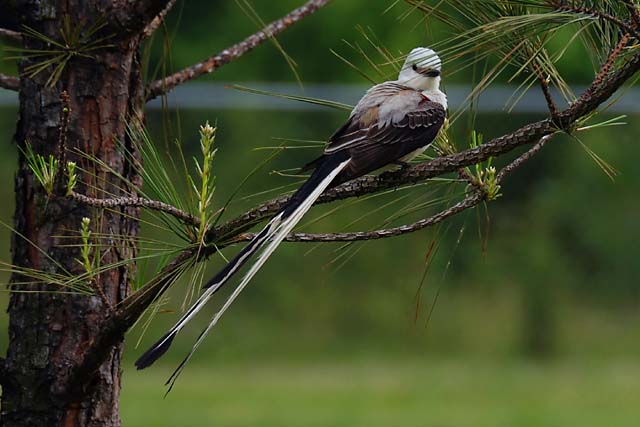 And for my second picture, the Arkansas Capitol in Little Rock. My brothers and sister will recognize this as a "copy" of a picture my father took 56 years ago, except my camera is wider angle, and now a tree is blocking the front of the capitol. Click here if you want to see my father's picture. I have had other "copies" of my father's pictures on this trip, and I am sure my brothers and sister have spotted them.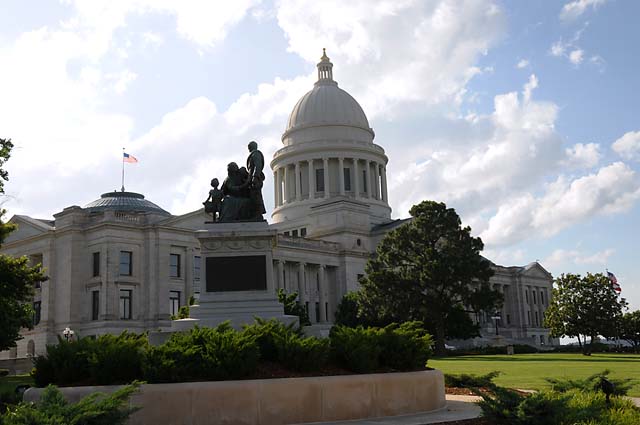 ---