---
7 Jun 08, 10:30 PM CDT, Selma, AL
First, thanks to Dana of Broken Arrow, Oklahoma (mom of one of the fourth graders at Will Rogers museum -- see my log for 5/14) and to my sister Carolyn (see my log for 5/8) for identifying the bird from yesterday, it is a Scissor-tailed Flycatcher and is the state bird of Oklahoma. For more info click here. So tell me now, did it get lost in Arkansas? Or is it following me too?
I was negligent for not thanking some others many, many days ago for answering the question on why the Pony Bridge was called the Pony Bridge (see my log for 5/15). Thanks to Bentley and Ronald and Dave. The truss used in the bridge is called a Pony Truss (no connection overhead between the two sides). As this bridge has 38 Pony Trusses, the name Pony Bridge just seems to make sense. It does to me, anyway.
Now for today's report.
1. Only 430 miles today. I won't get home till sometime Monday.
2. Hot. Humid. Yuck! High 90s. For both it seems. Give me that desert heat.
3. Another bike problem -- cruise control quit and right headset speaker quit. As for the cruise control, I was reminded of a problem I had on my 3,000 mile southwest tour in 2003 when the cruise control quit; at that time, I noticed that the charging rate of the battery was reduced; and, I discovered at a gas station, after dark, that my brake lights were always on; thus the cruise control would not work and the charging rate was lowered. So, I stopped at the Welcome Center in Alabama to get a map and to check the brake lights -- ALWAYS ON! I called Meridian Harley that I had passed about 15 minutes before, and asked for service. The kind gentleman told me how to fix the problem if it was the rear brake -- unplug the switch, and he told me where to find the switch. If it was the front brake, I was out of luck. LUCK was with me -- maybe my bird was overhead and I just didn't see him. Unplugging the rear switch turned off the brake lights and now cruise control works again. While the rear brake will not turn on the brake light, this is not an issue because I always use both brakes, so I will still have a brake light.
Two pictures today. First, looking back from Mississippi to Louisiana after crossing the Mississippi River. You get two bridges as a bonus.
The second is the Mississippi Capitol in Jackson.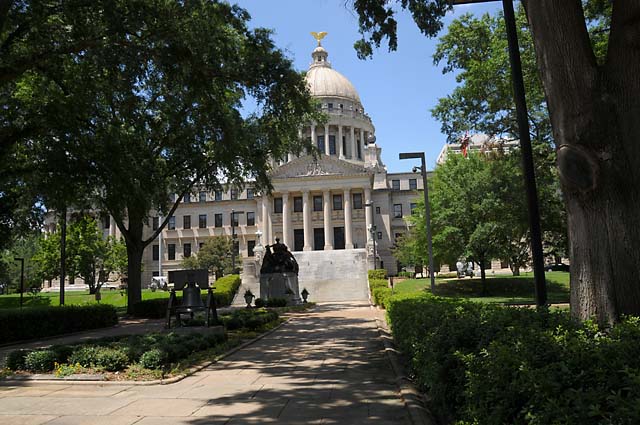 ---