---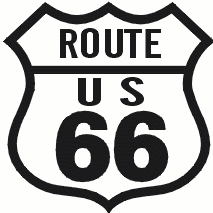 Join me in my adventure discovering Route 66. About 80% of the old road still exists, you just have to find it.
Each day of my journey is a separate page shown on the menu at the left. You can start at the beginning by selecting the first day, or at the end by selecting the last day. Or, you can have the entire trip on a single page (a very long page) by selecting "Single Page".
I spent time getting ready for the ride, and endurance testing my bike (and myself). I passed the test, my bike didn't. You can learn why if you check out the page "Prep".
The Route 66 portion of my trip was May 10th through May 23rd.
The days May 6th through May 9th were my journey from North Palm Beach to Chicago. Read about more bike problems and time with my family along the way.
The days May 24th through June 9th were my journey from Santa Monica back to North Palm Beach. I met with friends and my daughter in the LA area, rode through Death Valley, Monument Valley, Zion, North Rim of the Grand Canyon, Canyon de Chelly, and visited more state capitols. Plus more bike problems. Hey, what's going on with this bike?
---