---
28 Jan 08
In November 2007 I saw an advertisement in "American Motorcyclist", the magazine of the AMA (American Motorcyclist Association), for a ride that really turned me on, a ride on old Route 66 from Chicago to Los Angeles. I thought about doing the ride, discussed it with Hanna, and decided to go for it. But, I learned that the ride was already full. I was put on the wait list. On January 28, 2008 I learned that there had been a cancellation, and I could be on the ride if I still wanted to do it.
Duh!
---
29 Jan 08
The ride is scheduled from May 10 to May 23. It will be about 2,300 miles.
My plan is to leave North Palm Beach on Tuesday, May 6 for Chicago. I plan to arrive in Chicago on Friday, May 9. This means four days to cover about 1,300 miles. I could do it faster, but I will be doing so much riding over the next four weeks that I won't want to push too hard starting out.
While in California, I will do some visiting, especially with my daughter Cindy who lives in Ridgecrest, then head back east. I want to ride back through Monument Valley because that is one of my favorite places. Once I leave Los Angeles, I will ride another 2,800 miles, which I expect will take about a week. I expect to be back home by the end of May.
---
01 Feb 08
The red line on the map below shows the Route 66 ride. The black marks across the red path show the overnight stops -- Willowbrook IL, Springfield IL, Rolla MO, Joplin MO, Yukon OK, Amarillo TX, Santa Fe NM (2 nights), Winslow AZ, Grand Canyon (2 nights), Kingman AZ, Barstow CA, and Santa Monica CA.
---
09 Apr 08
I have been preparing for the ride. Today I rode 346 miles in my first endurance test. I had lunch with my best friend from my Purdue University days, my fraternity brother Dale Sappenfield, and his wife Joan. I rode to Poinciana, Florida for lunch then back home. This picture shows the front of their house, and me on the bike, after lunch, showing no signs of fatigue. After I got home, I was ready to ride some more, so I guess I passed the first test with flying colors!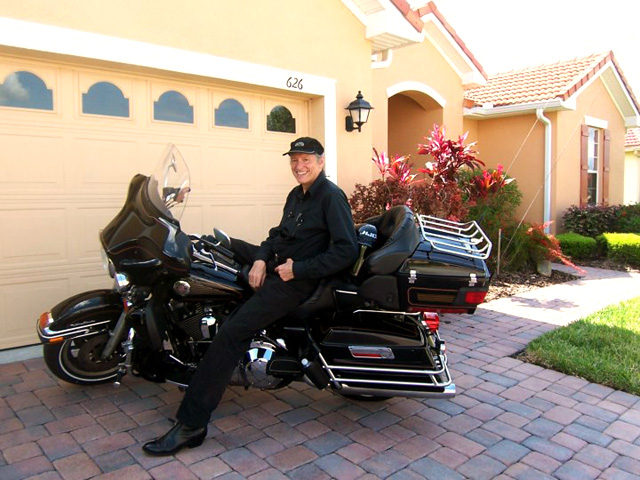 Another thing I did before today was a major service on the bike, including two new tires and a new battery. I survived today's endurance ride better the bike -- within five miles of getting back home, suddenly the lights weren't working right. Also, I noticed when I left home this morning that the radio had lots of static. I'll work on those things tomorrow.
---
22 Apr 08
Another ride today, 335 miles. I rode to Lakeland, FL to have lunch with Gisi Snearly. Gisi is a life long friend of my wife, Hanna. They first knew each other when they were preschoolers. This picture was taken by Gisi in her driveway.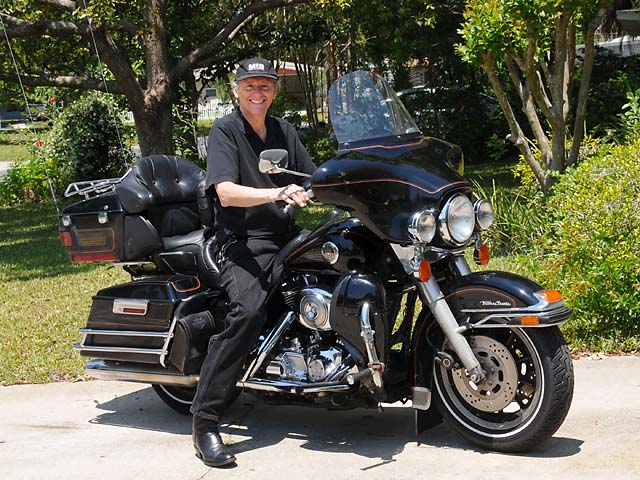 No problems with the bike today. Nor for me. The electrical problem two weeks ago came about because several wires in a bundle were frayed, and broken.
I have spent some time mapping out my expected overall route using Google Maps. The picture below shows the route I will be following. From Florida to Chicago, then Route 66 to Los Angeles. From Los Angeles I will go north to Ridgecrest, where my daughter Cindy lives, then through Death Valley, to Las Vegas, then through Zion National Park, along the beautiful Zion-Mt Carmel Highway, then past Lake Powell, then to Monument Valley, then to El Paso to check out some Lucchese boots, then I will head home.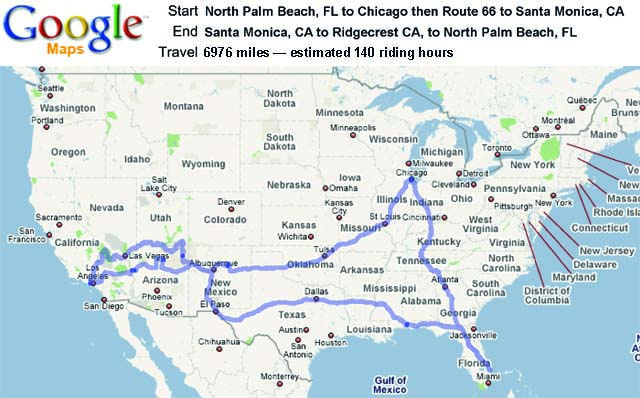 ---
23 Apr 08
Still another long ride today, 440 miles. I rode to Clearwater, FL to have lunch with Doris and Bentley Lipscomb. Doris is the daughter of my wife, Hanna. I rode over the Sunshine Skyway Bridge that crosses Tampa Bay.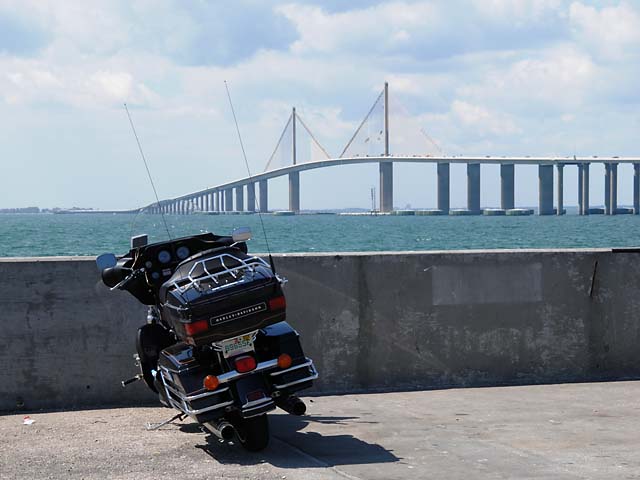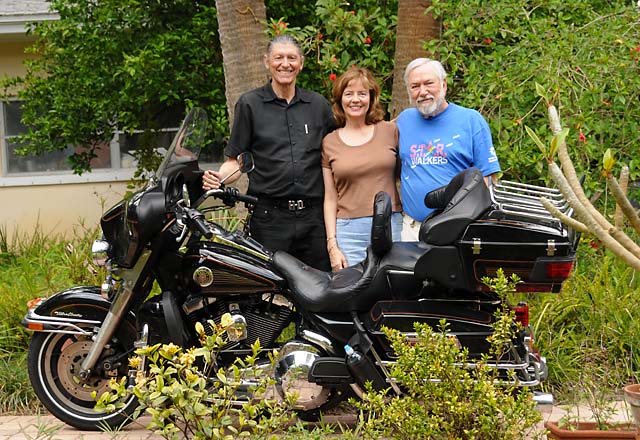 No bike problems. No problems for me.
Today I completed the endurance tests. I rode 498.6 miles. That's 1,275 miles in three days. Again no problems with the bike. And, no problems with me. I rode to Key West, had lunch, then rode back home. While in Key West, I rode up and down Duval Street, and did the touristy thing of asking somebody to take my picture at the "Southernmost Point" in the Continental USA.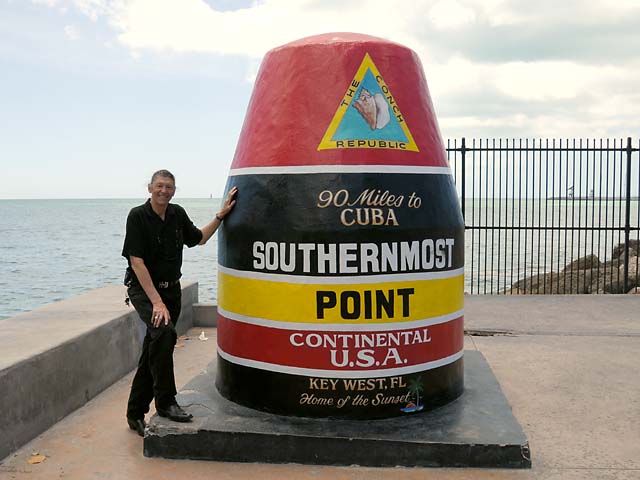 ---