---
28 May 2010, 3:00 PM, Asheville (West), NC
Lunch time. Chocolate shake. McDonalds. With wi-fi. More later.
---
28 May 2010, 6:30 PM, Asheville (East), NC
I now have 1216 miles total, 147 today. That's not that many. It was all on the Blue Ridge Parkway, or excursions off the Parkway (including the Vanderbilt Mansion which I will tell you about later). I have gone 84 miles up the Parkway. There is a portion of the Parkway that is closed because of a rock slide. Three miles are closed, I went all the way to the blockades on each side, meaning some backtracking. I could not see the rock slide.
I quit earlier today. I stopped at the Parkway headquarters on the east side of Asheville. I was told that the next exit north where I could find lodging would be at least a couple of hours, and I didn't want to ride that much more, so I quit.
There have been thunderstorms today, in fact, I just heard a loud crack of thunder. I rode in a thunderstorm this morning. There may have been some small hail. If not, it was big raindrops. I could hear them banging down on my helmet. Made me think I was in a tin roof barn in driving rain!
As I have been on the Parkway now, I can officially claim this as my "Blue Ridge Ride"!
More after dinner.
---
28 May 2010, 9:50 PM, Asheville (East), NC
Today I took some more mountain pictures. I won't put many up, though, because it seems that once you have seen one you have seen them all. I took some flower pictures. That's what I am going to give you now.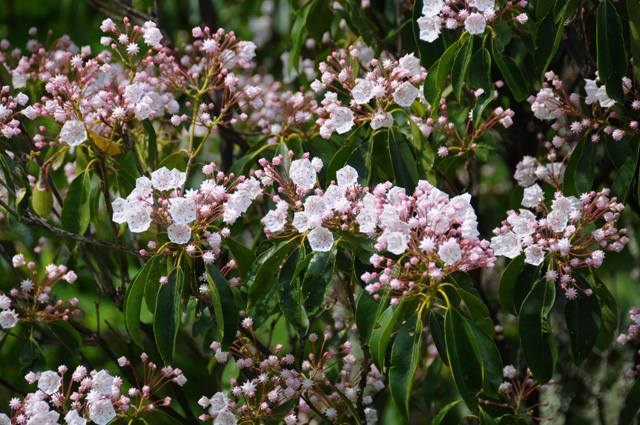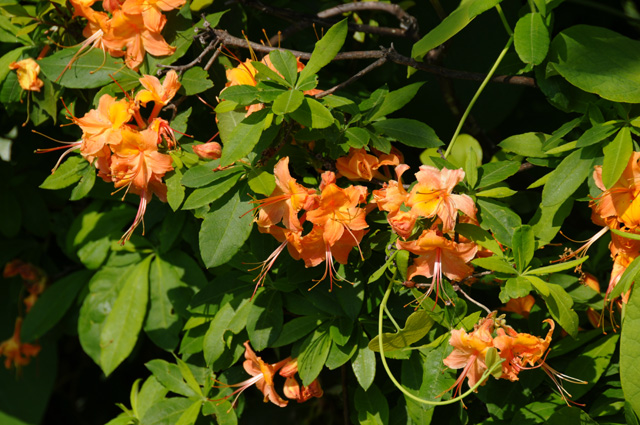 The thunderstorm that pelted me is just ahead.
Now it is behind. Maybe the high elevation was a factor.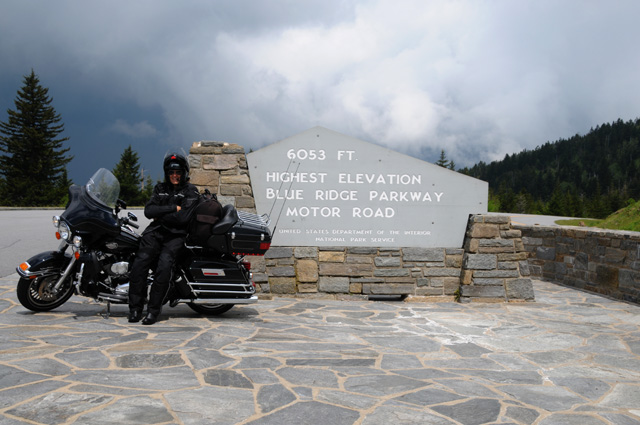 Now for my mountain pictures.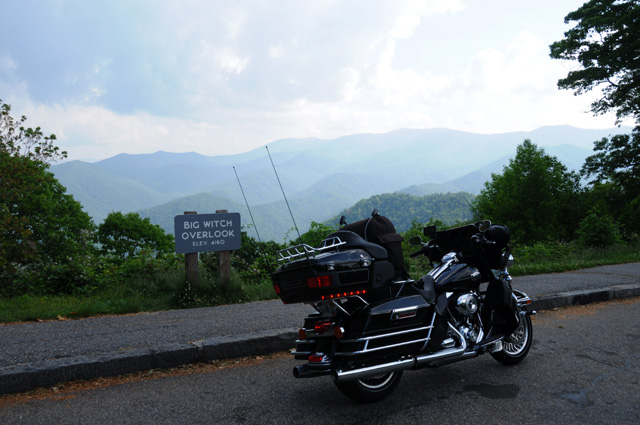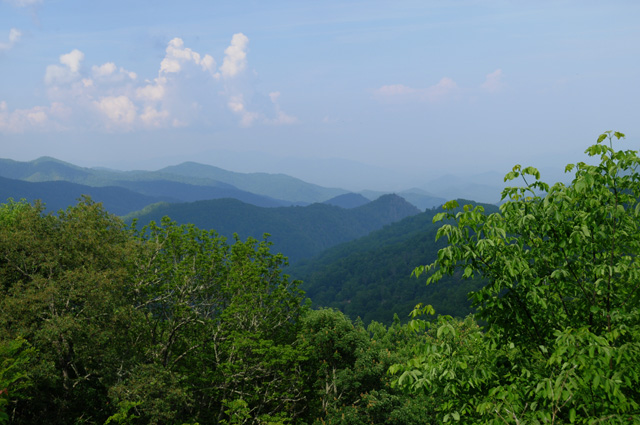 And finally, the rest of the Biltmore Mansion story. Hanna and her Berlin Lady Friends were planning to spend a few days in Asheville touring the Biltmore estate shortly after I get back home. Turns out they had to cancel the trip. So, I wanted to get a picture of the Mansion "for Hanna". I rode to the estate. Once I entered the property, I must have ridden half a mile to a mile when I came to a guard shack. I waited in line and then told the guy I only wanted to get a picture of the Mansion for my wife, she had to cancel her trip in two weeks. He said he couldn't let me in, and that I was still four miles from the Mansion. He suggested I go to the visitor center. I did and told my story again. I was told that I would have to buy a ticket to see the Mansion even from outside, that it cannot be seen from any of the roads around. I decided to not pay to get the picture. I headed back into town and at a high spot, I was able to see the Biltmore Inn (not the Mansion) because it sits on a hill (the Mansion is in the valley). So, here's my Biltmore picture. It was quite some distance away and this is with a long telephoto.
My last picture tonight is a section of the Blue Ridge Parkway. I took the picture looking back where I had just come from. I thought this was a most beautiful little stretch of road.
---