---
1 June 2010, 7:15 PM, Waynesboro, VA
Stay tuned for pictures and text after dinner.
---
1 June 2010, 10:20 PM, Waynesboro, VA
I met Dick and Pat West for lunch at the Peaks of Otter Lodge and Restaurant on the Blue Ridge Parkway. I first met Dick when we worked at RCA in Camden, New Jersey many years ago, probably in 1975. Our paths crossed again at Sony Pictures in Los Angeles in the second half of the 1990s. I don't think we have seen each other for more than ten years. We had a delightful lunch and did our best to catch up on what is happening in each others lives.
Before lunch, we had covered the bike because it looked like it would start raining at any minute. Indeed, we were just barely inside the restaurant when it started raining. Then, as we were parting after lunch, we could see that the sky to the north was rather dark. Just where I was headed.
At the lodge I did not have cell phone service, and I did need to talk to Hanna. About ten minutes after leaving the Lodge, I stopped at an overlook point and discovered that I had cell service there, so I made a quick call. I knew the rain was on its way. I made a second equally quick call, but before I finished it, the rain started. I wanted to get on the bike. I prefer riding in the rain to simply sitting in the rain! It lasted a few miles, then slowly it got sunny and stayed that way the rest of the day. Two days in a row now I have ridden through a thunderstorm.
I finished the Blue Ridge Parkway. Tomorrow I will start the Skyline Drive. With today's pictures, I will sort of wrap up on the Blue Ridge. To begin, I must give you a flower picture and a tree picture.
This is the flower picture: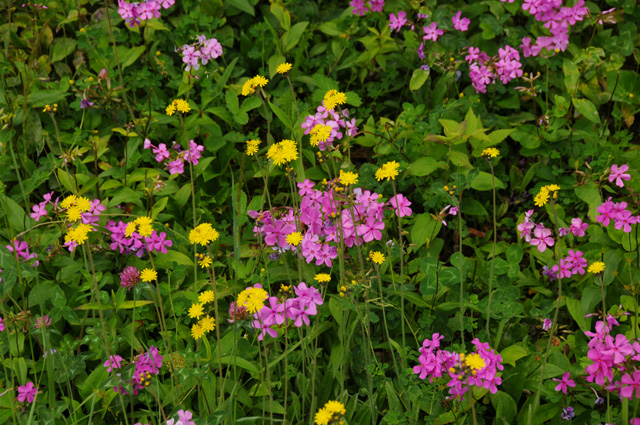 And this is the tree picture: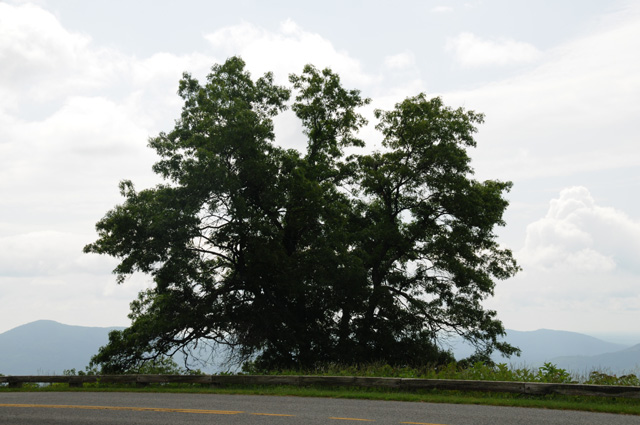 I felt it necessary to point out which was which in case you couldn't figure it out yourself.
I thought this sign was interesting enough to show it to you.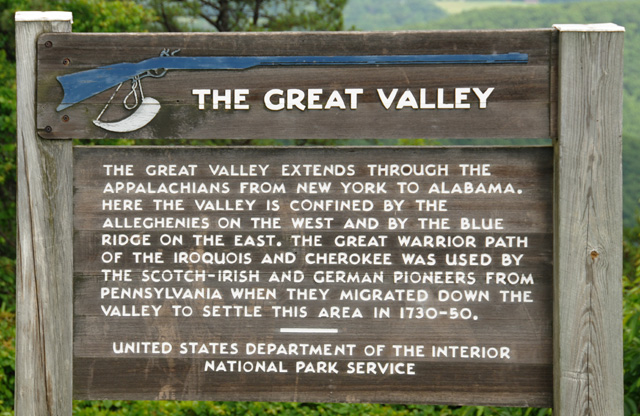 And here's a picture of the Great Valley.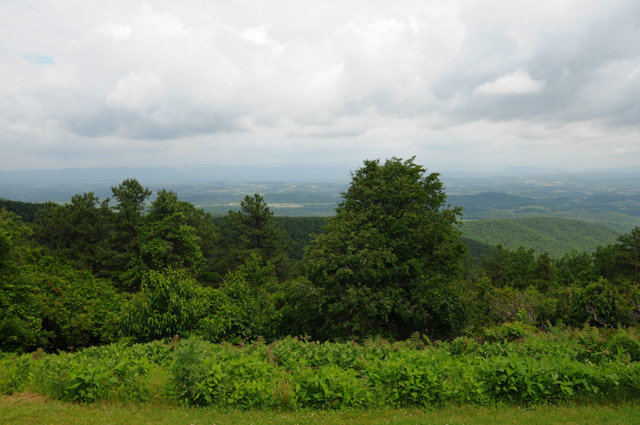 I don't think you can see much, it looked better in real life, you should have been there with me. Anyway, you can see there is another ridge in the distance and a large valley between the ridges.
Here's a picture of Roanoke from the Blue Ridge Parkway.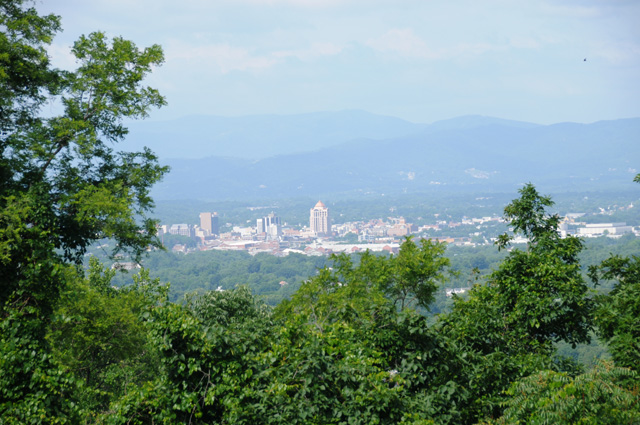 This is the James River. (A message for Dick: No shakes at Otter Creek!)
(Another message for Dick: I did not stop at Thunder Gap, it was pouring rain.)
Here's today's mountain picture.
I spotted three lodges along the Parkway, and I stopped at all three.
Toward the south end is Pisgah Inn.
About the middle is Bluffs Lodge.
And toward the north end is Peaks of Otter Lodge. That's Dick and Pat in front of the Lodge.
There are cabins at Rocky Knob, but I missed them.
I considered spending a night at Peaks of Otter Lodge, but decided not to because there is no Internet service. I couldn't bear not getting on the Internet for an evening. What would you do if you couldn't look at my pictures? I didn't want to do that to you.
---