---
18 May 2018, 6:30 PM MT, Douglas, WY
I'm going to show you my pictures first. Here's what it looked like when I left Hardin this morning.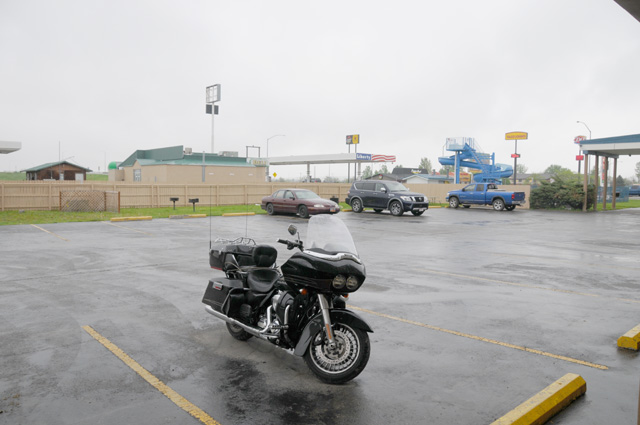 Here's what it looked like when I stopped in Douglas this afternoon.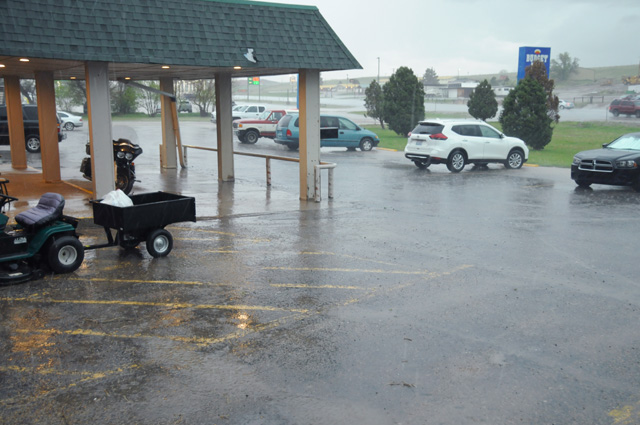 And here's what it looked like half way between.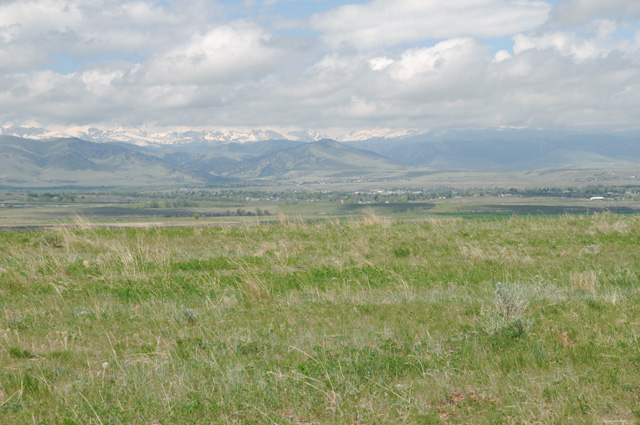 OK, that's it. That's all for today. In pictures, that is. That sort of gives you the flavor of the day. Rain in the morning, partly sunny mid-day, and rain in the late afternoon.
Before I left Hardin this morning, I debated long and hard about whether or not to leave. As you can see, I did decide to leave. I was about 50-50. What finally persuaded me was that the rain did end down the road, accoring to my NOAA Weather Radar App. I did expect to hit rain again later, I was not sure just where, but here in Douglas was about my best guess. So, I was not surprised when I did have to stop here.
When I headed out this morning, I rode about 60 miles in light rain. Then I rode about 40 miles in overcast, but no rain. Then I rode about 262 miles in partly sunny weather, until the last 30 miles when it became overcast and increasingly dark. I stopped on the side of the road about 10 miles before Douglas to put on my rain jacket. I wore my gaiters all day long. I had on my jacket liner to stay warm all day long. I wore my rain jacket about half the day.
About half a mile after I put on the rain jacket approaching Douglas, I started to get light rain. I stopped in Douglas to get gas, I was planning to continue to Cheyenne. While getting gas I heard a loud boom come from above. Then I heard another. Then I consulted my electronic devices to pick a place in Douglas to spend the night. About five minutes after I pulled under the portico of my hotel, there was hail. It is still raining, about an hour later.
If you added up all those numbers, you will see that I rode 392 miles today. As has been my habit the past few days, some were productive and some were not. I was cruising along all fat and happy on I-90 when suddenly it hit me that something was wrong. I had blown past my turn south. So I had to backtrack 39 miles, meaning I wasted 78 miles, or maybe you can say I enjoyed 78 more miles than I would have otherwise. But on the other hand, I might have made it to Cheyenne before the rain hit. Well, it is what it is.
You can see the extra 78 miles on the map, that little thingy pointing out toward South Dakota. Well, I'm going to leave you here and get something to eat.
---