---
19 May 2018, 11:59 PM MT, Denver, CO
This picture looks very much like the picture from yesterday, except it is not raining. At least at the moment the picture was taken it was not raining. About 5 minutes later when I started rolling, it was raining.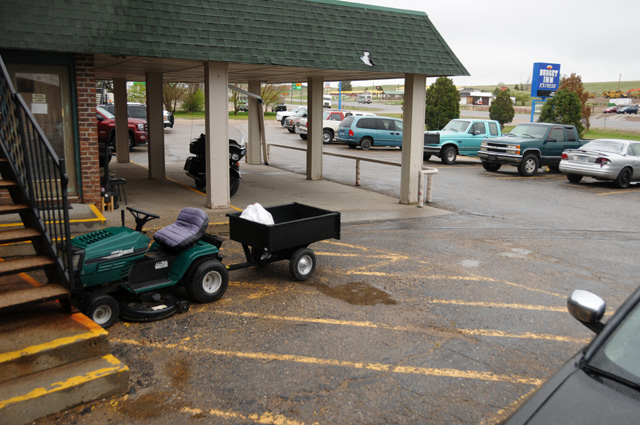 I rode 248 miles today, about 2/3 of then in the rain. From Douglas to about 30 or 40 miles south of Cheyenne I was in rain. Never heavy rain, or even medium rain, just light rain. That is the longest stretch of rain I have been in. And it was cold. The temperature was about 35°. I stopped in Cheyenne to thaw out. My winter gloves were soaked. I wrung them out before proceeding.
Cheyenne. Isn't that a capital city? Wasn't I supposed to take another picture of the Wyoming Capitol? I suppose so, but in the cold rain, no way.
After another stop to thaw myself and wring out my gloves a second time, I arrived in Denver, a capital city. And my LAST CAPITAL CITY. I have now visited all 48 state capitols, plus the US capitol, and taken a picture while on a motorcycle ride.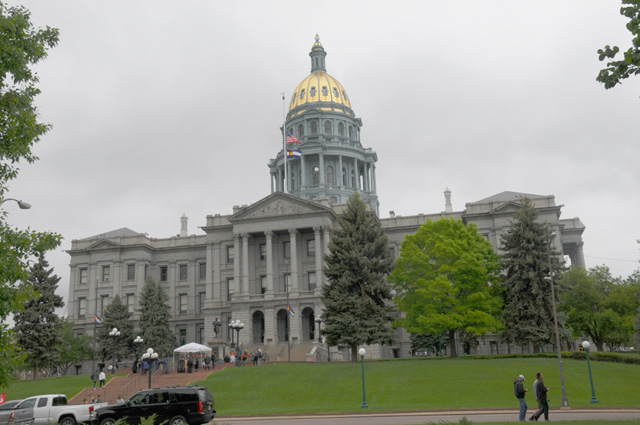 Check out my capitols at http://rhopkins.us/uscaps/index.htm.
I was unable to place my motorcyle in the capitol picture. It was parked a couple of blocks away. And at a very interesting place. Across the street from the very first Quiznos!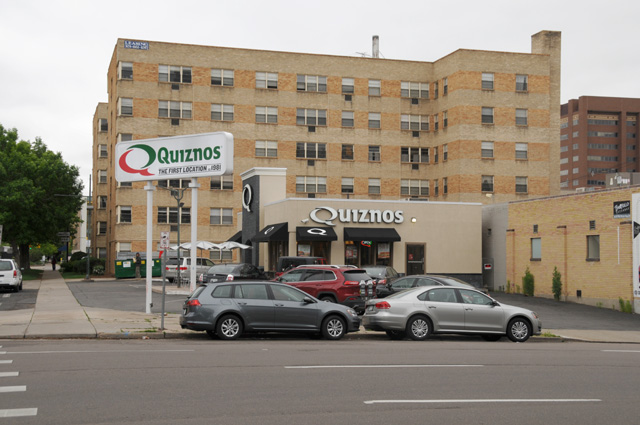 I went to my hotel and pulled off my rain soaked boots. I wore my gaiters all day long, how did the boots get wet? I guess they would have been much worse if I had not been wearing the gaiters. I wore my rain jacket all day. I wore my riding jacket all day. I wore the winter liner for the riding jacket all day. But it was really, really cold for me. I suppose I should have had a parka.
A little later, I had dinner with my niece Elizabeth, her husband Stephen, daughter Delia, daughter Louisa, and son Paul. Here we are enjoying our pizzas.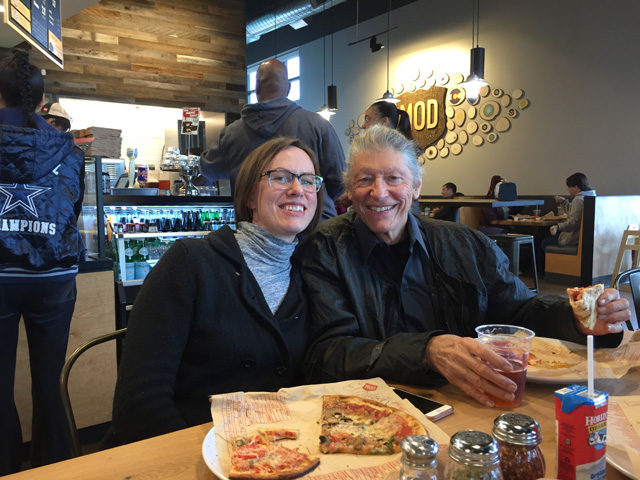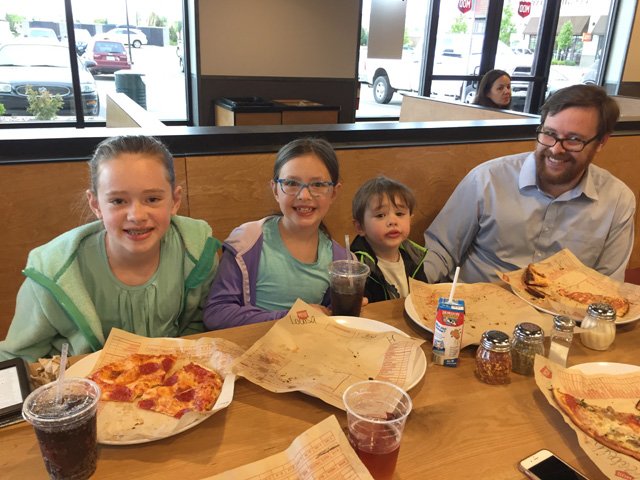 I have made another change in planned route. I was planning to go south from Denver on US-285, a very scenic route. I decided to not do that, though. I have had many road work problems on the non-Interstate roads I have traveled. I don't want to risk more on US-285. But especially, US-285 has high passes. Poncha Pass is 9,012 feet elevation. Trout Creek Pass is 9,346 feet elevation. Kenosha Pass is 10,001 feet elevation. Red Hill Pass is 10,051 feet elevation. Here's the forecast for Red Hill Pass tomorrow: "Sunday. A chance of rain showers after noon, mixing with snow after 5pm. Some thunder is also possible. Patchy fog between 8am and 9am. Otherwise, increasing clouds, with a high near 50. Southwest wind around 8 mph. Chance of precipitation is 50%. Little or no snow accumulation expected." I just don't want to do that. So, check out my map to see my new route. To avoid the hot deserts, I will take a more northerly route, I-70 across Kansas and Missouri, then down through Nashville and Atlanta to Florida.
Good night all.
---