---
25 April 2011, 7:00 PM EDT, North Palm Beach, FL
We're home. Got back this afternoon and have been taking care of mail, washing love bugs off the car and bike, taking Bentley to the airport, and other such things. Hanna decided this morning that she really wasn't up to the drive from Clearwater to North Palm Beach. Both Doris and Bentley had offered to drive her car then fly back to Tampa. Bentley figured that Doris had more pressing work than he did, so he became the designated driver. Hanna has been suffering from something like a cold the past few days, with a tiring cough, and didn't sleep well last night.
I heard from my brother Larry regarding the Studebaker in my pictures from yesterday. He said, "This is a 1954 as you can see by the teeth in the slots above the bumper. Note that the car appears to have a back door, but doesn't." I didn't realize that even when I was looking at the car. I thought it was a four door, but you can clearly see that there is no rear door handle! Thanks for the input Larry.
I rode 220 miles today. I rode a total of 2,910 on the trip. I burned 70.0 gallons of fuel, or 3.6 barrels of oil, averaging 41.6 miles per gallon. I was on the road 11 days, an average of 265 miles per day. I rode through 6 states, FL, GA, TN, AL, MS, and LA.
I had a chocolate shake for a late lunch. That's only 7 for this entire trip. That's not good. I'll bet I lost some weight. On the other hand, my Blue Ridge Ride was 17 days and I had 7 chocolate shakes. So, I had a better average this time!
I have two pictures today. First my arrival at home.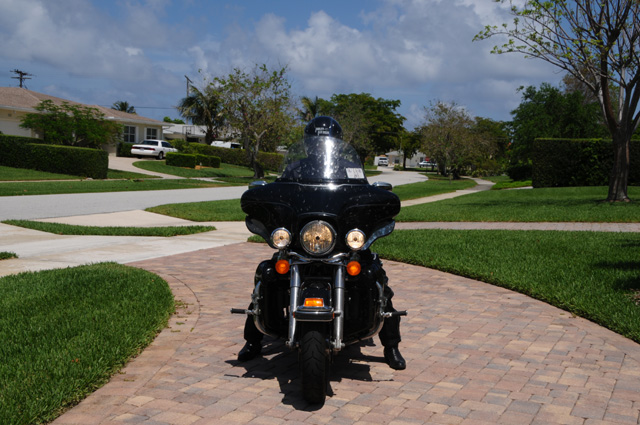 Can you see the smashed love bugs on the fairing? See those white spots. In this picture you might be able to see them on the windscreen more than the fairing. Look between my teeth, you may see some there.
And here's Bentley and Hanna's arrival. Look at all their love bugs. In real life, they are black and all over the front of the car. They look more white in the picture. Bentley had to stop three times to clean up the windshield. They took a more southerly route than I did. For some reason the love bugs were worse on their route than they were on my route.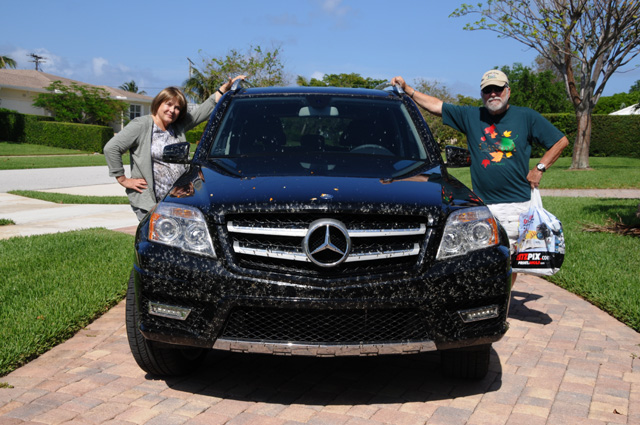 I expected rain today based on the weather forecast, but escaped the punishment. My windscreen did get misted about three times. I had my riding suit vents closed up expecting rain. Lucky me.
The ride this year was much easier on me than the ride last year. I think it was the medication I was on. Last year I was taking a beta-blocker. It made my heart rate lower and blood pressure lower, too low as far as my regular Doctor was concerned. This year I have something different and I don't have the low heart rate and low blood pressure.
Wonder what I will do for my next trip? Guess I'll have to think about that.
Never saw my raven on this trip. Didn't last year either. My brother Johnny has suggested that my black bird from my Route 66 Ride has grown up and is now the SR-71 Blackbird. Maybe he is right. Maybe I really did see my bird. Maybe so.
---