---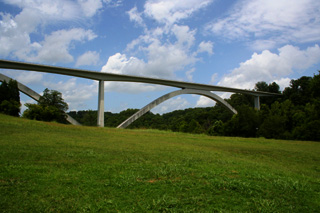 January 2011
I am planning a ride during April 2011, leaving home about April 15. This ride will be different from my other rides -- I will have company. Hanna and Doris and Bentley, along with Maggie and Ripple, will accompany me in a cage. (From the motorcycle dictionary - Cage - A car, truck, or van. The sworn enemy of motorcyclists, more commonly known as automobiles. The name stems from being all cooped up inside a closed shell, with no contact with the outside air.) For those of you who don't know, Hanna is my wife, Doris is Hanna's daughter, and Bentley is Doris' husband. Oh, Maggie is our Scottish Terrier and Ripple is Doris and Bentley's greyhound.
On New Years Day 2011 when I told Doris and Bentley and Hanna I was planning a ride on the Natchez Trace, they quickly said they wanted to go also. Doris said they would go in their van as chase. We looked over the calendar to find a suitable time, and plans fell into place rather quickly.
We have not worked out the details yet, but somehow Hanna and Maggie and I will get to Clearwater to join Doris and Bentley and Ripple. Or, maybe Doris and Bentley and Ripple will come to North Palm Beach to join us. We will make our way to Nashville, Tennessee to catch the northern end of the Trace in a little place called Pasquo, then work our way south to Natchez, Mississippi on the Trace, then back to Florida. We expect the ride to take about ten days and cover about 2,500 miles
Each day of my journey is a separate page shown on the menu at the left. You can start at the beginning by selecting the first day, or at the end by selecting the last day. Or, you can have the entire trip on a single page (a long page) by selecting "Single Page". I probably will not set up the single page until the trip is complete.
---
March 3, 2011
Doris and I have done some preliminary planning. We will plan to spend two nights on the road getting to the northern end of the Natchez Trace. We will probably spend three or four nights on the Natchez Trace. On the way home from Natchez we will spend a night near Mobile, Alabama, and then a night in Apalachicola, Florida where Doris will be able to see a friend. Normally I do not make overnight reservations on my motorcycle trips, but this time I will because we have to find places that will accept Maggie and Ripple.
The mileage breaks down this way. North Palm Beach to Clearwater is about 220 miles. Clearwater to Nashville is about 750 miles. The Natchez Trace Parkway is 444 miles. Natchez to Mobile is about 250 miles. Mobile to Apalachicola is about 250 miles. Apalachicola to Clearwater is about 290 miles. These numbers do not take into account any side trips, and I do expect several side trips along the Natchez Trace.
I now have a map that shows our intended route.
---
April 8, 2011
Plans are pretty much in place. Hanna, Maggie and I will leave North Palm Beach on April 15. Hanna and Maggie will be in Hanna's SUV, I will be on the Harley. We will spend the night in Clearwater. Then on the 16th of April, Doris, Bentley, Ripple, Hanna and Maggie will ride in Doris and Bentley's van, and I will continue on the Harley. Nights will be in Ashburn GA, Monteagle TN, Lawrenceburg TN, Aberdeen MS, Vicksburg MS, Baton Rouge LA, Pensacola FL, Apalachicola FL, then back to Clearwater. We will visit Civil War battlegrounds at Shiloh and Vicksburg and the WWII battleship USS Alabama in Mobile. I will photograph the Tennessee capitol building in Nashville and the Louisiana capitol building in Baton Rouge.
---