---
8 May 2012, 8:30 AM, Athens, OH
The story of the morning.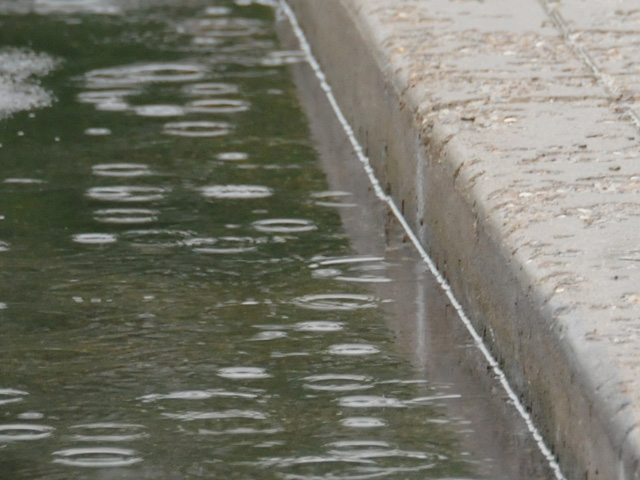 It's just a light rain, but I think I will stay here a while longer.
Check back later, I'll leave at some point, even if it is still raining.
---
8 May 2012, 11:00 PM, Greensburg, IN
Today was a slow day. I was slow to get going because of the rain. Then I missed a turn and lost time. That was the second time that has happened to me. I am accustomed to large exit signs like you find on an Interstate, and that was not what was there. Both times I was on a limited access four lane road (not an Interstate) and US50 exited the four lane. There were large signs showing the cities on the exit, but not the road. In each case there was a small sign showing that US50 exited. (I learned this when I went back and looked to see why I missed the turn.) I will have to watch that more carefully. Now I have somewhat trained myself to keep watching the side of the road to make sure there is the occassional US50 sign. To add to the slowness, most of the road was two-lane today. The speed limit drops in each town, and there were a number of them. Bottom line, I did a total of 309 miles today, including the wrong way miles, and it took longer than it took yesterday to do 350 miles.
I should have mentioned yesterday how pleasant it was to do US50 through much of West Virginia. In the mountains there were switchbacks that were posted at 15 mph for a safe speed. That's a real switchback. It was very curvy and not too much traffic. A very pleasant ride.
To add to today's woes, I was in rain again. This time it was heavier. I stayed dry, though. It was not hard enough to get me wet, and I did not have to stop during the rain.
Ohio was very pretty. There were hills, not mountains, and sweeping valleys. Very pretty. The ride through Cincinnati was very nice. US50 follows the river. You can see the skyline at times.
I thought I would show you my jackets. The first picture is my summer jacket, the one with many holes to keep me cool. The second picture is my rain jacket over my summer jacket. (I continue to wear the summer jacket because it has all the protection in case I fall. The rain jacket is super light weight, much like a windbreaker.) So, in pictures where you see me, if you see the orange jacket you know it was raining or it was cold. I still love the summer jacket. It is still a good compromise. I wore the rain jacket almost all day, much of the time for warmth, the rest of the time because of rain.
Self portrait with summer jacket.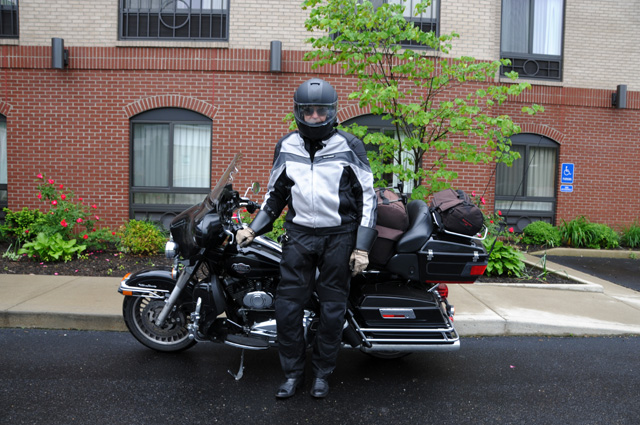 Self portrait with rain jacket.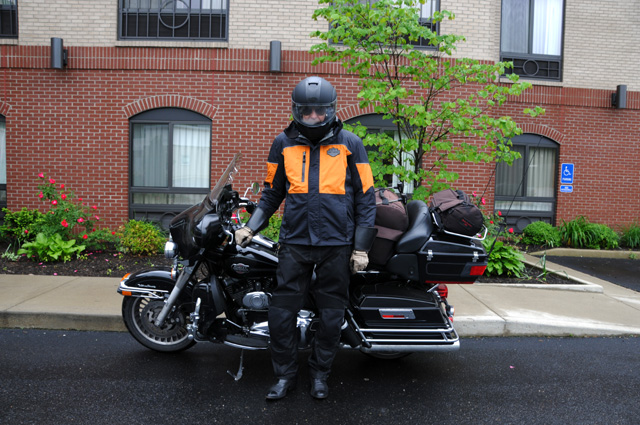 A photo to show you how dirty my bike is tonight from all the rain. It is supposed to be black!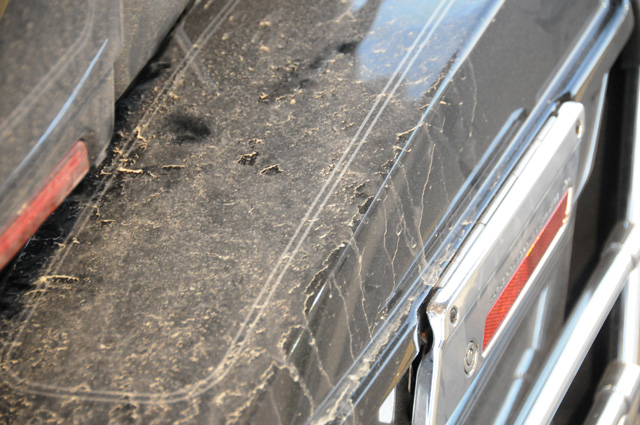 I was unable to stop to take a picture of the Cincinnati skyline. That is, until I had passed the city. Here the lanes were cut off for some kind of construction, and the traffic was crawling on the shoulder in single file. So, I pulled out of the single file, parked on the unused portion, took my picture, then got back into line.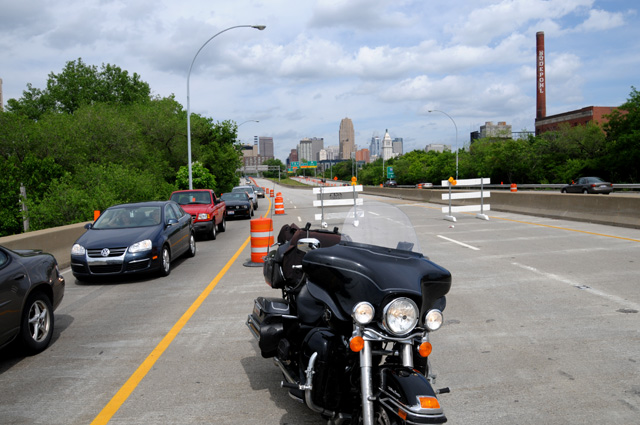 The next two pictures are for Charlotte. This house, in Aurora, Indiana, on US50, may be the home where Charlotte lived during some of her high school years. Nobody was home, Charlotte, so I got the pictures and took off.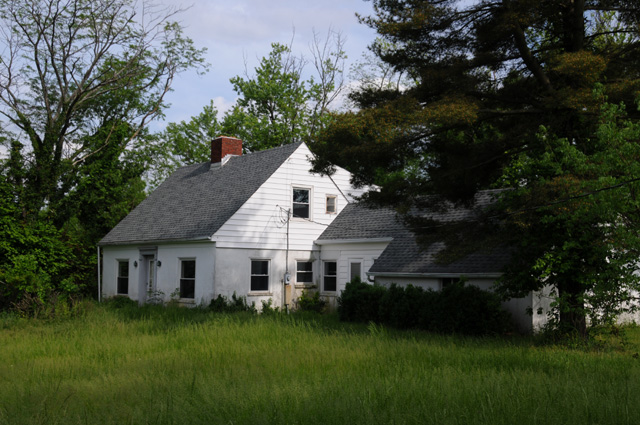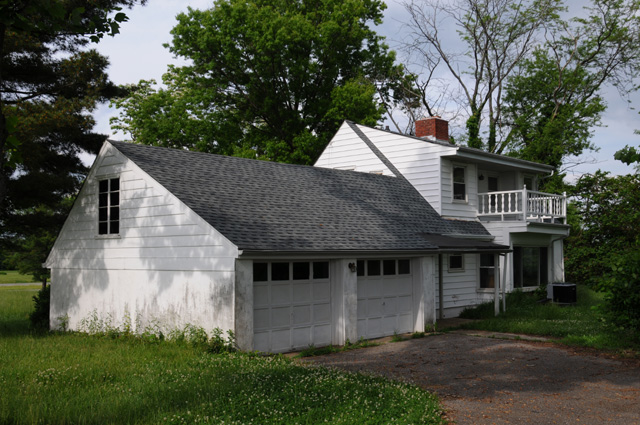 Just down the road is this round barn in Dillsboro, Indiana. I have a book that has pictures and text about all the round barns in Indiana.
A grade school and high school friend of mine, Edwin, actually my best friend during those years, lives on US50 in Versailles, Indiana. I stopped to say hello.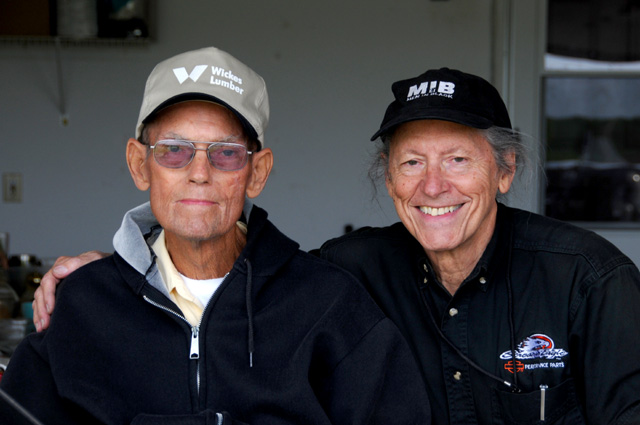 I am in Greensburg tonight. Greensburg is not on US50, it is about 20 miles north of US50. I am in the motel that Hanna and I would stay at when we visited my parents. I had to take a picture of the court house. I have many already, but I have said on previous rides that an old picture doesn't count, you have to take a new one. Anyway, that is a tree you see growing on the 115 foot high clock tower. The tree first appeared in 1870. It is a large tooth aspen.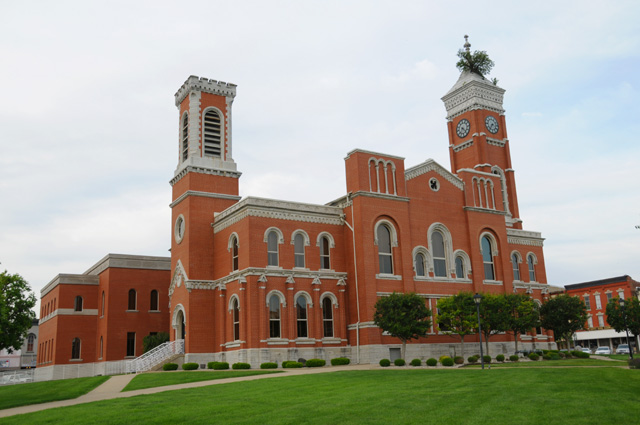 ---