---
12 May 2012, 11:30 PM CT, Dodge City, KS
Wow, was I surprised. Each night I record mileage from my odometer. I did 396 miles today. I had no idea I had gone that far. I had assumed about 300 for today because that's what I had noted a month or so ago when I made a table looking at possible night stops. But, I actually stopped last night a bit east of the point I had in the table. Then I went downtown in Kansas City this morning, then back to where I started so I would resume US50 from where I left it last night. Plus I did some riding around this evening in Dodge City. But for it to be 100 more miles than I was expecting? Wow!
I had my daily vitamins and minerals that you get from a chocolate shake. I have to watch that carefully to make sure I keep my body in proper shape.
I have more pictures today than I expected. So, let's get to them. First is the Kansas City skyline.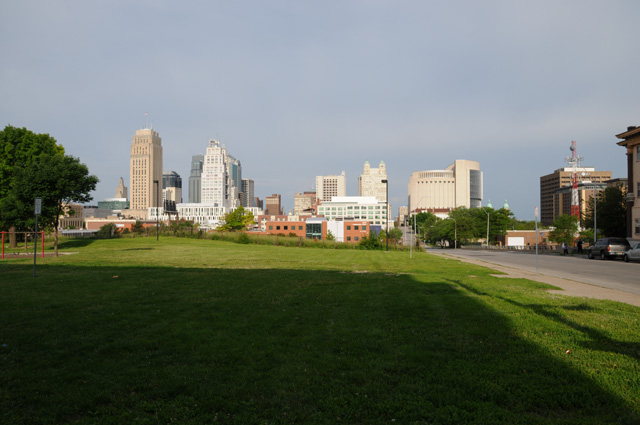 I stopped in Hutchinson, Kansas to retrieve some memories from ten years ago. Funny how memory can fade after such a short time. Ten years ago when I worked for Sony Pictures, I went to Hutchinson on a business trip with some other Sony Pictures people. We were looking at sites where Sony Pictures stores film assets. Believe it or not, one of the places is Hutchinson. Why would they store film there? There is a salt mine 650 feet deep, and the climate in the mine is extremely consistent and favorable for film storage. I remembered from ten years ago that the salt mine was under US50. That was noted by me at the time because of my early life history with US50. Anyway, I wanted to stop at the salt mine and figure out where I had been. I had some trouble figuring out just where the elevator was that took us down to the mine. It had to be pointed out to me. I stopped first at a salt mine museum, thinking it was there ten years ago, but it wasn't. It is only five years old. That's why I couldn't find the elevator, it was about a quarter mile away on the other side of a railroad track, but I rode a mile or two to get there. I could have walked more quickly. Here's a picture of the museum.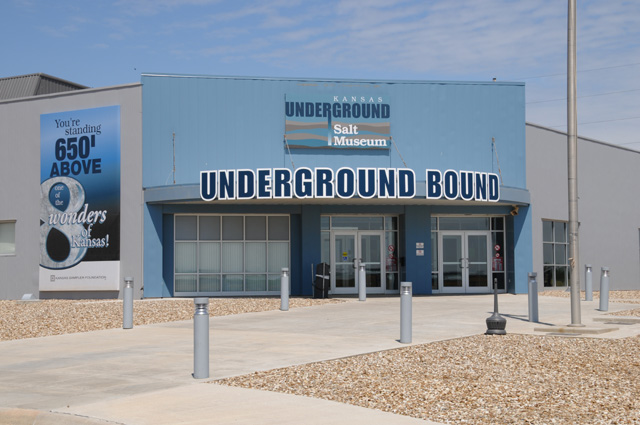 This old engine is at the museum, it was used in the mine from 1928 to 1963.
I had to wait for a train before I could cross the track. I quickly got my camera to take a picture of the train because I really like the way it was painted.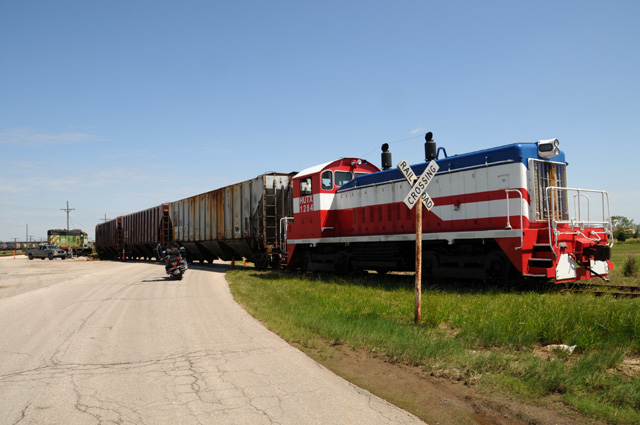 This is the complex where the elevator is located. The elevator is on the left. The big wheels at the top of the building on the left are immediately above the elevator. They are pulleys for the cables that hold the elevator. The cables come up over the pulleys, and down to the right. The motor is in the building on the right.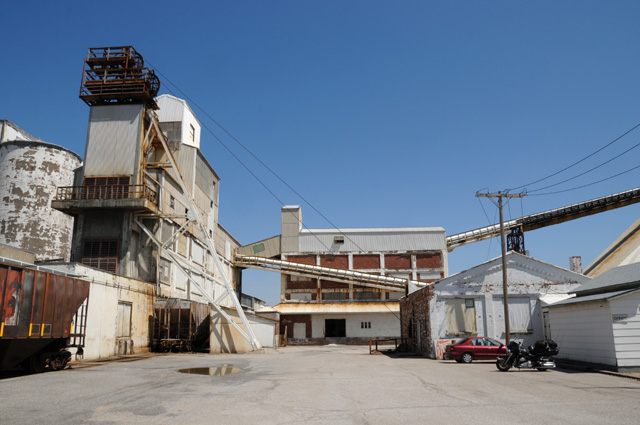 Here's the cable wound up on the motor end.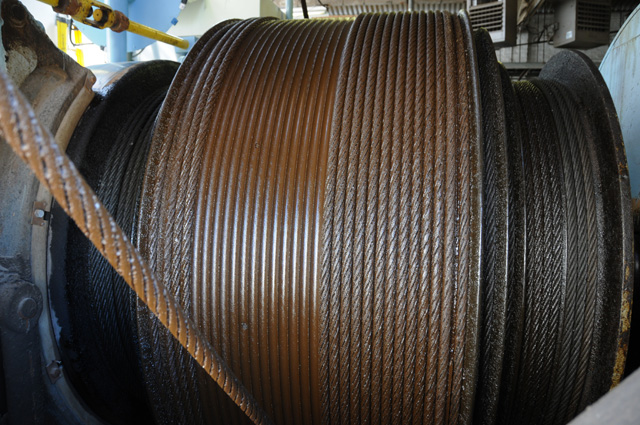 Here's a better look at the elevator shaft. The elevator is not large. I can remember that it was full with half a dozen people. There is no light in the elevator. It is dark, and I do mean dark, when you go down or up. I can remember going up those steps into that room, and then into the elevator.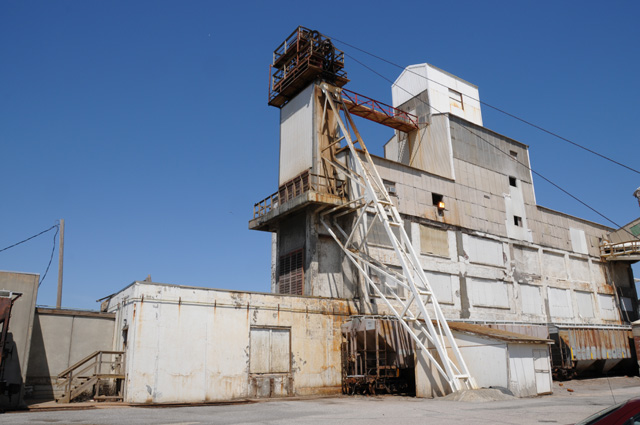 Here are the pulleys and cables at the top of the elevator.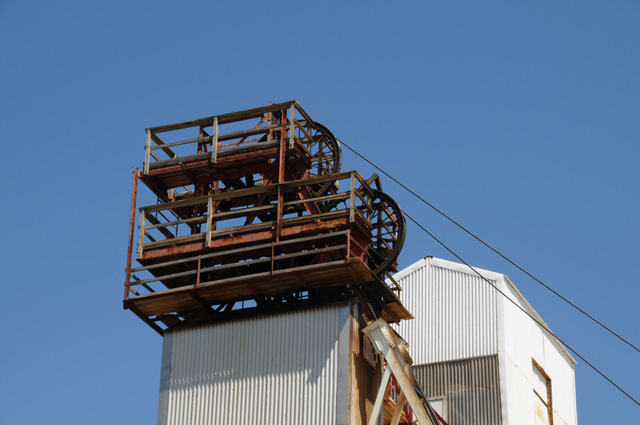 As I was leaving, crossing the railroad track, I noticed that the engineer was out of the engine and walking to his pickup truck. I stopped and walked back to talk to him. Turns out he and some co-workers painted the engine. Here's Douglas on his engine. [Douglas, if you would like to have a full resolution copy of this picture, you can click on it to get the high rez picture in your browser, then download the high rez picture by right clicking on the picture and selecting "Save picture as..."]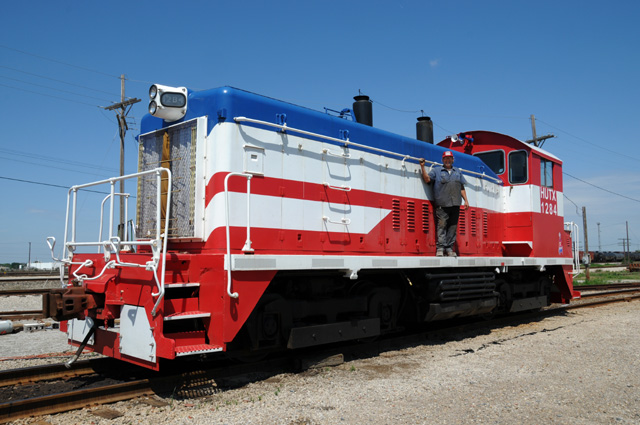 Somewhere further along on my ride, I crossed the Arkansas River. Bells went off inside my head. You will see this river again, the bells tolled. So I turned around, went back to the river, and got this picture. You will see it again, also. Or at least that is my plan. Anybody know where I will see it again?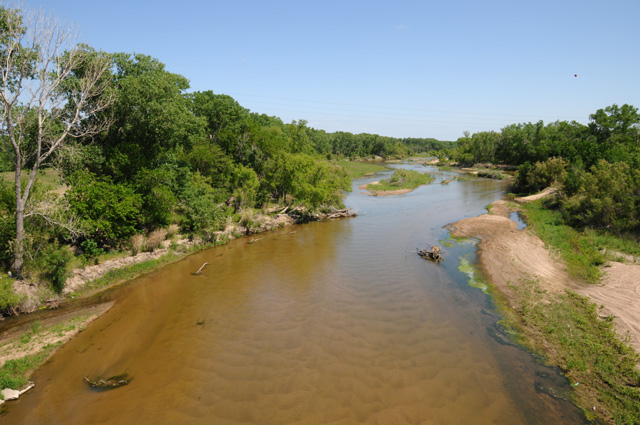 Then further down US50 I passed a wind farm. Had to stop, of course.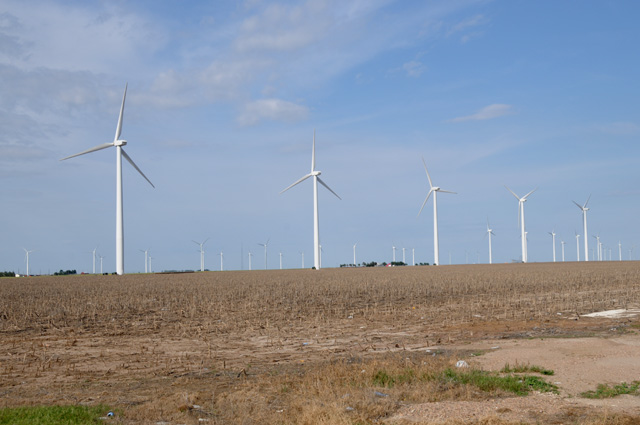 When I reached Dodge City I tried to find the Long Branch Saloon. I had my eye out for Marshall Dillon, Miss Kitty, Chester, or Doc. Nothing. But I did spot Wyatt. That's Wyatt Berry Stapp Earp. He was a Dodge City lawman from 1876 to 1979.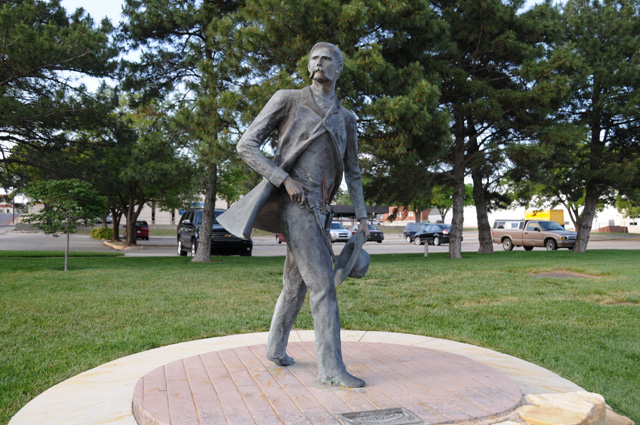 A block or two away was this Texas Longhorn.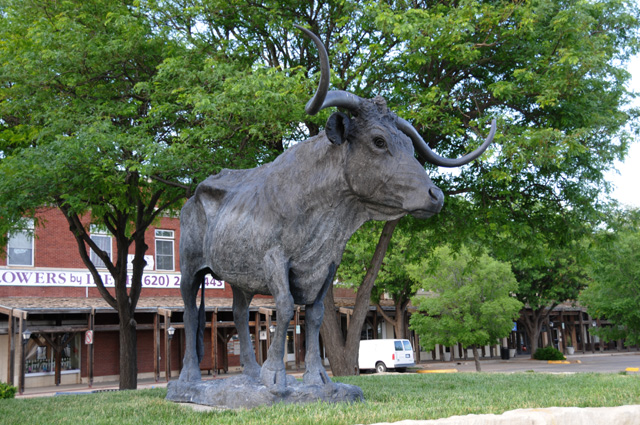 Here are some posters along the street. I stripped the text at the bottom of each and made them into a single picture.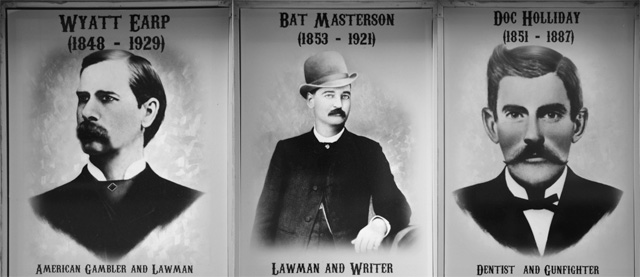 ---