---
7 July 2014, 11:30 PM ET, Dover, DE
Well folks, it's time to talk about traffic lights. Before I tell you how many lights I have counted so far, I thought I would give you an example of what you encounter on US1 in metropolitan areas. US1 goes north and south right through the center of Washington, DC. In the map below, it runs from Alexandria on the south side to just north of the University of Maryland in College Park. I have measured the US1 miles using Google Maps from the Beltway at the south to an IHOP, where I was meeting somebody, on the north side, almost all the way to the Beltway. It is 18.8 miles. US1 runs up just west of the Potomac River, past Washington National Airport, across the 14th Street Bridge, up 14th Street, east on Constitution, north on 6th, then northeast on Rhode Island Avenue (which becomes Baltimore Avenue). So my question is this, how many traffic lights are there in that 18.8 mile stretch? And the answer is -- 116. Shocking, isn't it. That's 6.2 lights per mile.
Let me compliment Alexandria on their traffic light management. There were 30 lights from the Beltway to the 14th Street Bridge. Want to guess how many red lights caught me? And that answer is -- 3. The first light stopped me, but it got me in sync with the lights, then only 2 out of the next 29 were red. AND THAT WAS DURING RUSH HOUR! I suggest that traffic engineers who handle the rest of US1 go to Alexandria to see how traffic manangement should be done.
Back to the total number of traffic lights. You may recall that I guessed 2,131 lights. (See the second paragraph on the page "Intro".) Have you any idea how I came up with that number? If not, then you should see my first paragraph on the date 10 November 2013 on the page "Prep". I said that US1 was 2,131 miles from North Palm Beach to Fort Kent in Maine. So I guessed an average of one traffic light for every mile of US1. In metro areas, there can be ten blocks per mile, or perhaps ten lights per mile. In rural areas you can go miles without any lights. So, I sort of guessed that it would average out to one light per mile.
On my first day, I ran about 200 miles on US1 (244 total miles) and counted 240 lights.
On my second day, I ran 340 miles and counted 116 lights.
On my third day, I ran 311 miles and counted 173 lights.
On my fourth day, I ran about 298 miles on US1 (314 total miles) and counted 244 lights.
Today I ran about 115 miles on US1 (222 total miles) and counted 281 lights.
The total lights right now are 1,054. My total miles right now are 1,438 and about 1,264 of them are on US1. I think that number for miles is a little high, but I cannot pinpoint exactly how high it is. Today, for example, I know exactly how many miles were on US1. First I had to get back to US1 (16 miles) and later I left US1 to go to Dover DE. Anyway, the lights per mile ratio right now is about 0.85, below my guess of 1 light per mile. There's a lot of metropolitan areas ahead of me, Philly, New York, Boston, indeed, the entire Philly to Boston corridor. On the other hand, there are about 500 miles in Maine, and I am guessing most of those miles will have no lights.
About half of you guessed too low. We'll see how the other half sorts out over the next week.
On to my pictures. I said earlier that I met up with somebody at the IHOP, that was Jim. Jim and I worked together at RCA in the early 1980s. We had not seen each other in some time, so we got together this morning. Here's a picture of the two of us appearing to smile at the camera while we are really admiring my motorcycle.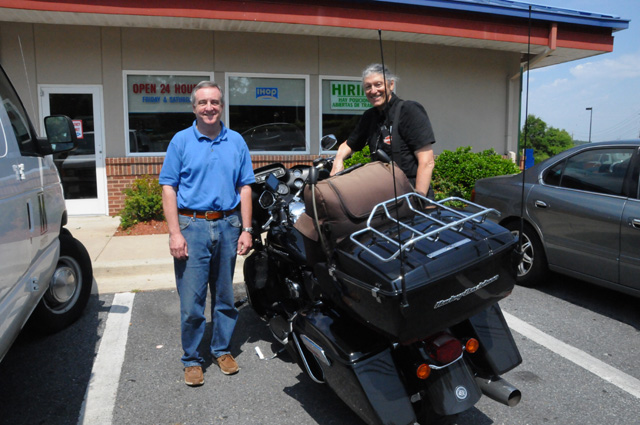 I did make it to Dover, DE to the Delaware State Capitol. I have one photo of the capitol for you. This was difficult, the lighting was not good, the sun was behind the capitol. It would be much better if the sun were rising rather than setting.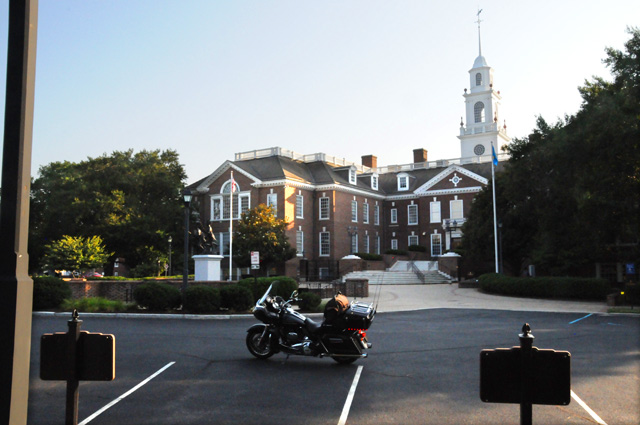 And one other picture, this is the old Delaware capitol, used until 1933. Again, difficult lighting with shade from trees.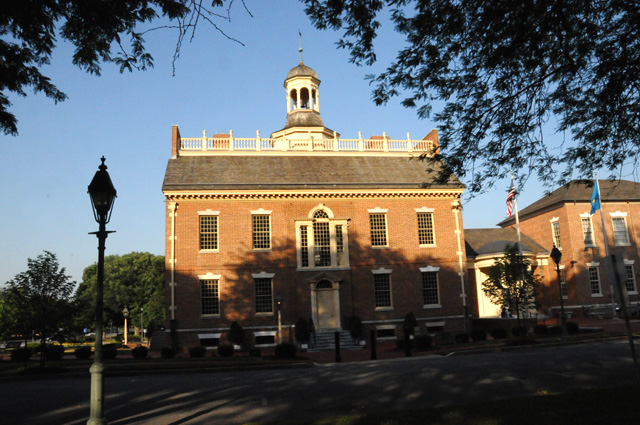 Another tiring day of riding. US1 is difficult. Too many lights, especially red, and low speed limits along much of the way. The combination makes it long and tiring. It has been very warm, and the low speed means I don't get as much wind cooling as I would like. But who am I to complain, I am the one who decided to do this. It will get better as I get farther north, not the red lights and speed limits, but it should be cooler.
See you tomorrow.
---