---
8 July 2014, 11:59 PM ET, Princeton, NJ
Hi again. When I left you last night, I was moaning about the terrible picture of the Delaware State Capitol. This morning I decided to go back there and get a new picture while the sun was shining on the front. Here it is. I feel much better now.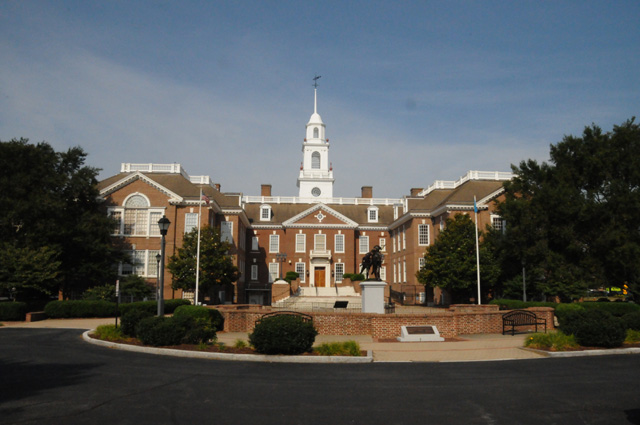 It took an hour and a half to two hours to get back to US1 this morning. I had gotten off just short of Philadelphia yesterday. When I finally got to Philly, I got off US1 again and went through Camden, NJ. Why? Because once upon a time I worked in Camden, for RCA. (As did Jim who you met yesterday.) RCA is no longer there (indeed, RCA is no longer). One of the RCA buildings still stands, though. It was converted into condos I have been told. Here's a picture of that building. I had an office in that building, seems like it was the second or third floor, I cannot remember now. I think it was in a corner, maybe the corner facing us right now, or maybe the corner on the right. Or maybe both corners (but not at the same time.) When you reach my age, you tend to forget some things. But give me credit, I do remember which building it was.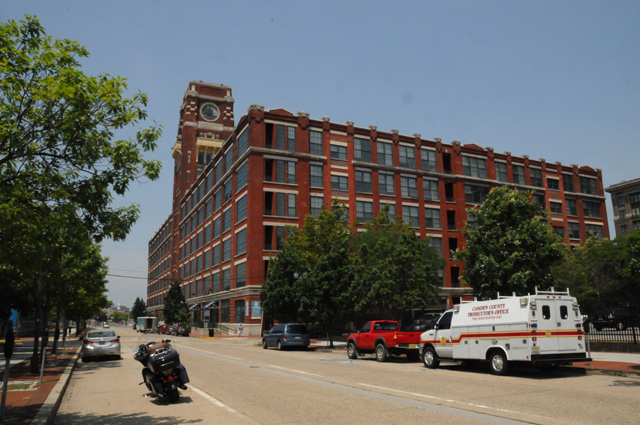 Did you notice that part of the building that sticks up high? (Surely there's a name for that, but I don't know what it is.) Let me show it with a bit of telephoto.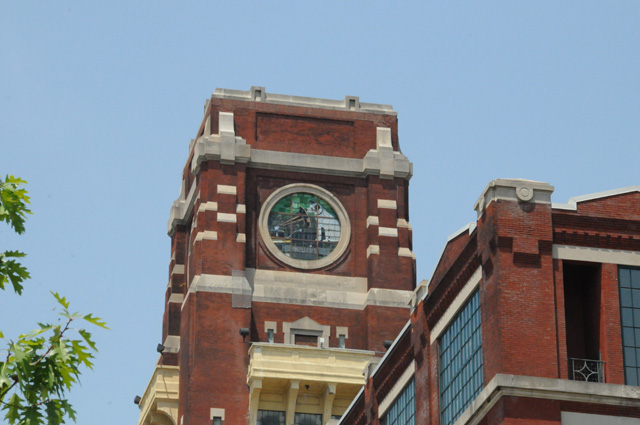 And even more telephoto.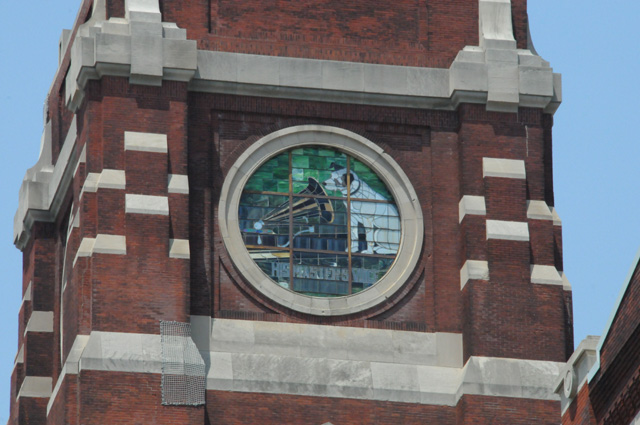 It is Nipper, the RCA doggie. I have heard that the building was missing its stained glass windows when it was converted to condos, but somehow it was discovered where they were, and they were put back in. So, although RCA is dead, Nipper still lives.
After I finished my reminiscing, I decided to take a new look at a place where I once lived. The apartment on the second floor was mine. This is in Marlton, NJ. I had lots of hanging plants on that balcony.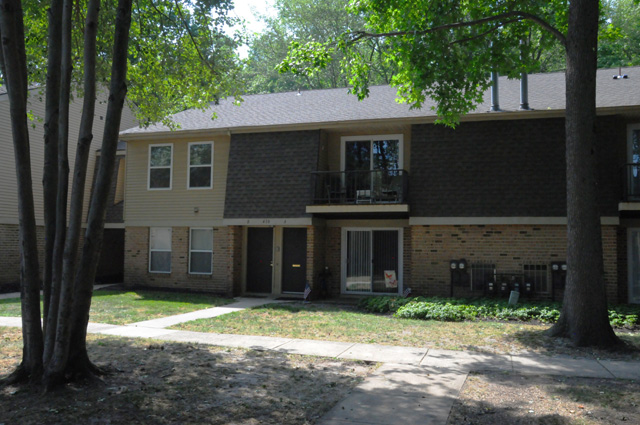 I moved from that apartment to a house, a newly built house, I was the first owner. It was in the same development as the apartment. It was (and still is) called Barton Run.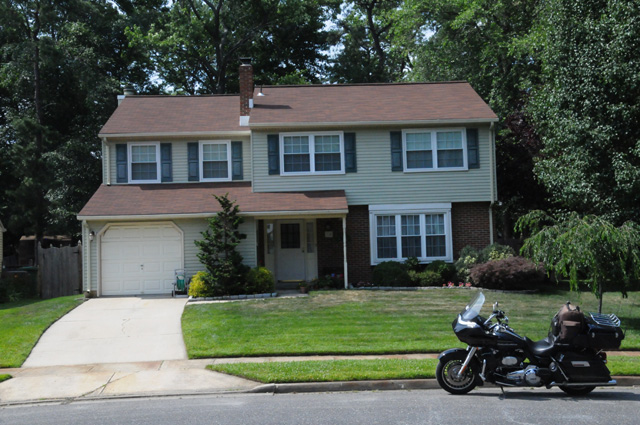 Then I got back on US1 and continued to Trenton, NJ, a capitol city. And you know what that means.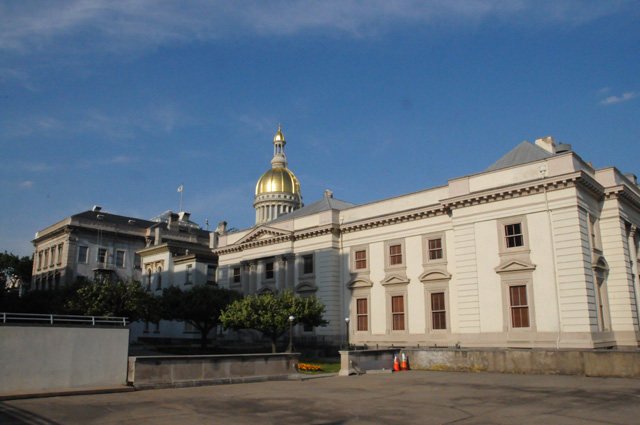 I cannot figure out what is the front and what is the back. I really do believe that the picture above is a side. That is real gold leaf on the dome, I remember when they redid it many years ago.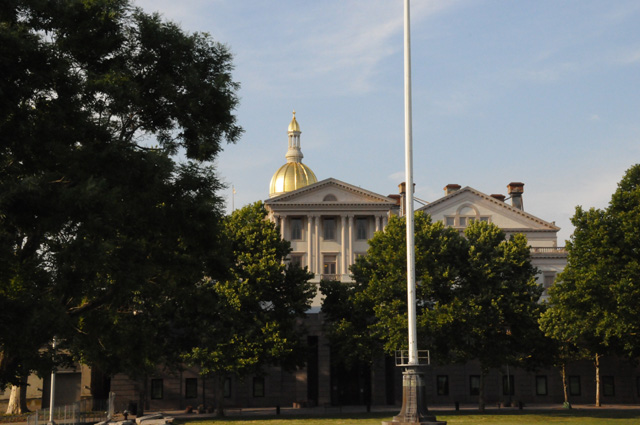 I don't know about this one, front or back.
Then I headed further north, to Princeton, where I am tonight. This picture is what was once the RCA Laboratories, or the David Sarnoff Research Center. I worked there for RCA before I was in Camden. Today it is part of SRI International.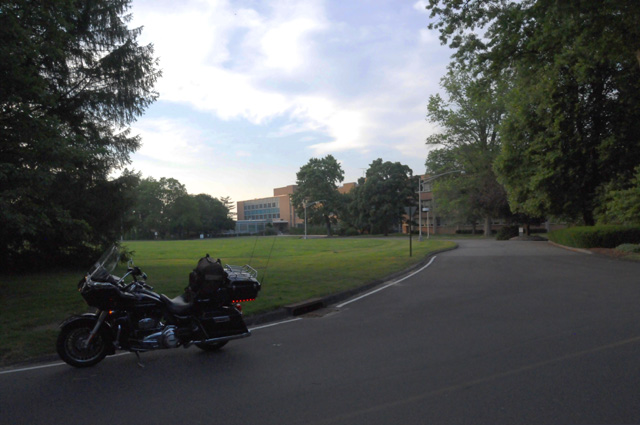 Now for today's statistics. I rode 216 miles, about 90 of them were on US1. I have ridden a total of 1,654 miles now. I counted 127 more lights on US1, that's a total of 1,181 lights. A lot of US1 was freeway today, but I still had to slog it through a lot of red lights in high temperatures on other parts of US1. The off-US1 part went faster with fewer lights, some was high speed toll road. I got an EZ Pass while in Delaware. I have Sun Pass from Florida, but it does not work outside Florida. When I took a break this afternoon, after being at slow speeds with lots of lights, my oil temperature gage read 310&degF. That's hotter than I thought it would get! I'll sleep on that.
Oh, something I have not mentioned. When I started this ride, there were ten states (in the Lower 48) where I had not ridden my motorcycle. I have scratched Delaware, Pennsylvania, and New Jersey off that list. Now it is seven. And I have added two more capital cities to my list, Delaware and New Jersey.
---